The Barska VX-200 tactical vest measures 22-inches long with a 38-50-inch wide torso which is big enough to accommodate most body sizes.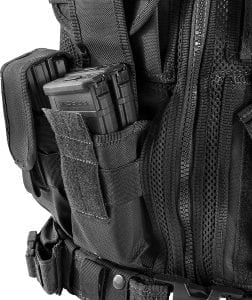 We found this four-piece tactical vest was able to keep ammo and tactical essentials organized at close range. It's a great choice for security personnel as well as players and fishermen out in the field.
It features four adjustable rifle magazine pouches that can accommodate the standard M4/AR15 thirty-round magazines. It also comes with one-inch heavy-duty MOLLE straps which allow you to add more accessories.
Here's where it gets really good:
On the inside, it's fitted with a mesh webbing to improve ventilation and durability. It has a front and back touch-fastener spots that allow users to easily attach patches or IDs and also features a reinforced rescue pull handle located on the upper back of the vest.
Features
Adjustable shoulder panels, ladder buckles, and side straps
Two large hidden internal zippered pockets
Web System compartments with Velcro closures for ventilation and durability
One-inch heavy-duty MOLLE strap
Back mesh pocket with Velcro closure, ideal for hydration system
It's made from a durable exterior and a comfortable interior that keeps you well ventilated. It's fully adjustable with ladder buckles on each side of the vest, adjustable shoulder panels, and side straps that allow for a quick and custom fit for most adult body types.
This vest is especially great in airsoft and paintball competitions thanks to its lightweight and numerous pockets that are easy to access.