AW's Single Action airbrush is ideal for those who'd like to use it for more than applying makeup. Since it has both a nozzle and a needle, it allows you to fully control the coverage.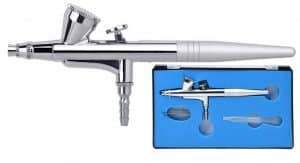 There's no need to worry with this kit.
Its compressor has heat protection and an automatic On and Off function. That's why there's no need to stress about damaging the device or hurting yourself.
This airbrush comes with a fluid cup you can use for all types of paint. This includes makeup, inks, dyes, lacquers, and enamels. It's at the same time silent, lightweight, and easy to clean. Since it comes with its own molded plastic case, you won't have trouble carrying it around.
However, there are some serious downsides to choosing this airbrush.
Since the kit includes no makeup, you'd have to buy it separately. The device itself breaks too easily and has no settings for adjusting pressure.
Features
Single action airbrush
Removable needle and nozzle cap
Compressor with heat protection
Automatic On/Off function
Metal fluid cup
Power light indicator
5-foot airbrush hose
Nozzle wrench
AC adapter
Molded plastic case