It might look like a chainsaw, but don't be fooled. This heavy-duty belt sander from Astro is an industrial solution for your home workshop.
Upon opening, we were impressed to see this sander came equipped with three different grit sandpaper, allowing us to get right into the groove and begin our testing.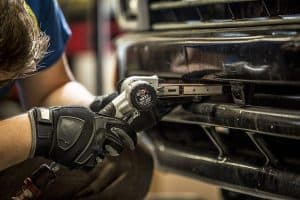 A different shape to the conventional belt sanders in testing, this belt sander from Astro is more suited for metal work. In our workshop, we found some pieces of metal that had been welded together to test the sander on. We found the Astro fantastic in cleaning up the spot welds and in preparing metal for metal works.
The sander's arm is completely adjustable, making it easy to sand away at those tight hard to reach spaces in your metal project. The speed of the belt is adjustable and can go up to 16,000 RPM.
Our main concern with the size and unique shape of this sander is its harder to handle and operate, however, we found it to be surprisingly light for a sander of its class. The handle features a non-slip grip, that lived up to its name in testing.
One core difference with this sander is you do need an air compressor to operate it. It's an air belt sander, meaning the actual device itself is nice and light; however, you do need to connect it to the compressor which acts as it's motor.
Make sure to be cautious when purchasing a compressor for this sander, as a sub-par or lower quality compressor could compromise its quality and performance.
Specification Sheet
Air belt sander
2.1 pounds
15.5 x 3.5 x 2 inches
Comes with three different grits
Adjustable arm
Easy release belt change
Adjustable speed