If what you're looking for are lightweight, supportive shoes with a fun design, you should at least consider ASICS. They're a brand that's gaining popularity among runners from all over the world. However, some of their products give enough support even for feet with high arches. GEL-Kinsei 6 are among those.
These shoes have synthetic uppers, which adds to them being lightweight. But the biggest factor here is definitely the Trusstic System technology, thanks to which the soles are a lot lighter than usual. When it comes to support and comfort, the shoes have gel cushioning in both the toe area and the heel area. This makes it easier for the foot to go through the gait cycle without too much strain.
Want to know the best part?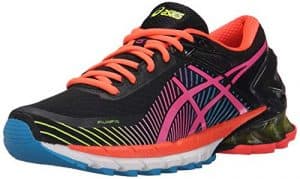 The gel in these shoes is made to provide cushioning, but it's flexible enough to give that bounce as well. Pair that with the Impact Guidance System, which absorbs the shock that's usually experienced while walking or running, and you get a pair of comfy shoes. In addition, the rubber outsoles have lugs that make them capable of protecting against slippage.
But wait:
There are more benefits to wearing shoes with this kind of uppers. Since they're made from quality synthetic, they allow the air to circulate and your feet to remain dry. But what's more important is the fact that the synthetic is completely seamless, as well as multidirectional. As a result, the shoes themselves are a lot more flexible and less likely to irritate the skin.
What's the bottom line?
These are obviously great shoes, but they come with downsides as well. The biggest we could find is the fact that they can cause friction, making feet sweat and feelings of discomfort appear. Because of this, they're not that good of a choice for those who'd actually go running in them. On the flip side, this problem doesn't seem to appear when you wear them for walking.
Also:
We've found that GEL-Kinsei 6 isn't spacious enough for those with wider feet. The middle part is especially tight, so don't make any final decisions before carefully studying the sizing chart. And last but not least, the design makes some people see the shoes as cheaper looking.
Features
Seamless synthetic uppers
Gel Cushioning System
Trusstic System Technology
FluidRide Technology
Impact Guidance System
Rubber outsoles