Art of Air's 6-piece Professional Airbrush System is one of the best if you're looking for versatility. Its single action airbrush allows you to apply your makeup perfectly and with ease in a matter of minutes.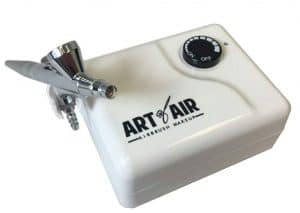 No doubt about it…
You can do everything from sheer to full coverage. The compressor has a knob that lets you fully control the air pressure.
And here's what we really loved.
This kit has six different shades of foundation, which makes it one of the most versatile. Since it also has an anti-aging moisturizing primer, highlighter, bronzer, and blush, it's everything you need in a single package.
The makeup is long-lasting and appropriate for use on sensitive skin, while the airbrush is silent and easy to clean. You can keep it in its holder while you're home, and put it in its black carrying bag when you're on the go.
Of course,
…even this airbrush system is not perfect. We think the foundation looks a bit cakey when it dries, and the makeup rubs off easily when it comes into contact with water.
Features
Single action airbrush
Compressor with pressure-control knob
6 shades of foundation
1 shade of bronzer
1 shade of blush
1 shade of highlighter
Moisturizing primer
Rubber airbrush hose and holder
110V AC adapter
Airbrush cleaner
Carrying bag