The Andis Ceramic BGR+ claims to be the most powerful cordless rotary motor clipper available and after testing the machine, we understood why. Even though this is not the most heavy-duty clipper out there, it can comfortably handle medium weight hair and even some thicker hair types too.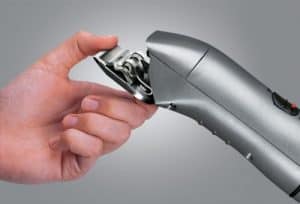 However,
if you are planning to cut fur or really thick hair, this is not the clipper for you.
It includes a blade, 7 plastic attachment combs ranging from 1/16 inches through to 1 inch, a separate charging base, a storage case, 4 oz. bottle clipper oil and a manual.
Features
Cordless clipper with rotary motor.
Rechargeable battery fully recharges in an hour and can run for one hour
Compatible with all Andis Ultraedge and Ceramicedge blades
Cuts using detachable ceramic blades that stay cooler for longer
Battery can be charged away from the clipper
The BGR+ is fitted with a 60-minute runtime sense-charge rechargeable battery that takes an hour or less to fully charge. This makes it convenient to clip hair outdoors without the messy, tangling cords.
As advertised, the featured Ceramicedge blades are so much cooler than traditional blades which enhances the clipping experience. Unfortunately, there is only one blade in the kit, though you can buy all Andis Ultraedge and Ceramicedge blades separately.
The combs are designed to snap easily in and out of place and are all clearly labeled for length. Also, the heavy-duty storage case holds everything nicely in place.