Some snack foods are geared towards health enthusiasts, and Wabash Valley Farms kernels certainly fall into that category. These 100% natural kernels are free of any type of harmful chemicals and grown with care on a family farm deep in the heart of Indiana.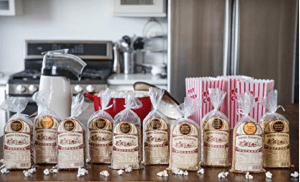 Amish Country popcorn is one of the more popular options we came across in our research. These kernels are widely regarded as some of the best around, and to say it's "clean" would be an understatement. It's non-GMO and Gluten-free with no oils or preservatives in the mix. It's also considered Vegan and Kosher with no tree nuts, so it's a type of popcorn literally anyone can eat.
The company has around a dozen different types of kernels available, but we went with the Variety Bundle as it lets you try it all. This kernel combo includes 10 bags with Red, Baby White, Medium White Hulless, Blue, Lady Finger, Midnight Blue, Extra Large Caramel, Mushroom, Purple, and Rainbow blend. Each bag weighs a pound, so you'll get 10 pounds and a nifty popcorn recipe book with 15 recipes which are sure to liven up your next movie night.
Features
Kosher & vegan-friendly
Non-GMO