With the Amazin' Aces Pickleball Paddle Bundle Set, you and a friend will be ready to start hitting balls for practice right away.
Just add a court for a game!
We found inspiring comments from pickleball newbies who recommend these paddles as "terrific" go-to gear for getting into the sport.
Many beginners love the light paddles with comfortable grips. Our experts report them as solid enough to hold up to at least two-to-three sessions of fledgling play per week.
The set includes an e-book, The Ultimate Beginner's Guide To Pickleball, with helpful tips to get started, improve, and ultimately play (and exercise!) more.
The Amazin' Aces logo with an orange pickleball marks the sweet spot for learning players.
And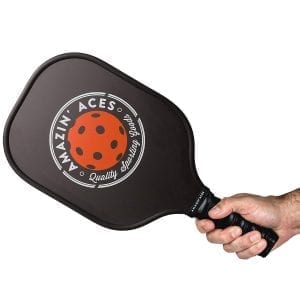 Experienced picklers of all ages describe the Amazin' Aces Pickleball Paddle as nicely balanced and excellent for both power and soft shots.
Each paddle has a durable graphite face with a honeycomb polymer core. This combination makes them heavy enough to slam the ball with much force, but light enough to place gentle dink shots just over the net.
More than one reviewer says that the paddle just feels "right" in the hand and emits a satisfyingly good "pop" sound on contact with the ball.
But...
The Amazin' Aces Pickleball Paddle does have a 1/8" edge guard to protect the paddle from scrapes during ground shots which can deflect the ball in an unexpected direction if it hits the guard.
One novice player feels that the edge is too wide and a more experienced player thinks the guard reduces playing surface area.
Other criticisms may result from player size and preference: several people find the paddle a bit heavy, the handle a little short, and the face slightly narrow.
The balls included in the Amazin' Aces Pickleball Paddle Bundle Set are "not great", have a weak bounce, and may be too light for outdoor play.
Nonetheless...
Many reviewers purchased extra Amazin' Aces Pickleball Paddle Bundle Sets for themselves (for doubles games or when company comes over) and friends as gifts.
They recommend this bundle to others when spreading their newfound love for pickleball.
And this is nice...
Overwhelmingly, consumers compliment this family-owned company's customer service.
Responsive and proactive, the company quickly followed up about concerns, answered questions, and even sent one person pickleball rules early so he would be ready to play when the set arrived.
We couldn't find any specific warranty information on Amazin' Aces' website,  but perhaps contacting customer service directly would be the way to go.
Features
Includes two paddles, four pickleballs, one mesh bag for balls, and a free ebook, The Ultimate Beginner's Guide To Pickleball
Average weight: 8.6 ounces
Paddle length: 16"
Paddle width: 7 7/8"
Paddle face: graphite
Paddle core: polymer honeycomb
Grip circumference: 4 3/8" (medium)
Grip length: 4 ¾"
1/8" edge guard