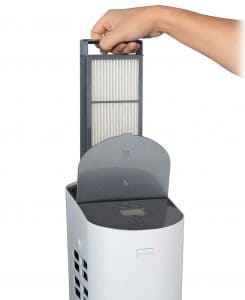 Alen's goal as a company is to help people breathe better. This tight focus lets them include offerings in their catalog that are aimed at solving specific air quality problems, as opposed to the more all-purpose solutions you'll find from other companies.
Efficiency is the main focus of the Paralda's design. It uses a dual-purified vent system for the air, capturing contaminants at both the intake and exhaust vents to make sure your air is clear. This multi-level filtration is enhanced by the filters themselves, which come in four different options. This lets you target your clean on exactly your air purity needs.
The Paralda is also sleek from top to bottom—both in terms of looks and operation. The controls are easy to figure out and use, and it also has on-board programming features so you can have it clean your air when you're not around. Considering Alen covers all of their air purifiers with a lifetime warranty, you can be sure it's built to last for years, too.
Features: