This is a console humidifier that can cover up to 3600 square feet. It releases around 11.5 gallons of mist per day, and it keeps the whole area optimally humidified.
The unit has a 3.6-gallon water tank. Once it's filled up, the humidifier can run for 36 hours.
But this is just the beginning.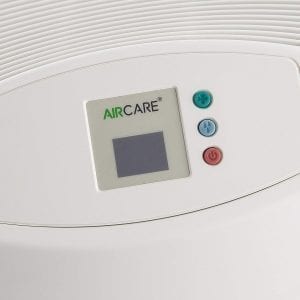 What most users admire about this humidifier is it's practical. We've already discussed this in the buyer's guide, how important it is for a humidifier to offer practicality as one of its main assets. Well, the AirCare MA1201 definitely has that quality.
How come?
First of all, it has a digital control and a display that's very easy to read. The unit has a 3-speed motor, with sleep mode and auto mode. Another great feature is the automatic shut-down. This enables the unit to automatically shut down once it reaches the desired level of humidity (or when it runs out of water).
Due to the automatic shut-down, you will actually save energy and pay less for electricity.
Owners absolutely love this feature.
In addition to this, the AirCare MA1201 is easy to clean and maintain. Because of the wick traps it uses, the unit is able to catch all mineral deposits. And it's really easy to operate.
So many users we talked to told us the humidifier is a great choice because of its ease of use. Also, what they love is the neat, simple design of the humidifier. It doesn't stick out, and it can blend into any type of background perfectly.
The humidifier can also be moved around easily. It weighs 14 pounds, which would be a lot if you had to lift and carry it a distance. But with its casters, mobility is a lot simpler and you shouldn't have problems handling it.
That being said, there are some issues.
Many users find the AirCare MA1201 too loud. The noise coming from the unit is not a lot bigger compared to other humidifiers – but it can definitely be annoying to some people. For example, one user put the humidifier in the kitchen – set on the lowest setting – but the noise could be heard in the living room.
To be honest, the noise is not unbearable, but it can't be eliminated. This can especially be a problem if you like having the humidifier close to your sleeping area.
So, if you are "allergic" to noise, bear this in mind.
Also, an issue most users pointed out is the inaccurate humidity reading.
And when we say "inaccurate", we really mean it.
It's not just one or two percent – but more like ten.
The humidity level rises too fast, and users claim it's definitely not the best solution. In order to be sure about the real humidity level, you might need the help of a hygrometer.
Some users thought the problem might have something to do with the distance. But even when they put their hygrometer close to the unit, the measurements didn't match.
Not the best of features, unfortunately.
And finally, the filter wick on the unit needs to be changed every couple of months. This is especially important if the humidifier is used constantly. We're not sure whether this should be qualified as a con, per se, because it's just the way it's constructed. However, it's good for you to know, prior to making your purchase decision.
All in all, we can't say the AirCare MA1201 is a bad humidifier, but it has its flaws. It will do the job, but because of the noise and inaccurate readings, some users find it off-putting.
It has a 2-year warranty on the unit and a 30-day warranty on wicks and filters. More information here.
FEATURES
14.5 x 21.5 x 20.5 inches; 14 pounds
covers 3,600 square feet
runs for 36 hours
3.6-gallon water reservoir
11.44-gallon daily moisture output
digital humidistat
automatic shut-down