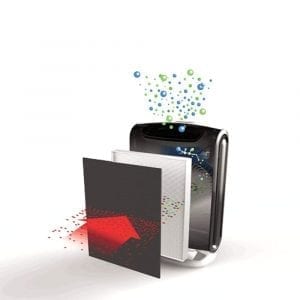 The AeraMax line from Fellowes features an option for pretty much every room size and user situation. While they're all built to the same quality standard and feature a similar range of features, we've decided to highlight the AeraMax 290 here because we feel like it strikes the best balance between power and value.
Fellowes designed the AeraMax 290 to stand up to continuous use. It's designed not just to remove odors and contaminants from the air but also to maintain your air quality in the long-term, making it a good choice for regular in-home smokers.
There are four fan speed levels ranging from Low to Turbo. An adjustable fan is a feature you'll find on most air purifiers, but maybe our favorite thing about the AeraMax is that it uses on-board sensors to adjust the fan automatically, saving you energy while still keeping your air clean and fresh.
If you do want more control, you have the option. Lights at the top of the display panel will tell you the current quality of your air, and there are controls below to toggle auto mode on or adjust the fan speed manually.
The AeraMax also has a high performance mode for air quality danger times, great for seasonal allergy sufferers or those who live in wildfire-prone regions.
The filtration in the AeraMax uses a four-stage process. There's an activated carbon filter for odor control and a HEPA filter for capturing airborne pollutants, with antimicrobial treatment for both the filters and the air.
The filters will need to be changed every few months, but there's otherwise no maintenance to worry about. If you want absolutely pure air and don't want to have to think about it, this is the ideal air purifier for you.
Features:
Coverage area: 600 feet
Power: 6-86 watts (120v)
Filters: Antimicrobial True HEPA, Carbon
Filter life: 12 months (HEPA filter), 3 months (Carbon filter)
Dimensions: 28" X 18" X 12"
Weight: 15 pounds
3-Year Limited Warranty