This is one of those toys you wish had been around when you were younger. Heck, you may have even thought about how fun it would be to have one of these in your backyard.
The Adventure Parks Zip Line brings the fun of professional ziplines to the average household.
That doesn't sound very safe.
But it is!
The zipline doesn't need to sit very high up to function. So you don't need to worry about falling too much.
In fact, this product is marketed as the world's safest zip line!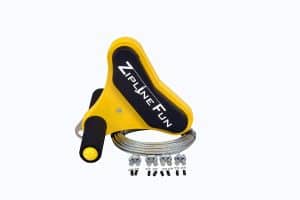 The trolley system works very well. The soft grip handles add an extra layer of comfort, important for a toy like this that requires a bit of muscle stamina.
The trolley itself is fully enclosed and the handles drop down, so you also don't need to worry about fingers getting stuck in the mechanisms.
This toy is a ton of fun.
But there's also really only one thing to do with it. So you might find it's a good toy to breakout on certain days of the year, so no one gets tired of it too fast.
Durability is going to play a big role in safety here, too, since any breakages could result in bodily harm. The trolley is very firm and well constructed.
The design is also well throughout with regard to durability. The trolley and line have no metal-on-metal contact. This means they'll both last much longer, since they won't be under constant friction.
The zip line is made to hold up to 125 pounds.
What if it does break?
As long as you return the warranty card, this product has a one-year limited warranty. With products like this, you should notice any defects before that warranty period is up.
Features
Safely constructed
125 pound weight tested
No metal-on-metal contact