The CertiPUR-US-certified Advanced Sleep Solutions Gel Memory Foam Mattress Topper provides welcome relief to back pain sufferers–it's soft yet supportive. Although only two inches thick, it's comfortable, doesn't create a "sinking and stuck-in-the-mud" feeling, and helps users sleep well, especially those who haven't in years.
Here's the skinny
Three stomach sleepers find it too firm, as do two side sleepers. On the other hand, twelve side sleepers like it. In general, the Advanced Sleep Solutions Gel Memory Foam Mattress Topper is a little too soft and unsupportive for some but too firm for others. A few users feel little to no improvement in back pain when sleeping on this topper.
So, does it work?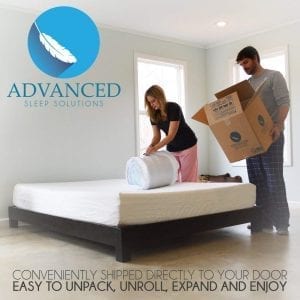 According to its manufacturer, this topper features gel technology with an open cell structure design that minimizes improves airflow and dissipates heat.
Mixed reviews show this topper cools some users and not others. We read about sleepers with low fevers from autoimmune issues as well as hot flashes that like this topper–and no longer wake up sweating.
The places where the foam is blue (with gel) seem cooler than the white places. One user suggests moving an inch or so when the foam warms up in order to "get that cool feeling again."
Like this, like that...
For some, however, the Advanced Sleep Solutions Gel Memory Foam Mattress Topper doesn't cool or stay cool for more than a few minutes.
Two reviewers present more neutral observations:
The topper neither maintains a lot of body heat nor cools, so she and her husband feel as if they're "sleeping like puppies".
And, the topper feels cool to the touch, but when the "gel" reaches the sleepers' body temperature, it retains heat. Toward the opposite extreme, many owners outright declare that this topper is hot, like a "heater" or "hot marshmallow".
We encountered mixed reviews about the toppers durability, reading comments it still works well at 9 months. On the other hand, owners report the topper being flat but 10 and 18 months. A few people also note that the foam turns yellow after a few months.
On a positive note...
Luckily, new owners report at most a slight odor and excellent customer service.
The Advanced Sleep Solutions Gel Memory Foam Mattress Topper is available in twin, twin XL, full, queen, king, and California king sizes.
To see the unboxing, setup, and review of this model, click here.
Features
Dimensions and weight: (twin) 74" x 38", 9 pounds; (twin XL) 79" x 38", 10 pounds; (full) 74" x 53", 12 pounds; (queen) 79" x 59", 14 pounds; (king) 79" x 75", 18 pounds; (California king) 83" x 71", 17 pounds
2"-thick gel-infused memory foam
60-day return policy
Made in the USA