Adidas is among the best-known footwear brands out there, and with good reason. Their shoes are typically very sturdy, comfortable, and supportive. Their Supernova Sequence series was designed to meet the needs of runners, but we believe the Boost 8 model is a great choice for high-arched feet as well. Here's why.
The uppers of these shoes are made from molded synthetic and mesh. While molded synthetic adds to stability, mesh is used to reduce weight. Now, when it comes to support and comfort, EVA stable frame takes care of both. Running along the entire length of the shoe, this frame provides cushioning, but at the same time makes its structure a lot more stable.
It gets better: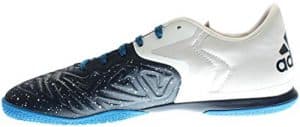 These shoes make use of the brand's BOOST technology, which we'd like to tell you more about. This really refers to cushioning and how it's been made more responsive to an individual's movement and foot shape. Made from BOOST foam, the midsoles have energy-returning properties, which means they give energy back while being used. This type of foam is also very resistant to temperature change, making it a lot more suitable for activities such as running.
Now:
Let's get to the rest of the features that make this shoe a great choice for runners and people with high arches alike. They're designed to provide a snug fit, while their mesh lining and mesh parts on the uppers improve breathability. Their outsoles feature shallow lugs, which were made like that to prevent rocks from getting stuck in them. And as far as we could tell, they deliver when it comes to this particular feature.
However:
You definitely won't find these shoes to be perfect. When we first tried them on, we were a bit surprised at how heavy they are, at least when compared to today's ultra-lightweight models. They also need to be broken in, which might be a deal-breaker to some. And last but not least, they're not as supportive as some other shoes on this list.
Features
Molded synthetic and mesh uppers
Glove fit
BOOST technology
EVA stable frame
Mesh lining
Shallow lugs