The next ball on our list has great reviews for quality and durability. It also has an amazing design which makes it one of the highest quality, official match balls you can buy. The Adidas 2016 Major League Soccer (MLS) Official Match Ball really offers the best of the best.
Design: 
Adidas takes great pride in the design of their MLS official match balls each year. They painstakingly craft this ball with six identical panels and durable, seamless stitching. The unique symmetry and materials of the six panels offer some of the best grip, touch, and aerodynamics available.
The design of this ball is uniquely crafted for the 2016 year and is truly one of a kind. It's design features are inspired by the MLS' three pillars of Club, Country, and Community. As a result, this ball expertly blends the flags from each home country. The United States and Canada are represented with stars, stripes, and maple leaf decals on a white background. This soccer ball also comes imprinted with the MLS crest, Adidas logo, and the signature of the MLS commissioner, Don Garber.
Durability: 
Another imprint you'll find on your Adidas 2016 MLS Official Match Ball, is the FIFA quality seal. As you recall, the FIFA testing involves many aspects of testing in order to pass certification and earn this imprint. This ball passed in all categories including circumference, sphericity, rebound, water absorption, weight, loss of pressure, and shape/size retention.
This ball is no replica, it's the official 2016 Match Ball.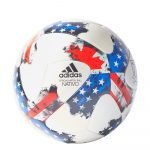 It's made from 100% polyurethane and uses high-end materials for the bladder and the panels. Even though you'll pay more for this ball, you'll feel the difference in quality. The most consistent comment among buyers is how impressed they are with the quality compared to other balls they've played with.
Technology and Training: 
There aren't any smart features with this ball. The design, however, offers the best you can get in the way of training. It's an official size 5 match ball and the construction, design, and durability of this ball are sure to impress.