The upgraded Aspectek 20W Electronic Bug Zapper offers plenty of versatility with its use. Designed for indoor and outdoor bug elimination, this mosquito trap allows for easy insect removal by attracting the flying insects with two 10 W UV light bulbs. A high-voltage electrical grid zaps the bugs and provides you bug-free enjoyment.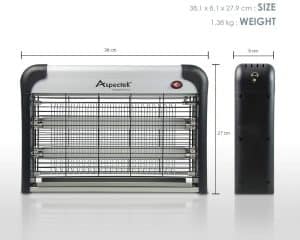 The Aspectek 20W Electronic Bug Zapper has been upgraded with a slenderer design, and it features easier to install light bulbs, which posed a problem in previous models. This insect trap can be placed on the floor or hung by the chain that is included, allowing for plenty of mobility in its design.
More importantly:
The unit also has a lower noise operation, which is more enjoyable for users.
The device does need an external power source and is easily cleanable with a removable plastic tray. Coverage area is 6000 sq.ft.
Features
10W ultraviolet light bulbs
Safety mesh
2800 V high-voltage electrical grid
Hanging chain
Removable plastic tray
6000 sq.ft. coverage