As we said in our guide, it can be tough to find the right size ball pein hammer if you don't know what you need. That's where sets like the TEKTON 30409 come into play as you'll get four forged head hammers for the price of one.
This 4-piece set has four ball pein hammers that range from 8 to 25 ounces. That's a solid range that should cover most folks needs unless you're beating hot metal, then you'll want a blacksmith hammer. Each head is forged and polished to perfection from hardened steel with rounded ball ends for shaping your metal. Needless to say, they should hold up well.
But what about the handle?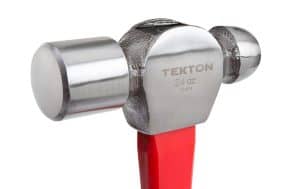 Well, they went for fiberglass this time around so you'll want to be careful with overstrikes. They are lighter however and have a poly jacket to help with impacts. The rubber grips are well made and of the non-slip variety. Consumers felt they were comfortable to use and we like the fact the grip is integrated into the handle as well.
TEKTON did a good job with the size to weight ratio on this ball peen hammer set as the 8-ounce hammer is only 11 inches long while the 25-ounce hammer clocks in at 13.75 inches. It's a good range although you can pick up a 32 or 48-ounce matching hammers if you need something heavier or just want to add a hammer to your set.
A ball peen hammer doesn't have to be fancy, and this set is rather basic, but that's not a bad thing at all. If you just need an affordable set that should last for years, TEKTON's hammers are well worth a look. They come with an "Always Guarantee" which claims to give you help and free replacement parts, but you'll want to read the fine print as always. On the downside, there have been some reports of quality issues, so check your tools out of the box.
Features
8 to 25-ounce hammers
Fiberglass handles
Non-slip grip
Always Guarantee