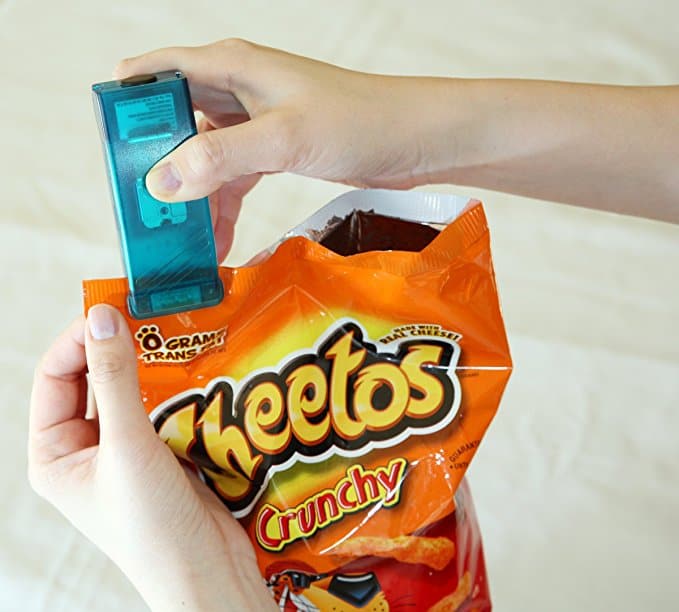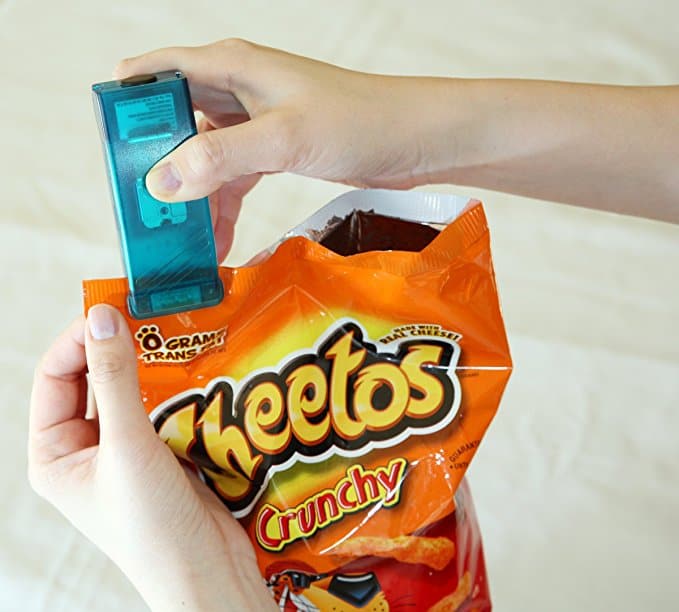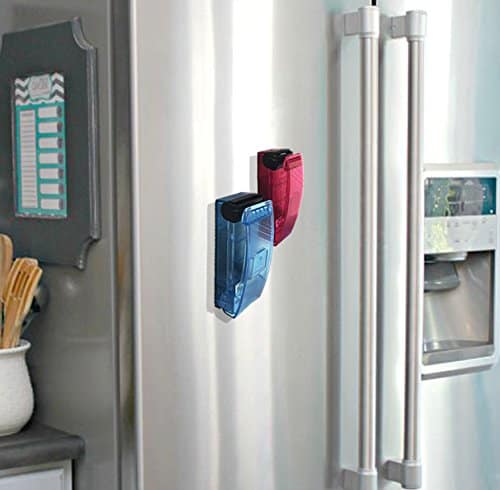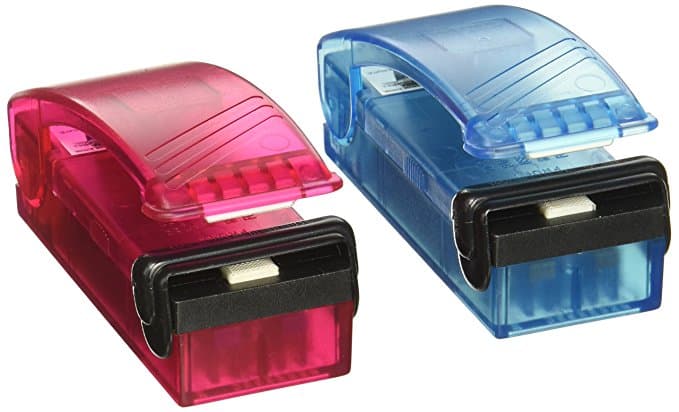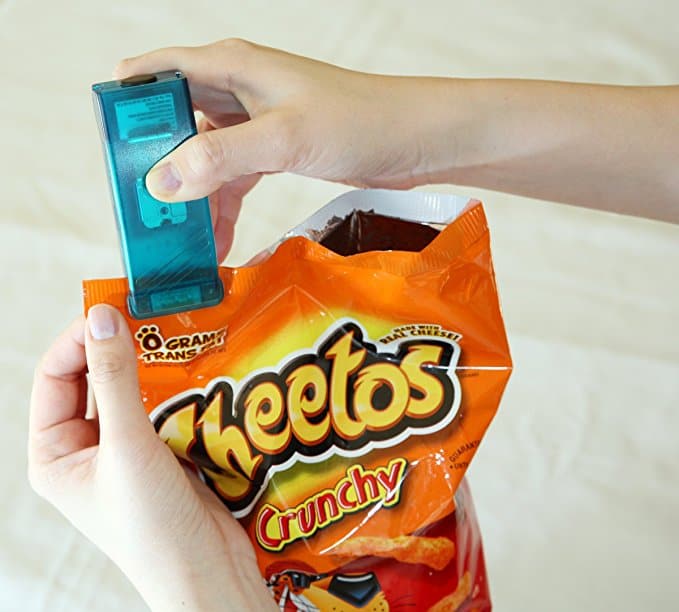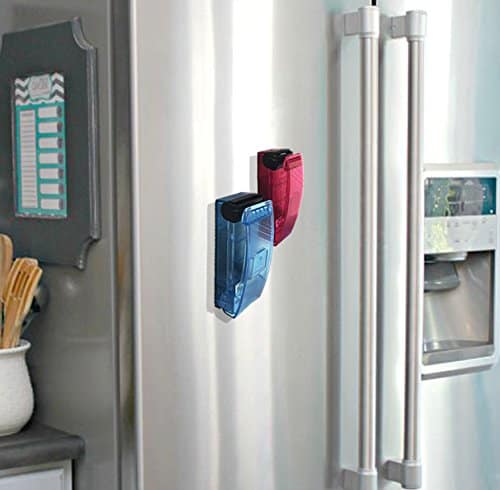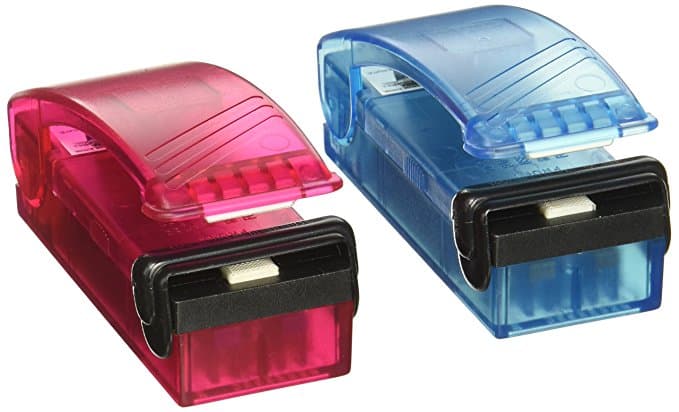 Handheld Heat Bag Sealer [Review 2022]
Don't you hate it when your chips get stale? With a couple of these sealers you can keep the freshness in for a very long time – and even keep the food in the original packaging. That is, if you can keep yourself from devouring everything in one sitting! Don't worry, we don't judge…

Features
Reseals bag airtight

2-pack

Powered by 2 AA batteries
Don't you hate it when you eat half a bag of Doritos then lose the bag and then find it a week later under your bed and they've gone stale and you have to throw them out?
Well that will never happen again with the this bad sealer. It seals everything! Aluminium, plastic, end of list. Those are the only two things you need to seal. And it does both of them.
The beauty of this device is that it's handheld. Before the handheld model you used to have to plug it in to the mains, it was the size of a large fridge, and cost more than most people make in five years. By making it portable it means you can seal bags anywhere, at any time, in any place.
AND IT STICKS TO THE FRIDGE, You'll never lose your Bag Sealer again.
Also good products
Sale
Bestseller No. 1
Sale
Bestseller No. 2
O2frepak 200 Quart Size 8" x 12" Vacuum Sealer Bags with BPA Free and Heavy Duty, Vacuum Seal Food Sealer Bags,Great for Food Storage Vaccume Sealer PreCut Bag
Universal Design:Compatible with All 'Clamp Style' Vacuum Sealer Machines
Economical and Precut Bags:200 Count 8 x 12 Quart Size Food Storage Vacuum Sealer Freezer Bags
Food Grade Material: Great for Storing Raw and Cooked Foods, It's Also Cook,Freezable,Dishwasher,Microwave,and Boilable Safe.with Embossed Channels Increase Suction to Vacuum and Secure to Seal
Long Term Preservation:Extend Food Shelf Life 3-6 Times Longer,Keep Freshness,Nutrition and Flavor in Your Food.Eliminates Freezer Burn and Dehydration,Air and Water Proof Material Prevents Leaking
Heavy Duty and Puncture Prevention:Designed with Food Grade PA+PE Material,3.5mil Front Panel and 4milTextured or Embossed Back Panel for Maximum Freshness,with Bone Guards to Prevent Piercing
Sale
Bestseller No. 3
FoodSaver 1-Quart BPA-Free Multilayer Construction Vacuum Zipper Bags, 18 Count
FRESHNESS THAT LASTS FOR WEEKS, NOT DAYS: BPA-free multilayer design is constructed of durable yet pliable material that creates an airtight barrier around foods, extending freshness and locking in flavors
REUSABLE AND RESEALABLE FOR FOOD YOU FREQUENTLY USE: Use it to store deli meats, cheeses, snacks, pantry items, and more
SPECIALLY DESIGNED TO WORK WITH FOODSAVER VACUUM SEALING PRODUCTS: Compatible with FoodSaver 4400/4840 series vacuum sealers, FoodSaver FreshSaver Handheld Sealer, FoodSaver Handheld Sealer Attachment, and FoodSaver Zipper Bag Adapter
BPA-FREE MATERIAL: Safe for storing raw and cooked foods, it's also freezer, refrigerator, microwave, and boil safe
Sale
Bestseller No. 4
NutriChef PKVS Sealer | Automatic Vacuum Air Sealing System Preservation w/Starter Kit | Compact Design | Lab Tested | Dry & Moist Food Modes | Led Indicator Lights, 12", Silver
THE IDEAL MONEY AND TIME SAVING SOLUTION: Cooking and meal preparation will become easier, less expensive and faster, as you will be able to equip and organize your freezer, with fresh food ready to be defrosted and served or fresh ingredients instead of freezer burned food filled with ice crystals which will probably end up in the trash can
EASY TO OPERATE: Fully automatic simple electric plug in design with the control center placed on the top panel and soft touch digital buttons along with led indicator lights A smart device at your family's service
TWO SEALING MODES: Useful and practical, the NutriChef vacuum sealing system is cleverly designed owning two selectable modes to provide your food with the best possible preservation based on the type of food you want to seal You can choose the dry indication for solid food items and the moist indication for poached, simmered or steamed food
LAB TESTED QUALITY: Vacuum sealers preserve food up to 5 times longer than zipper baggies or containers, basically depending on the type of food The NutriChef Vacuum Sealer however, was subjected to specific laboratory testing to effectively increase food shelf life
A FULL STARTER KIT: Apart from the vacuum sealer and the air suction hose, the Nutri Chef vacuum sealer package also includes a wine stopper cork, 5 medium vacuum bags (7.8 x 11.8 inch ) and one extra long vacuum bag roll (7.8 x 79.0 inch ), both kinds being reusable and waterproof A complete bundle for your new cooking era