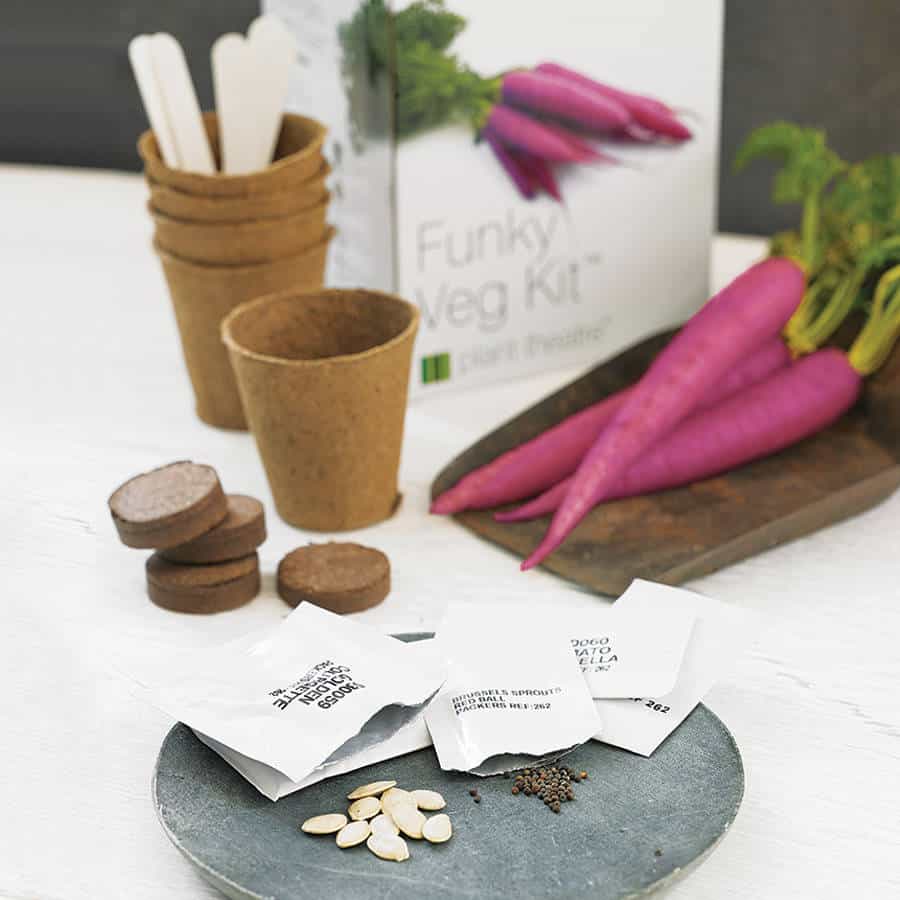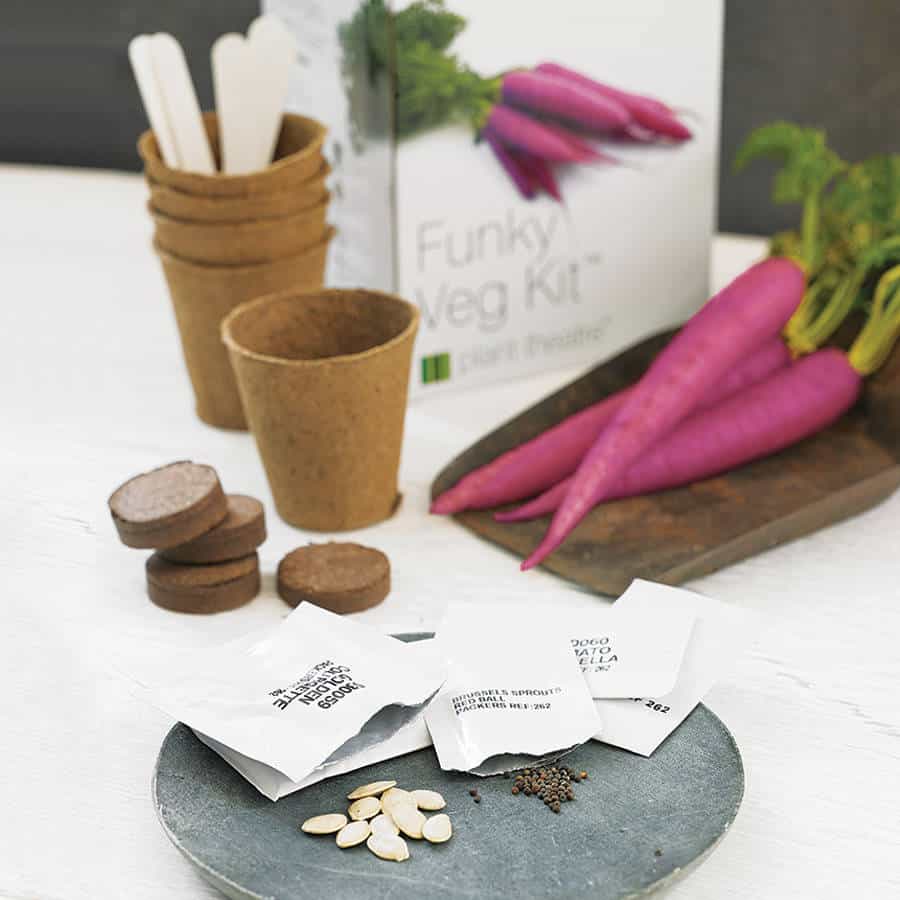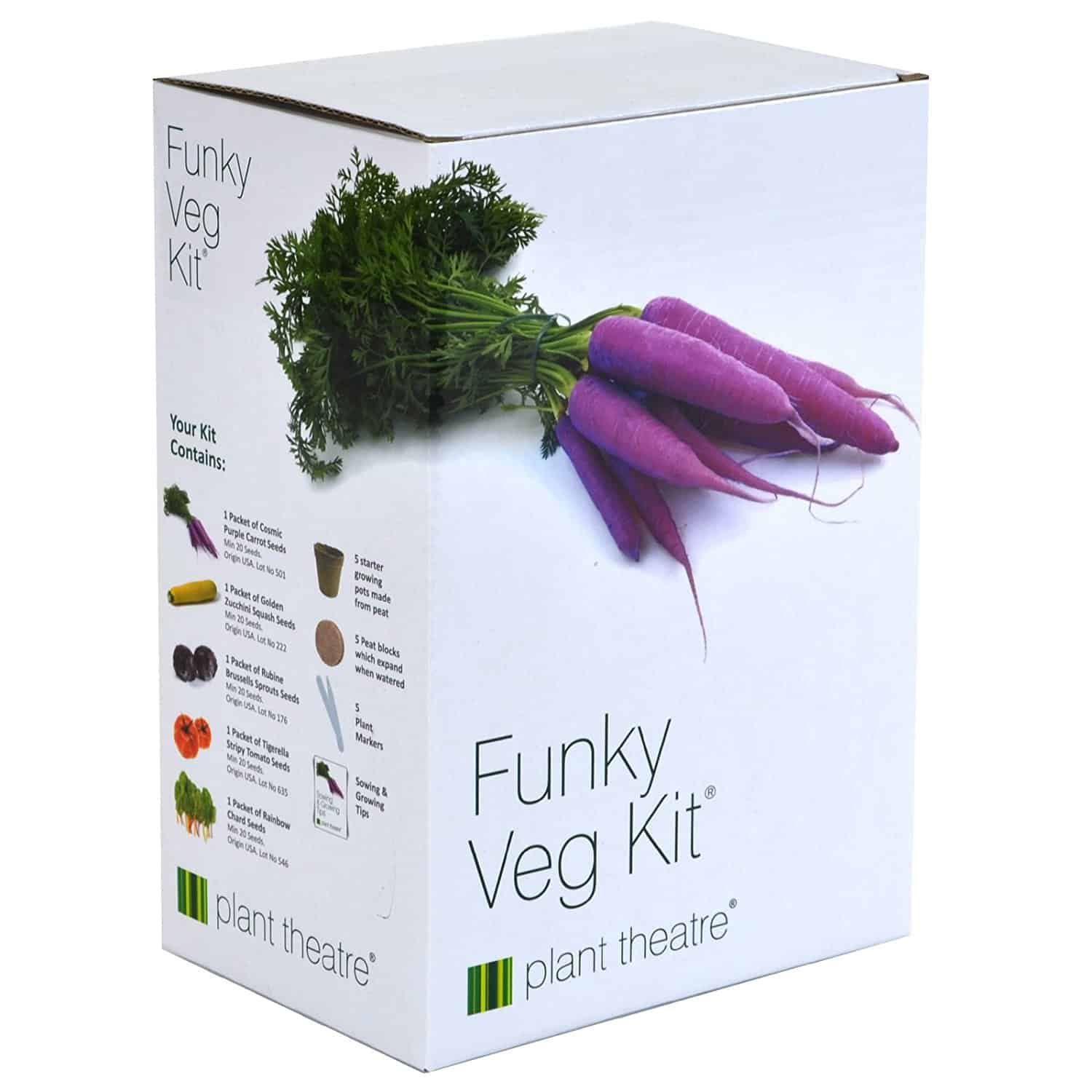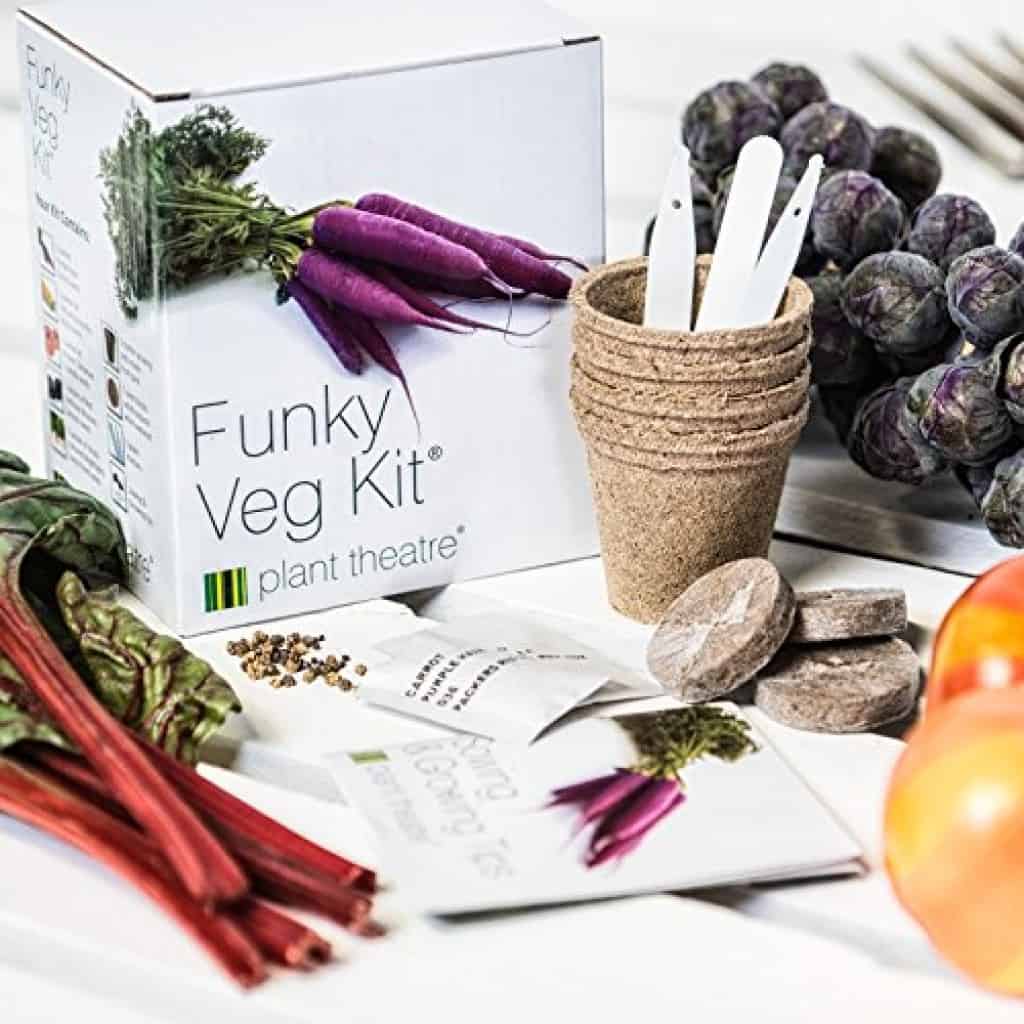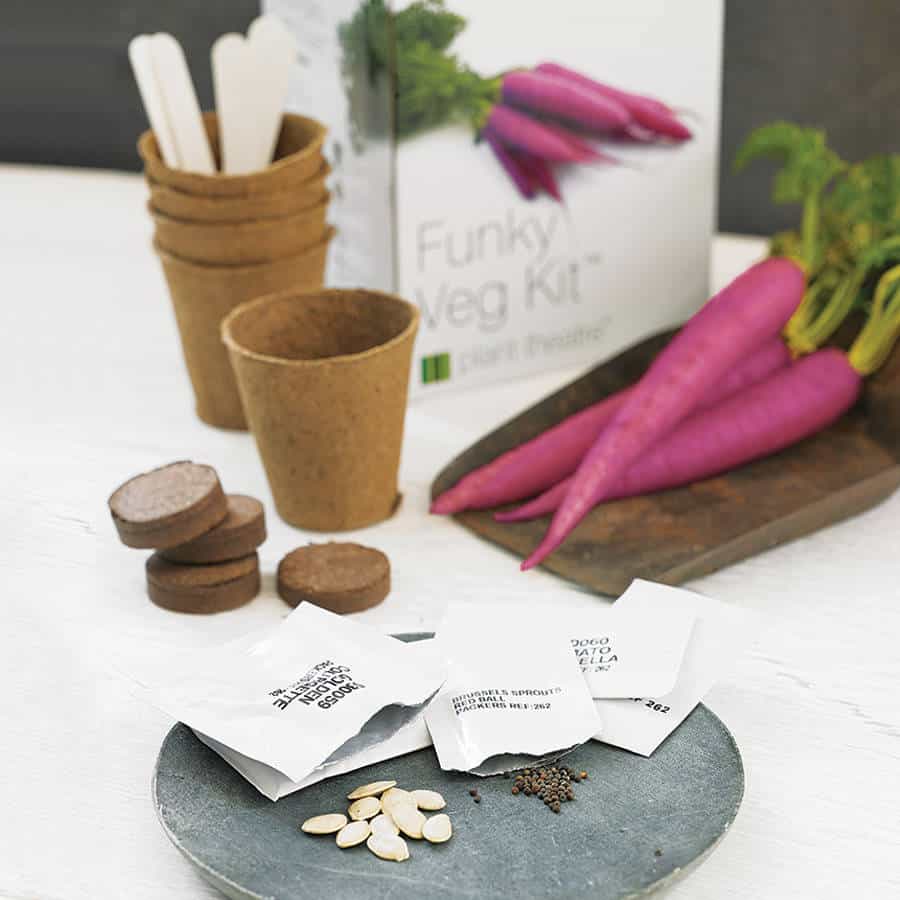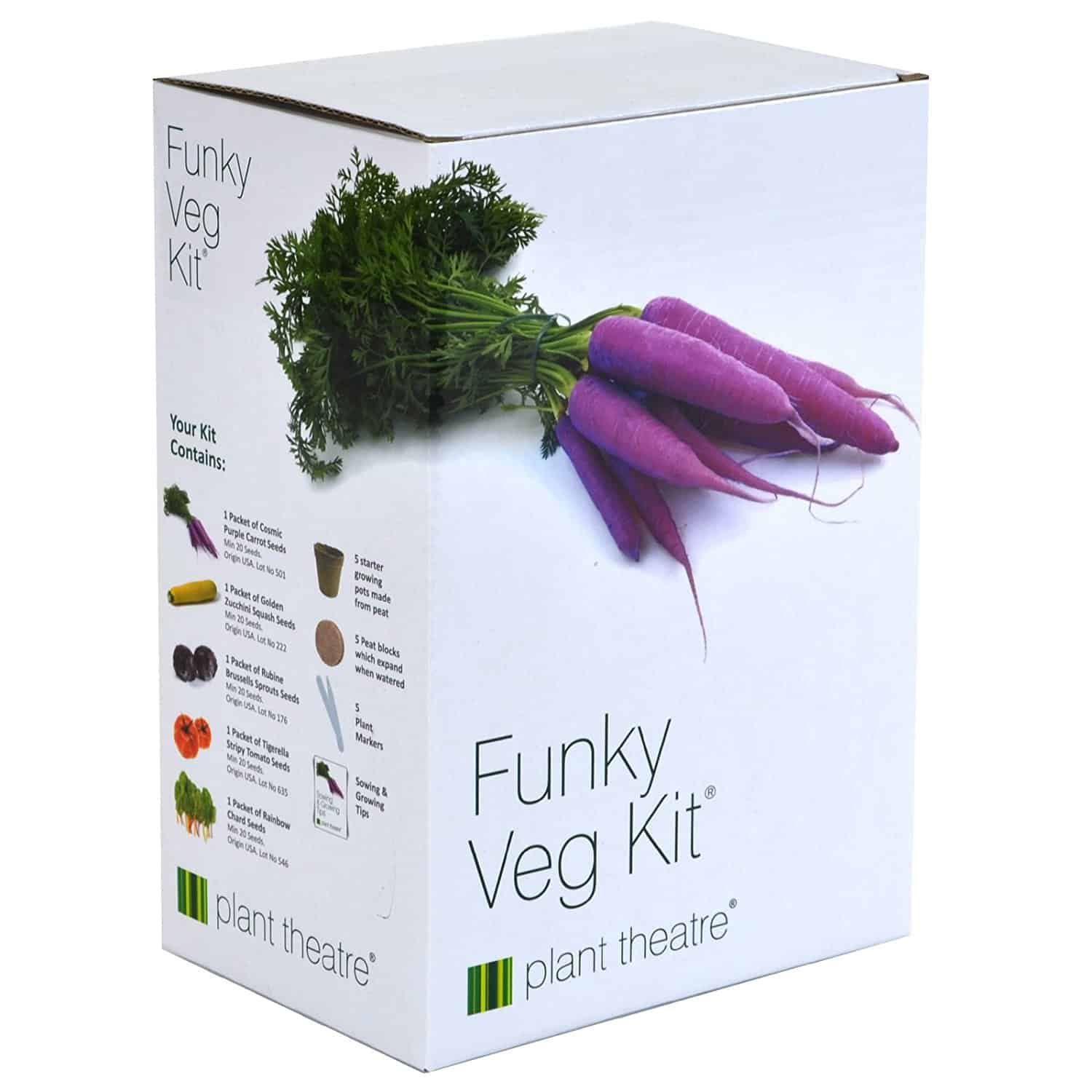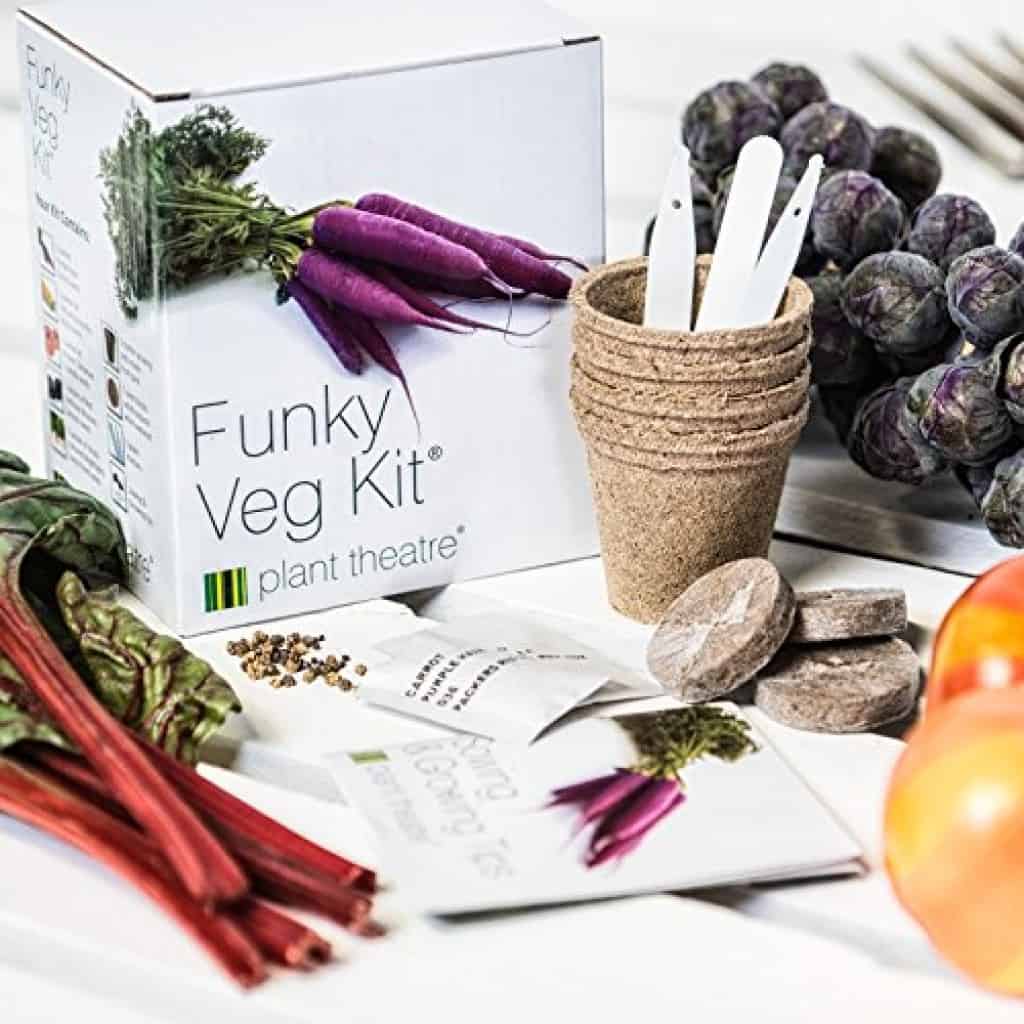 Funky Veg Kit [Review 2023]
You blurted out in front of your colleagues that not all carrots are yellow. Now you don't have a choice but to buy the Funky Veg Kit in order to save face. Get all the equipment you need to easily grow purple carrots, yellow zucchinis, red brussel sprouts, stripy tomatoes, and rainbow Swiss chard.

Features
Non-GMO seeds

Made in USA

Includes tomatoes, brussel sprouts, purple carrots, and more
Dimensions
5.5 x 3.9 x 7.9 inches

7.2 ounces
There's nothing more rewarding that growing your own food, but bring a bit more pizzazz to your garden with the Funky Veg Kit.
You can basically hear someone slapping their bass, it's so funky!
This pack contains seeds that you plant which grow into…
Purple carrots – whoa!

Yellow courgettes – Crazy! I thought they were called Zucchinis but, whatever, they can be both I guess.

Striped Tomatoes – Say what now? Did they cross that with a zebra?!

Red Bull Brussel Sprouts – how the heck does a can of Red Bull and Brussel sprout meet and fall in love and make this mixed-race cutie?

Multi Coloured Swiss Chards – I don't even know what these are, but they're super colourful and that's all good with me.
Also good products
Sale
Bestseller No. 1
Sale
Bestseller No. 2
Back to the Roots Organic Oyster Mushroom Grow Kit, Harvest Gourmet Mushrooms In 10 Days
100% ORGANIC AND NON-GMO: There's no need to worry about intoxicants that may hinder your plant's growth because the Back to the Roots Mushroom Growing Kit is completely organic and not genetically modified; You can cook them however you want or add them to your favorite dishes
GROW YOUR PLANT ALL YEAR-ROUND: This organic mushroom indoor kit allows you to grow your own crop all-year round; Just place the box near a window with indirect light, mist twice a day, and you'll see delicious, beautiful mushrooms growing within a week; Included in this kit is an organic plant-based soil infused with mushroom spawn and a booklet with instructions
CONVENIENT AND EASY: Mushrooms are one of the easiest to grow indoors; All you need to do is open, spray daily with the included mister, and in 10 days you'll be harvesting your own mushrooms right out of the box; Each crop produces three to four servings of mushrooms, and each box can grow up two crops
THE PERFECT GIFT: The perfect holiday gift, it comes in a beautiful packaging so that it's ready to be given to foodie, garden-loving and eco-conscious friends and family; This kit is also part of our Grow One Give One campaign, simpy share a picture on social media, tag us and use the campaign hashtag, and we'll donate a kit to a classroom of your choice
GUARANTEED TO GROW: Made in the USA and 100% Guaranteed to grow. If you are not satisfied, simply message us and we will send you a Back To The Roots replacement
Sale
Bestseller No. 3
MUFGA 12 Pods Hydroponics Growing System, Indoor Garden with LED Grow Light, Plants Germination Kit, Mini Herb Garden with Pump System, Height Adjustable (No Seed), Ideal Gardening Gifts for Women
[High-Performance Grow Lights] - The 24W LED lights of the hydroponics growing system simulate the sunlight spectrum. Stimulate your plants to grow faster in any weather and season – 5 times faster than in soil. Gardening gifts for women, mom.
[Indoor garden] - Brighten up your kitchen by cultivating plants both decorative and practical. It can grow up to 12 of your favorite herbs, veggies, or flowers indoors including basil, tomatoes, pepper, lettuce etc. even in cold winter.
[Height-Adjustable Garden Kit] - The height of the lighting part can be adjusted for veggies at different growth stages, helping veggies absorb energy from LED lights and promoting growth.
[Hydroponic Circulation System] - Independent water pump, forms a water circulation system, increasing the oxygen. Fully control over the weather all year round.
[60 Days 100% Satisfaction] - If you are not 100% satisfied with this product for any reason, please contact customer service within 60 days, and we will immediately help you to solve the problem.
Bestseller No. 4
Survival Vegetable Seeds Garden Kit Over 16,000 Seeds Non-GMO and Heirloom, Great for Emergency Bugout Survival Gear 35 Varieties Seeds for Planting Vegetables 35 Free Plant Markers Gardeners Basics
ASSORTMENT - 35 easy to grow vegetable varieties and over 16,000 seeds. All non-GMO and heirloom varieties. Our survival pack includes lettuce, beets, carrots, onions, squash, zucchini, tomatoes, peppers, broccoli, peas, beans, and more. Complete gardening kit for growing your home garden.
PROFESSIONAL - Packed in seed packets, not plastic bags: plastic bags can harbor mold and ruin vegetable seeds. Complete growing and harvesting instructions included on every packet. Perfect for indoor garden and hydroponics growing system.
USA - Seed bank grown, sourced, and packaged in the USA. It makes excellent gifts for moms, adults and gardening gifts for men. Provide emergency food security by growing and saving seeds or storing our seeds in a cool, dark, dry place in its water resistant packaging.
EASY - Varieties picked by a gardener for easiness in most growing conditions. Great for beginners and seasoned gardeners alike. Great for parsley, spinach, gardening gifts, hydroponics supplies, prepper gear, aerogarden, emergency preparedness items, or bug out.
GUARANTEE - We know you'll love your survival garden seeds, but if for any reason you're not, please contact us.