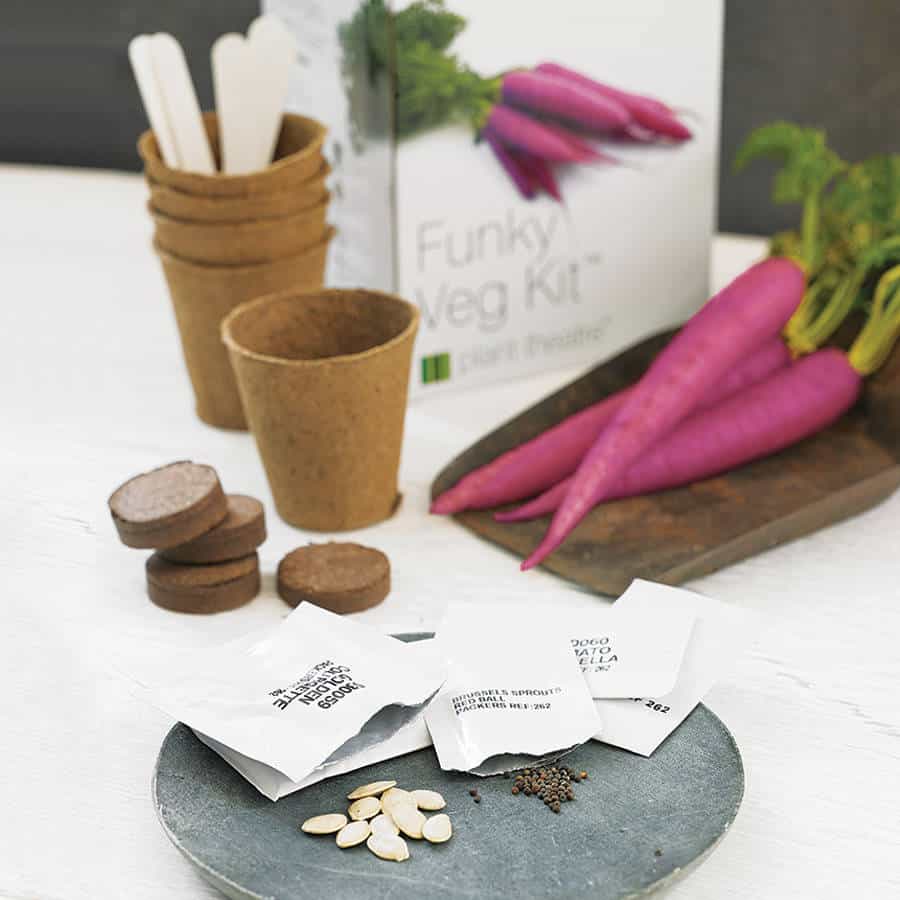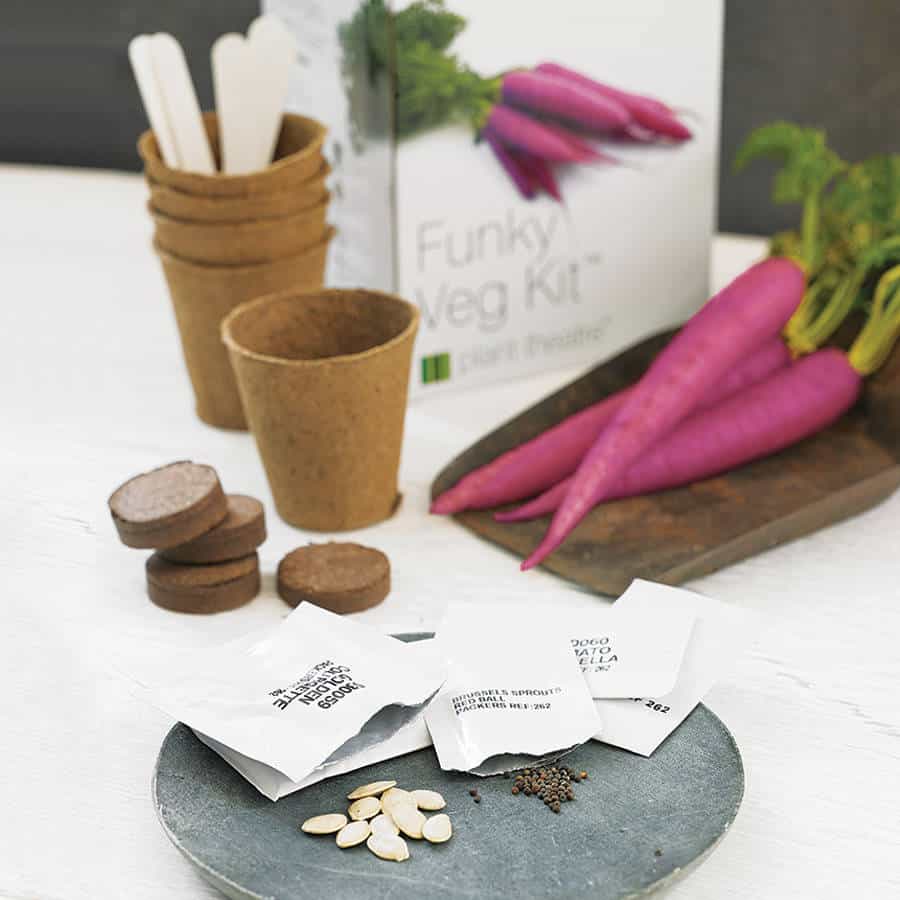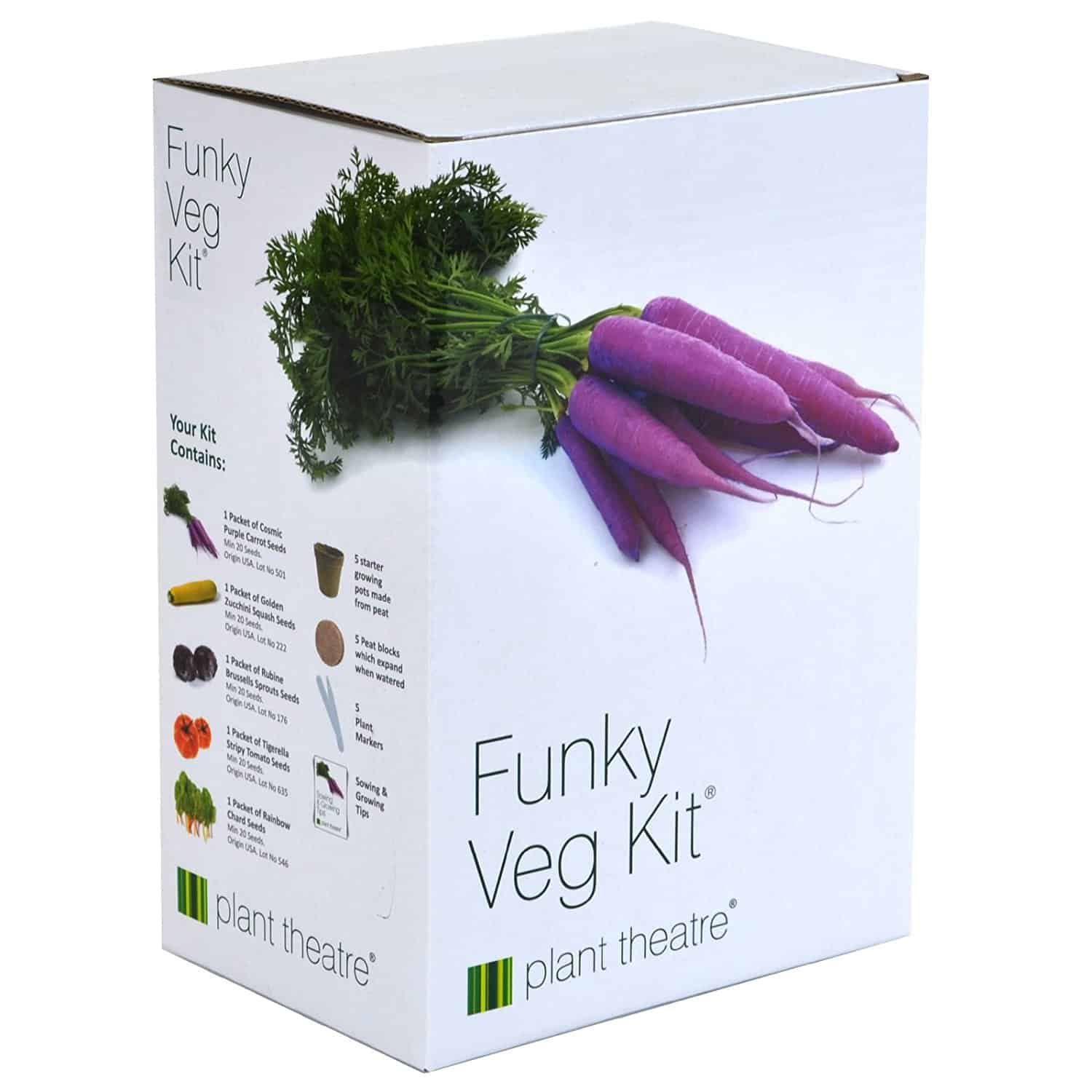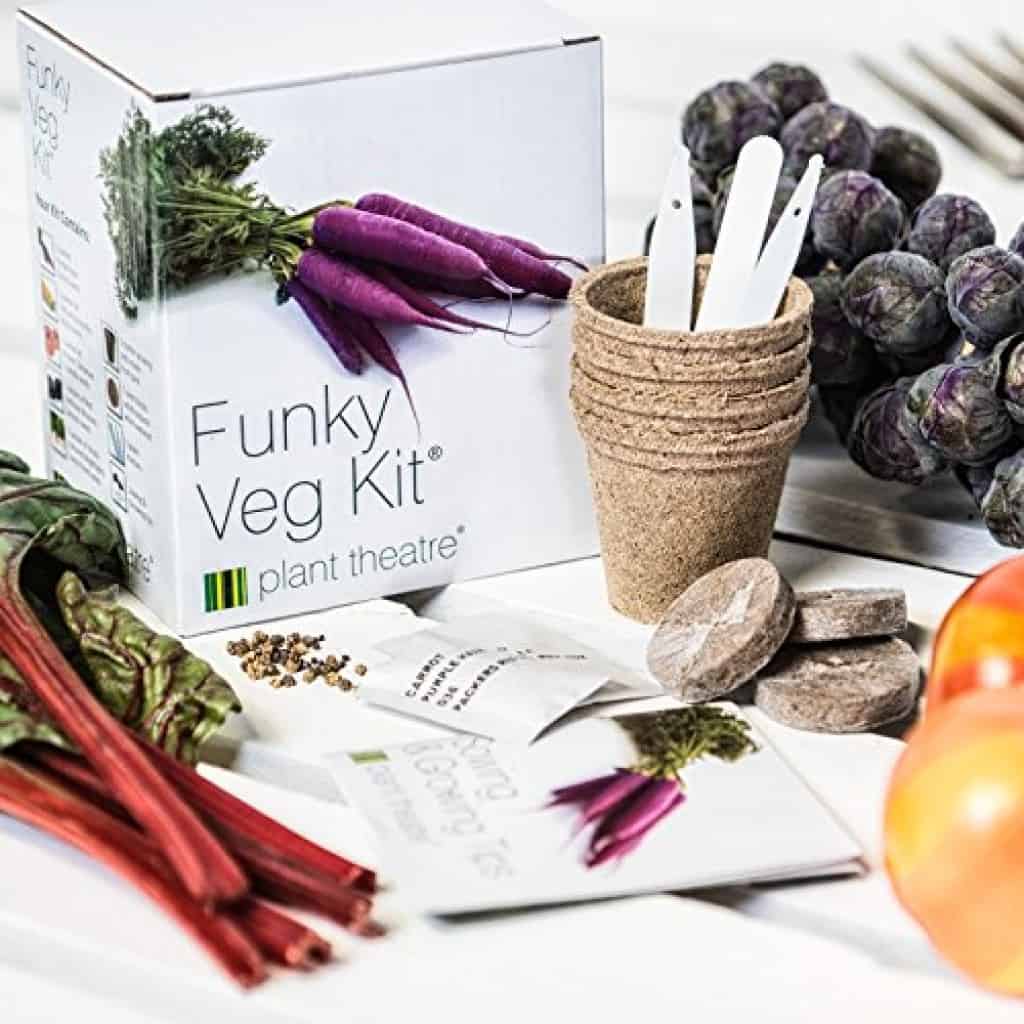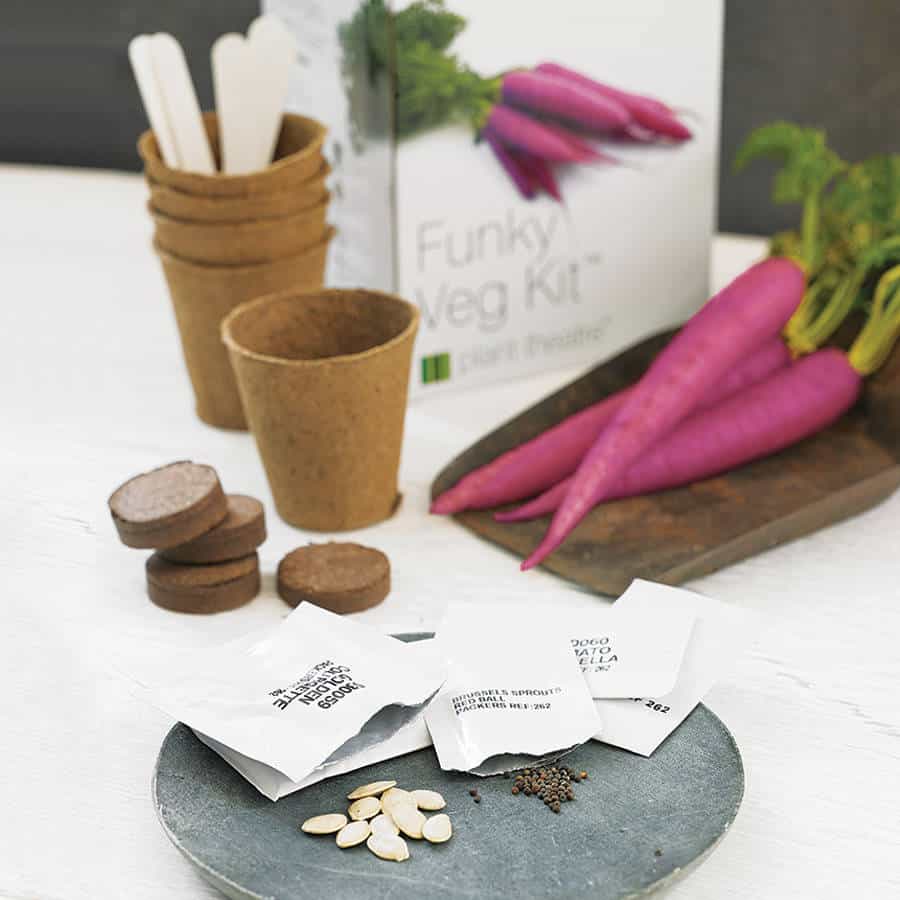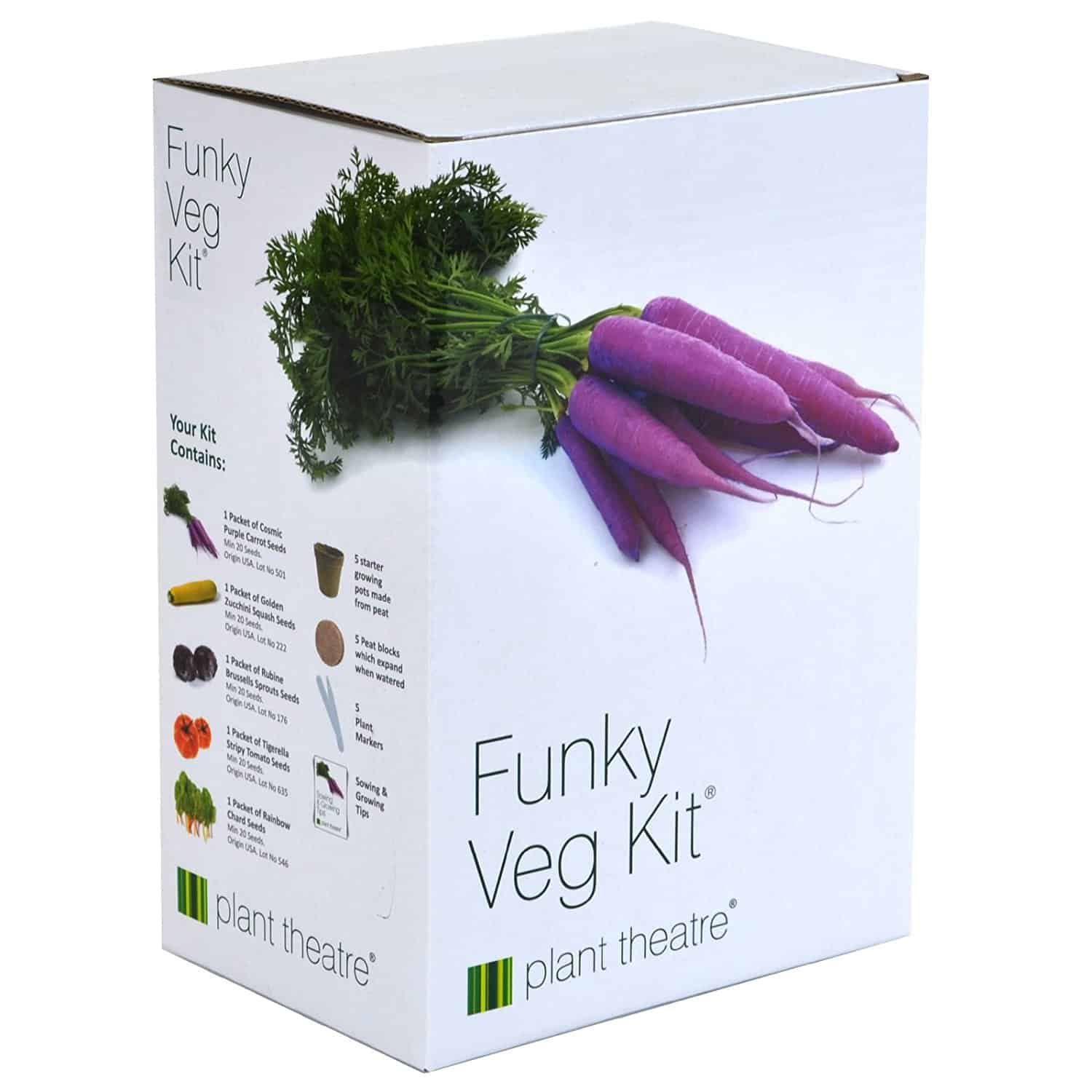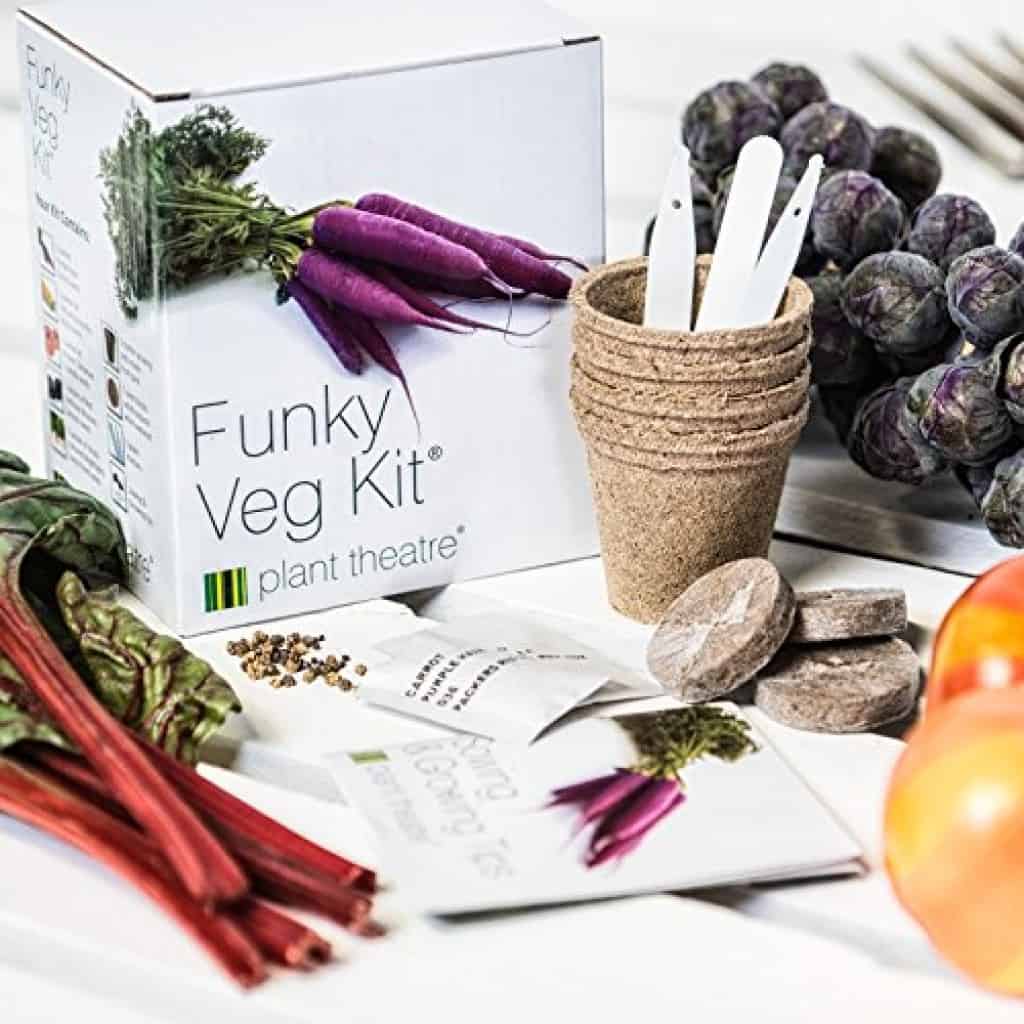 Funky Veg Kit [Review 2021]
You blurted out in front of your colleagues that not all carrots are yellow. Now you don't have a choice but to buy the Funky Veg Kit in order to save face. Get all the equipment you need to easily grow purple carrots, yellow zucchinis, red brussel sprouts, stripy tomatoes, and rainbow Swiss chard.

Features
Non-GMO seeds

Made in USA

Includes tomatoes, brussel sprouts, purple carrots, and more
Dimensions
5.5 x 3.9 x 7.9 inches

7.2 ounces
There's nothing more rewarding that growing your own food, but bring a bit more pizzazz to your garden with the Funky Veg Kit.
You can basically hear someone slapping their bass, it's so funky!
This pack contains seeds that you plant which grow into…
Purple carrots – whoa!

Yellow courgettes – Crazy! I thought they were called Zucchinis but, whatever, they can be both I guess.

Striped Tomatoes – Say what now? Did they cross that with a zebra?!

Red Bull Brussel Sprouts – how the heck does a can of Red Bull and Brussel sprout meet and fall in love and make this mixed-race cutie?

Multi Coloured Swiss Chards – I don't even know what these are, but they're super colourful and that's all good with me.
Also good products
Bestseller No. 1
Plant Theatre Seed Starter Kit for Growing Vegetables - Funky Veg Kit to Grow Out or Indoor Garden - Pots, Peat Discs, Markers for Plants, & Vegetable Seeds Included
Everything a Gardener Needs: From 5 pots, to 5 peat discs, to tips on sowing, the vegetable gardening kit has all the tools to get started
Variety: Grow carrots, Brussels sprouts, tomatoes, zucchini squash, & rainbow chard of various colors from this out & indoor garden kit
A Colorful Bunch: Brighten up the salad mix with vibrant vegetables grown from the lab-tested seeds in our garden starter kit
For Everyone: This exciting selection of plant seeds for planting a funky, indoor vegetable garden is great for new & expert gardeners alike
Gardening Gift Box: Looking for funky & unusual gifts for dad, mom, or BFF? Surprise them with these seed packs on their special day
Sale
Bestseller No. 2
The Old Farmer's Almanac 2020
Old Farmer's Almanac (Author)
English (Publication Language)
304 Pages - 09/03/2019 (Publication Date) - Old Farmer's Almanac (Publisher)
Bestseller No. 3
Nature's Blossom Exotic Vegetable Garden Kit - Easily Grow 4 Funky Vegetables from Seeds. Educational STEM Gardening Gift Set for Kids, Men and Women. Full Beginners Starter Kit.
Everything you need to grow 4 beautiful vegetables from seeds: Nature's Blossom's grow kit contains all the gardening supplies needed to grow four types of rare veggies at home - fresh vegetable seeds for planting, planting pots, potting soil, plant markets, Plant water mister & a detailed gardener's manual ; Made in the USA
Grow a funky vegetable garden: grow purple carrots, black corn, yellow cucumber and romanesco broccoli ; Our seeds have the highest germination rates, and are sourced from local farmers, right here in the USA. Our seeds are NON-GMO, chemical free, edible, and can be grown indoors or outdoors.
Unique gift for men, women and children: looking for an "out-of-the-box" gift to amaze your loved ones? Nature's Blossom Exotic Vegetables grow kit is the perfect gift for someone who has it al and is especially great for kids, experimenting their first steps in home gardening
High germination rates: our seeds are non-gmo, chemical free, and grown in the USA ; Each seed goes through multiple tests and we've placed more seeds than you actually need to make sure you will successfully grow multiple plants
Can be grown indoors or outdoors ; Made in the USA
Bestseller No. 4
Nature's Blossom Exotic Vegetables Growing Kit. 4 Unique Plants To Grow From Seed. Beginner Gardeners Starter Set To Start Your Own Unusual Home Veg Garden. Gardening Project For Kids and Adults
Everything you need to grow 4 types of unique vegetables from seed: Nature's Blossom's grow kit contains all the gardening supplies needed to grow four types of rare veggies at home - fresh vegetable seeds for planting, planting pots, potting soil, plant markets & a detailed gardener's manual
Grow a funky vegetable garden: purple carrots, black corn, yellow cucumber and space broccoli (romanesco). Our seeds have the highest germination rates, and are sourced from local farmers, right here in the USA. Our seeds are NON-GMO, chemical free, edible, and can be grown indoors or outdoors
Home gardening project for kids and adults: Nature's Blossom Exotic Vegetables grow kit is the perfect gift for someone who has it all, and offers a fun opportunity to experience the exciting world of home gardening ; A step by step gardening guide is included
Designed for beginner and expert gardeners: grow these fun exciting plants together with your children, and make it a family project. The kit arrives with a detailed step-by-step Sow & Grow manual to make sure your experience will be smooth and easy
Seeds can be grown indoors or outdoors ; Made in the USA