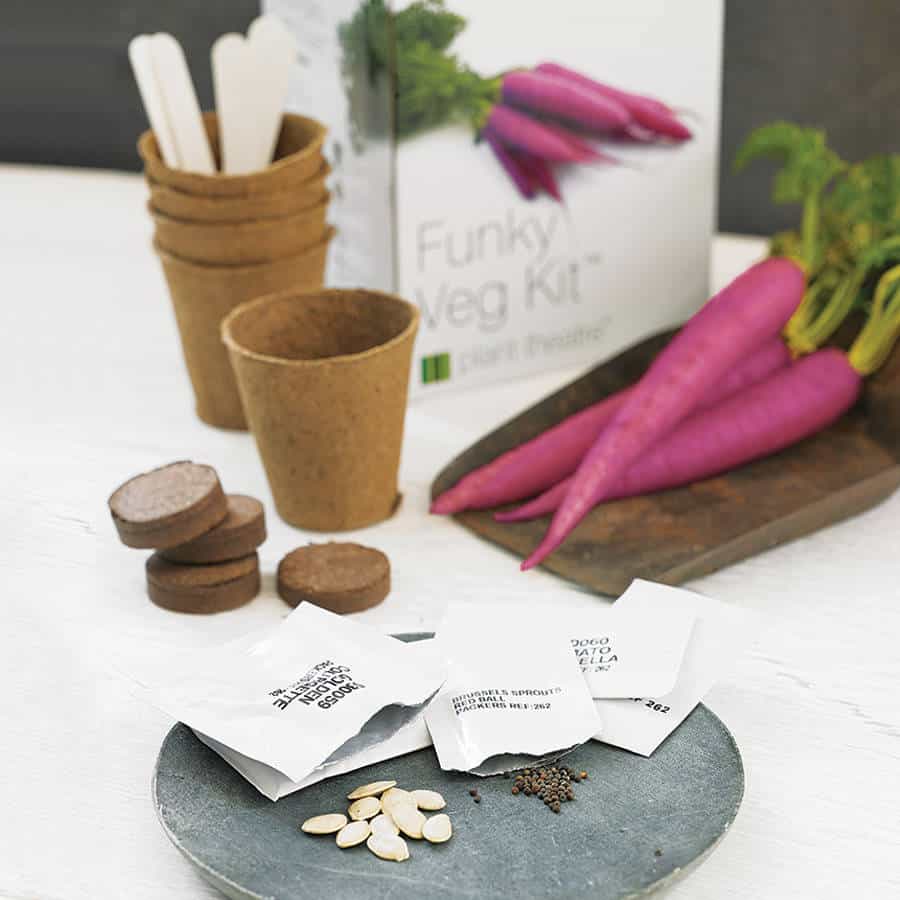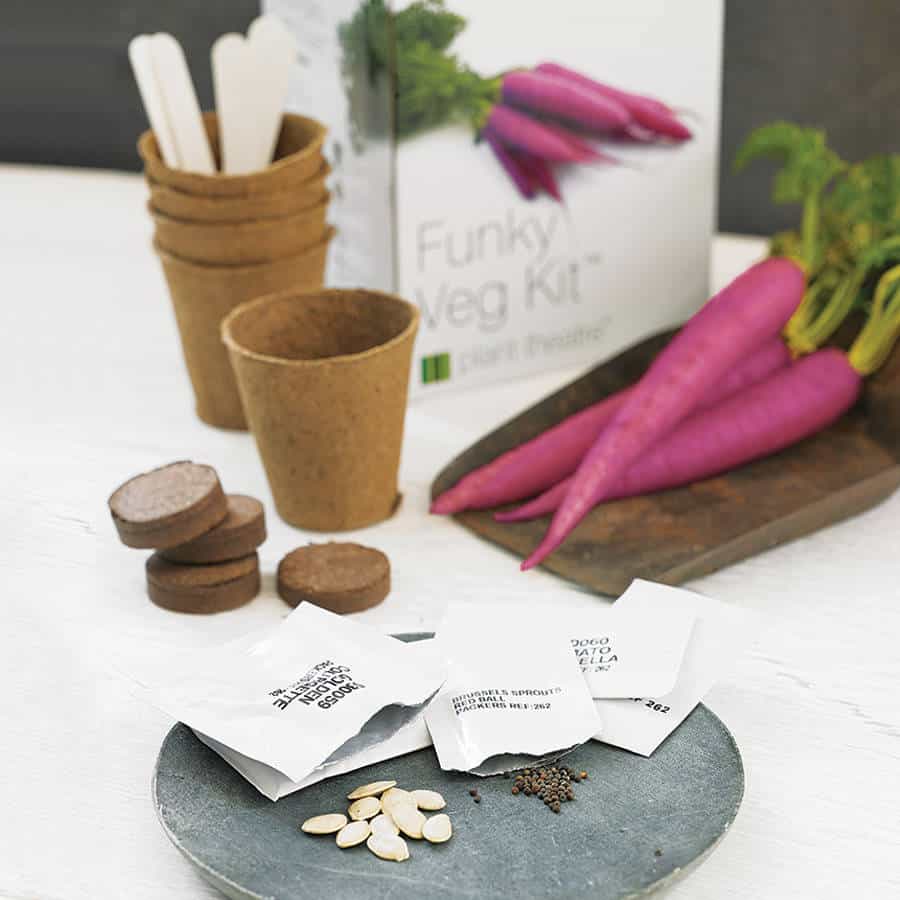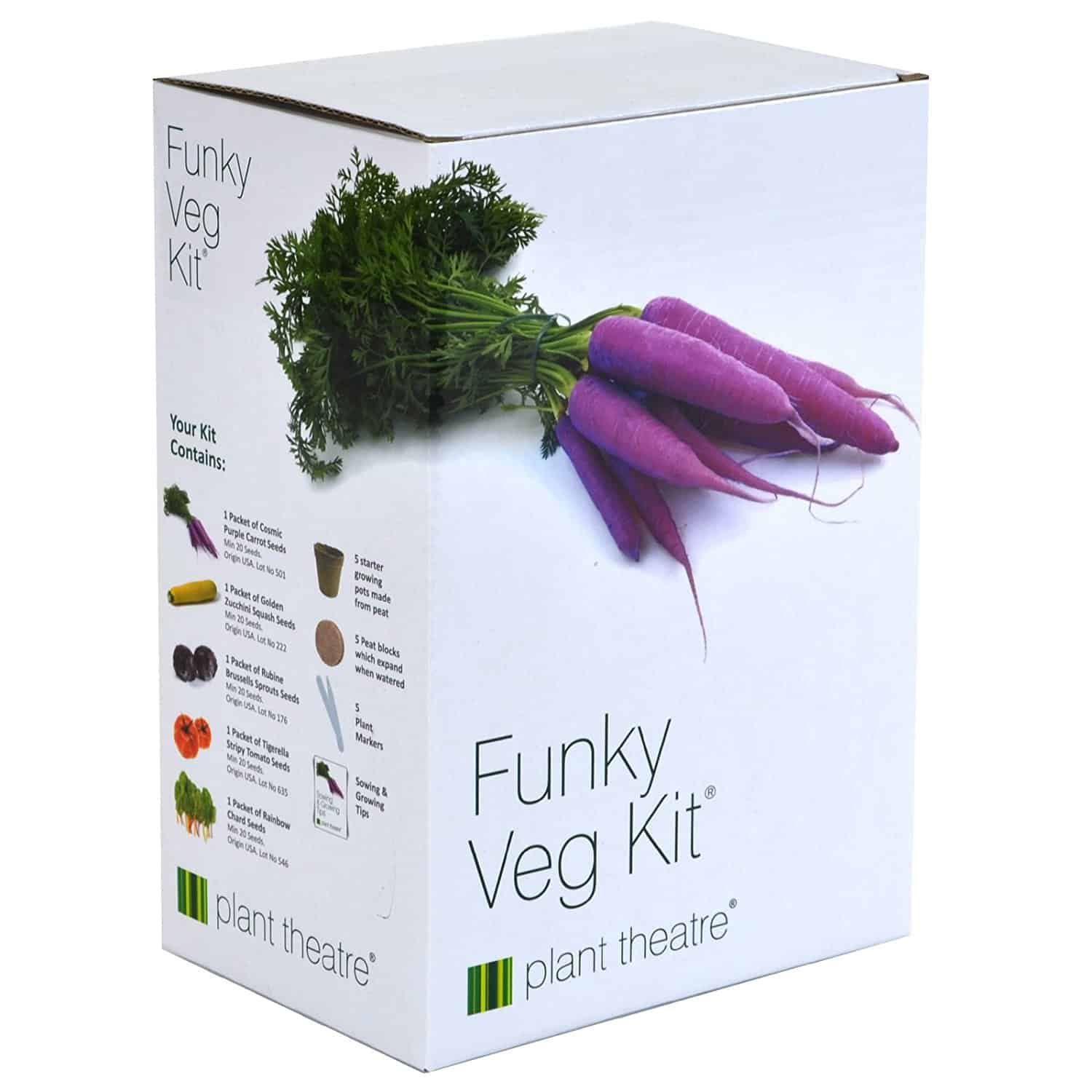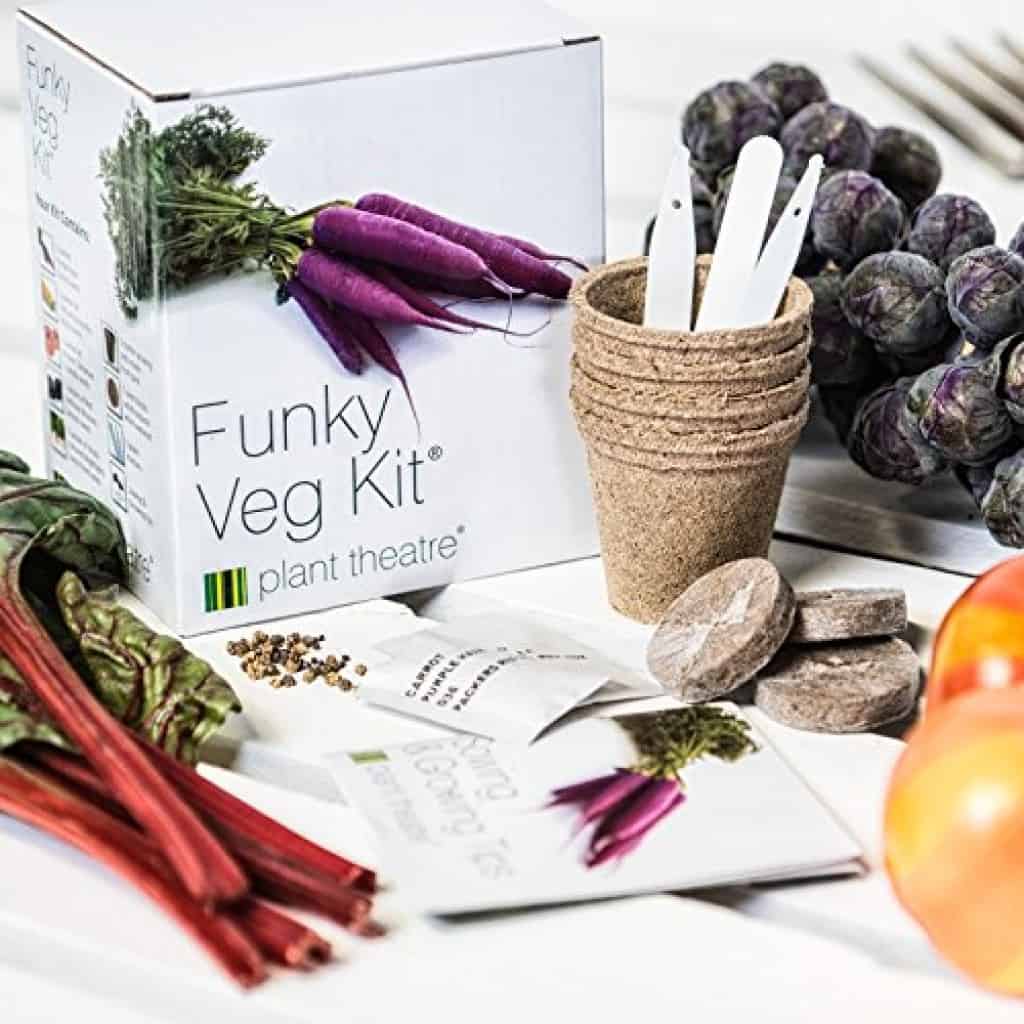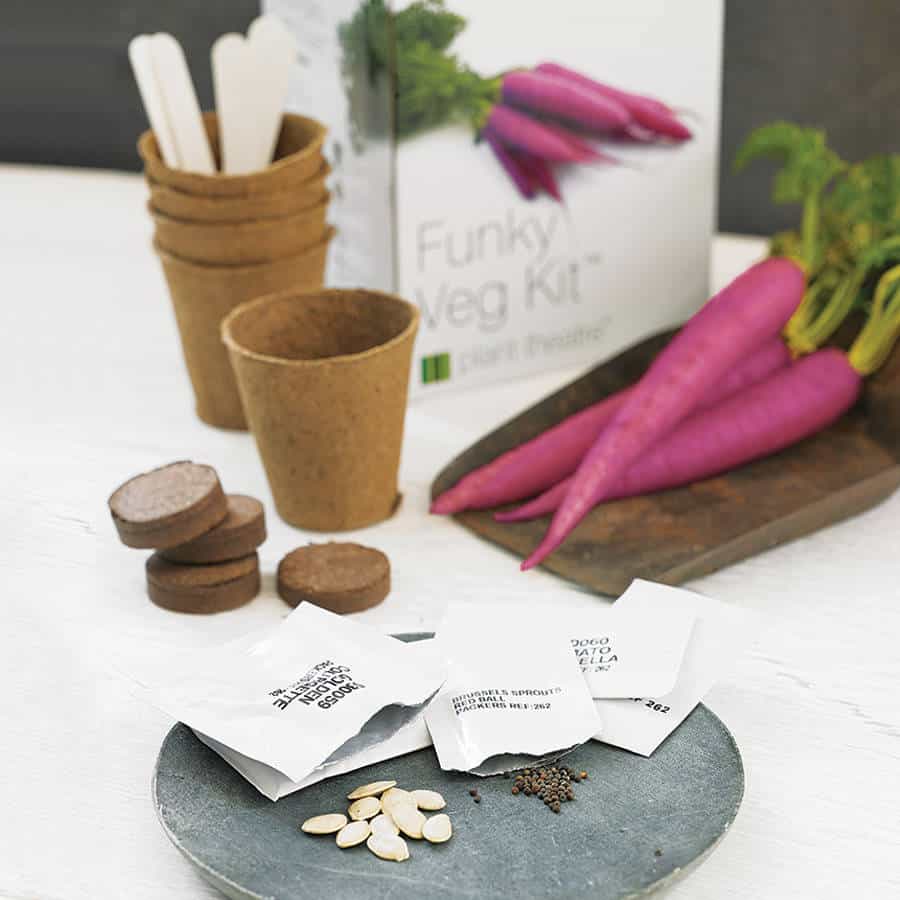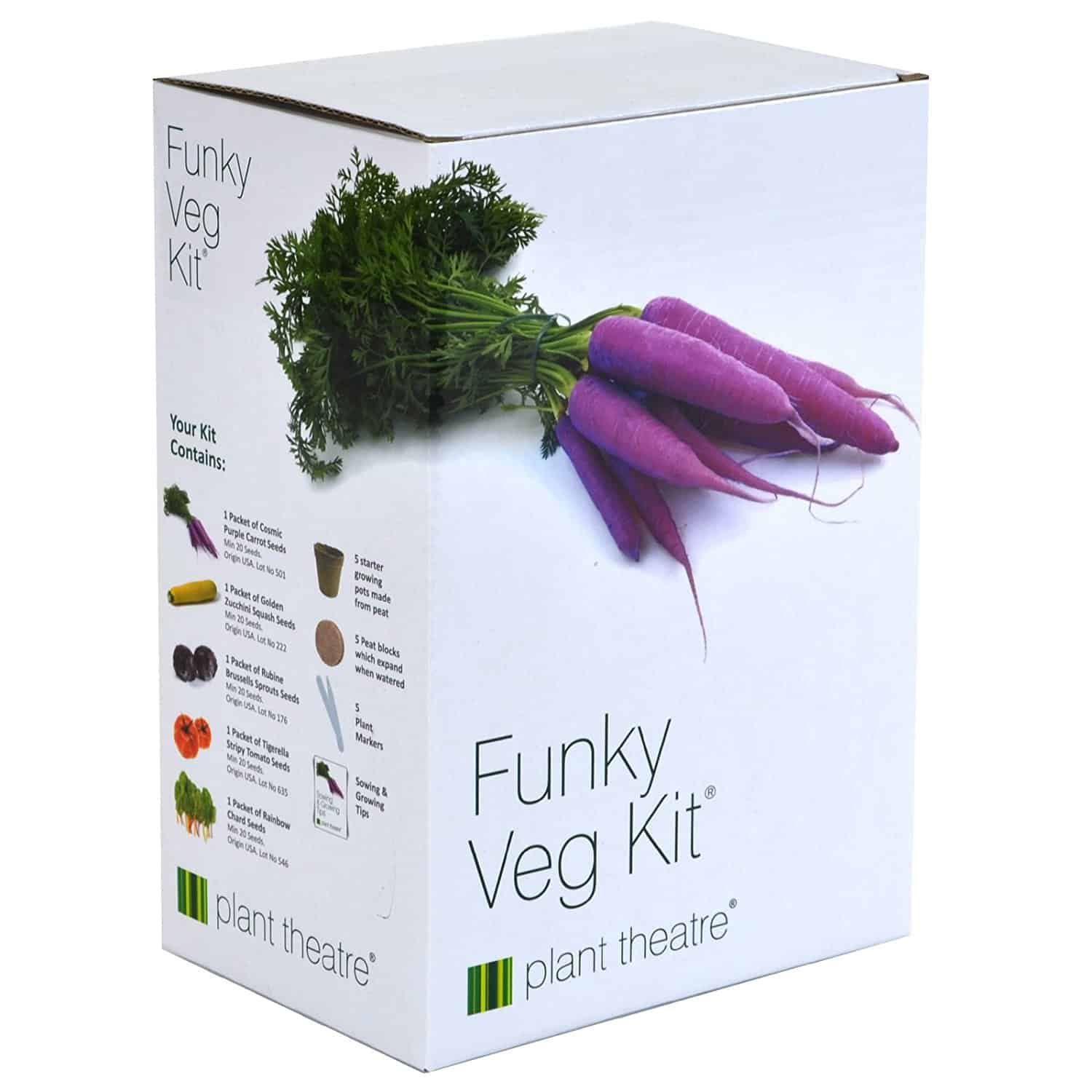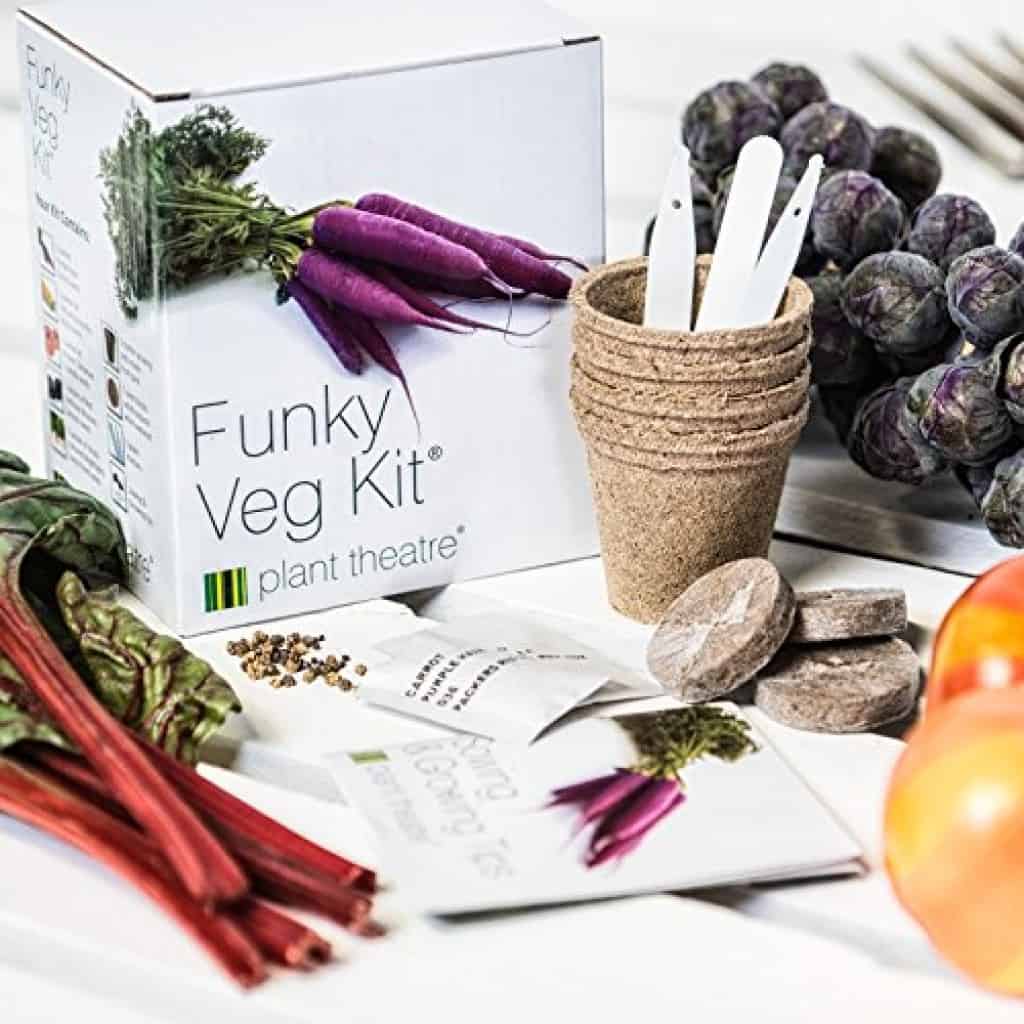 Funky Veg Kit [Review 2022]
You blurted out in front of your colleagues that not all carrots are yellow. Now you don't have a choice but to buy the Funky Veg Kit in order to save face. Get all the equipment you need to easily grow purple carrots, yellow zucchinis, red brussel sprouts, stripy tomatoes, and rainbow Swiss chard.

Features
Non-GMO seeds

Made in USA

Includes tomatoes, brussel sprouts, purple carrots, and more
Dimensions
5.5 x 3.9 x 7.9 inches

7.2 ounces
There's nothing more rewarding that growing your own food, but bring a bit more pizzazz to your garden with the Funky Veg Kit.
You can basically hear someone slapping their bass, it's so funky!
This pack contains seeds that you plant which grow into…
Purple carrots – whoa!

Yellow courgettes – Crazy! I thought they were called Zucchinis but, whatever, they can be both I guess.

Striped Tomatoes – Say what now? Did they cross that with a zebra?!

Red Bull Brussel Sprouts – how the heck does a can of Red Bull and Brussel sprout meet and fall in love and make this mixed-race cutie?

Multi Coloured Swiss Chards – I don't even know what these are, but they're super colourful and that's all good with me.
Also good products
Sale
Bestseller No. 1
Survival Vegetable Seeds Garden Kit Over 16,000 Seeds Non-GMO and Heirloom, Great for Emergency Bugout Survival Gear 35 Varieties Seeds for Planting Vegetables 35 Free Plant Markers Gardeners Basics
ASSORTMENT - 35 easy to grow vegetable varieties and over 16,000 seeds. All non-GMO and heirloom varieties. Our survival pack includes lettuce, beets, carrots, onions, squash, zucchini, tomatoes, peppers, broccoli, peas, beans, and more. Complete gardening kit for growing your home garden.
PROFESSIONAL - Packed in seed packets, not plastic bags: plastic bags can harbor mold and ruin vegetable seeds. Complete growing and harvesting instructions included on every packet. Perfect for indoor garden and hydroponics growing system.
USA - Seed bank grown, sourced, and packaged in the USA. It makes excellent gifts for moms, adults and gardening gifts for men. Provide emergency food security by growing and saving seeds or storing our seeds in a cool, dark, dry place in its water resistant packaging.
EASY - Varieties picked by a gardener for easiness in most growing conditions. Great for beginners and seasoned gardeners alike. Great for parsley, spinach, gardening gifts, hydroponics supplies, prepper gear, aerogarden, emergency preparedness items, or bug out.
GUARANTEE - We know you'll love your survival garden seeds, but if for any reason you're not, please contact us.
Sale
Bestseller No. 2
9 Herb Window Garden - Indoor Herb Starter Kit - Unique Gardening Gifts for Women & Men Cook - Kitchen Windowsill Growing Kit + Guide to Easily Grow 9 Herbs - Best Unusual Birthday Gift for Cooking
Complete 34 piece kit: Everything you need to bring the joy of planting savory herbs into your or a loved one's life. It's easy – we take the guesswork out of planting herbs from seeds, guiding you every step of the way. Plant on!
Pot it: 9 reusable pots – Perfectly sized for seedlings with ample drainage and innovative drip trays. Save and reuse. | Feed it: 3 nutrient-rich soil discs - Add water, and they'll expand 6-8 times their original size. Pre-fertilized.
Plant it: 9 packets of premium seeds – Featuring 9 different herbs: Dill, Basil, Chives, Thyme, Parsley, Oregano, Cilantro, Sage, & Mustard. All of the seeds have been tested for the highest germination rates and sourced in the USA.
Mark it: 9 bamboo markers – Markers help you identify your seedlings as they grow. | Ace it! : Instruction guide - We walk you through it step by step so that you can grow fabulous herbs.
Plant your way to joy : Love it, or your money back! If you struggle with any aspect of the process, don't hesitate to contact us. We promise to help you out until you receive the results that you want. Nevertheless, if you are not satisfied with the kit, we'll refund you 100% of the money, no questions asked.
Bestseller No. 3
Seeding Square – Square Foot Gardening Template – Seed Sowing Tool Kit Comes with: Color Coded Seed Spacer Template & Magnetic Seed Dibber/Seed Ruler/Seed Spoon & Vegetable Garden Planting Guide
🥕HELPING YOU GARDEN BETTER🥦 We help people grow high-density vegetable gardens with confidence. Seeding Square, our seed spacing template - is inspired from the popular Square Foot Gardening method, is fun for all ages, and turns anyone into a master gardener! So, get ready for a truly impressive crop of home-grown vegetables.
🍉SPACE SEEDS PERFECTLY🥒 Plant your garden with ease and watch the sprouts emerge straight and tidy. Sowing seeds (and seedlings) with the optimal amount of space allows gardeners to grow a large harvest from a small garden. Bonus: Maximized spacing = less exposed soil = less water evaporation = a lower water bill.
🧅SPOT WEEDS EASILY🌶️ Using Seeding Square organizes your garden like a dream and is a time-saver for weeding – because perfect interval spacing of plants make weeds easy to spot, and maximized spacing leaves less room for weeds.
🍓THREE SIMPLE STEPS🥬 1.) Press the Square into the soil. 2.) Poke the color-coded holes. 3.) Plant your seeds. That's it…just don't forget to water! Bonus: The 1" side walls of Seeding Square leave behind an impression in the soil, which creates a "garden grid" helping you line up the next press, and the next …yup, we thought of everything!
🌽BUILT TO LAST🍅 As fellow gardeners we made sure our garden spacing tool kit is durable. So go ahead and jump on it, wash it, and hang it as a piece of art if you like! Crafted from premium grade ABS plastic - buy it once & you'll be planting for years to come. We hope you'll share your amazing garden with #seedingsquare #growyourfood & #plantingday
Sale
Bestseller No. 4
AeroGarden Harvest - Indoor Garden with LED Grow Light, Black
INCLUDES GOURMET HERB SEED KIT (6-POD) - Genovese Basil, Curly Parsley, Dill, Thyme, Thai Basil and Mint & a 3oz bottle of our patented, all natural Plant Nutrients (enough for a full season of growth).
ALWAYS HOMEGROWN: FRESH & SAFE - Up to 6 plants grow at a time, up to 12" tall with this indoor garden. Grows in water - no soil, no mess, made simple.
EASY TO USE (GROW) - control panel tells you when to add water, reminds you when to add plant food (included), automatically turns lights on and off for your indoor herb garden
5X FASTER THAN SOIL - High-performance, full spectrum 20-watt LED high efficiency grow lighting system in your herb garden is tuned to the specific needs of plants to maximize photosynthesis, resulting in rapid, natural growth and abundant harvests.
PERFECT GIFT FOR ANYONE - Give the gift of growing fresh herbs & veggies all year round in this indoor herb garden. The AeroGarden Harvest is the perfect gift idea for men, women, dad, mom, grandma, any friend or family member. Always fresh, always local, always in season.