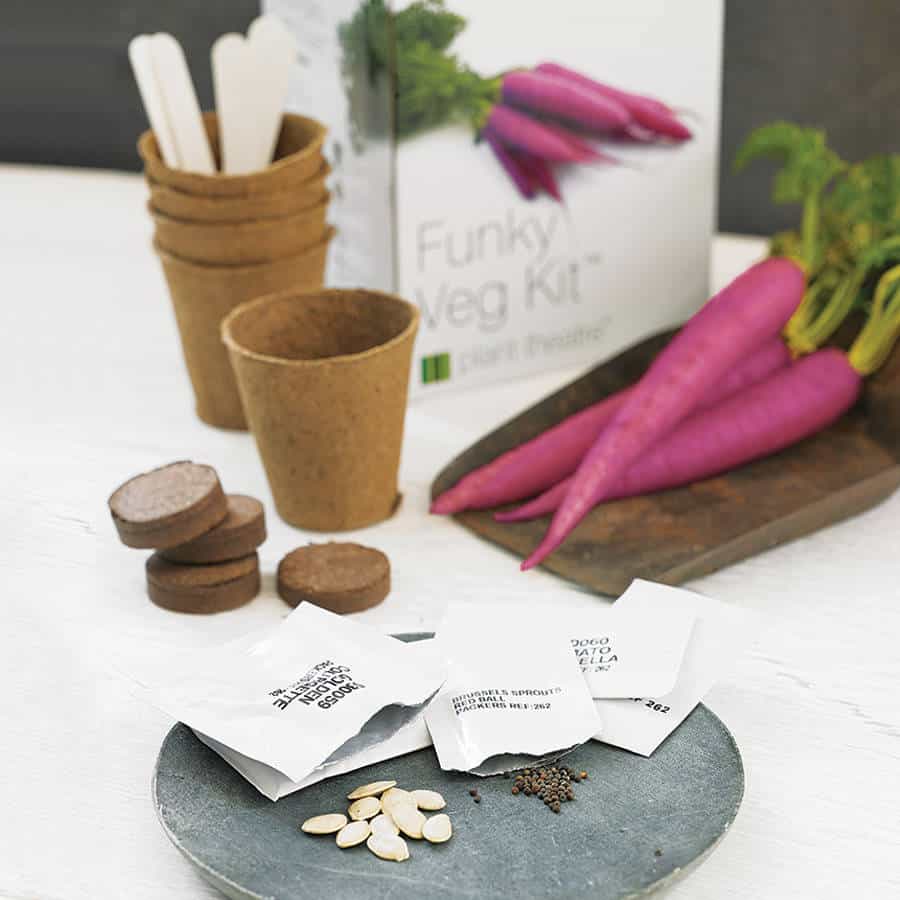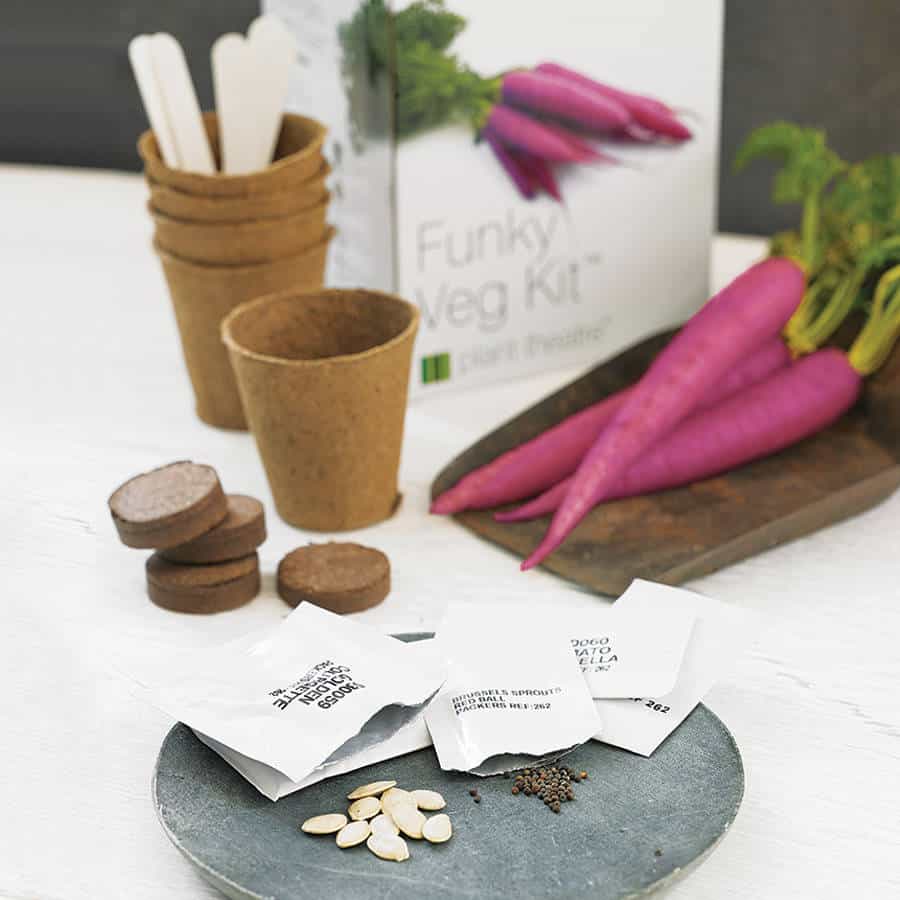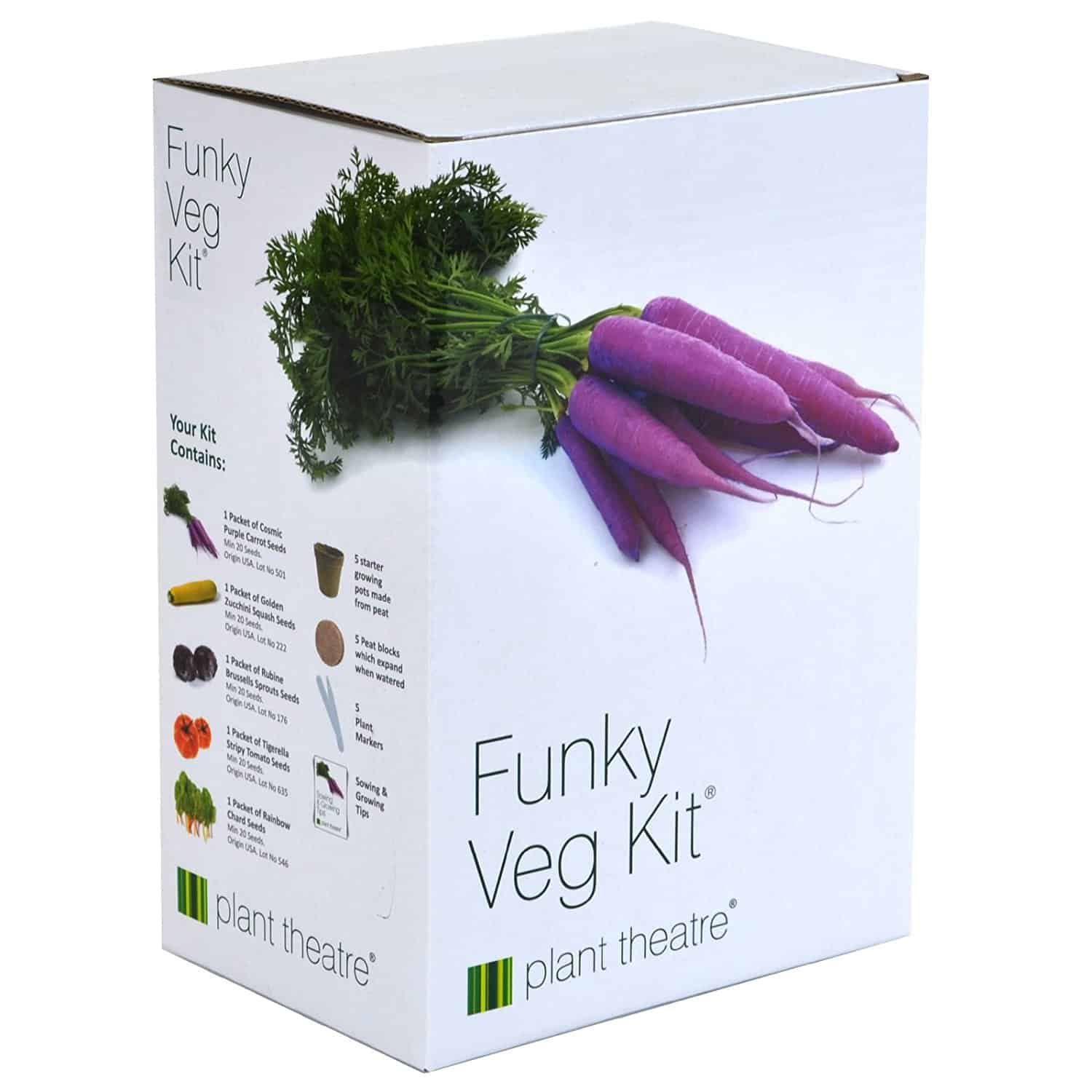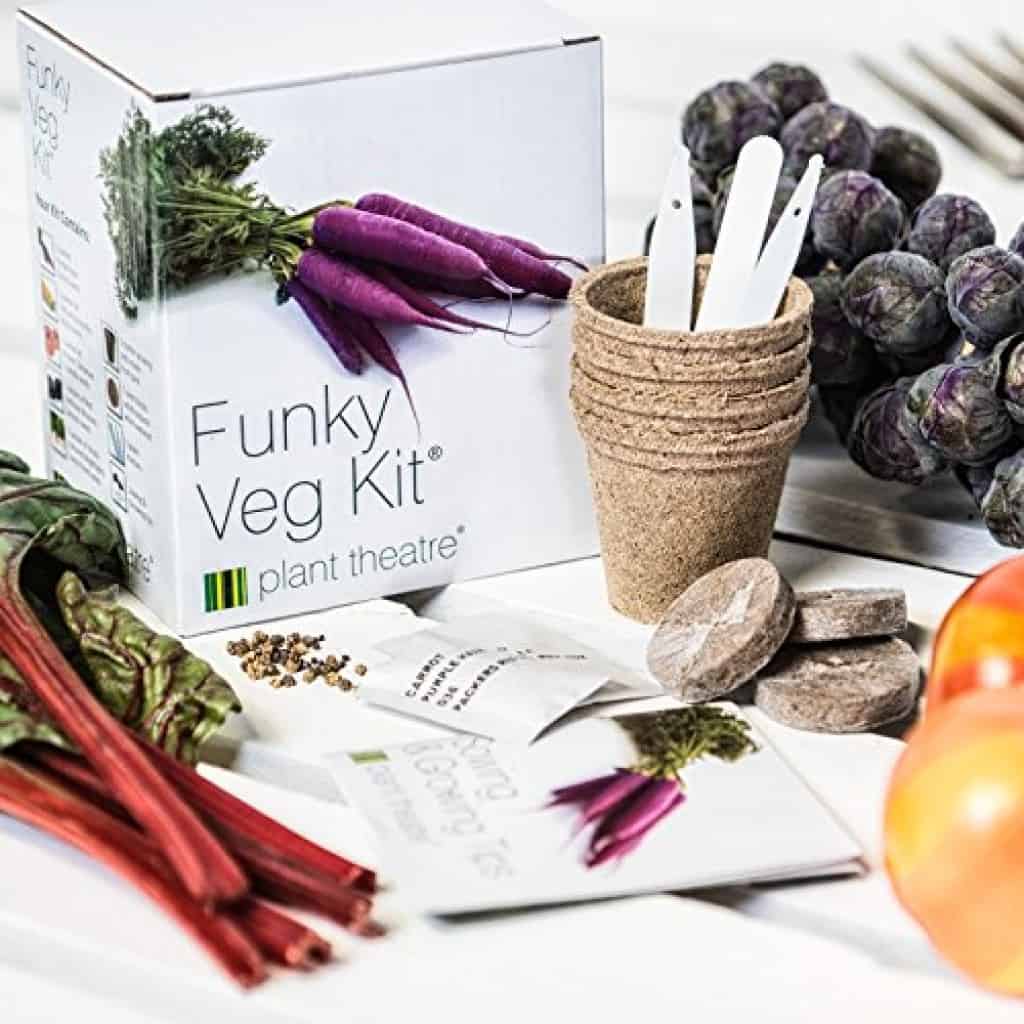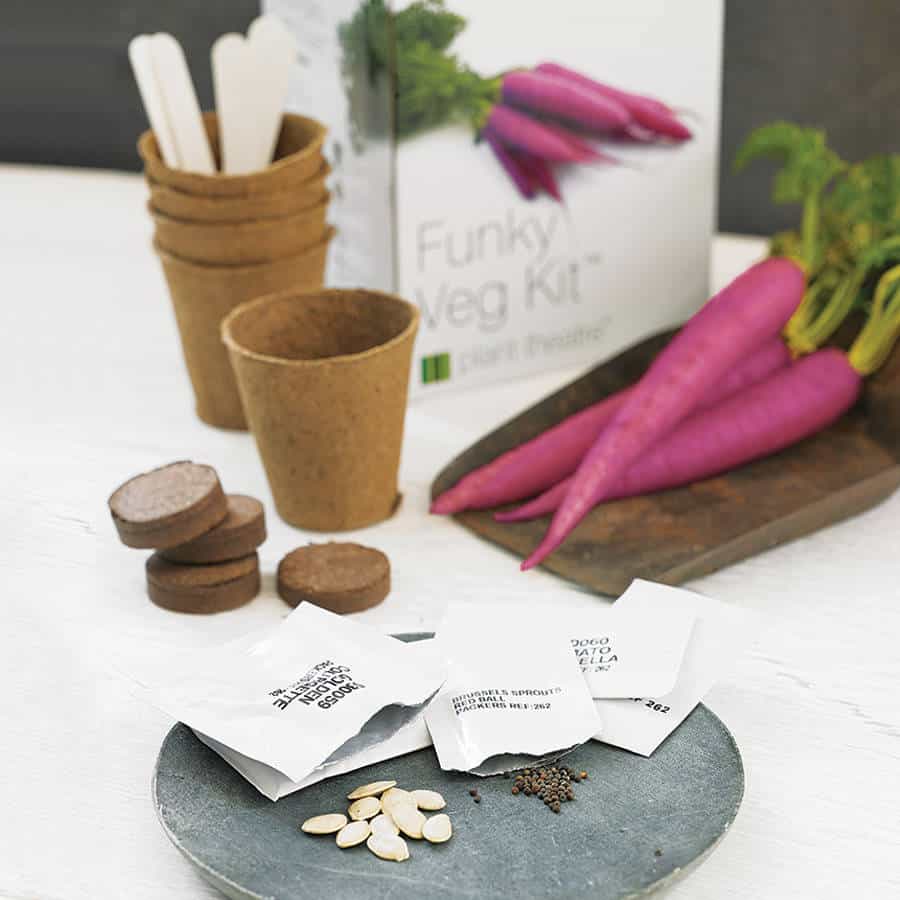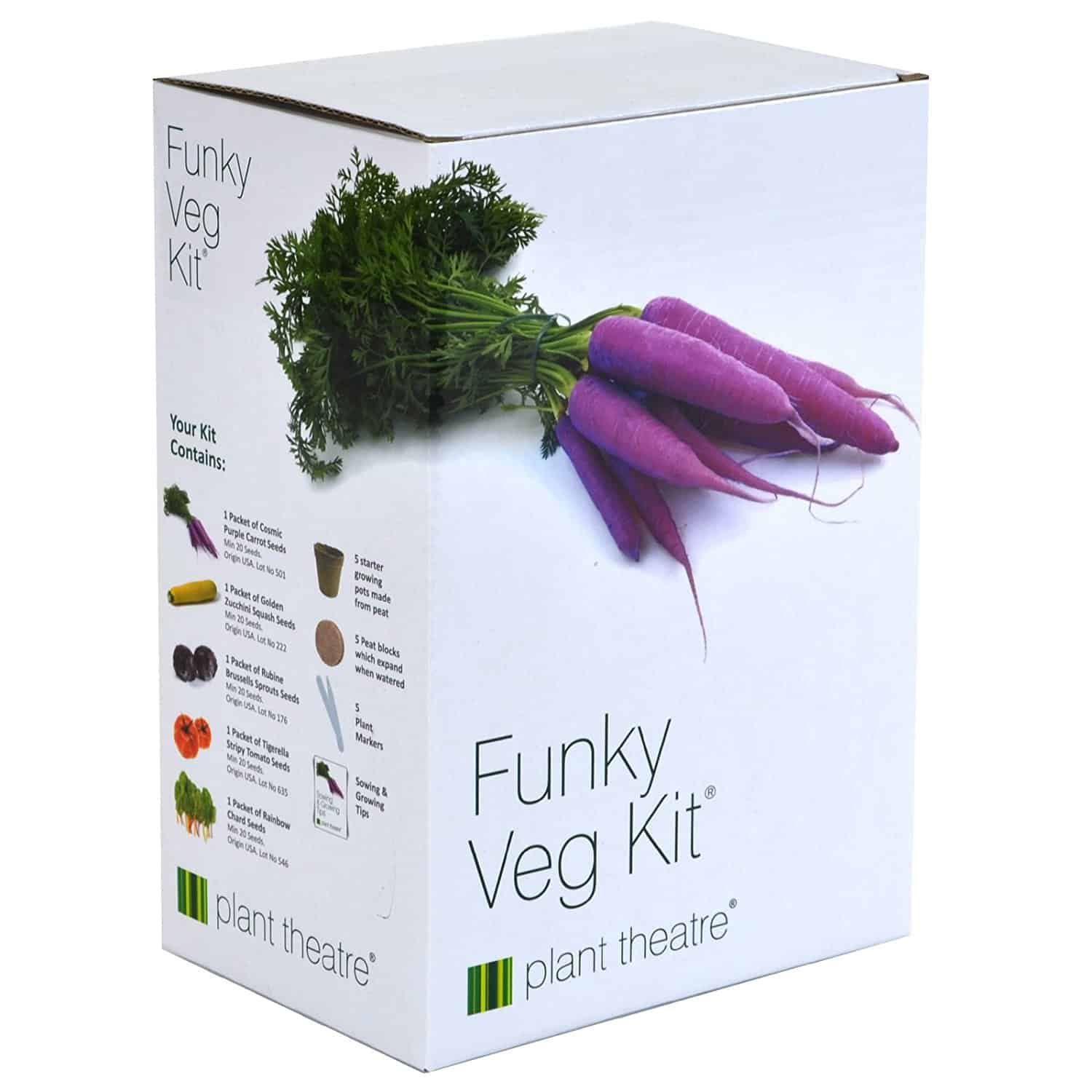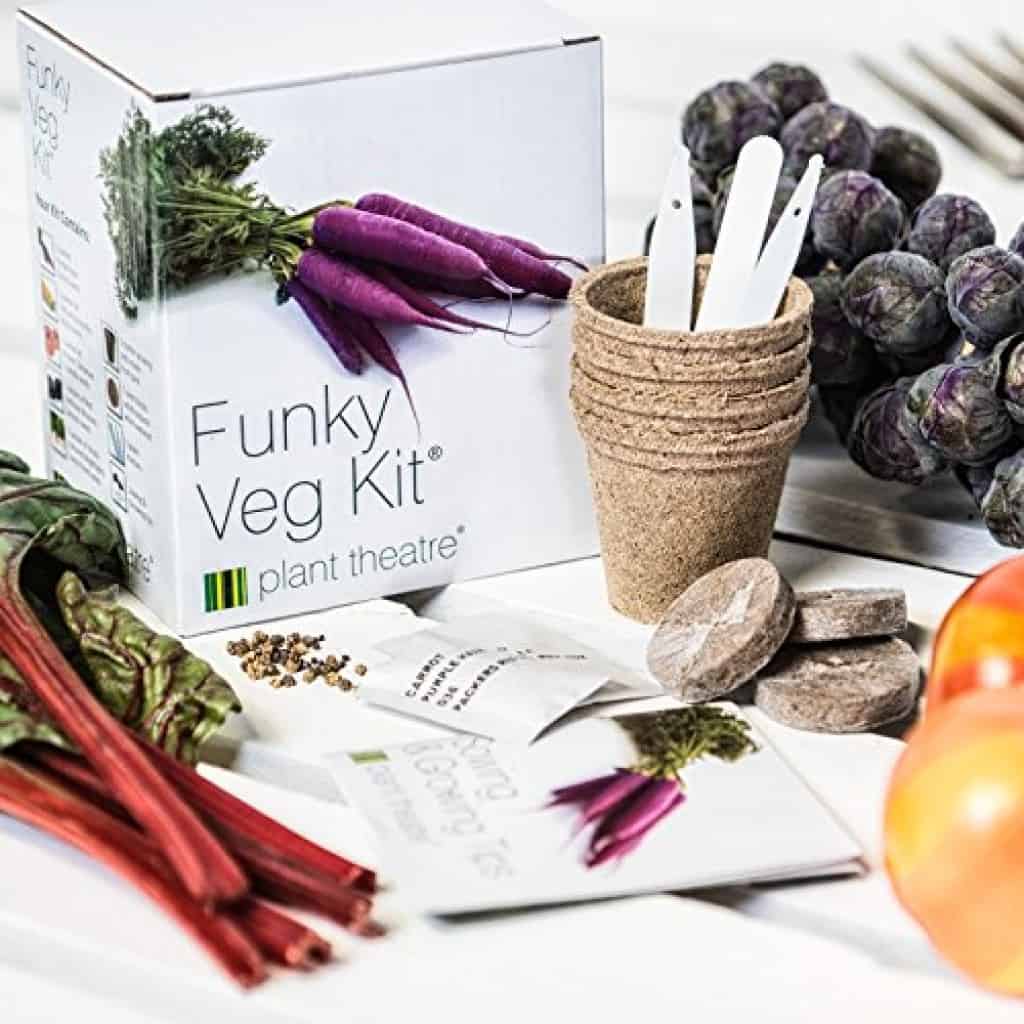 Funky Veg Kit [Review 2023]
You blurted out in front of your colleagues that not all carrots are yellow. Now you don't have a choice but to buy the Funky Veg Kit in order to save face. Get all the equipment you need to easily grow purple carrots, yellow zucchinis, red brussel sprouts, stripy tomatoes, and rainbow Swiss chard.

Features
Non-GMO seeds

Made in USA

Includes tomatoes, brussel sprouts, purple carrots, and more
Dimensions
5.5 x 3.9 x 7.9 inches

7.2 ounces
There's nothing more rewarding that growing your own food, but bring a bit more pizzazz to your garden with the Funky Veg Kit.
You can basically hear someone slapping their bass, it's so funky!
This pack contains seeds that you plant which grow into…
Purple carrots – whoa!

Yellow courgettes – Crazy! I thought they were called Zucchinis but, whatever, they can be both I guess.

Striped Tomatoes – Say what now? Did they cross that with a zebra?!

Red Bull Brussel Sprouts – how the heck does a can of Red Bull and Brussel sprout meet and fall in love and make this mixed-race cutie?

Multi Coloured Swiss Chards – I don't even know what these are, but they're super colourful and that's all good with me.
Also good products
Bestseller No. 1
Herb Grow Kit, 10 Herb Seeds DIY Garden Starter Kit, Complete Potted Plant Growing Set Including White Pots, Markers, Nutritional Soil, Watering, Clipper for Kitchen Herb
MEET ALL NEEDS FOR HERB GROWING: Package comes with 10 types of herb seeds, 10 pots, 10 plant markers, 4 nutritional soil discs, 1 water bottle, 1 mini metal pruner, and an instruction & growing guide. The herb grow kit is super simple and easy to use, perfect for garden beginners.
DIY A SMALL INDOOR HERB GARDEN: We provides seeds that grow into Chamomile, Basil, Parsley, Rosemary, Thyme, Lavender, Chives, Cilantro, Sage, and Dill. All these herbs seeded on your own would be safer and greener to eat, and very suitable to be put on the kitchen's windowsill especially so that you can get and cook with the freshly plucked.
PERFECT GIFT: 10 herb seeds garden starter kit would be a decent gift presenting to your families and friends for housewarming party, Father's Day, Mother's Day gifts and other important occasions. Herb growing can well free them from tired lives and relieve their stress, and bring new vigor.
SELF-WATERING POTS: 10 durable plastic herb plant pots with drip trays free you from plant watering and make plant growing easier. Simple and stylish appearance and proper size are suitable for balcony, windowsill and shelf decoration, practical and beautiful, making your room full of vitality. Please transparent the seedlings to larger pots when grow into 2-3 inch for more space.
COCONUT COIR SOIL BLEND: Our bonsai soil contains coconut coir, which is good to seeds germination and can promote the growth of seedling. It is compressed into soil discs (1.5" in thickness, each soil disc weighs 2oz) for easy package and can expand into 10 times as large as what it was after absorbing the water. 4 soil discs are sufficient enough for the beginning of the plant growing.
Sale
Bestseller No. 2
TickleMe Plant Seeds Packets (2) Party Favor! Leaves Fold Together When You Tickle It. Great Science Fun, Easy to Grow Indoors. It Can Flower. Include 10 Activities. Re-Opens in Minutes!
SEE VIDEO ON THE LEFT of a LIVE TickleMe Plant then start to grow your own. The Most Exciting house plant that closes its leaves and lowers its branches when you Tickle it or blow it a Kiss!
UNIQUE STOCKING STUFFER - INCLUDES TWO PACKETS OF TickleMe Plant Seeds! Our Fresh Seeds are Guaranteed to grow and for the second set of leaves to move when Tickled! The leaves re-open in Minutes!
GIVEAWAY GIFT that for kids, adults, or anyone who loves nature, plants, and gardening on birthday, EARTH DAY, or on any special gifting occasion! Easy to mail with just a stamp and envelope. This two pack seed bundle will also make a great favor for weddings, birthday parties, and gardening games.
Easy to Grow Indoors with your kids or grandchildren any time of the year even in the winter WATCH THE VIDEO ON THE LEFT and start to grow your own! Our fresh seeds are 100% guaranteed to grow a plant that will make you smile.
DISCOVER THIS MAGICAL TROPICAL PLANT: Includes 10 fun ideas to do with your TickleMe Plant- Amazing, Educational, and Fun. Perfect for elementary school, green activities, gardening clubs, after school activities. A must-have for anyone who loves nature and gardening!
Bestseller No. 3
Back to the Roots Windowsill Planter: Lavender
100% ORGANIC AND NON-GMO: There's no need to worry about intoxicants that may hinder your plant's growth because the true lavender seeds included in our starter kit is completely organic and not genetically modified; You can use them as potpourri or add them into your baked goods in no time
GROW YOUR PLANT ALL YEAR-ROUND: This mason jar grow kit allows you to grow your own lavender all-year round; The planter kit is designed especially for the hobbyist who would like to try indoor gardening without the hassle of starting from scratch; Included in this windowsill lavender planter kit are all the necessary items to get you started
CONVENIENT AND EASY: Lavender is one of the easiest to grow indoors because it is a highly drought-tolerant and low-maintenance houseplant; With the Back to the Roots lavender grow kit & planter, you'll get the calming smell of lavender in your home when it's just 2 inches tall
COMPLETE STARTER KIT: Other than our lavender seeds for planting, the Back to the Roots planter kit includes a large glass mason jar, custom organic soil blend, and 2 organic fetilizer spikes; Paired with more than 8 hours worth of sunlight, germination will start happening in just a few short weeks
SATISFACTION GUARANTEED: Made in the USA and 100% Guaranteed to grow. If you are not satisfied, simply message us and we will send you a Back to The Roots replacement
Bestseller No. 4
Plant Theatre Bonsai Tree Kit - Indoor Plant Growing Kit w/ 3 Mini Bonsai Seed Packs, 6 Pots, 6 Peat Discs and 6 Propagator Bags - Gardening Gifts for Men, Women and Room Decor - Crafts for Adults
UNIQUE VARIETIES - Add something unique to your home decor with 3 different bonsai varieties – Silver Birch (Bethula Pendula), Red Maple (Acer Rubrum), and Mountain Pine (Pinus Mugo Pumilio).
ALL SUPPLIES INCLUDED - The perfect plant gifts have arrived. This kit includes 6 pots, 6 peat discs, 6 markers, seeds, propagator bags, and a guide to get your bonsai kit up and running.
PEACEFUL PLANTING - Find your zen by growing, trimming, and caring for your own bonsai for years to come. One of the most peaceful hobbies for women, men, or anyone with a green thumb.
INTERMEDIATE LEVEL - Ready to take your gardening up a notch? These bonsai seed sets are the perfect gifts for gardeners who are a little familiar with the basics of botany, but even beginners can follow along!
SENSATIONAL STOCKING STUFFERS - Looking for Christmas gifts, unique gifts for women and men, or just some basic plant lover gifts for the groovy grower in your life? Grab our kit this season!