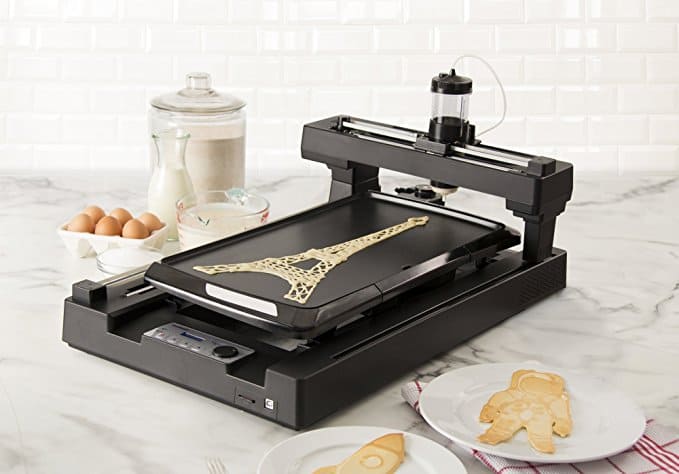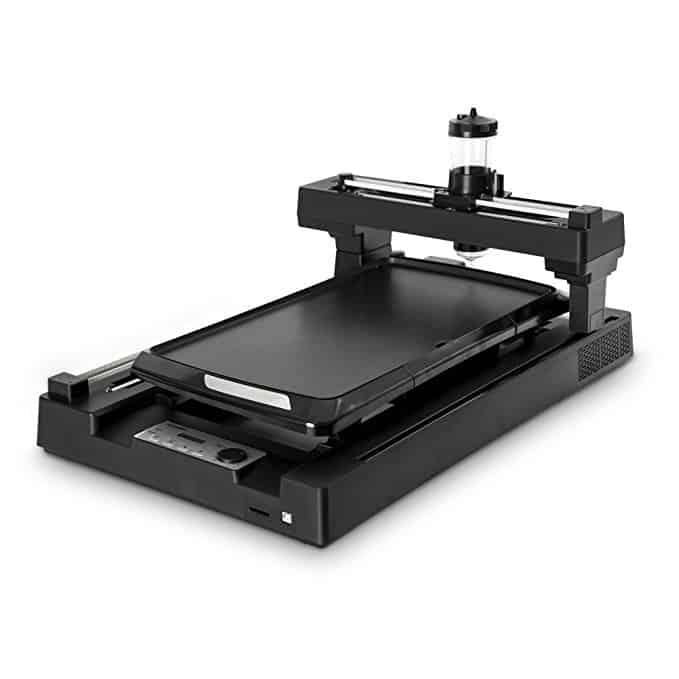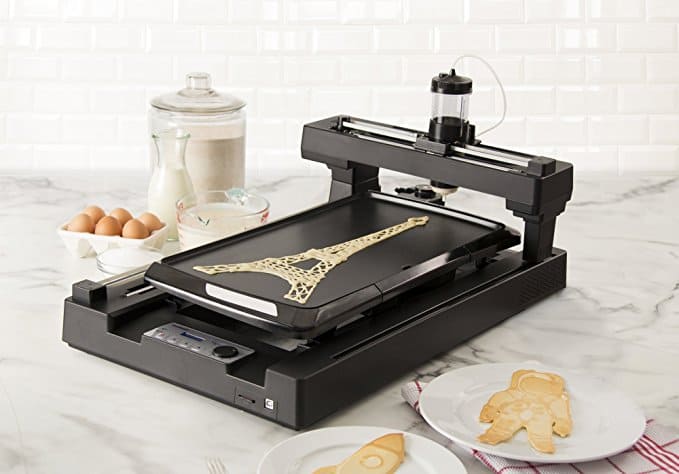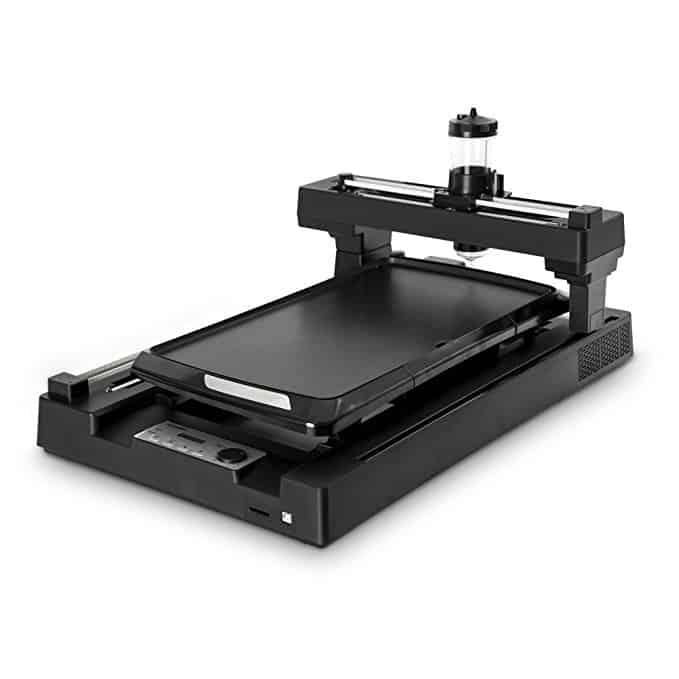 PancakeBot Food Printer [Review 2021]
Robots are taking over the world, and their first goal is to make you the best pancakes you've ever had! Use the free software to pick out a shape or even create your own, click a button and wait for your pancake to get printed directly onto a nonstick griddle. It'll come out perfect every single time.

Features
Print pancakes from designs stored on the SD card

Non-stick griddle surface

BPA free
Dimensions
25 3⁄4" x 17 1⁄2" x 13"

Printing surface dimensions: 17 1⁄2" x 8 1⁄4"
This deal will have you flipping out!
We've been warned that robots are taking over, and I for one welcome them if that means more devices like this. The PancakeBot is basically a printer for pancakes.
When it comes to food, it's all in the presentation, and this is the coolest presentation on the market. Even the pickiest of kids will eat pancakes shaped like a spaceship.
And the pancakes can be made to match any image on your computer. You could make a pancake of your own face! Imagine that! Eating your own face! What is the world coming to?
Everyone in the world should have one of these. This is how we get world peace, folks. Through the creation of joyful pancak.
Also good products
Bestseller No. 1
Bestseller No. 2
Chef Select Brownie Pan, 11-Inch x 7-Inch, Non-stick, Steel
MULTIPURPOSE: Bake brownies, cakes, and pasta, roast vegetables and meats, cook side dishes and more
PERFECT SIZE: Measures 11x7-inches, perfectly meeting baking and cooking needs.
NON-STICK: The non-stick surface allows you to easily remove your treats from the pan
DURABLE: Steel construction ensures long-lasting use and prevents warping
EASY TO CLEAN: Hand wash for best results.
Bestseller No. 3
Wilton Non-Stick 6-Cavity Donut Baking Pans, 2-Count
Make a half or full dozen of donuts for breakfast with this donut baking pan set
Made of steel; Non-stick coating for easy release and quick cleanup
Each donut pan is 12.5 x 8 inch (32 x 20.3 centimeter)
Makes standard-size donuts; Cavity is 3.25 inch diameter (8.3 centimeter)
Quantity: 2 count
Sale
Bestseller No. 4
Hiware 9 Inch Non-stick Cheesecake Pan Springform Pan with Removable Bottom / Leakproof Cake Pan with 50 Pcs Parchment Paper - Black
HEALTHY COATING: Our Non-stick coating is a food grade safety coating with no harsh chemicals or hazardous substances. The true double layer coating allows the cake be easily removed without damage. Avoid making it difficult to clean the cake because it sticks to the pan or leaves a lot of cake residue.
THE STAINLESS SPRINGFORM BUCKLE PROVIDES SMOOTH, EASY RELEASE: The stainless steel springform buckle has been upgraded which is stronger and easier to switch but will not fall off or crack, allowing the cake to be pulled out perfectly with little effort.
INCLUDE 50 PIECES OF PARCHMENT PAPER: If you are a fan of traditional baking, congratulations, the parchment paper will bring back the traditional baking experience. To prevent the cake from sticking to the chassis, combine with other designs to remove the perfect cake while also sucking away excess oil, less oil means less fat and better health.
OVEN-SAFE UP TO 450℉: The premium material allows the pan to heat up quickly and evenly during the heating process on the stove or in the oven, with a heat resistance of up to 450°F, the food can be baked safely and presents a perfect look.
MAKING IT YOUR FAVOURITE BAKING TOOL: Now this is the proven choice in restaurant and bakery kitchens and is also the best gadget for DIY desserts and food if you love baking stuff like cheese cake, yogurt cake, mousse, coffee cake, lasagna, quiche, paella, cookies, fruit pie, pecan pie and any similar recipe. And it also makes a great and practical gift for your friends. Hand wash recommended.