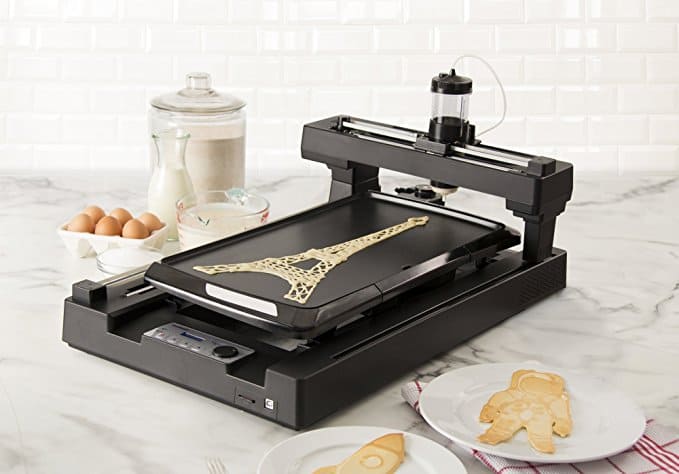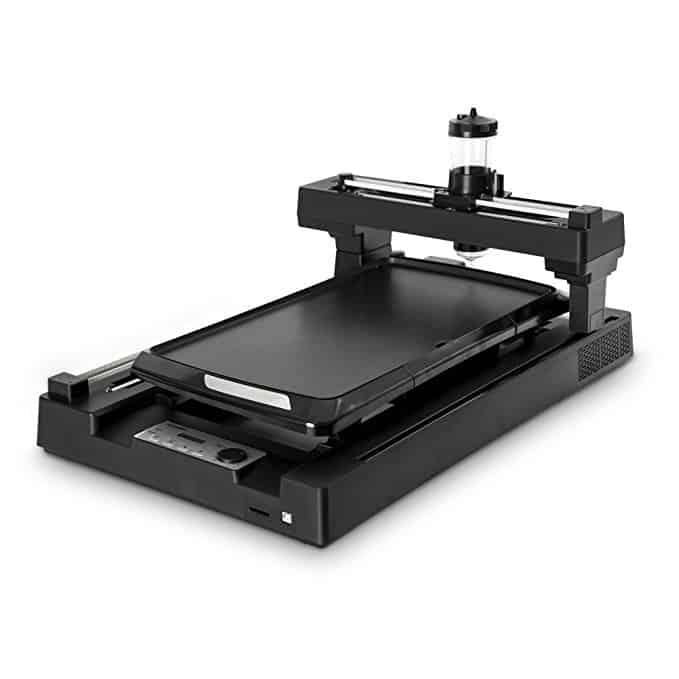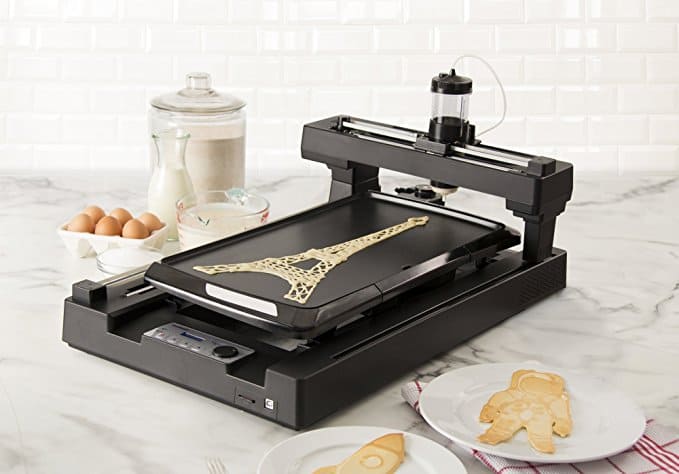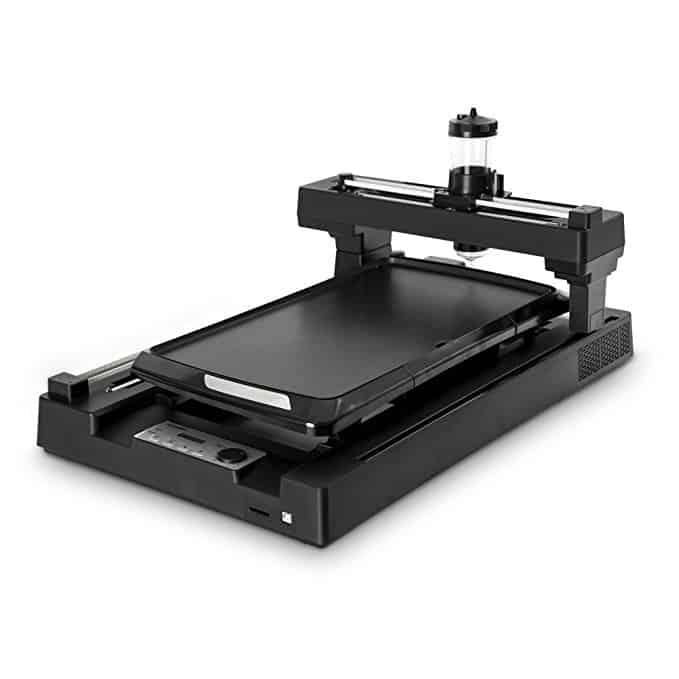 PancakeBot Food Printer [Review 2022]
Robots are taking over the world, and their first goal is to make you the best pancakes you've ever had! Use the free software to pick out a shape or even create your own, click a button and wait for your pancake to get printed directly onto a nonstick griddle. It'll come out perfect every single time.

Features
Print pancakes from designs stored on the SD card

Non-stick griddle surface

BPA free
Dimensions
25 3⁄4" x 17 1⁄2" x 13"

Printing surface dimensions: 17 1⁄2" x 8 1⁄4"
This deal will have you flipping out!
We've been warned that robots are taking over, and I for one welcome them if that means more devices like this. The PancakeBot is basically a printer for pancakes.
When it comes to food, it's all in the presentation, and this is the coolest presentation on the market. Even the pickiest of kids will eat pancakes shaped like a spaceship.
And the pancakes can be made to match any image on your computer. You could make a pancake of your own face! Imagine that! Eating your own face! What is the world coming to?
Everyone in the world should have one of these. This is how we get world peace, folks. Through the creation of joyful pancak.
Also good products
Sale
Bestseller No. 1
Sale
Bestseller No. 2
Official Creality Ender 3 3D Printer Fully Open Source with Resume Printing Function DIY 3D Printers Printing Size 220x220x250mm
Resume Printing Function: Ender 3 has the ability to resume printing even after a power outage or lapse occurs.
Easy and Qucik Assembly: It comes with several assembled parts, you only need about 2 hours to assemble 20 nuts well.
Advanced Extruder Technology: Upgraded extruder greatly reduces plugging risk and bad extrustion; V-shape with POM wheels make it move noiseless, smoothly and durable.
Safety Protected Power Supply: Only needs 5 minutes for hot bed to reach 110 degree.
Strict Test: Strict testing for key components before delivery and life-time technical supports available.
Sale
Bestseller No. 3
Thermal Label Printer - iDPRT SP410 Thermal Shipping Label Printer, 4x6 Label Printer, Thermal Label Maker, Compatible with Shopify, Ebay, UPS, USPS, FedEx, Amazon & Etsy, Support Multiple Systems
High-Speed Printing - supported by 5.9 inches/s (150mm/s) high-speed printing technology, iDPRT SP410 label printer can print 72 sheets of 4x6 labels per minute, improving your working efficiency considerably. The 4x6 label printer supports label widths from 2" to 4.65" (50mm-118mm). This shipping label printer is able to meet needs on various platforms including UPS, USPS, eBay, Amazon, Shopify, etc.
Compatible with Windows & Mac - the shipping thermal label printer is compatible with Windows, Mac, and Linux systems. Please download the driver from the official website or CD before printing. With the Free iDPRT Label Designer Software provided, you can easily create any labels you want to print.
Good Manufacturing - with stable manufacturing, iDPRT commercial label printer is durable and could be used for a long time. The customized print head can stably print 160,000 standard labels. Advanced thermal direct technology enables this label printer to print without toner or ink. This high-speed thermal printer is easier to operate, more user-friendly, stable, and economical.
Auto Label Detection - the label printer can adjust the position automatically and precisely with the intelligent paper return function, making the whole process fast and convenient. You won't waste any piece of label because the automatic induction positioning confirms that each piece of label paper is printed correctly.
Advanced and Convenient Design - portable and attractive made of high-quality materials, iDPRT SP410 label printer is durable and could be used for a long time. The adapter is built-in so that it could avoid the mess of the external charger and reduce the situations of plugging in and out, which is safer and easier to move during the period.
Bestseller No. 4
Genuine Edible Gold Leaf - 12 Sheets - Barnabas Gold - High Quality Gold Leaf - Loose Leaf for Cupcakes and Chocolate - 1.5 inches per sheet - Book of 12 Sheets
HIGH QUALITY GOLD LEAF: With 30 years of expertise in the creation of edible gold for cakes, at Barnabas Gold we pride ourselves on high quality, purity and consistency.
PERFECT CONSISTENCY: Our luxury gold leaf sheets contain 23.75 karat gold which is 99% pure gold and 1% silver making them the ideal consistency for edible gold application such as cake decoration. The sturdy packaging protects the leaf throughout delivery to ensure it arrives with the customer in pristine condition.
USED BY PROFESSIONALS: From decorating cakes and cupcakes to chocolate, desserts and cocktails, professional confectionery artists across the globe have been using our products to bring their bakery creations to life.
CUSTOMER LOYALTY & TRUST: We have earned customer satisfaction and trust over the years with our attention to detail and the team being constantly on hand to answer queries or solve any doubts our clients may have.
SMALL LEAF: The loose leaf booklet has smaller sheets and is best suited for smaller items such as cupcakes and confectionery. Each sheet is 1.5 x 1.5 inches (38mm x 38mm) and 12 sheets will cover approximately 27 square inches.