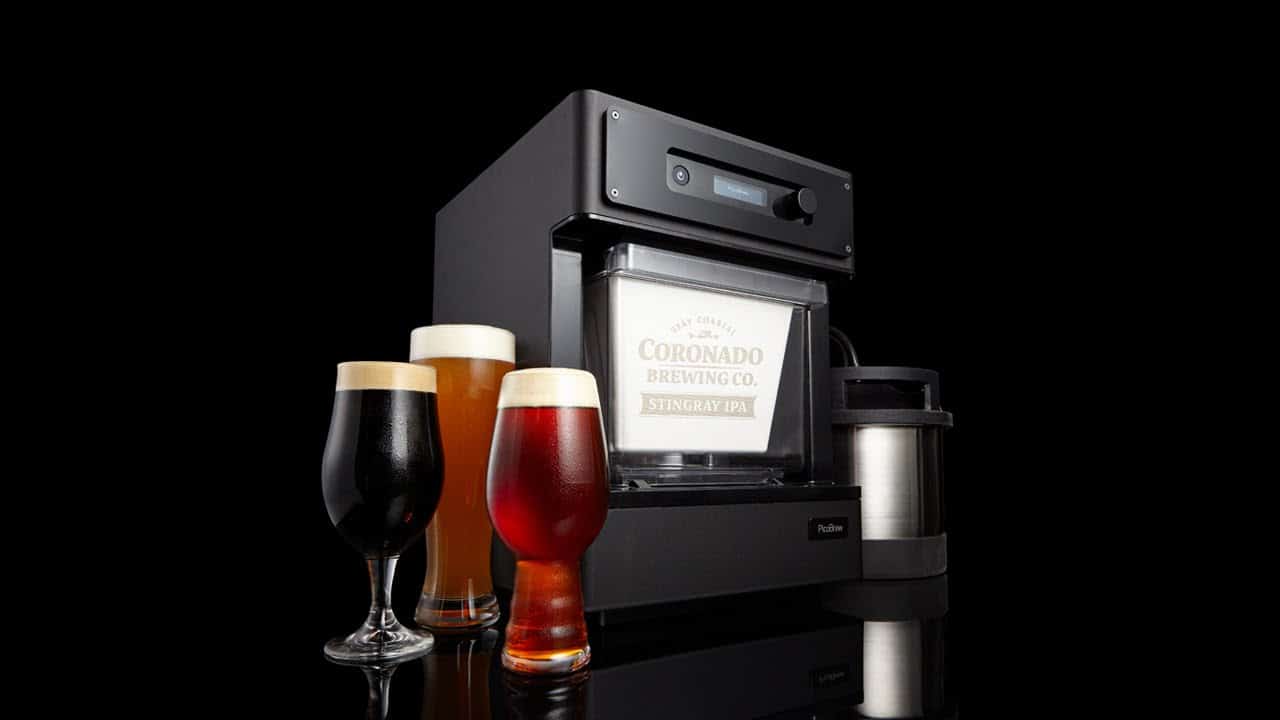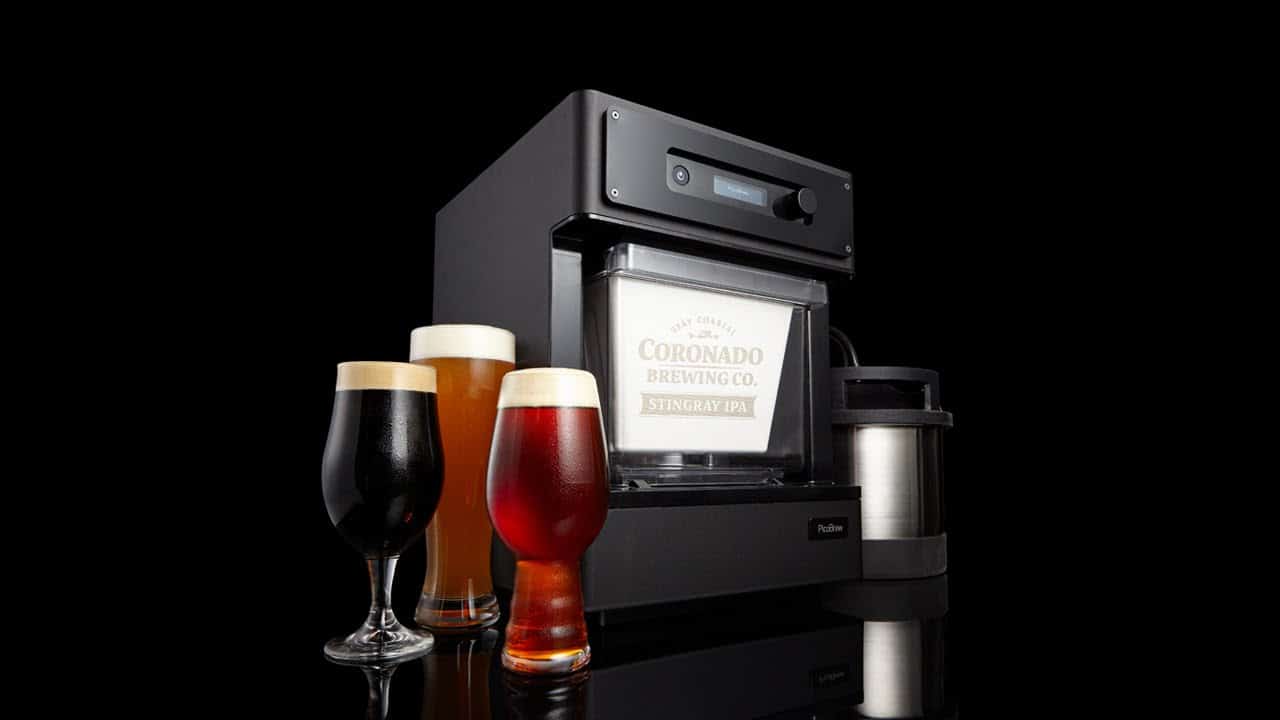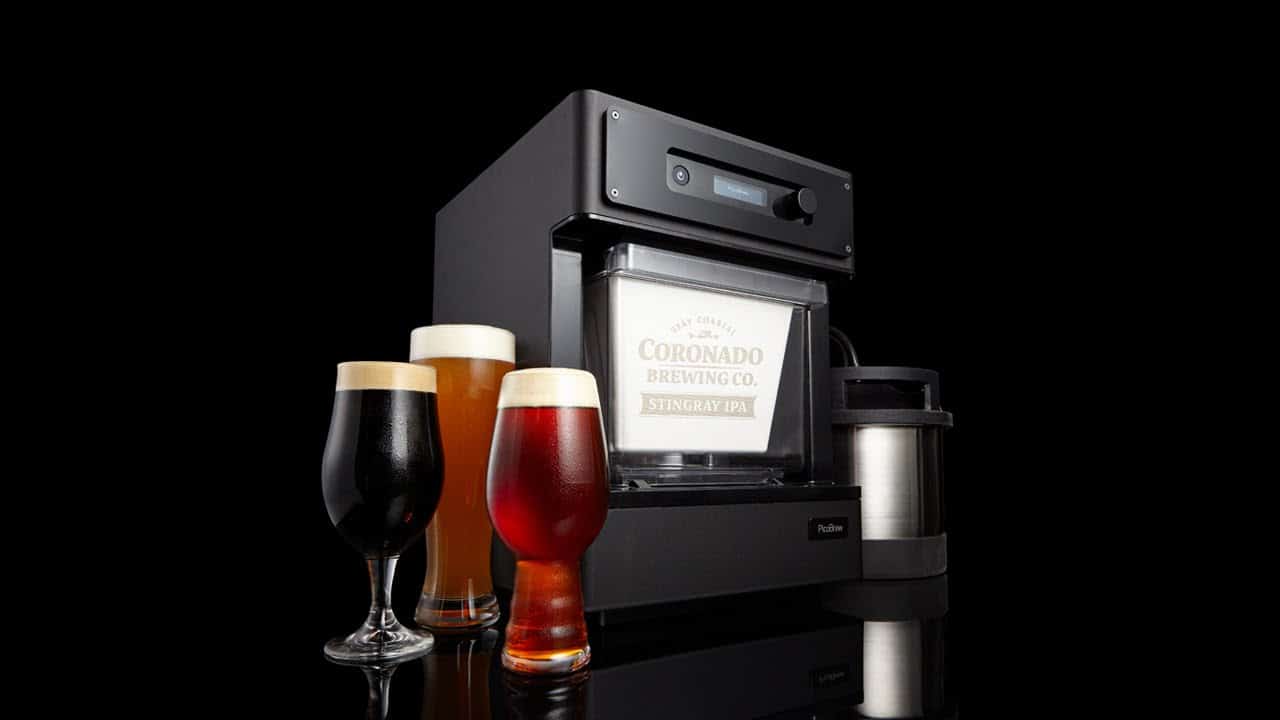 Beer Brewing Appliance [Review 2020]
If you're a beer aficionado, you must have thought about brewing your own high-quality craft beer. Now you can with this inexpensive and simple device. It can brew 5 liters of beer at a time, and it's easy to clean. And of course- it gives you awesome bragging rights!

Features
Built in steam cleaning

Dishwasher safe

Brews thirteen 12-ounce bottles
Dimensions
Unit:

14 x 12 x 16 inches

Diameter: 8.5 inches

24 pounds
Want to make beer, but don't want to do it in a bucket like your weird uncle does? Maybe you don't have the ability to grow proper hipster beard and then can't properly be a brewer?
You can design your own beer, customize your own beer, and be drinking your efforts in just 10-12 days with a Pico Beer Brewing kit.
You can make your own Craft beer OR if you want, you can buy packs online that will make beer that you can control the bitterness of.
And what's probably the best thing ever in the history of brewing… this kit cleans itself. That's right, not yeasty backlash, no stinking out the airing cupboard, just a self-cleaning box in your kitchen that makes you beer. This is the future, everyone. We've arrived.
Also good products
Sale
Bestseller No. 1
PicoBrew Pico C Beer Brewing Appliance 14" x 12" x 16" Black
Brews 5 liters of your favorite craft beer at a time - the equivalent of (13) 12-ounce bottles - using pico Pak, kits containing all-natural grains and hops ingredients
Select pico Pak from award-winning beers from a growing list of over 180 large and small breweries around the world available on the pico brew marketplace.Diameter: 8.5 inches
Fine-tune the ABV (alcohol Content) and ibu (bitterness level) of any pico Pak to your liking, or create a custom freestyle pico Pak with your own recipe of grains, hops, and yeast
Simple cleanup with built-in steam cleaning and dishwasher-safe components
Pico Pak sold separately
Bestseller No. 2
PicoBrew Craft Beer Brewing Appliance (Discontinued by Manufacturer; Newer Item Available)
Pico delivers consistent, brew master quality beer every time
Brew your favorite beers from award winning craft breweries around the world
Choose from hundreds of different PicoPaks across all craft beer styles
Make perfect craft beer every time with the push of a button
Tune any PicoPak more to your liking, or create a freestyle PicoPak for a fully custom brew
Bestseller No. 3
BeerDroid Fully Automated Beer Brewing System with American Pale Ale BrewPrint
The BeerDroid is the world's first fully automated personal brewer. You can brew 2.6 gallons of premium quality beer with the push of a button.
Included with your BeerDroid is the American Pale Ale BrewPrint. BrewPrints have been designed by BrewArt master brewers and are inspired by the world's most popular beers. BrewArt ingredients are 100% natural and free from additives and preservatives.
The BeerDroid is Wi-Fi connected and with the BrewArt app you can monitor and control your brew, receive push notifications of brewing milestones, update your firmware and shop through the many available BrewPrints and accessories. Each BrewPrint has its own brewing profile which is automatically downloaded when starting a brew using the BrewArt app.
Features an easy to read LCD screen to check the status of your brew, control your temperature and customize your brew. Two piece snap tap and easy flush drain for minimal cleaning.
The BeerDroid features patented end-of-fermentation (EOF) technology that will automatically detect when your brew is complete and ready for kegging.
Bestseller No. 4
Klarstein Maischfest • • 25-Liter Capacity Beer Brewing Device • Mash Tun • 5-Piece Set • 1000 and 1600 Watts Power• LCD Display and Touch Control Panel • Temperature • Stainless Steel
VERSATILE: Whether you prefer light or dark, top or bottom fermented, wheat or pilsner, with the Klarstein Maischfest brewing kettle you can brew it how you want. Beginners as well as home brewmasters can serve refreshing and delicious beer!
COMFORTABLE: Whether you are a beginner or experienced hobby brewer, the mash kettle provides a simple, 5-piece complete package for brewing. Up to 25 litres of brewing contents can be boiled in the large double-walled stainless steel kettle.
INTUITIVE OPERATION: A clearly arranged touch panel with LCD display makes it possible to set the temperature, cooking time and power on the device manually. The device's LCD display always shows the exact current temperature inside the boiler.
ACCESSORY SET: The range of accessories of the Klarstein Maischfest helps the process in several ways, and is very practical: the filter insert and the drip ring make it very easy to remove the spent grains from the wort without any loss of beer.
HIGH QUALITY: With the drain tap, the transfer to the fermentation tank is made easy. All parts are made of taste-neutral 304 stainless steel. As a result, no metal flavours get into the beer, and after use, the parts can be easily cleaned.