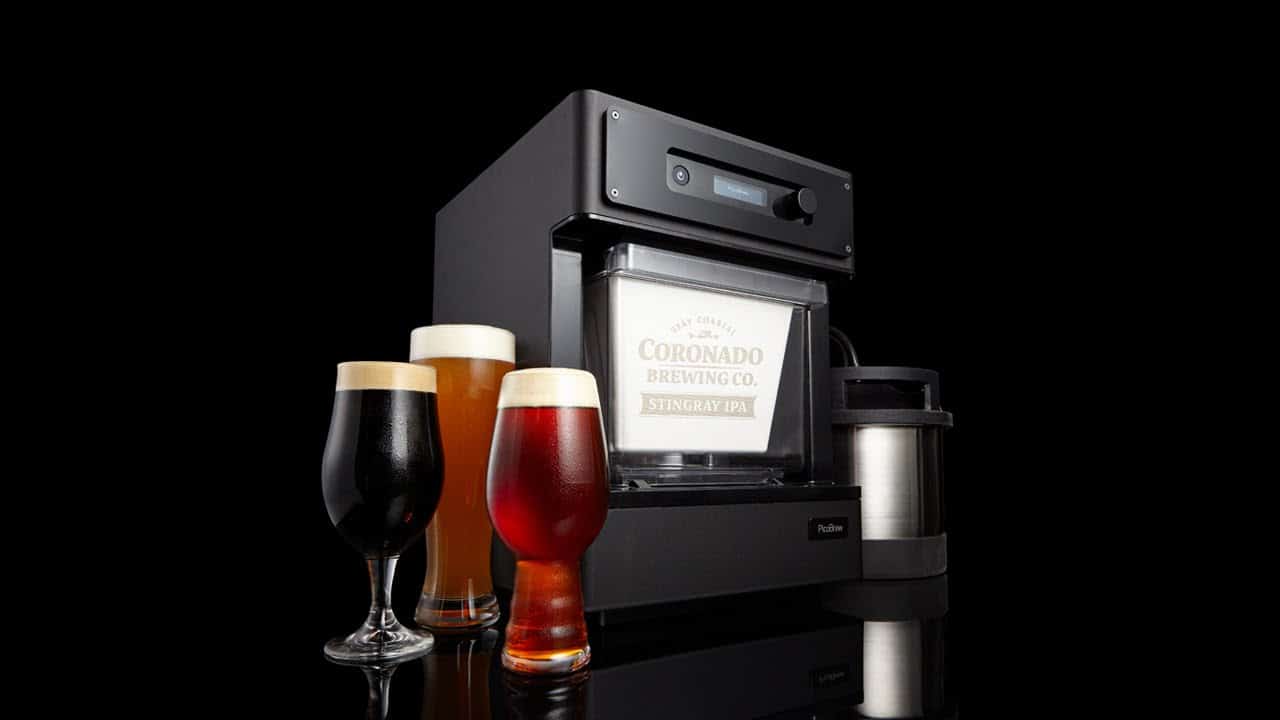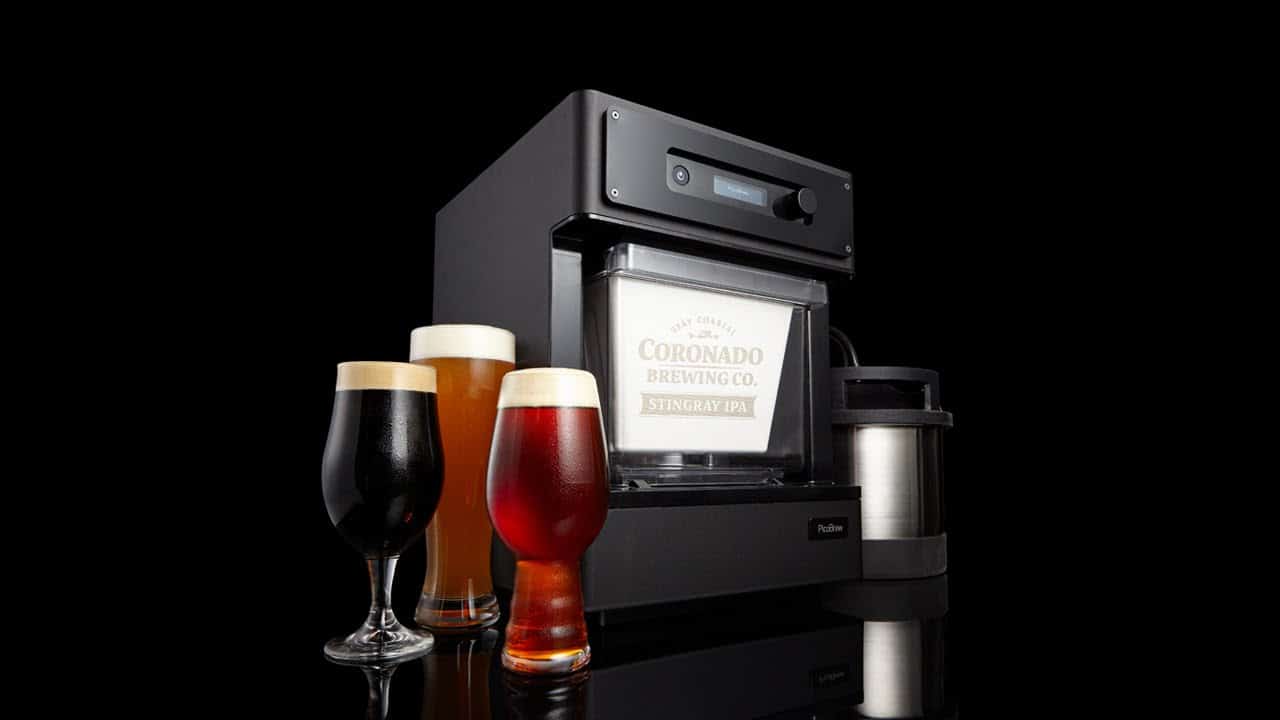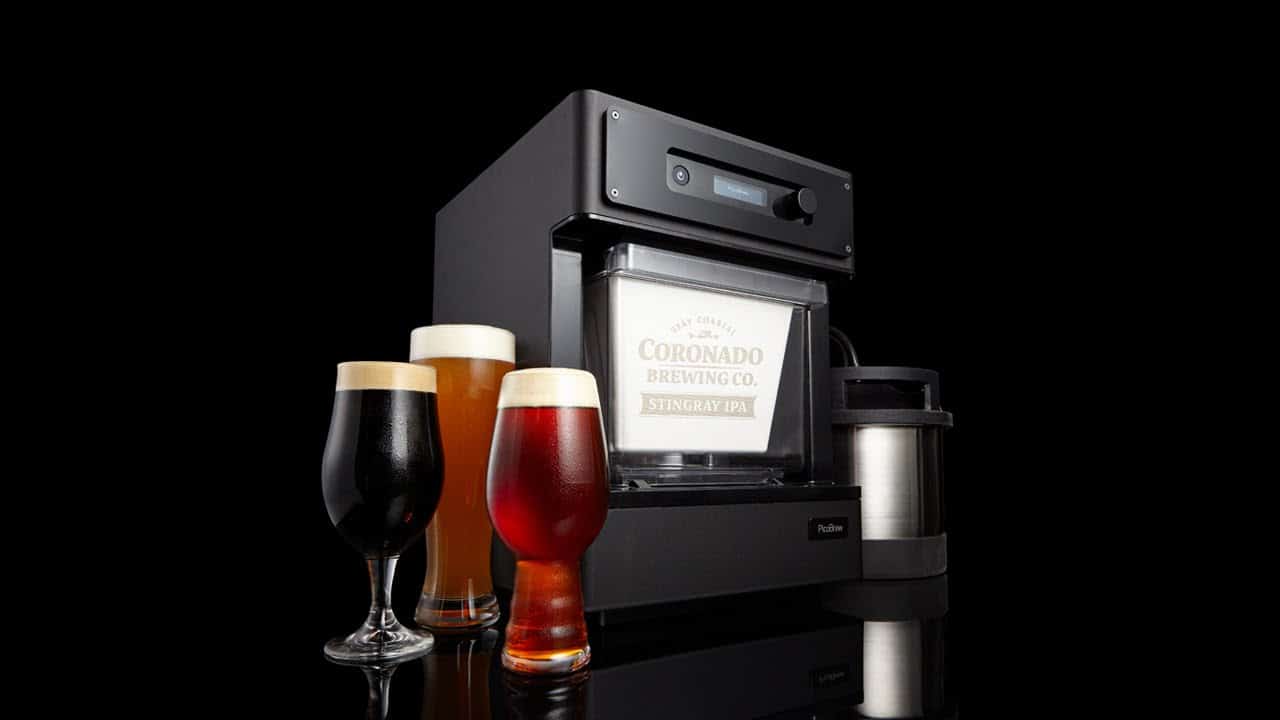 Beer Brewing Appliance [Review 2020]
If you're a beer aficionado, you must have thought about brewing your own high-quality craft beer. Now you can with this inexpensive and simple device. It can brew 5 liters of beer at a time, and it's easy to clean. And of course- it gives you awesome bragging rights!

Features
Built in steam cleaning

Dishwasher safe

Brews thirteen 12-ounce bottles
Dimensions
Unit:

14 x 12 x 16 inches

Diameter: 8.5 inches

24 pounds
Want to make beer, but don't want to do it in a bucket like your weird uncle does? Maybe you don't have the ability to grow proper hipster beard and then can't properly be a brewer?
You can design your own beer, customize your own beer, and be drinking your efforts in just 10-12 days with a Pico Beer Brewing kit.
You can make your own Craft beer OR if you want, you can buy packs online that will make beer that you can control the bitterness of.
And what's probably the best thing ever in the history of brewing… this kit cleans itself. That's right, not yeasty backlash, no stinking out the airing cupboard, just a self-cleaning box in your kitchen that makes you beer. This is the future, everyone. We've arrived.
Also good products
Sale
Bestseller No. 1
BeerDroid Fully Automated Beer Brewing System with American Pale Ale BrewPrint
The BeerDroid is the world's first fully automated personal brewer. You can brew 2.6 gallons of premium quality beer with the push of a button.
Included with your BeerDroid is the American Pale Ale BrewPrint. BrewPrints have been designed by BrewArt master brewers and are inspired by the world's most popular beers. BrewArt ingredients are 100% natural and free from additives and preservatives.
The BeerDroid is Wi-Fi connected and with the BrewArt app you can monitor and control your brew, receive push notifications of brewing milestones, update your firmware and shop through the many available BrewPrints and accessories. Each BrewPrint has its own brewing profile which is automatically downloaded when starting a brew using the BrewArt app.
Features an easy to read LCD screen to check the status of your brew, control your temperature and customize your brew. Two piece snap tap and easy flush drain for minimal cleaning.
The BeerDroid features patented end-of-fermentation (EOF) technology that will automatically detect when your brew is complete and ready for kegging.
Bestseller No. 2
FERRODAY 2 Roller Stainless Steel Malt Crusher Heavy Duty Malt Mill Homebrew Grain Crusher Adjustable Barley Grinder Low Speed Drill Available Manual Malt Mill Stainless Steel Mill - Medium
【Large 7.7LB Hopper】 : Upgrade thicker hopper can hold up to 7.7 lb grains at one time. Large capacity for you to handle large batches of brewing. Especially designed for malt, barley, and wheat, not recommend for corns and soybeans.
【Powerful Knurls & Adjustable Gap】: 5-inch rollers, 12 TPI knurl, efficiently pulls all your grains through while leaving the hull intact to form an excellent filter bed for sparging. The clearance of two rollers is adjustable to acquire your desired fineness from 0.025 to 0.1 inch. A great helper for homebrew!
【Strong Drill Mode】: Attach an electric drill and give your arm a rest! Give a throughput of 7 pounds in just one minute drill mode! much more powerful than traditional manual mode. (3/8 inch, low speed drill) If you're brewing large batches, or want to maximize mash efficiency, you should definitely try the drill mode!
【Healthy Food Safe Material】: Screws and rollers are made of food safe stainless steel, solid and healthy. Less weight aluminium alloy for crank handle and hoppers, anti-corrosion and solid to last. Less weight is more portable! A customized base can fit steady on 5 gallon fermenting bucket. Great hardness, odorless and environmental friendly base.
【Life Time Service】We are committed to offer you with high quality product as well as superior service! Please feel free to tell if any problems, we would try our best to satisfy you. Lifetime technical support.
Bestseller No. 3
Ss Brewtech Home Brewing Kettle; Stainless Steel (15 Gallon)
STAINLESS STEEL: The Ss Brew Kettle is constructed from 304 stainless steel, and features an aluminum core Tri-Clad bottom to foster even heating and minimize the risk of scorching.
EASY TRANSPORTATION: Sturdy silicone coated handles make moving the kettle safe and comfortable. The lid is designed to hang on the side of the handles,and allows you to stack one on top of another even with the airlocks plugged in.
INNOVATIVE: As a first in homebrewing, the kettle features an integrated trub dam into the dip tube to minimize the pickup of trub and hop material during knockout. The result is much clearer wort making its way into the fermenter.
PROFESSIONAL BREWING: Our Brew Bucket is designed with pro brewing in mind and features a 3 piece ball valve with trub dam pick-up tube, etched volume markings, and is compatible with an induction burner.
SS BREWTECH: Since our launch in 2013, our mission has been to invent, not just innovate, high quality brewing equipment and accessories for brewers all over the world. At Ss Brewtech our passion is making good beer and designing cool brewing stuff.
Bestseller No. 4