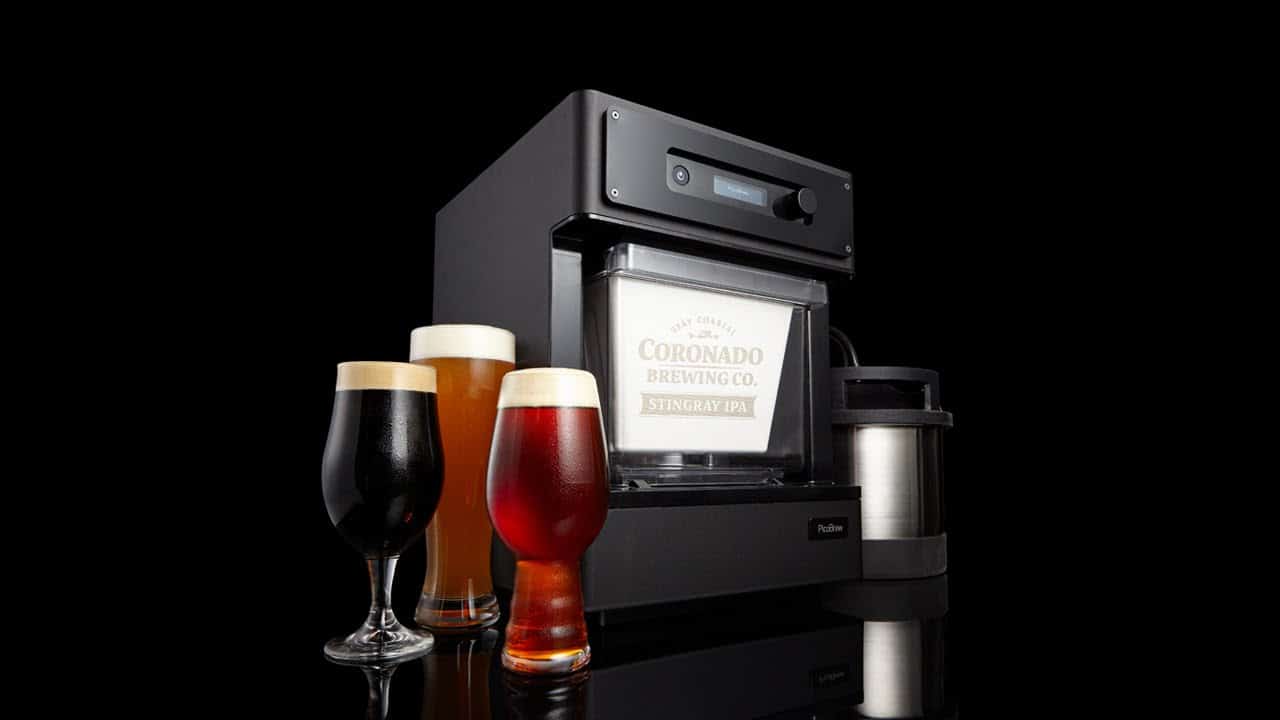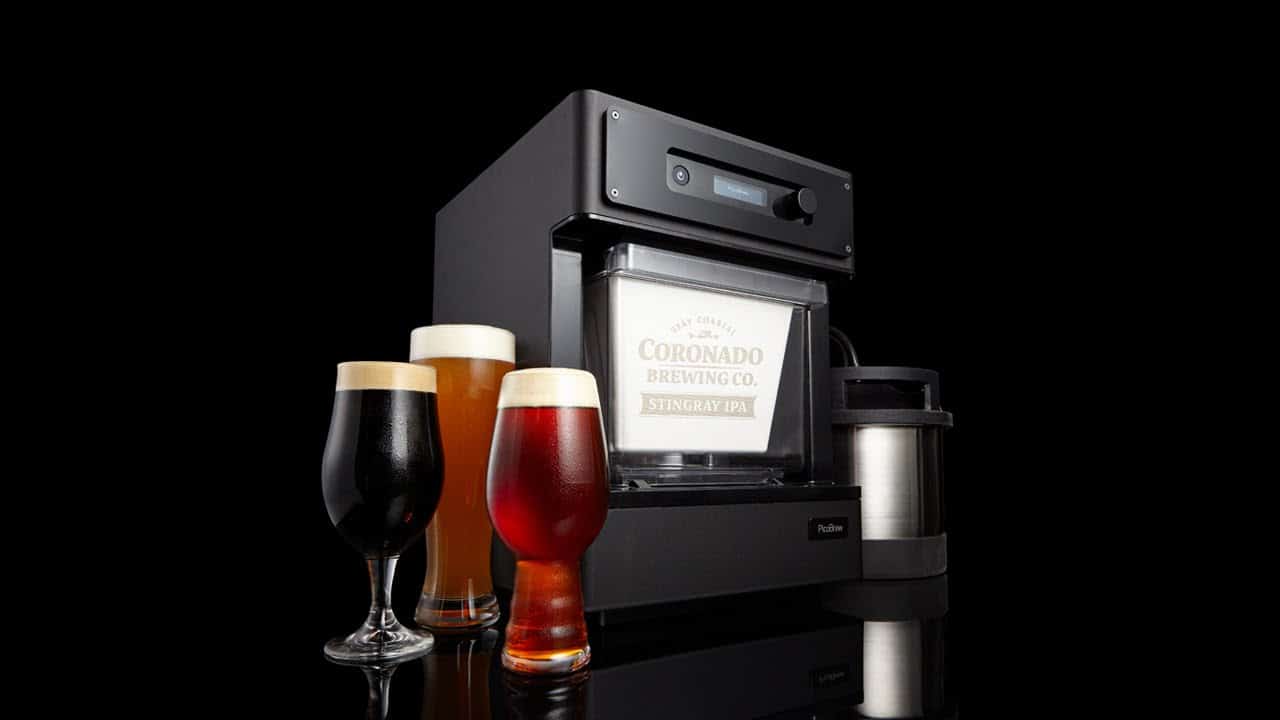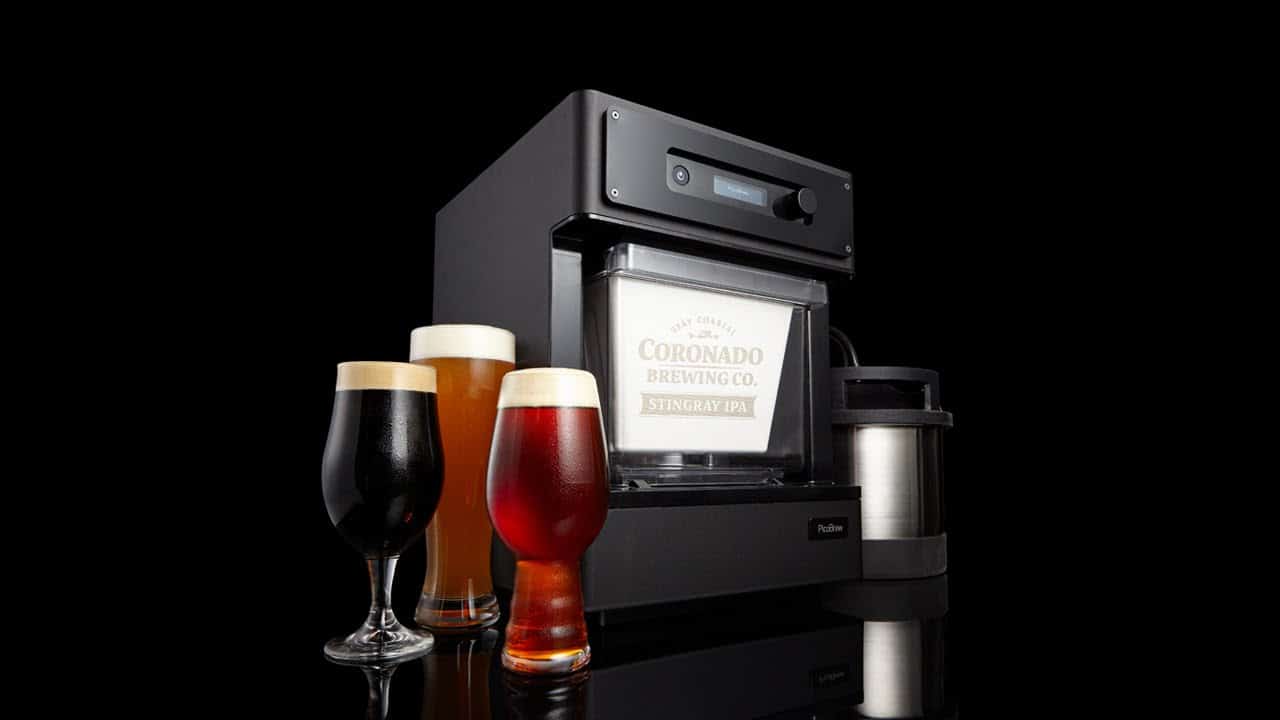 Beer Brewing Appliance [Review 2021]
If you're a beer aficionado, you must have thought about brewing your own high-quality craft beer. Now you can with this inexpensive and simple device. It can brew 5 liters of beer at a time, and it's easy to clean. And of course- it gives you awesome bragging rights!

Features
Built in steam cleaning

Dishwasher safe

Brews thirteen 12-ounce bottles
Dimensions
Unit:

14 x 12 x 16 inches

Diameter: 8.5 inches

24 pounds
Want to make beer, but don't want to do it in a bucket like your weird uncle does? Maybe you don't have the ability to grow proper hipster beard and then can't properly be a brewer?
You can design your own beer, customize your own beer, and be drinking your efforts in just 10-12 days with a Pico Beer Brewing kit.
You can make your own Craft beer OR if you want, you can buy packs online that will make beer that you can control the bitterness of.
And what's probably the best thing ever in the history of brewing… this kit cleans itself. That's right, not yeasty backlash, no stinking out the airing cupboard, just a self-cleaning box in your kitchen that makes you beer. This is the future, everyone. We've arrived.
Also good products
Sale
Bestseller No. 1
BeerDroid Fully Automated Beer Brewing System with American Pale Ale BrewPrint
The BeerDroid is the world's first fully automated personal brewer. You can brew 2.6 gallons of premium quality beer with the push of a button.
Included with your BeerDroid is the American Pale Ale BrewPrint. BrewPrints have been designed by BrewArt master brewers and are inspired by the world's most popular beers. BrewArt ingredients are 100% natural and free from additives and preservatives.
The BeerDroid is Wi-Fi connected and with the BrewArt app you can monitor and control your brew, receive push notifications of brewing milestones, update your firmware and shop through the many available BrewPrints and accessories. Each BrewPrint has its own brewing profile which is automatically downloaded when starting a brew using the BrewArt app.
Features an easy to read LCD screen to check the status of your brew, control your temperature and customize your brew. Two piece snap tap and easy flush drain for minimal cleaning.
The BeerDroid features patented end-of-fermentation (EOF) technology that will automatically detect when your brew is complete and ready for kegging.
Bestseller No. 2
PicoBrew Pro Craft Beer Brewing Appliance for Homebrewing,Stainless Steel,49"x35"x8"
Brews 5 liters of beer at a time - the equivalent of 13 12-ounce bottles
Fine-tune the ABV (alcohol content) and ibu (bitterness level) of any PicoPak to your liking, or create a custom PicoPak with your own recipe of grains, hops, and yeast.
Designed for home brewing elites, the Pico Pro comes with two 6. 6 liter (1. 75 gallon) ball-lock kegs, easy to connect to your kegerator or the included CO2-powered party tap
Professional Co2 force-carbonation system so you can enjoy your finished beer faster
Built-in steam cleaning and dishwasher-safe components make clean-up simple
Bestseller No. 3
Manual Adjustable Barley Grinder, 2 Roller Malt Crusher Barley Crusher Grain Mill with Cleaning brush Use for Beer Brewing Grain Mill Homebrew
✔Function: Barley Crusher Grain Mill is specially designed for grain crushing for beer brewing, helping you to crush grain easily. This is an ideal gift for beer brewers and kitchen lovers.
✔ Easy to use: Malt Crusher for Beer Brewing supports manual shaking, and can also be driven electrically by a wired electric drill. Adjustable rollers at both ends support adjustment between 0-0.065".Comes with screws and wrenches to help you assemble or repair. Cleaning wooden brush helps you clean after use. Suitable for beginners or proficient.
✔High quality: Malt Mill is made of high quality stainless steel metal material. Support multiple reuse.
✔ Including: Grain Mill Homebrew includes 1 malt mill, 4 funnel stainless steel plates, 1 hand crank, 1 brush, 1 bagged screw and 2 rollers. Can help you effectively crush the grain.
✔ Compatible: Barley Crusher Grain Mill is suitable for brewing grains of beer, such as barley, wheat, malt, etc. Does not support large particles such as soybeans, corn, sugar cane, etc.
Sale
Bestseller No. 4
VEVOR Electric Grain Mill, Stainless Steel 2-Roller Barley Crusher, Homebrews Beer Brewing Grain Crusher Machine, for Grains Corn Barley Malt,11LBS Capacity,110V
【LARGE CAPACITY HOPPER】- The cereal killer grain mill's thicker hopper can hold 4.9 kg/11 lbs grain at one time. Its large capacity can handle large batches of brewing for you.
【STAINLESS STEEL MATERAIL】- Our grain crusher is constructed of stainless steel rollers, hopper, and other stainless steel accessories, with strong durability and sturdiness.
【ADJUSTABLE CLEARANCE】- This grain mill is equipped with adjustable rollers. You can adjust the distance between rollers to repeatedly crush the grain, and then the powder will be finer.
【PREMIUM MOTOR】- With the 40 RPM high-efficiency gear motor, this brew grain mill can crush the grain quickly. It is also simple to use; you can press the switch to start the machine.
【WIDE APPLICATION】- The malt mill is perfect for malt, barley, and wheat, but is not recommended for crushing soybeans. It is designed to crush the grain, not grind.