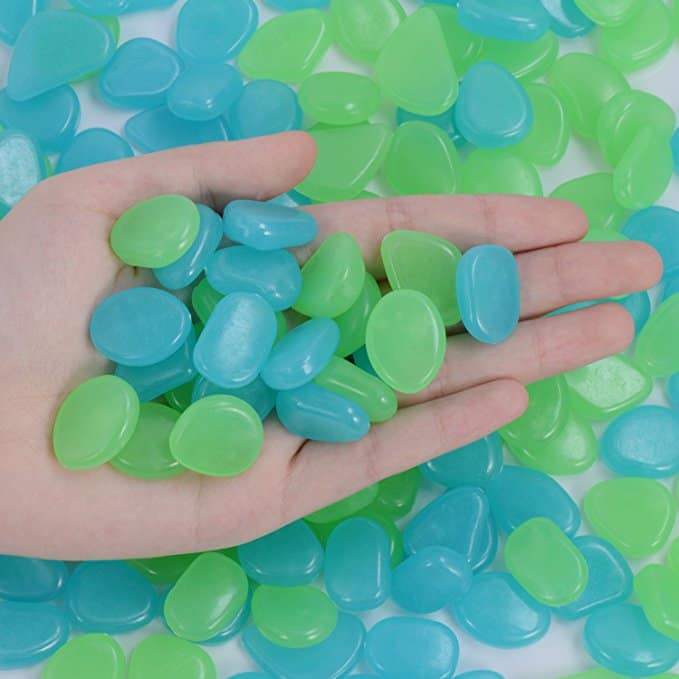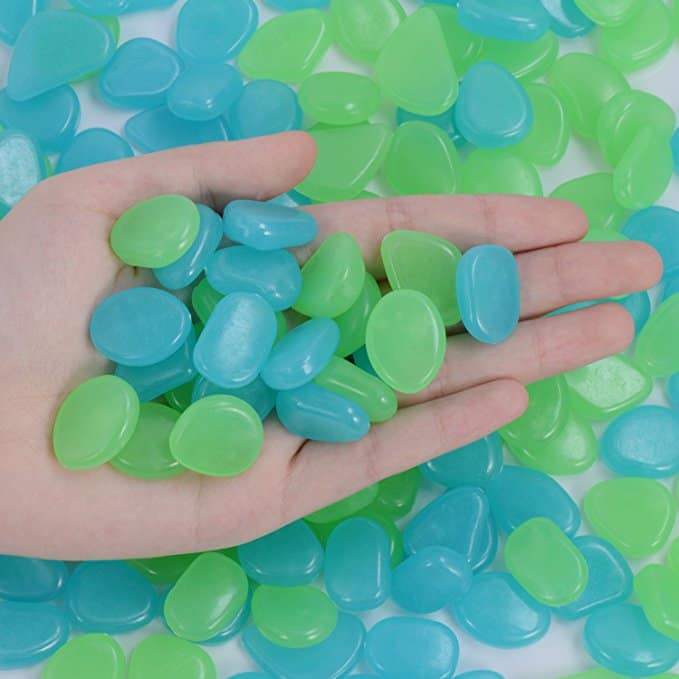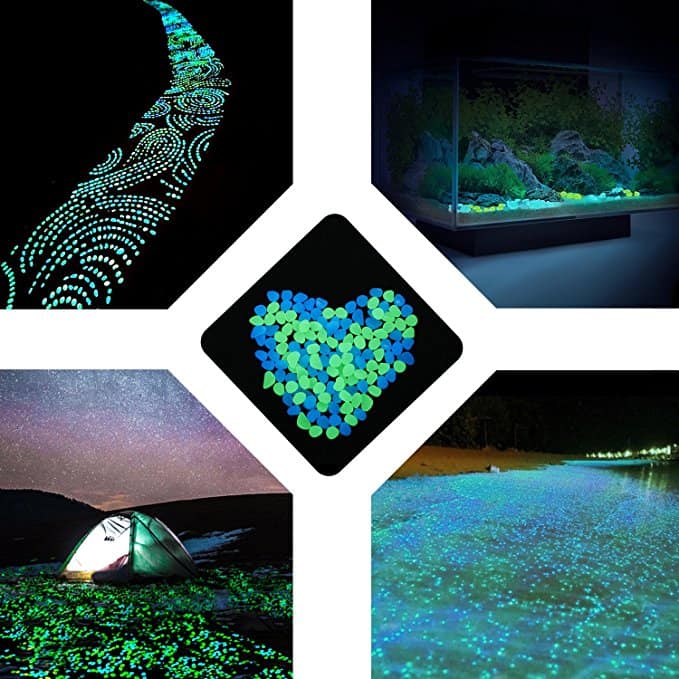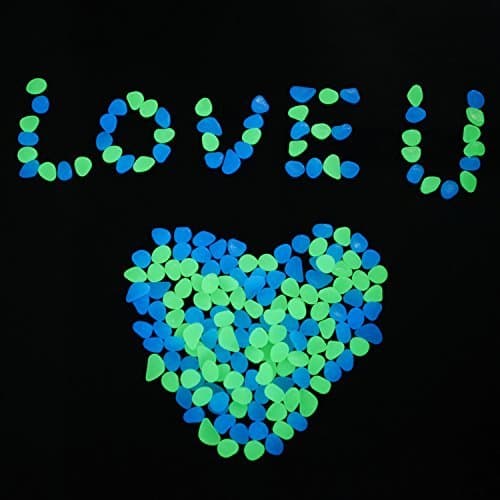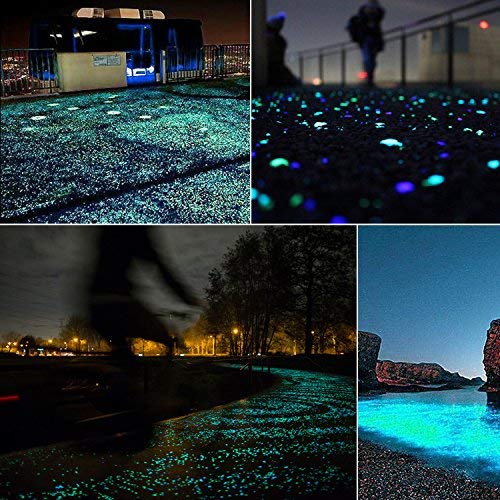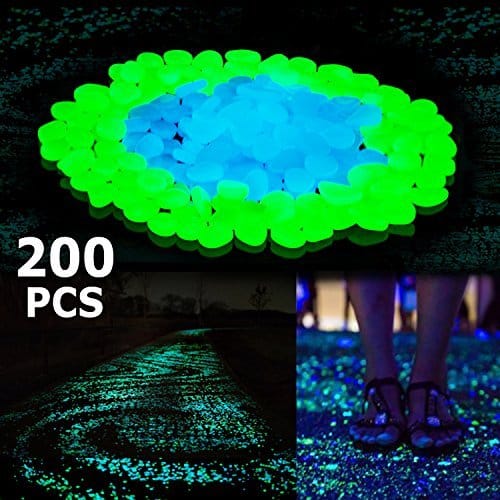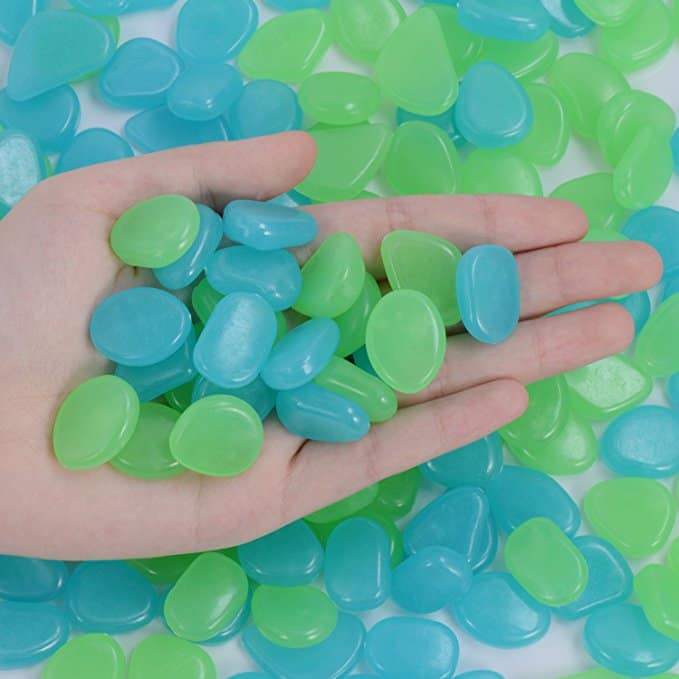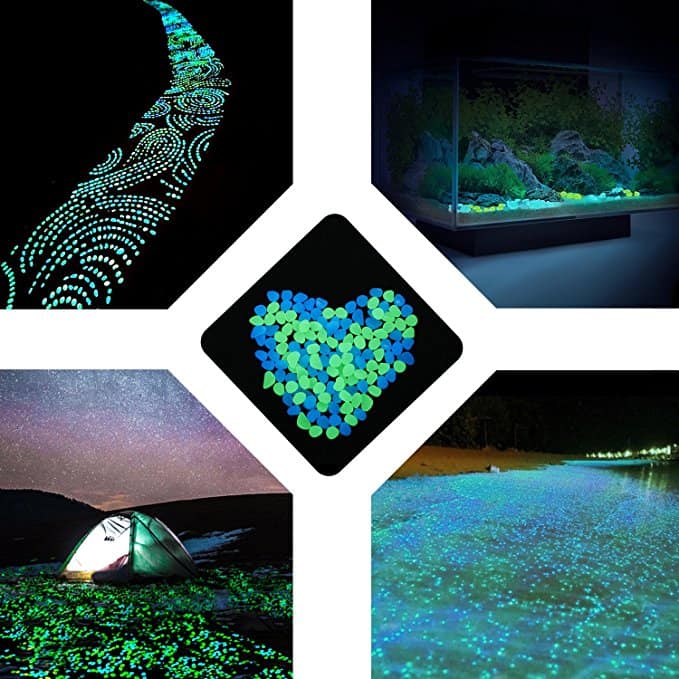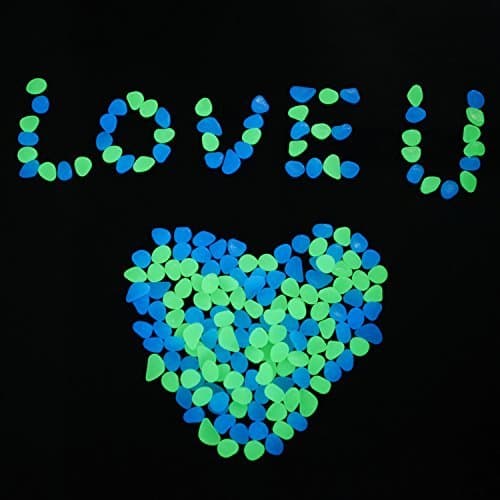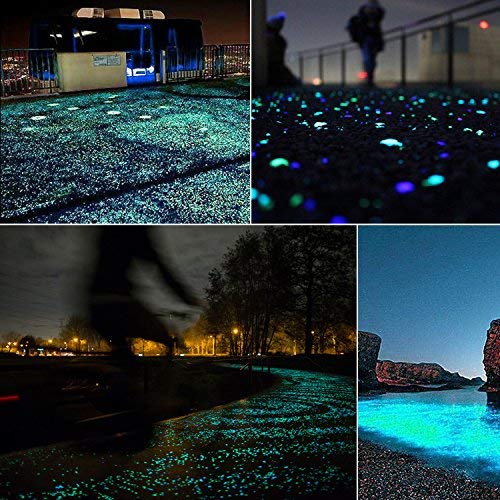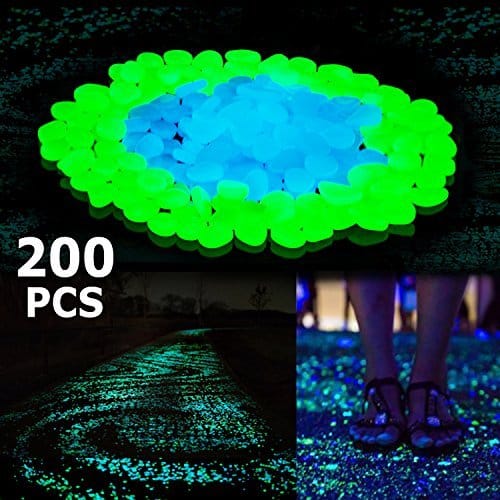 200Pack Glow in the Dark Garden Pebbles [Review 2022]
These glow-in-the-dark pebbles can serve so many purposes. They can light your pathway in the yard, they can be used in aquariums, and they can help fairies build their castles. They are eco-friendly and completely safe, and they work by absorbing light during the day. No maintenance required!

Features
Available in 2 color choices

Non-toxic and environmentally friendly

90 Days Quality Guarantee
Dimensions
Available in bags of 100 pebbles or 200 pebbles
Glow in the dark ANYTHING is cool, but these have got to be one of the coolest.
These are glow in the dark pebbles that are charged by the sun during the day, then release their glowy light through the night.
So if you're coming home late in the dark you can use these pebbles to guide your way.
Use them to write messages to your flatmates, like You Are a Doo Doo Head. They'll laugh for days!
They come in a pack of 200, so you can be super creative and make major murals with them. Or you can pile them together and use them to communicate with the manon the moon.
Yes please!
Also good products
Sale
Bestseller No. 1
ELONGDI Water Beads Pack Rainbow Mix 50,000 Beads Growing Balls, Jelly Water Gel Beads for Spa Refill, Kids Sensory Toys , Vases, Plant, Wedding and Home Decor
Made only with non-toxic materials for safety of children and environment
Bright Colorful Jelly beads expand to 9-12mm and soft to grab
Helps kids with color recognition, counting & fine motor skill
Not only suitable for kids also adults. Ideal for centerpieces, any floral design, weddings, home or plant decoration, vase filler, showers parties etc
Bestseller No. 2
SEMILITS Solar String Lights 20LED Outdoor Waterproof Simulation Honey Bees Decor for Garden Xmas Decorations Warm White
Solar string lights with 20LEDs,which LED has shaped by a high simulated honey bee decor,looks like some real honey bees in your garden
Solar string lights powered by solar, operated by rechargable battery,no wire and no electricity needed,can lower a lot cost for your family
High simulation honey bees of the solar string lights are made of strong plastics,hard enough,with waterproof design,good for outdoor decorations,not easy to be broken
Honey bees decorative solar string lights is great for garden decorations,outdoor Xmas decorations and tree/flower decoration,can twine with peach blossom string lights, very beautiful
What you will get: 1 set solar honey bee string light,1 pcs ground spike,1 User manual,just connect the spike with string light,stick into the soft solid,switch ON, installation finished
Sale
Bestseller No. 3
Flintstones SuperBeans, Kids Multivitamin with Immunity Support with Vitamins A, D, Iodine & Zinc to Support Healthy Growth, Fruit Flavored, Vegetarian, Jelly Bean Chews, 90 Count (Packaging may vary)
From the Pediatrician Recommended children's chewable multivitamin brand, Flintstones SuperBeans is an exciting, one-of-a-kind bean shaped multivitamin offering a tasty way for parents to support their kids' healthy growth, development, and immunity
These fruity multivitamin and IMMUNITY SUPPORT chews are rich in key nutrients such as Vitamin A, Vitamin B6, Vitamin B12, Vitamin C, and Vitamin E
NO High Fructose Corn Syrup, Artificial Sweeteners, Artificial Flavors, or Synthetic Colors; Vegetarian and Gelatin Free
Flintstones Superbeans unique bean shaped form, with a hard outside and soft inside, will have kids super excited to take their multivitamin
Three fruity, super tasty SuperBeans flavors that kids will love: Strawberry, orange, and lemon
Sale
Bestseller No. 4
OUPENG Pebbles Polished Gravel, Natural Polished Mixed Color Stones, Small Decorative River Rock Stones 2 Pounds (32-Oz)
Natural Stones: This river rocks are natural lightly polished for smooth effect, comes in a variety of natural colors, Resists fading for long-lasting beauty. The color of this river rock is natural so it may include a variety of different shades of browns, whites and black rocks. (rocks are natural and as a result some may be broken or out of shape, oval or round, thick or thin.
An alternative to mulch: Use indoors or outdoors,Pebble mulch in interior or exterior garden beds, provides good drainage, round and soft easy on the feet as there are no sharp edges.
Add an extra beautiful: in flower arrangements, walkways, water features, exposed aggregate flooring or walls, around swimming pools it could also be used to as an accent to an aquariums, water gardens, ponds, and terrariums.
Add an extra beauty in your garden or just outside your house. This is a perfect home decor and a creative interior and exterior design ,helps you keep clean and nice all of your decoration places.
Polished gravel: An alternative to mulch. Use indoors or outdoors. Our decorative pebbles are gently tumbled and feature a wide variety of colors and shapes.They are long lasting and will not deteriorate like mulch does. Pebbles are polished and coated in pure paraffin wax to enhance color and shine. Available in mixed color.