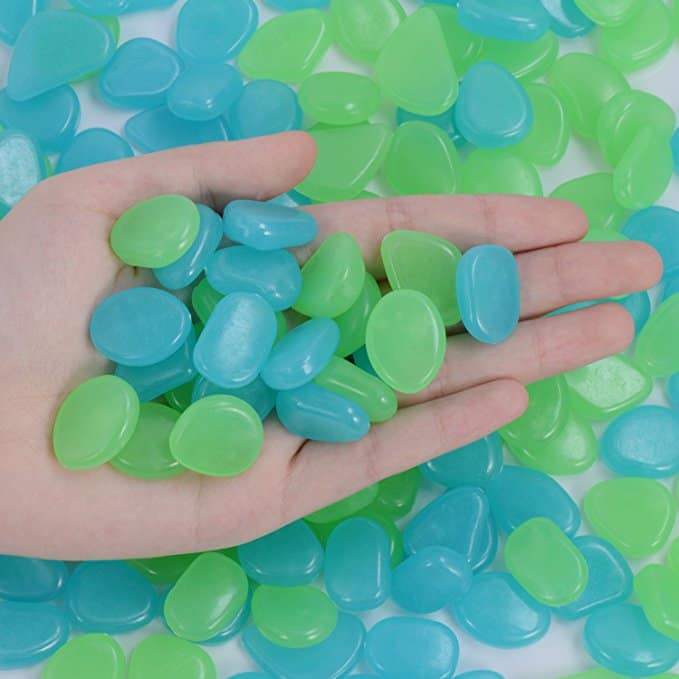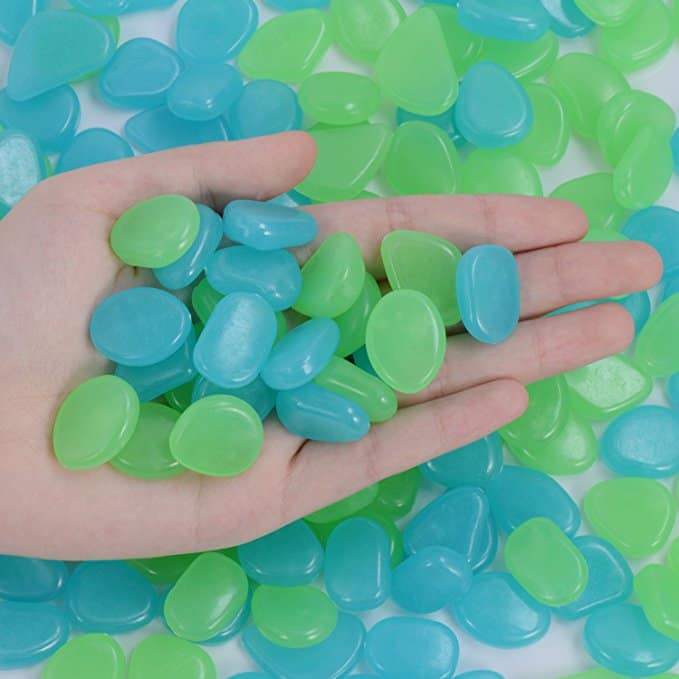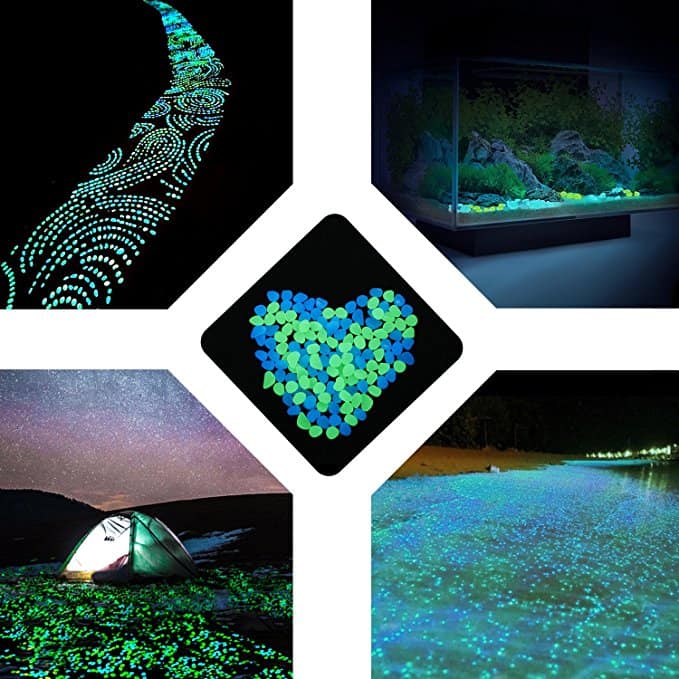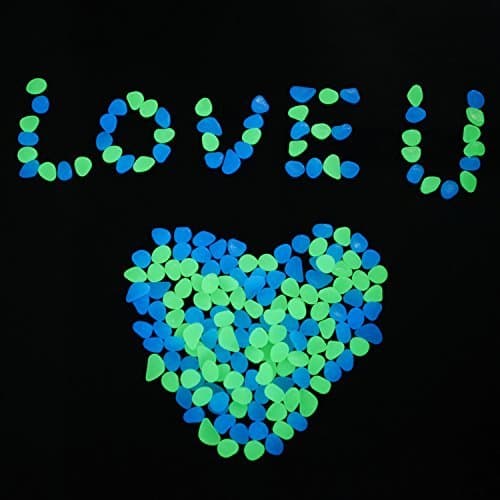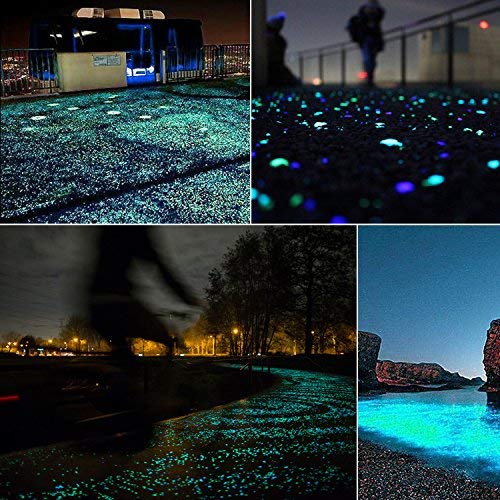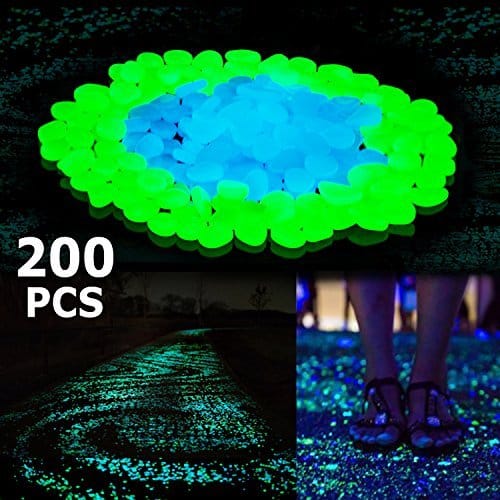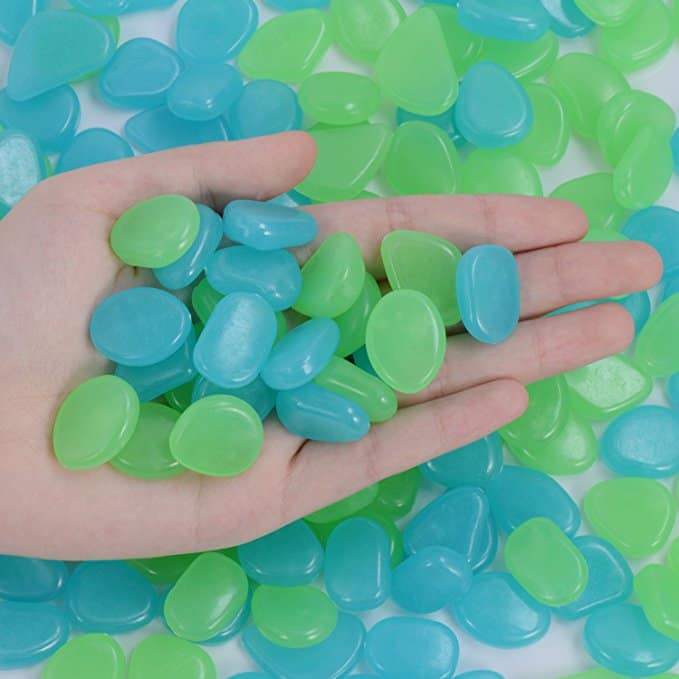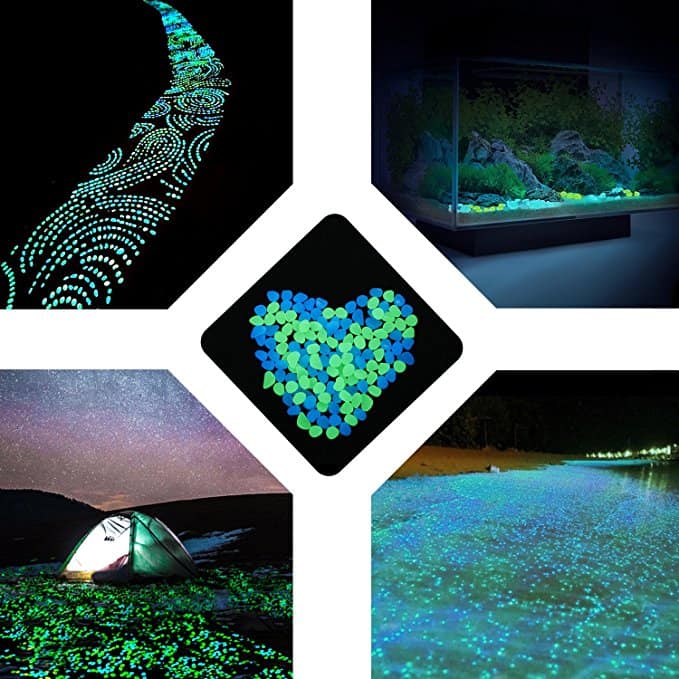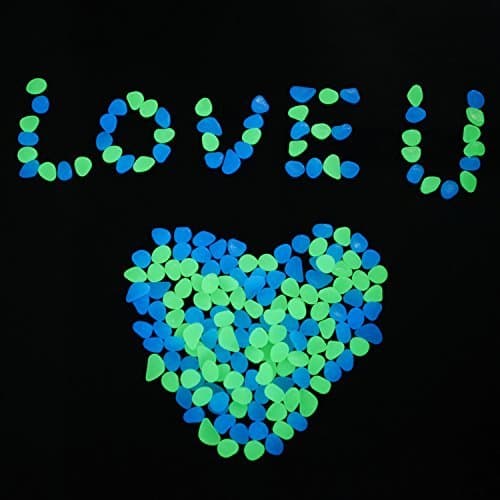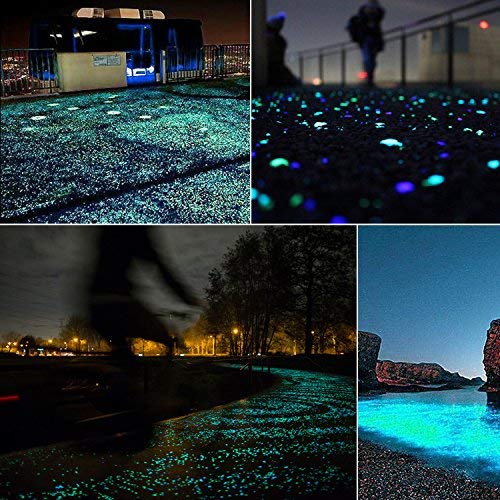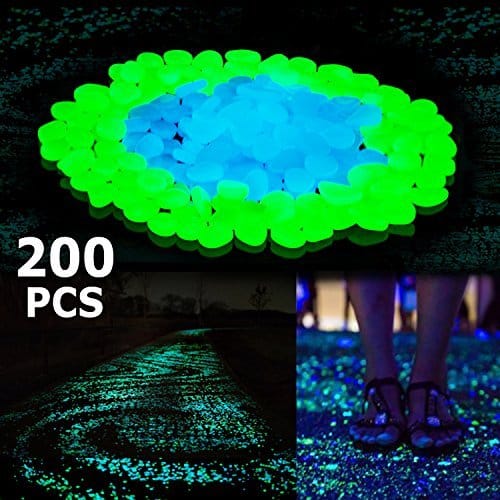 200Pack Glow in the Dark Garden Pebbles [Review 2021]
These glow-in-the-dark pebbles can serve so many purposes. They can light your pathway in the yard, they can be used in aquariums, and they can help fairies build their castles. They are eco-friendly and completely safe, and they work by absorbing light during the day. No maintenance required!

Features
Available in 2 color choices

Non-toxic and environmentally friendly

90 Days Quality Guarantee
Dimensions
Available in bags of 100 pebbles or 200 pebbles
Glow in the dark ANYTHING is cool, but these have got to be one of the coolest.
These are glow in the dark pebbles that are charged by the sun during the day, then release their glowy light through the night.
So if you're coming home late in the dark you can use these pebbles to guide your way.
Use them to write messages to your flatmates, like You Are a Doo Doo Head. They'll laugh for days!
They come in a pack of 200, so you can be super creative and make major murals with them. Or you can pile them together and use them to communicate with the manon the moon.
Yes please!
Also good products
Bestseller No. 1
Yardwe Glow in The Dark Pebbles, Garden Pebbles Stones, Glowing Rocks, Luminous Pebbles for Aquarium Garden Lawn Yard Decor- 200 Pack (Blue)
[Material] Made of premium photoluminescent pigment and natural resin, non- toxic, non- radioactive and odorless.
[Package Included] 200pcs artificial glow pebbles in a bag, each measures 0. 8- 1. 2, flat and smooth irregular oval shaped.
[How to make them glow] No electricity required. Put them under sunlight or lamplight to absorb light for an hour them they will glow for hours.
[Make your yard cool] Line a walkway, edge a flower bed or fill a planter with these pebble, make your garden or yard absolutely unique and cool!
[Widely Used] Perfect for decorating fish tanks, aquarium ornaments, ponds, garden, swimming pool, walkway, pathway or driveway, edge a flower bed or fill potted plants, DIY decorating vases.
Bestseller No. 2
Oubest Fish Tank Rocks Glow Multi-Colored Glow in The Dark Pebbles for Fish Tank Aquarium Garden Plant Pots Bonsai Walkway Driveway(200 Pcs, Multi-Colored)
NON-RADIOACTIVE & NON-TOXIC: Made of long-afterglow luminous powder, polystyrene resin, which are non-toxic and do not contain any radioactive elements.
HOW IT WORKS: Glow stones absorb and store light and then when in darkness they give off light, with 2-3 hours of bright glow and then gradually dim away. They can repeat this process for 15 years.
VERSATILE DECOR: In darkness, they glow and help to show walkway, path, driveway, floor, or decorate garden, aquarium, fish tank, plant pots, bonsai.
PRODUCING SPECIAL EFFECTS: With the dreamlike glow in darkness, they could produce special effects.
WARM TIPS: The darker the surrounding and the more exposure to visible light, the more bright glow can be seen. When applying, do not stack stones on top of each other.
Bestseller No. 4
ASIBT 500 Pcs Glow in The Dark Stones,Garden Pebbles Rocks for Outdoor, Walkway, Window, Yard Grass, and Fish Tank Decoration (Multi Color)
Made from PS(Polystyrene)+ Photoluminescent pigment, non-toxic and non-radioactive
Package contains 500 pcs Multi Color glow pebble, approx. 1.12kg ,Diameter: 0.8"-1.2"/ 2-3cm
Eco-friendly pebble lighting that requires no electricity and no power.This is ideal for not only saving us money, but for saving the environment around us.
After absorbing enough sun or light, the pebbles will glow for 2-3 hours. NOTE: As the pebbles can glow only for 2-3 hours, so please check the glowing effect within 2-3 hours after leaving the light source.
Can be used to decorate the road, walkway, gardens, bonsai, aquarium and so on