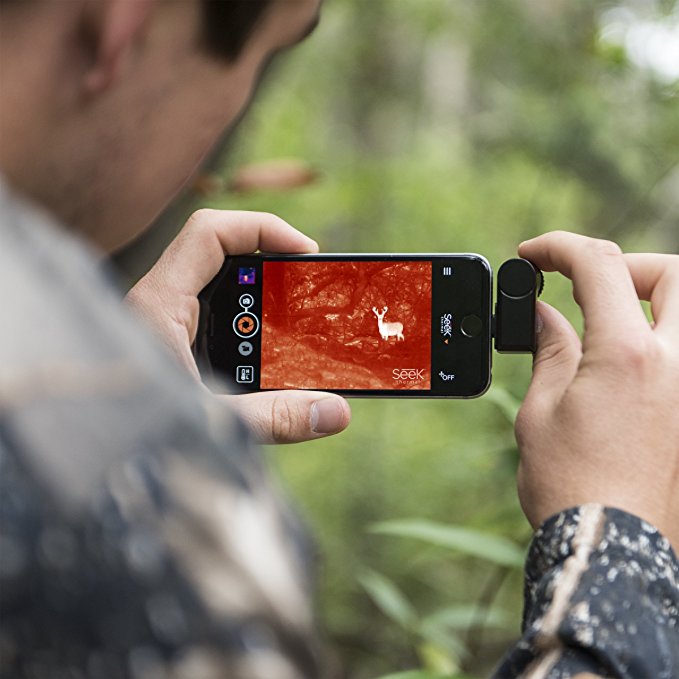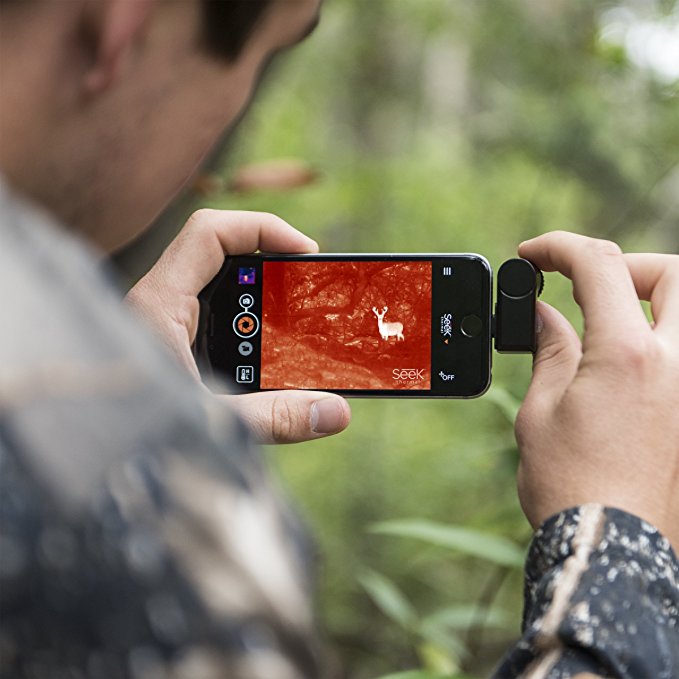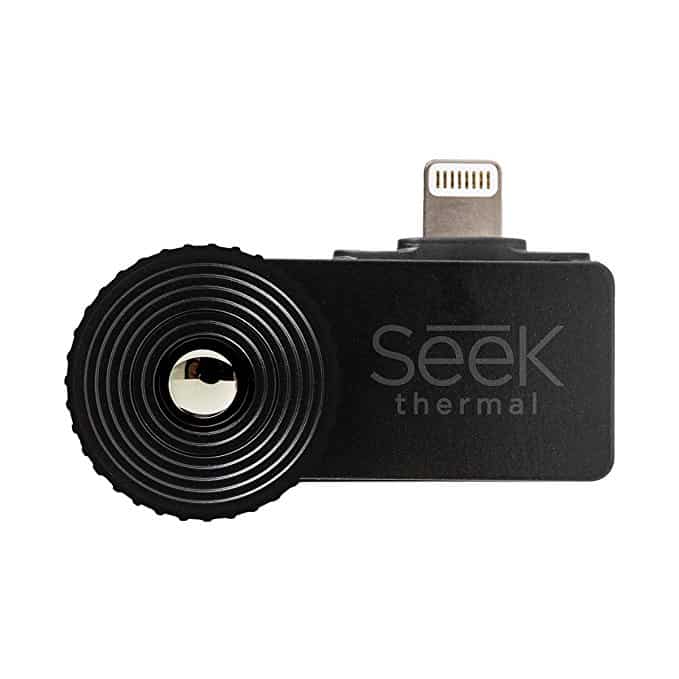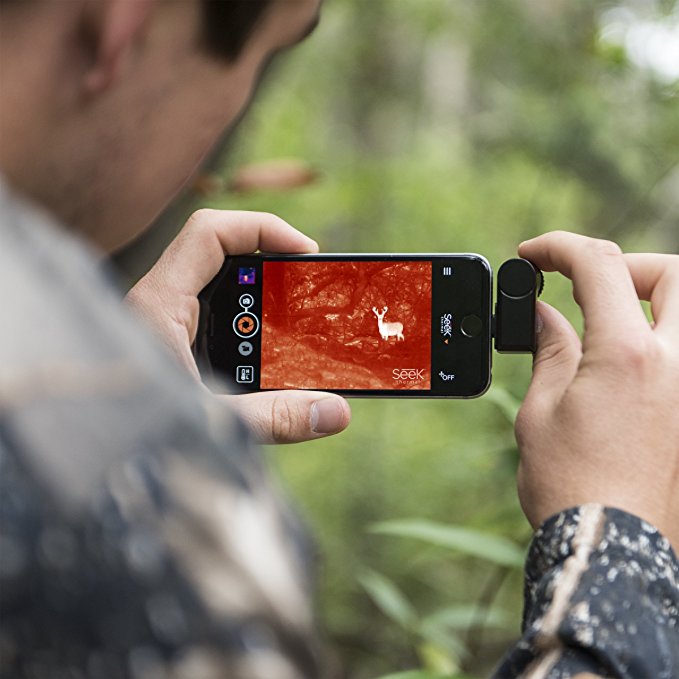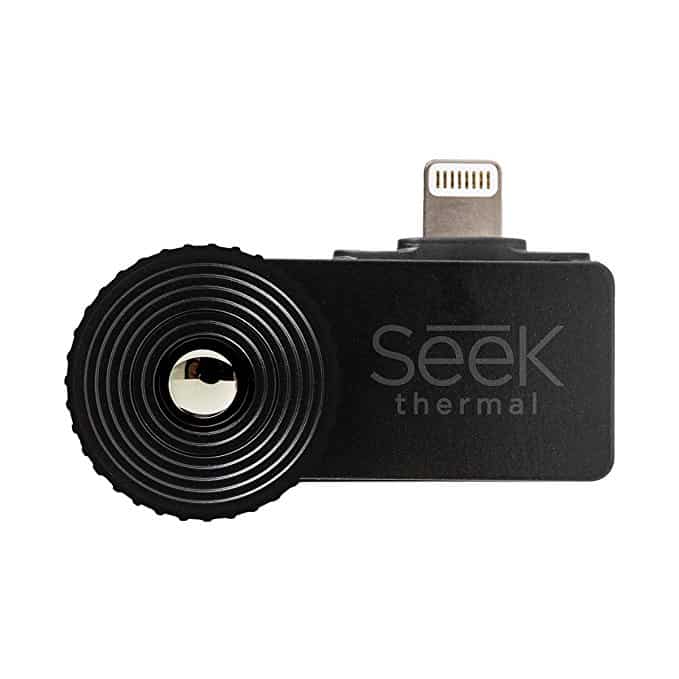 Seek Thermal XR Imager [Review 2021]
The Predator's job would have been a lot simpler if he'd had this! Made for iOS, this thermal imager would have spotted Schwarzenegger in no time. So remember, if you're hunting Arnold, this gadget is key! Oh, and we guess you can also use it to spot wildlife and stuff…

Features
Temperature range detection of –40 to 626 degrees Fahrenheit

Includes carrying case

Use with iOS or Android
Dimensions
1.6 x 0.8 x 0.6 inches

13.6 ounces
If you're searching for animals in the wilderness, or people for that matter, and you have an iPhone, then this is the thermal searching camera for you.
Thermal cameras show you were hot things are. I mean like high temperature things, not like attractive hunks and babes.
You can use it for hunting – again hunting animals, not hunting super babes and hunks.
If you want to see if an element on your stove is hot – use this rather than your hand. We've lost too many good hands to hot hobs.
It's fun to play with and you'll love it. You'll feel like you're on a warship in the 80s, or like you're running the radar on a fighter plane.
Also good products
Bestseller No. 1
Seek Thermal CompactXR – Outdoor Thermal Imaging Camera for iOS
Transform your smartphone or tablet into an outdoor thermal camera with a 206 x 156 thermal sensor to help you find people and animals at night or in low visibility
Find people and animals at dawn, dusk, and over long distances where visible light is limited. Extra range detection also increases your visual perception and awareness to improve personal safety
Perfect tool for the outdoorsman, hunter, or anyone searching for people and animals
Does not require batteries or charging. Waterproof case included. Free Seek mobile app.Thermal Sensitivity < 70 mK
SPECS: 206 x 156 Thermal Sensor, 20° Field of View, < 9 Hz Frame, Focusable Lens, -40F° to 626°F Detection Range, Captures Photos & Videos, Spot Temperature, High-Low Temperature, Threshold Mode, 9 Color Palettes
Bestseller No. 2
Seek LT-AAO Compact 20° Thermal Imager - Otterbox Universe Case System, Black Detection Accessory. Commercial Thermal Cameras
Thermal Imagery Tool: an ideal thermal camera for DIY home owners, inspectors, plumbers, electricians, insulation and HVAC professionals, carpet cleaners, pet owners and general home security. Black heavy-duty imaging accessory detects clogs, falling electric circuits, heat loss and gain, insulation efficiently, and features an ever-growing collection of swappable modules
High Performance Detection Accessory: combines powerful thermal insight with 206 x 156 sensor, a 20-degree narrow field of view. The accessory comes with durable polycarbonate module that slides into the back of an iPhone case, and protects the phone while capturing thermal images
Compatibility: built for OtterBox universe case system, the imager converts an iPhone into thermal imaging camera, and features advanced infrared technology. The imager works in total darkness, broad daylight or obscured visibility conditions. Thermal imager style for commercial and industrial applications
Portable Thermal Imager: easy to pack, lightweight Seek Reveal Imaging accessory features a handy latch at the back for security. Quick to connect, the detecting device makes use of military and professional grade thermal technology. The device features over 32000 individual thermal pixels with a range of detecting temperatures from -40C to 330C
Seek Thermal Imager: includes seek compact line. Black thermal imaging equipment is an extra range thermal imaging camera. Robust Seek compact camera has a long-life expectancy. Detection accessory is ideal for any occasion
Sale
Bestseller No. 3
Seek Thermal Revealpro – Ruggedized, High Resolution Thermal Imaging Camera
Ruggedized, high resolution thermal camera with a 320 x 240 thermal Sensor to help you find and fix problems faster on the jobsite or at home.
Built for the jobsite with professional measurement tools, revealer helps you find and fix faster by seeing building problems invisible to the naked eye such as: energy loss, electrical and mechanical failures, water damage, and hundreds more heat related issues.
Perfect tool for contractors, inspectors, engineers and DIY homeowners.
Includes a 300 lumen LED flashlight, long-lasting rechargeable battery, large color display, and durable rubberized casing.
Specs: 320 x 240 thermal Sensor, 32° field of view, 9 Hz frame, fixed-focus lens, -40F° to 626°f detection range, captures photos, spot temperature, 9 Color palettes, auto & span/level control, 4 emissivity presets
Sale
Bestseller No. 4
Seek Thermal - Shotpro - Handheld Thermal Imaging Camera and Sensor
320 x 240 Best in class thermal resolution - identify, diagnose and report problems faster with high resolution thermal images and video
Seek Fusion technology - see exactly what you're looking at with combined visible and thermal images
Large color touch screen - 3.5" Color touchscreen with 640 x 480 resolution so you can see more detail
Wi-fi live view - stream a live thermal view onto your smartphone or tablet over Wi-Fi
Long-lasting battery life - best-in-class battery life of up to 4 hours continuous thermal imaging