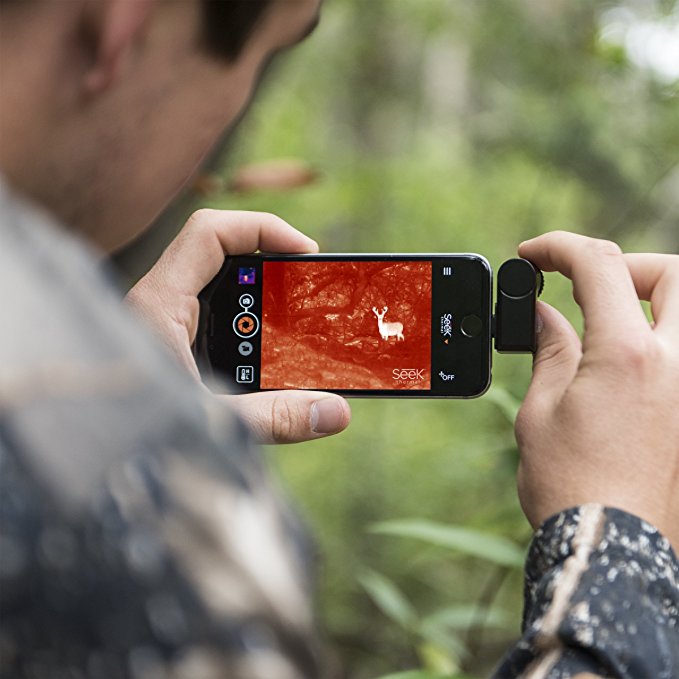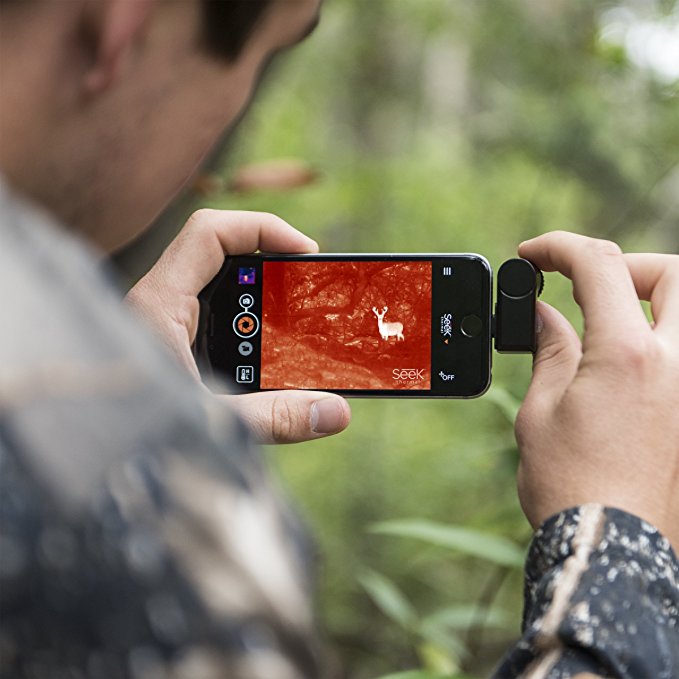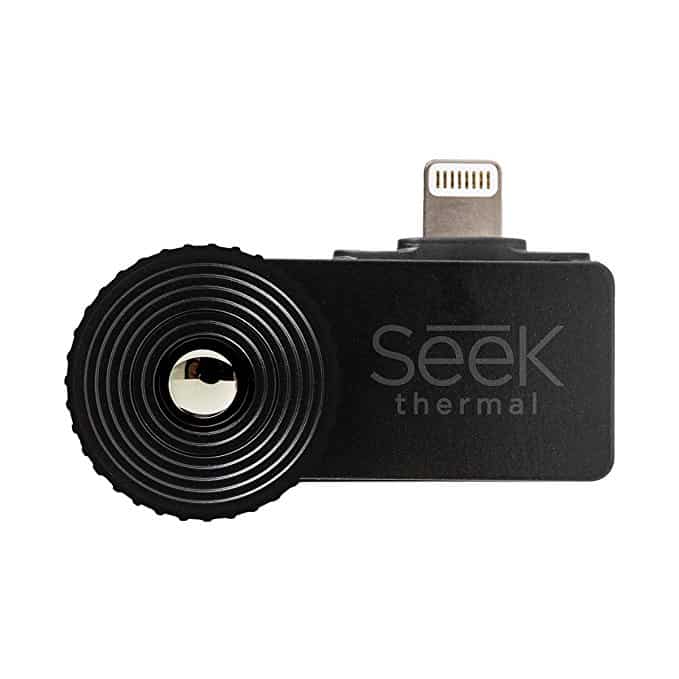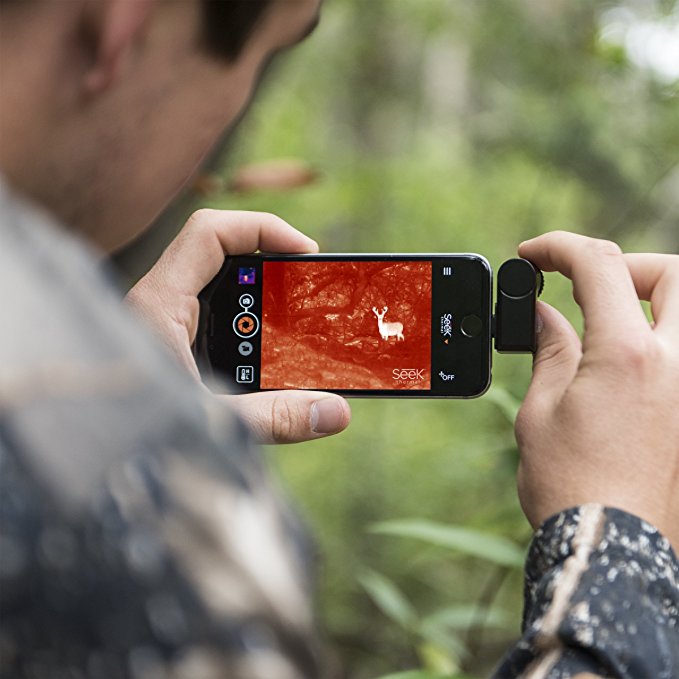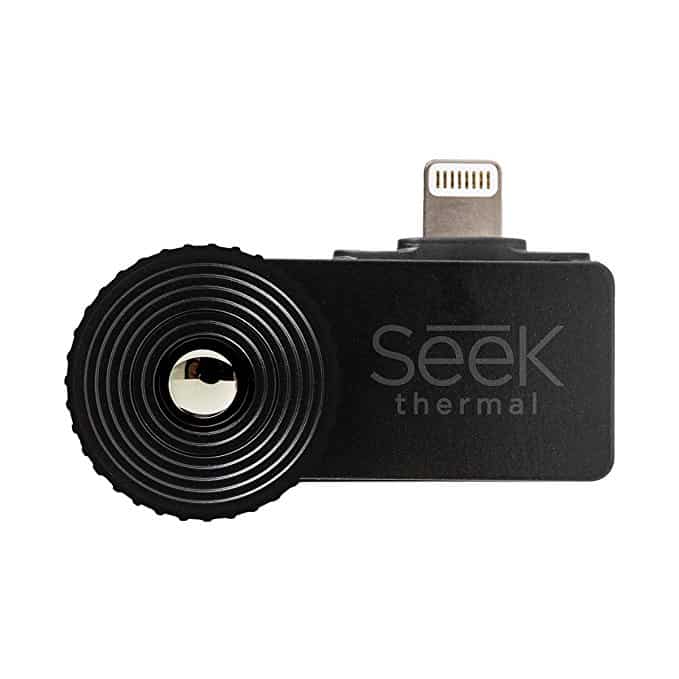 Seek Thermal XR Imager [Review 2023]
The Predator's job would have been a lot simpler if he'd had this! Made for iOS, this thermal imager would have spotted Schwarzenegger in no time. So remember, if you're hunting Arnold, this gadget is key! Oh, and we guess you can also use it to spot wildlife and stuff…

Features
Temperature range detection of –40 to 626 degrees Fahrenheit

Includes carrying case

Use with iOS or Android
Dimensions
1.6 x 0.8 x 0.6 inches

13.6 ounces
If you're searching for animals in the wilderness, or people for that matter, and you have an iPhone, then this is the thermal searching camera for you.
Thermal cameras show you were hot things are. I mean like high temperature things, not like attractive hunks and babes.
You can use it for hunting – again hunting animals, not hunting super babes and hunks.
If you want to see if an element on your stove is hot – use this rather than your hand. We've lost too many good hands to hot hobs.
It's fun to play with and you'll love it. You'll feel like you're on a warship in the 80s, or like you're running the radar on a fighter plane.
Also good products
Sale
Bestseller No. 1
FLIR ONE Gen 3 - iOS - Thermal Camera for Smart Phones - with MSX Image Enhancement Technology
Lightweight accessory that transforms your iOS device into a powerful thermal infrared camera
Free FLIR ONE mobile app (recently updated) with exclusive content, real time professional tips and tricks, multiple spot meters, and easy automated reporting to document your findings user registration not required
FLIR ONE allows you to measure temperature variances
Capture and share thermal images and videos. Exclusive MSX Technology blends thermal and visible spectrum for more detail and enhanced resolution
Spot Meter: Off / °C / °F. Resolution 0.1°C / 0.1°F
Sale
Bestseller No. 2
TOPDON TC002 Thermal Camera for iOS (iPhone & iPad), 256 x 192 IR High Resolution, Thermal Imager, Thermal Imaging Camera, -4°F~1022°F Temp Range, 40mk Thermal Sensitivity, Support Video Recording
Clearer Thermal Images👍 With an ultra-high resolution of 256x192, the TOPDON TC002 thermal camera displays a thermal image with superior clarity and quality. 25Hz refresh rate enables this IR camera to read temperatures smoothly and produce less flickering. Adjustable sharpness and contrast make the field of view clearer and more detailed.
Extensive & Accurate Temperature👍 Enhanced testing range of -4℉ to +1022℉, this thermal camera allows users to perform temperature reading for more objects even in winter and senses detailed temperature changes with 40mk heat sensitivity. Manually select 3 dimensions to check temperature: Point, Line and Surface.
Designed for iOS👍 Compatible with iOS devices, the TC002 can turn your iPhone (iPhone 7 and above. ) and iPad (Lig*htning Connector) into an infrared thermal camera. Download the "TopInfrared" from the App Store and connect it to your devices to get pro-level temperature reading, plug and play (Not Available for Mac). Low consumption of 350mK lets the TC002 continuously work for 6-8 hours with a fully-char*ged iPhone and 8-10h with a fully-char*ged iPad.
See more than the human eye👍 The TC002 infrared camera enables you to accurately measure temperature differences from a safe distance with effective distance of 16.4 ft (5m.). This thermal imager is a perfect tool for home inspectors, HVAC technicians, electricians, beekeeper, automotive technicians, and even for farmers looking to protect crops and livestock. *Users can able to manually close the shutter if you do not like to hear the shutter click when using the camera.
Compact yet Useful👍 Picture-in-Picture mode combines the IR image and visible image for a clearer view on low-temperature items. Supporting image rotation, 11 palettes and monitoring temperature changes by waveform, this integrated thermal imager is convenient to carry around and be stored measuring only 2.8x1.7x0.55 in(71x42x14mm) and weighing 1.1 oz(30g ).
Sale
Bestseller No. 3
FLIR One Pro LT iOS Pro-Grade Thermal Camera for Smartphones
FLIR ONE PRO LT: Powerful Infrared camera mobile accessary with adjustable one fit connector lets you find hidden electrical problems, energy loss, water damage, and other heat related issues.
THERMAL RESOLUTION & MEASUREMENT: Record 4,800 pixel IR images at a thermal sensitivity of 100 mK and measure temperatures from -20C to 120C (-4F to 248F).
VIVIDIR IMAGE PROCESSING: Unique image processing technology that enhances resolution and accuracy, to help you catch potential problems early and reliably diagnose problems. When combined with MSX – which enhances thermal images with visual details – the FLIR ONE Pro LT offers unsurpassed image quality for a mobile IR solution.
ONE FIT CONNECTOR: Adjustable connector extends by up to 4 mm, so you can secure your FLIR ONE Pro LT to your mobile device while its still in the protective case.
HARD-WORKING APP: Work-based features such as multiple spot meters, level/span controls, and reporting through the FLIR Tools Mobile App support more professional problem solving and functionality.
Bestseller No. 4
HIKMICRO E1L Thermal Imaging Camera, 160 x 120 IR Resolution/19200 Pixels, 25Hz Refresh Rate, Portable Handheld Infrared Thermal Imager with Laser Pointer, -4°F~1022°F Temperature Range
HIGH IMAGE QUALITY: Featuring HIKMICRO's 160 x 120 resolution (19,200 pixels) thermal sensor, the E1L thermal camera delivers high image quality, fast 25Hz frame rates, and a wide temperature range from -20°C to 550°C (-4°F to 1022°F).
IDEAL THERMAL INSPECTION TOOL: E1L Thermal Imager is a nice tool for Home Inspections, Missing Insulation, Air Leaks, Facility Maintenance, HVAC Troubleshooting, and nice inspection of electrical and mechanical systems.
PRACTICAL THERMOGRAPHY FEATURES:  Multiple temperature spots (Center, Auto-Hot, Auto-Cold) for fast measurements; multiple color palettes so you can choose the ideal color scale for your job, and storage for >100,000 radiometric images.
COMPACT AND RUGGED DESIGN: E1L infrared camera fits into most tool bags, will run for 8 hours on the built-in Li-Ion rechargeable battery, and includes a laser pointer to help determine the location of problems.
HASSLE-FREE WARRANTY: 3 Years for the Entire Device /10 Years for the Sensor. Lifetime Firmware Updates and Technical Support are included. The US-based customer support team offers local service, maintenance, and recalibration.