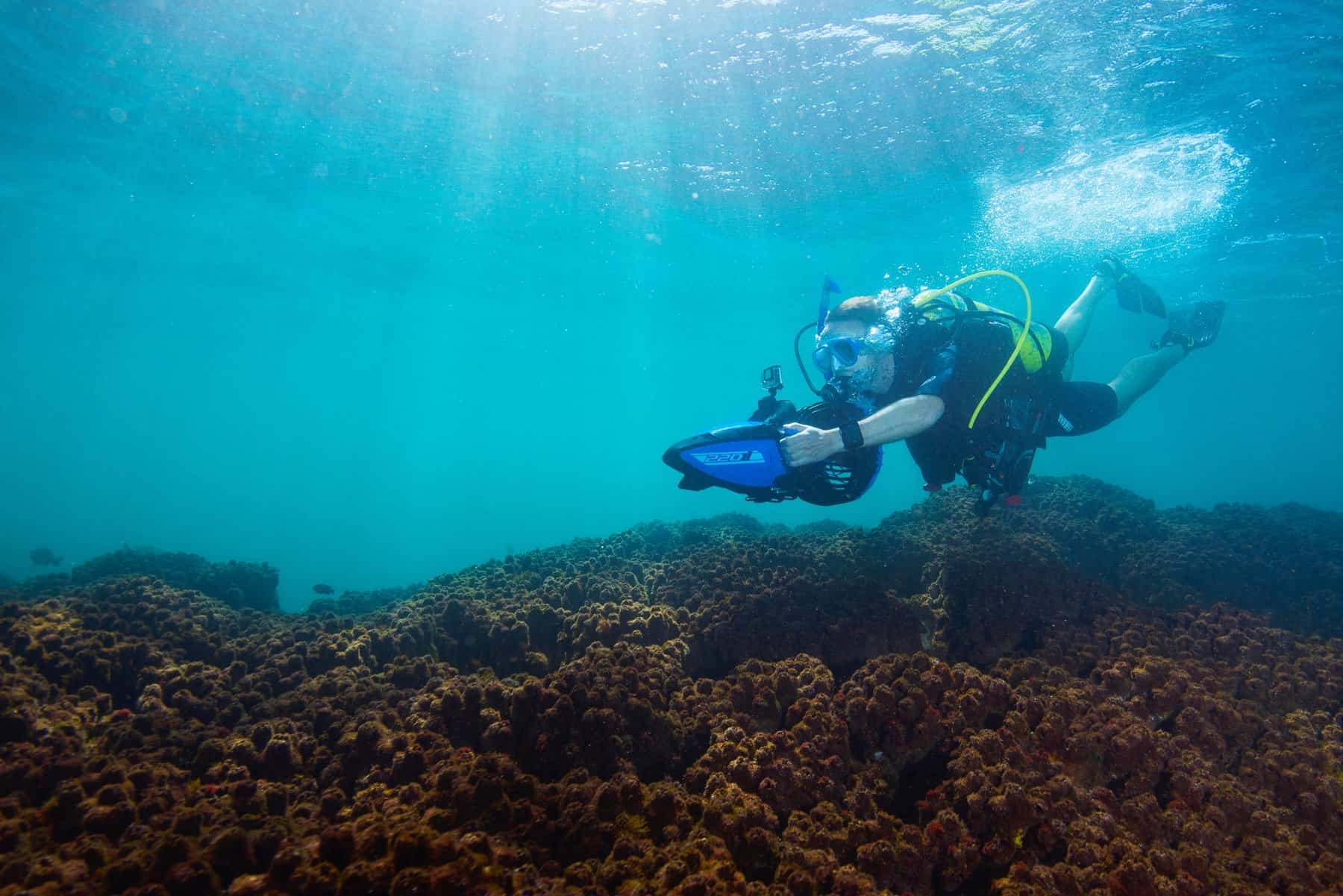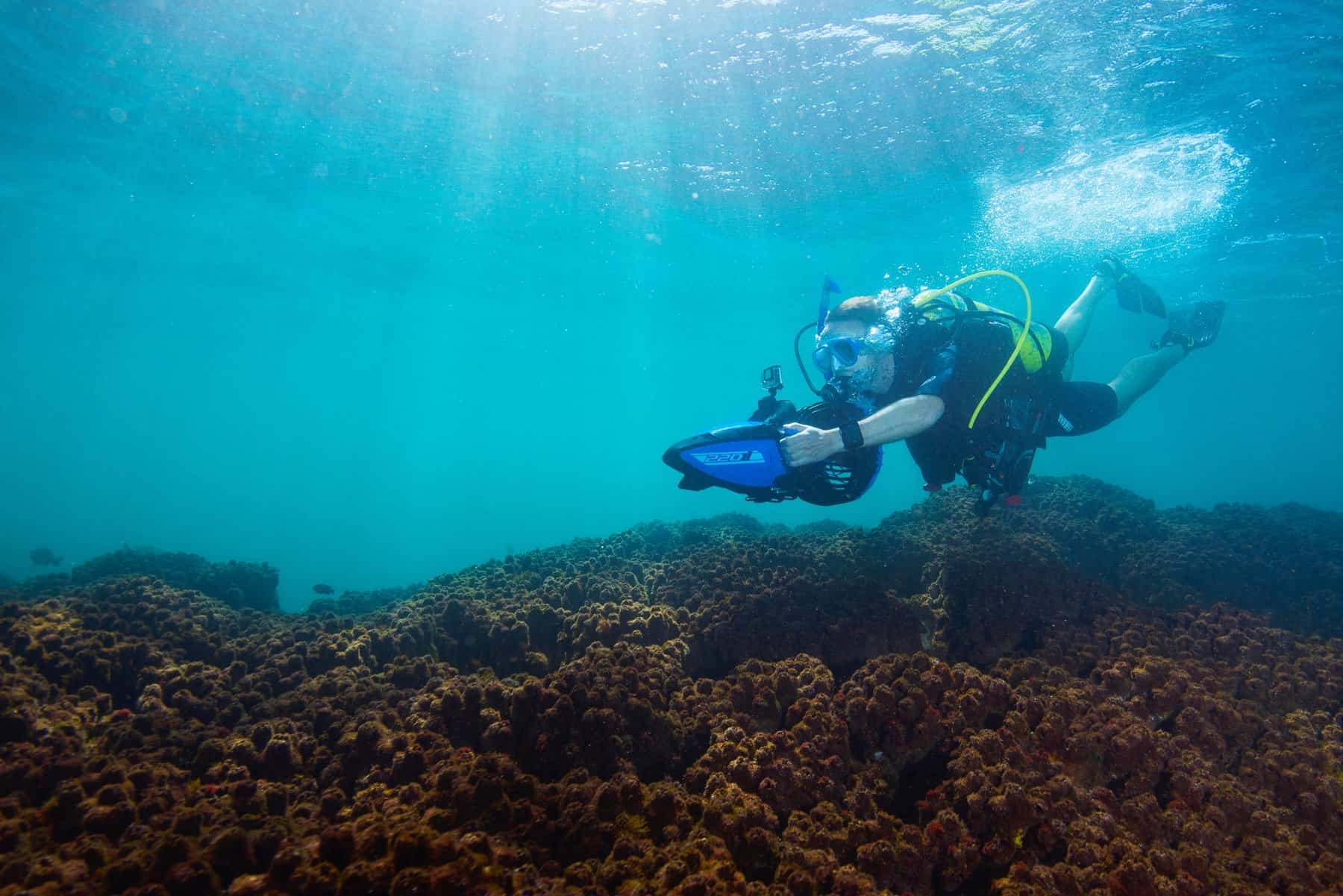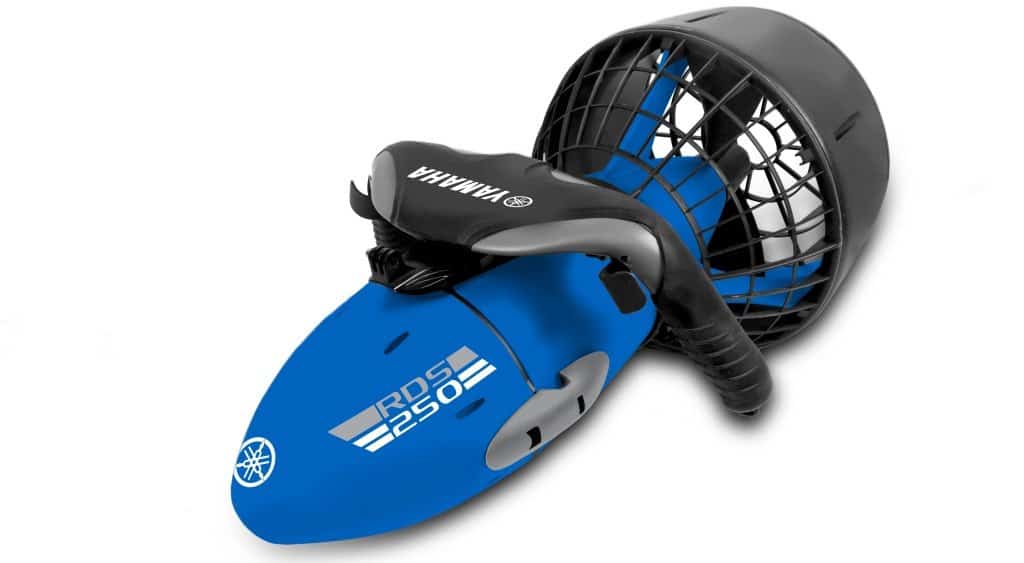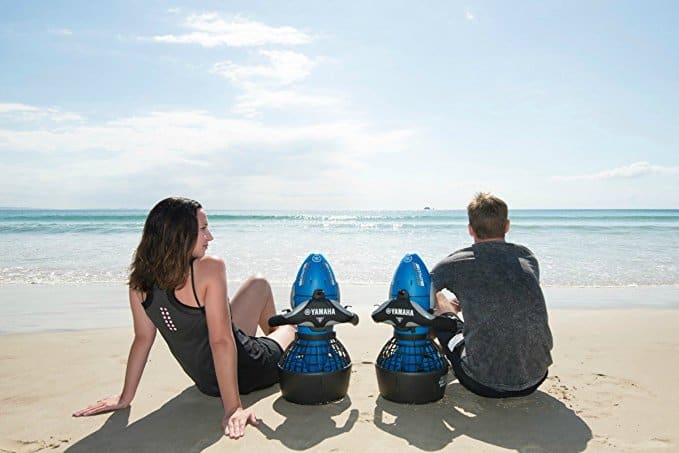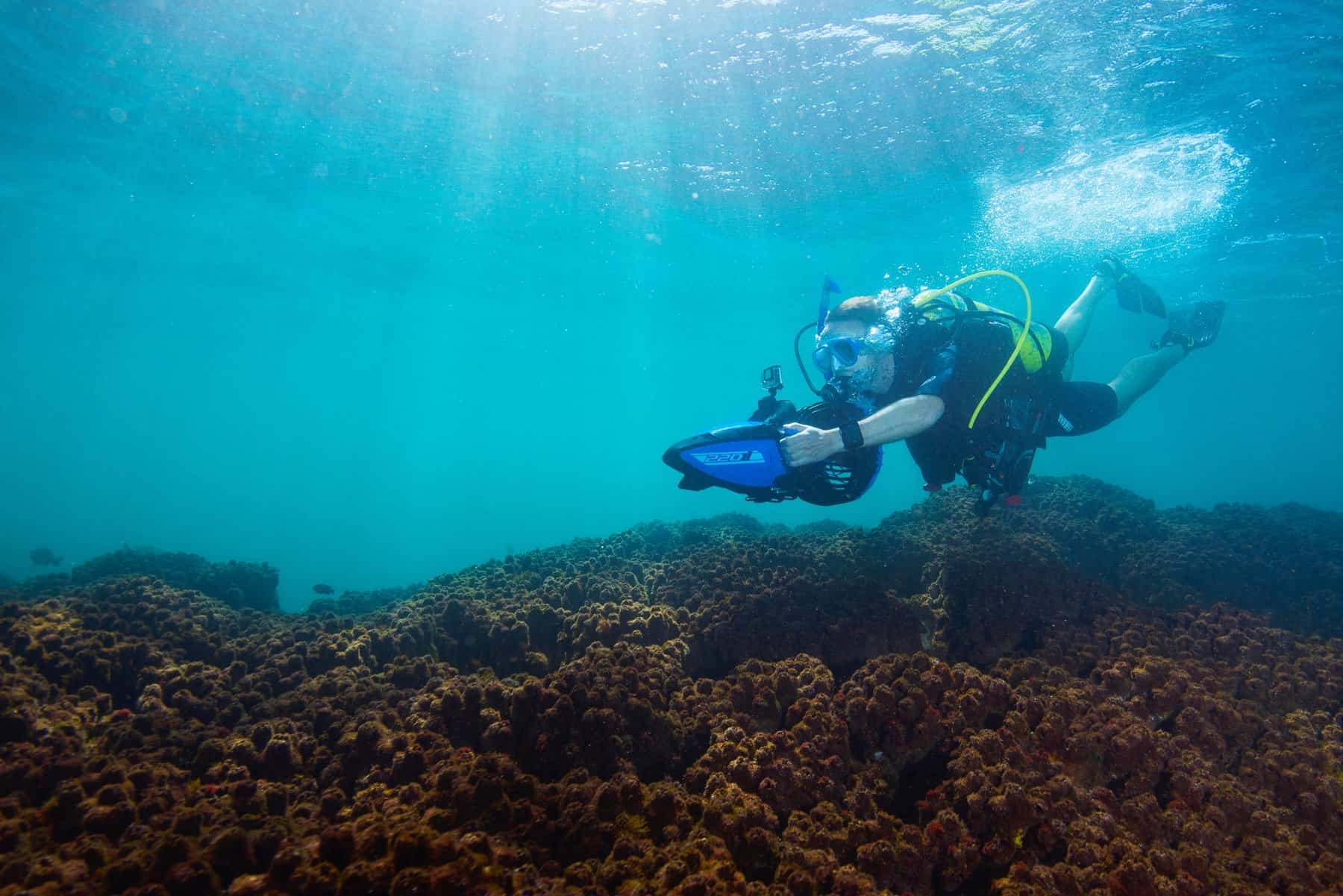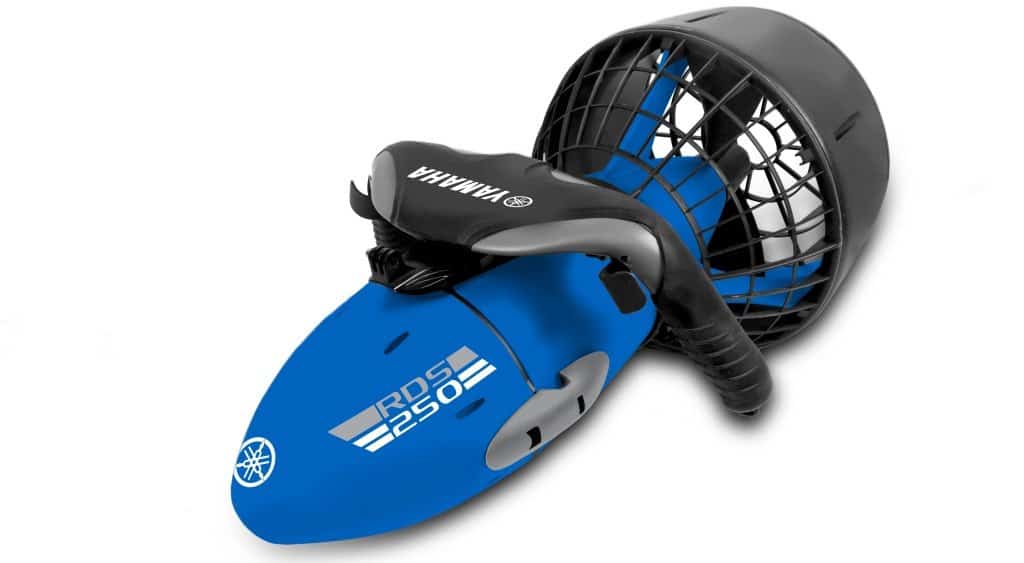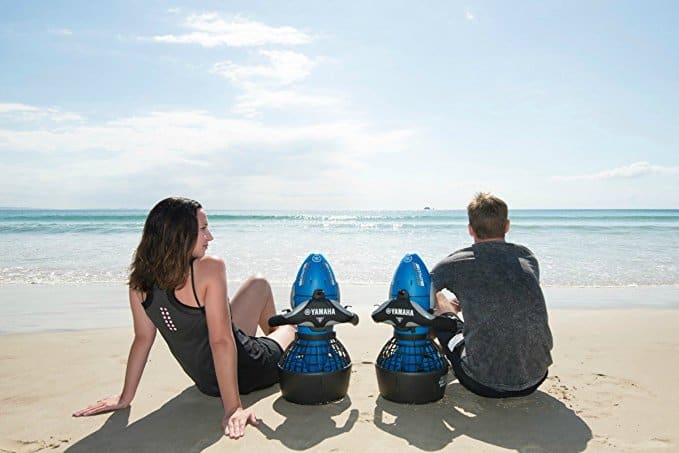 Underwater Seascooter with Camera Mount [Review 2020]
If you've always wanted to be a mermaid or merman, you still can't, but you can swim like one with this fascinating sea scooter. Just jump in the water and hold on, and it can take you to an amazing 100 ft. in depth and reach a speed of up to 2.5 mph. The battery lasts for up to 2 hours of continuous use.

Features
Rated for use up to 100-feet

Travels through water at 2.5 mph

Includes battery
Dimensions
24 x 15.2 X 12.3 inches

18 pounds
Take to the sea! Or lake! Or pool! Or river! Or even a large bathtub!
If you've ever wanted to explore the depths of the ocean, but have never had the energy or the drive to get off the couch, here is an device that will help you out.
The Yamaha Seascooter is an underwater sea scooter. It'll scoot you along with all the fish and the whales and the seals and the sharks.
With global warming we're about to have more sea,and you might have to swim to work, so now's the time to invest in an underwater scooter.
Think about it, you'll basically be the captain of your own submarine and I can't think of anything cooler in the world than that.
Also good products
Bestseller No. 1
YAMAHA RDS250 Seascooter with Camera Mount Recreational Dive Series Underwater Scooter
YAMAHA RDS250 SEASCOOTER – Delivers a perfect balance of run time and speed. Rated to a depth of 100ft (30m) the RDS250 will cruise at speeds up to 2. 5mph (4km/h)
FEATURING – A run time up to 2 hours and the RDS250 is perfect vehicle for back to back dive days
WATERPROOF CONSTRUCTION - Prevents accidental flooding is impact resistant heavy duty rubber hull protection
REMOVABLE BUOYANCY - Control chamber (The RDS250) is designed for use in salt water. It will have less buoyancy in fresh water, and may slowly sink in fresh bodies of water
POWERED - By a sealed Lead Acid Battery included, Product size: 24" x 15. 2" x 12. 3" / 612 x 385 x 312 (mm), Weight just 18 lbs. / 8. 2 kg including battery (Occasional battery maintenance required)
Sale
Bestseller No. 2
AQUAROBOTMAN MagicJet Seascooter 164ft 4mph Underwater Electric Scooter with 3 Camera Mounts for Scuba Diving Snorkeling Adventures Pool Gear
Long running time - Battery running time up to 100 minutes with a whole unit underwater pluggable design, it allows you to swap it in a minute and brings you a wonderful underwater journey
Power in your palm - 1.8m/s fast speed, dive depth up to 50m, satisfy your curiosity about the deep sea
Safe to dive - It can indicate the battery remaining capacity to keep you safe. The propellers are designed with a safe protective net to prevent fingers from accidental injury
2-in-1 modular - Use two scooters in parallel for a better experience, making it more powerful and faster. 3 camera mounts - Multi-directional shooting
Eco-Friendly - MagicJet will not pollute the water and do no harm or disturbance to the sea creatures, which brings you more immersive diving experience
Bestseller No. 3
WXCC Seascooters with Camera Mount Recreational Dive Series Underwater Scooter for Diving Swimming Snorkeling
WEIGHT: Weight just 18 lbs / 8.2 kg including battery.
MOUNT INCLUDED: Camera assembly attaching your camera to seascooter camera mounts can be used with [3, 3+, 4, or 5), or other cameras using the same mount system. (camera not included)
LEAD ACID BATTERY: The maintenance-free sealed lead acid batteries with absorbed glass mat technology offer outstanding performance withstanding high current output and deep cycling. Excellent resistance to vibration, shock, chemicals and heat. Lower self-discharge. Exceptional leak resistance even in an upside-down position.
HEAVY DUTY: The WXCC Seascooter is lightweight and powerful. Designed to cruise at speeds. The will allow you to maximize your underwater dive experience. The RDS Series is perfect for the recreational diving enthusiast.
SAFETY: Waterproof construction prevents accidental flooding.
Bestseller No. 4
AHELT-J Seascooters with Camera Mount Recreational Series Underwater Scooter. (White/Blue)
EXPLORER SEASCOOTER- This is an entry-level model Sea scooter with cruising at speeds up to 2. 5mph (4km/h) with a depth rating of 30ft (10m) perfect for shallow dives, snorkeling adventures or chasing fish.
POSITIVE BUOYANCY - The Sea scooter is designed for use in salt water and will have less buoyancy in fresh water and may slowly sink if used in fresh bodies of water.
SAFETY FEATURES – Include an auto-shutoff, dual-trigger control, caged propeller casing, Weight 11. 5 lbs / 5. 2 kg including battery, size: 11. 77" x 11. 10" x 20. 5".
CAMERA INTEGRATION - With built-in mount allows users to seamlessly take videos of their experience using their sport camera of choice (Camera sold separately)
POWERED - By a sealed lead acid battery, battery is included (occasional battery maintenance is required)