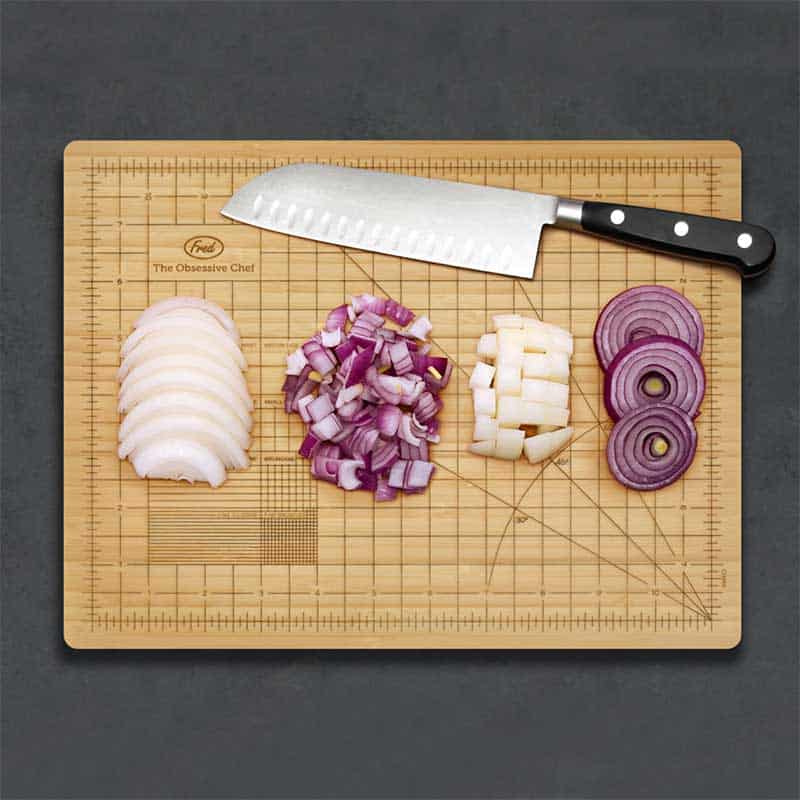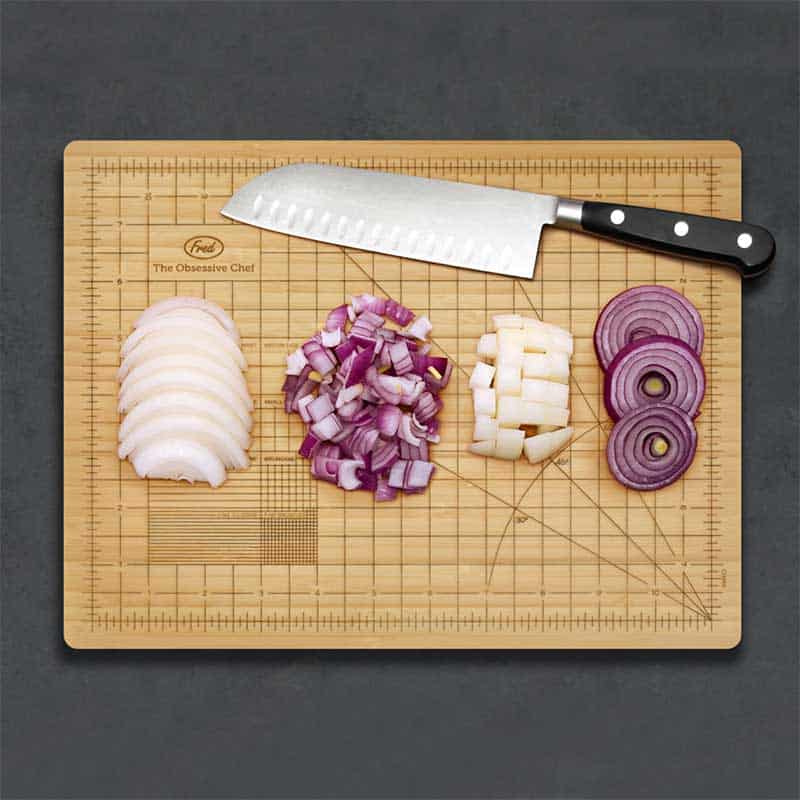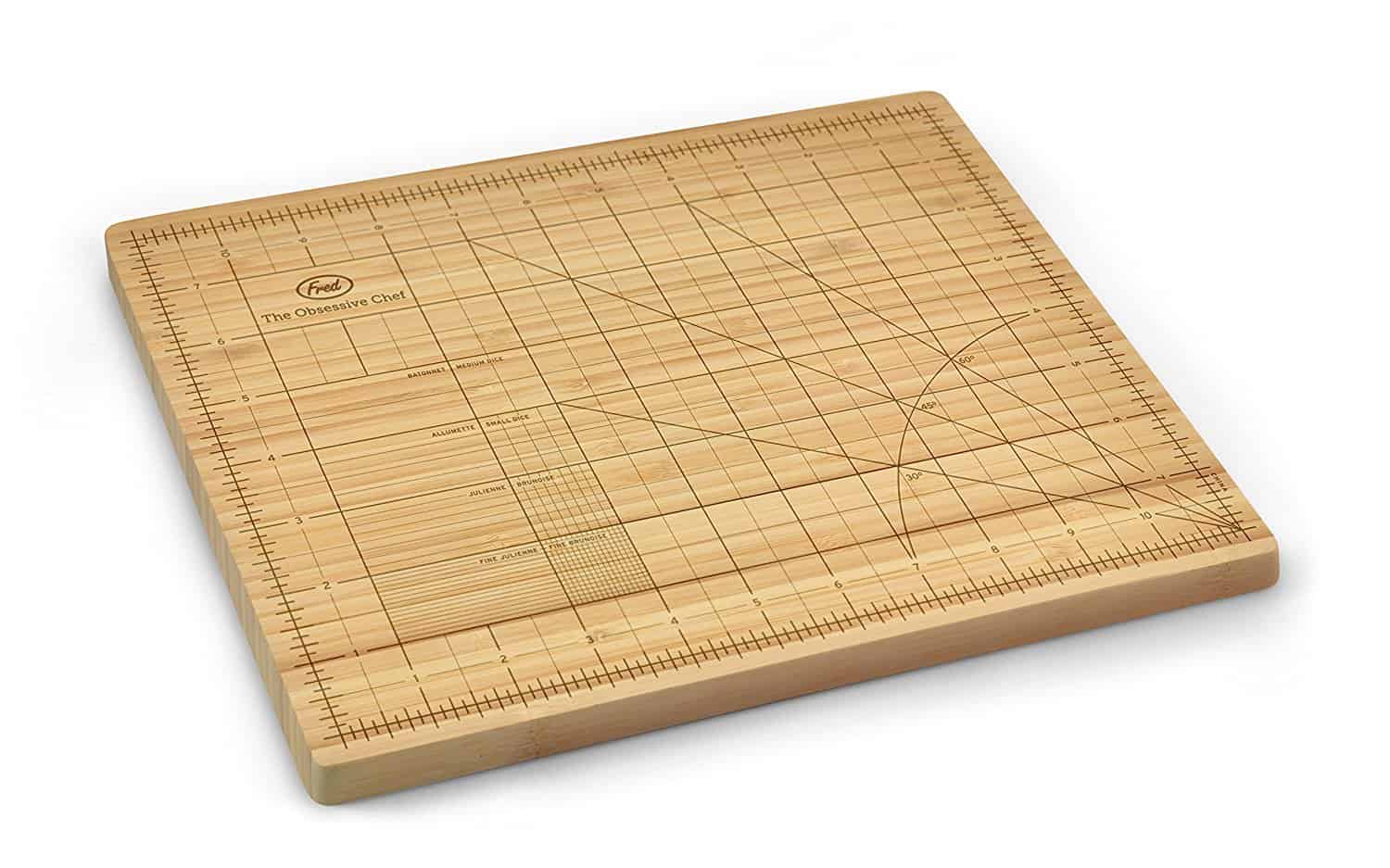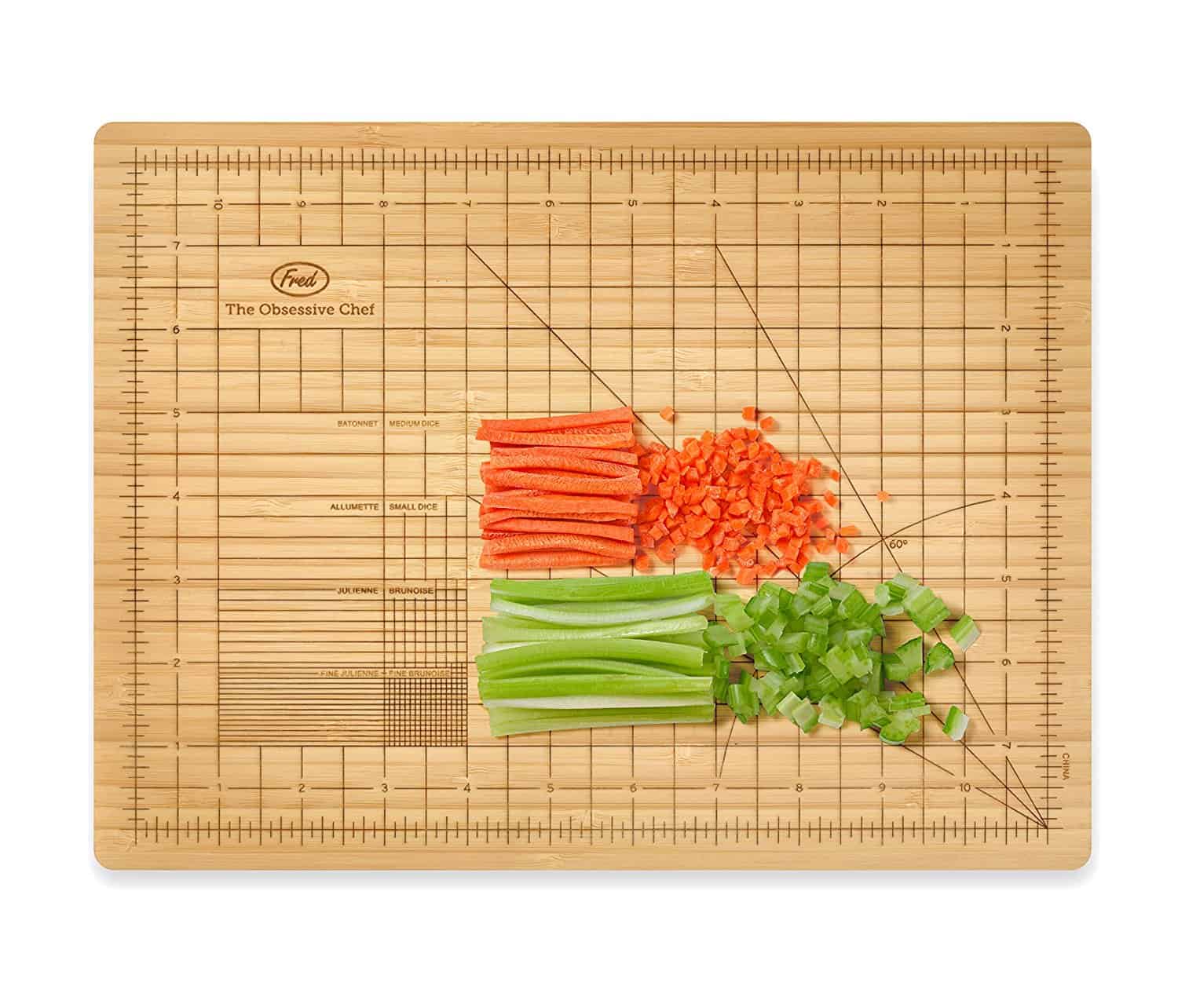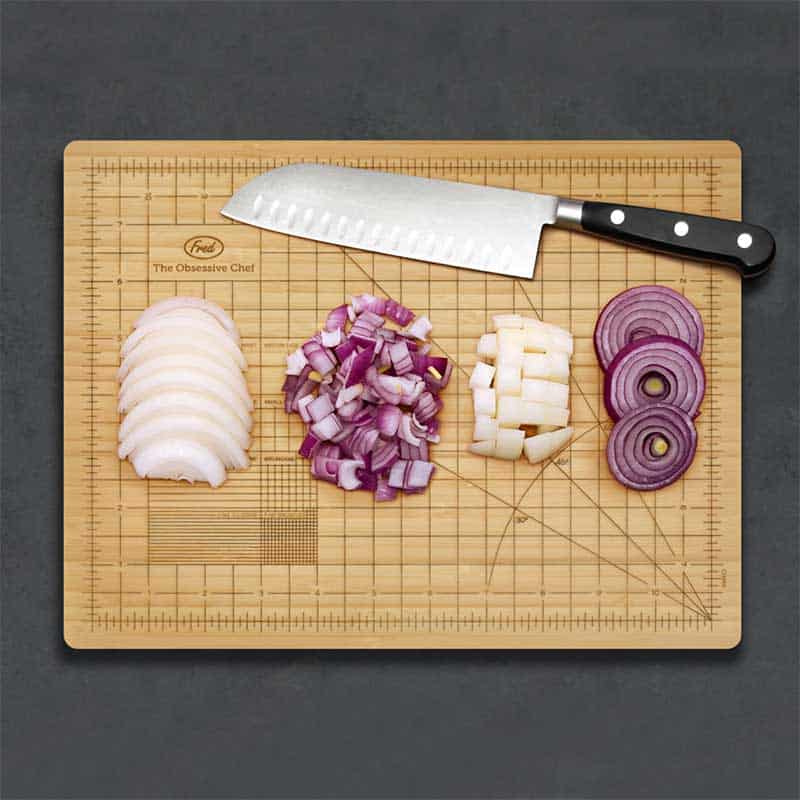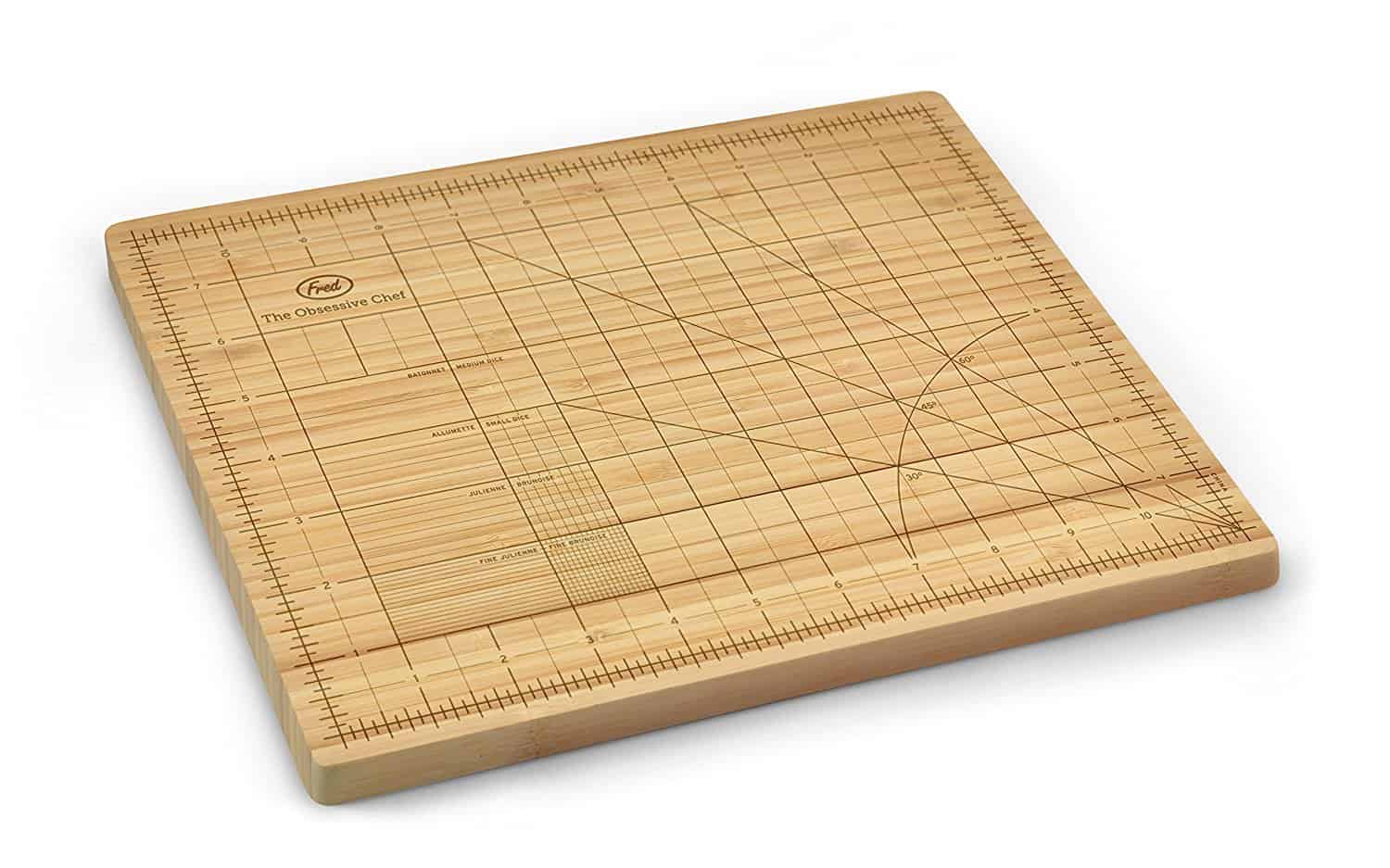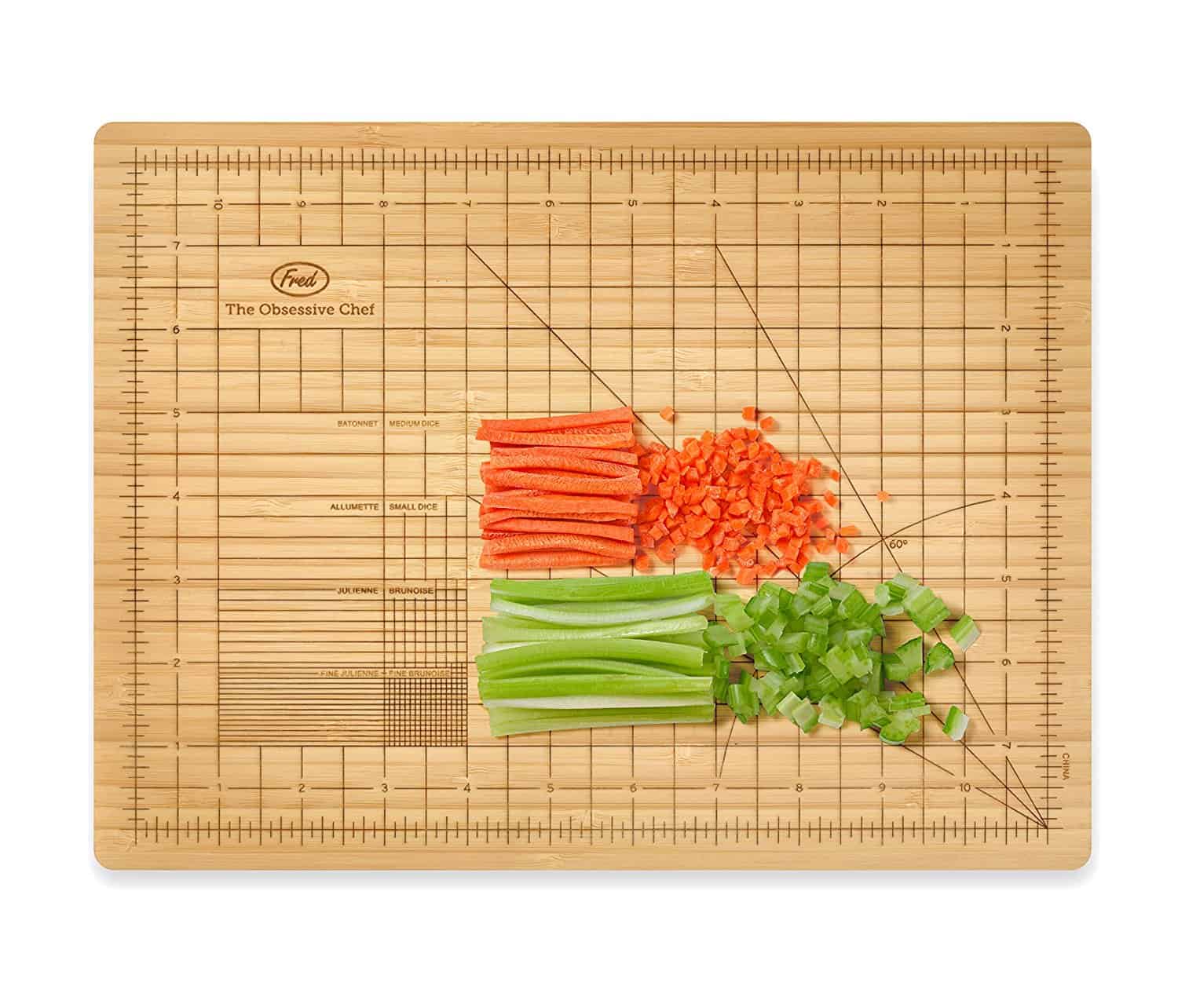 Gridded Bamboo Cutting Board [Review 2021]
Why not get another item that will show the world exactly how obsessive you can get? If you're into cooking, this bamboo cutting board might do the trick. Its grid will help you achieve perfect knife cuts – brunoise, batonnet, julienne… And all the lines are burnt in, so they'll last you a long time.

Features
Available in 3 awesome designs

Perfectly slice, chop, dice, and cut

Eco friendly bamboo
Jiminy Cricket said you should always let your conscience be your guide, but I say Phooey!  This chopping board should be!
This board is a cut above the rest!
You'll never get board of cutting again!
This chopping board is marked with a grid and other guides so that you can get the perfectly-sized cuts of carrot and celery.
Get it for the chef in your life, or for the really anally retentive person who this would bring joy to. Even a maths teacher or mathematician would get a kick out of being reminded of graph paper every time they prepare dinner.
There's no way Gordon Ramsay can yell at you when you've precisely cut every shallot identically to length with this board.
It's OCD-lightful!
Also good products
Sale
Bestseller No. 1
Extra Large Bamboo Cutting Boards, (Set of 3) Chopping Boards with Juice Groove Organic Bamboo Wood Cutting Board Set Butcher Block for Kitchen, End Grain Serving Tray by Kikcoin
【CUTTING BOARDS FOR KITCHEN】Four-layer thickened cutting board set includes 3 chopping boards of various sizes: "XL" size is 17.0*12.0*1.0 inch, suitable for meat or steak, "L" size is: 14.0*10.0*1.0 inch, suitable for vegetables, "M" size is 10.0*7.1*0.8 inch, suitable for fruit. Various sizes of bamboo cutting boards can meet your regular cutting needs. And it's also can be used as a serving tray to entertain guests. Equipped with cutting board rack for easy storage cutting boards.
【INNOVATIVE DESIGN】 The unique splicing craft and the four-layer thickening design are stronger and more durable than ordinary cutting boards, not easy to crack. Each board is made by highly skilled woodworkers and is meticulously constructed with attention to detail then finished with mineral oil. If properly maintained (hand washes recommended), this panel will last longer than most items in your kitchen.
【DURABLE】Rounded corners on the four sides to decrease scratches and invisible handle design does not take up extra space. Rubber silicone can be added to the bottom (packaged separately, you need to install it yourself), which is more stable to use.
【DEEP JUICE GROOVES】Built-in deep juice grooves to capture excess liquid during food prep. No need to worry about meat, fruit, or vegetable juice running off the board and onto your countertop when cutting. Thus you can keep your work area beautiful even during the busiest cooking time.
【BEST CHOOSE FOR GIFT】This chopping board set arrive ready for use out of the box and it's can be a great gift idea for Thanksgiving, Mother's Day, Father's Day, birthday, anniversary, housewarming ceremony or any special occasion. If for any reason you're not completely happy with your purchase, simply let us know and our friendly and reliable customer service will respond to you within 24 hours.
Bestseller No. 2
Seville Classics Easy-to-Clean Bamboo Cutting Board and 7 Color-Coded Flexible Cutting Mats with Food Icons Set
Durable, attractive bamboo construction. Fast-growing and plentiful, bamboo is stronger, more sustainable, and easier on knives than other hardwood cutting boards
Includes 7 brightly color-coded cutting board mats that make clean up easy and help prevent cross contamination when preparing fruits, vegetables, cheese, meat, fish, poultry, dough and baked goods
Flexible cutting mats are BPA free and designed to fit snugly into the top surface of the cutting board; use them with the cutting board or separately, and store them inside the cutting board when not in use
Non-slip silicone feet prevent the cutting board from slipping and sliding on your kitchen counter top or food prep surface; use the board to serve bread, crackers, cheese and cocktails
Cutting board measures 16.5" x 13.4" x 1.2" thick. Cutting board mats measure 15" x 12" x .03" thick each
Bestseller No. 3
Zulay (3-Piece) Bamboo Wooden Cutting Boards For Kitchen - Premium 3 Assorted Sizes Wood Cutting Board For Cooking & Serving - Bamboo Cutting Board Set For Veggies, Meat, Cheese & More
Wide & Reversible Surface: Our 3-Piece Bamboo Cutting Board is the culinary workhorse that could be an asset in both your kitchen and dining area. Made of premium quality pre-oiled flat-grain bamboo that can stand up to sharp cuts, stubborn stains, and strong odors. Package includes 3 cutting boards. Perfect for different types of cooking preparation whether it's for a quick meal or large feast.
Multifunctional Cutting Board Set: The package comes with 3 different sizes of cutting boards to accommodate chopping, slicing, and dicing any types of ingredients like fruits, vegetables, meat, fish, spices, and more. 3 sizes of cutting board: small 8 x 6 inches, medium 11 x 8.5 inches, and large 13 x 9.5 inches with a thickness of 0.4 inches.
Serving Board Function: Courtesy of its classic and aesthetically pleasing design these bamboo cutting boards are also effective for entertaining purposes as they don't get as many scratches even when used regularly unlike a plastic cutting board. You can use this as a serving platter for your charcuterie, newly baked pastries, grilled barbecue, etc.
Cleans In Seconds: The 2 larger boards are designed with cutout handles that make food transport from your workspace to your dining table easy. Bamboo is more sustainable than wood, however, cleaning this board is limited to thorough hand washing to prevent future damage such as splitting and warping.
No Hassle, Kitchen Happiness Zulay Guarantee: We love and take pride in our 3 Piece Bamboo Cutting Board and we back this up with a lifetime guarantee. Have the confidence that this product will last, if there are ever any issues, just contact us and we will make it right. Order now and be assured that this product will live up to your expectations, guaranteed. If it does not, we got you covered. Chances are, you will never need to reach out!
Bestseller No. 4
Hiware Extra Large Bamboo Cutting Board for Kitchen, Heavy Duty Wood Cutting Board with Juice Groove, 100% Organic Bamboo, Pre Oiled, 18" x 12"
LARGER THICKER SIZE YET PROPER WEIGHT: We designed a larger and thicker cutting board size: 18"L, 12"W, 0.8"H, which is stable on the countertop when cutting heavy things, such as watermelon, or chopping meat into ground, but meanwhile it's not be too heavy to be carried.
NATURAL ORGANIC BAMBOO: Made from natural organic bamboo which is environmentally friendly and food safe, strong and resilient, ideal for slicing bread, fruits, vegetables, meats, steaks, cheeses, or as a serving tray. Compared to plastics', which are brittle and unhealthy, bamboo contains no BPA, no formaldehyde and is friendly to forests and oceans.
SUPERB CRAFTSMANSHIP: Exquisite craft makes this cutting board very durable and strong, but not overly thick. After meticulous polishing, it is very smooth and extremely flat, without any burrs, cracks, splinters, etc.
JUICE GROOVE & INNER HANDLE DESIGN: Surrounded built-in juice groove is close to the edge to maximize the cutting area while perfectly catch excess liquids without overflow to the countertop, meanwhile the grooves are not too narrow to clean. The inner handles are on the back taking no cutting areas and branding space doesn't take up much space, as well as the hanging hole.
KNIFE-FRIENDLY SURFACE: The very flat surface causes no damages to the knife like cracks or dullness. Treated with edible oil, the smooth cutting board will not make the blade worse, and there will be no scratches and marks on the board.