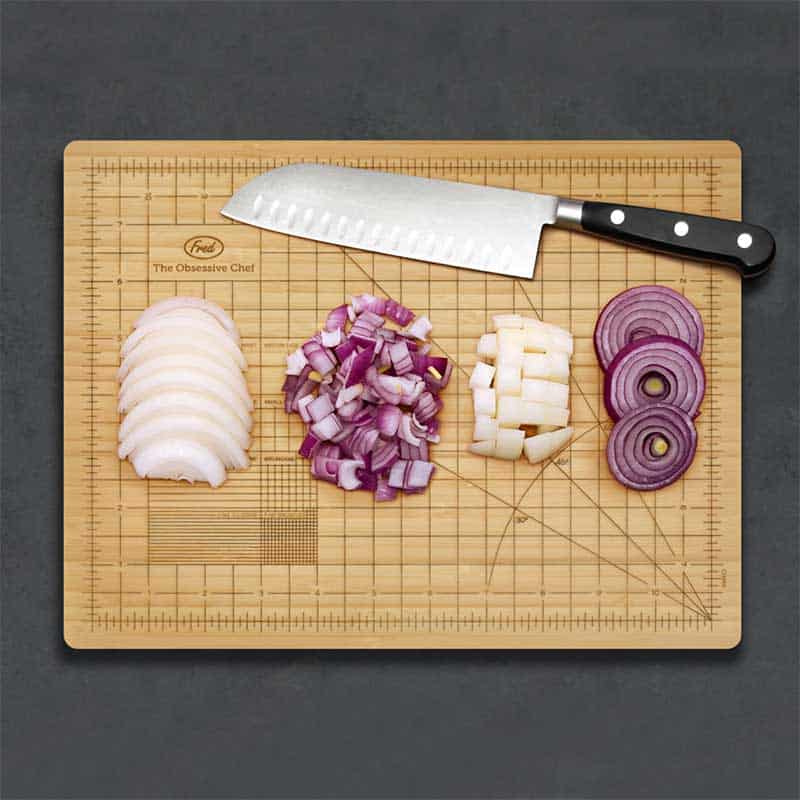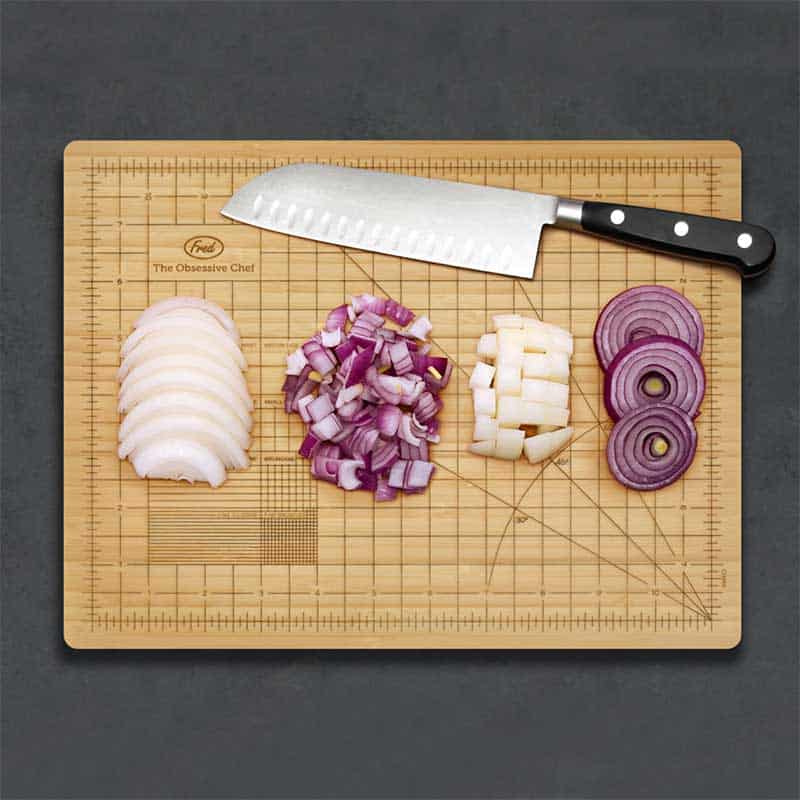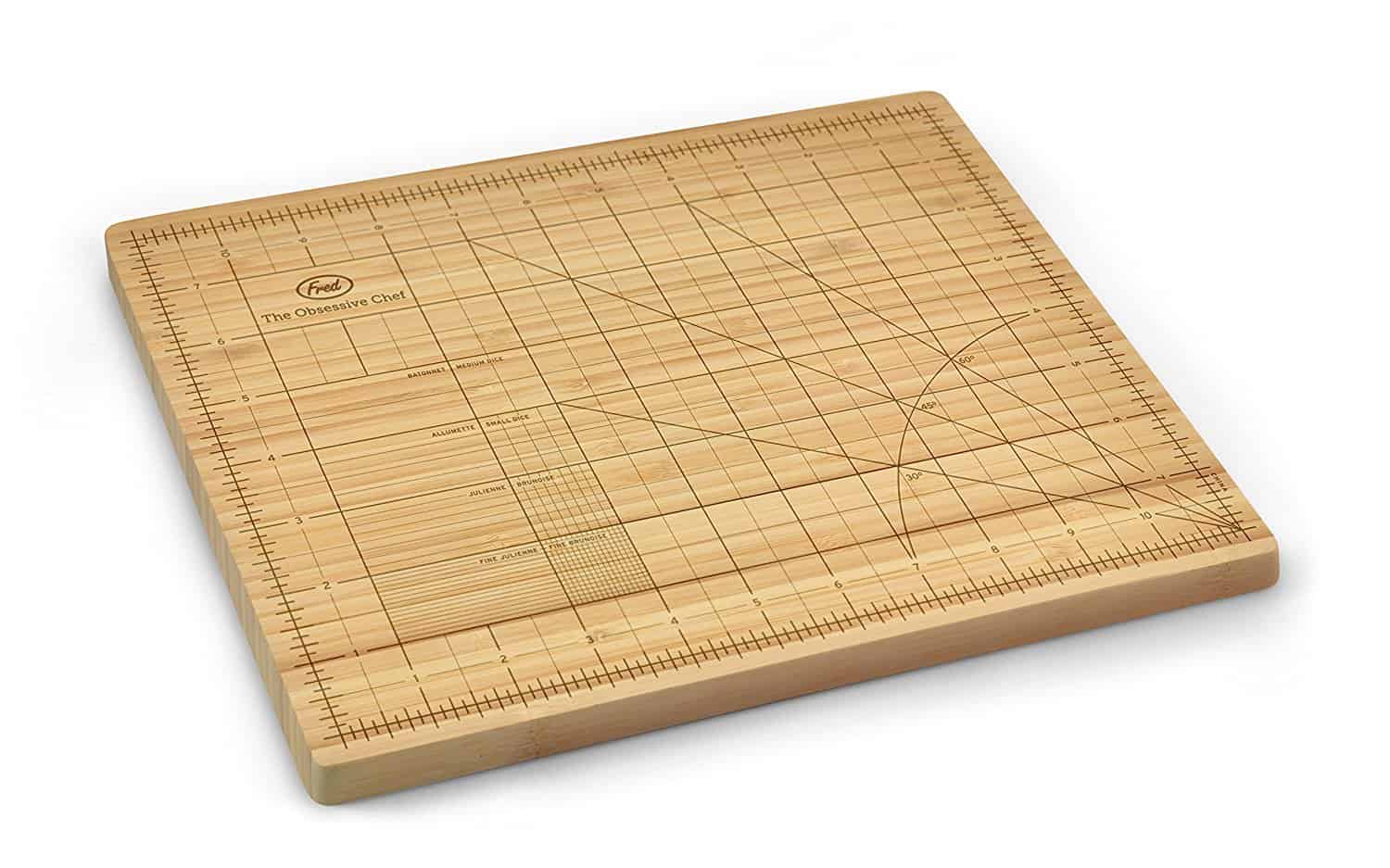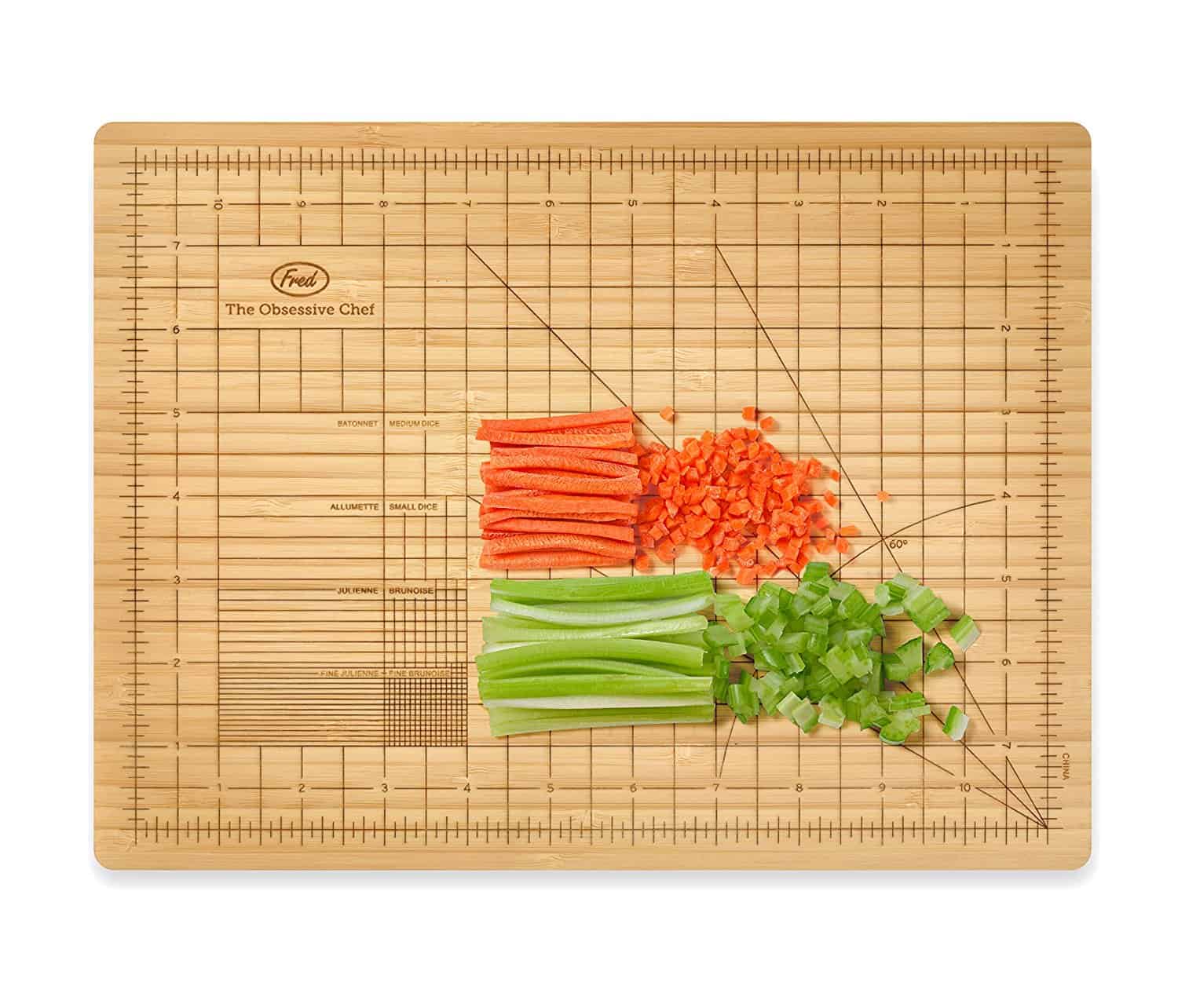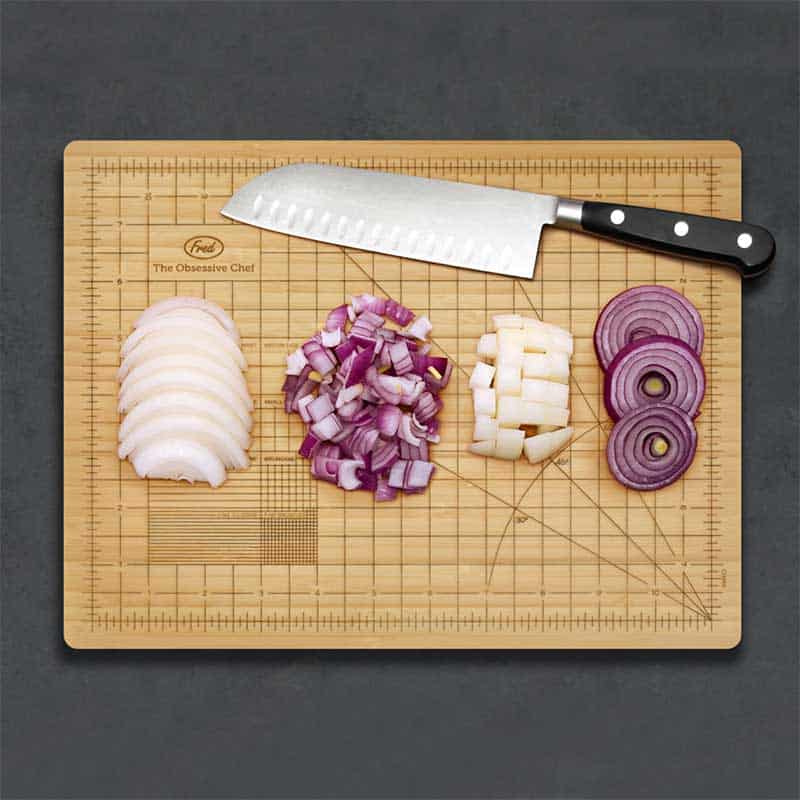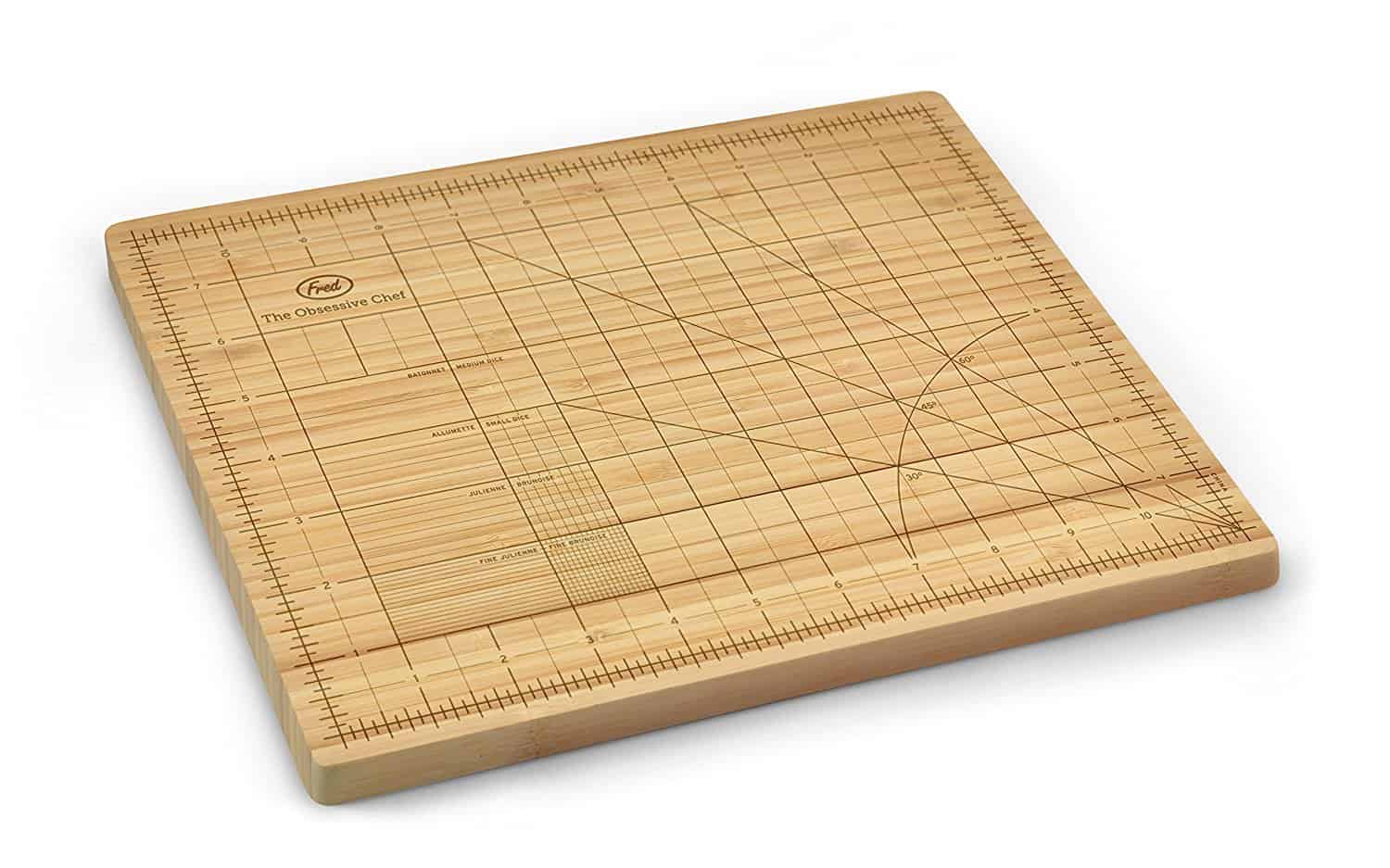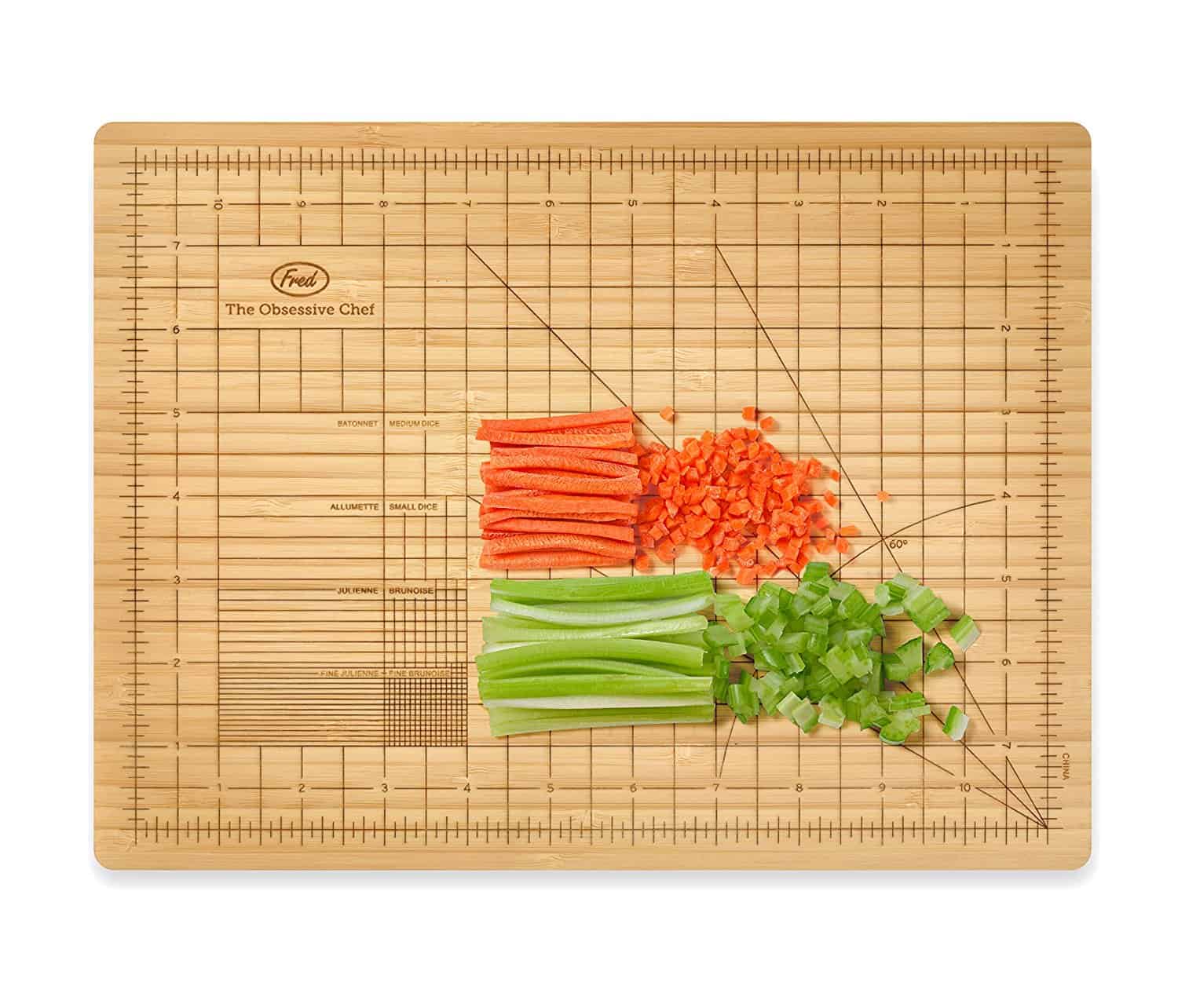 Gridded Bamboo Cutting Board [Review 2021]
Why not get another item that will show the world exactly how obsessive you can get? If you're into cooking, this bamboo cutting board might do the trick. Its grid will help you achieve perfect knife cuts – brunoise, batonnet, julienne… And all the lines are burnt in, so they'll last you a long time.

Features
Available in 3 awesome designs

Perfectly slice, chop, dice, and cut

Eco friendly bamboo
Jiminy Cricket said you should always let your conscience be your guide, but I say Phooey!  This chopping board should be!
This board is a cut above the rest!
You'll never get board of cutting again!
This chopping board is marked with a grid and other guides so that you can get the perfectly-sized cuts of carrot and celery.
Get it for the chef in your life, or for the really anally retentive person who this would bring joy to. Even a maths teacher or mathematician would get a kick out of being reminded of graph paper every time they prepare dinner.
There's no way Gordon Ramsay can yell at you when you've precisely cut every shallot identically to length with this board.
It's OCD-lightful!
Also good products
Bestseller No. 1
Homeries Bamboo Cutting Boards (Set of 3) with Juice Grooves - 9" Square, 8" Round & 17" Rectangle Wooden Chopping Board for Meat, Vegetables, Fruit & Cheese – Knife Friendly Kitchen Cutting Board
Bamboo Cutting Boards (Set of 3) with Juice Grooves - 9" Square, 8" Round & 17" Rectangle Wooden Chopping Board for Meat, Vegetables, Fruit & Cheese – Knife Friendly Kitchen Cutting Board
BAMBOO WOOD- This cutting board is made of bamboo wood which is 100% safe, BPA free and made without any chemicals. Bamboo is famous for being a very hard wood. Bamboo is also very ecologically-friendly and provides a beautiful wood aesthetic.
JUICE DRIP GROOVE- This wood cutting board comes with a juice drip groove all around it. This helps catch any water or juice that may drip from fruits, vegetables or even meats so that your meal remains fresh and palatable.
SET OF 3- These cutting boards for kitchen come in a set of 3- a rectangular 17" large cutting board, a 9" square medium cutting board, and an 8" small round cutting board. This way you can a complete set for any cutting and presenting purposes.
EASY TO CLEAN- These bamboo cutting boards are very easy to clean with just some soap and water. We recommend that you do not soak them or use the dishwasher to clean them, as this may damage the natural wooden surface.
Bestseller No. 2
Chop'Zen Organic Bamboo Cutting Board Set of 3 - Wood Chopping Bamboo Board for Vegetables, Charcuterie, Meat, Bread & Cheese | 3 Pack Small Medium Large Cutting Board Set
✔[VERSATILE & LIGHT] -- This lightweight and thin bamboo wood cutting board set is stackable and easy to store in a kitchen drawer, behind a knife block, or hung on the wall. Perfect for an RV, tiny home, or the best use of space in any kitchen. Why use heavy and bulky cutting boards when you can get the same result with our bamboo chopping boards?
✔[3 BOARDS = 3 PURPOSES FOR ALL MEAL PREP] -- To avoid cross-contamination with food, it's best to use one chopping board for one food type. This is why we have designed this 3 piece bamboo cutting board set which includes a Small bamboo cutting board (8" x 6") for small chopping tasks like veggie, fruits, cheese, olives, breads and any other appetizers, a Medium-sized one (12" x 9") for fish, and a Large one (15" x 11") that will quickly become your favorite meat cutting board.
✔ [STURDY & SMOOTH] -- Our lovely chopping board set is made out of natural bamboo. What are the bamboo cutting board benefits? Not only bamboo does not need a lot of water to grow, which is amazing for the planet, but its shock absorption capacity makes it ideal to resist scratches. Most importantly our unique wood cutting board won't cause excessive wear and tear to your favorite knife and cutlery.
✔[PERFECT KITCHEN STARTER SET] -- Moving into a new place? Refreshing your kitchen accessories? Deciding to stop ingesting micro plastic particles from your current plastic cutting board? Our Bamboo organic chopping board set is perfect for cooking with friends before a housewarming or anniversaries party. Their elegant and smooth wood will be an excellent accessory when serving food too to make a stunning modern look in your table settings.
✔[A PURCHASE WITH MEANING] -- The philosophy of our company is about trying to replace plastic kitchen utensils while contributing to the local community. This is why part of the sales will go to Hunger Free America, a national nonprofit group developing programs needed to end domestic hunger and ensure that all Americans have sufficient access to nutritious food.
Bestseller No. 3
Bestseller No. 4
Bamboo Cutting Board – 18" x 12" XL Chef Style Chopping Board - Natural Serving Board –Environmentally Friendly Butcher Block – Organic Wood Chopping Block for Kitchen Prep
RESTAURANT QUALITY DESIGN – Our beautiful 18" x 12" XL bamboo cutting board has been tested by professional chefs and is favored by high-end restaurant line cooks for its durability and functionality. The soft bamboo tones and clean lines give it an incredibly aesthetic appeal, providing a dual use as a presentation platter for serving fruits, meats, cheeses, crackers, pastries, and preserves.
IDEAL FOR ALL FOODS – This butcher block is the best cutting surface for meat, fish, poultry, vegetables, fruits, and pastries. The solid design allows for precision knife skills, such as preparing garnishes for the perfect meal plating and presentation. Bamboo is a grass but is harder than wood, and the density resists cuts, grooves, and scars that can lead to the growth of toxic bacteria like Salmonella and E. coli.
PROTECT YOUR CHEF KNIFE – Chef knives are expensive and are the most important tool in the kitchen for any true Chef! Bamboo is the perfect material for protecting your expensive and delicate chef's knife. Our bamboo cutting board is gentle on your knife's cutting edge to retain that razor sharpness that you must preserve to be a top chef in the kitchen!
EARTH-SAFE BAMBOO – Your environmentally friendly new designer cutting board is made from organically-grown bamboo. Moso Bamboo is a renewable resource that grows very rapidly. It's a great way to preserve hardwood forests, while still enjoying a dense material that is perfect for your culinary needs.
100% LIFETIME GUARANTEE – We take pride in the construction of all our Moso Bamboo cutting boards! We are so confident that this will be the best cutting board you've ever used, that we guarantee it from cracking, splintering, and breaking for life! It's completely risk-free…so buy now and get fast shipping with Amazon Prime!