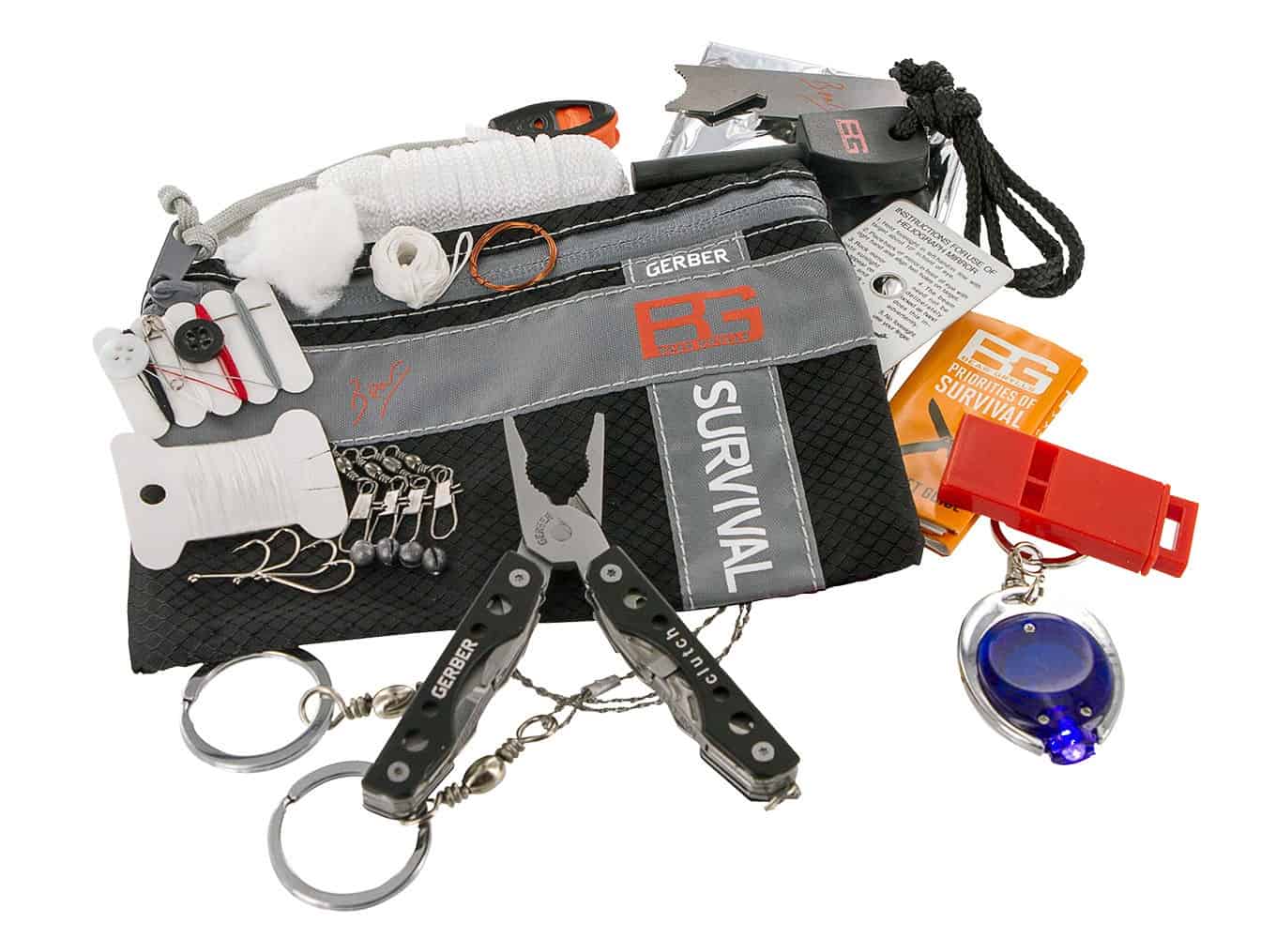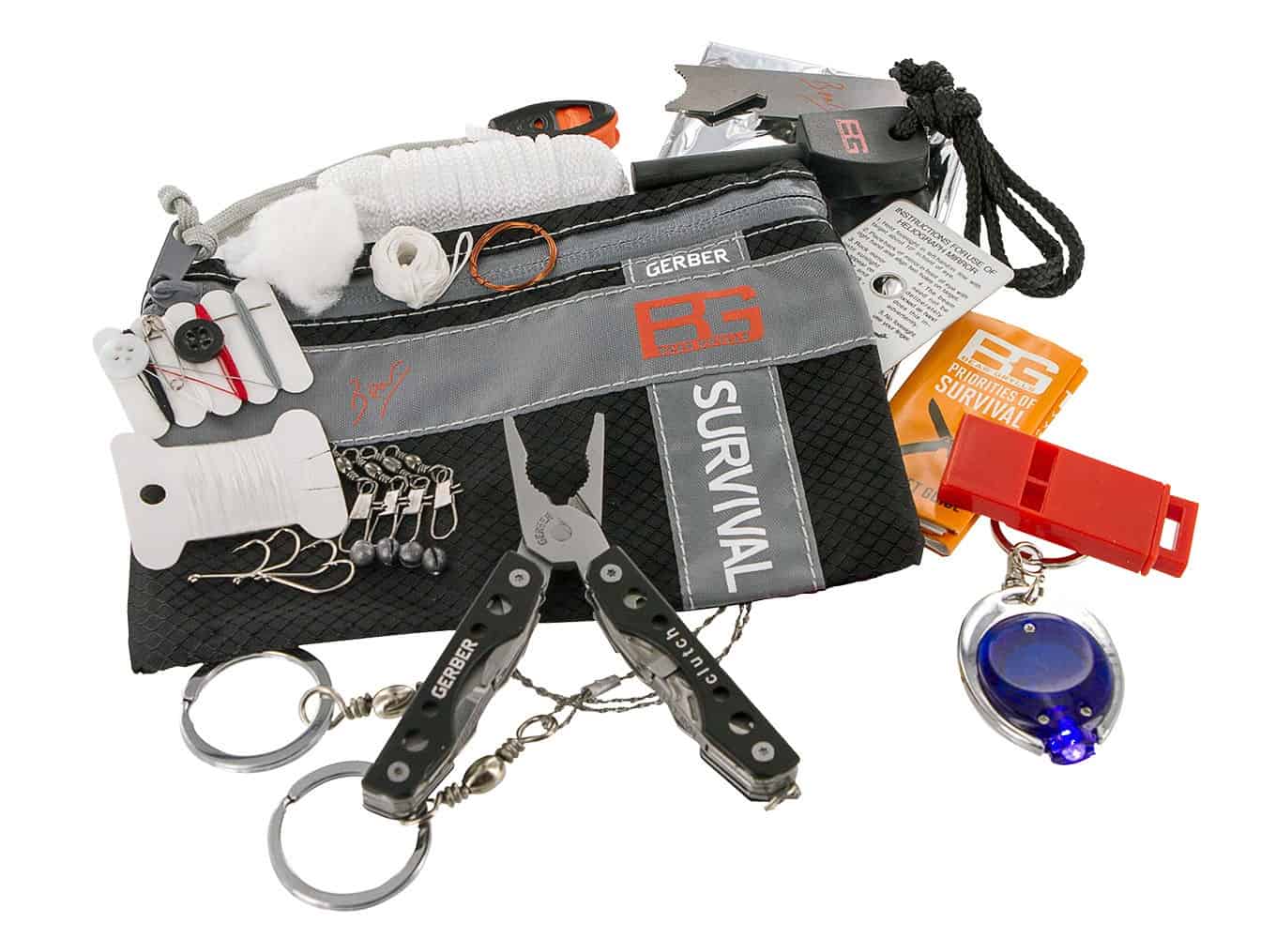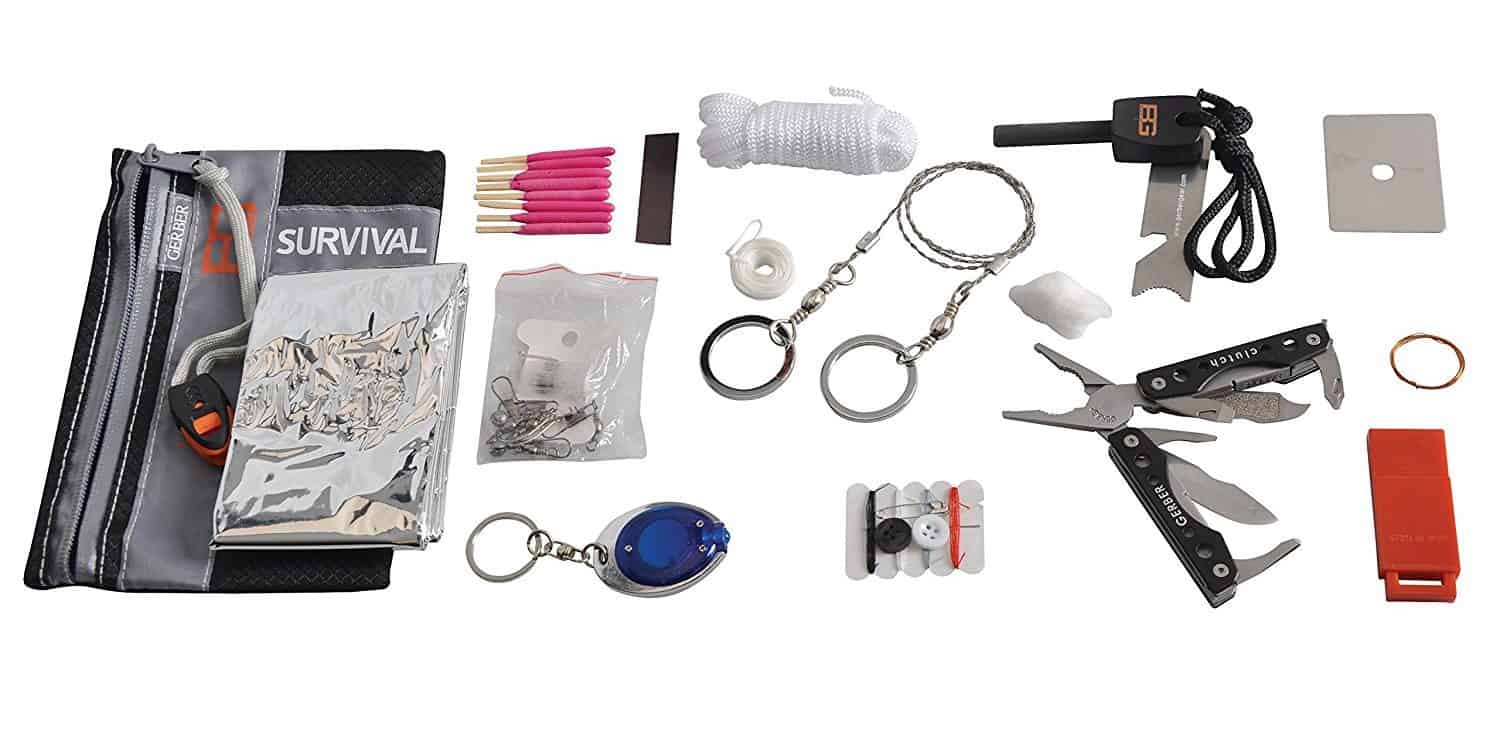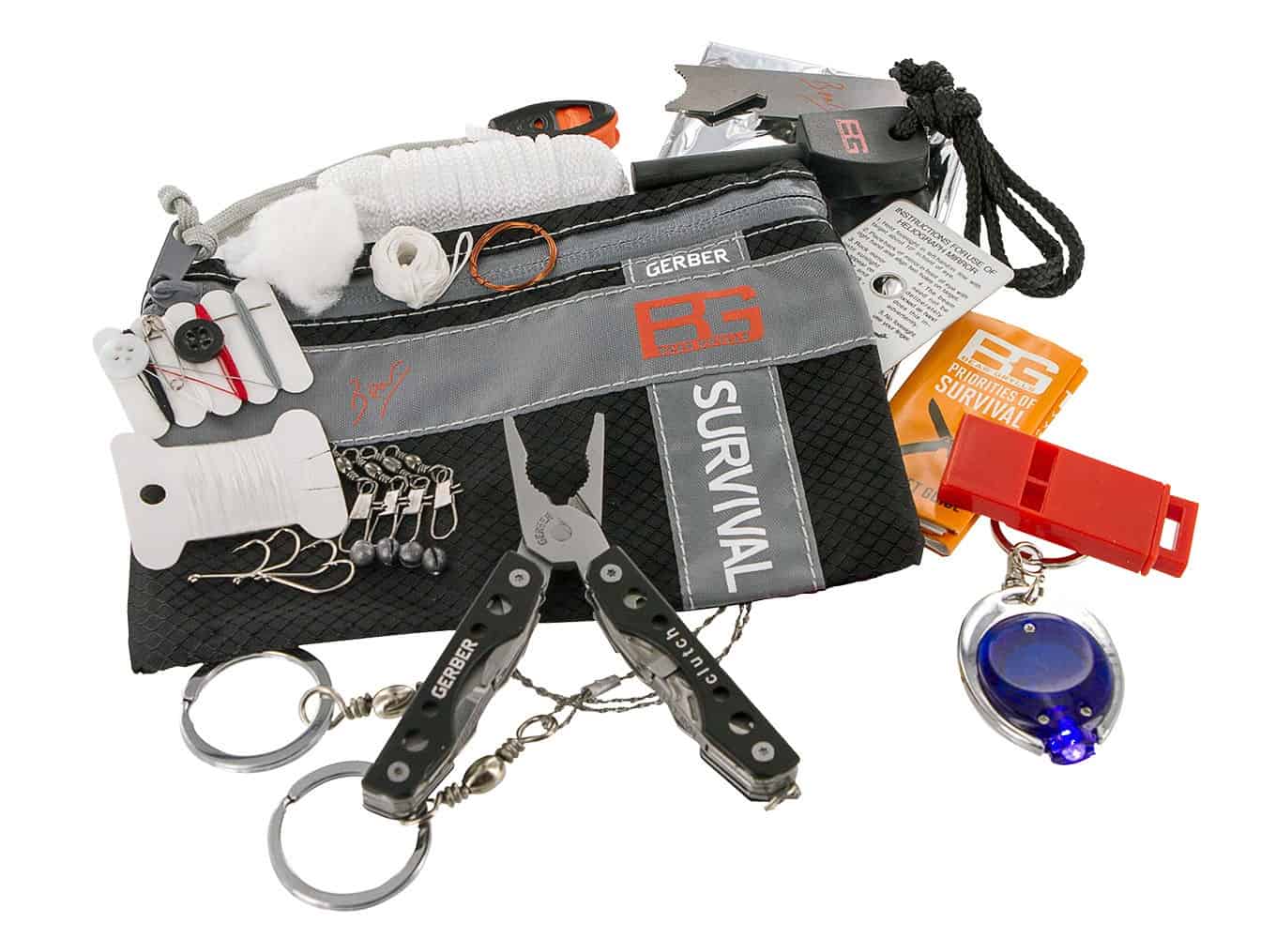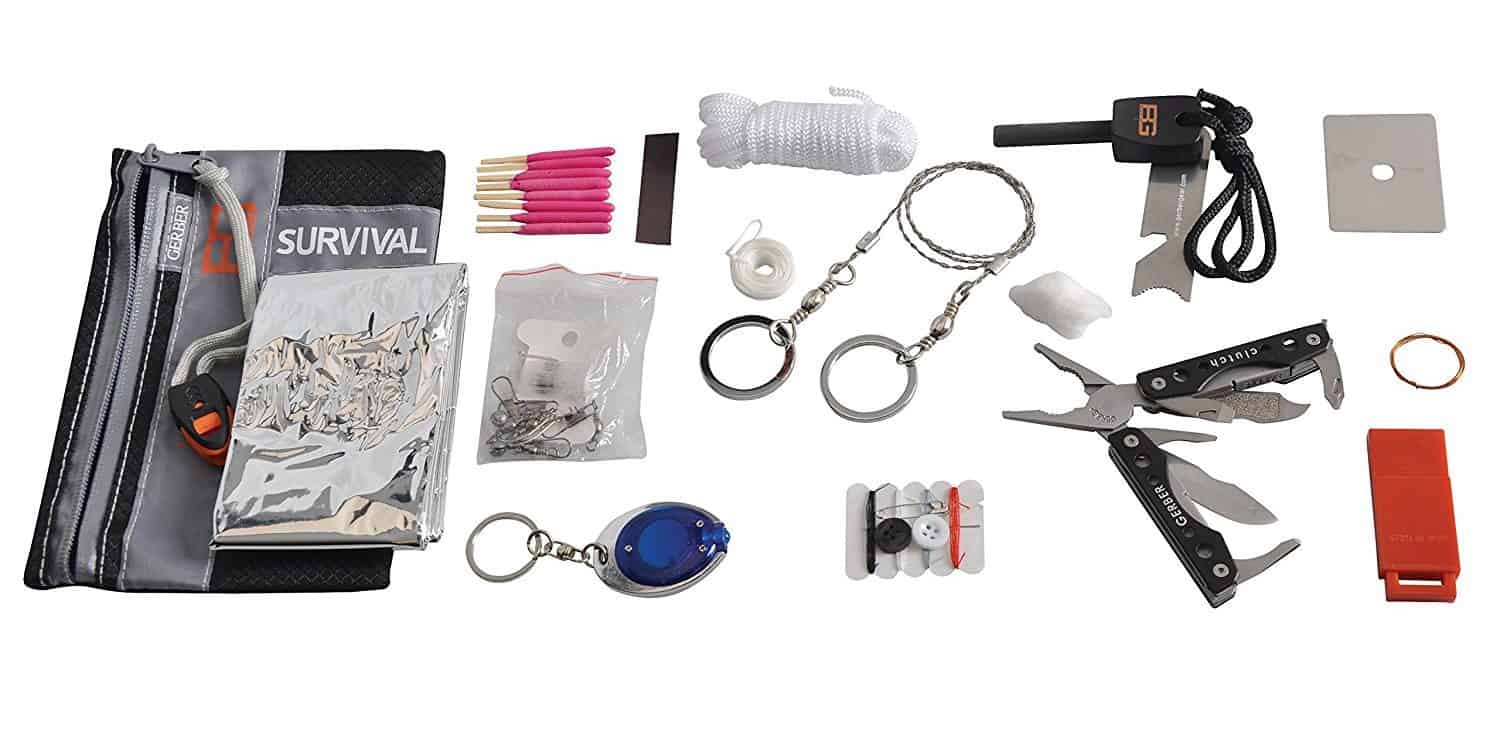 The Ultimate Survival Kit [Review 2020]
You won't need superpowers to get yourself out of a dangerous situation, at least not with this survival kit. Start a fire with waterproof matches, cut through anything with wire cutters, make your location known with a signaling mirror… Get all that and 12 other items in a single waterproof bag.

Features
Lifetime Warranty

15-piece survival kit

Comes with survival pocket guide
Dimensions
11.2 ounces

14 x 6 x 1.8 inches
It seems more and more likely that the world is going to turn apocalyptic at any second now, so now is the perfect time to invest in a survival kit.
Now, there are survival kits that claim to be survival kits, but this one is the survival kit to destroy all other survival kits.
This kit was designed by Bear Grylls himself. If you don't know Bear Grylls, he's a man that famously drinks his own pee. But apart from that he is an expert in dealing with survival situations of every type. He's drunk his own pee in the jungle, he's drunk his own pee in the desert, he's drunk his own pee out at sea.
With this survival kit you will have a few more devices and options so that you don't have to drink YOUR own pee.
Also good products
Sale
Bestseller No. 1
KOSIN Survival Gear, 18 in 1 Emergency Survival Kit, Professional Tactical Defense Equitment Tool with Knife Blanket Bracelets Backpack Temperature Compass Fire Starter for Adventure Outdoors Sport
【Best Gifts for Men】gadgets fishing gifts for men survival gear and equipment hunting gifts for men mens gift hunting knives for men camping gadgets cool stuff for boys hunting gear for men camping gifts camping gear for men top gifts for men best gifts for men hiking gear for men camping tools fishing accessories for men survival gear for men cool gadget men's gifts mens gifts for christmas men stuff survival equipment survival kit tactical gear prepper gear survival gear and equipment
【MUST HAVE SURVIVAL GEAR KIT】18 in 1 Professional emergency survival kits. Containing: Upgrade compass, Upgrade survival knife, Wire saw, Water Bottle Clip, Emergency Blanket, Flintstone, Scraper, Flashlight, Credit Card Knife, Tactical Pen, Whistle, Mini Light, Carabiner, and Black Waterproof Box.
【High-Quality Cold Steel】18 pcs survival kit included to survive in the wilderness. Cold steel tactical knife for cutting; 3 modes Flashlight for bringing enough light; Dual-tube whistle for attracting attention by producing volume up to 120 db; Wire Saw for cutting wood or bone; Multi-function pliers for fixing; Thermal blanket for retain 90% of body heat; There are also bottle buckle, fire starter, carabiner, paracord bracelet, compass, tactical pen for emergency situations.
【NECESSARY SOS EQUIPMENT】The multi-purpose survival gear kits contains everything you need when there is any emergency situation occurs like natural disaster or wilderness adventure. Perfectly fits for people who loves hiking, hunting, wilderness survival, etc. Great gift idea for outdoor adventurer, hiker, camper.
【Lightweight & Convenient】Easy To Carry mini Size, Dimensions is 6.3 X 4.3 X 1.9 Inches and Weight 1.4 Pounds.This Extremely Useful Kit Can be Placed in a Backpack, Car, Drawers, Pocket or Pouch, or Securely Attached With the Included Ranger Band to your belt, Rucksack Strap, Climbing Gear or Mountain Bike.
Sale
Bestseller No. 2
Emergency Survival Kit 47 in 1 Professional Survival Gear Tool First Aid Kit SOS Emergency Tactical Flashlight Knife Pliers Pen Blanket Bracelets Compass with Molle Pouch for Camping Adventures
Exclusive 47 PCS Survival Kit - Uniquely customized by U.S military veterans, our survival kit includes 28pcs emergency survival gears, 16pcs medical supplies, 10pcs fishing tools and 4 in 1 Molle EMT pouch to suit all your needs. Includes folding knife, muols to better suit your needs. The all in one survival kit includes tactical folding knife, wire saw, pen, fire starter, compass, emergency blanket, folding pliers,flashlight, tactical defense whistle, saber card, bottle clip, carabiner, etc.
Top Quality Survival Gears & Approved First Aid Kit - Includes the most popular survival necessities: military knife, saber card, tactical pen, 3-mode tactical flashlight, multi-function paracord bracelet and more practical survival gears. Approved comprehensive first aid supplies for emergency treatment, you can deal with wounds soon to prevent wound infections. Allowing to treat a single family or a group of friends under emergency case.
Molle System Compatible - The EMT bag was made of military grade 1000D nylon which is durable, portable and water-resistant, its small size and large capacity, the size is 8" x 6.5" x 6", it offers three large compartments and plenty of rooms to add your vital supplies gear. Durable MOLLE compatible straps with strong snaps allow you to attach this medical IFAK pouch to any MOLLE compatible gear or your belt which made it a perfect companion for any outdoor activities.
Perfect for Any Emergency Situation - Ideal for tactical medics, military, police, firefighter, EMT, hunter, first responders, hikers, campers, outdoor enthusiasts and more! Perfect for car, boat, bike, motorcycle, home, workplace; travel, shooting, hunting, camping, hiking, fishing, boating, cycling, backpacking, climbing, mountain biking, outdoor sports, wilderness adventures, etc. Also suit for natural disasters survival emergency, such as earthquakes, hurricanes, tornados, floods and fires.
Our all-inclusive outdoor gear set is designed to help you deal with any kind of emergency and make your camping trips 100% fuss-free! We provide 24-Hour Easy-to-Reach Customer Service in order to ensure you a good shopping experience. What are you waiting for? Just get your survival kit now to prepare yourself for your next great adventure!
Bestseller No. 3
S.O.L. Origin Waterproof Survival Tool Kit
Includes 11 different survival tools, a sewing needle, and a survival instruction guide
Kit measures 3.875 x 2.75 x 1.5 inches, and weighs approximately 6.1 ounces
Ultra-bright LED light offers 15 hours of run time and easily replaceable batteries for extended use
Fire Lite sparker is waterproof, easy to grip, and one hand operable; produces over 5,000 sparks
Removable, liquid-filled button compass will help you get your bearings straight
Sale
Bestseller No. 4
EVERLIT 250 Pieces Survival First Aid Kit IFAK Molle System Compatible Outdoor Gear Emergency Kits Trauma Bag for Camping Boat Hunting Hiking Home Car Earthquake and Adventures (Black)
✅【Exclusive 250 PCS First Aid Survival Kit Contained a Military Molle EMT Pouch】Uniquely customized by U.S military veterans, field tested by EX- Army Sergent, designed to get you well-prepared in an emergency situation. The kit combines 241 PCS First Aid Supply with 9 powerful Survival Gear into a Must-Have EDC emergency kit
✅【Comprehensive First Aid Treatment Exceeds OSHA Guidelines For Single Family】The kit contains more than enough supply to treat a single family or a group of friends under emergency circumstances. Perfect for taking care of any medical or emergency needs during outdoor wilderness adventures such as camping, boy scouts, hiking, hunting and mountain biking, etc.
✅【Molle Compatible, Durable, Portable, and Water-Resistant】The military grade EMT bag was made from 600D water-resistant nylon, it offers three large compartments and plenty of rooms to add your own gear. The overall dimension of the kit is 8'' x 6.5'' x 5'' and weight only 1.9 lbs. The molle compatible straps on the back allow the user to attach it to other bags or your belt, which made it a perfect companion for any outdoor activities.
✅【Top Quality Survival Gears Designed to Last】Includes the most popular survival necessities: 3-mode tactical flashlight, multi-function paracord bracelet (compass, whistle), flint stone, knife, saber card, two glow sticks and rain poncho
✅ 【Veteran Owned Company 5 – Star Customer Support】: Everlit is committed to providing the most comprehensive customer service. We proudly offer the exclusive 60-days hassle-free return over all products. We stand behind the quality of our inventory, all original Everlit products are covered under 1-year satisfaction warranty.