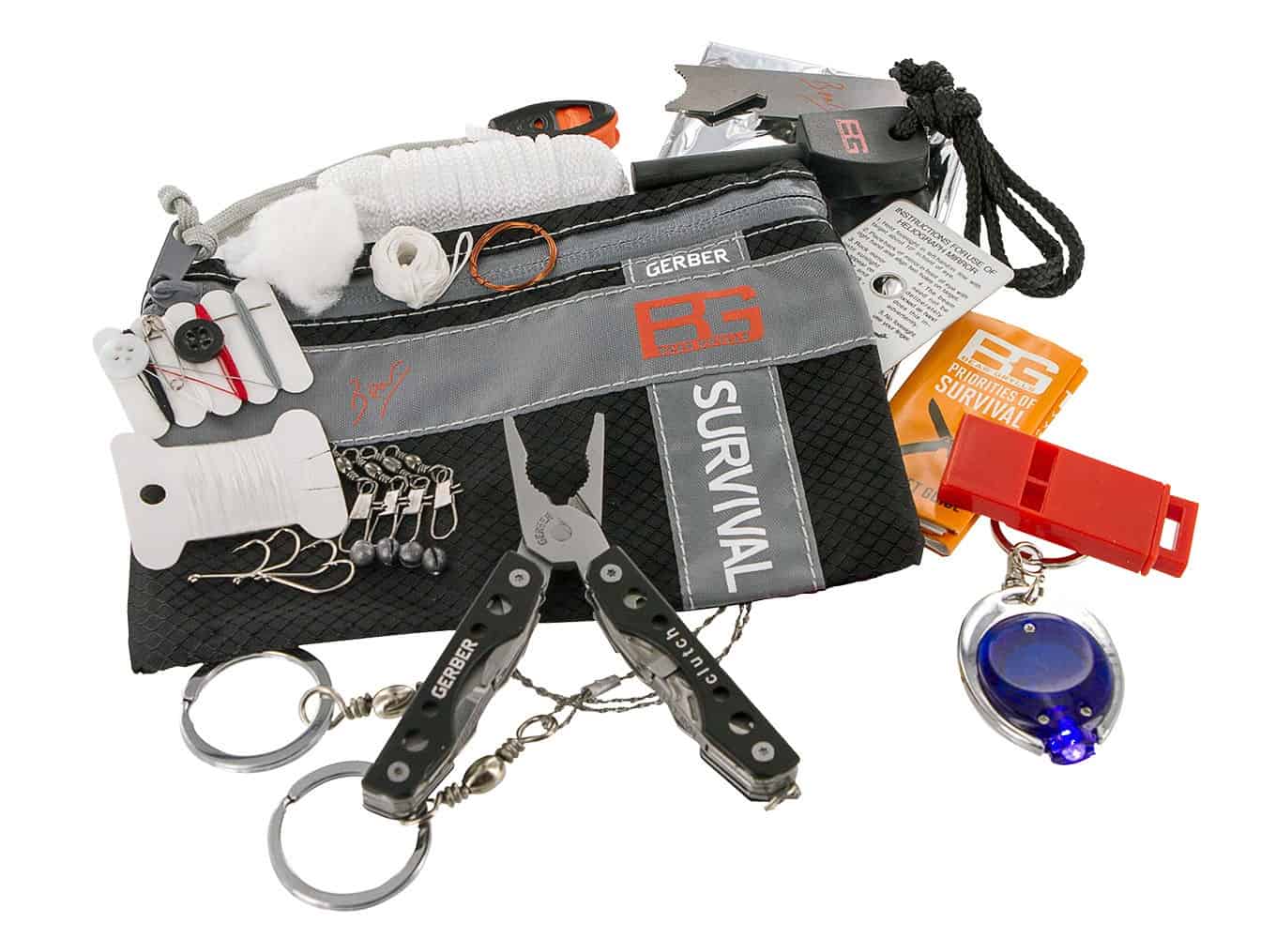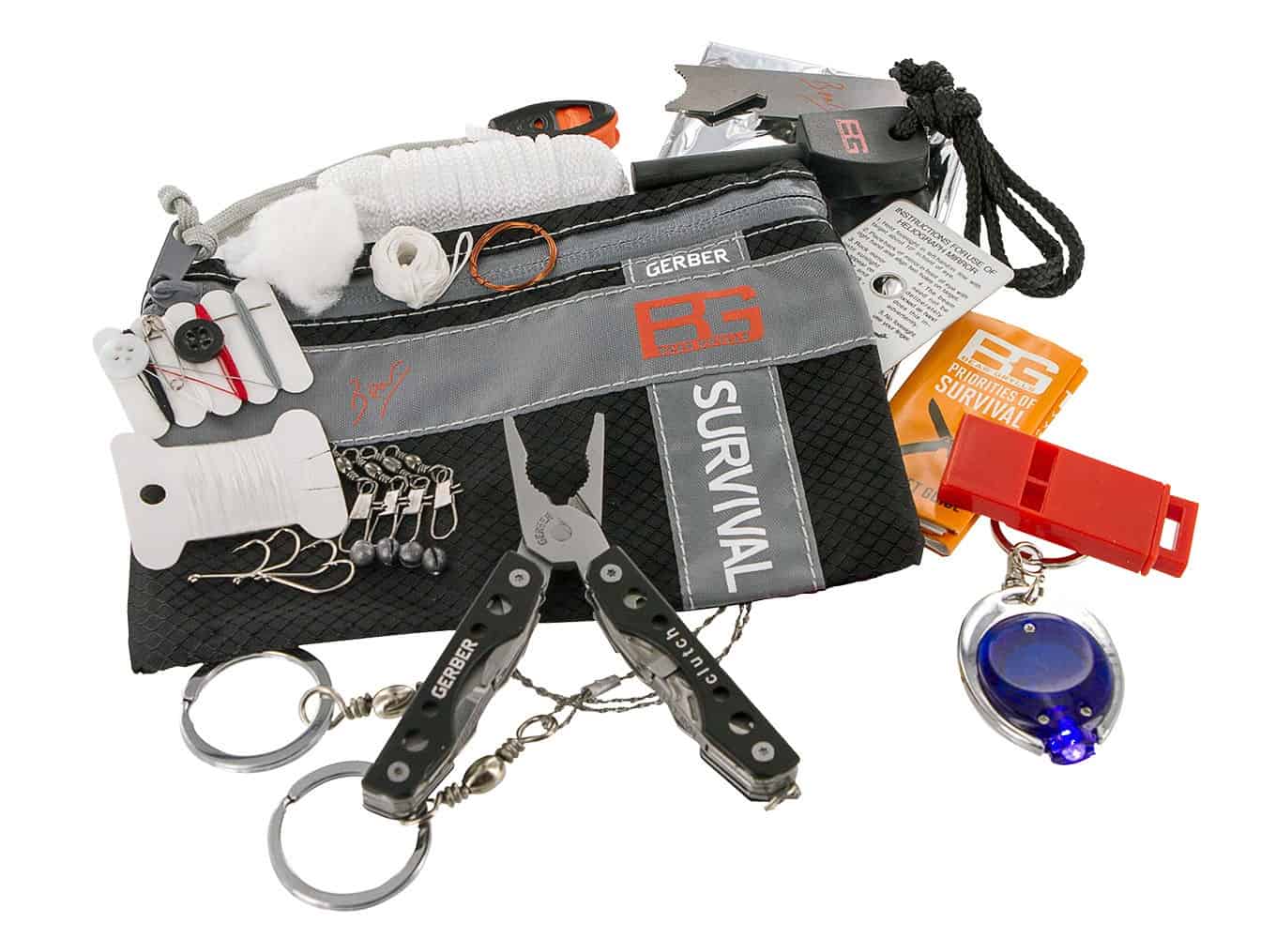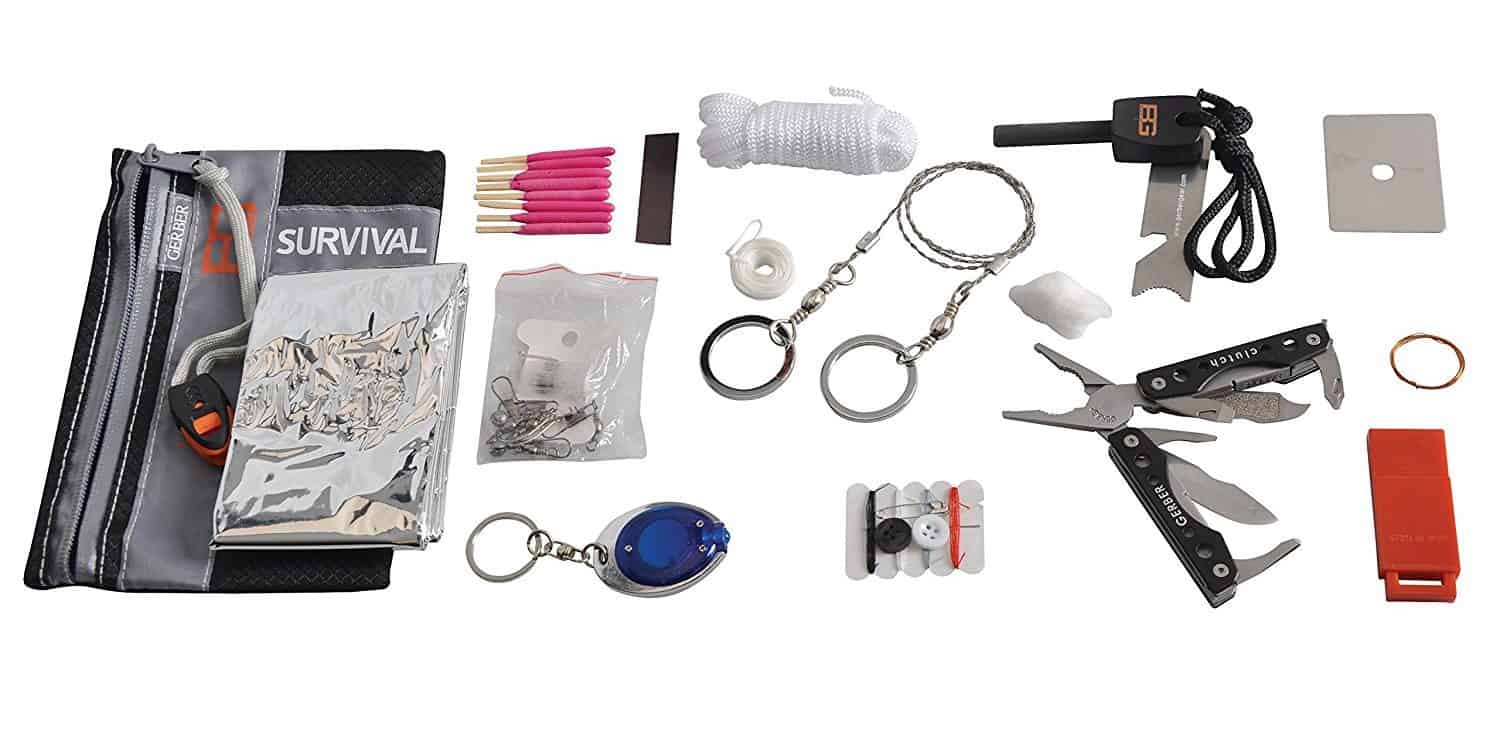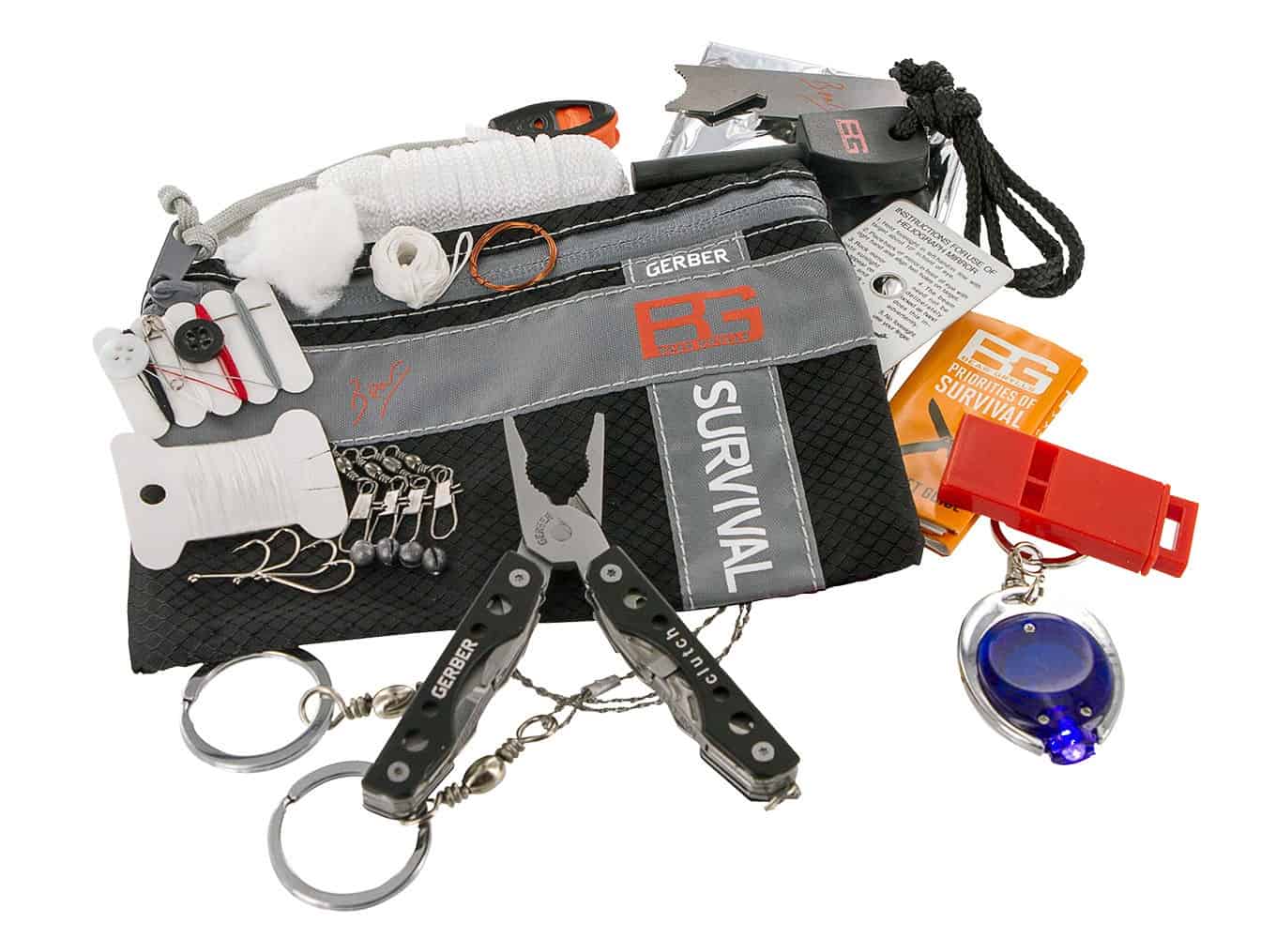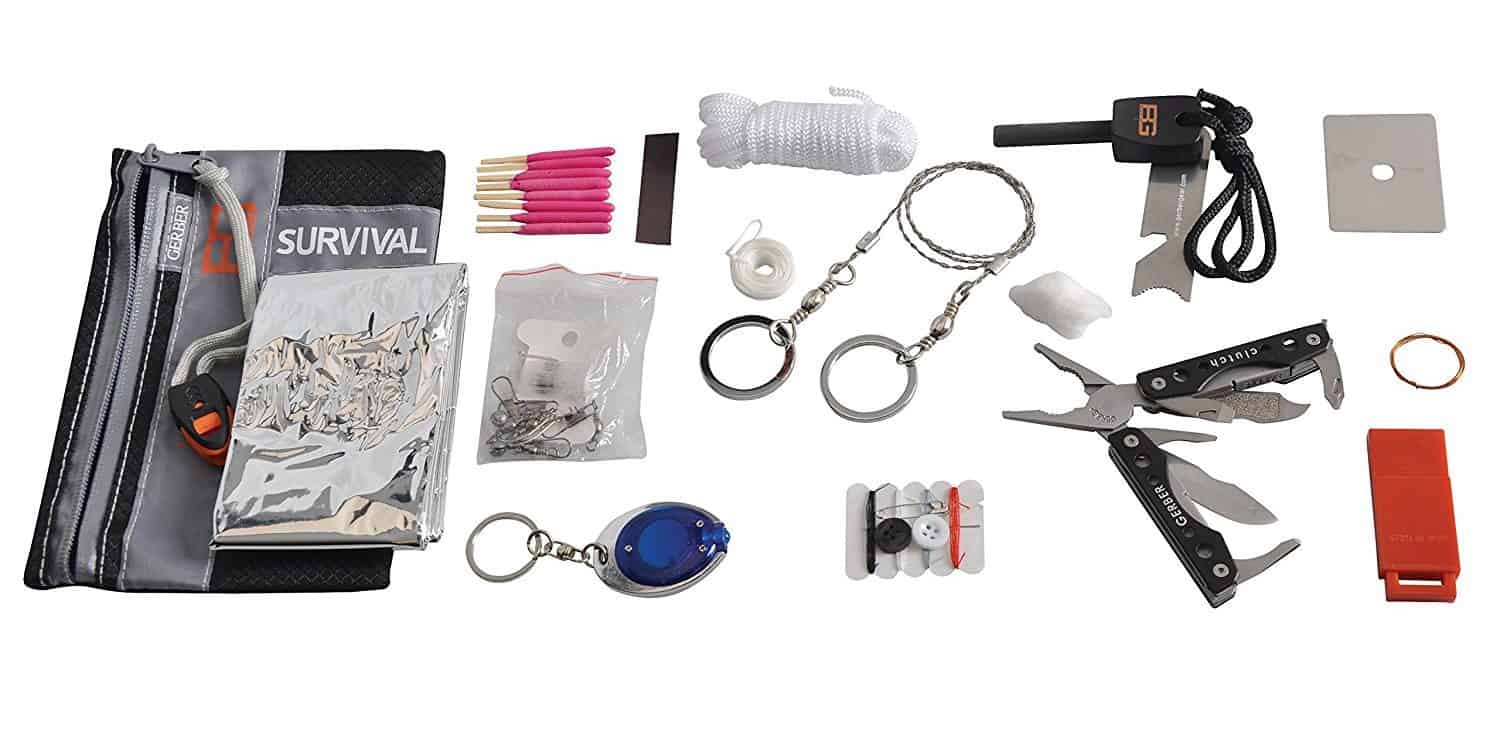 The Ultimate Survival Kit [Review 2021]
You won't need superpowers to get yourself out of a dangerous situation, at least not with this survival kit. Start a fire with waterproof matches, cut through anything with wire cutters, make your location known with a signaling mirror… Get all that and 12 other items in a single waterproof bag.

Features
Lifetime Warranty

15-piece survival kit

Comes with survival pocket guide
Dimensions
11.2 ounces

14 x 6 x 1.8 inches
It seems more and more likely that the world is going to turn apocalyptic at any second now, so now is the perfect time to invest in a survival kit.
Now, there are survival kits that claim to be survival kits, but this one is the survival kit to destroy all other survival kits.
This kit was designed by Bear Grylls himself. If you don't know Bear Grylls, he's a man that famously drinks his own pee. But apart from that he is an expert in dealing with survival situations of every type. He's drunk his own pee in the jungle, he's drunk his own pee in the desert, he's drunk his own pee out at sea.
With this survival kit you will have a few more devices and options so that you don't have to drink YOUR own pee.
Also good products
Sale
Bestseller No. 1
Bestseller No. 2
Tiny Survival Card - Made in USA: A 17 Tool Survival Kit + Knife That Fits in Your Wallet - Ultimate EDC, Multitool Card for Your Wallet - Great Gift!
The World's Smallest, Survival Kit with a Knife, Fits in Your Wallet and Could Save Your Life. EDC Wallet Size - Emergency, Disaster Micro-Toolkit.
MADE IN THE USA: From American Made 0.025 inch Thick, Hardened, 302 Stainless Steel (Known for Its Strength and Corrosion Resistance). The Tiny SURVIVAL CARD travels on our exclusive magnetic base allowing you to pre-sharpen the knife and place it back on the base for storage. The Tiny SURVIVAL CARD is designed for everyday carry and fits in a wallet,pocket, purse, glove box or survival kit
Smallest, Lightest, Most Comprehensive, Wallet-Carry, Emergency / Survival Kit (with a Knife) EVER Designed.
CREDIT-CARD Sized and Weights Less Than an Ounce - Tiny Survival Card is Dsigned for Every Day Carry and Fits in a Wallet, Pocket, Purse, Glove Box or Survival Kit…
INCLUDES: 1 Multi-Functional Mini Knife and Spear Point / 1 Micro Finger Drill / 3 Sewing Needles / 2 Small Fishing Hooks / 2 Medium Fishing Hooks / 2 Double Finishing Hooks / 1 Mini Button / Fishing Lure / 2 Mini Gig / Harpoons / 1 Dual Edge - Fine and Medium Saw / 1 Set of Mini Tweezers
Bestseller No. 3
Emergency Survival Kit | Ultimate 98-in-1 Outdoor Multi-Tools for Camping, Hiking, Hunting & Fishing | First Aid Supplies | All Inclusive Survival Gear with Molle for Campers & Preppers
✅ HERE'S HOW YOU CAN ALWAYS BE PREPARED FOR ANY EMERGENCY with the Holtzman's Gorilla Survival 98-in-1 emergency survival kit, which includes anything you might need during your outdoor adventures. Our all-inclusive outdoor gear set is designed to help you deal with any kind of emergency and make your camping trips 100% fuss-free!
✅ EASILY CARRY 98 DIFFERENT SURVIVAL TOOLS! Now you can easily fit all the necessary outdoor emergency tools in your backpack or car trunk and be ready for any outdoor emergency. Our survival kit includes a comprehensive first aid kit, multiple survival multi-tools, a survival card, a flashlight, fishing accessories and many other tools!
✅ PERFECT FOR ANY KIND OF OUTDOOR ADVENTURE! If you are getting ready for your upcoming camping, hunting, fishing, hiking, backpacking, trekking or mountain climbing adventure, then our ergonomic and convenient survival multi-tools set is the first thing you need to pack in your backpack!
🎁 SPOIL YOUR LOVED ONES WITH A THOUGHTFUL GIFT! Now you can make sure that your children, friends or family members are safe during their outdoor activities with the Holtzman's Gorilla Survival 98-in-1 emergency kit, which comes in a space-saving and compact, molle bag for maximum portability!
✅ GET YOUR SURVIVAL KIT NOW 100% RISK-FREE! That's right! If you are not 100% flabbergasted with your all-inclusive, reliable and military-grade survival kit, we promise to buy it back from you at full price. No questions asked! What are you waiting for? Prepare yourself for your next great adventure!
Bestseller No. 4