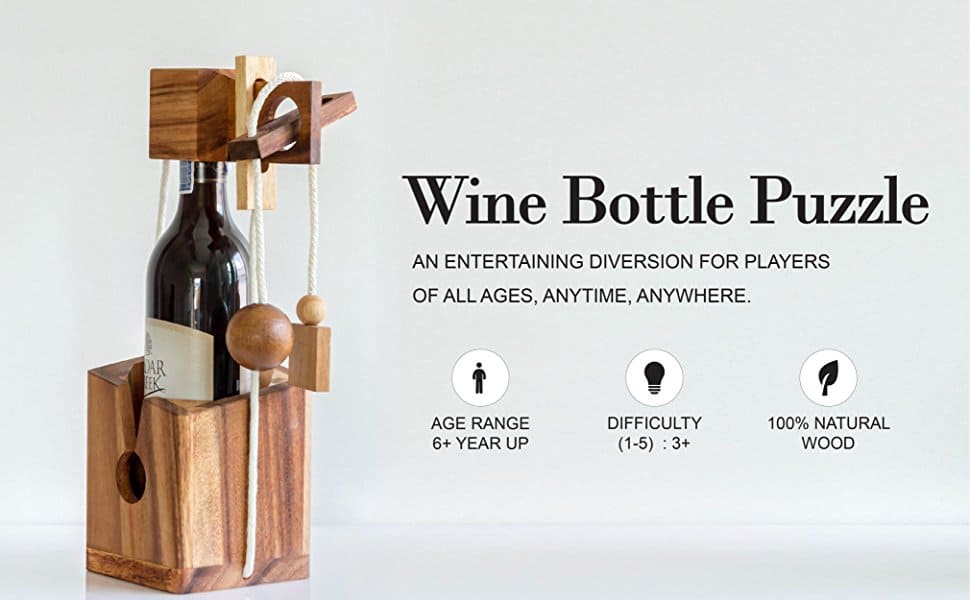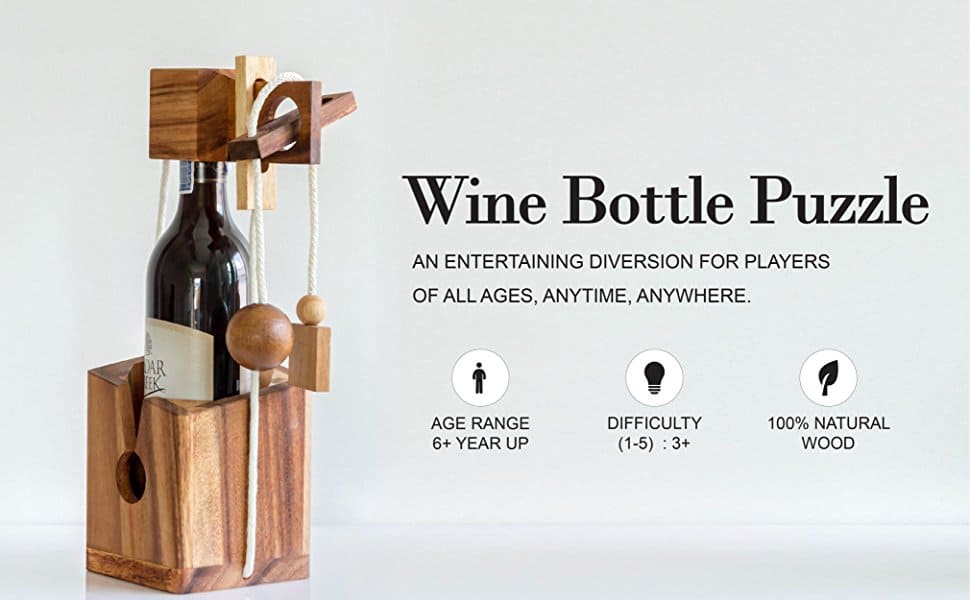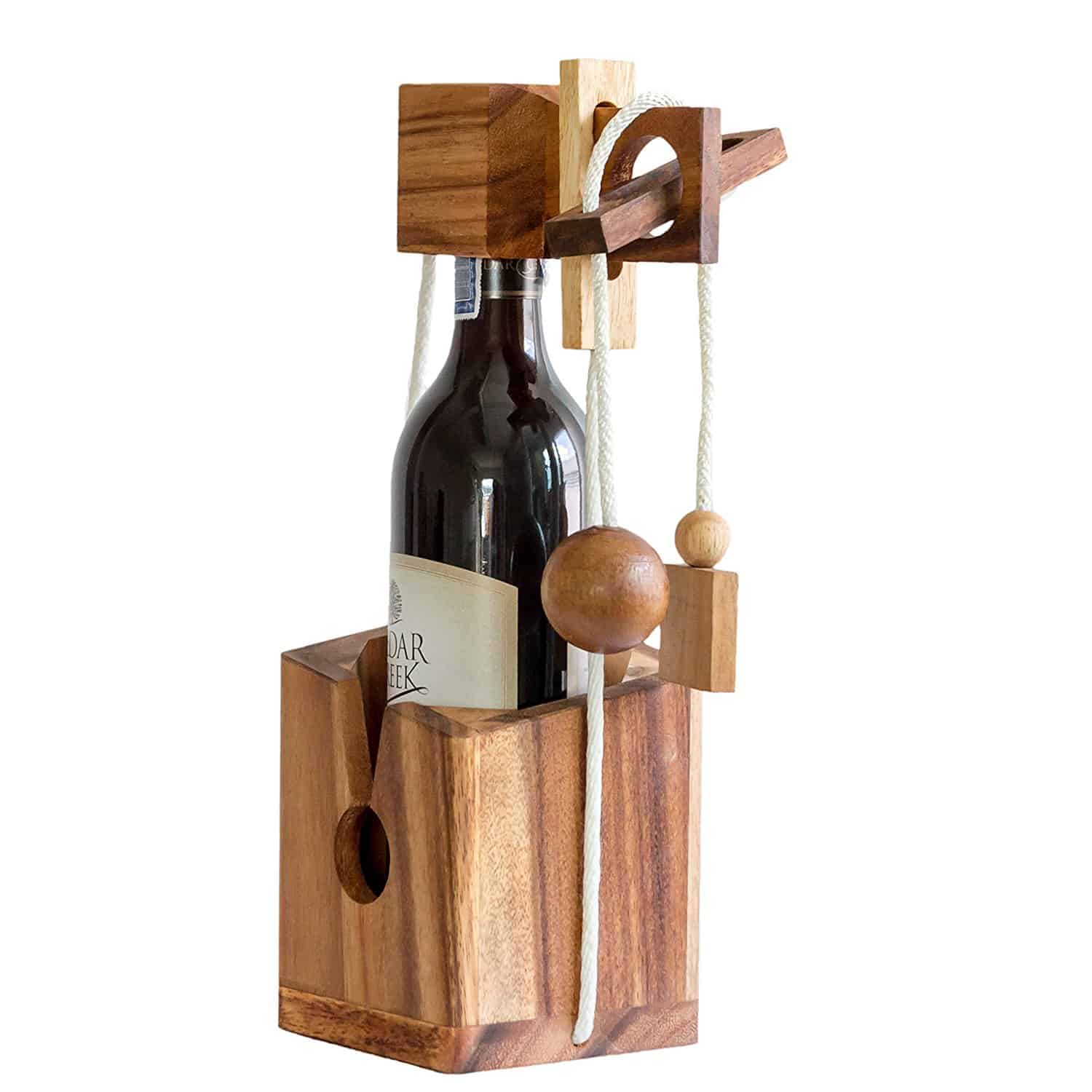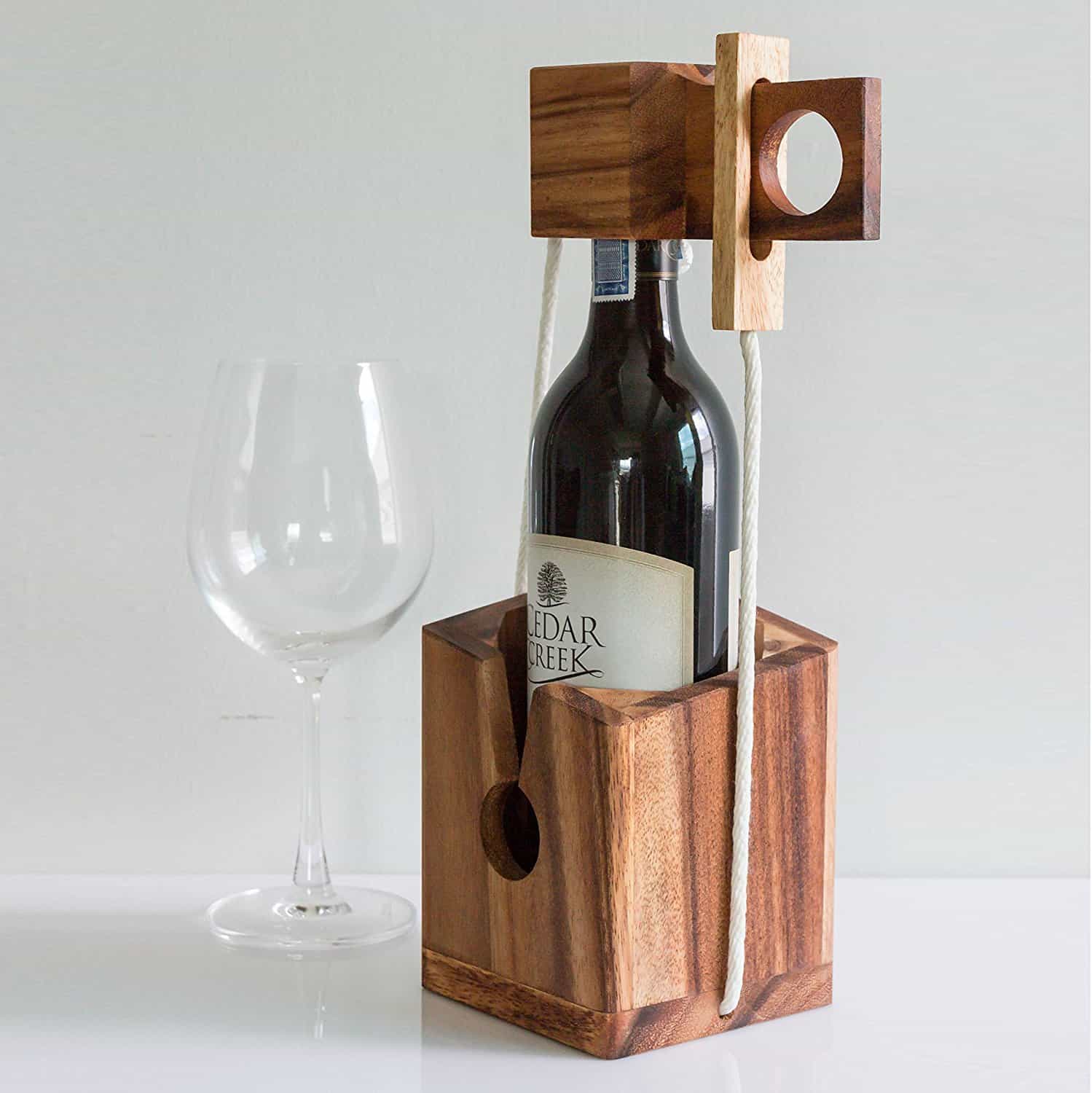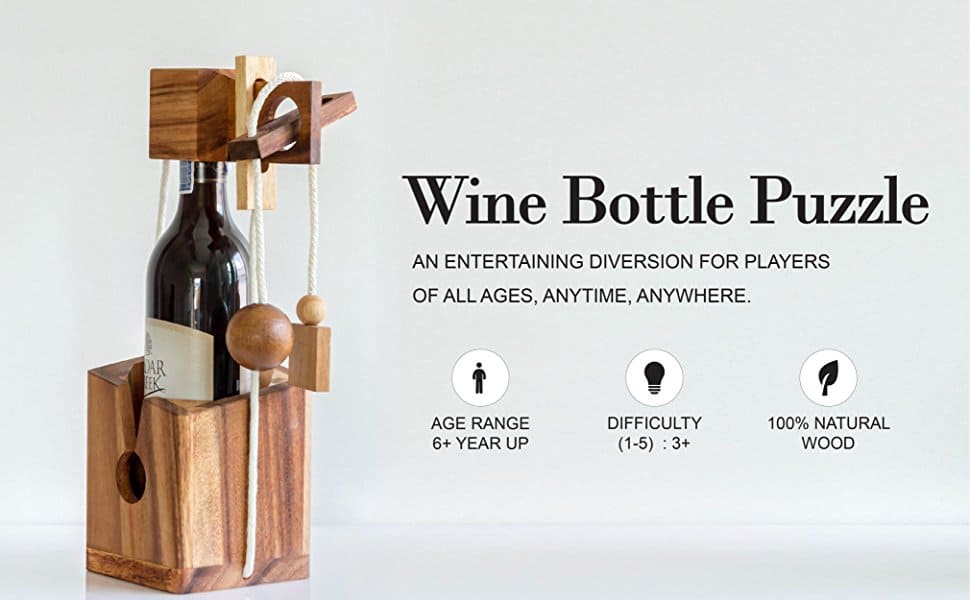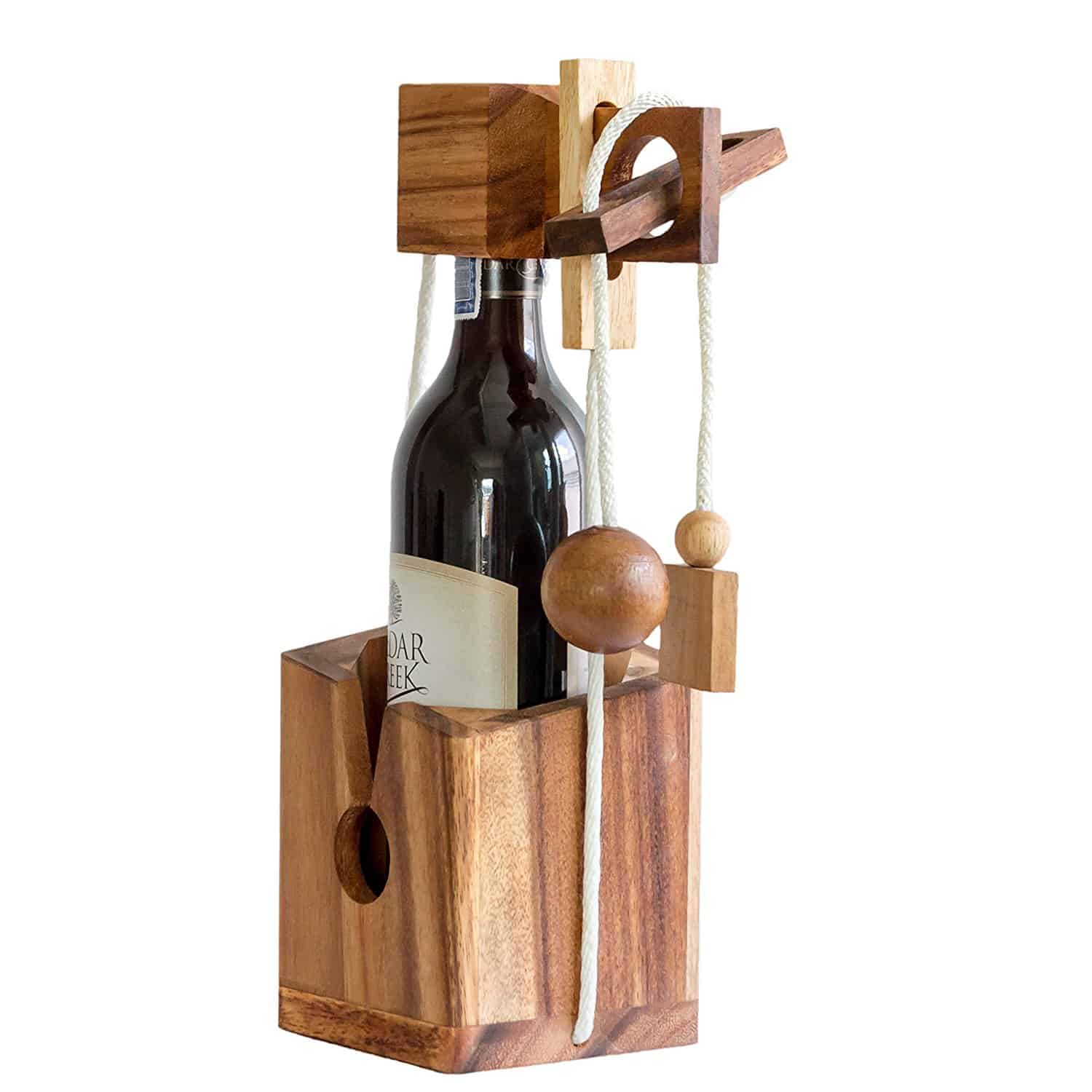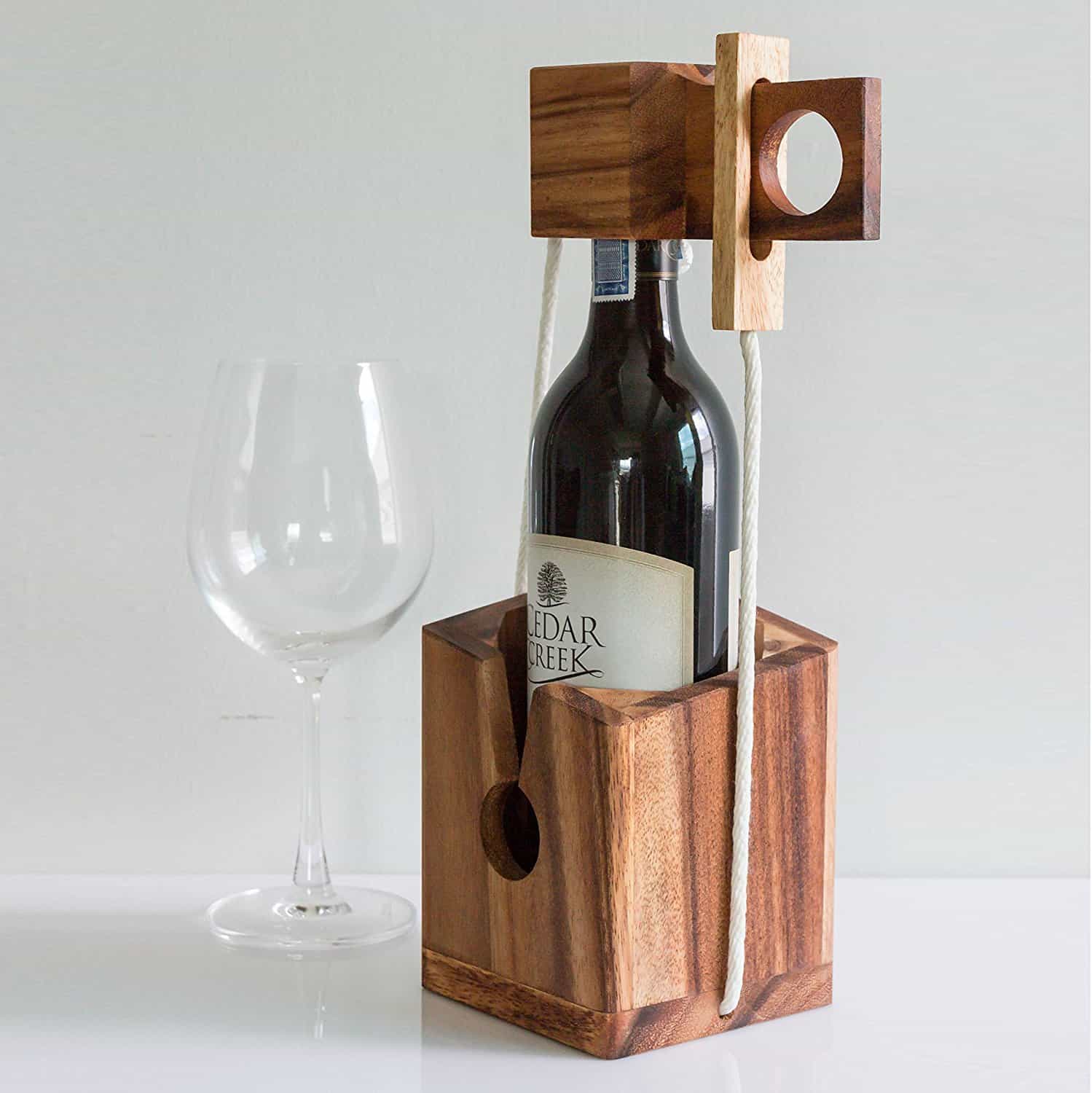 Wine Bottle Brainteaser [Review 2022]
Finally, a polite way to once and for all deal with your know-it-all friend or family member! If they think they can solve any puzzle mankind has ever come up with, prove them wrong and make them wait before they can enjoy drinking a glass of their favorite wine, all at the same time.

Features
100% Real wood

Adjustable to fit various size bottles

Includes solution (you might need it!)
Dimensions
3.9 x 3.9 x 5.9 inches

1.15 pounds
Before you get that drink you have to earn it!  ? ?
This brain teaser is a doozy. You have to remove the wood block surrounded the head of the wine bottle before you can drink it. It looks simple, but it really isn't. So good luck.
This is how they used to lock wine back in the 5th century.
I made that up, but it sounds kinda true.
This is a great way to prove that you aren't that drunk before starting on the next bottle. Or that you're a high functioning alcoholic.
Even if you don't drink the wine, it's a fun way to spend the afternoon, before getting angry and smashing it out on the patio.
Also good products
Bestseller No. 1
CubicFun 3D Puzzles for Adults Crafts for Adults Gifts for Men Women Green LED Flying Dutchman 360 Pieces Pirate Ship Family Games Birthday Gifts for Men, Lighting Ghost Ship Room Decor Model Kits
【Explore The Story of The Flying Dutchman】The Flying Dutchman was an infamous supernatural ghost ship, which is a legendary pirate ship that can never make port and sail in the oceans forever. During the Golden Age of Piracy, the Dutchman would become a ship feared by many across the seven seas. Now you will explore the mystery of this ghost ship by assembling this 3d model.
【Lighting The Flying Dutchman with Detailed Design】This magnificent Flying Dutchman model features two decks and one row of ferocious cannons on each side of the ship. A unique bowsprit design that consists of skeleton statues and crafted detailed ornaments. Rotten wood of the hull with the green LED, the monster shape ship bow and the mysterious statue poop deck will give your 3d pirate ship puzzle come to life. And you can enjoy the night view of the Flying Dutchman at any time.
【4H+ Assembly Time to Challenge Difficult Puzzles】Are you looking for a fun screen-free activity you can do alone or with your family? Give our 3d puzzles a try. Unlike traditional flat puzzles, the 3d ship model kit add another dimension to deal with. You won't need any glue and tools to put this puzzle together. You just need a steady hand and a whole lot of patience. This compact ship model measures about 26.5" L x 10.2" W x 25.1" H, 10+ years old recommended.
【Best 3D Puzzle for Home Décor】If you are looking for a statement piece for your home or office, as well as a mental challenge, the CubicFun 3d vessel puzzle ship model is for you. As a miniature replica of the Flying Dutchman with 360 pieces, will allow you to show off and display the item in your home or office to showcase your accomplishment. This puzzle is a challenge that will make you proud to solve. Need 2×AA 1.5V battery (not included).
【100% Quality Guarantee】Hope our 3d puzzles bring your family more happiness, if you have any problems, please contact CubicFun Customer Service Team at any time, our friendly customer service professionals are always standing by to help.
Sale
Bestseller No. 2
Gift Adult Surprise Money of The ATM Puzzles Wooden Gift Boxes Holder with Hidden Compartment Box to Be Money Puzzle Gift Boxes and Brain Teaser Puzzle Challenges with a Secret Lock Wood Designs
WOOD PUZZLE BOX FOR ADULTS CHALLENGING – Puzzle boxes with hidden compartments will challenge your mind puzzle with this fun compartment magic puzzle of the secret wooden box by provokingly thought and correctly sequence of moves to winning
WOOD PUZZLE BOX FOR ENTERTAIN - Puzzle boxes with hidden compartments, the box puzzles for adults will give you a fun of this secret compartment box among friends and groups, they will wonder in these the magic box puzzle and cards case holder
SMALL WOODEN BOXES GIFT MONEY MIND PUZZLES FOR ADULTS - The wooden puzzle box compartment is a money holder puzzle to be gifts for people you love in family and friends on any occasion like Christmas and Birthday for surprises or hiding valuables such as cash, tickets, love notes and more
PUZZLE BOX WITH SECRET COMPARTMENT DECOR – Besides being a card magic secret box and money holder puzzle, it is a box decorates on the working desk that made by 100% natural wood designs to become a puzzling wooden box for your decor item
WOODEN GIFT BOX MONEY PUZZLE HOLDER IN UNIQUE - A puzzle box for adults gift magic boxes crafted from 100% nature wood with exquisite designing detail to become a dollar mystery box puzzle gift or wooden keepsake box in hands
Bestseller No. 3
KINGOU Wooden Puzzle Magic Ball Brain Teasers Toy Intelligence Game Sphere Puzzles for Adults/Kids
Name: Wooden Sphere Puzzle. Please note the size: 2.36 x 2.36 x 2.36 (inch) ★KINGOU is a registered brand, the trademark number is 5034717★
Children should be used under adult supervision. It is a puzzle that will entertain and challenge all of yours
Hard to take it apart, but harder to assemble. Difficulty Rated: ★★★★☆
When assembling requires careful observation and thinking, analyze its internal structure.Our mind puzzle help to exercise brain, develop intelligence, improve problem-solving ability, and also relieve pressure
Tips: paper instructions and video link QR code is prepared, but in order to make it challenging and fun, we suggest you try your best to unlock this wooden ball puzzle without instruction
Sale
Bestseller No. 4
BSIRI Gifts Wine Bottle Puzzles Games for Adults Party Brain Teaser Hard Puzzle Board Games for Adults Box Lover Funny Fit Wine Game Gadgets 3D (Wine Bottle Puzzle)
WINE PUZZLES FOR ADULTS AND PARTY GAMES FOR ADULTS - A funny wooden puzzle games for bottle wine and wine game puzzles for adults and wine lovers at your party
A GIFT FOR WINE LOVERS - Adults gifts birthday puzzle as a birthday gifts for wine lovers, wine wedding gift, gifts for wine drinkers and for unique couples gifts, these funny wine gifts will not disappointing them
WINE LOCK COMBINATION BRAIN TEASER GAME GIFTS - Recipient who recipe wine gift will get a challenging with the brain cool adult gifts of wooden wine puzzle before drinking celebration from this unique puzzle gifts adults
UNIQUE WINE GIFTS WOOD PUZZLES FOR ADULTS - This wooden adult puzzles and adult brain games made from natural wood to be wine presents and unique gifts for wine lovers, they will love and happy to occupy this thing
WINE BOTTLE PUZZLE LOCK GAMES GIFTS ADJUSTABLE FIT - Wine bottle game puzzler's rope feature of this wine enthusiast gifts can effortlessly adjust to accommodate different bottle heights with and makes an ideal beverage decanter for other bottles types beyond wine