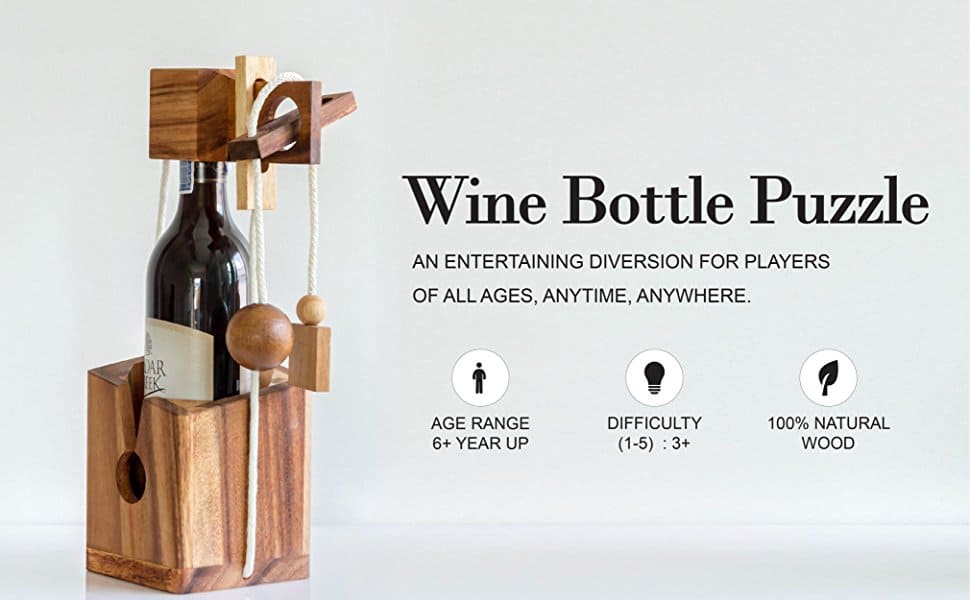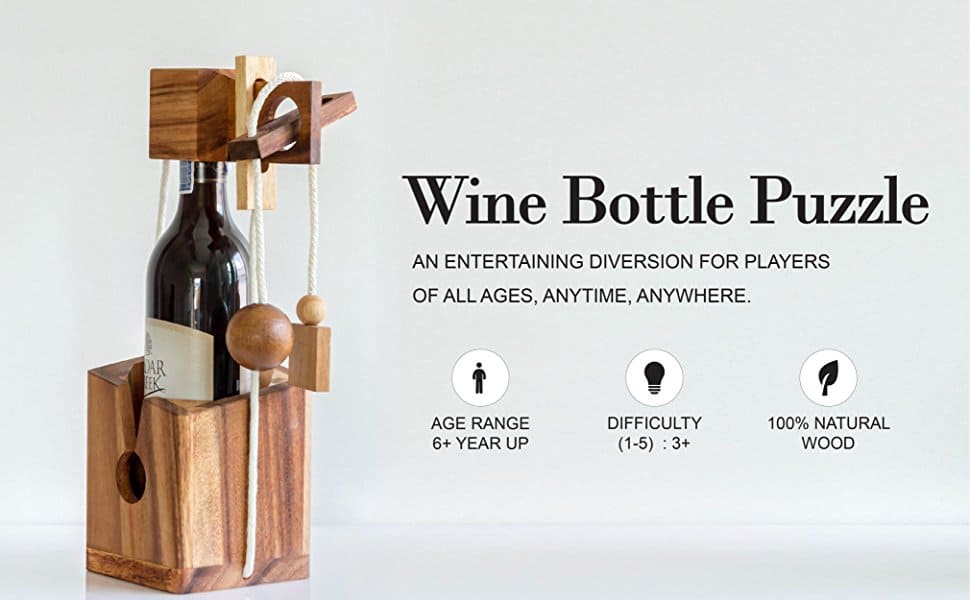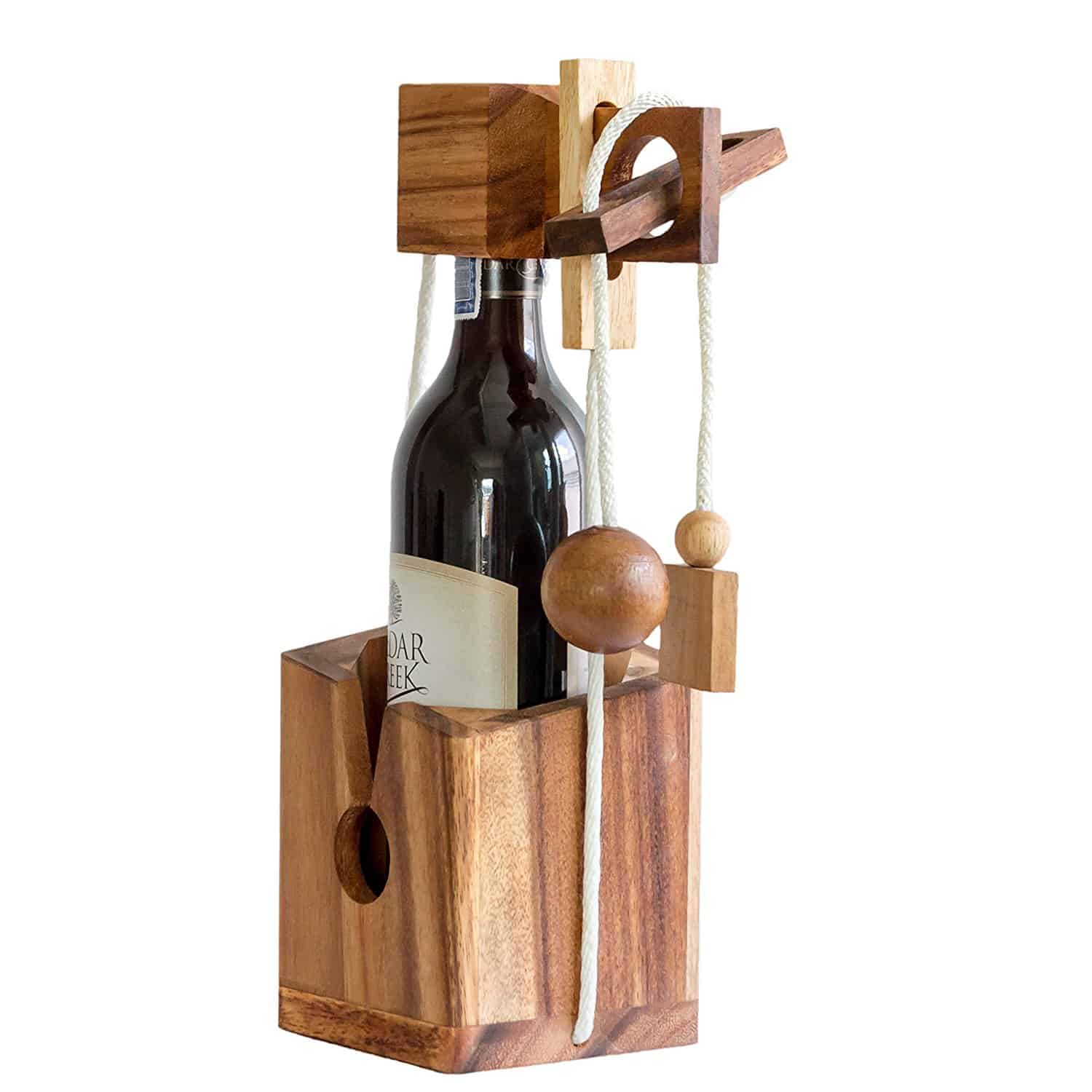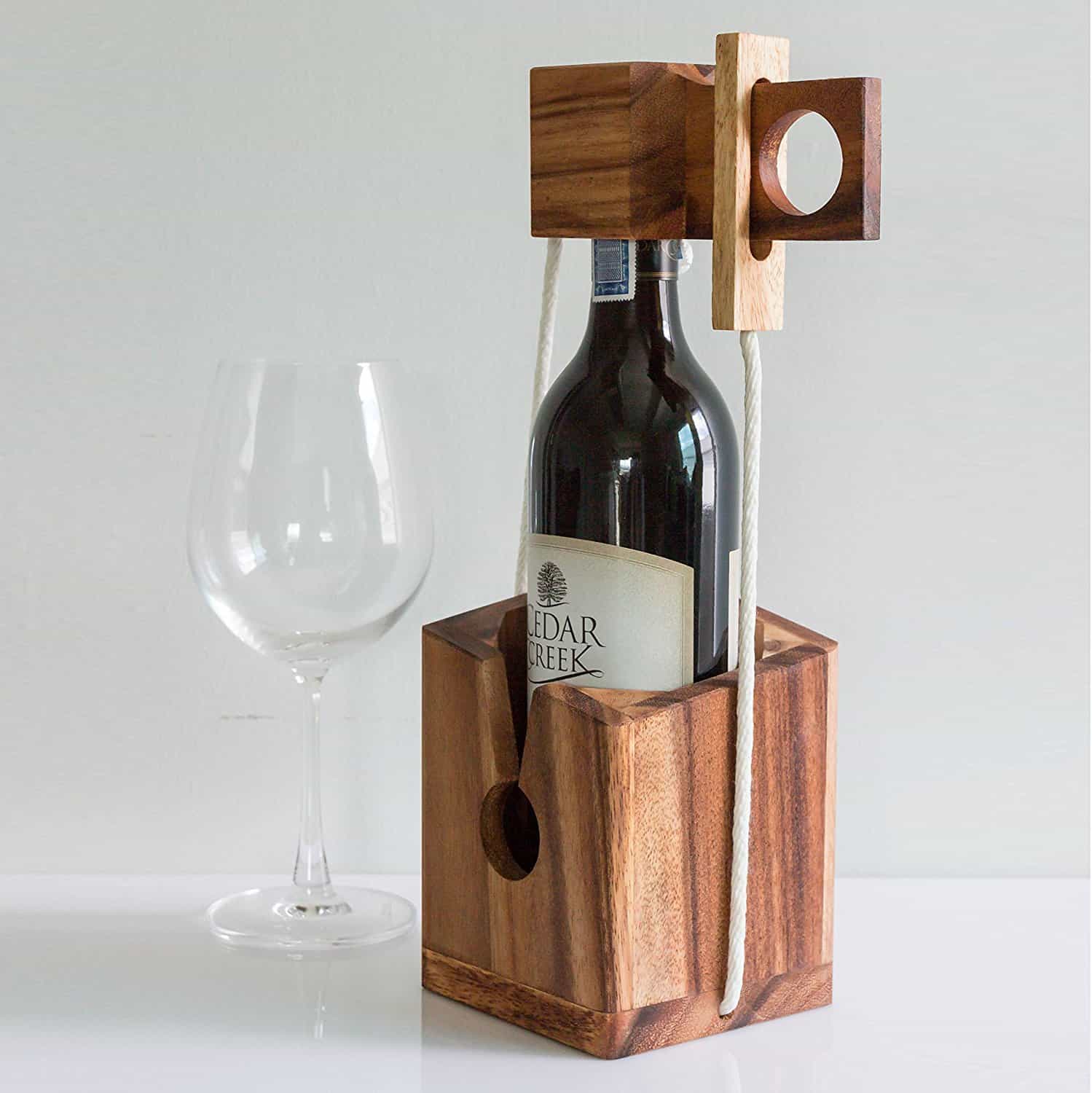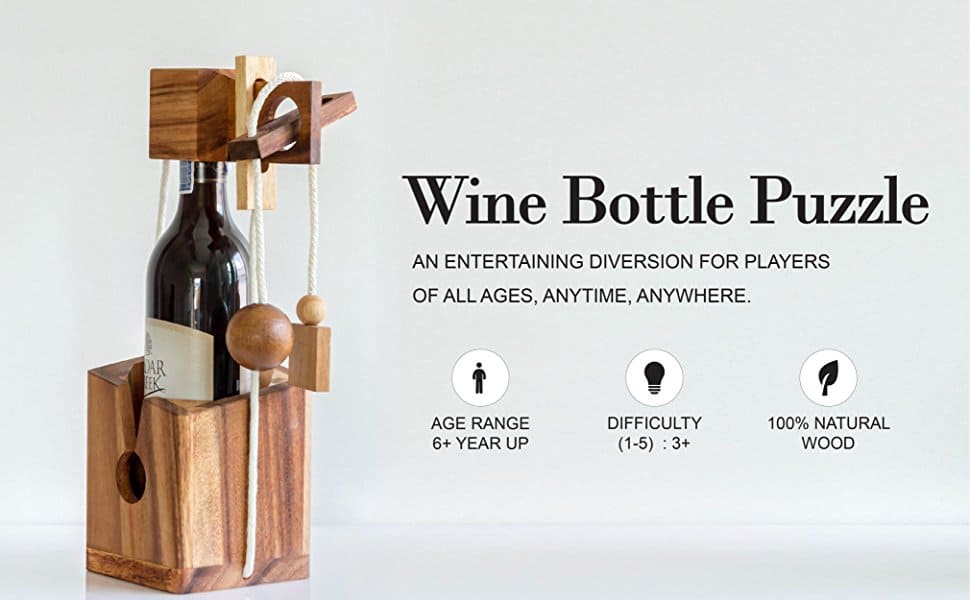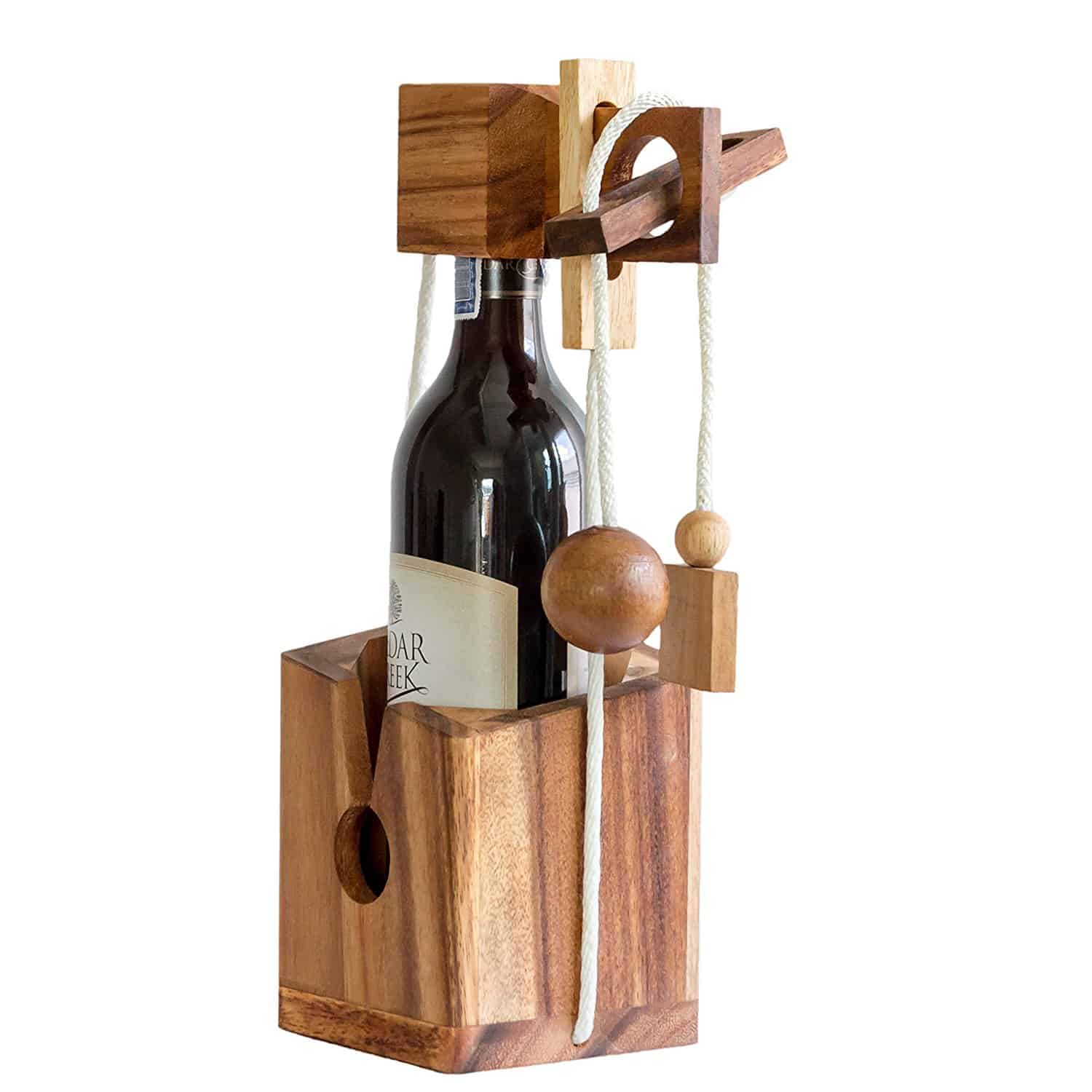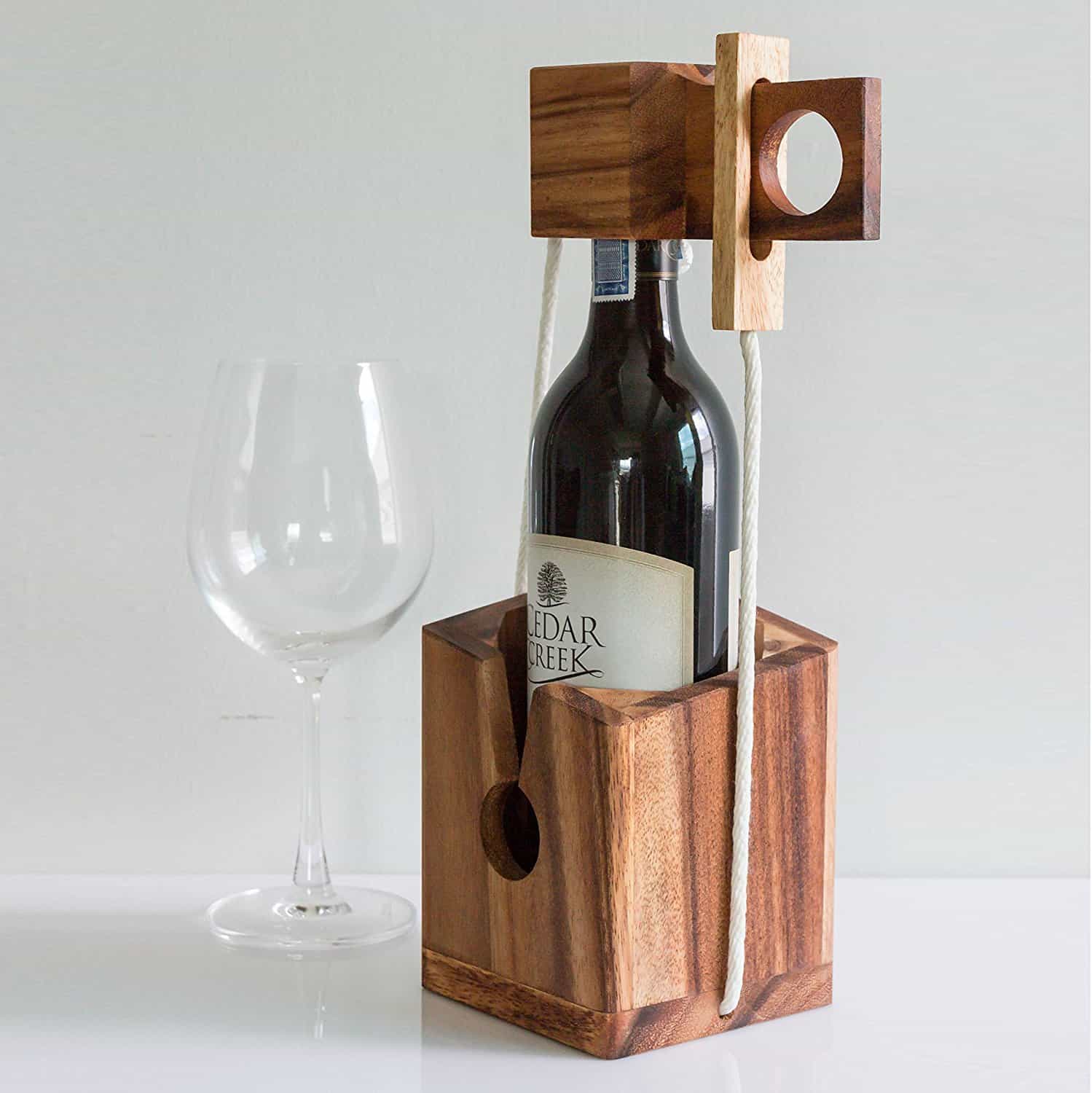 Wine Bottle Brainteaser [Review 2021]
Finally, a polite way to once and for all deal with your know-it-all friend or family member! If they think they can solve any puzzle mankind has ever come up with, prove them wrong and make them wait before they can enjoy drinking a glass of their favorite wine, all at the same time.

Features
100% Real wood

Adjustable to fit various size bottles

Includes solution (you might need it!)
Dimensions
3.9 x 3.9 x 5.9 inches

1.15 pounds
Before you get that drink you have to earn it!  ? ?
This brain teaser is a doozy. You have to remove the wood block surrounded the head of the wine bottle before you can drink it. It looks simple, but it really isn't. So good luck.
This is how they used to lock wine back in the 5th century.
I made that up, but it sounds kinda true.
This is a great way to prove that you aren't that drunk before starting on the next bottle. Or that you're a high functioning alcoholic.
Even if you don't drink the wine, it's a fun way to spend the afternoon, before getting angry and smashing it out on the patio.
Also good products
Bestseller No. 1
Sale
Bestseller No. 2
Gifts Wine Bottle Puzzles Games for Adults Party Brain Teaser Hard Puzzle Board Games for Adults Box Lover Funny Fit Wine Game Gadgets 3D (Wine Bottle Puzzle)
WINE PUZZLES FOR ADULTS AND PARTY GAMES FOR ADULTS - A funny wooden puzzle games for bottle wine and wine game puzzles for adults and wine lovers at your party
A GIFT FOR WINE LOVERS - Adults gifts birthday puzzle as a birthday gifts for wine lovers, wine wedding gift, gifts for wine drinkers and for unique couples gifts, these funny wine gifts will not disappointing them
WINE LOCK COMBINATION BRAIN TEASER GAME GIFTS - Recipient who recipe wine gift will get a challenging with the brain cool adult gifts of wooden wine puzzle before drinking celebration from this unique puzzle gifts adults
UNIQUE WINE GIFTS WOOD PUZZLES FOR ADULTS - This wooden adult puzzles and adult brain games made from natural wood to be wine presents and unique gifts for wine lovers, they will love and happy to occupy this thing
WINE BOTTLE PUZZLE LOCK GAMES GIFTS ADJUSTABLE FIT - Wine bottle game puzzler's rope feature of this wine enthusiast gifts can effortlessly adjust to accommodate different bottle heights with and makes an ideal beverage decanter for other bottles types beyond wine
Bestseller No. 3
Funny Wine Gifts Wood Puzzles Brain to Be Bottle Wine Puzzle Games for Adult Wine Lovers and Drinkers on Party which Unique Designs of Wooden Puzzles Brain Teaser CCO
A GIFT FOR WINE LOVERS - Adults gifts birthday puzzle as a birthday gifts for wine lovers, wine wedding gift, gifts for wine drinkers and for unique couples gifts, these funny wine gifts will not disappointing them
WINE PUZZLES FOR ADULTS AND PARTY GAMES FOR ADULTS - A funny wooden puzzle games for bottle wine and wine game puzzles for adults and wine lovers at your party
UNIQUE WINE GIFTS WOOD PUZZLES FOR ADULTS - This wooden adult puzzles and adult brain games made from natural wood to be wine presents and unique gifts for wine lovers, they will love and happy to occupy this thing
WINE LOCK COMBINATION BRAIN TEASER GAME GIFTS - Recipient who recipe wine gift will get a challenging with the brain cool adult gifts of wooden wine puzzle before drinking celebration from this unique puzzle gifts adults
WINE BOTTLE PUZZLE LOCK GAMES GIFTS ADJUSTABLE FIT - Wine bottle game puzzler's rope feature of this wine enthusiast gifts can effortlessly adjust to accommodate different bottle heights with and makes an ideal beverage decanter for other bottles types beyond wine
Sale
Bestseller No. 4
Wine Challenge: Deluxe Wine Bottle Puzzle Gift for Parties - Bottle Lock Challenge Brain Teaser for Adults from SiamMandalay with SM Gift Box(Pictured)(Bottle Not Included)
DELXUE QUALITY WINE PUZZLE GAME FOR ADULTS: Luxurious feel and delicately hued toned, hand crafted by the finest master craftsmen using only time-honored traditional methods and techniques.
LIFETIME GUARANTEE: The hallmark of all SiamMandalay wooden traditional games If it breaks – ever. We will send you a new one. Absolutely Free.
HANDMADE COMBINATION BRAIN TEASER: Run on a fair trade policy using premium grade monkeypod wood using only holistic and eco-friendly processes.
UNIQUE WINE LOCK GAME LOOK FOR THE SYMBOL OF AUTHENTICITY: As the leading provider of high-quality wooden puzzles our products are often copied by lower grade manufacturers. Look for our logo on each puzzle to ensure you have an original SiamMandalay premium wooden puzzle.
DIMENSIONS: 5" x 6" x 2"; DIFFICULT LEVEL: 3 (Difficult)