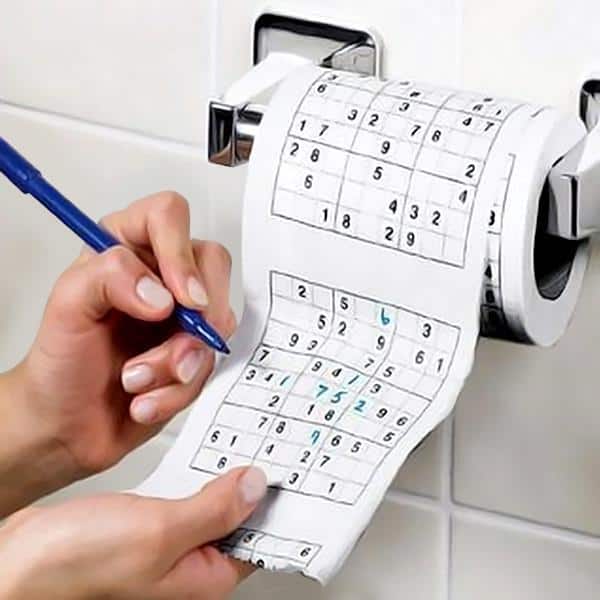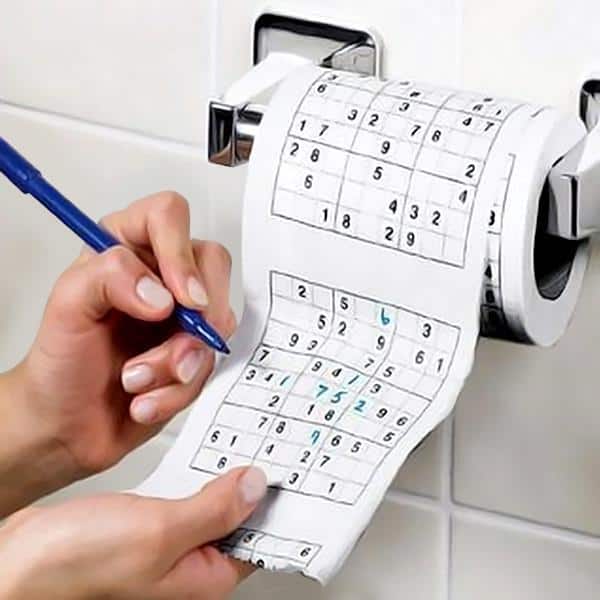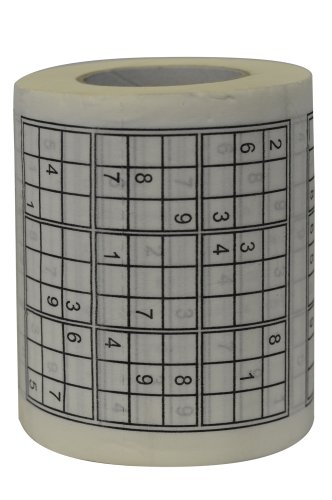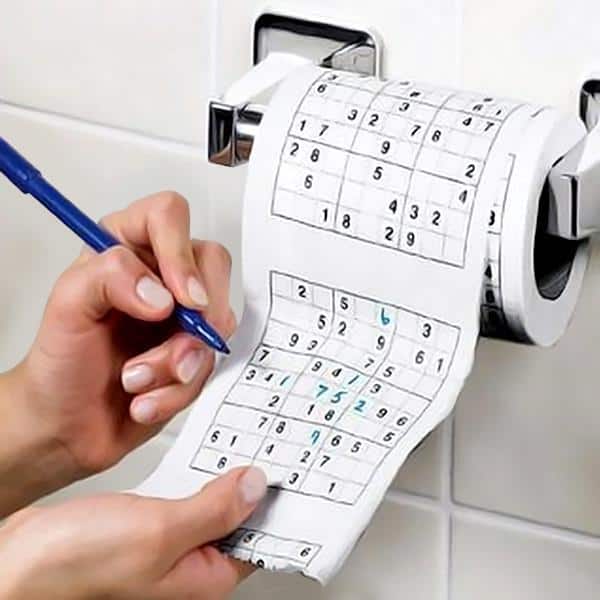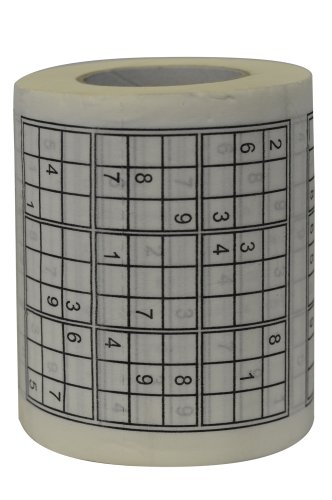 Sudoku Puzzle Toilet Paper [Review 2021]
Being bored on the toilet is just the worst, isn't it? Not anymore! Time in the bathroom doesn't have to be wasted with this novelty Sudoku toilet paper. So get to solving these awesome puzzles, wipe away the boredom and bring a smile to anyone's face – both yourself and your guests!

Features
Works with any standard pen

Puzzles are all different
Dimensions
Fits any toilet paper holder

3 x 4 x 3 inches
Trying working one out while you work one out!
Modern day life is hustling and bustling, the only time you get a moment to yourself is when locked in your own private bathroom stall. It's enclosed, safe, and… there's not much to do. You find the patterns in the tiles on the floor and that's about it. It's pretty boring really. Don't be one of those people that uses their phone while on the toilet – yuck!
Be a legend who solves puzzles while on the toilet! The Sudoku Puzzle Toilet Paper will get you using your brain while you're using your bowel. Replace the lost weight from pooping with the added brain weight you'll get from working these out.
Do it? What's the worst that could happen? You get ink in your bum? Nobody will see that, don't worry about it! And the great thing is, if it gets too difficult to solve… you can flush it away with all your cares.
Also good products
Bestseller No. 1
Home-X Sudoku Toilet Paper, Festive Gag Gift, Fun Birthday Party Novelty Gift Idea Prank, Fun Game, Puzzle Game
BATHROOM BRAIN BOOSTER: If you are looking for a way to put your brain to work when duty calls, this durable roll of Sudoku Toilet paper is the way to go! Simply pull down the roll and start filling in the puzzles. It's so easy to play: complete the grid so that each row, each column and each 3 by 3 box contains the numbers 1 to 9 without repetition.
PUZZLES IN THE BATHROOM: What better way to entertain guests and family members when in the throne, than with a roll of sudoku themed toilet paper in the place where they are sure to see it — the bathroom. Whether you're a jokester or just love everything brainy, this entertaining toilet paper roll is just the thing you need.
FUNNY GIFT: Our Sudoku-themed toilet paper roll makes the perfect practical joke or white elephant gift for any office gift exchange. Everyone will enjoy this hilarious gift from the time they first unwrap it to the time they use it. Get this for your dad, brother, mom, or work colleague and there are sure to be laughs all around.
FUNCTIONAL: This amusing, thick layered toilet paper roll not only makes a great gimmick gift and adds a pop of fun to your washroom but also works well and won't smudge or smear when you use it. Our humorous bath tissue roll is even great for pranking friends and family. Use this roll to tp your friend's room or your family's brainy party.
DECK OUT YOUR BATHROOM: Sometimes it can be hard to find bathroom-specific decorations for a certain party theme. We made it easy to add a fun, decorative feel to your guest bath with this ridiculous toilet paper roll. Make your home a warm and inviting place by decking out every inch of it for the most fun time.
Bestseller No. 2
Bestseller No. 3
Bestseller No. 4