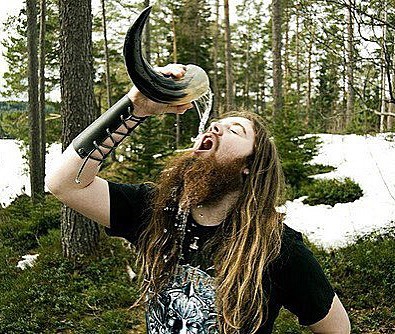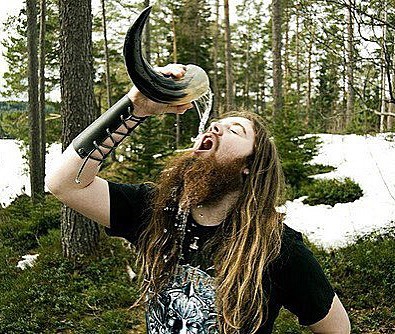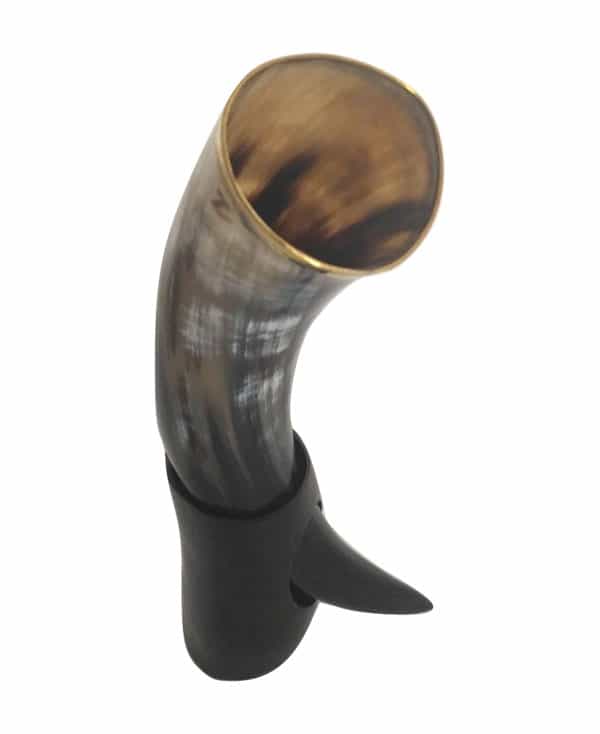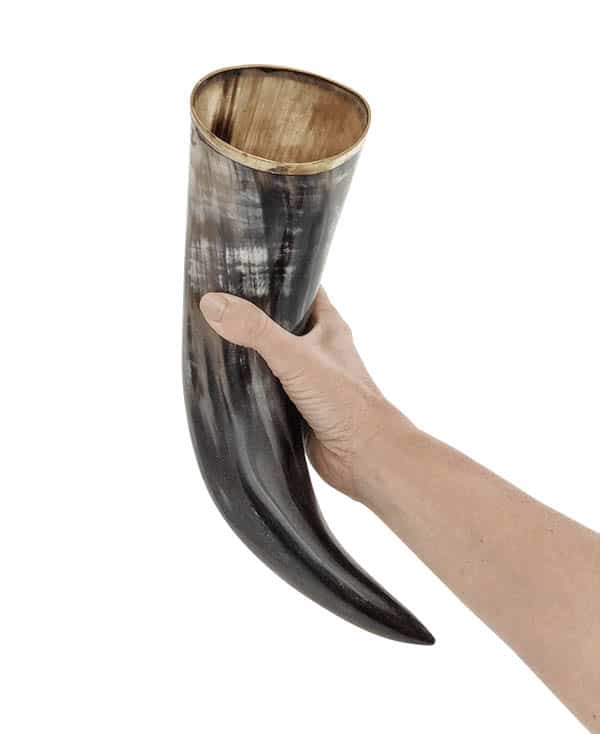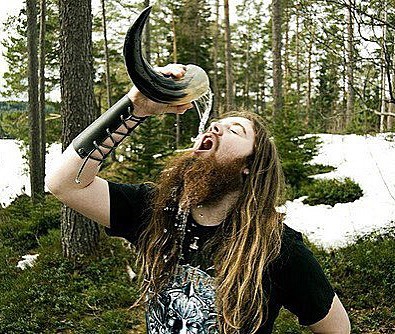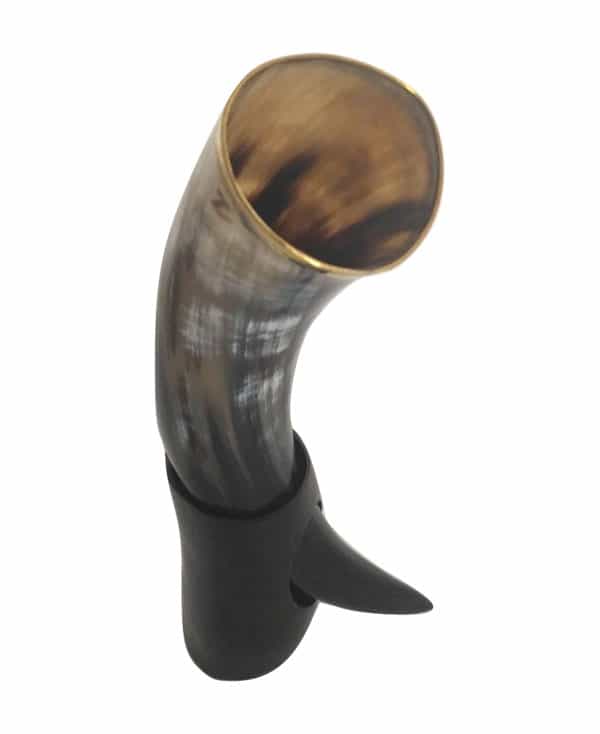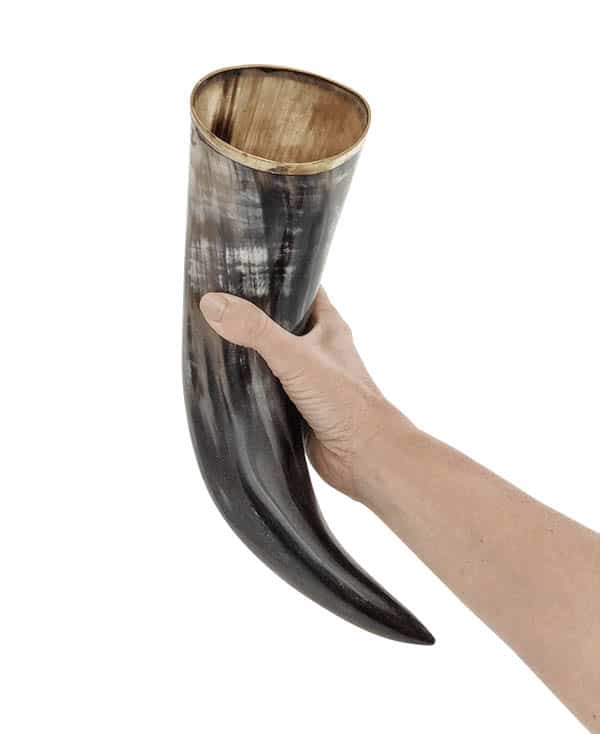 Viking Drinking Horn with Stand [Review 2020]
Do you think real Vikings drank from fancy glass cups? We think not! So if you want to feel like Thor while drinking beer, mead, wine, or other manly drinks, grab this stylish Viking drinking horn. Suitable for Vikings and those (want to) who feel like them. 100% Odin approved!

Features
Available in 2 colors

Lifetime guarantee

Authentic style
Dimensions
12 inches or 20 inches

1.1 pounds
Show your dominance over all those around you with this Viking drinking horn.
You're literally drinking out of a part of another creature. If that isn't bad-ass I don't know what is!
The horn is individually handcrafted and comes with it's own stand. That's lucky. It's very hard to balance a cup which comes down to an off-centred fine point.
Here's a fact for you… Vikings didn't wear horned helmets. That's a myth. So don't wear this on your head, you'll make an idiot of yourself. Just drink out of it, like Vikings actually did.
The horn is perfect for drinking beer, mead, ale and any other liquid, but especially a liquid that sounds old.
Also good products
Sale
Bestseller No. 1
Norse Tradesman Genuine 12" Ox-Horn Viking Drinking Horn With Horn Stand & Brass Wolf Adornments | Burlap Gift Sack Included |"The Fenrir", Polished, 12-Inch
🍻 DRINK FROM GENUINE OX HORN - Every Viking horn is made of authentic, ethically sourced ox horn (Certified Livestock Certificate), painstakingly selected for appearance, durability, color pattern and shape. Each Norse inspired mead horn is unique in shape & color & comes packaged in a medieval burlap sack. It's time that you chose a drinking vessel as interesting as you!
🍻 PREMIUM MATERIALS - It all starts with the animals from which our horns are harvested. We only select the finest livestock to provide our drinking horns. Even then, eight out of ten horns do not pass our rigorous quality inspections. Norse Tradesman leaves no stone unturned!
🍻 HANDCRAFTED WITH CARE - The secret ingredient of a finely crafted mead horn is the care that is put into the construction. Our artisans have been fashioning drinking horns for generations. Each of our ale horns are hand-selected, hand-cut and hand-polished to near-perfection (we say "near" because as handmade items, no horn is entirely perfect). Finally, each stand is crafted and custom fitted to it's horn, ensuring that you can display your horn proudly!
🍻 PICK YOUR STYLE - Choose between multiple sizes (Large ≈ 30 cm / X-Large ≈ 50 cm), finishes (polished or unpolished), engraving styles and stand/holster offerings. Note, however, that horn size and color varies. These are 100% natural items!
🍻 100% SATISFACTION GUARANTEE - When you purchase authorized Norse Tradesman goods from Daaxo Wares, your product comes guaranteed by our one year warranty. If your item suffers a serious defect in workmanship or materials, we shall provide your money back or we will die trying!
Bestseller No. 2
Bestseller No. 3
AleHorn Drinking Horn - 12 Inch Curved Style Drinking Horn with Stand - Viking Beer Cup with Polished Finish for Ale & Mead - Handcrafted Viking Horn Beer Stein - Authentic Holiday Gift
DRINK LIKE A NORSEMAN - Chug down ale or mead the way our ancestors did! Featuring a smooth polished finish, this 12" authentic curved drinking horn lets you feast just like a real viking.
HANDCRAFTED TO PERFECTION - Made from a solid piece of horn, our viking horn drinking cup fits perfectly in your hand. It comes with a gorgeous display stand and has a classy brass rim around the edge.
ETHICALLY SOURCED - Drink from this viking mug with a clear conscience! Our horns are exclusively sourced from a family farm that raises oxen for their meat rather than their horns or other parts.
PERSONALIZED GIFT IDEA - Know someone who would love a Norse or medieval-themed present? Our viking beer mug can be engraved, making it the perfect wedding, military, or birthday gift idea.
BUY WITH CONFIDENCE - Every purchase of our viking drinking horn is covered by a lifetime warranty. If there are any issues with your product, contact us and we'll make things right.
Bestseller No. 4
Viking Culture Ox Horn Mug, Shot Glass, and Bottle Opener (3 Pc. Set) Authentic 16-oz. Ale, Mead, and Beer Tankard | Vintage Stein with Handle | Custom Intricate Design - Polished Finish | Wolf/Fenrir
Vintage Horn Beer Mug Set – This Viking mug is sourced from real oxen and comes with a 3-oz. horn shot glass and a horn bottle opener to help you enjoy your favorite liquor with all the gusto of a Norse God.
Highly-Customized Details – From the smooth edges to the engraved design, our Viking drinking mug is made with elegant, yet rugged craftsmanship that's made for bearded men and shieldmaidens alike.
Sturdy, Handcrafted Handle – Guzzle down your fresh, cold brew by gripping the classic horn handle and then fill it up again for another round. You'll love the look and feel of this natural beer stein.
Exclusive Color and Size – These 16-oz. beer tankards are crafted from all-natural ox horns, which means each one boasts its own unique color variation, size, and handle design for a true one-of-a-kind drink experience.
Food-Grade Safe Quality – Each drinking horn mug and shot glass are coated in a premium lacquer that makes them perfect for enjoying cold beers, thick meads, and delicious ale like a true Viking.