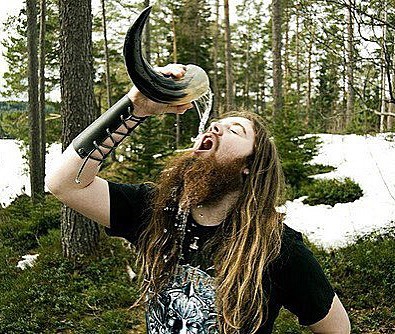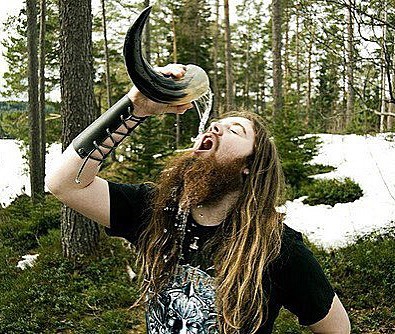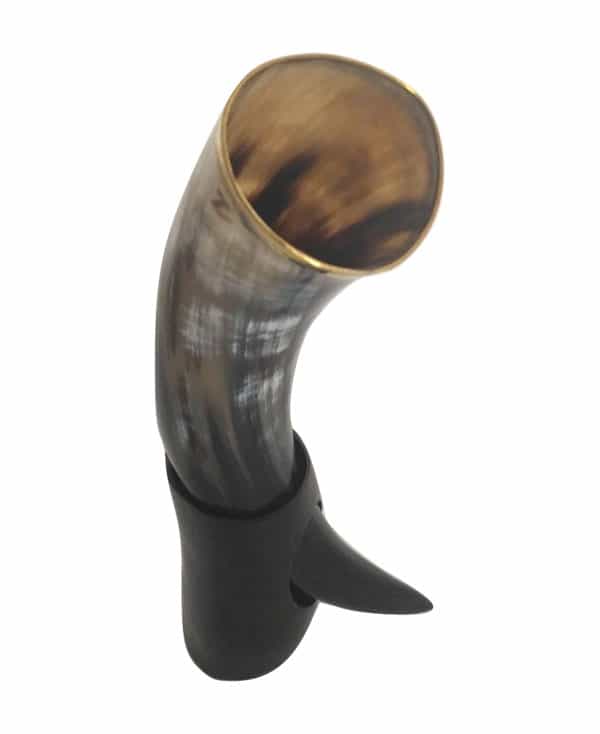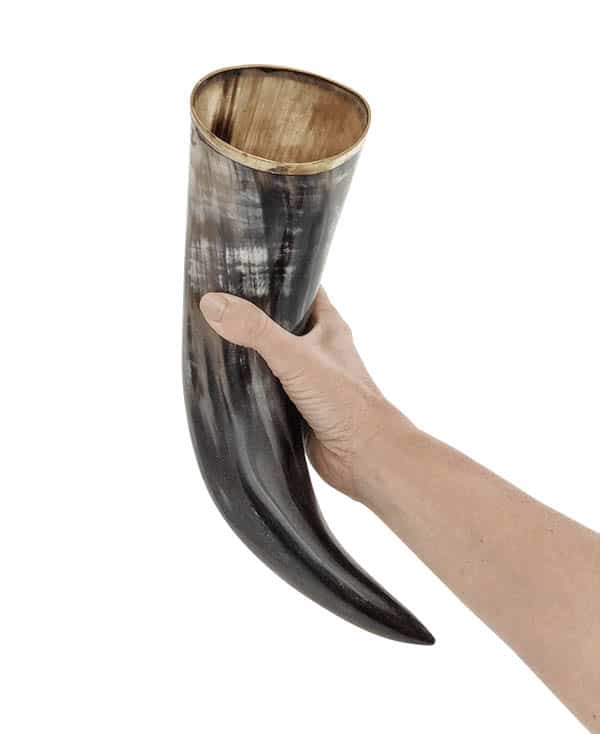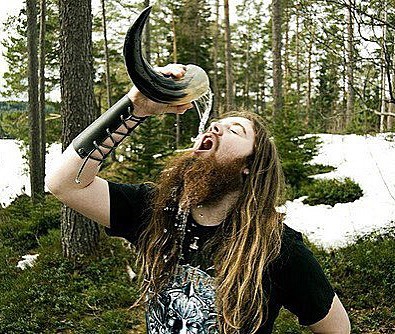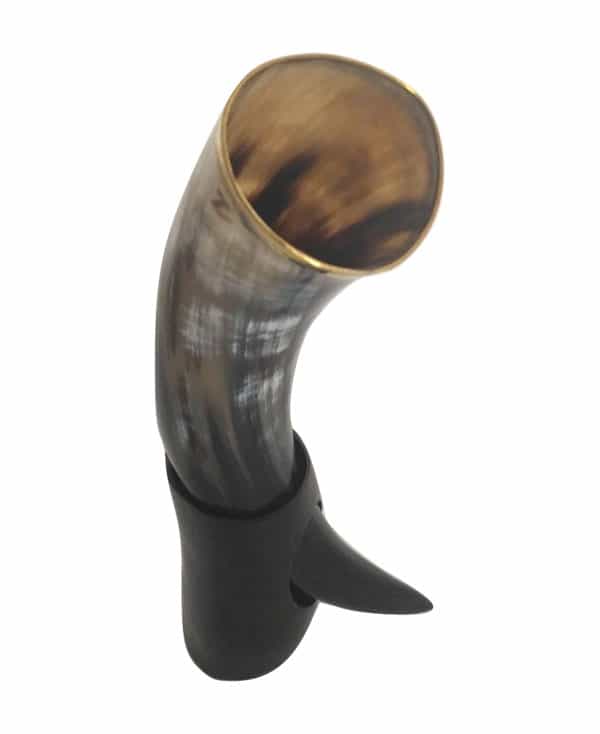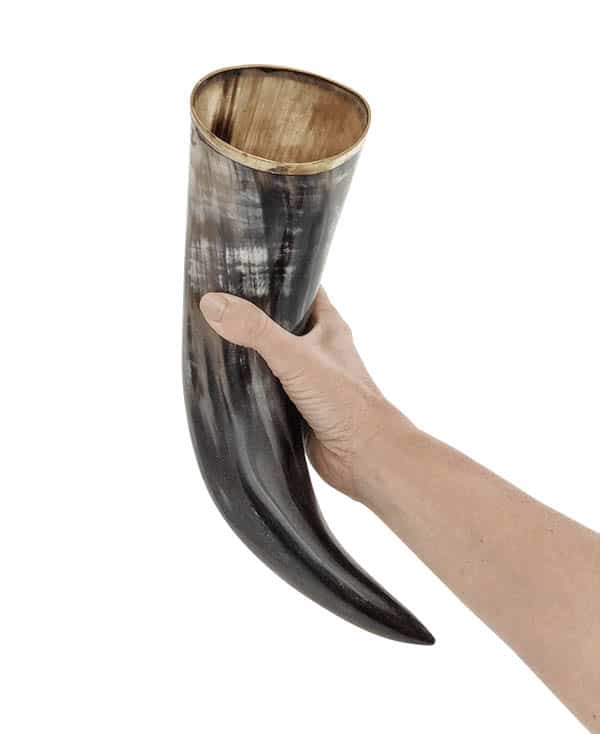 Viking Drinking Horn with Stand [Review 2022]
Do you think real Vikings drank from fancy glass cups? We think not! So if you want to feel like Thor while drinking beer, mead, wine, or other manly drinks, grab this stylish Viking drinking horn. Suitable for Vikings and those (want to) who feel like them. 100% Odin approved!

Features
Available in 2 colors

Lifetime guarantee

Authentic style
Dimensions
12 inches or 20 inches

1.1 pounds
Show your dominance over all those around you with this Viking drinking horn.
You're literally drinking out of a part of another creature. If that isn't bad-ass I don't know what is!
The horn is individually handcrafted and comes with it's own stand. That's lucky. It's very hard to balance a cup which comes down to an off-centred fine point.
Here's a fact for you… Vikings didn't wear horned helmets. That's a myth. So don't wear this on your head, you'll make an idiot of yourself. Just drink out of it, like Vikings actually did.
The horn is perfect for drinking beer, mead, ale and any other liquid, but especially a liquid that sounds old.
Also good products
Bestseller No. 1
Rubie's unisex adults Rubie's Marvel: Avengers Endgame Mjolnir Hammer Accessory, One Size Costume Accessories, Color as Shown, One Size US
Officially licensed Marvel Avengers: endgame deluxe adult costume, look for Marvel and Rubie's trademark on label and packaging to help assure you've received authentic, safety-tested item
Mjolnir hammer; consists of painted lightweight plastic, fabric wrist strap on end with velcro-style closure
Designed for ages 14+; measures approximately 17 1/2-inches from top of hammer to bottom of handle, Attached 8-inch strap on end
Groups/families: create your own Avengers look with costumes and accessories representing all your favorite characters, in sizes from baby to adult and even for your pet
From movie Premiere to fan conventions, fun runs to Halloween, every reason and season, Rubie's is pleased to offer you and your family the latest and most innovative concepts in masquerade and dress-up
Bestseller No. 2
Viking Drinking Horn - 12 Inch with Leather Holster | 100% Authentic Handmade Beer Cup | Food Grade | Genuine Ox Horn | Natural Shine Finish | LARP | Gift Bag
🍺 PREMIUM HANDMADE VIKING DRINKING HORN identical to historic horns used by the ancient Vikings and Norse who conquered Europe and first explored North America. This is the favorite 10 to 14oz size for a large beer, soft drink, mead, hot chocolate, or other favorites. Works equally well for cold and hot drinks.
🐂 GENUINE OX HORN is 100% authentic ethically sourced from certified livestock. This is premium quality professionally made to food grade standards. Our workshop rejects most horns so only the most impressive and appropriate are used for horn mugs. It's the inspiring mug that always earns complements from friends and family. Take one to work to enjoy your afternoon refreshment.
⭐ 100% GENUINE LEATHER HOLDER Fur Belt Holster for Party Use – Each Viking Culture drinking horn comes with a holster that lets you keep it on your belt for hands free enjoyment. Perfect for backyard barbecues, picnics in the park, or game day.
🍺🍺 ULTIMATE MANLY BEER CUP that turns any beer into a festival. Because our drinking horn is hand fashioned from real horns, each one is original and individual. They have interesting colors, shades and natural patterns brought out by hand polishing. Many people buy several to have a delightful variety that always thrills guests.
💰 GIFT BAG carries the spirit of great Viking adventurers. It's a fun and appropriate way to carry and store your ox horn mug. This works well to keep the mug clean and pristine for the next use.
Bestseller No. 3
Bestseller No. 4
MENTHOME Game of Thrones Inspired Engraved Medieval Norse Style Polished Drinking Horn Mug - with Horn Shot Glass | Bottle Opener | Golden Gift Bag | Large Horn Spoon | 20 Oz. (Stark Mug)
🍻 MEDIEVAL STYLE VIKING HORN SET - Our Viking Game of Thrones-inspired mug is handcrafted for men and women who love rustic classic medieval style horns. The set includes - Drinking Mug, Horn Bottle Opener, Shot Glass, Horn Spoon, and a beautiful Golden Bag. Our horn's blazingly polished finish exterior brought to an ideal smoothness and shine is the first symbol of excellence. Go for it today!
✅ COMES WITH SHOT GLASS & BOTTLE OPENER - Made from a solid piece of horn, it will feel just apt in your hands, and we GUARANTEE you won't go back to drinking any other style. It measures approximately 7" from tip to base. Watch your favorite shows like Game of Thrones or feast like a proper Viking with our Norse style horns. A perfect addition to your backyard barbecues, picnics, and game days.
🎁 ROYAL NORSE AND VIKING GIFT - Our horn comes with a vintage Golden storage bag that makes a perfect and unique gift for everyone who likes to drink like a real Viking and enjoy a horn mug stein that they can call genuinely their own. Give the gift of the Gods. Ideal for anyone that savors a cold beverage and simple pleasures. Great gift for family members and buddies to celebrate Christmas, New Year, wedding party, and other occasions.
✅ 100% NATURAL HANDCRAFTED PRODUCT- Our product is made with ethically sourced natural horn and is uniquely handcrafted. Please note that each horn is natural, and each horn will be slightly different from each other in terms of color, size, and shape. And there might be distinctive fittings in the stands because of the naturality of horns.
💯 SATISFACTION GUARANTEE - Keeping you happy and presenting you with the very best quality products and customer care are our primary goals! Don't forget to wash them with plain water before use. All warranty matters are managed immediately by MENTHOME - Please reach us if you have any concerns, and we'll make sure we take care of it.