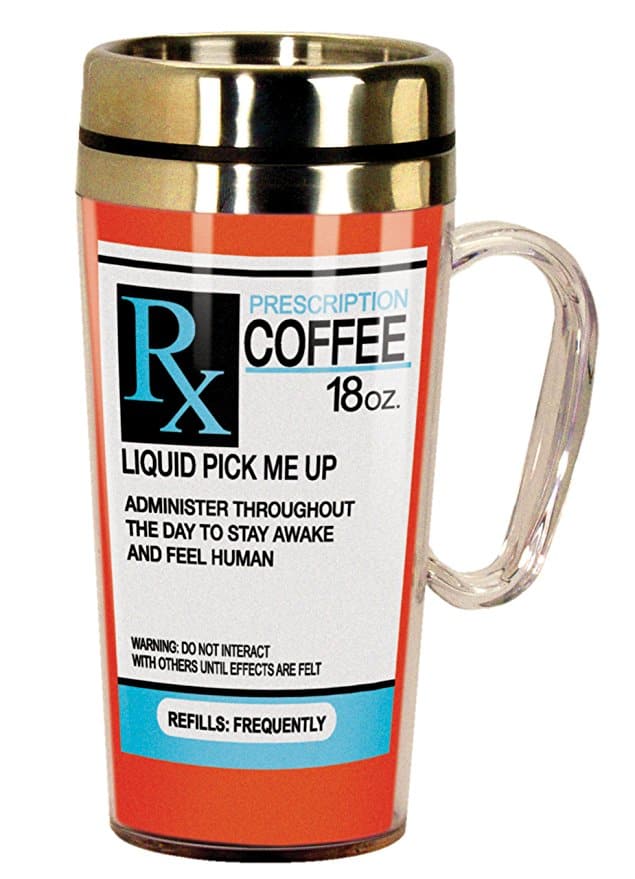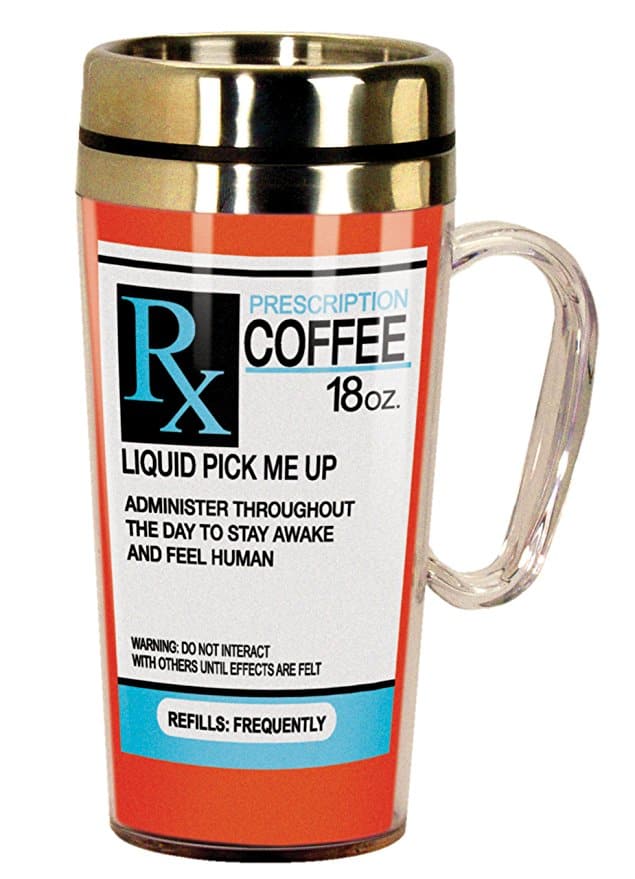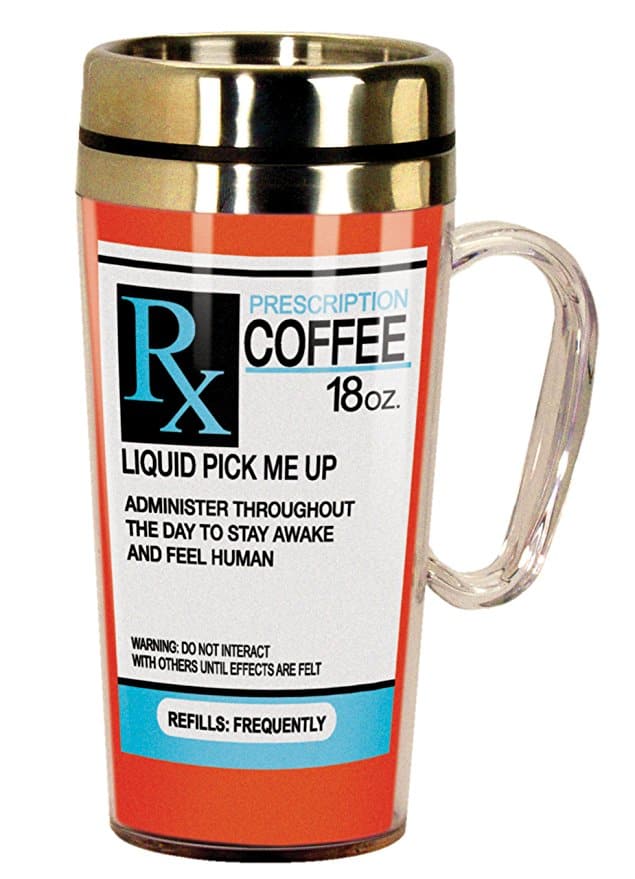 Prescription Insulated Travel Mug [Review 2021]
Coffee is a drug… A warm delicious drug! We all know someone who's addicted to coffee, and now you can help them show off their addiction with this prescription travel mug. It'll keep the coffee warm and your brain clear. Just remember to refill the prescription frequently!

Features
Great for hot or cold beverages

Easy snap on lid

Fits most vehicle cupholders
Dimensions
4.6 x 3.3 x 7 inches

Holds 16 ounces
Coffee. We've drunk it for millennia and we're still not sick of it.
Some people live for it. They say you can't get them out of bed without their cup of coffee. They won't talk to anyone until they've had a cuppa.
For those addicts in your life, get them a full blown prescription mug to show them they have a problem, but in a nice fun way.
Do you know a Pharmacist who loves coffee? This is the PERFECT gift for him or her.
I don't understand how people can have more than one coffee in a day. If I have one at 10am I'm shaking all day, and at night I can't get to sleep until 4am. My Mum used to drink one just before going to bed! I just don't understand. Ooh, I should get her one of these mugs from her birthday – that's a great idea!
Also good products
Bestseller No. 1
Spoontiques - Insulated Travel Mug - Prescription Coffee Cup - Coffee Lovers Gift - Funny Coffee Mug
COFFEE LOVERS UNITE - It's more than a beverage; it's a lifestyle. This prescription coffee cup is a great gift for the coffee lover in your life or if you need a constant caffeine drip, this mug is designed to go with you!
TRAVEL MUG - Spoontiques' Insulated Travel Mug fits neatly in most vehicle cup holders. This coffee cup is perfect for a day full of errands, a long day at work or a road trip! Locking lid helps prevent mishaps on your morning commute.
DOUBLE WALL INSULATION - This coffee cup from Spoontiques features double-wall insulation with a stainless-steel inner wall and an acrylic outer wall. Your beverage will remain the correct temperature due to quality insulation.
LOCKING LID - Each mug has a locking lid and a skid-resistant bottom to help prevent leaks and spillage. Spoontiques travel mug measures approximately 7" tall and holds 14 oz of your favorite beverage. Spoontiques insulated cup is BPA free.
GREAT GIFT - Funny coffee mugs are a great gift whether you're treating yourself or if you have a die-hard coffee lover in the mix. Perfect for a stocking stuffer, Secret Santa, a welcome to the team, or a just because present!
Bestseller No. 2
Coffee Cup Wormer Black White Marijuana Leaf and Prescription Symbol Double Insulated Travel Mug Double Wall Water Bottle,Black Lid,17 OZ,No-Handle Tumbler Cup for Men&Women Keep Hot/Ice Tea and Beer
Washing Instructions,It Is Easy To Clean And Can Be Used.Repeatedly.When It Is Received,It Is Used By Scalding It With Boiling Water To Remove The Dust Produced In The Production Process Of The Cup.
Stay Hot or Stay Cold,Retain the temperature of your chosen beverage for a prolonged period of time.Any drink that is hot,like coffee,can stay hot for up to 6 hours. Cooler drinks, (i.e.lemonade),can stay cold for up to 24 hours.
Sleek and Lightweight.Gently fits into your hand with an Anti-Sweat design.lightweight and compact feel make it easy to fit into most car cup holders.Carry around your beverages whether out at the mall,soccer game,or park,Coffee Shop,Office,Home Use,Stay refreshed and hydrated.
Stop wasting and polluting with store bought plastic bottles and cups.Help save the ecosystem by using less plastic and distributing less waste across the globe by using a washable and reusable alternative to your daily beverage intake.Protect yourself and the lives of plants and animals around you.
Material:Made with 100% Food grade plastic PP polylactene.Gently fits into your hand with an Anti-Sweat design.The 17 oz.lightweight and compact feel make it easy to fit into most car cup holders.Carry around your beverages whether out at the mall,soccer game,or park.Stay refreshed and hydrated no matter what adventure life takes you on.GUARANTEE:100% Satisfaction or your money back. Order now and put us to the test.
Bestseller No. 3
Bestseller No. 4
Nurses dispense comfort, compassion, and caring without even a prescription 14oz Insulated Travel Mug – Nurse Inspirational Occupations/Professions Tu
This holds 14 oz worth of liquid and comes with an easy-grip handle and thumb rest. The tapered bottom fits in a standard cup holder. Lid has slide opening and slanted drinking surface.
Made out of stainless steel for durability. Since it's made out of stainless steel it is not microwave safe. Thick DOUBLE WALL helps keep hot drinks hot and cold drinks cold far longer than the average mug.
The image is printed with only the highest quality sublimation inks and printing techniques to ensure a lasting print.
Lid is dishwasher safe and shatter resistant.
NOTE: These are not "officially" endorsed as dishwasher safe by our vendor, although we have run them through hundreds of times with no problems. Hand wash is official recommendation for cleaning.