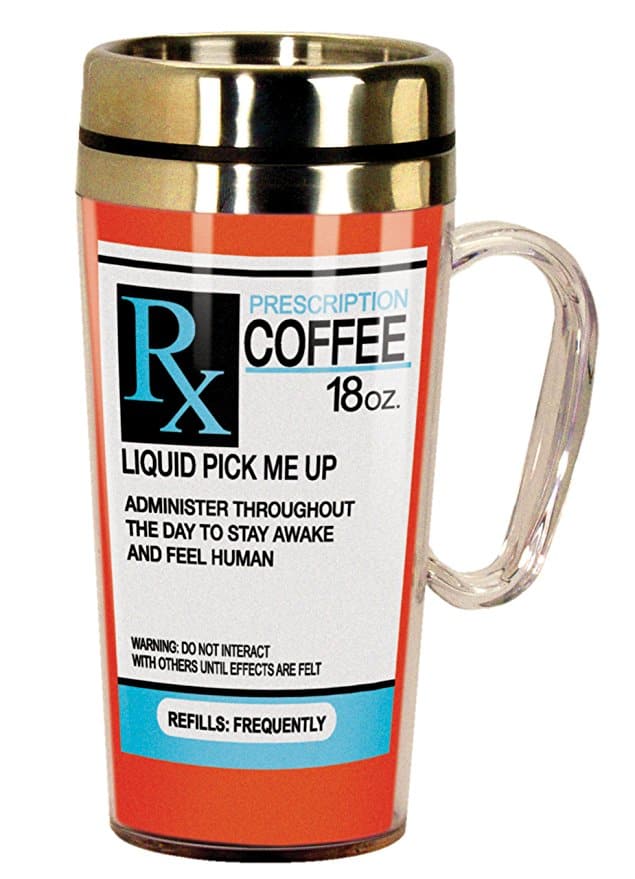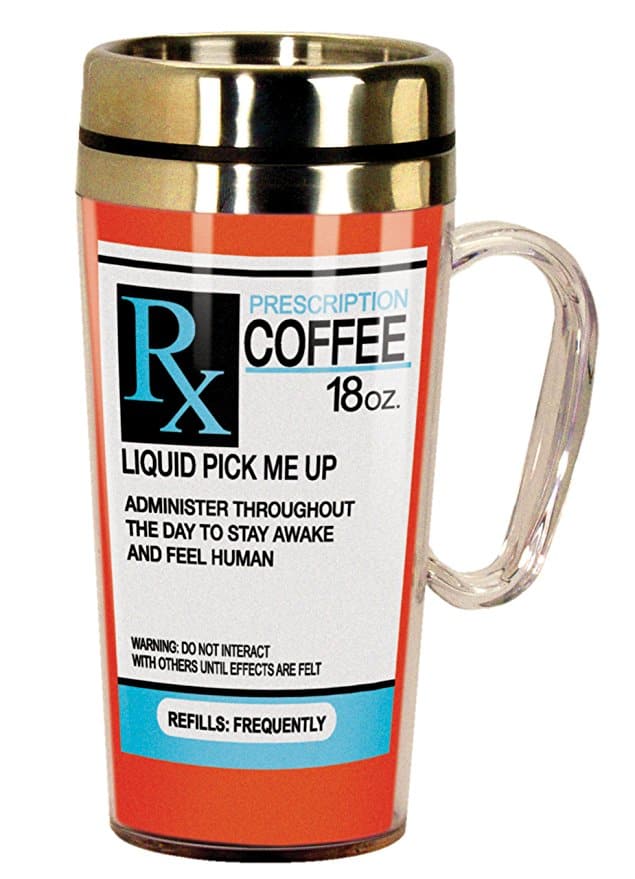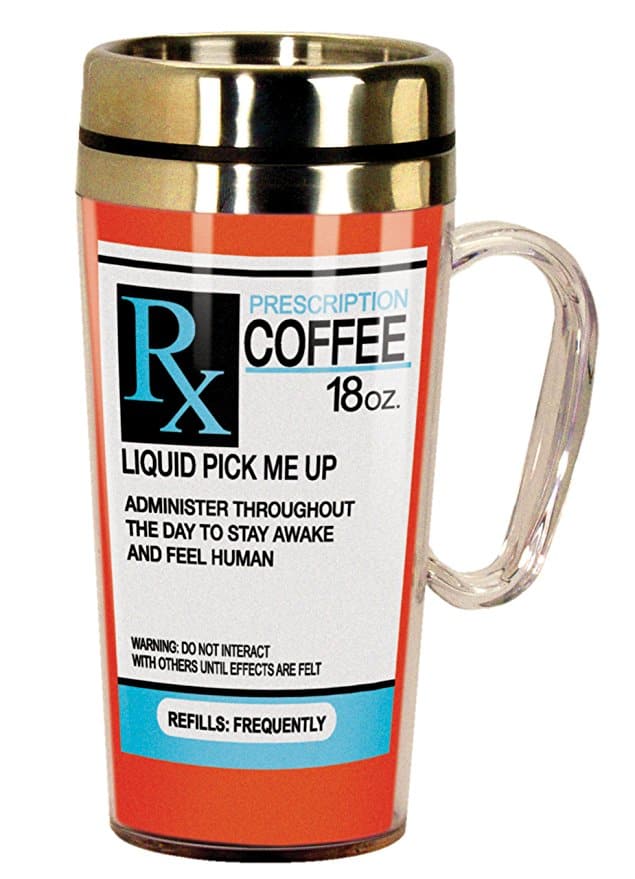 Prescription Insulated Travel Mug [Review 2020]
Coffee is a drug… A warm delicious drug! We all know someone who's addicted to coffee, and now you can help them show off their addiction with this prescription travel mug. It'll keep the coffee warm and your brain clear. Just remember to refill the prescription frequently!

Features
Great for hot or cold beverages

Easy snap on lid

Fits most vehicle cupholders
Dimensions
4.6 x 3.3 x 7 inches

Holds 16 ounces
Coffee. We've drunk it for millennia and we're still not sick of it.
Some people live for it. They say you can't get them out of bed without their cup of coffee. They won't talk to anyone until they've had a cuppa.
For those addicts in your life, get them a full blown prescription mug to show them they have a problem, but in a nice fun way.
Do you know a Pharmacist who loves coffee? This is the PERFECT gift for him or her.
I don't understand how people can have more than one coffee in a day. If I have one at 10am I'm shaking all day, and at night I can't get to sleep until 4am. My Mum used to drink one just before going to bed! I just don't understand. Ooh, I should get her one of these mugs from her birthday – that's a great idea!
Also good products
Bestseller No. 1
Bestseller No. 2
A Wise Woman Once Said - Premium Stainless Steel Coffee Tumbler 20 oz - Custom Engraved Travel Cup with Lid - Double Wall Vacuum Insulated Coffee Mug & Cold Drink - (Purple)
EYE-CATCHING DESIGN - PhineFinds Coffee Tumbler with clear sipping lid and the funny laser engraved quote - A Wise Woman Once Said
TECH - 20 oz double wall 18/8 food-grade stainless steel thermal coffee cup with copper vacuum insulation great for keeping your drinks hot for up to 8 hours and cold for up to 16 hours. The Powder Coated finish gives these stainless steel coffee tumblers a modern and classy look. It's the best option to keep your coffee, ice tea or your favorite beverage fresher longer than ever. Performs as well as or better than comparable Tumblers, Coffee Cups and Travel Mugs
UNBREAKABLE - insulated travel tumbler makes the perfect companion for alcoholic AND non-alcoholic drinks; wine, cocktails, mocktails, mimosas, mixed drinks, champagne, juice, coffee, iced coffee, water, tea
DURABLE AND SHATTERPROOF - making broken coffee cups a thing of the past. BPA Free, Powder Coated, Sweat Free Exterior, Hand Wash Recommended
100% SATISFACTION - guarantee or money back.
Get Your Custom Engraved Coffee Tumbler Risk Free NOW!
Bestseller No. 3
Bestseller No. 4
20oz Tumbler Mug, Rx Pharmacy Symbol, Personalized Engraving Included (Teal)
Are you looking for a daily travel partner? This mug will do the the job, whether you're on your way to the office, school, or even a long road trip.
Personalized just the way you want it! Each tumbler is laser engraved with the image that you see in the photo along with your own name or custom text.
Coffee? Tea? Juice? This mug can handle it all, Hot or Cold! Its double-wall insulated stainless steel construction will keep 20 ounces of your favorite drink hot or cold for hours!
Give it as a gift to someone special or give it to your friends at the office. Imagine the look on their face when they see their own name engraved right on the mug!
The design and text won't fade or rub off since we laser engrave it right onto the mug. Comes with a snug fitting lid to help prevent spills.