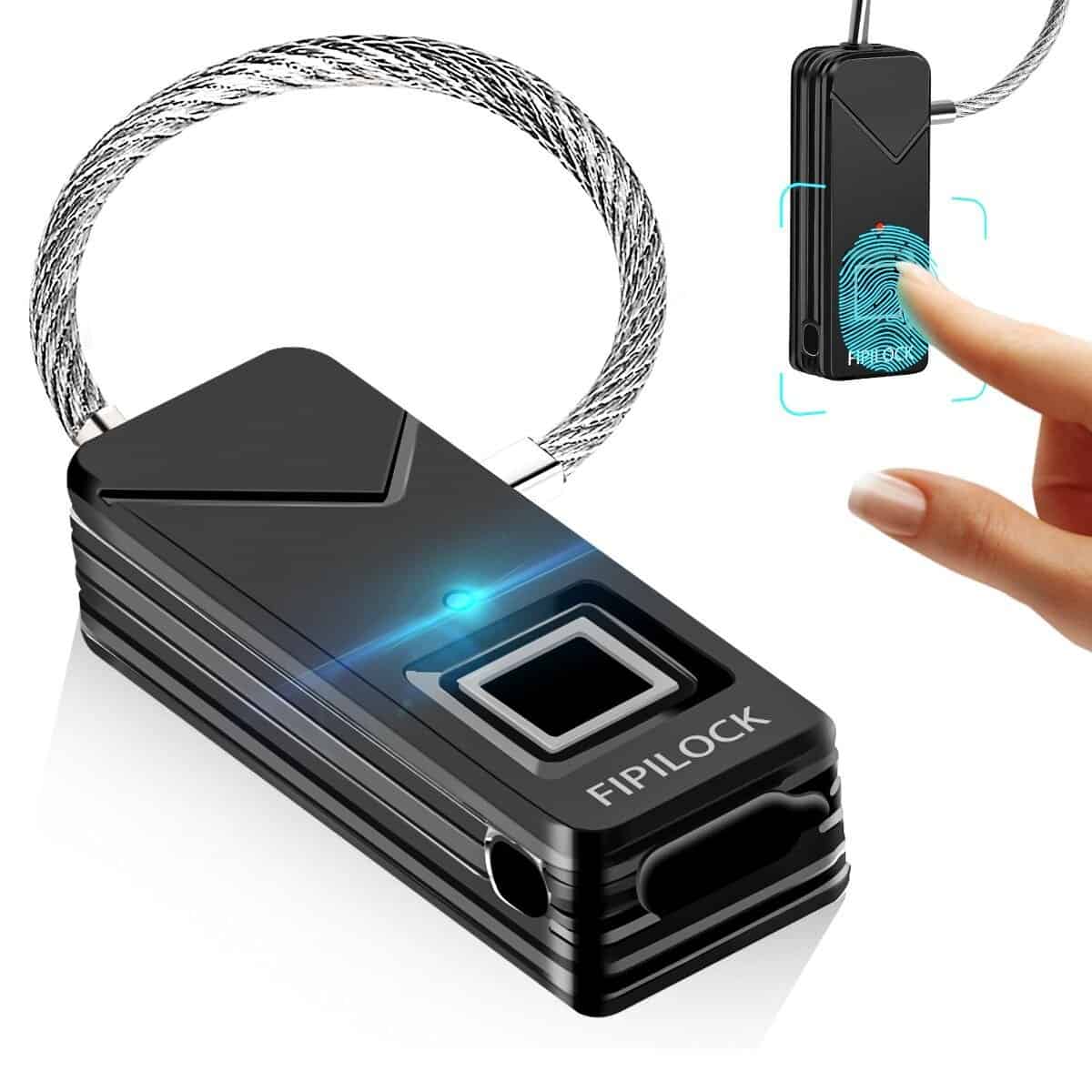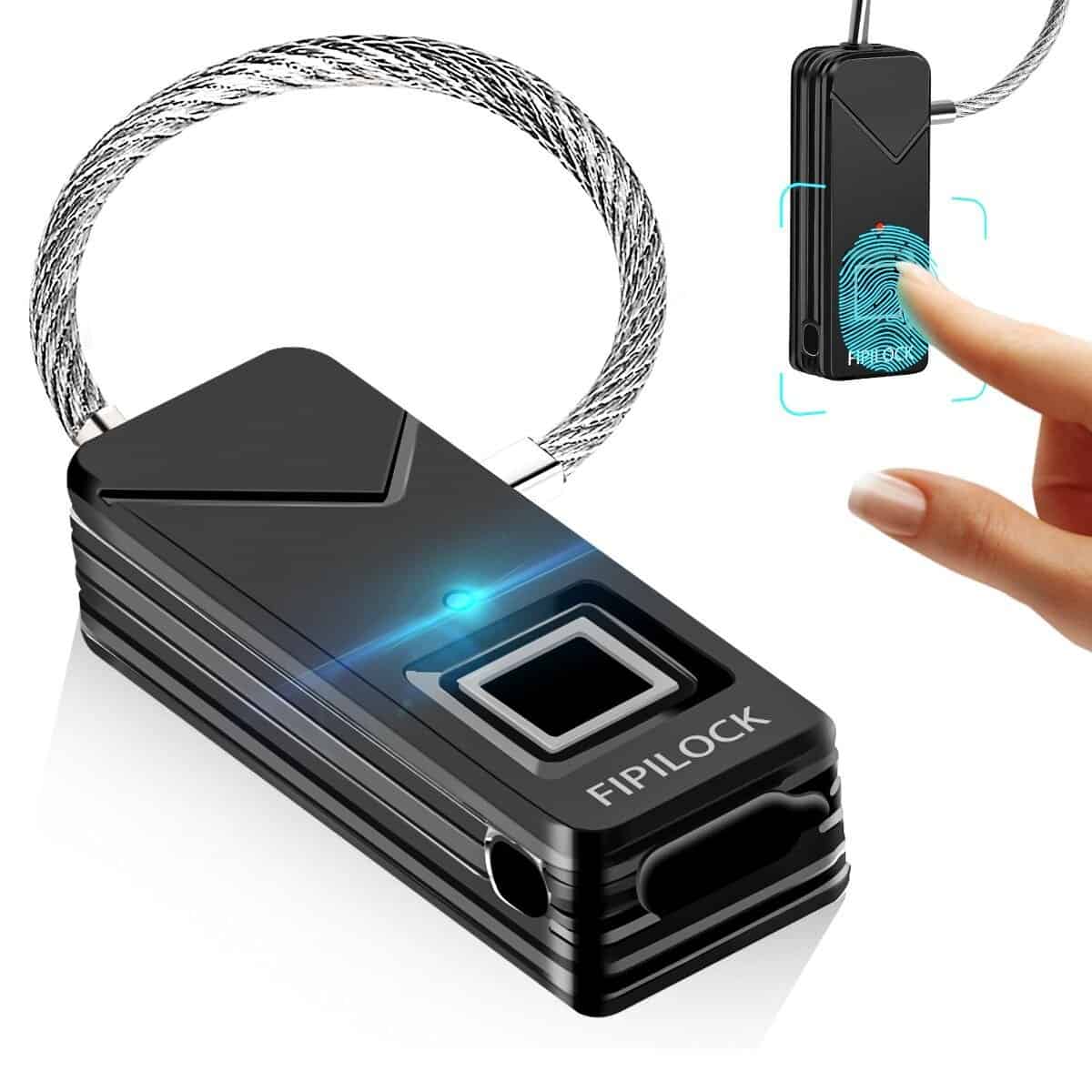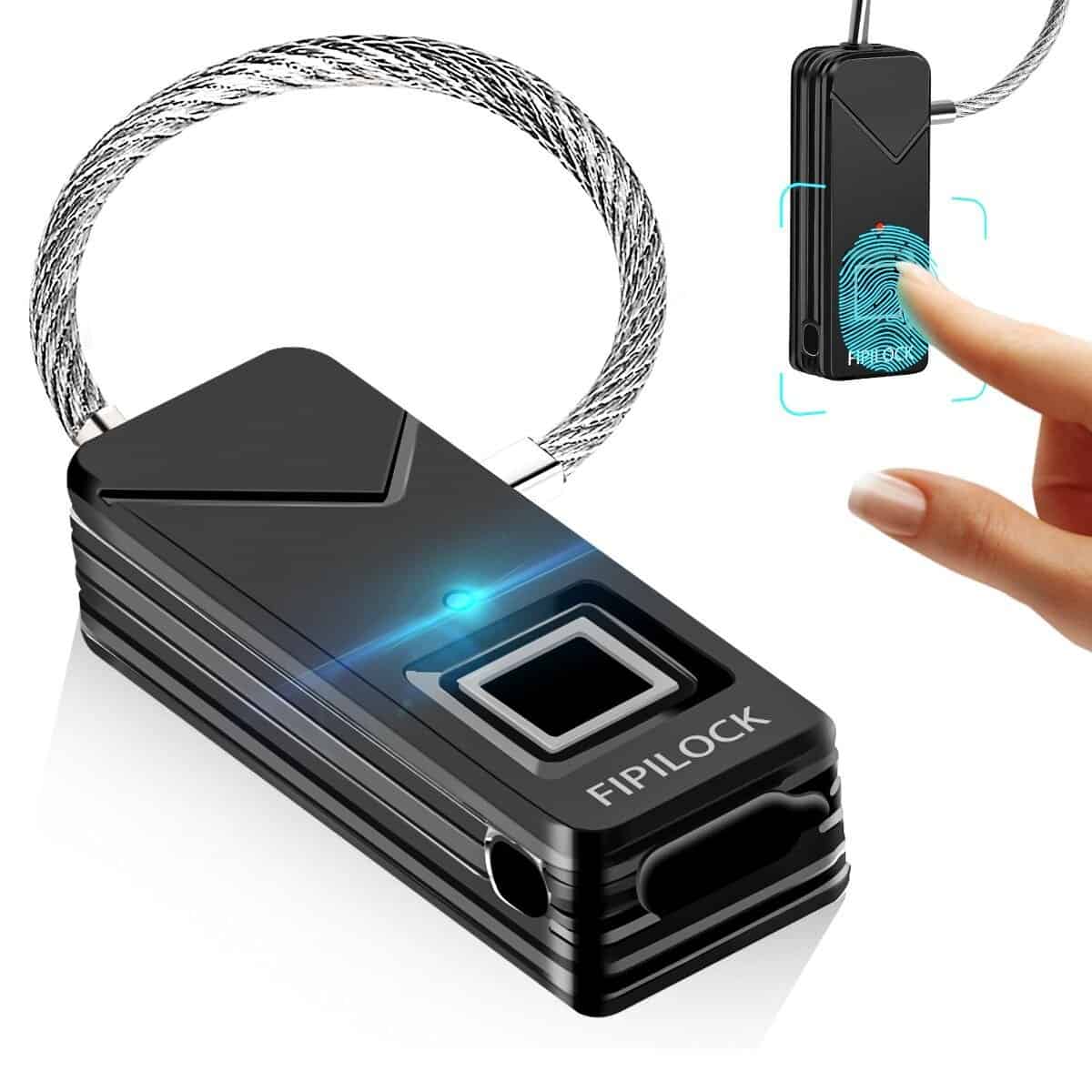 Portable Fingerprint Padlock [Review 2020]
If you often forget your passwords, we have good news – you can't really forget your finger! And this padlock enables you to keep your stuff secure by featuring fingerprint recognition. It's perfect for suitcases, bags, golf bags, etc. Just press it for a second and it's unlocked! Easy peasy!

Features
Available in silver or gold

No keys or passwords needed!

Stores 12 fingerprints
Dimensions
4.4 x 3.1 x 1.4 inches

4 ounces
Thieves can guess your pin code, by nobody can guess your fingerprint!
Outsmart these dumb stupid criminals with a padlock with a difference – it is opened by your fingerprint.
Unless the thief has stolen your fingers, there's no way they're taking off with your bike. And if they've stolen your fingers your bike is probably the last of your worries – go to a hospital! Get your bloody hands stumps treated first, then call the police!
It's almost like those retina scanners they have in sci-fi movies. We're living in the future, people! It's now! We've arrived!
So keep your personal belongings protected by one of the most personal things possible – your fingerprint.
Also good products
Bestseller No. 1
BOREAD Fingerprint Padlock, Smart Keyless Lock for Locker, Backpack, Suitcase, Travel Luggage,Cabinet, Drawer, Indoor, Portable USB Rechargeable (Blue)
【Smart Fingerprint Lock】Record up to 20 fingerprints (Including 2 Administrators that provides backup admin account). Fingerprint lock can be unlocked without App, Key nor Bluetooth. Please record at least two fingerprints to prevent fingerprint loss.
【Indoor Uses】Mini Size Fingerprint Padlock can be used on a wide variety of items besides suitcases or luggage, such as gym, school, toolbox, chests, cabinets, Drawer, indoor, ect. Not recommended for outdoor or rainy days.
【 Long Run Time & USB Rechargeable】Low power consumption and long standby time. A rechargeable 100MAH lithium battery can support 1year standby time and can be unlocked over 2500 times.
【Sturdy Structure】Zinc Alloy body and stainless steel beam protect lock from corrosion and offer light weight as well, which make a stylish compact smart padlock for you.
【Quality Guarantee】Free return within 1 month after purchase, and free repair within 1 year. Customer support is available to answer your questions and solve the problems!
Bestseller No. 2
Smart Fingerprint Padlock, Portable Mini Smart Fingerprint Padlock Keyless Lock
High-quality materials: The use of high-quality PVC cover can extend the service life and give a more comfortable feel. Durable and not easy to crack. Rugged aluminum alloy lock body upgrade safety factor. It has strong cut resistance and is enough to protect your safety cabinet or storage box from thieves.
Sturdy lock body: The code lock adopts all-mechanical structure lock body. The groove lock teeth are stable, not easy to open, durable, strong and reliable. The groove design can automatically change the length of the self-adjusting lock around the door handle, and will not stay in the door. Peeping under the gap.
Convenience: Built-in rechargeable battery, can be connected to USB charger, long standby time, when you charge for 30 minutes, the maximum standby time is up to half a year. Never worry about losing your key, your finger is your key, bringing convenience to your life.
High performance: Our lock uses a smart chip to unlock 0.3 seconds, quickly recognize the biometric lock and quickly recognize the fingerprint. It is easy to operate and can store up to 20 fingerprints and manage them directly in the smart lock.
Scope of use: Padlocks are especially suitable for travel. They can be used as locks for school bags, suitcases, shoulder bags, etc. They are also very suitable for shops, factories, offices, warehouses, etc. Wide application range and high safety.
Sale
Bestseller No. 3
Fingerprint Lock, Security Lock Portable Mini Smart Fingerprint Padlock Keyless Lock with USB Charge for Wardrobe Cabinet Box
Never worry about losing keys, your finger is your key, bringing convenience for your life.
It is easy to operate, stores up to 20 fingerprints, and is managed directly in the smart lock.
Built in rechargeable lithium battery, it can connecting the USB charger.
Long standby time, when you charge for 30 minutes, the longest standby is up to half a years.
Unlock for 0.3 seconds and quickly identify biometric locks to quickly identify your fingerprints. It is especially suitable for travel, which can be used as locks for schoolbags, suitcases, shoulder bags, etc.
Bestseller No. 4
Fingerprint Padlock Touch Unlock Smart Thumbprint Lock Portable Metal Waterproof with Keyless Biometric for Gym,Locker,Backpack,Golf Bags,Luggage,Drawer,Door,Cabinet and Storage (Fingerprint Padlock)
Sturdy Structure- The lock body made of aluminum alloy and the lock rod is made of stainless steel for superior cut resistance,protect your cabinet or your home against thieves.
10 Color Flicker USB Rechargeable & Long Standby Time- 16.78 million color LEDs flashing with the rhythm of the owner walking.Low power consumption,after full charge,it could standby 1 year.
Hidden Telescopic Rod Design- telescopic lock rod design with rod silo rack rod can be rotat 180°
Sound Anti-theft Alarm-Press the setting key 3 times.start alarm function.Illegal movement,flipping the lock will make beep beep continous alarm with about 80 db sound
Widely Uses- it is suitable both indoor and outdoor for gym, school, office, door, gate, fence, garage, warehouse, cabinet, shed, suitcase, handbag, luggage, bike, etc.