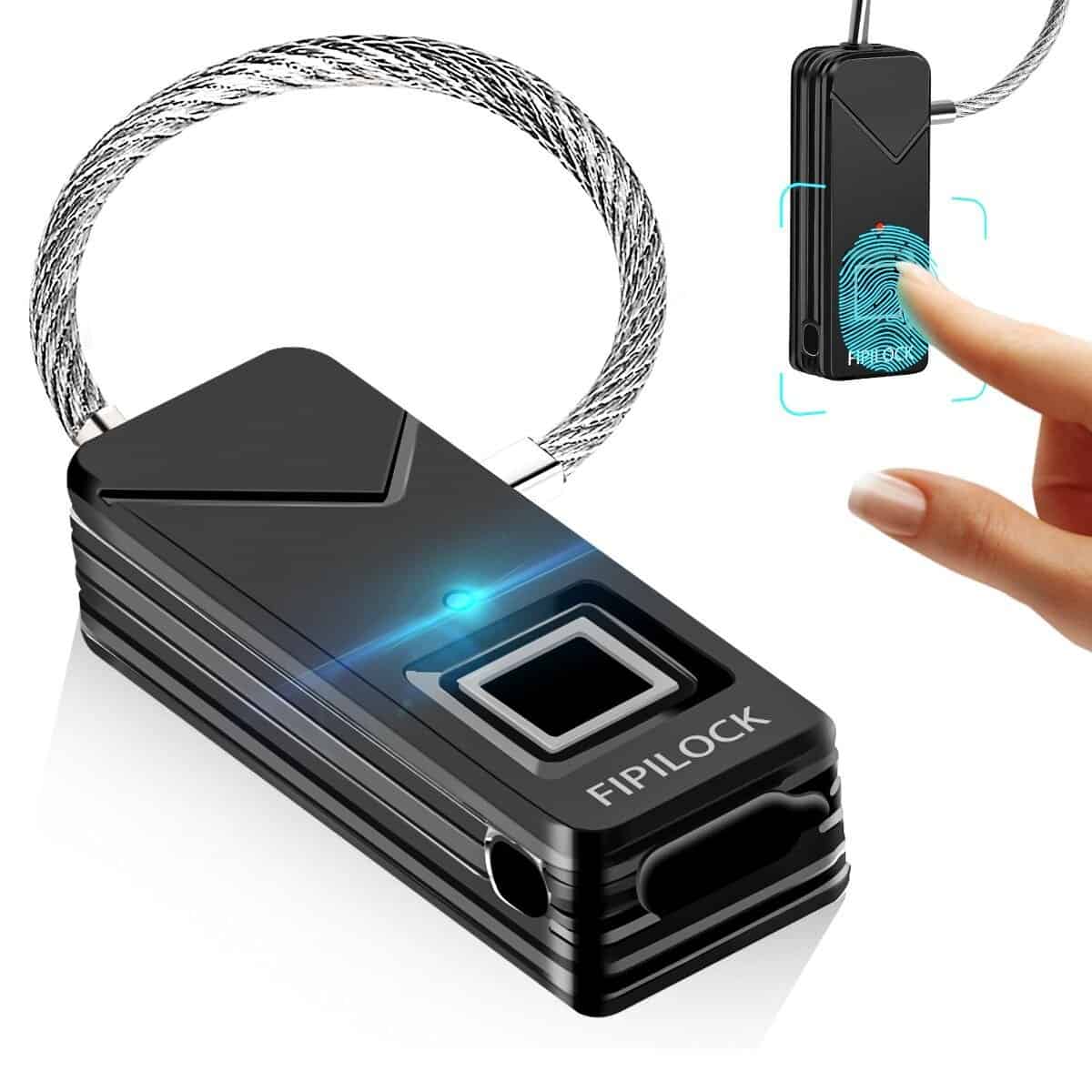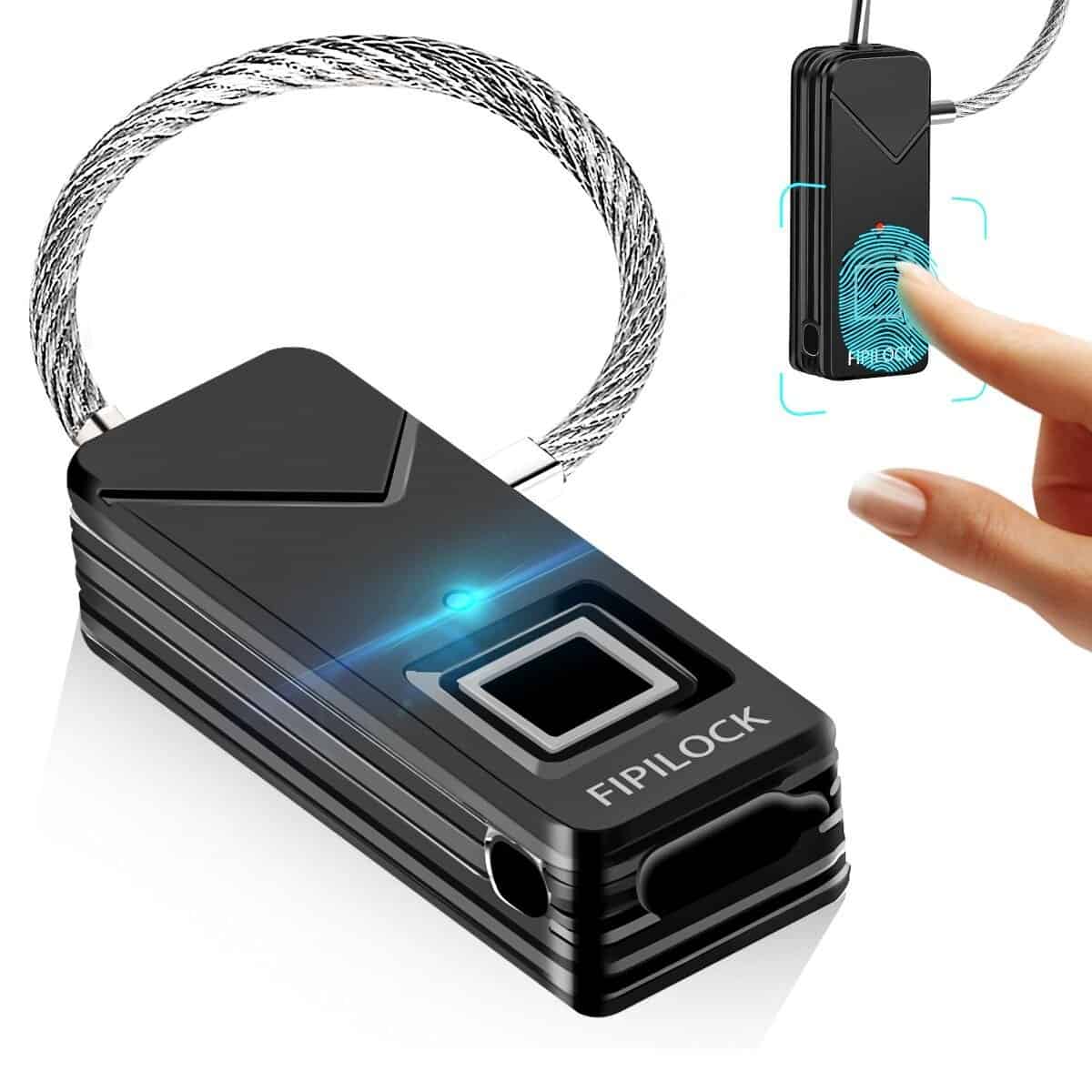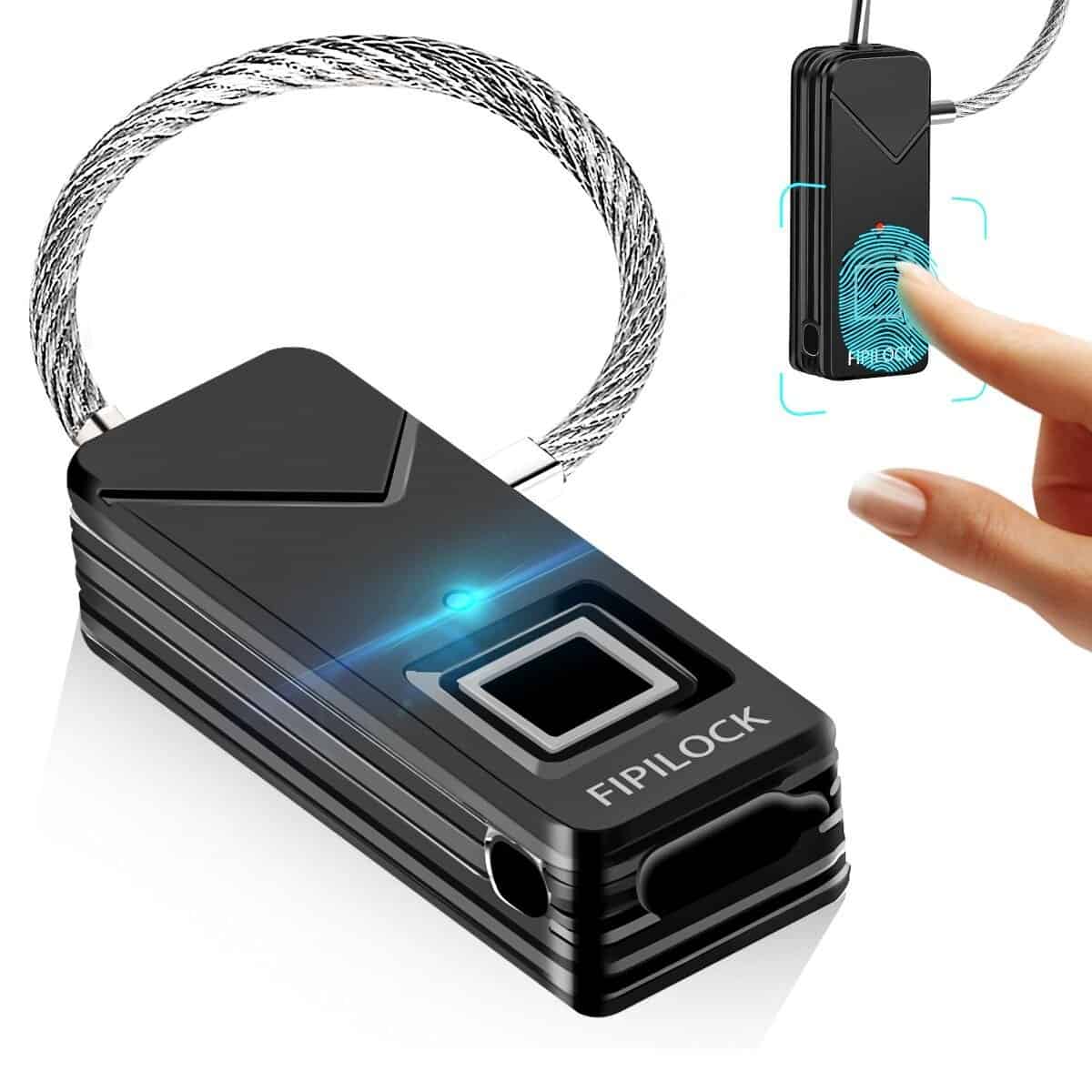 Portable Fingerprint Padlock [Review 2023]
If you often forget your passwords, we have good news – you can't really forget your finger! And this padlock enables you to keep your stuff secure by featuring fingerprint recognition. It's perfect for suitcases, bags, golf bags, etc. Just press it for a second and it's unlocked! Easy peasy!

Features
Available in silver or gold

No keys or passwords needed!

Stores 12 fingerprints
Dimensions
4.4 x 3.1 x 1.4 inches

4 ounces
Thieves can guess your pin code, by nobody can guess your fingerprint!
Outsmart these dumb stupid criminals with a padlock with a difference – it is opened by your fingerprint.
Unless the thief has stolen your fingers, there's no way they're taking off with your bike. And if they've stolen your fingers your bike is probably the last of your worries – go to a hospital! Get your bloody hands stumps treated first, then call the police!
It's almost like those retina scanners they have in sci-fi movies. We're living in the future, people! It's now! We've arrived!
So keep your personal belongings protected by one of the most personal things possible – your fingerprint.
Also good products
Bestseller No. 1
Hapilaif Fingerprint Padlocks,Thumbprint Lock, Waterproof, USB Rechargeable, for Gym Locker, School Locker, Luggage, Backpack, Suitcase
🔒【Long Run Time & USB Rechargeable】Smart padlock have low power consumption and long standby time. The smart fingerprint lock is charged by USB, a rechargeable 100MAH lithium battery can support 1 year standby time and can be unlocked over 2000 times. If battery is out of power, it will keep locking with the red light blinking.
🔒【Rugged Construction & Security】The fingerprint padlock body is made of strong aluminum alloy material, and the stainless steel padlock beam further improves the durability of padlock, can anti-rust, anti-cut, waterproof. The shackle has excellent anti-tampering performance and superior cut resistance to protect your locker room or your home against thieves.
🔒【Lightweight, Portable and widely uses】62g small size thumbprint lock offer small space occupation and light weight as well, which make a stylish compact smart padlock for you, can be carried anywhere you go. The amazing design allows great compatibility. Waterproof padlocks can be used indoors and outdoors, such as gym lockers, luggage lockers, school lockers, bike sheds, warehouses and other items you want to protect.
🔒Made in China
Sale
Bestseller No. 2
Lewis N. Clark TSA Approved Padlock & Bike Lock for Luggage + Travel, Set Your Combo w/30in Retractable Steel Cable, Blue, One Size
SAFETY FIRST: Keeps luggage, bikes, guns, work equipment, briefcase, purse, doors, gates, and many other items safe. Group items together and protect them, don't fumble with keys.Note: Measure your door's backset, cross bore and thickness to ensure you find the right fit.
TRAVEL ACCESSORY: Whether you are taking public transportation, flying across country, touring the city or on your daily commute, keep your prized possessions safe and secure
SUPERIOR DESIGN: Durable rugged construction with thermoplastic rubber and ABS housing, means its build to last. Our flexible steel cable provides ease of use while protecting your belongings
EASY TO RESET COMBO: Reset your combination easily anytime with our three-dial code. The re-programable lock makes it simple to change your combo and protect your valuables
LEWIS N. CLARK has been a leader in the Travel & Outdoor Gear for over 30 years, helping you to enjoy the journey as much as the destination. We are passionate about travel and exploring the wonder of the world around us, and our designs focus on making any trip more organized, secure, comfortable and convenient
Sale
Bestseller No. 3
Luggage Lock Multipurpose Suitcase Lock Simple Travel Padlock with 2 Keys for Travel Bags and Luggage
【Durable】This TSA luggage lock is made of zinc alloy, and the lock hook is made of hardened steel, which is durable, impact-resistant and pick-proof.
【Portable】Small size, light weight, does not take up space and is easy to carry, it can keep your luggage safe without adding extra weight and make your journey easy and smooth.
【Advantages】Easy to use, no need to set a password, to avoid forgetting the password and not being able to open the suitcase, with 2 keys, you can use one key as a spare key.
【TSA Lock】This TSA certified lock allows such as customs officers to open the lock with the TSA21011 special key to access and inspect your luggage without destroying the luggage.
【Multi-purpose】TSA lock with key can be used for luggage, suitcases, travel bags and other items. It can also be used in gym lockers, cabinets, tool boxes, letter boxes, etc. where a lock is required.
Sale
Bestseller No. 4
ONNAIS Iron SE Gun Safe - Biometric Gun Safe for Pistols, Quick-Access Pistol Safe Firearm Safety Device with Fingerprint Lock or Key Pad, Handgun Safe, Gun Lock Box for Home Bedside Nightstand Car
Fingerprint Gun Safe: Quick-access gun safe is absolutely important for a family. No matter to protect your handguns from your children or just to keep your items unaccessible while unsupervised. It's responsible to store them securely in this handgun safe and right where you need them. Biometrics keeps your contents secure with immediate accessibility. ONNAIS gun safe box helps you access the handgun safe quickly when you need it most and bring you more time when in danger
Advanced Biometric Technology: ONNAIS gun safes for pistols are equipped with biometric fingerprint technology which is a proven method that is accurate and more secure than a traditional keypad lock and ensures single-handed access to your firearm device. A high-resolution fingerprint scanner allows access to your contents quickly. The fingerprint lock can store up to 30 user fingerprints for access by multiple users.
Tough and Large Capacity: Our handgun safe has solid steel construction and anti-corrosion for increased durability and ultimate protection. This gun safe lid is also pry-resistant and is powered by 4 AA batteries. Also, there is enough space to hold two standard size regular frame pistols or many small items. The interior is padded with soft foam to prevent scratches.
Portable and Three-Way Access: With portable design, you can keep this gun safe in a drawer, cabinet, luggage, or nooks and also place it at home, car, nightstand, or some other spot that's easy for you to use as a bedside handgun safe. ONNAIS biometric gun safe for pistols offers convenient 3-way access. Apart from the biometric option, you have keypad locks and 2 backup override keys which will make sure you can always access your guns.
Protect Your ONNAIS: We are committed to satisfying our customers with quality products and great customer service. If you have any concerns, please feel free to contact us directly. We're dedicated to giving you a satisfactory solution. Exterior Dimensions : 11.49" x 9.17" x 3.07", Interior Dimensions 10.63" x 6.69" x 2.91"