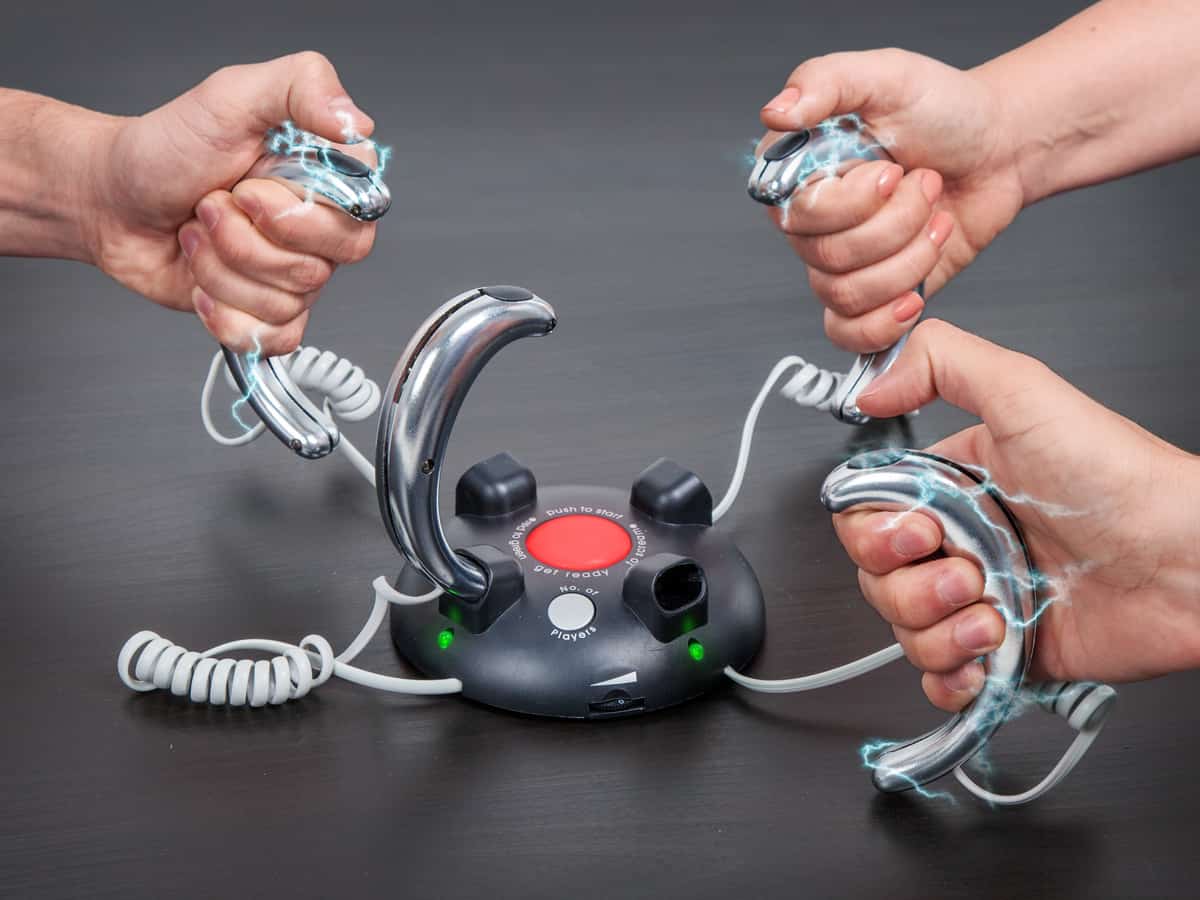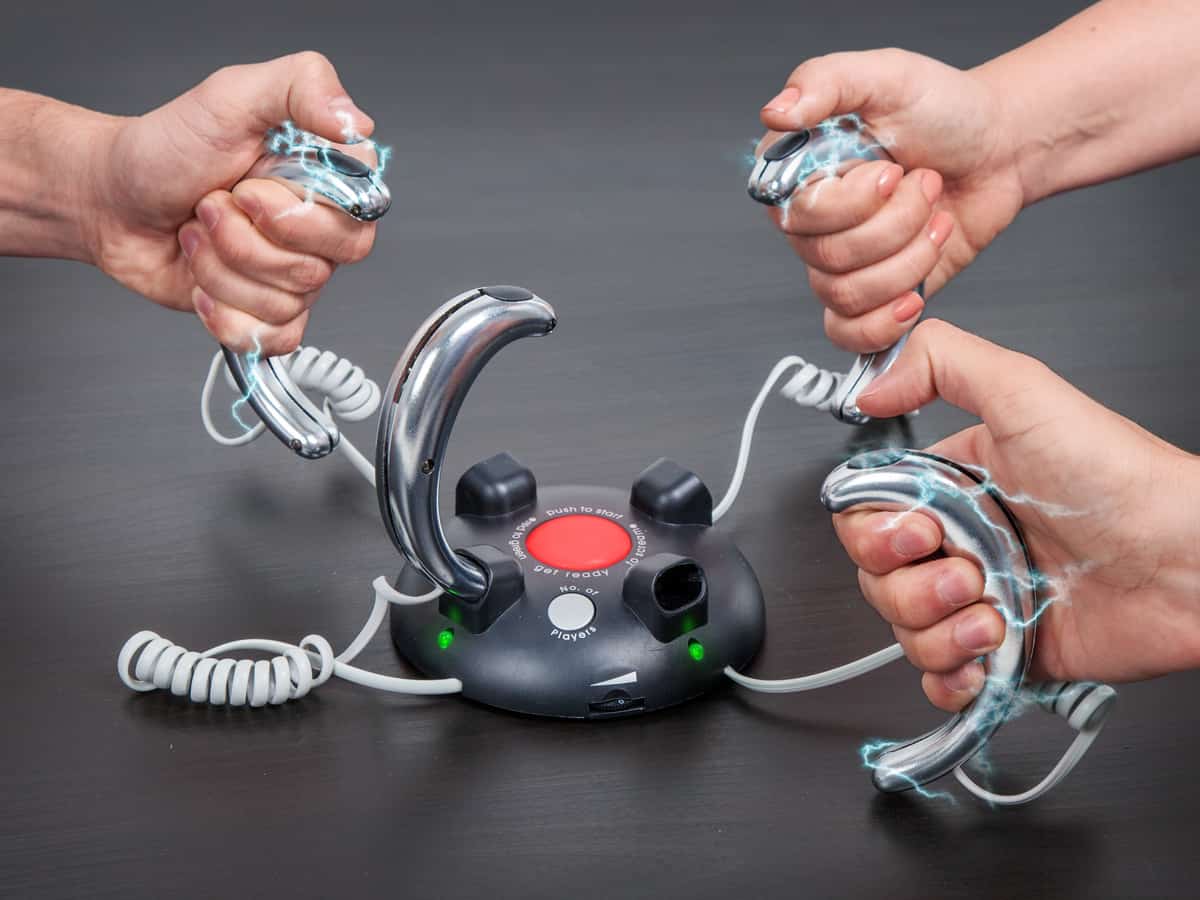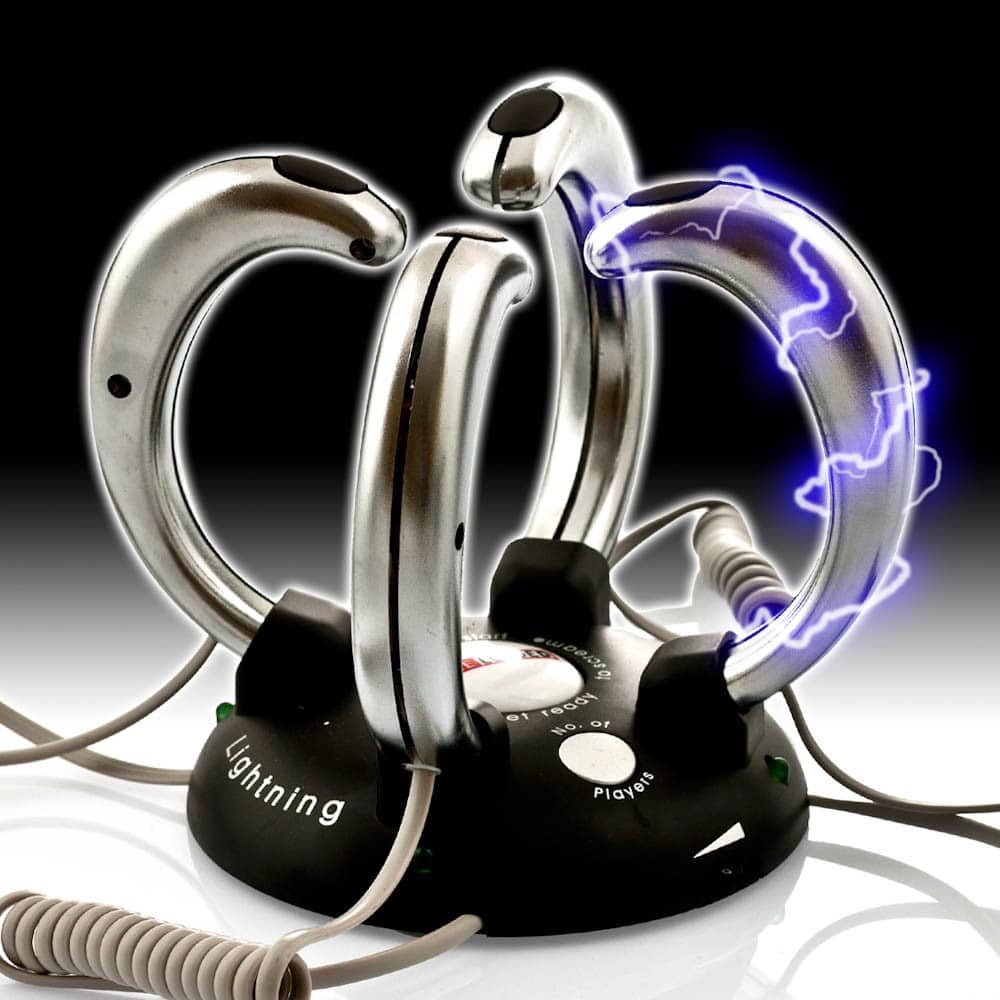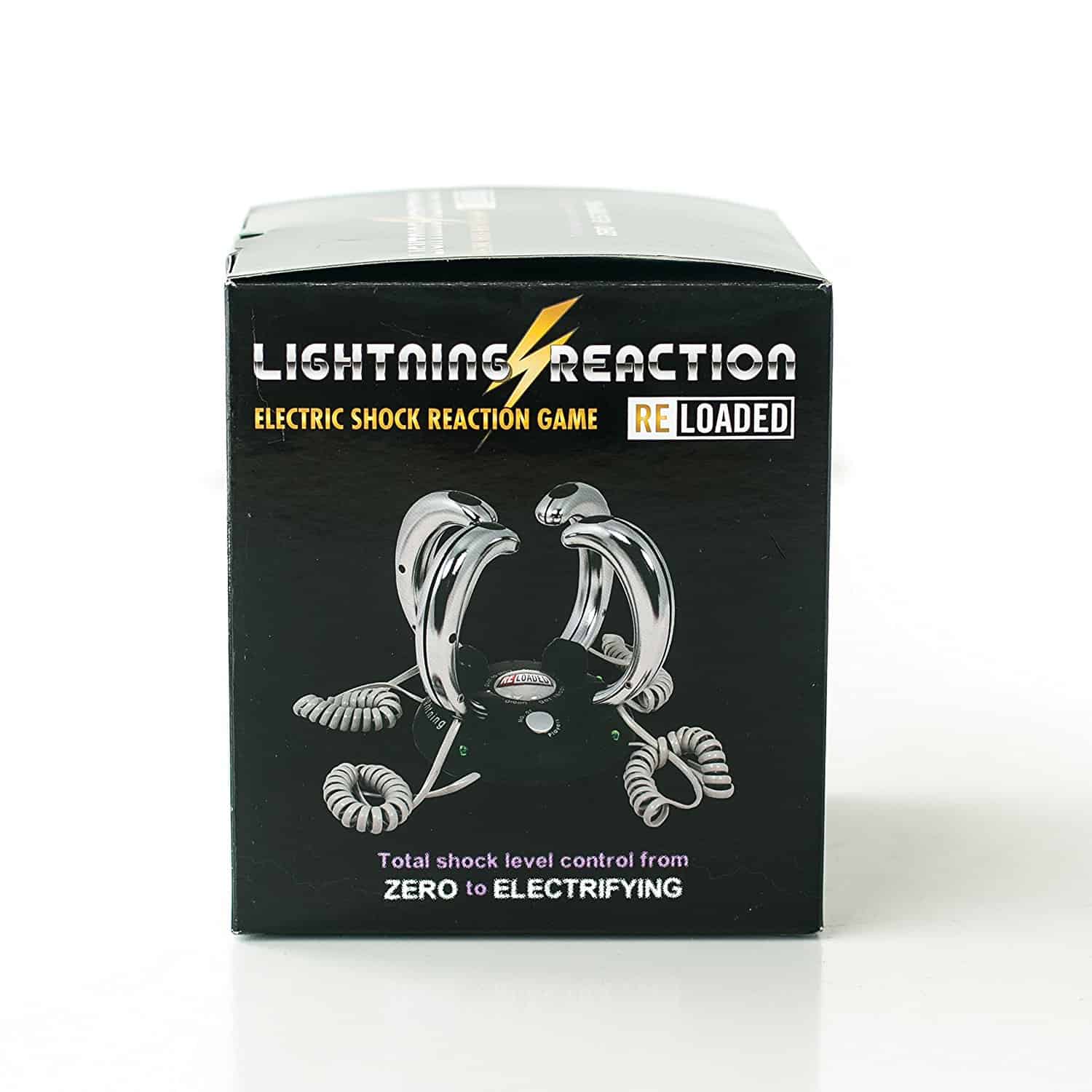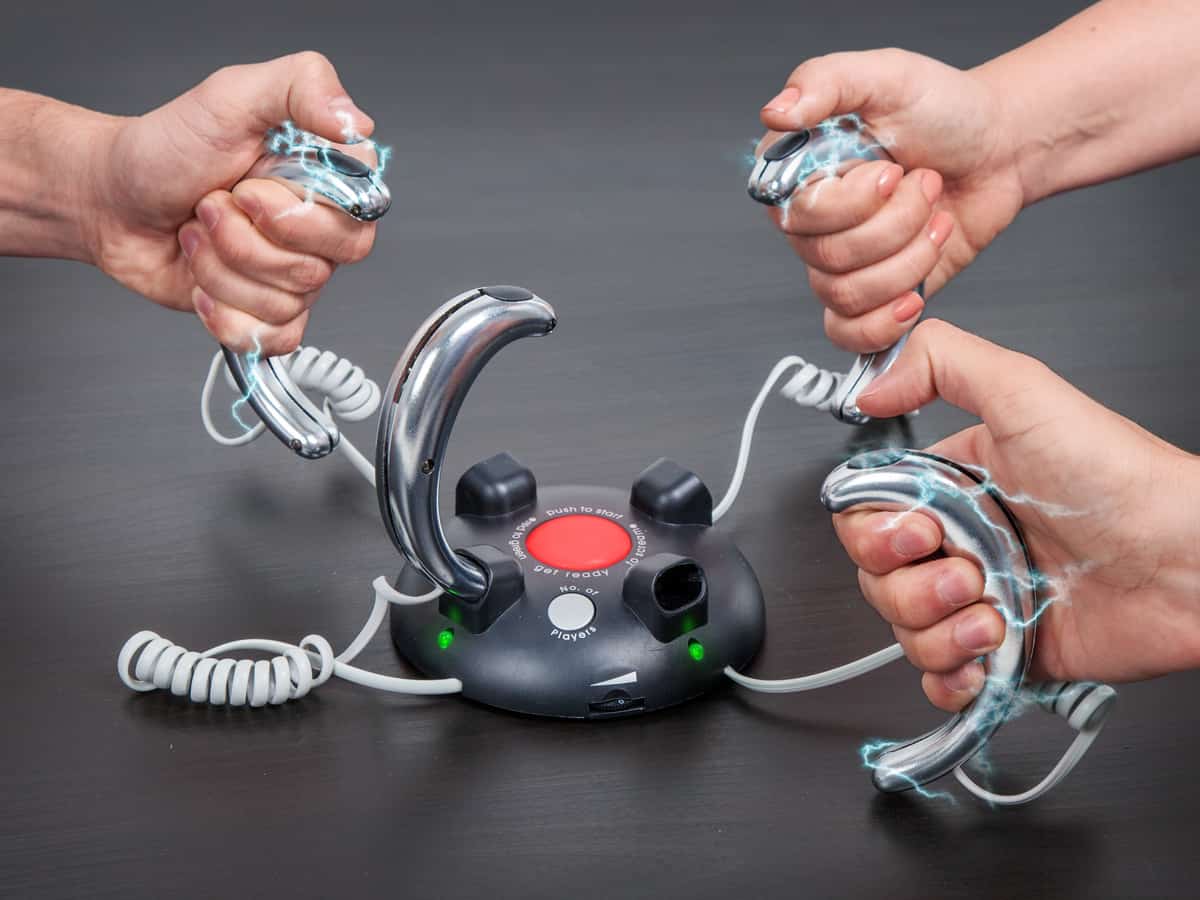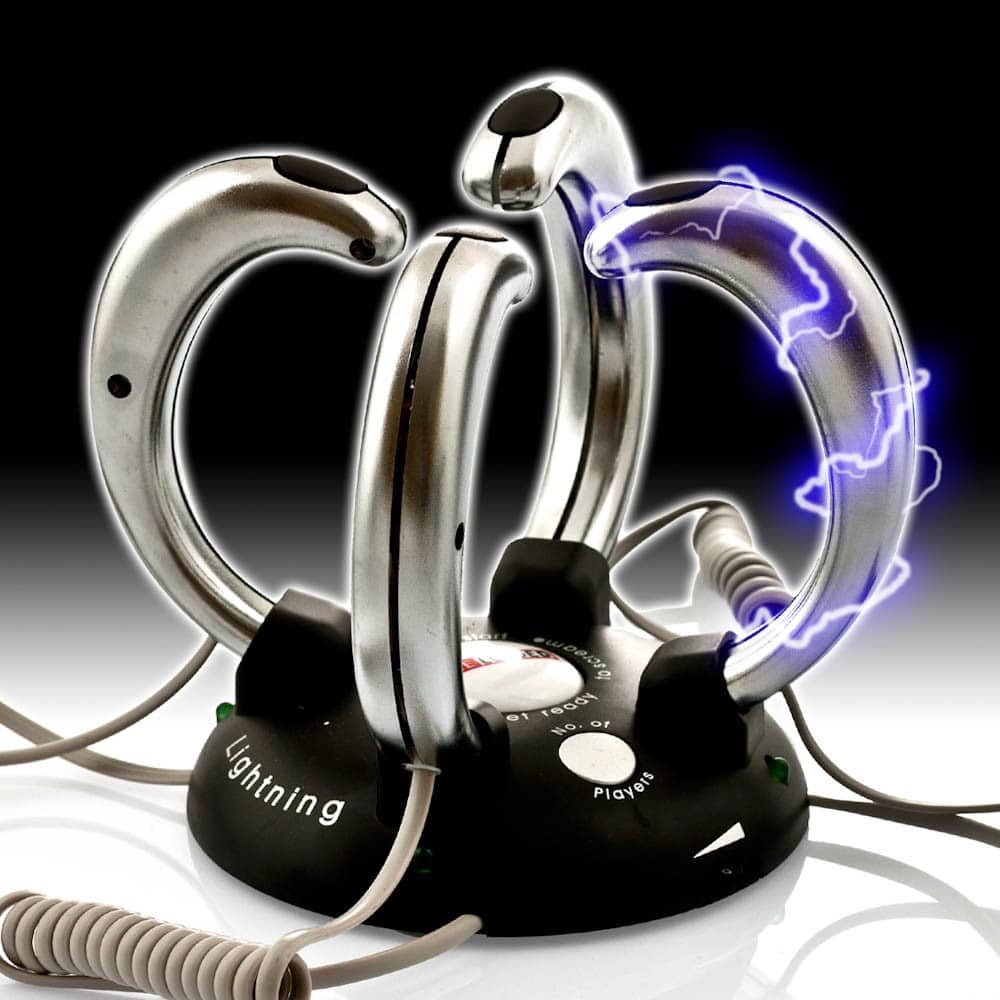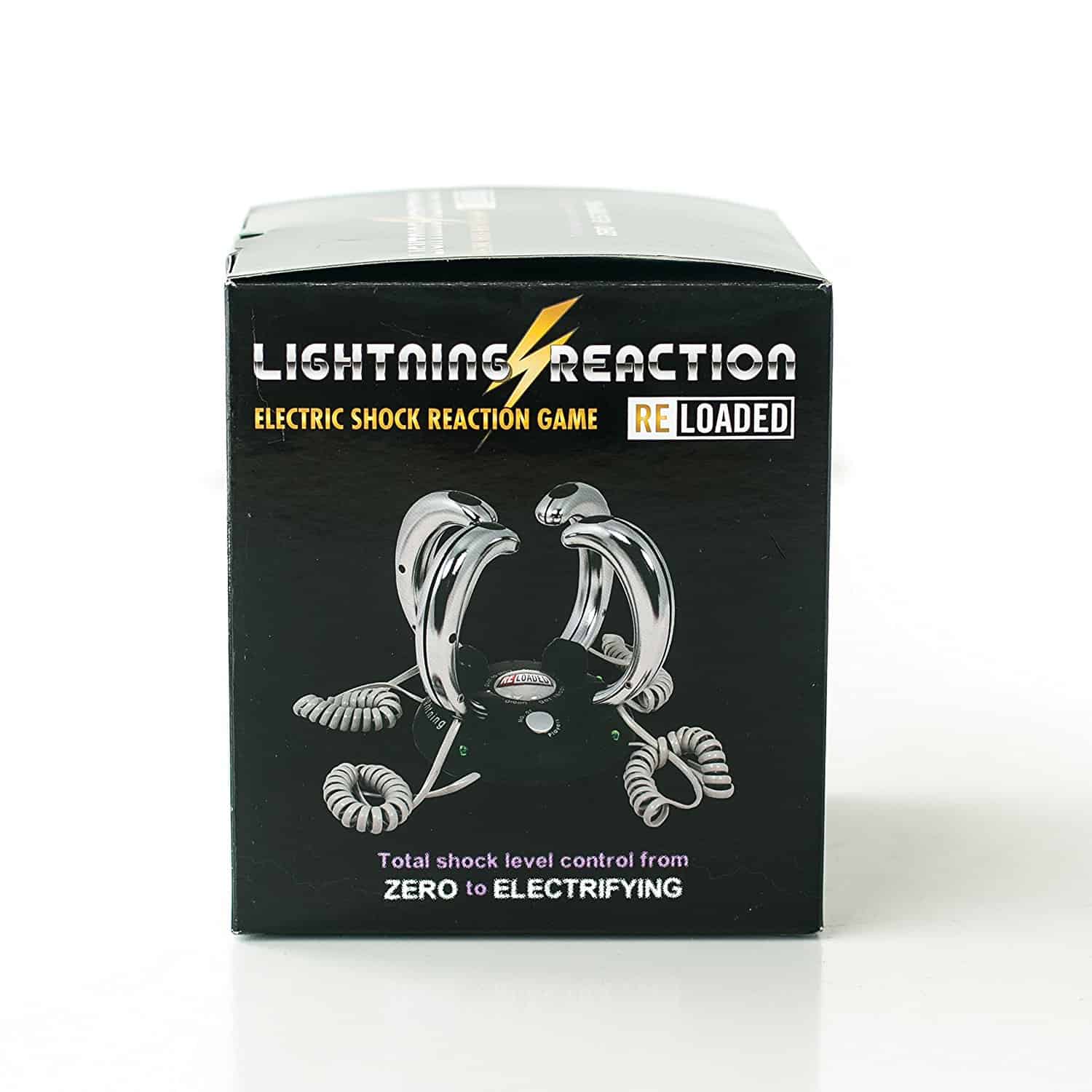 Lightning Reaction Shocking Game [Review 2020]
Want to shock your friends? This game is perfect! Give each of them a handle and let the fun begin. The one with the slowest reaction time gets zapped! If you love to prank, this is a fun way to laugh at your friends' expense. Perfect for an electrifying time at your next party!

Features
Requires 3

AAA batteries

(not included)

2-4 Players

Suitable for ages 14+ years

3 Shock levels
Dimensions
9.5 x 6 x 6 inches

12.8 ounces
It's shocking how good this game is!
Challenge three of your mates to this game of reacting. Be the fastest or get mildly tortured. You can prove once and for all that Brian has the slowest brain in your group of friends. Ahh Brian. He tries so hard, but he's just so stupid.
Now, I'm not one to promote competitive drinking so I won't. But now that I've put that idea in your head you can mull over it and consider the consequences.
DON'T PLAY THIS UNDER WATER.
Seriously though, this game is addictive. You know how eating spicy food makes you want to eat more spicy food? It's the same with this. The endorphin run you get for a mild tasering is truly unique and highly recommended.
Also good products
Sale
Bestseller No. 1
Lightning Reaction Reloaded - Shocking Game
HOW IT WORKS: Each player grabs a handle from the base. Press the button in the center, watch the red light blink and listen to the suspenseful music play. Wait for it…..when the red light turns green GO. Press the trigger button as quickly as possible. Be the last to react and get the electric shock.
OBJECTIVE: To have the quickest draw and best timing of your opponents. Lightning Reaction Reloaded guarantees hours of fun and laughs as you and your friends get zapped.
FEATURES: Lightning Reaction Reloaded has a variable shock control – Low, Medium and High. How much electric shock can you take…very little or electrifying.
PARTY FUN: Add some zap to your next party or play shocking pranks on your friends with Lightning Reaction Reloaded. Bust out this shocking game for an electrifying good time.
INTENDED USE: Lightning Reaction Reloaded is an electric shock game for teens and adults. It is not intended for use for children under 14 years of age. Requires 3 AAA batteries – NOT INCLUDED.
Bestseller No. 2
Hermitshell Hard EVA Travel Case for Shocking Game (Only Case )
Hermitshell Hard Travel Storage Carrying Case
Protect your favorite device from bumps dents and scratches
Made to fit Shocking Game
Material:EVA ; Color: Black; Inner Size: 4 x 2.5 x 2 inch
For sale is case only (device and accessories are sold separately)
Bestseller No. 3
Sale
Bestseller No. 4
Shocktato Party Game - The Hilariously Funny Game of Shocking Potato
SHOCKING FUN PARTY GAME - Shocktato is a patented electrifying shocking potato game for 2 or more players taking Hot Potato to the next level. Features 3 modes & a music only option for small kids.
3 GAME MODES: Extreme, The silence is freaky, be ready for a shocking finish. Normal, when the music stops, prepare to the shocked! Lame, For the weak at heart! Only music.
DIRECTIONS - Turn it on with the on button. Then choose the game mode and hit start. Toss it around to see who has the best reaction to the jolt and get ready to laugh.
OBJECTIVE - Select the game mode, press start, and pass the potato as fast as you can so you can avoid the shock. We guarantee a laugh out loud good time. Popular game for teens and adults.
EXTREME SHOCKTATO PRANK - Turn on the Shocktato, select extreme mode, choose an unsuspecting target and hit start. Share with all your friends! Makes a great birthday or party activity.