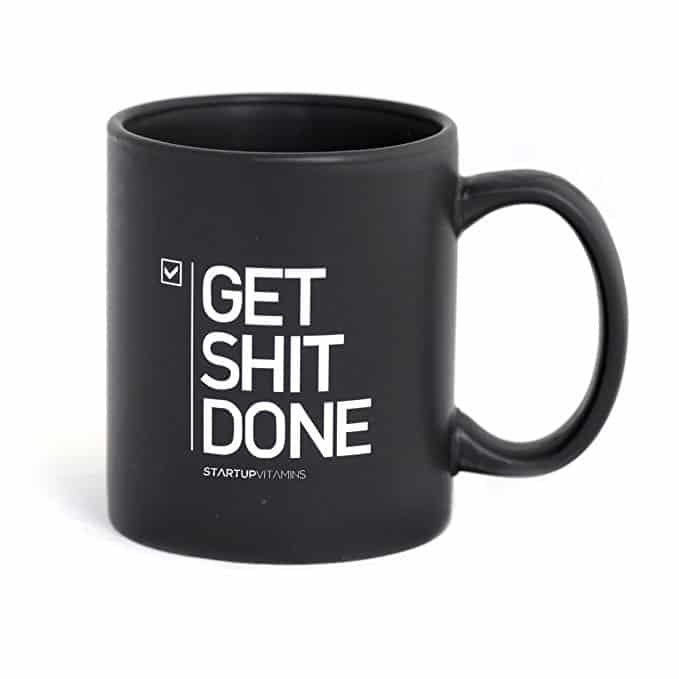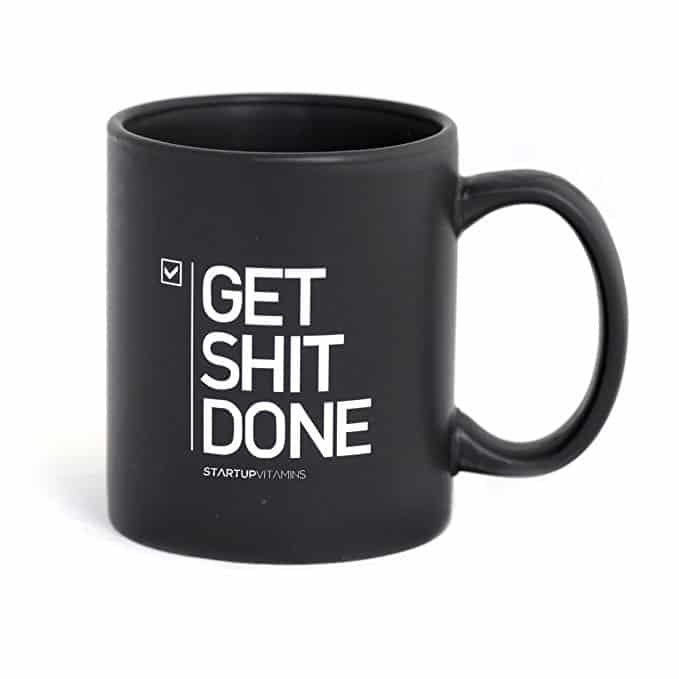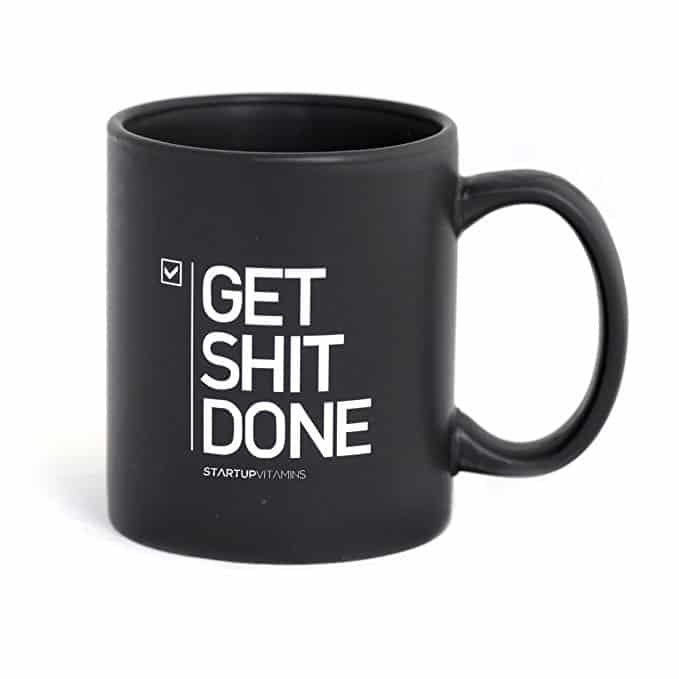 Get Shit Done Coffee Mug [Review 2023]
It's not procrastinating if you're drinking coffee – it's procaffinating! Lame jokes aside, this mug is the perfect gift for any lazy coffee lover. It will give you a productivity boost – if you're okay with taking orders from a mug. So quit procrastinating – get shit done!

Features
Microwave and dishwasher safe

Matte ceramic

Printed in USA
This is a mug. You know mugs, right? You use them to drink hot drinks out of. Here's a little industry secret though… you can also drink cold drinks out of them.
But most mugs are boring and have boring things like "World's Best Dad" on it. I question the validity of whatever study found out who the world's best Dad is. Some mugs don't even have any words at all on them! Pathetic!
Not only does this mug have words on it, one of those words is a swear word.
You can stick it to the man with this Get Shit Done mug. The beauty of it is that, even while containing a swear, the message is a good one. You should get shit done. Both literal and metaphorical as well. Stay regular everyone.
Also good products
Bestseller No. 1
Sale
Bestseller No. 2
Sale
Bestseller No. 3
Novelty 15oz Ceramic Tea & Coffee Mug for Your Mom, Dad, Sister or Brother; Funny and Cool Christmas, Birthday, Anniversary, Holiday or Graduation Gift
TOP QUALITY 15OZ CERAMIC COFFEE MUG. This cute (and funny) mug feels great in your hand. The ceramic is strong and durable so your new daily fave won't get chipped. And at 15oz, this mug holds a lot of coffee, tea or cocoa. (Unlike those tiny 8 ouncers.)
COOL, FUNNY, GIFT FOR ANY OCCASION. Gift this mug to your secret santa at the office party. Or give it to your mom, dad, brother or sister as a motivational holiday gift. Or to your boss as a great birthday present. Or to any male or female coworker as a fun novelty gift. Or use it for an unusual present for grandma, grandpa, your quirky cousin or that hard-to-buy-for friend.
MOTIVATIONAL MESSAGE THAT DOESN'T GET SCRATCHED UP. Who wants scratches ruining their cool morning vibe? Not us. That's why we fired your mug in a kiln at up to 1350 degrees Fahrenheit. This keeps it looking great even if you use it every single day. Plus the text is printed on both sides so you never have to stare at an annoyingly plain white mug.
GREAT SIZE FOR ANY TIME OF THE DAY. Is this mug great for a hot cuppa joe? Yes. What about your evening hot chocolate? Yes! At 15 ounces, this fun unique mug is large enough so you don't have to go back for seconds. (Unless you want to.)
DISHWASHER AND MICROWAVE SAFE. You don't need to worry about hand washing this mug! It's designed for everyday use. Or three-times daily use. And you can microwave it or stick it in the dishwasher and it will stay awesome. Like you.
Bestseller No. 4
You're Awesome Keep That Shit Up Mug - Gag Gift Idea - Funny Sarcastic Joke Adult Humor - Perfect Work Appreciation Gift, Employee, Boss, Coworkers, Birthday 11oz Ceramic Coffee Mug - by Funnwear
COFFEE/ TEA MUG WITH A LITTLE HUMOR: It doesn't matter how much a present costs - it's the thought that counts. What better way to express your thoughts to your loved ones than gifting them with this beautifully crafted piece of art. Our mugs are thoughtful, funny, humorous, lovable and an affordable gift for any occasion. The new ceramic coffee mug displays You're Awesome Keep That Shit Up on both sides so you can together have a laugh over your coffee.
THE LANGUAGE OF SARCASM: This mug will allow you to share your sense of humor and personality with the world. As you have your favorite morning beverage, along with it comes the joke of the day. In the afternoons, have a more relaxing drink of your preference. Whether it be your home or the office, you can use it for yourself or as a special gift for colleagues, members of your family or for your friends. A plethora of jokes is literally in the palm of your hands.
PACKAGED WITH CARE & GUARANTEED SATISFACTION: We package all mug sets with love to ensure its safe delivery to you with no damage. The mugs are constructed of ceramic with excellent quality. We are confident in all materials and the craftsmanship of each mug; therefore, we stand behind each product 100%. If you encounter any defects in the products, our friendly customer service team is here to help find the best solution for you.
LONG-LASTING QUALITY: The mug is made up of strong ceramic stoneware that has a smooth scratch-resistant finish. The imprint located on the surface of the mug is made to keep its shine without fading. This mug is ideal for those who are left-handed and right-handed due to having dual printed sides for the You're Awesome Keep That Shit Up design. Presenting our mugs as a special gift is a great way to show your loved ones just how much you love and appreciate them.
SAFE FOR MICROWAVE AND DISHWASHER USE: Each mug is constructed to hold up well when used in the microwave or dishwasher. No matter the temperature, hot or cold, the designs will not fade or peel after continued use. Our 11oz mugs are the perfect gift choice for: Special engagements, Honeymoon, Christmas, Valentine's Day, Wedding anniversaries, and Birthdays. Original Artwork: Artwork is property of FUNNWEAR and may not be used without permission FUNNWEAR. All Rights reserved.