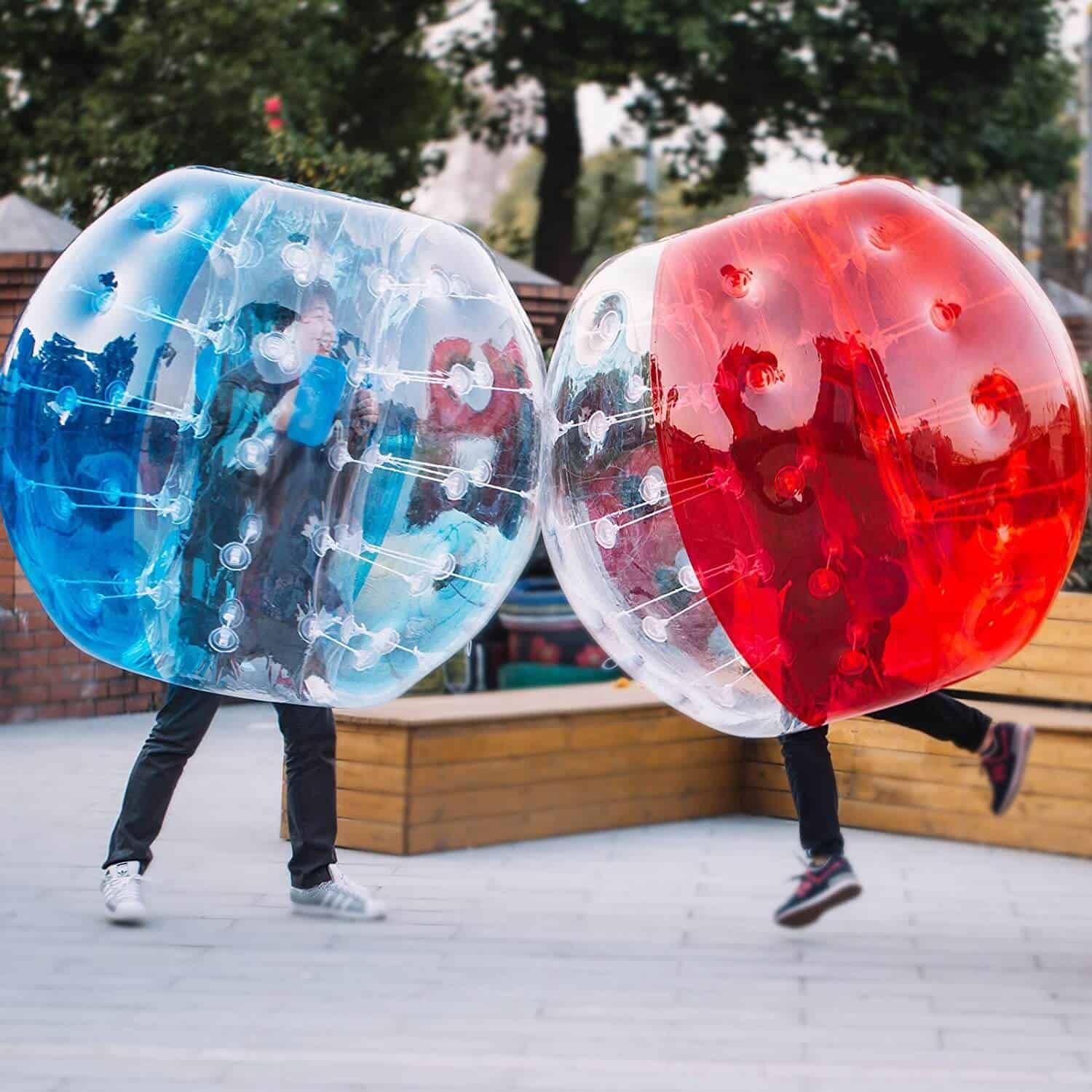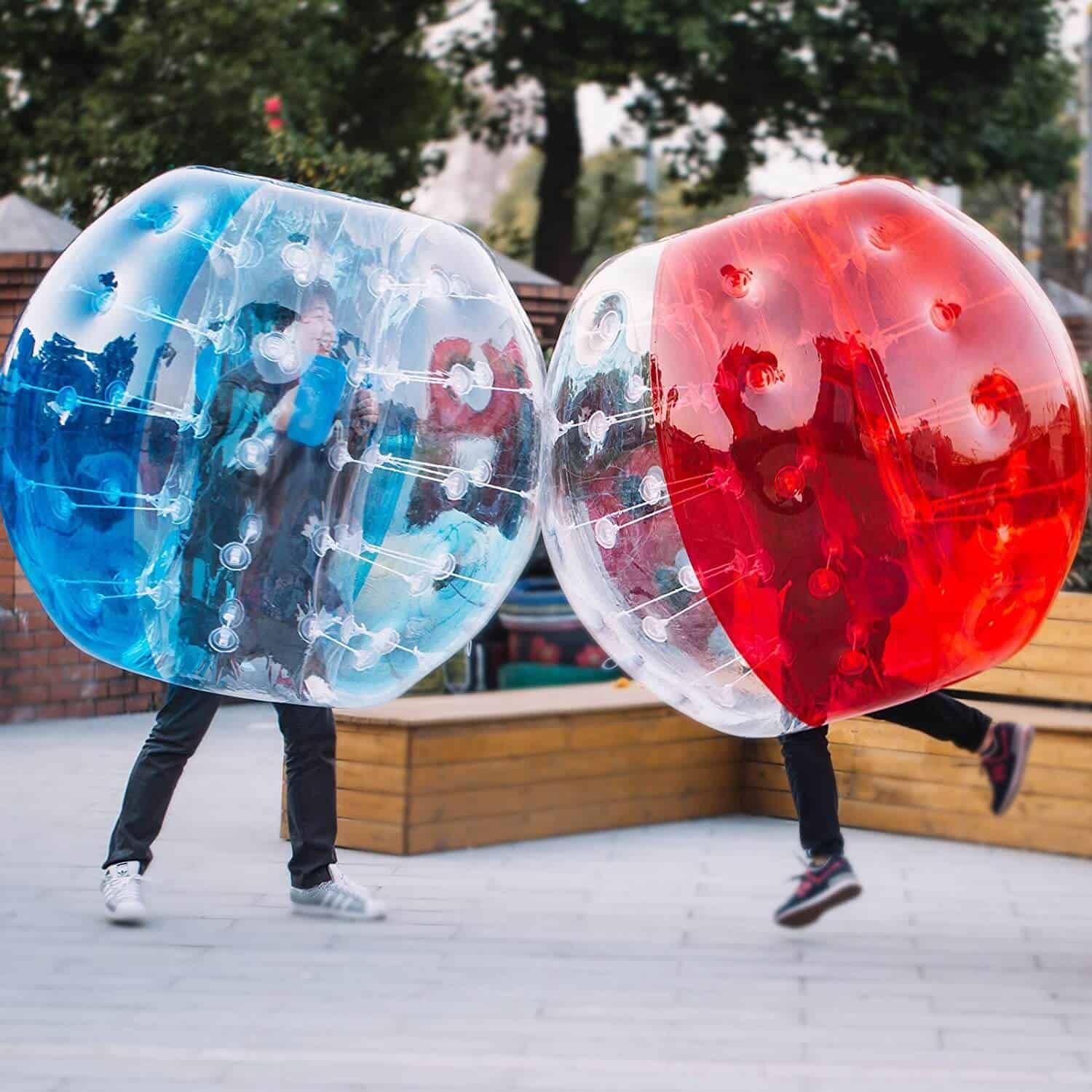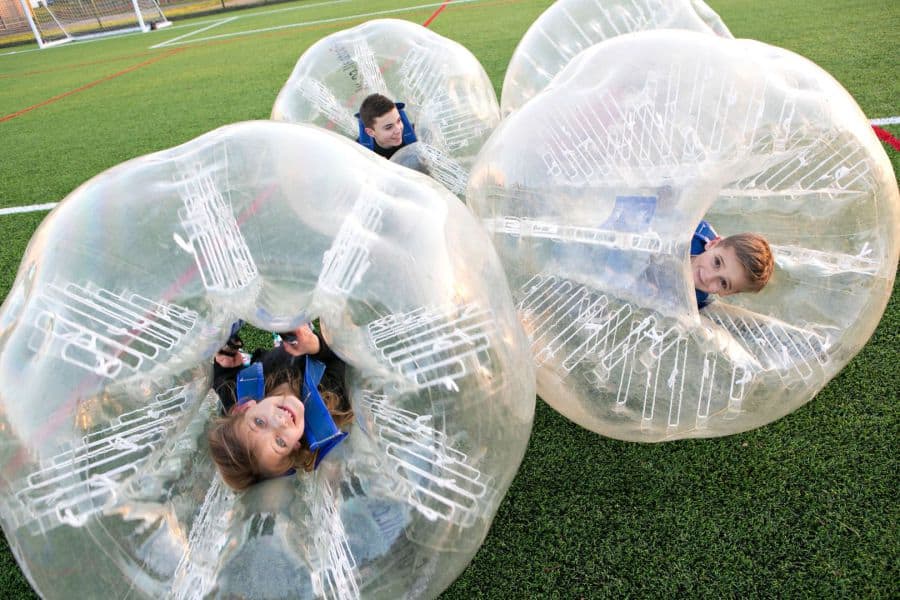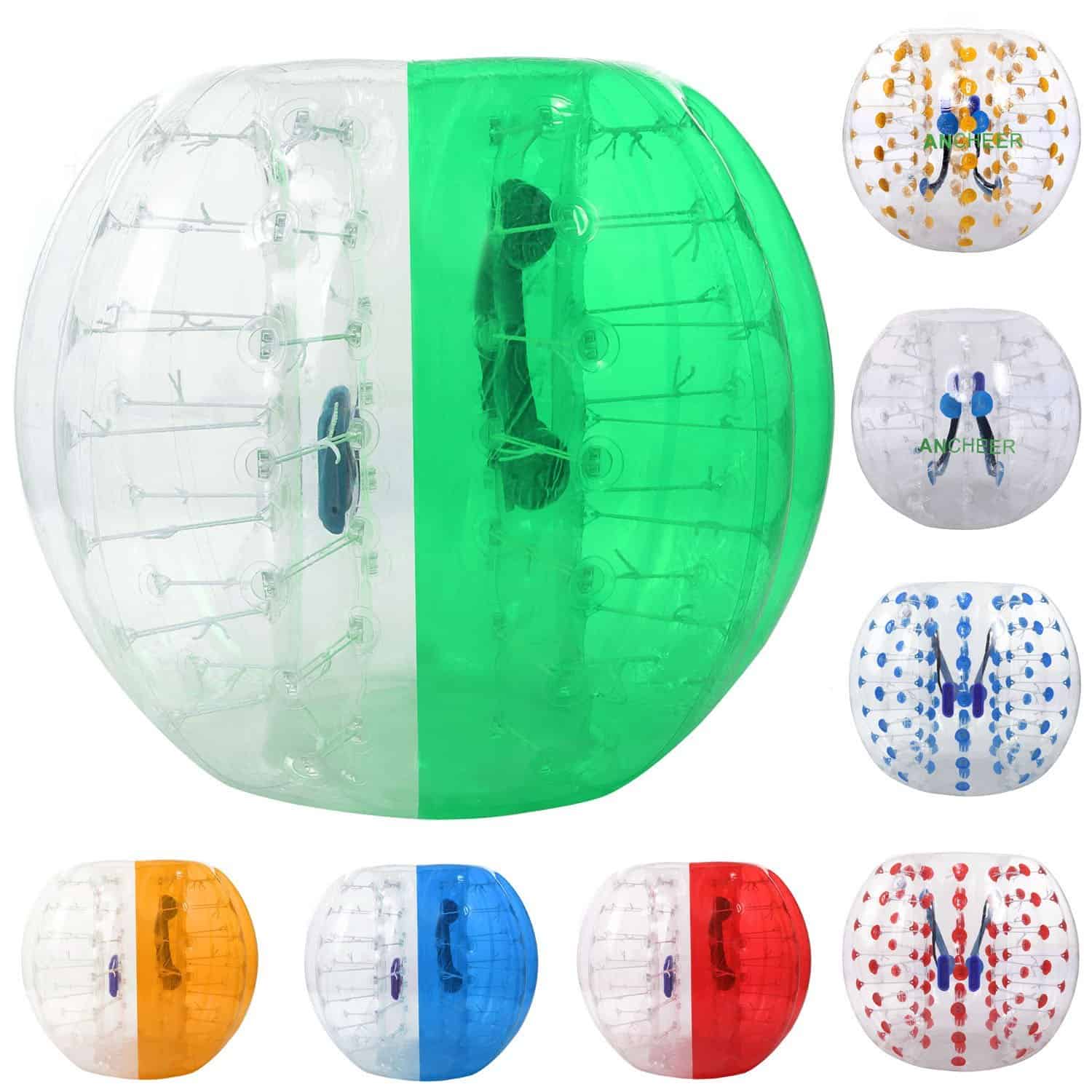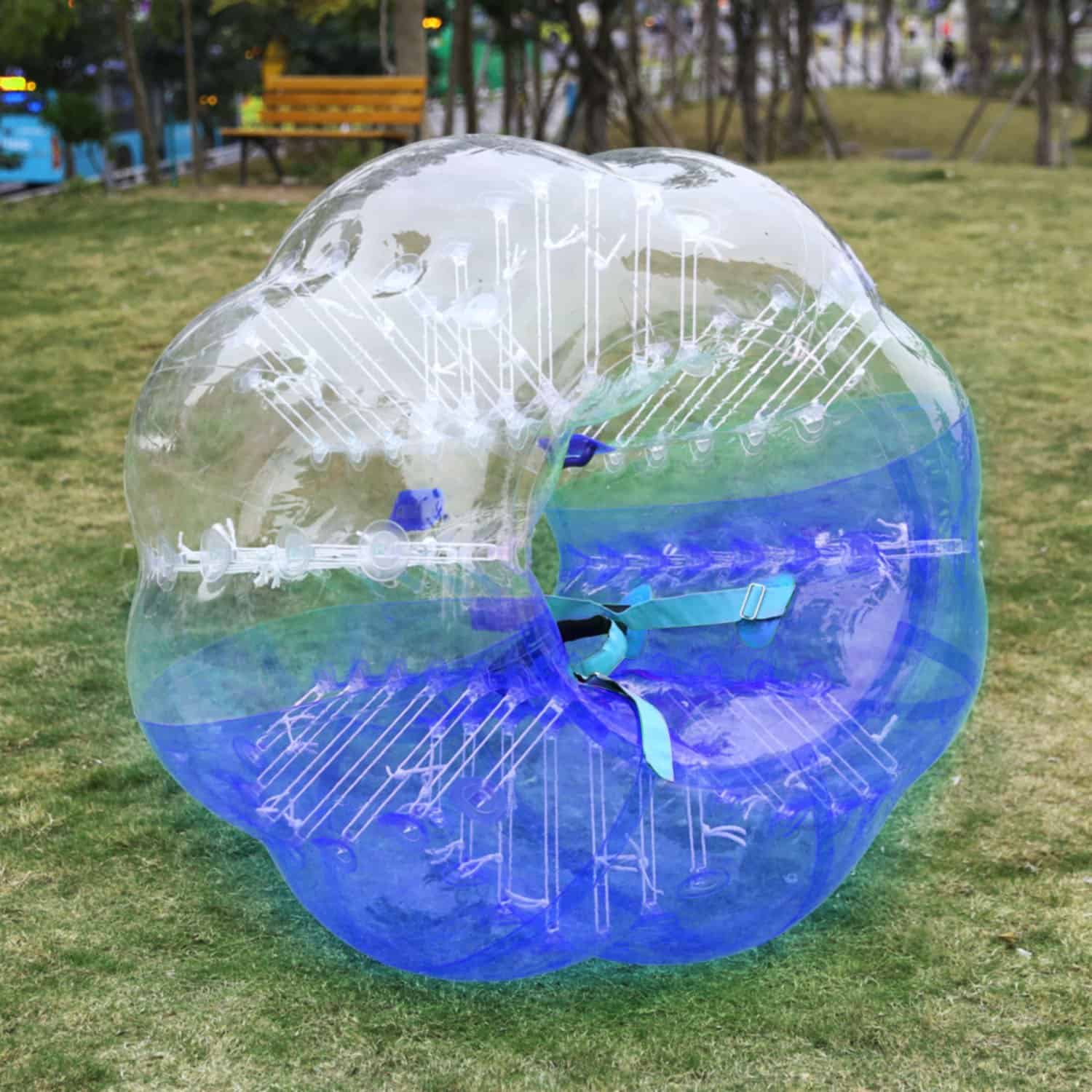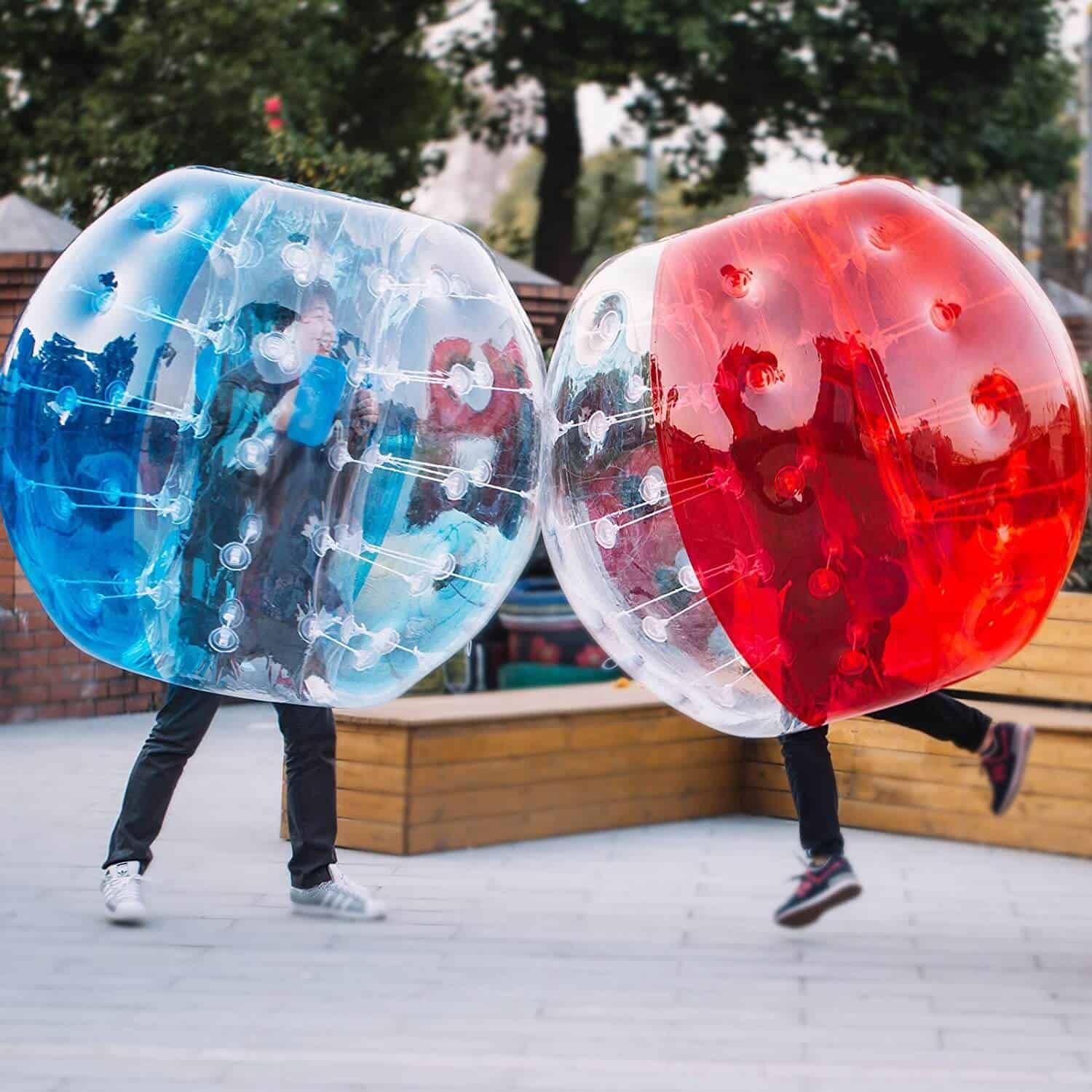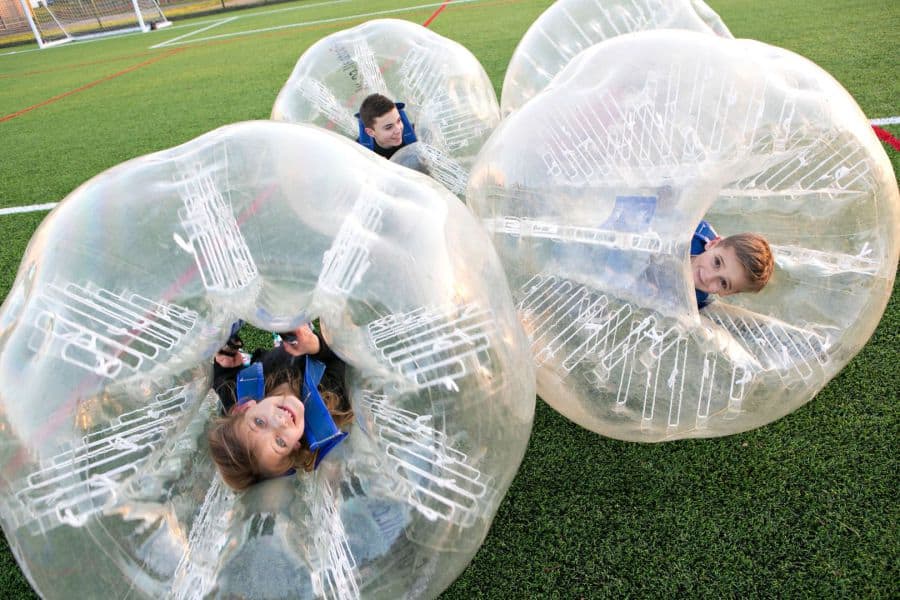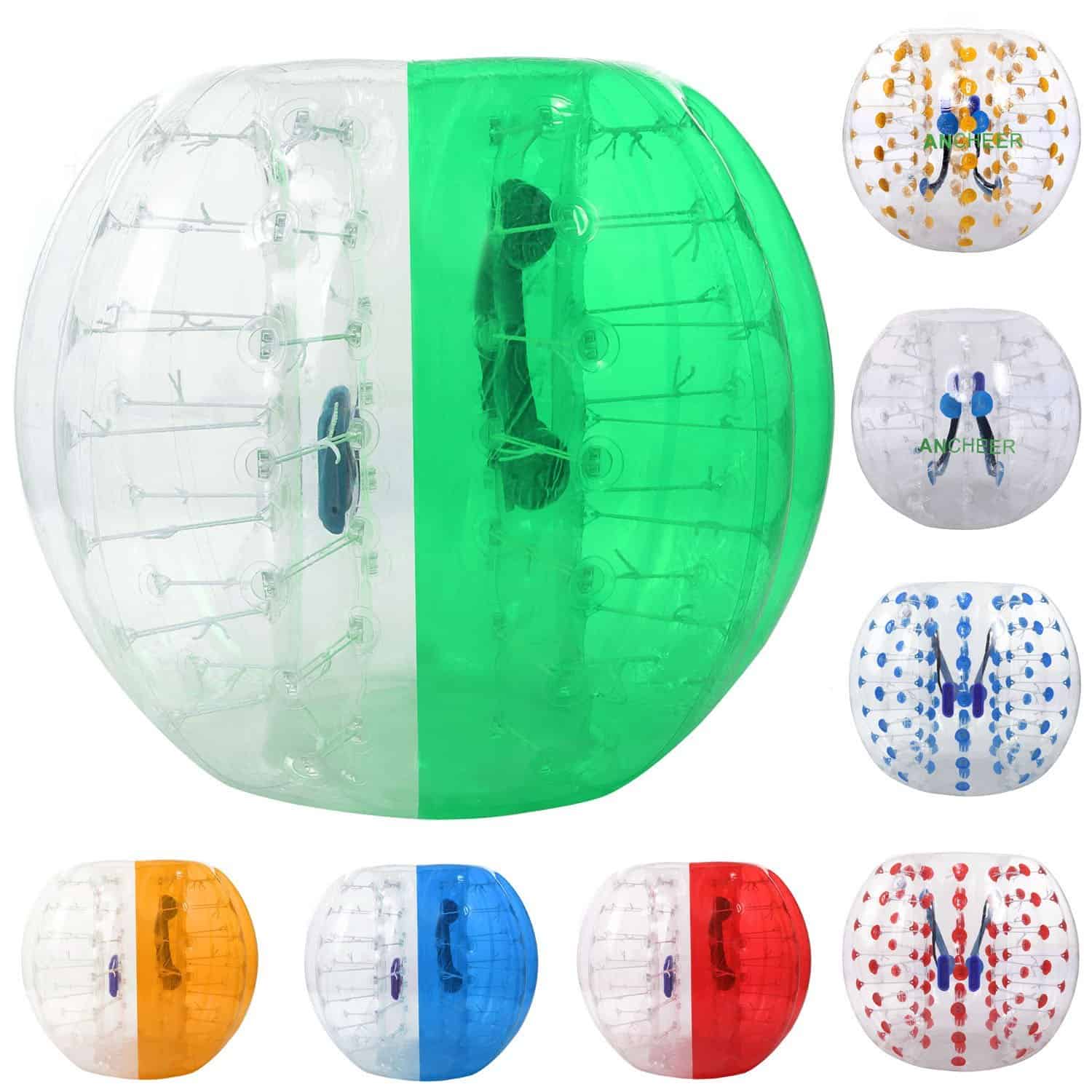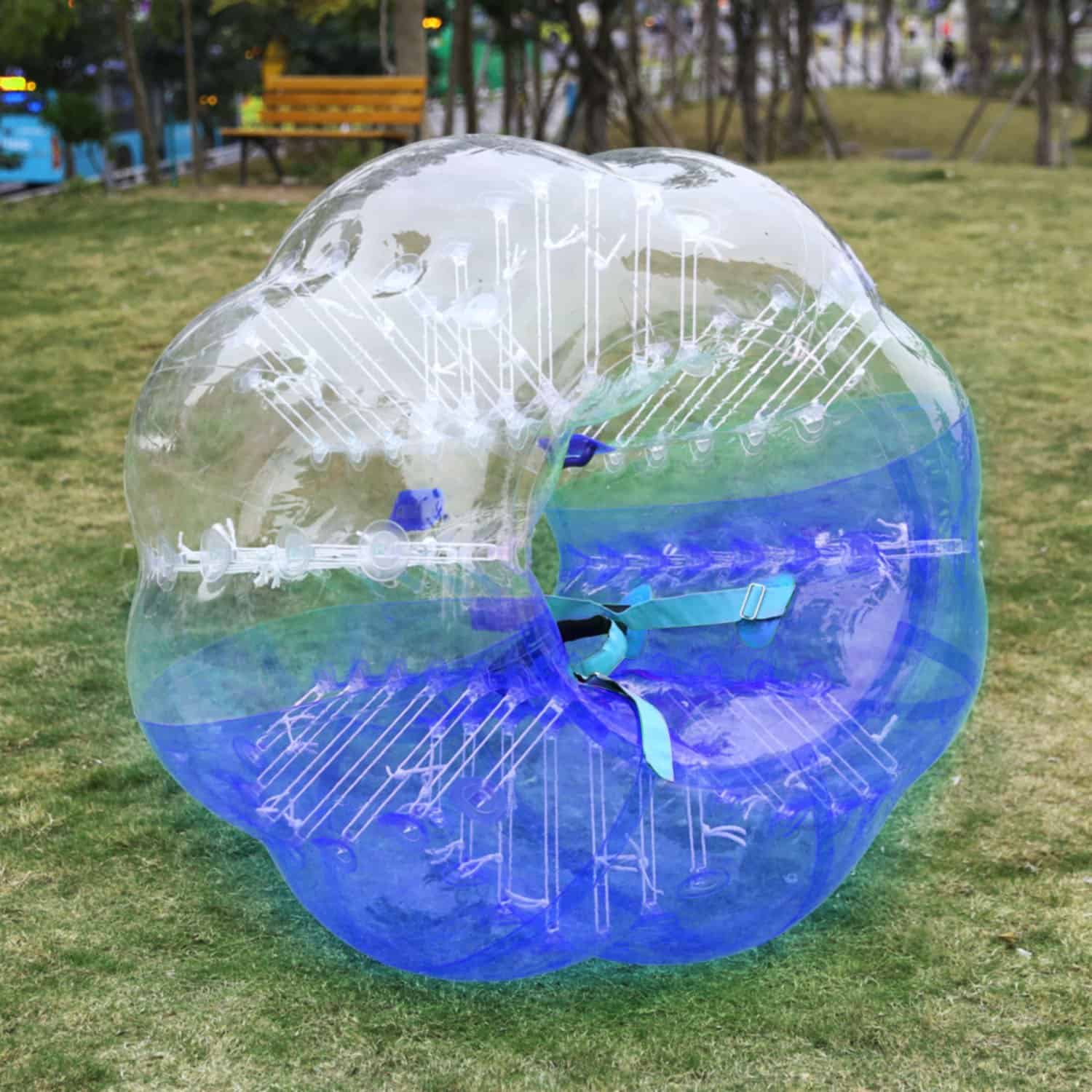 Human Hamster Ball [Review 2020]
You're an adult now, so it's high time you stopped being jealous of your hamster. And the best way to go about it is to, of course, get yourself a giant hamster ball. This one is durable, suitable for both kids and adults, as well as equipped with handles and shoulder straps. That should show Buster!

Features
Available in 9 colors

UL GREENGUARD approved

Inflates with pump in 1 minute

Supports up to 200 pounds

Available in 2 sizes
Dimensions
4 foot size: Suitable for children (ages 8+) with normal size




Height: 3'9′-4'9" Weight: 60-100 lbs(normal size)

5 foot size:: Suitable for teenagers, adult with normal size




Height: 4'9"-6'2′ Weight: 100-180 lbs
Normally when you run into another human at high speed, you're both not going to end up in a good way.
But with these inflatable ball costumes it turns stupidity into fan!
These impact balls let you run into each other, knocking each other to the ground, and ;etting you get back up to do it again. It's like that song Tubthumping by ChumbaWamba.  Remember them? They were great.
Imagine playing this game to that song! It'd be amazing. I'm going to do it. I highly suggest you get your friends together, buy them all one of these and then go out and have a bash.
Such fun! It's like being your own personal bumper boat, but less wet and more awesome.
Also good products
Sale
Bestseller No. 1
Bumper Balls for Adults Bubble Soccer Dia 5 ft Human Hamster Ball, Giant Inflatable Bubble Soccer Ball Outdoor Activities for Adults
⚽ ULTRA THICK AND DURABLE: BATURU Bumper balls are made of 0.8 mm ultra thick PVC, non-toxic and odorless w/ excellent wear resistance, tear resistance, better sealing performance, and ductility.
⚽ EASY TO INFLATE: You can inflate the bumper balls with the electronic air pump, compressor and air mattress pump for minutes.(PUMP NOT INCLUDED)
⚽ GREAT BEARING CAPACITY: BATURU human hamster ball supports weight to 250 lbs. Much more durable and safer than you think!
⚽ COMFY& ERGONOMIC DESIGN: The handles fit the shape of a human finger and it softer than the previous one and make it more comfortable to hold. Avoid friction damage to the hands.
⚽ SPECIFICATION: Bubble soccer Dia: 5 ft/1.5 m, Inside Dia: 1.9 ft/0.58 m, height: 4.1 ft/1.25 m. Suitable for normal size player: Height 4.8 ft to 6.3 ft, Weight: 100 to 250 lbs. 60 days no risk return.
Bestseller No. 2
LEXiBOOK PA100 Giant Inflatable Ball, 51", 1 Entry and 1 Exit for Greater Security, Transparent Windows to Improve Visibility, Heavy-Duty, Safe Plastic for Safer Play, Red
A 51" giant ball for loads of family fun ! Encourages fun physical activity, outdoor play and exercise!
Use the ball alone or in group, it will be perfect for parties, kids will love this "little house" which can roll
1 entry and 1 exit for greater security, 11 transparent windows
Can support weights up to 150Lbs/68 kg, made of thick and robust PVC Vinyl !!
Crawl inside for hours of fun
Bestseller No. 3
Hoovy Giant Fun Inflatable Roller Outdoor Activities for Kids and Adults Families Playtime 51" Diameter
ROLL AROUND - This giant Inflatable Fun Roller Wheel is made for kids and even adults, use it to play games, interact with your families, or simply let your kids roll around in your backyard.
SAFE AND DURABLE - Hoovy's Giant Fun Roller is made of the best high quality non-toxic and safe materials! Let your children enjoy this awesome toy without worrying about hazardous chemicals or materials.
EASY TO USE - Giant Fun Roller is easy to use, all you need to do is blow it up (blower not included) and in less than a few minutes, your roller will be ready for outdoor use and start rolling on down.
GREAT FOR ENTERTAINMENT - Our Giant Fun Roller can be used by kids and adults which makes it a huge hit at your events! Use it at a family gathering, a bbq, your kids birthday parties and more! This is the perfect entertainment to stay active when your kids are home from school during the summer.
WARRANTY - With Hoovy, you don't have to worry about a thing. All of our items come with an excellent warranty! IF you have any issues with your purchase you can contact us and we'll take care of the rest!
Bestseller No. 4
YUEBO Bumper Bubble Soccer Balls for Kids/Adults, Body Zorb Ball Dia 4FT/5FT(1.2m/1.5m)
►YUEBO BUMPER BALL- Made of 0.8mm ultra thick PVC, non-toxic and odorless. Featured with excellent wear resistance and tear resistance. Design with 7 fasteners a row, better sealed for long-term use.
►SAFE DESIGN- YUEBO bubble balls supports weight to 250 lbs. The bubble ball design with 2 handles and 2 adjustable shoulder straps which make it more durable and safer to play.
►EASY TO INFLATE/DEFLATE- You can inflate/deflate the bubble balls with the electronic air pump, compressor or air mattress pump within minutes.(PUMP NOT INCLUDED)
►SIZE GUIDE- Zorb Ball with two size for choice: 4FT/5FT, suitable for player height(3'9''-6'3'')& weight(60-250 lbs).
►WIDELY USE- Perfect for birthdays, company picnics, school events, and more. Enjoy the freedom to bounce, flip, roll over and bump.