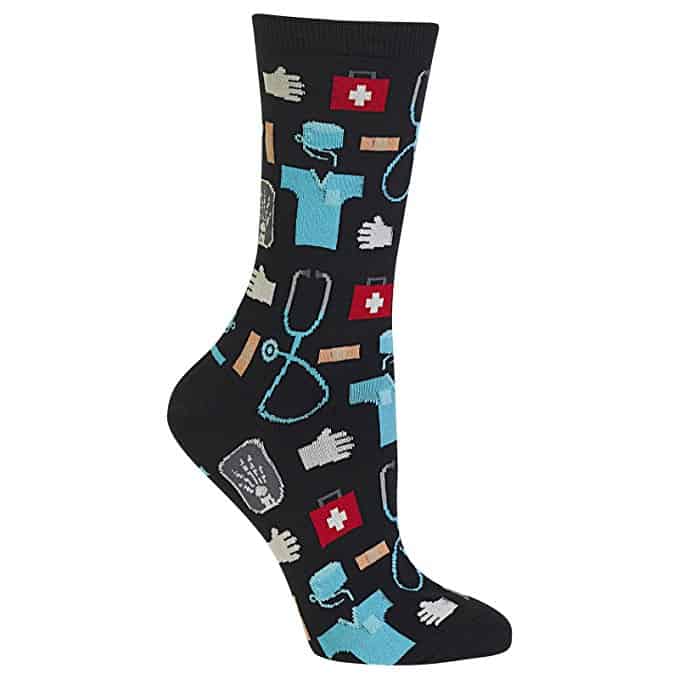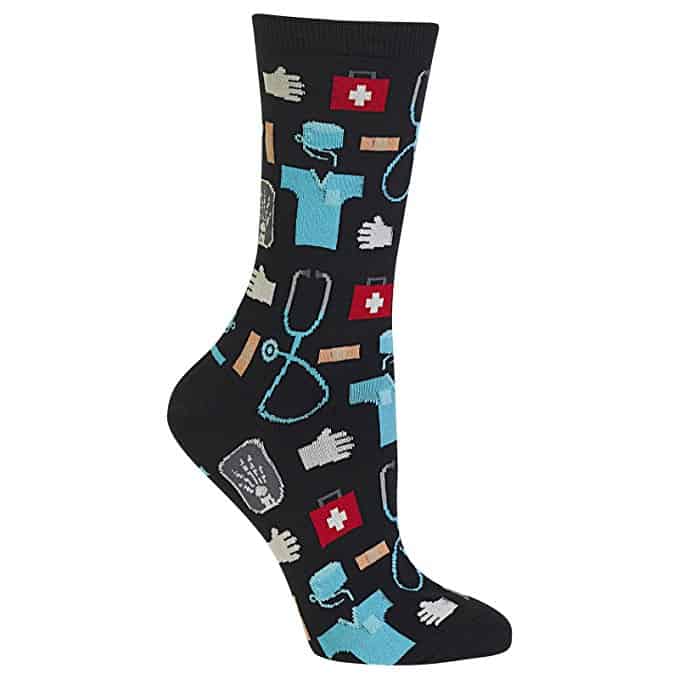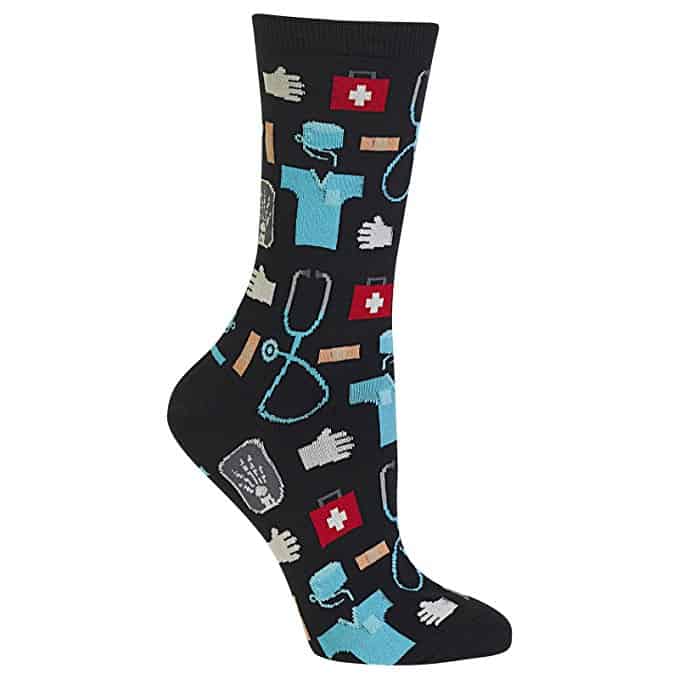 Women's Medical Socks [Review 2022]
You take off your shoes and no one can tell by your socks that you're a medical worker? No can do! Featuring little stethoscopes, cute first aid kits, and tiny bandages, these socks get your message through loud and clear. Also, it doesn't hurt that they're pretty comfy.

Features
Women's Shoe Size 4-10.5

50% Nylon, 47% Cotton, 2% Spandex, 1% Rubber

Machine washable
You need a pair of this STAT!
These socks are perfect for the doctor/nurse/surgeon in your life. They are the sort of sock that provides comfort and support to those people walking the wards all day.
The sock features pictures of medical equipment to keep their mind on their job. You don't want your doctor to look down, see a picture of a Ninja Turtle on their socks and have their mind wander off into an underground sewer where four teenage turtles live and fight crime. You don't want that! That's weekend thoughts!
Keep their head in the game with these great socks. Or give them to a young person studying to be a doctor. It will help them get straight A's and glide into any specialty they want.
Also good products
Sale
Bestseller No. 1
Copper Fit Health Unisex Arch Relief Plus with Built-In Orthotic Support, Black
Each package contains 2 Copper Fit Health Arch Relief Plus Wraps
Our high-performance Arch Relief Plus is an adjustable compression band designed with built-in adaptive arch support. You can customize the level of compression band, wear it under or over socks, and with or without shoes to help relieve sore aching feet.
Copper Fit Health Arch Relief Plus is adjustable to fit most feet
Features a lightweight and breathable design with built-in adaptive arch support to provide therapeutic relief of the discomfort associated with fallen arches, plantar fasciitis and more
Care Instructions - Fasten Velcro Before Washing, Hand Wash Cold, Rinse Well, Air Dry Flat, Do Not Machine Wash, Do Not Bleach, Do Not Tumble Dry
Sale
Bestseller No. 2
Fearless Tape - Double Sided Tape for Fashion, Clothing and Body (50 Strip Pack) | All Day Strength Tape Adhesive and Gentle on Skin and Fabrics | Transparent Clear Color for All Skin Shades
✅ HOLDS CLOTHING STEADY - Fearless double sided tape will hold your clothing and hemlines comfortably against your skin or undergarments to keep your outfit refined, classy and elegant all day long. No more embarrassing slips, visible straps or sagging necklines. Each strip is 1/2" wide X 3" long.
✅ SAFE ON SKIN - Our special adhesive is designed to be skin safe and not cause irritation when applied directly to your skin. We use safe materials that are comfortable all day long, but also wash off easily, so you don't have to deal with annoying residue or unsightly glue marks.
✅ FABRIC FRIENDLY - Stop ruining your clothing and fabrics with holes from metal pins! Unlike pins, our double sided tape is invisible to everyone but you! There are no lumpy marks or lines that often appear with metal pins. Our adhesive is designed to not leave residue on your fabric after removal.
✅ MOVE WITH CONFIDENCE - Professional women and super moms are always on the go! That's why our tape is built to hold up to movement and real life use. No need to stand like a statue to maintain your perfect silhouette. Feel free and fearless in wedding dresses, prom gowns or stylish everyday attire.
✅ BE FEARLESS - Women, moms and teens all over the USA love our tape because they can be fearless with their outfits and personal style. We are so confident you'll love our tape that we have a 100% Money Back Guarantee on each pack we sell...join thousands of happy customers...Click Add-to-Cart Today!
Bestseller No. 3
Bestseller No. 4
AZMED Maternity Belly Band for Pregnant Women | Pregnancy Belly Support Band for Abdomen, Pelvic, Waist, & Back Pain | Adjustable Maternity Belt | For All Stages of Pregnancy & Postpartum (Beige)
Provides Gentle Support - AZMED's maternity belt gives support for pregnant and postpartum women who seek relief from hip, back, and pelvic pains as well as other common stretching pains experienced during pregnancy. The pregnancy belt provides the lift you need to keep up with daily activities while correcting your posture and supporting abdominal muscles.
Award-Winning - Azmed's maternity belly band is a proud winner of the Parent Tested Parent Approved Seal, one of the most-recognized consumer-led endorsements in North America
Relieves Lower Back Pain - This pregnancy belly band supports excess pregnancy weight to prevent straining your back by lessening spinal pressure effectively. The pregnancy support belt gives enough stretch and compression to reduce bladder pressure by distributing the baby's weight more evenly.
Made for Comfort - AZMED's maternity support belt is made from soft, lightweight, & breathable materials that will assure you are mobile & at ease throughout your pregnancy. Our pregnancy belly band also cannot be seen under clothing so you can walk, sit, and do all your normal activities while reducing pain.
Flexible Sizing: Our maternity belt comes in one size that is fully adjustable with a hook & loop closure to accommodate abdominal growth throughout pregnancy.