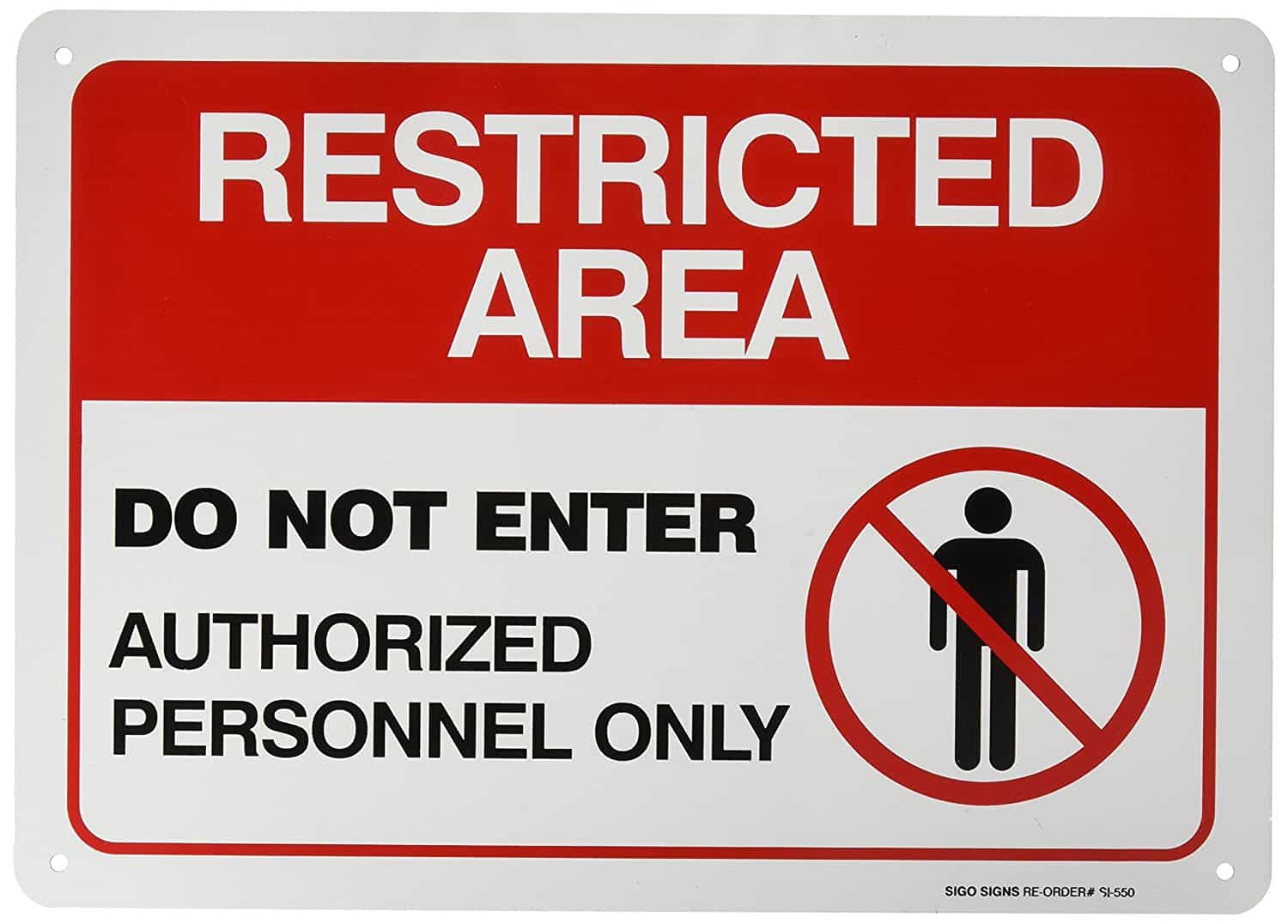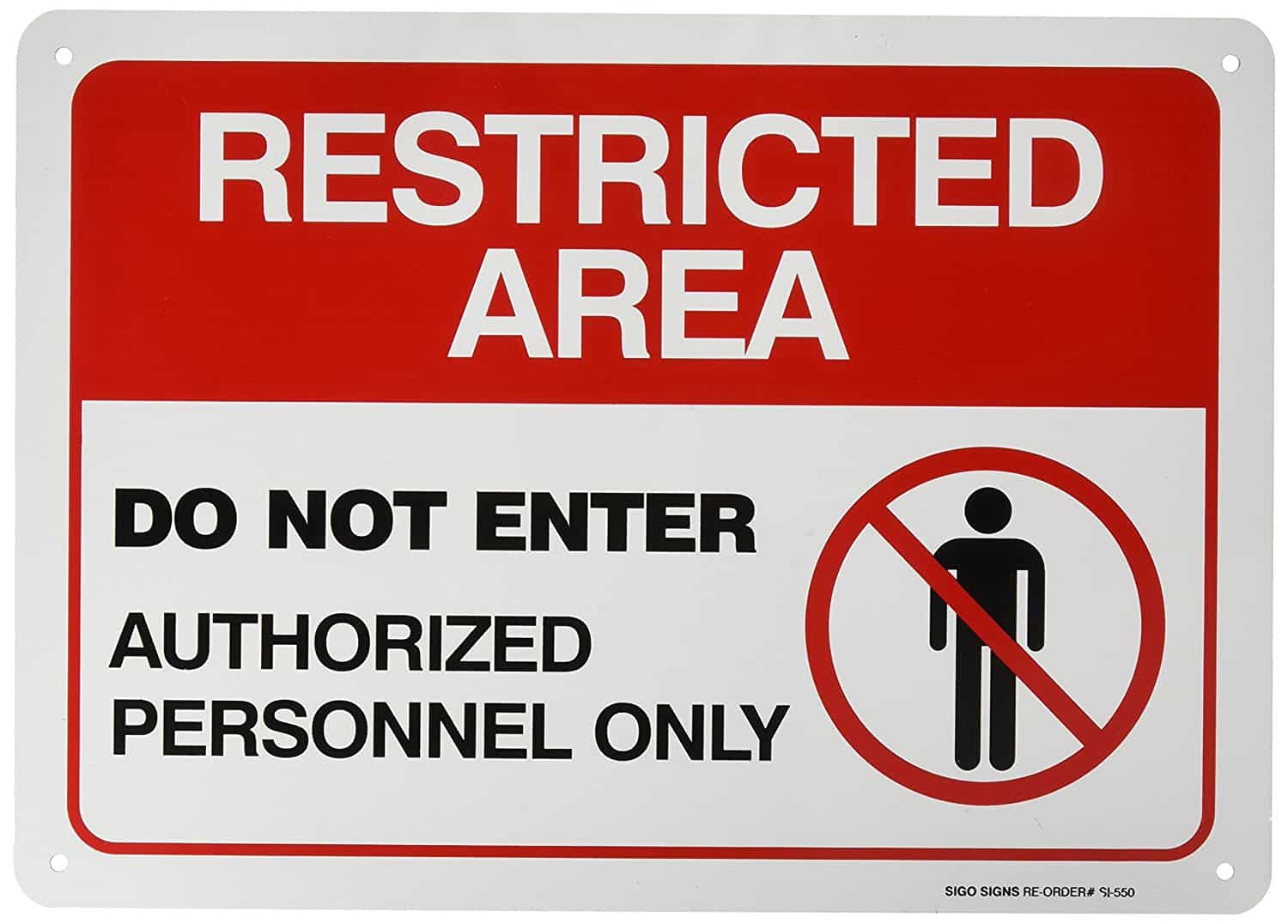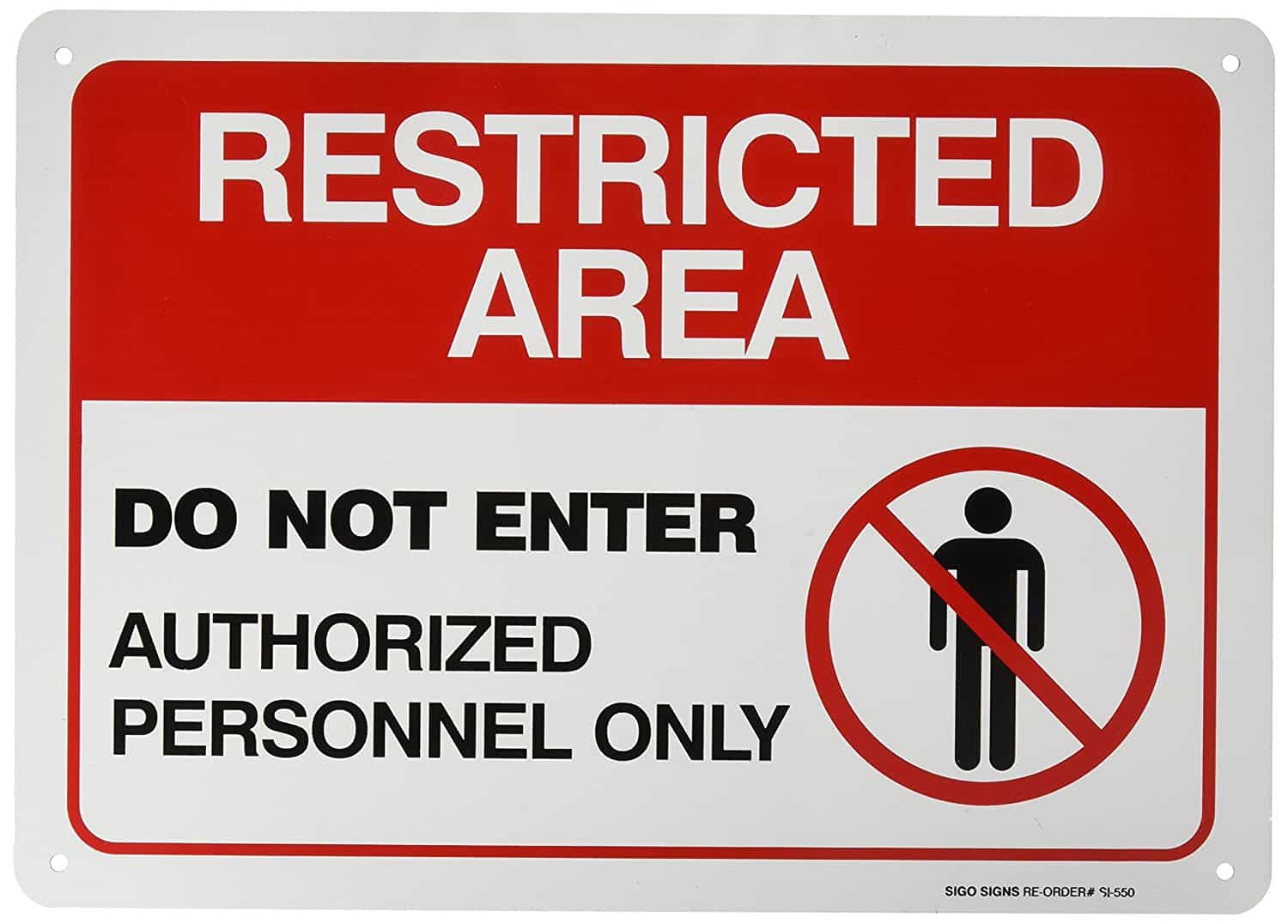 Sale
Sigo Signs Authorized Personnel Only Sign, Restricted Area Sign, Do Not Enter, 10x14 Heavy 0.40 Aluminum, Fade Resistant, Indoor/Outdoor Use, Made in USA
AUTHORIZED PERSONNEL ONLY RESTRICTED AREA SIGN - Authorized Personnel Only Sign, Restricted Area Sign, Do Not Enter Sign, 10x14 Rust Free Heavy 0.40 Aluminum, UV Protected, Long Lasting Weather/Fade Resistant, Easy Mounting, Indoor/Outdoor Use!
HEAVY-DUTY ALUMINUM - Our signs are manufactured using 100% rust free durable 0.40 aluminum, which will withstand many years of indoor or outdoor use. Sign has burr-free corners for safe handling, Made in the USA!
LONG LASTING, NO FADING - Sign is printed using high quality UV protected ink, which will ensure the graphics are protected from the sun and extreme weather and will not fade!
4 PRE-DRILLED HOLES FOR EASY MOUNTING Sign has pre-drilled mounting holes and can be easily mounted on every surface. Can be mounted with screws, nails, tie-wraps or wires!
PROFESSIONALLY DESIGNED - Our signs are professionally designed with eye catching and professional looking designs, easy to read. Great for your home & business!
Features
Lasts up to 7 years outdoors

High grade aluminum

Pre-drilled mounting holes
Dimensions
5.6  ounces

10 x 14 inches
Do you have a secret lair? Then this is the sign for you. Put this on the door of your secret lair and nobody will bother you.
These signs are powerful. Put one up on your treehouse. Nobody will bother you.
Got a favourite toilet at work? Put one of these up outside and enjoy pooping in peace a quiet.
Put one on the door of your shed. Or bedroom if you have trouble warding off the thousands of partners who want to sleep with you.
Alternatively, if you live near a nuclear facility and you don't want you kids going in, put one of these on the door. The sign will ward off pesky children and keep them safe.
Also good products
Bestseller No. 1
Do Not Enter | Road & Street Sign | Controls Traffic | Engineer Grade | 3M Reflective Sheeting & Inks | Rust-Free Aluminum | Made in USA (24" X 24")
24" Aluminum Do Not Enter sign
EFFECTIVELY CONTROLS TRAFFIC: The DO NOT ENTER sign is a regulatory sign that is used when traffic is required to stop. Its easily recognizable red square shape with white border and large white letters lets drivers know at a glance when to stop in a parking lot, on private property, or on the roadway. If entry is prohibited this sign should be visible to each lane of traffic.
DESIGNED TO LAST: This sign has been specifically designed for either indoor or outdoor use to meet all of your needs. In either condition, your sign is designed to last for 7 to 10 years, even with extreme hot or cold temperatures, due to our silkscreen process and 3M inks. This ensures roadway safety for years to come.
AMERICAN MADE QUALITY: To ensure that our signs meet the highest of quality standards, we manufacture them right here in the United States. Our STOP sign is manufactured using high quality, durable 5052 aluminum and 3M engineer grade 3430 prismatic reflective. The aluminum we use is 80 mil thick and treated to resist any corrosion or dust, ensuring longevity. The sign construction specifications are rated by 3M to last for at least 7 years without fading.
LEADING MANUFACTURER: Since 1985, Highway Traffic Supply has been a leading manufacturer and seller of MUTCD compliant traffic safety signs and supplies (including federal and state specifications). Besides STOP signs, we manufacture signs for no parking, tow away, handicap, private community, security, surveillance, and more! We are proud to deliver high end products by exceeding industry standards and specifications, all while manufacturing in the United States.
Bestseller No. 2
SmartSign - K-1307-EG-18x18-DNE "Do Not Enter" Sign | 18" x 18" 3M Engineer Grade Reflective Aluminum
3M AUTHORIZED. Official 3M reflective films and inks on durable, rustproof aluminum ensures that our signs meet all DOT requirements for outdoor parking and traffic signs.
DURABLE ALUMINUM. Heavy-duty rustproof aluminum has a 10 year outdoor durability rating backed by a 3M warranty.
ROUNDED CORNERS. Signs have rounded corners and burr-free corners for safe handling, longer life and a professional appearance.
INSTALLATION. All signs come with pre-punched and pre-cleared mounting holes for easy installation. Signs mount to U-channel posts, square or round galvanized posts, wooden posts and chain link fences.
LAMINATED. Graphics are protected from weather and abuse. Graffiti can be cleaned off. Laminated signs outlast competitive unlaminated or overcoated signs.
Bestseller No. 3
Do Not Enter Sign, 12x12 Rust Free Aluminum, Weather/Fade Resistant, Easy Mounting, Indoor/Outdoor Use, Made in USA by SIGO SIGNS
✔ HIGH QUALITY, LONG LASTING - We use only first-class materials to manufacture our signs. Made from 100% rust free strong aluminum, and will stay good as new even after many years of indoor or outdoor use. Plus, our signs are made in the USA!
✔ NO FADING - The graphics and wordings will withstand the elements and will not fade, no matter the sun, rain, or other extreme weather.
✔ PRE-DRILLED HOLES FOR EASY MOUNTING - All of our premium signs have 4 pre-drilled holes and can be easily mounted on every surface. No need for adhesive or special equipment!
✔ PERFECT SIZE - We have carefully designed this sign, considering every aspect. This unique size gives the ability for the wording to stand out and be easily understood without creating an aggressive environment!
✔ PROFESSIONAL GRAPHICS - Ideal for both home & yard use and for professional businesses, our signs are carefully designed to look sleek, authoritative, and easy to read.
Bestseller No. 4