What To Look For In An Elliptical Under $500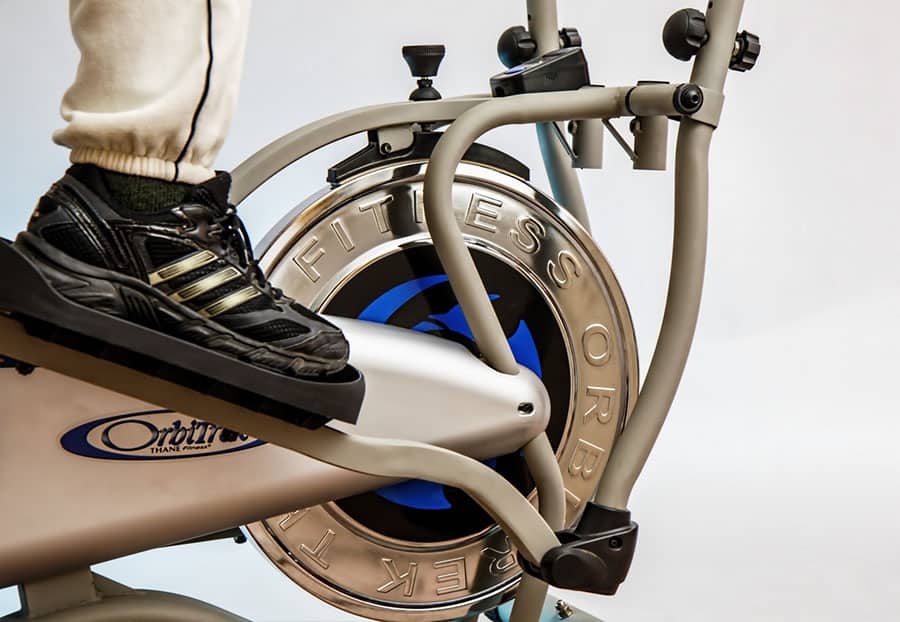 Why an elliptical?
Well, this old standby in the exercise world offers a low-impact way to get in your aerobic exercise for the day — making it the perfect alternative if jogging hurts your joints or just isn't your style.
But avid joggers and fitness enthusiasts shouldn't count it out.
According to the Mayo Clinic, runners and athletes of all types can avoid injury and strengthen leg muscles by cross-training on an elliptical.
The Massachusetts Institute of Technology also cites the elliptical as a good option for building up your overall stamina and efficiency, regardless of what your sport of choice may be. (Looking at you, ping-pong enthusiasts.)
And if your health and safety doesn't convince you to get an elliptical, maybe this will…
First, you get in a great exercise.
(wait for it…)
At home…
(wait for it…)
Watching your favorite shows…
(wait for it…)
IN.
YOUR.
FRIGGIN'.
PAJAMAS.
Boom! Now we're talking!
Making Sense Of The Options
Of course, it can be a tough task to narrow the options down to the elliptical that's right for you.
Resistance levels?
Fitness trackers?
Sitting or standing?
There are all sorts of high-tech features you can find on modern elliptical machines, but many of them are really just optional add-ons. So let's go through what we found were the most important considerations for an elliptical in the under-$500 range.
Type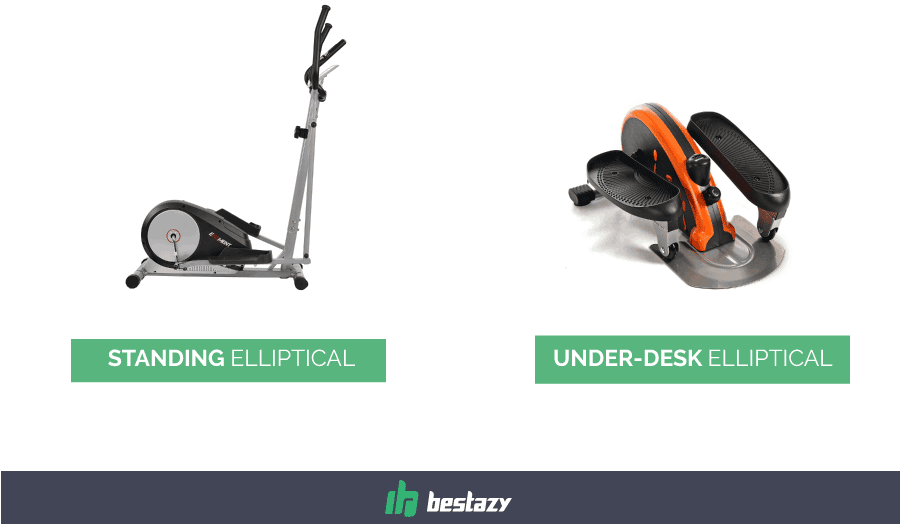 When you're searching for an elliptical under $500, you'll find that the two most common types are the regular ol' standing kind, and the under-desk elliptical that lets you pedal away while you're at work, or even on the couch.
So how to choose between the two?
The standing elliptical is a classic, and it's great if you want to really feel the burn. Handlebars can even help you get in a full-body workout that'll have you working up a sweat.
Meanwhile, an elliptical made to be used while sitting can make your workday a whole lot healthier, giving your body the benefits of regular exercise even as you sit in your desk chair.
This is the most obvious decision you'll need to make. Do you want something that just slides under your desk to give you a fitness boost at work, or do you want an elliptical that offers more of a full-body workout?
Or… How about both?
And if you do decide you're looking for something that switches from sitting to standing use, will you need it to come along with handlebars for added balance, or will you feel comfortable enough without them?

Fitness Monitors
Love your fitness tracker?
Then an elliptical with a built-in fitness monitor will have you head over heels.
(Although, hopefully not literally).
These can range from simple displays that monitor your heart rate, to more complex systems that include the calories you've burned, distance traveled, and even show you a Google maps street view as you pedal along.
Some of these will link up with your existing personal fitness tracker, while others come along with their very own smartphone app.

Design
We're not talking aesthetics here so much as structure and reliability. Who wants to spend good money on a machine that falls apart underneath you?
So how do you figure out if the elliptical you're eyeing is tough enough? Take a look at the maximum weight capacity. The higher the weight capacity, the tougher the machine, and the better you can expect it to hold up over time.
Now, while you don't want a flimsy elliptical that's going to fall to pieces on you, you probably also don't want some behemoth that needs three people to move it a few inches to the left.

Portability
Most ellipticals under $500 are made to suit apartment dwellers or health-conscious office workers.
This means plenty of them have all sorts of portability enhancing options, and usually they fold up for easy storage. Some have wheels so you can roll them from room to room, and others also come along with convenient handles — so there's no need to throw out your back when you're moving your new home gym around.

Safety
Got kids? An elliptical may look like a fun toy to them, but it's easy for kids to get hurt playing around with the pedals. So if you have a troublemaker or two at home, then you may want to invest in an elliptical machine with added safety features.
The most common feature you'll find on the lower priced models is the safety lock, which keeps the pedals locked in place when you're not using the machine. This can be as simple as a pin that slides into place, or a heavy-duty childproof lock to thwart more mischievous kids.
---
Resistance
Put simply, resistance is just the amount of pushback your elliptical offers, usually with different levels available so you can keep kicking your workout up a notch as you get more and more fit.
What's The Difference Between Types Of Resistance?
If you're looking for an elliptical that offers at least some level of resistance, you might've noticed the phrases "magnetic resistance" or "air resistance" thrown around.
These are the two most common types available, and they have a few key differences.
Magnetic resistance is – shockingly – magnetically powered, and usually it's a reliably quiet and smooth option. The major downside here is that it can be a bit more expensive.
Air resistance is essentially created by a fan that you power yourself, just by pedaling. It can get noisier compared to magnetic resistance, but it also tends to be more affordable.
Some ellipticals have a huge range of resistance options, with tons of levels to choose from. The super fancy ones even have pre-programmed workouts all ready to go, so you can target specific muscle groups with just the press of a button!
But if you want something a little more low tech, you'll find plenty of ellipticals under $500 with simple tension adjustment knobs: just turn the knob to increase the pushback. Simple as that.
Or you can opt for no resistance at all!
These ellipticals usually have some kind of added flexibility, like an extended stride length, or pedals that move in multiple directions, which can more than make up for the lack of resistance.
Ultimately, there's no right or wrong answer when it comes to deciding what sort of resistance – if any – you want in your new elliptical. It's all up to you and what you need out of your exercise routine.

Incline
As you're researching ellipticals, you may come across some which offer variable incline settings. It's a great feature to have if you want to be able to personalize your workout.
However, such an option is more typically in higher end ellipticals.
Unfortunately…
Finding a quality elliptical with adjustable incline settings can be a lot like finding a needle in a haystack.
Stride Length
If you're 6-feet tall, you probably don't want a teeny tiny elliptical with a teeny tiny stride. Likewise, a super wide stride might not be a great match if you need a ladder to reach your kitchen cabinets.
So what sort of stride length should you look for?
Well, it varies depending on the type of machine you're looking at and your own natural walking gait. For most adults, a 20 inch stride is a good fit, and that's generally what you'll find on an elliptical machine in the gym.
---
When you're looking at ellipticals under $500, you're going to find an assortment of stride lengths leaning toward the shorter end of the spectrum. That's because these machines are usually designed to fit in a small space. So if a longer stride is important to you, make sure you take that into account before you hit the checkout button.
Reviews Of The Best Ellipticals Under $500
01
Fitness Reality Dual Action/Multi-Direction Air Walker X1 with Heart Pulse Sensors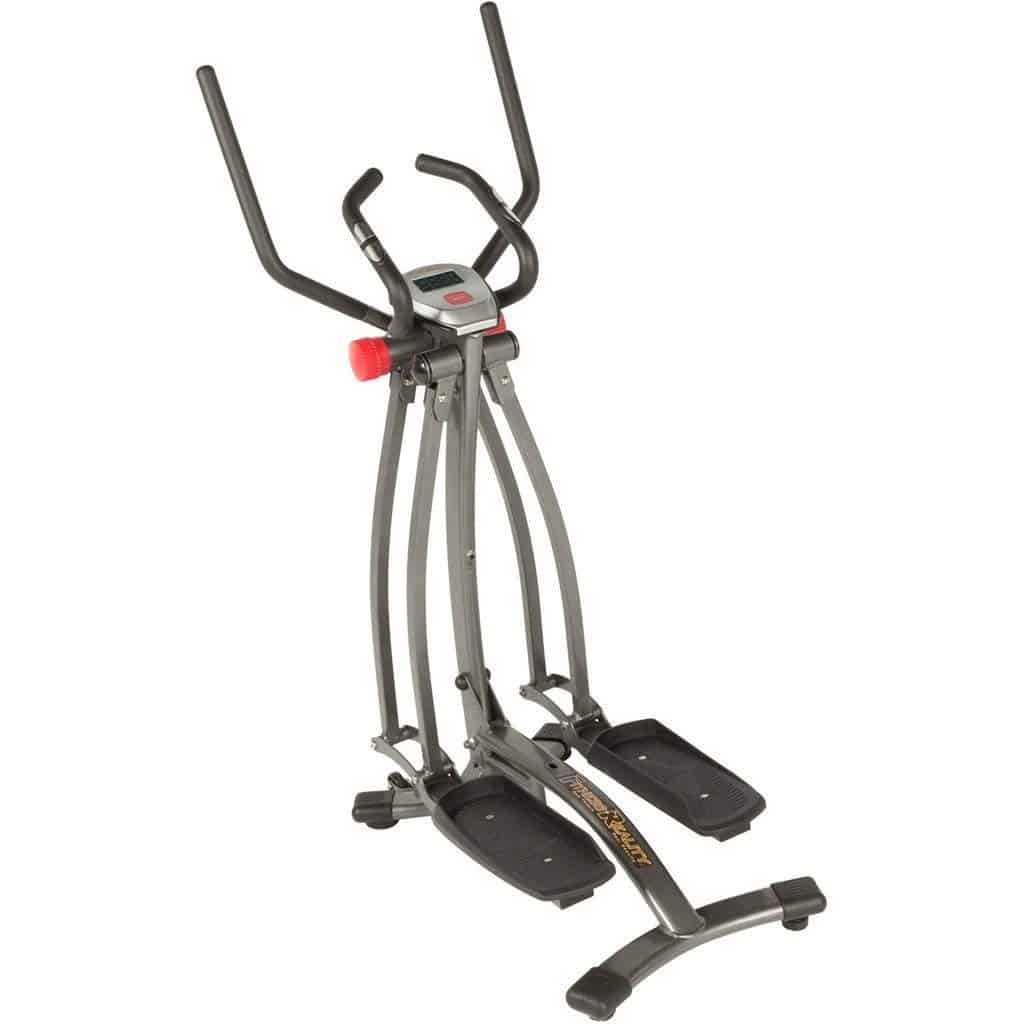 If you're looking for an elliptical that has most of the bells and whistles of the fancier models without the accompanying price tag, the Air Walker X1 is your best bet.
The Air Walker is as light and comfortable as the name suggests, with some pretty awesome extra features that pushed it to the top of our list.
Here's what makes it really stand out:

Most of the ellipticals on our list come along with personal fitness monitors, similar to the heart pulse sensors and distance trackers you'll find on this model. Some of them also include handlebars for an upper-body workout.
But…
The Air Walker X1 is the only one that also allows you to move the pedals in multiple directions, opening up a whole new level of leg-strengthening possibilities.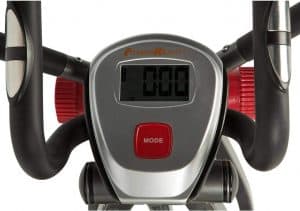 Basically, it does exactly what a good elliptical should.
For starters, it lets you get in a great aerobic workout without putting stress on your joints. That bonus of being able to move your legs side-to-side means you're getting more out of the machine than you would otherwise, and the fitness tracking feature is a nice touch.
And with a price leaning toward the lower end of the spectrum, we felt that the Air Walker X1 offered a truly impressive value for your money.
Is there a warranty?
You betcha.
It comes with a 1-year limited warranty on the frame and 90 days on any other components, with more information available in the user manual.
And don't forget to account for these important details when you're deciding if this is the right elliptical for you.
Weight & Dimensions: 34 inch L x 20 inch W x 52 inch H; 45 pounds
Stride Length: 36"
Weight Limit: 225 pounds
Resistance: None
Features:
LCD monitor shows your heart rate, distance, and calories burned
Flexible pedals move sideways so you can do a wider variety of exercises
Folds up easily for storage
Simple to assemble right out of the box
Take a look at the video below to see this bad boy in action.
---
Pros
Extra gentle action for sensitive joints
Quiet operation
Footpads are oversized for better balance
Full range of motion lets you switch things up and work different muscle groups
Wheels make it easy to transport
Cons
Doesn't have any built-in resistance
Some customers have reported that the heart-rate readouts were inaccurate
---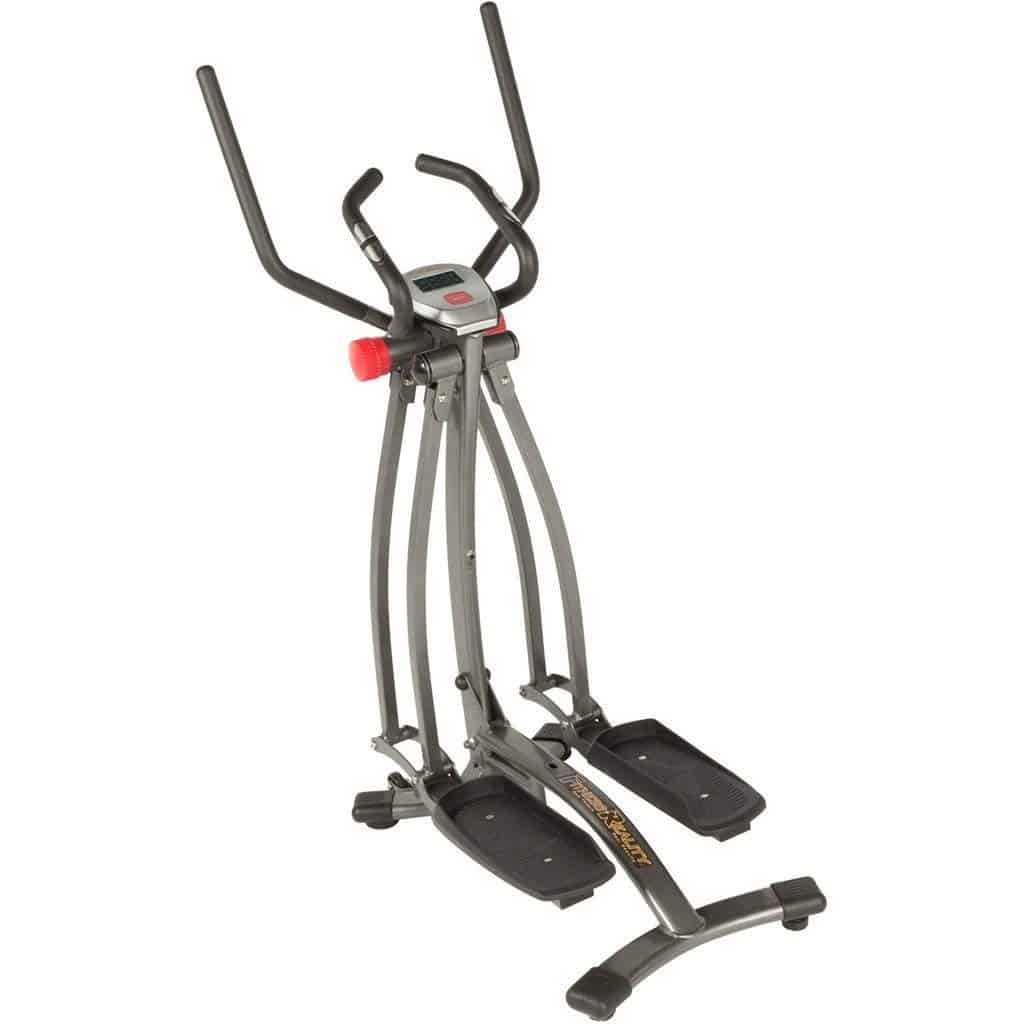 02
Stamina InMotion Compact Strider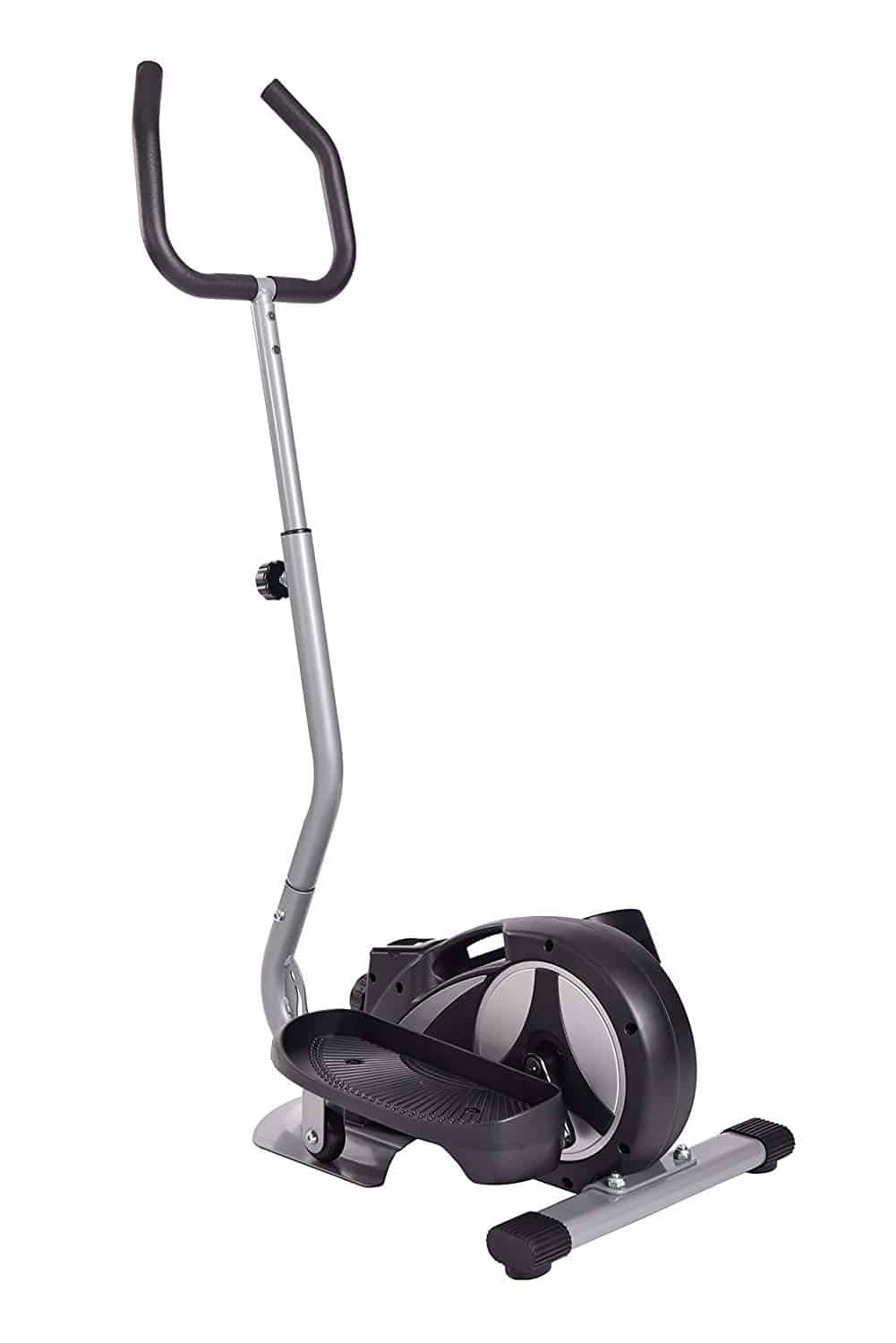 Multitaskers, this one's for you.
The Stamina InMotion Compact Strider comes along with detachable handlebars, and it's ready to use either sitting at your desk or standing up.
Want a full-body cardio workout?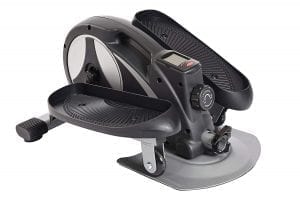 Just attach the handlebars and hop on.
Need a fitness boost while you work? Go ahead and slide the Compact Strider under your desk — you can use it right from your office chair.
We found this one ran quietly enough that it was hardly noticeable at all, making it a good choice for an office environment.
Plus, it's reasonably priced for the features you get, like the fitness tracking monitor and eight different levels of magnetic resistance.
There's just one thing.
The Compact Strider is, well, compact. So if you're on the taller side, the stride might feel a little too short for you.
The warranty covers any defects within 90 days for parts, or 1 year for the frame. Check out the user manual for more info.
Weight & Dimensions: 22 x 14 x 13 inches; 31.1 pounds
Max weight limit: 250 lbs
Stride length: 7.5 inches
Resistance levels: N/A; has an adjustable tension knob
Features:
Detachable handlebars
Magnetic resistance
Fitness tracking monitor that measures calories burned, distance, time, and rotations per minute
---
Pros
Versatile: can be used sitting or standing
Space-saving design
Eight different levels of resistance for a customizable workout
Cons
Stride can be a little limited for taller users
Some customers reported that the gears began to squeak after prolonged use
---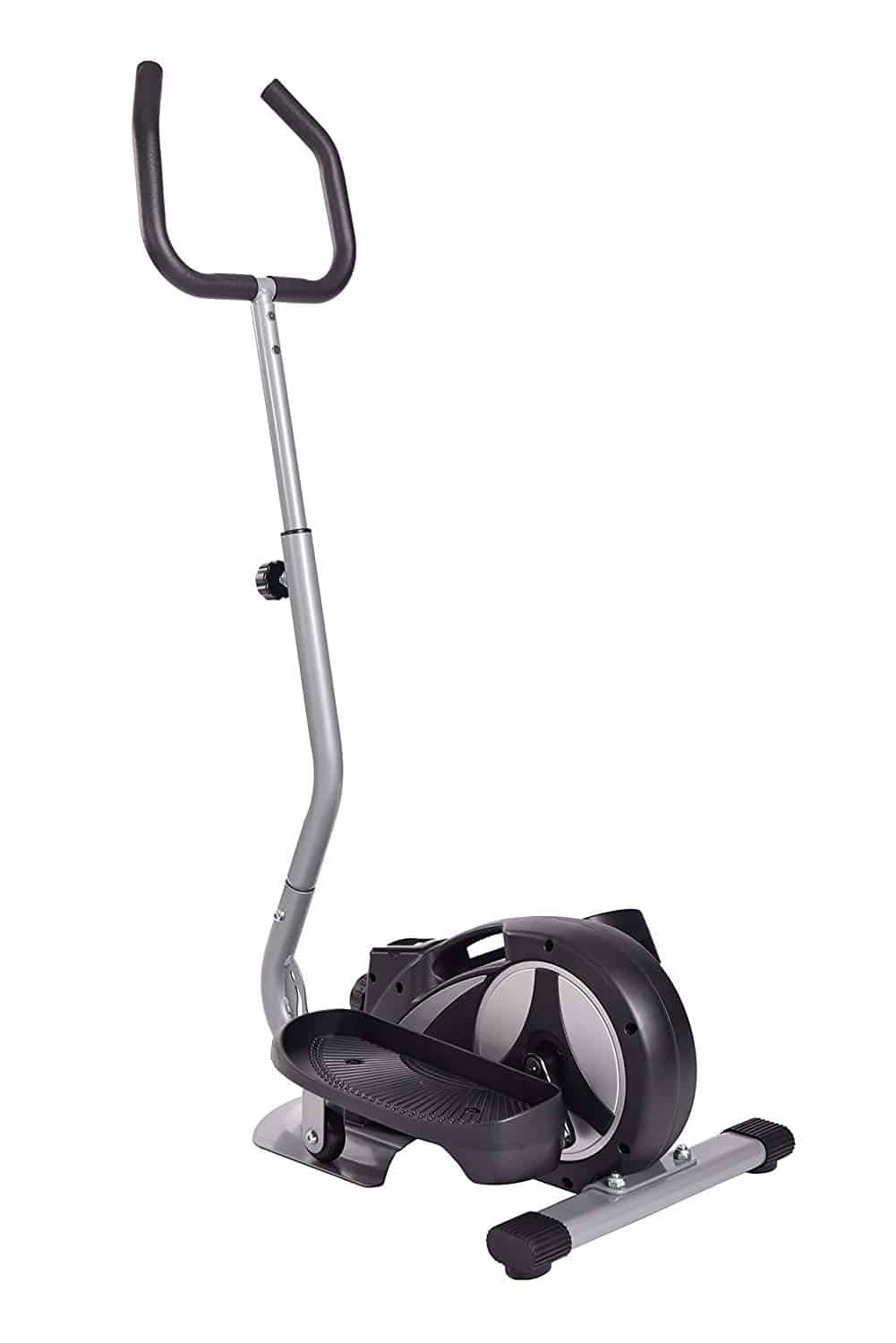 03
The Gazelle Edge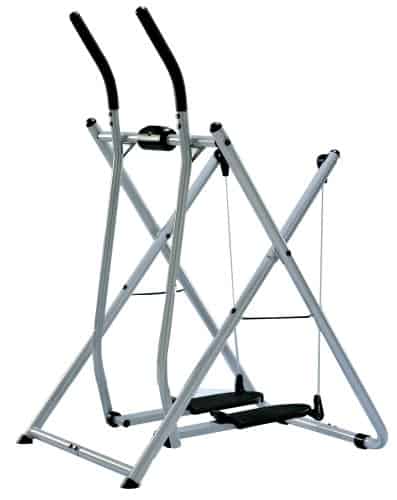 If you're looking for something relatively low-tech that you can easily fold up and fit into a corner of your apartment, the Gazelle Edge might be just what you need.
The majestic Gazelle offers comfortably padded handlebars for a full-body workout, a light but tough durasteel frame, and a rudimentary fitness tracker that monitors your speed, distance, and time.
It's simple enough to use at a slow walk, but sturdy enough to let you reach a full run. So you can feel free to hop on and gt started no matter your fitness level.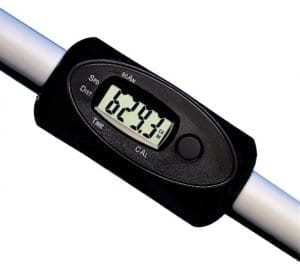 The only catch?
The Gazelle doesn't have any kind of built-in resistance.
One customer we interviewed told us she solved this shortcoming by using bands wrapped around the handles to add tension--a fix other Gazelle users recommended as a simple and cheap way to get the best of both worlds.
We found the warranty outlined in the user manual. On this elliptical, it features a 1 year warranty included with purchase.
Weight & Dimensions: 43 x 28 x 53.8 inches; 42 pounds
Weight capacity: 250 lbs
Stride length: Allows for an over-extended stride
Resistance levels: N/A; bands can be used to provide resistance
Features:
Fitness tracker
Padded handlebars
Good range of motion
---
Pros
Simple to use
Folds up easily
Quiet
Doesn't need electricity to operate
Cons
No built-in resistance
Not a lot of technological features
---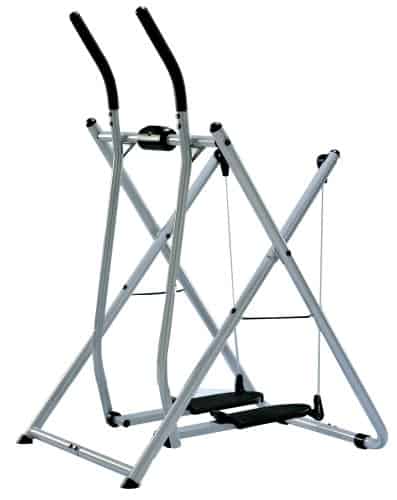 04
EFITMENT Magnetic Elliptical Machine Trainer w/LCD Monitor and Pulse Rate Grips – E006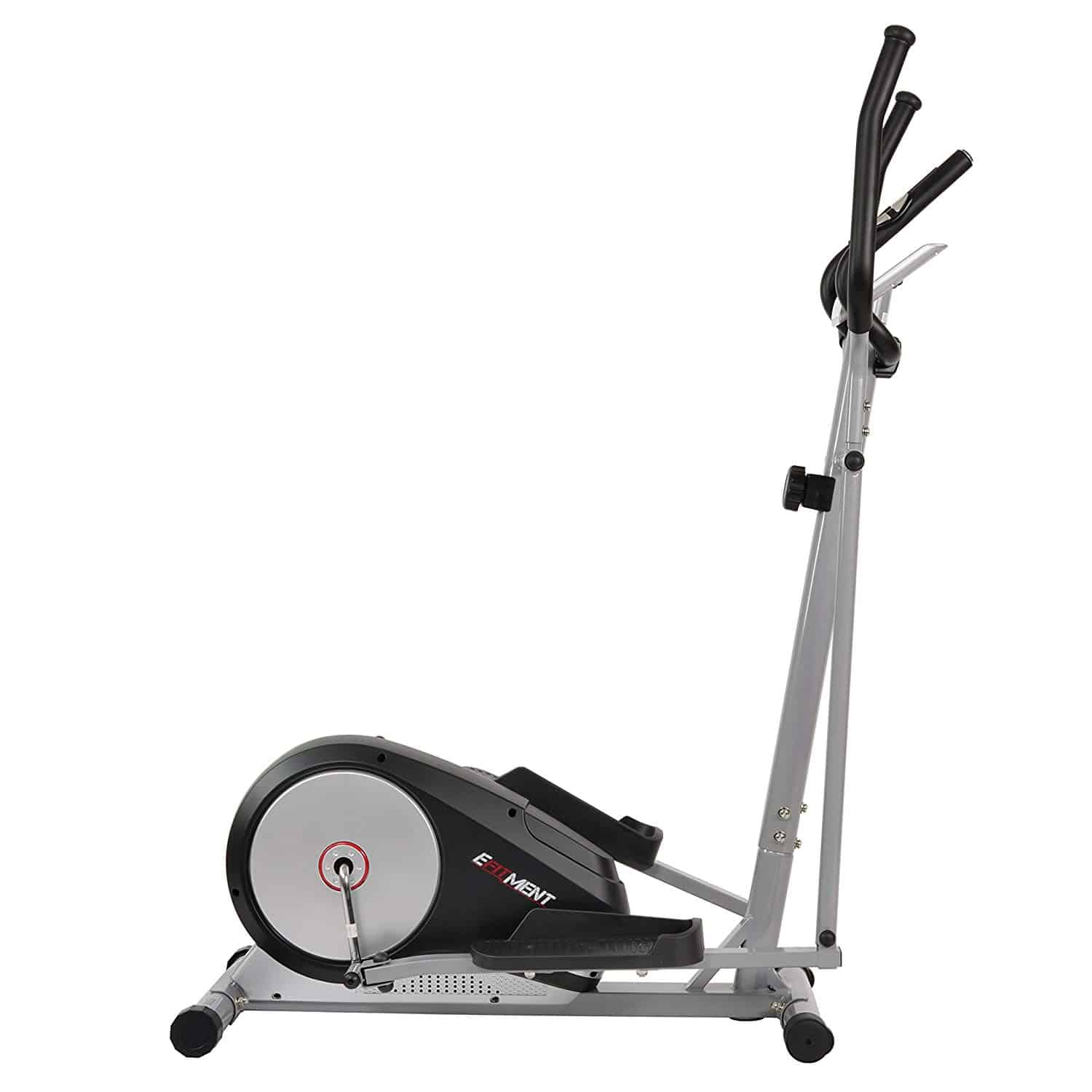 Is your apartment best described as shoebox-sized? Meet the EFITMENT Magnetic Elliptical Machine Trainer! This little guy is perfect for compact spaces, and it comes with adjustable stabilizers to make sure it stays nice and steady on any surface.
In fact, nice and steady is a pretty good description for this elliptical overall. Magnetic resistance means a smooth and quiet glide, and the footpads have extra grip to make sure you stay safe and secure no matter how hard you work.
Got company coming over?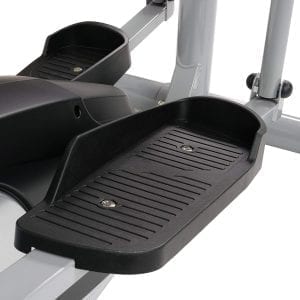 No worries.
Just fold the EFITMENT elliptical up and wheel it right into the closet.
Now, there are a few shortcomings here.
Literally, since the EFITMENT elliptical trainer has a shorter stride that might not work well for taller people. Unfortunately, that's always going to be one of the downfalls of the really compact elliptical trainers.
It's still going to give you a decent workout, but you won't get the long stride that you can expect from a bigger model.
The EFITMENT is also one of the pricier options on our list. Although it's still pretty reasonable for the features that it offers.
For example, the easy-to-read LCD monitor shows all the standard fitness tracking data we're used to seeing — like your heart rate, calories burned, and distance traveled.
Plus, it's got a built-in spot for your phone or tablet so you can multitask your heart out. (Speaking of gadgets, this cool little tool can make sure you don't run out juice while you're exercising.)
But if you're looking for a truly low-budget option, this one may not make the cut.
All in all?
The EFITMENT elliptical machine is a good fit if you want something tiny but sturdy, if high tech features matter to you, and if you're not too picky about stride length.
Like a lot of the other options here, this one comes with a 1-year for the frame, 90 days for parts. More details on the warranty are available in the user manual.
Weight & Dimensions: 50 x 23.5 x 62 inches; 80.5 pounds
Weight capacity: 220 pounds
Stride length: 13 inches
Resistance: 8 levels of magnetic resistance

Features:
Adjustable stabilizers keep the legs stable on carpet or off
LCD monitor offers fitness tracking data
Built-in phone or tablet holder
Adjustable resistance levels
---
Pros
Portable and easy to fold away if need be
Extra compact for tight spaces
Magnetic resistance makes it nice and quiet
Cons
Might be a little too small for taller users
On the pricier end
Can be difficult to assemble for a novice
---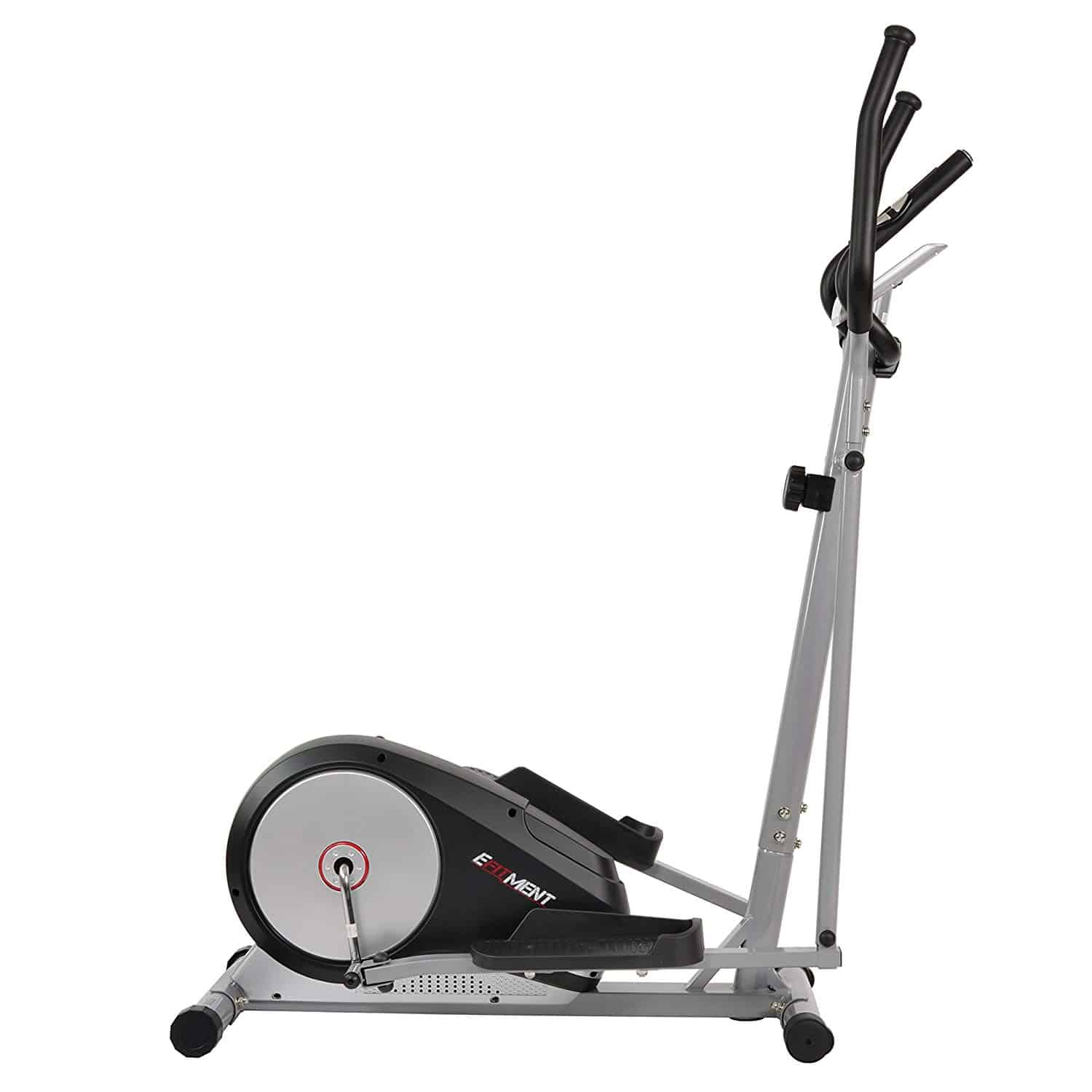 05
Stamina In-Motion Elliptical Trainer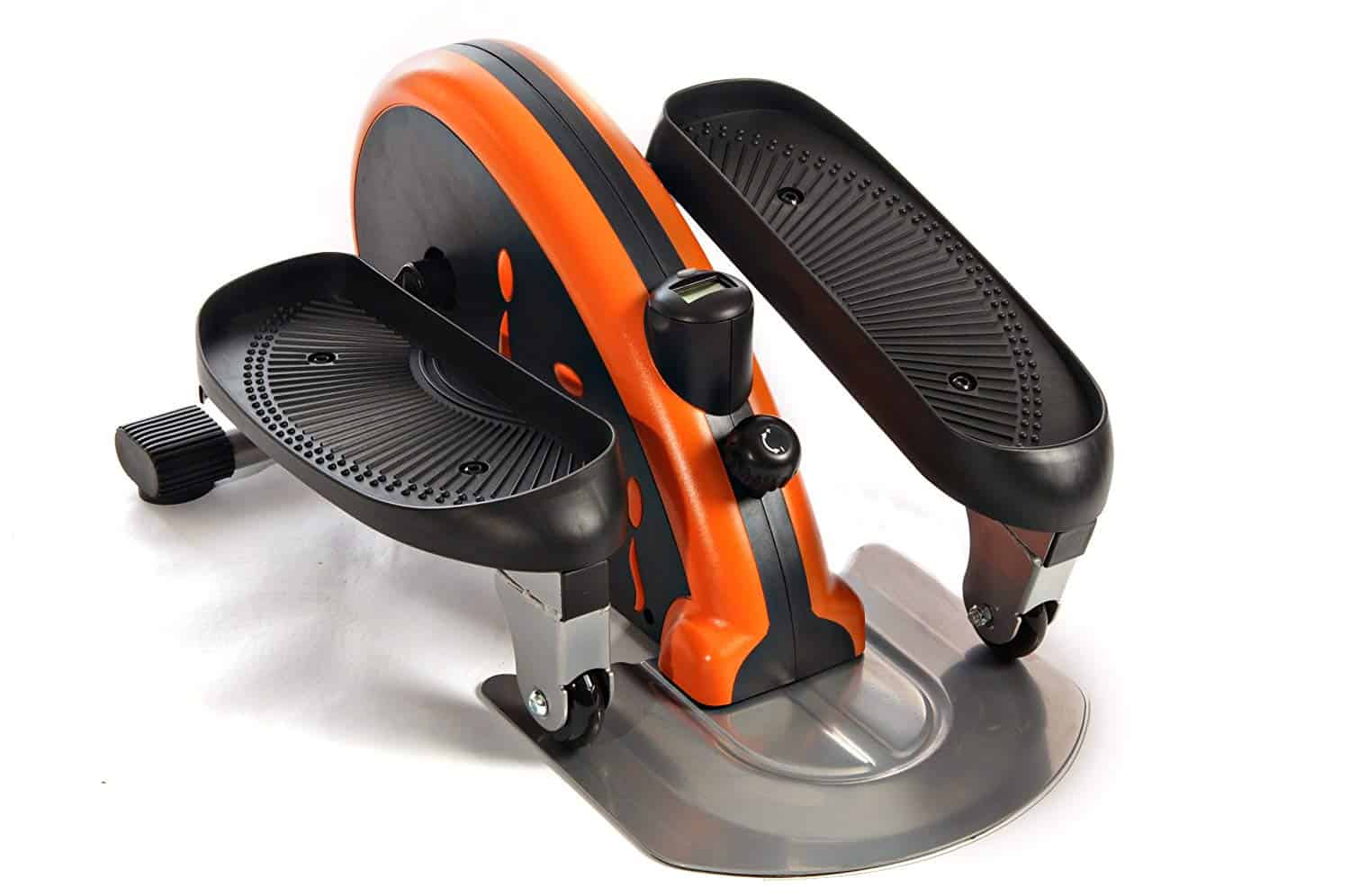 Just like the Stamina Compact Strider, the Stamina In-Motion Elliptical Trainer is a versatile little machine that offers a ton of flexibility. It works well for sitting or standing, it comes in a variety of colors, and it's extremely portable.
The electronic fitness monitor gives you a ton of info on your progress, including your strides per minute, calories burned, and your total exercise time.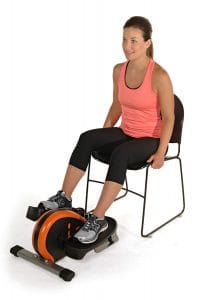 Want to kick things up a notch?
The Stamina In-Motion Elliptical lets you adjust the tension to your liking just by turning a knob, so you can go hard — or not.
Plus, you can switch it up a little by pedaling backwards and targeting muscle groups that the typical forward motion neglects.
So why did we rate this one lower than its buddy?
The main reason for the drop in rating is that the Stamina In-Motion Elliptical doesn't come with handlebars, and we found it could be a bit tougher to balance on when used while standing.
It's great as an under-the-desk elliptical machine to help you stay fit at work (or on the couch).
Still, if you want to use it while standing and you have any sort of concern about your balance, you may not want to go with this particular model.
Unless you enjoy toppling over.
But we don't recommend that.
According to the user manual, you'll get a 1-year warranty for the frame and 90 days for parts.
Weight & Dimensions: 24.5 x 17 x 11.38 in; 30 pounds
Weight capacity: 250 pounds
Stride length: Not really applicable – because it's so compact, it's more like a stepper.
Resistance: Magnetic resistance provided by an adjustable tension knob
Features:
Can be pedaled in reverse to work different muscles
Comes in different colors
Very portable
Adjustable tension
---
Pros
Quiet enough for an office setting
Small and easy to store away when not in use
Switches easily between sitting and standing
Easy to put together
Cons
No handlebars to help you balance while standing
Over time the wheel may start to squeak and need cleaning
Stride is shorter than a full-sized elliptical
---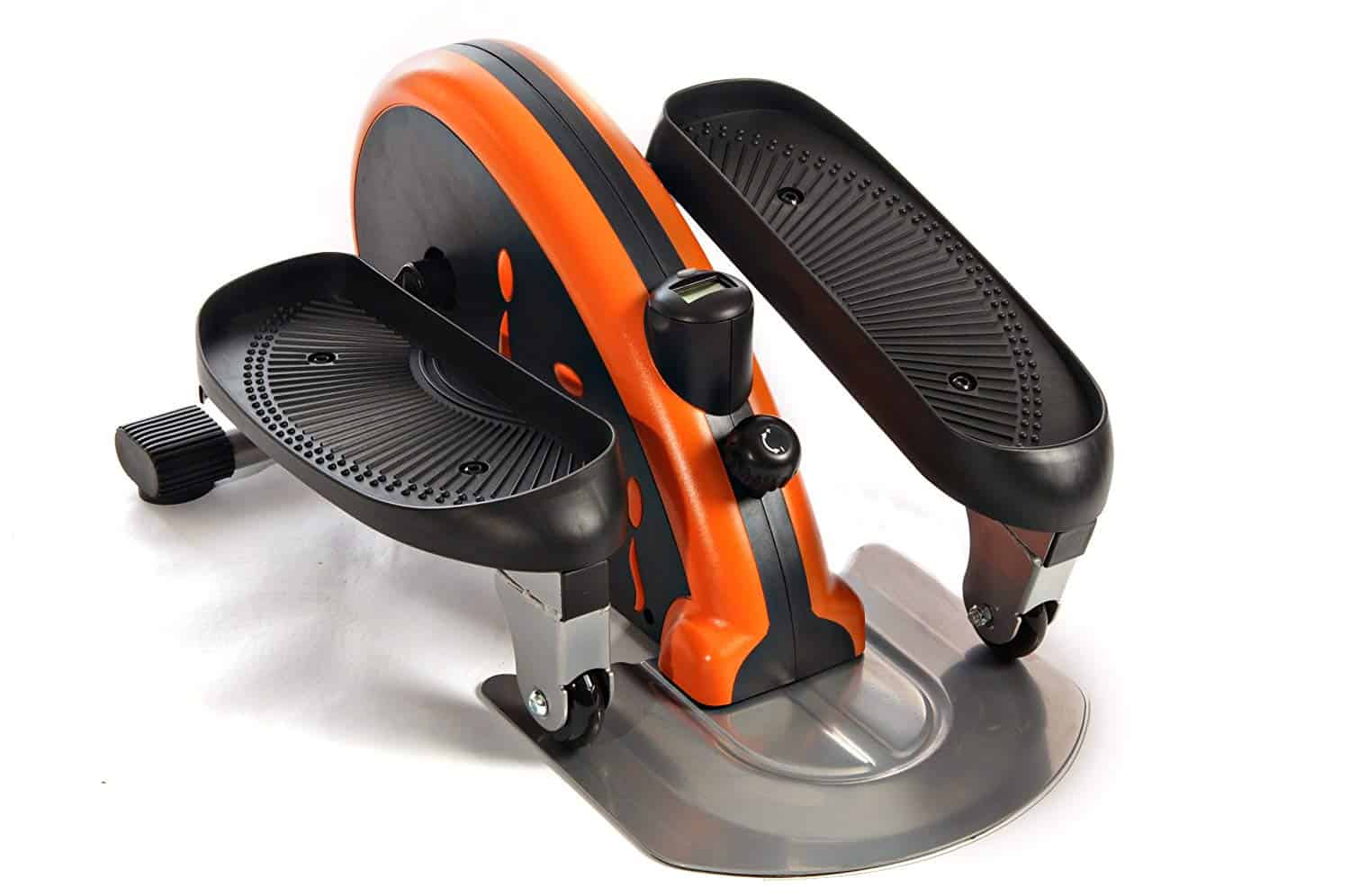 06
Marcy ME-704 Regenerating Magnetic Elliptical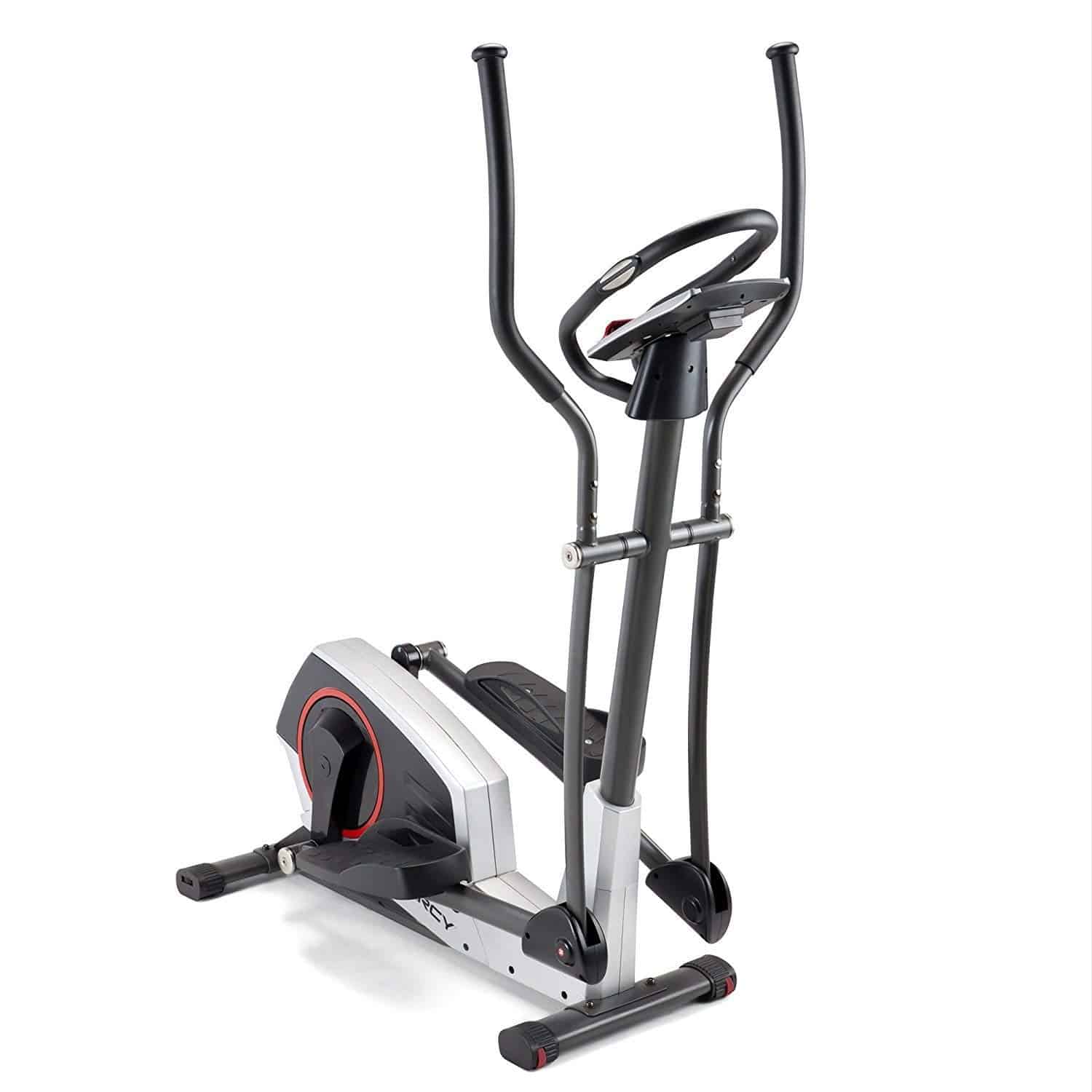 Don't have any outlets free? No problem. The Marcy ME-704 Regenerating Magnetic Elliptical does just what the name suggests: it regenerates power as you pedal, so you never need to worry about finding a spot to plug it in.
But that's far from the best feature.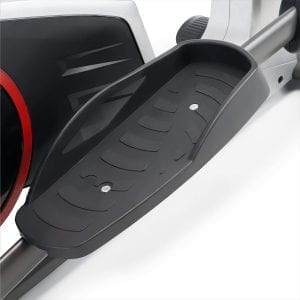 This smooth-running elliptical has a total of 23 different training programs for you to try out, with a whopping 24 different levels of tension. If you love to change up your workout routine on a whim, then this one's for you!
Plus, the ergonomic and well-padded handlebars help you work your upper and lower body at the same time for a more balanced experience.
While the Marcy ME-704 is pretty reasonably sized for an apartment or small living space, we do want to note that it's not quite as compact as some of the other machines on our list.
Luckily, it folds up easily enough and comes with wheels so that you can just roll it out of the way whenever you need to clear up some space for that next wild party.
Pricewise, the quiet magnetic resistance and impressive array of digital features makes the Marcy ME-704 a tad more expensive than some of the options on our list, but we think it's a great deal for the amount of options and functionality you get.
Weight & Dimensions: 44.4 x 22.6 x 15.2 inches; 97 pounds
Weight capacity: 300 pounds
Stride length: 16 inches
Resistance: Magnetic resistance provides 24 different levels of tension
This one comes with a 2-year warranty and user manual.
Features:
Ergonomic handlebars for better form and comfort
Over 20 levels of resistance
Comes with wheels for easy transport
23 training programs
---
Pros
High-tech digital features
Generate your own power by pedaling; no outlets necessary
Runs smoothly
Cons
On the expensive side
Base can be wobbly on carpet
Not as compact as other options
---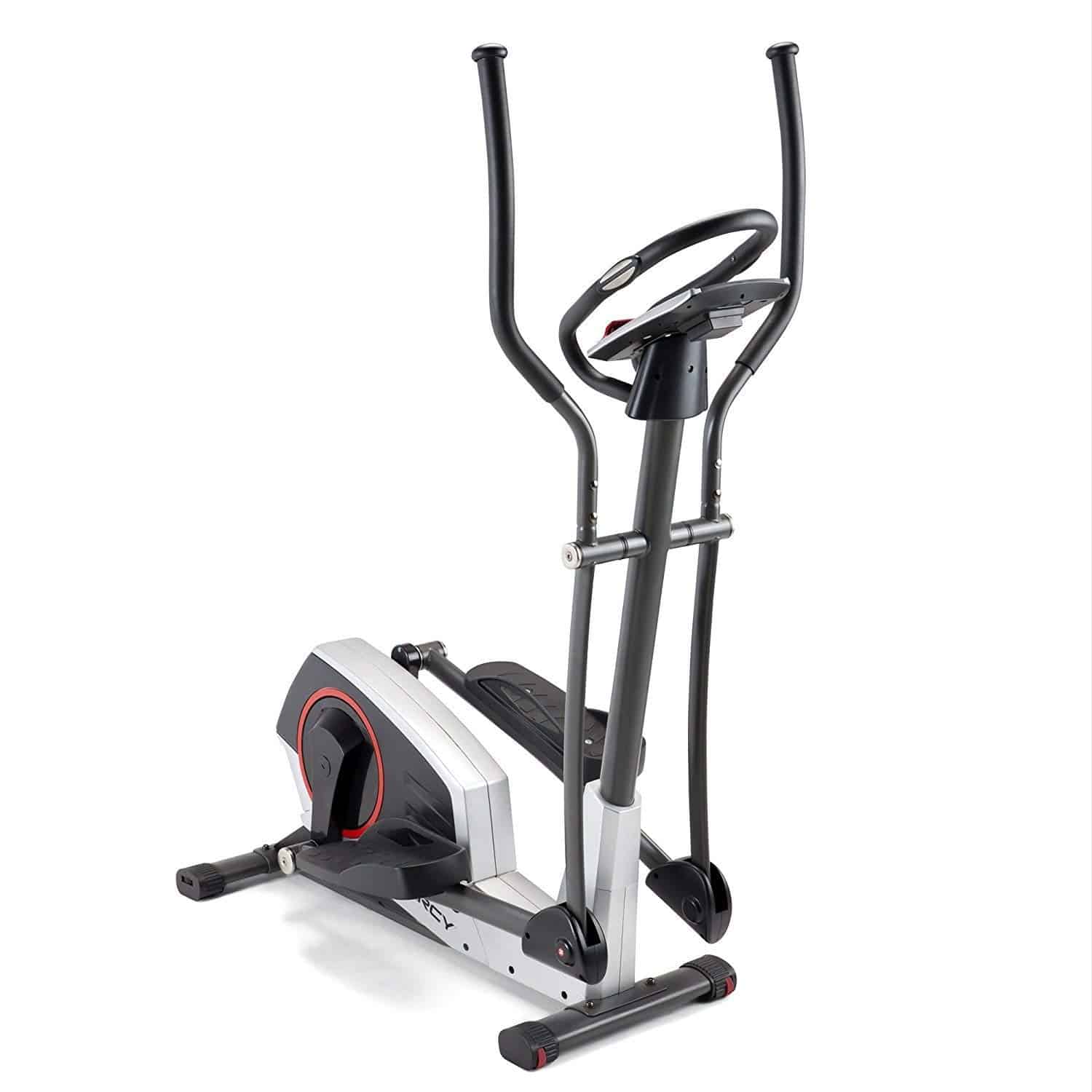 07
ProForm 150i Elliptical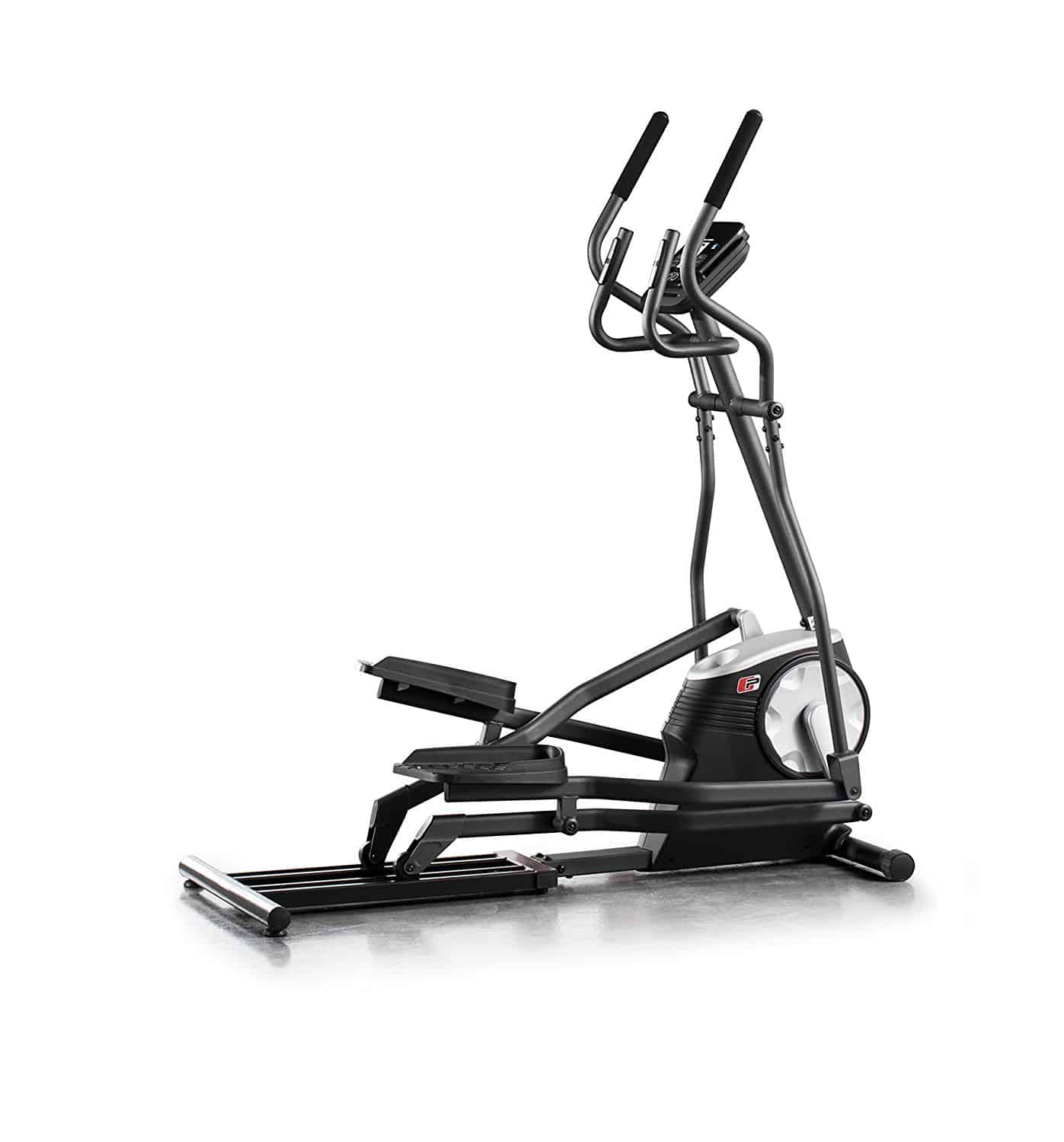 We picked this one especially for you techies out there. The ProForm 150i has all kinds of fun features that made it stand out from the crowd, like the Google maps street view you'll get as you pedal along your very own route.
We loved the variety of the pre-programmed workouts, too, and the fact that it's compatible with the iFit app is tough to beat for those of us who like to keep track of our every step.
But how about the physical construction?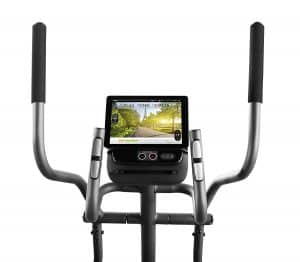 We found the ProForm 150i stood up well to the other models on our list, with comfortably padded handles and grip-enhanced footpads that help you keep your balance.
It's sturdy despite its smaller size, and it stays secure on any surface.
Here's the bad news:
Those flashy digital features are nice enough, but they're not strictly necessary and they do bump your price up.
The ProForm 150i also doesn't come with a power adapter, so you'll need to buy that separately.
You can expect warranty protection for 5-years on the frame and 90 days for other components. Learn more in the user manual.
Weight & Dimensions: 46 x 26 x 18 inches; 127 pounds
Weight capacity: 250 pounds
Stride length: 17 inches
Resistance: Inertia-enhanced flywheel provides 12 different levels of resistance
Features:
Comes with 12 workouts pre-programmed and ready to go
LCD monitor is compatible with your iFit app
Shelf for holding your tablet or phone
---
Pros
Durable and offers extra stability
Has plenty of fitness tracking options and digital features to help boost your motivation
Padded handles for your upper body workout
Cons
Doesn't come with a power adapter
Fitness monitor readings aren't always totally accurate
Stride is shorter than on other models
---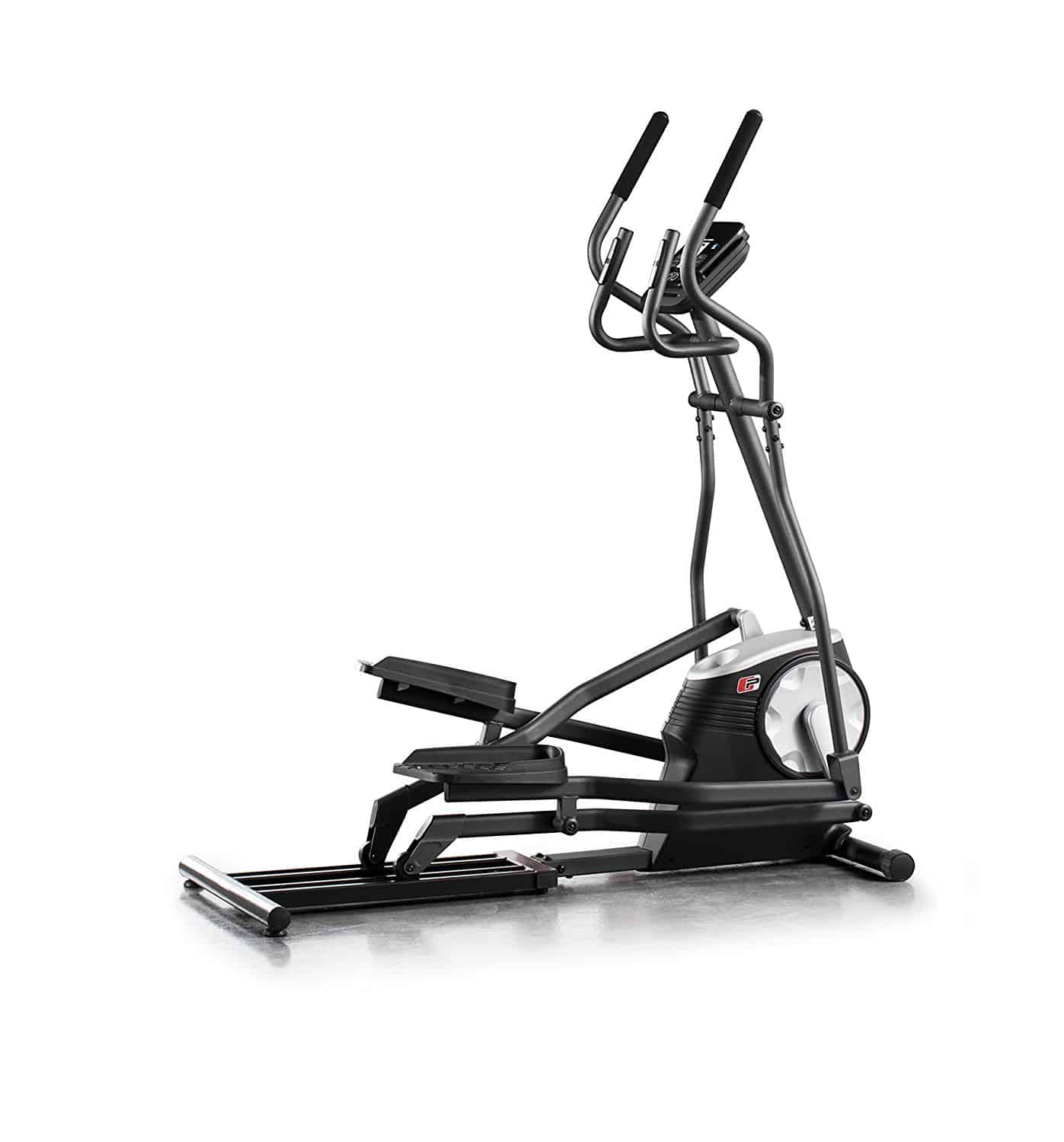 08
Cubii Pro Under Desk Elliptical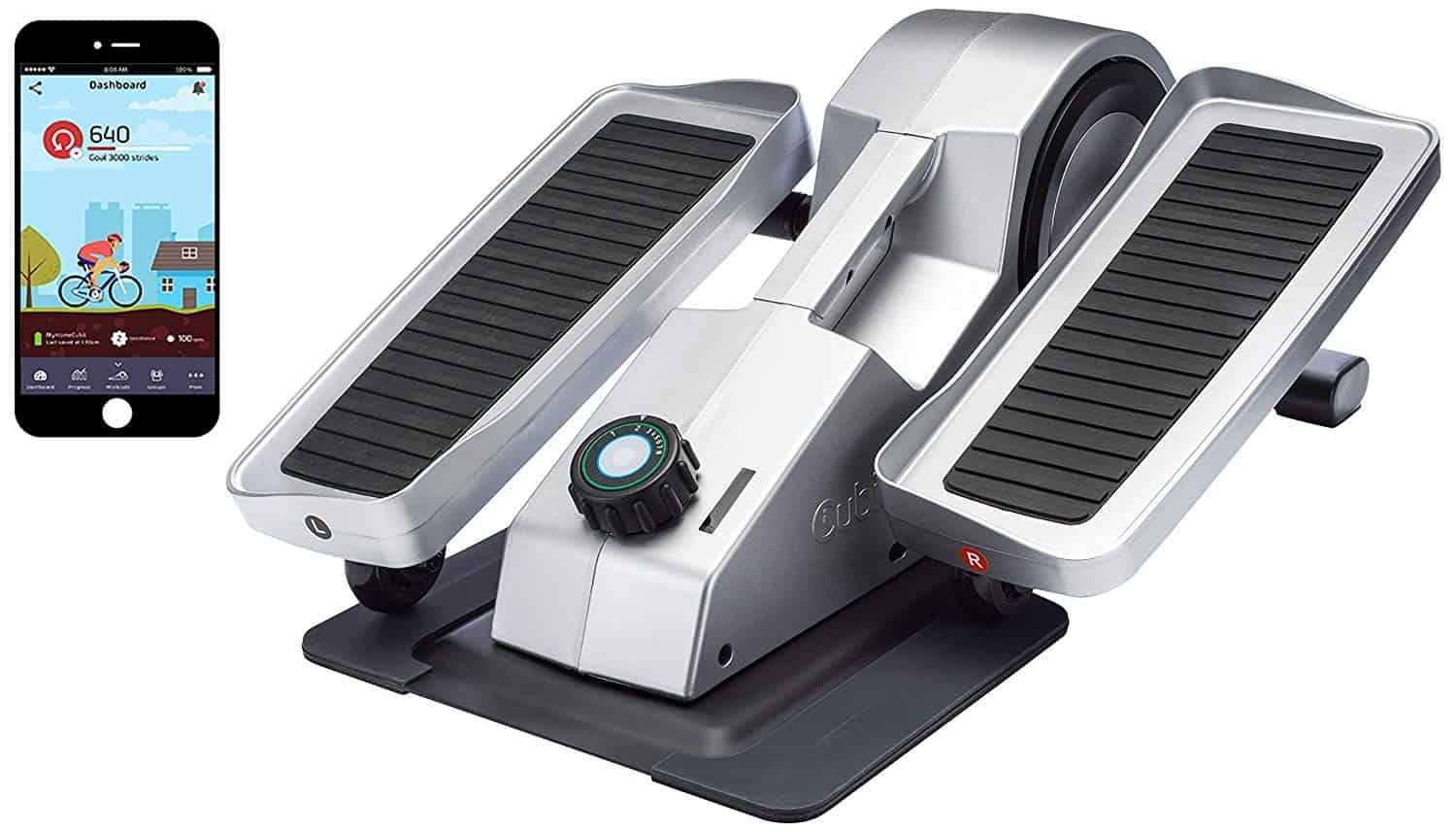 Speaking of cool technology...
The Cubii Pro definitely shines when it comes to compatibility with your existing tech. This handy under-desk elliptical was originally backed on Kickstarter and designed specifically to give you a way to keep moving even when you're stuck in your office or cubicle.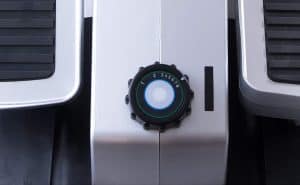 That means it's made with special attention to key factors like noise level (it's all but silent), portability, and ergonomics.
It has adjustable resistance levels, although some users found them to be less than challenging.
But one of its most unique features is the Bluetooth capability.
The Cubii Pro Under Desk Elliptical syncs right up with your smartphone, allowing you to use it with your FitBit, or simply to use the Cubii's own app.
Or both, if you'd like.
The real benefit of the Cubii-specific app is that you can connect with other Cubii-users, and even take part in giveaways and contests.
The downside?
The Cubii Pro Under Desk Elliptical can only be used while sitting, and its impressive tech means it comes with an impressive price tag.
There is a 1-year warranty included with a purchase. We found a digital copy of the user manual you can browse here.
Weight & Dimensions: 23 x 11 x 9 inches; 27 pounds
Weight capacity: N/A; used while sitting
Stride length: N/A; under-desk setup means it's more pedaling than striding
Resistance: 8 levels of magnetic resistance
Features:
Wheel-stoppers to keep your chair from rolling back and forth
Bluetooth capability
Made to be nearly silent for use in an office environment
---
Pros
Easy to put together
Extremely portable
Syncs with your FitBit
Tons of extra features for tracking your progress
Cons
Can only be used while sitting
More features means it's more expensive
Some users found the resistance options to be too low for their needs
Needs at least two inches of space between your knees and the desk
---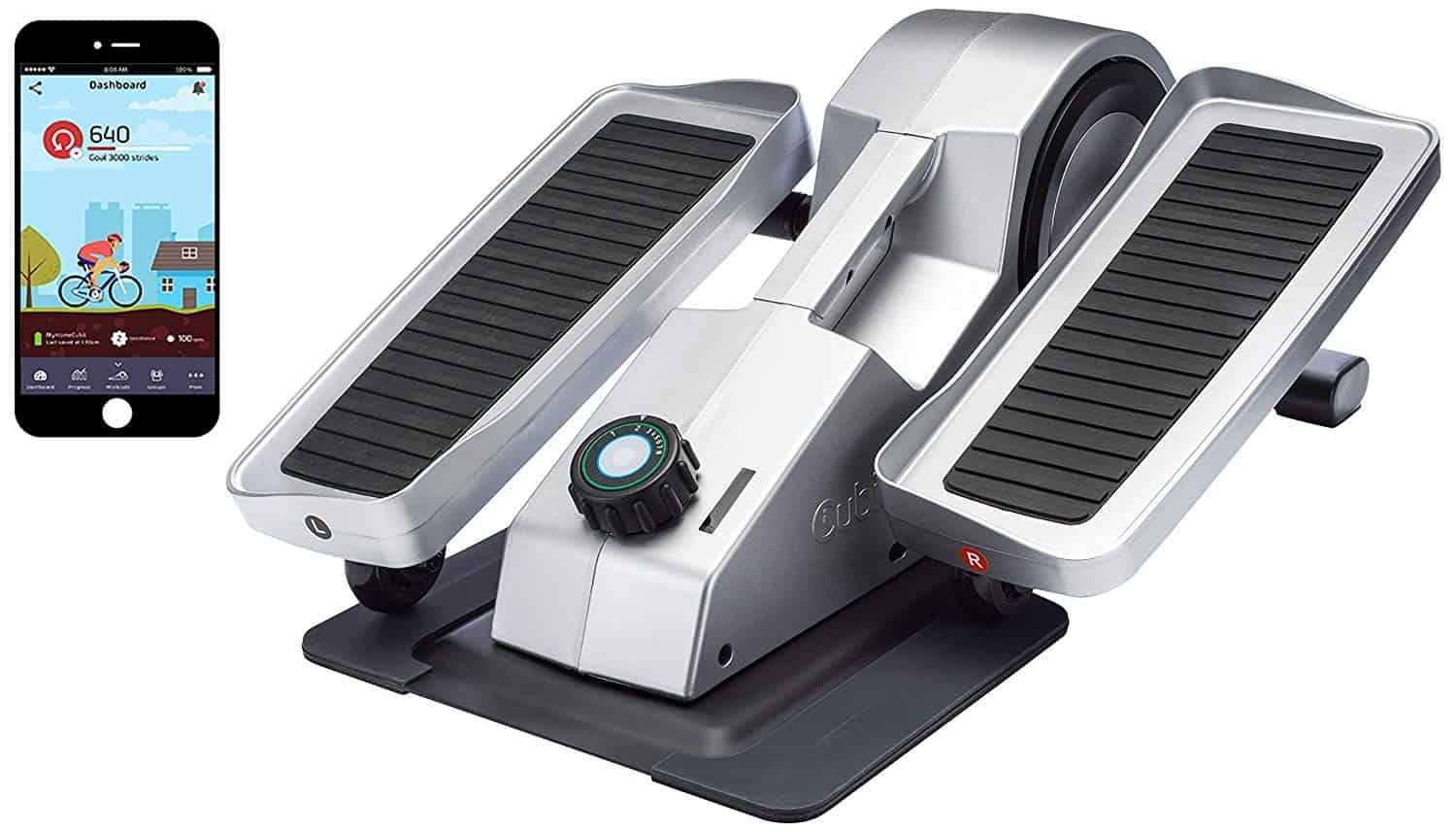 Bluetooth Enabled, Sync w/FitBit and HealthKit, Adjustable Resistance, Easy Assembly
09
Cubii Jr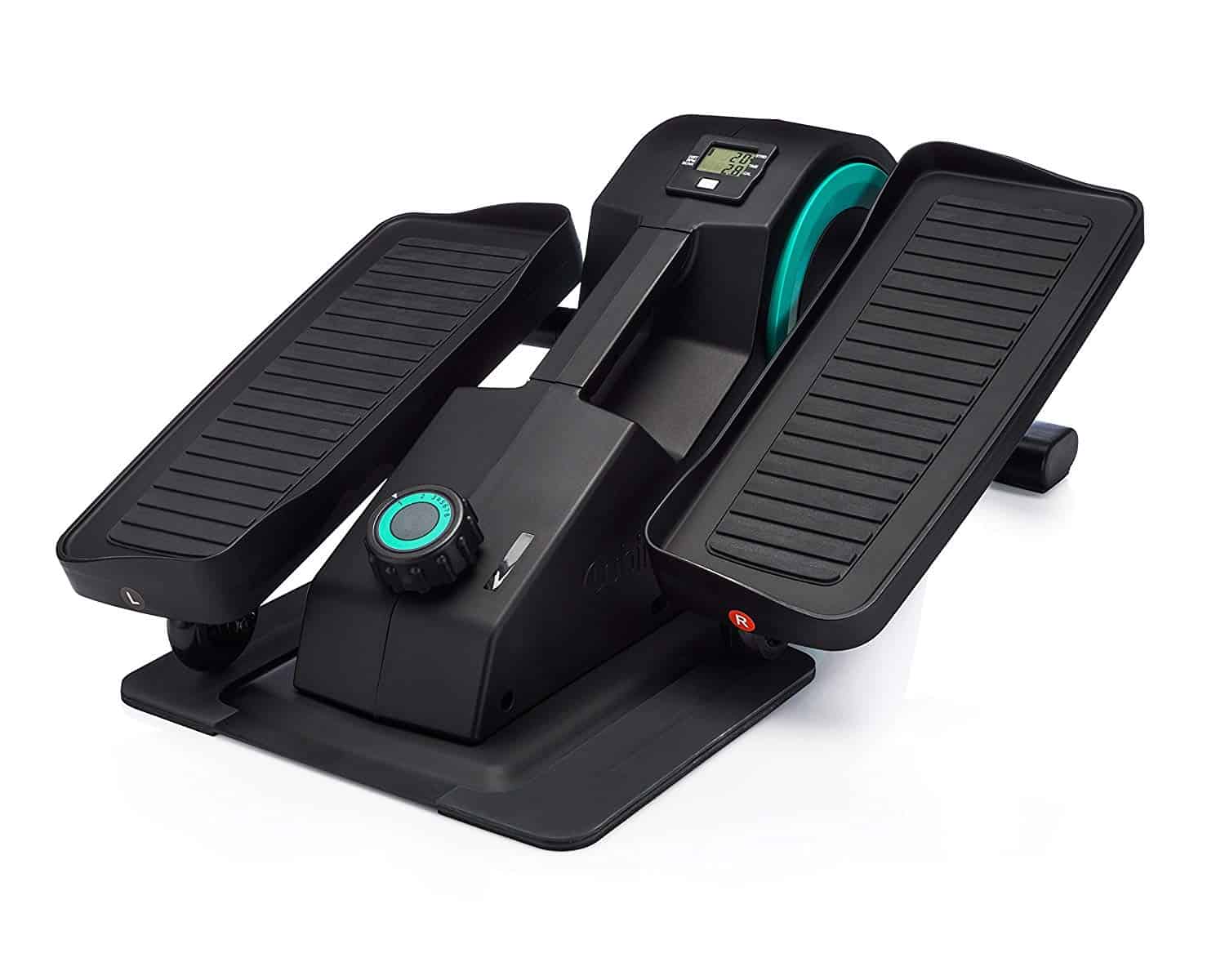 This guy is basically just a pared down version of the original Cubii Pro.
With a lower price point, it offers fewer of the original's fancy features.
To be honest:
For the money, we'd have liked to get some more oomph out of this one.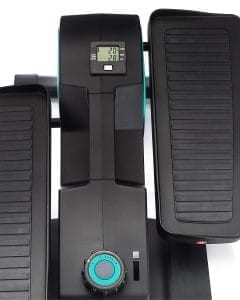 BUT!
Don't let us sell this one short too quickly--it's still a solid option if you don't need all the techie bells and whistles of it's bigger sibling.
Like the Cubii Pro before it, the Cubii Jr is meant to be used only while sitting, and slides easily under your desk.
Unlike the original model, though, it doesn't have the ability to sync with your smartphone, and you can't access the fun features that come along with the Cubii Pro's built-in app.
Although it has eight different levels of resistance, Cubii Jr owners have reported the little guy still doesn't offer much of a challenge there.
There is a 1-year warranty included and more details can be found in the user manual.
Weight & Dimensions: 23.15 x 17.56 x 10 inches; 35.7 pounds
Weight capacity: N/A; used while sitting
Stride length: N/A; the under-desk design means it's more pedaling than striding
Resistance: 8 levels of magnetic resistance
Features:
Eight levels of resistance
Assembly time of only three to five minutes
Display monitor tracks your progress in five different categories
---
Pros
Virtually silent, making it perfect for your cubicle
Ergonomic design so it's easy on your knees
Built-in handle makes it extra portable
Cons
Can only be used while sitting
Doesn't have the cooler features of the original model
May slide around when used on smooth surfaces
---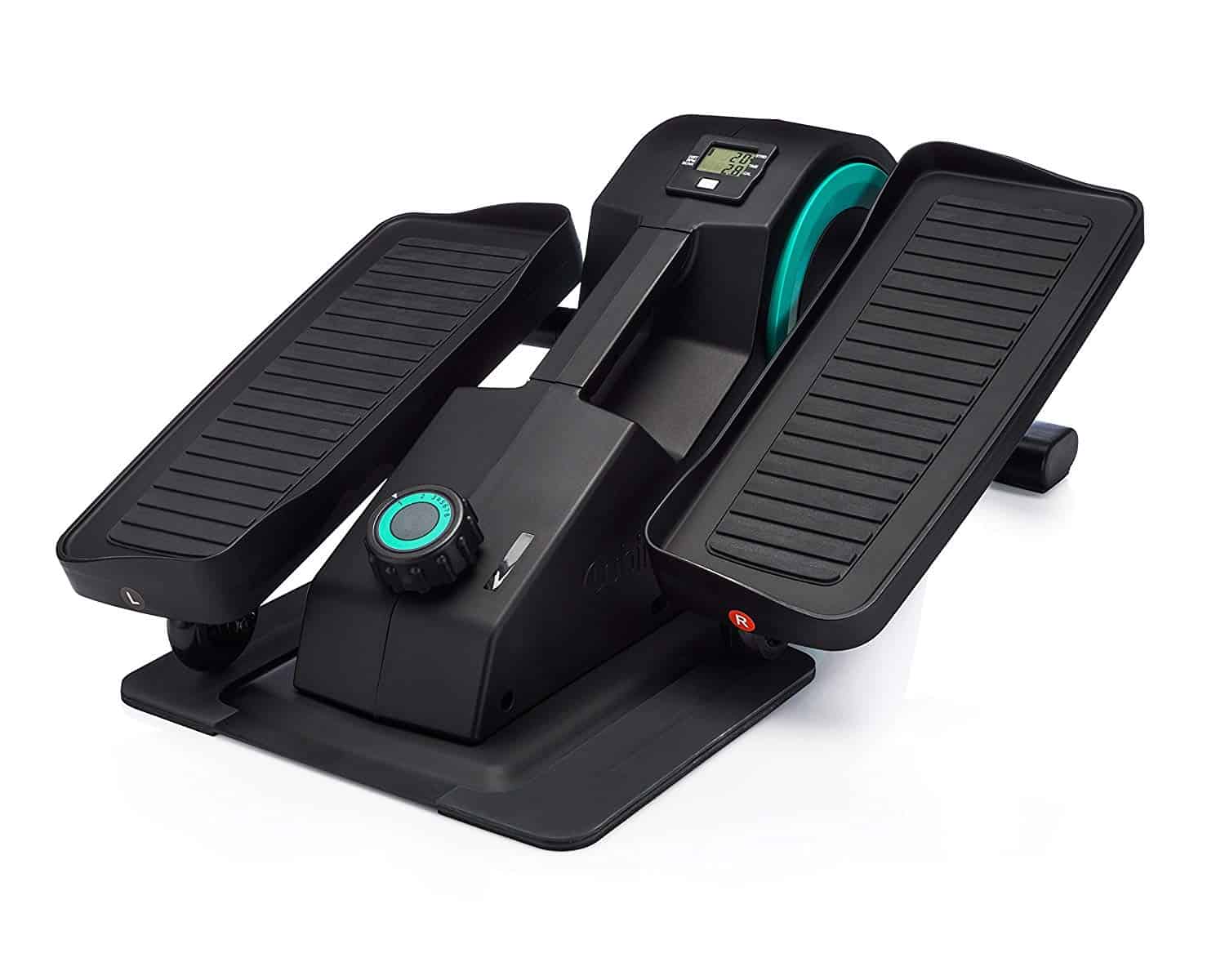 Desk Elliptical w/ Built In Display Monitor, Easy Assembly, Quiet & Compact, Adjustable Resistance
Getting Your Money's Worth On The Best Elliptical Under 500 Bucks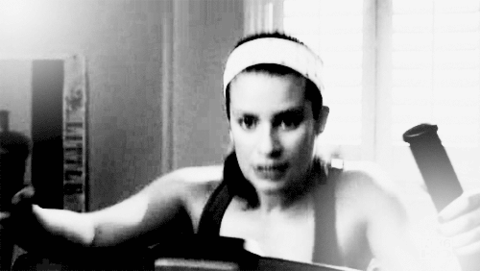 Contrary to popular belief, there's a lot more you can do with a standing elliptical than just pedaling back and forth!
You'll find plenty of workout routines and guides for beginners available online, but here are our top three quick-tips for making the most of your new elliptical:
Make a game plan.
It doesn't have to be complicated or even super impressive – your plan could just be to hop on your elliptical for ten minutes each day.
But either way, you should have one.
A plan, that is.
Now, we know it's tempting to make lofty declarations here.
You'll exercise every day for three hours!
You'll lose ten pounds in a week!
Your legs will be so toned you'll be able to run straight up Mount Everest by Tuesday!
Your calves will be admired the world over!
Yeah, okay.
You ever hear that thing they say about best laid plans?
Well, here's the trick to keeping yourself motivated:
Start small.
Dare we say…one step at a time.
So, how exactly do you do that?
Pick a realistic and personalized goal that fits into your daily routine, and do your very best to stick to it.
Be honest with yourself about what you can do and what you can't.
This is the key to keeping yourself from getting discouraged and leaving your poor elliptical to collect dust in the corner.
Practice good form.
Yep, turns out posture's not just a concern when you're sitting at your desk. (Although that is definitely a concern. Seriously, sit up straight; you're killing your poor shoulders.)
Leaning too far forward on the handlebars of your elliptical or hunching your shoulders as you pedal can have you really hurting later — in fact, it can even cause back injury.
Yikes.
So don't let that posture fall apart while you work out! You don't need those aches and pains in your life. You deserve better than that.

Change it up!
Who wants to go through the same boring old routine day after day?
Okay, maybe some people, but listen, that's no way to live.
Changing things up doesn't have to mean straying from your carefully chosen goal.
It just means switching it up so you're not working the same muscles over and over in exactly the same way.
You want balance in your life, right?
That means having balance in your fitness routine too. This way you stay stronger, and you avoid falling into a slump of fatigue and that oh-so-deadly boredom.
Many an exercise routine has fallen victim to the insidious boredom virus. Just a little variety can help keep you motivated to go on, even when the going gets tough and you just want to sit on the couch and eat potato chips.
The Bottom Line
You don't need to sacrifice on quality to get a budget-friendly elliptical — we've found that there are plenty of options to suit everybody's needs.
Of course, every one of the machines on our list has its own unique benefits and drawbacks.
So which one comes out on top as the best elliptical under 500 bucks?