All You Need to Know
The best watch for nurses will have a face that's easy to read (even in low light). It will have a case and strap that can undergo numerous rounds of hand washing every shift and a clear, accurate second hand for taking vitals. We looked at a wide range of watches to see how they stacked up to these standards. Keep reading below to get an idea of what makes these the nine best watches on the market for nurses.
Buyer's Guide
So what makes the best watch for nurses? The top feature is accuracy. All the watches on our list (with the exception of the Fitbit) are analog with quartz movement, which is known to be more accurate than both mechanical and automatic movements.
Water resistance
Nurses can wash their hands dozens, if not a hundred times per shift. You'll also be using a lot of alcohol-based hand sanitizer. And many nurses find themselves dealing with fluids in other ways such as administering baths or through spills or accidents. If a watch can't handle getting splashed and/or fully wet, it just won't cut it.
Readability 
For taking heart and respiratory rates, you'll need a second hand that's easy to see. You'll also want a watch face that's large enough to make out the numbers, even in low light. Since military time is used in most hospitals, hospital nurses will want a watch that helps with quick translations to 24-hour time.
Watch bands
Keeping clean is a huge priority for nurses. A watch band that's easy to sterilize (with alcohol wipes or another method) will allow you to keep up proper hand hygiene. Leather bands can soak up water and are harder to keep clean, but the comfort level is so high that a few of our recommendations are in fact leather watches.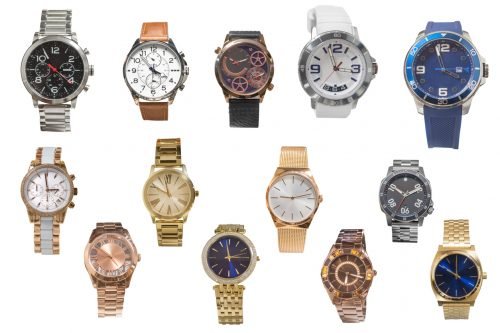 Expert Tip
Some nurses choose to remove watches and jewelry when washing their hands. If that's the way you go about hand washing, you can be a little less strict about the band you choose.
Don't forget comfort and style!
Considerations like how the watch feels and looks are good to keep in mind. You'll be wearing your new watch your whole shift, so make it something you like wearing and looking at!
Expert Tip
Some clinics and hospitals have a "bare below the elbow" policy. That means no jewelry, no nail polish, and no watches. That's when you want a fob watch.
Some nursing school programs require a watch as part of your uniform.
Each program, hospital, and clinic may have a different policy. If you're buying a watch for a new job or before you start school, check the policies before you buy.
01
Nurse Mates Uni Watch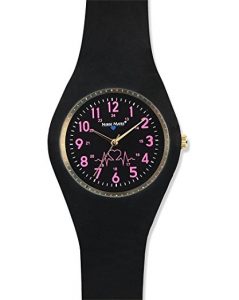 This one tops our list because it checks all the boxes: comfort, readability, water resistance, and military time markers.
Silicone band
The watchband is made from comfortable, buttery silicone and surrounds the watch case in one continuous piece. This helps your watch stay cleaner since there are fewer places for dirt and germs to get trapped. The silicone is also easy to wipe down with an alcohol wipe to keep everything nice and hygienic.
Large face
The watch itself is a good, large size (1 ½") so you'll be able to read the time even in low light conditions. Twenty-four hour time is marked near the standard, 12-hour time numerals so you'll quickly be able to calculate military time.
Style
The Nurse Mate Uni comes in white or black. Both feature pink accents. On the white watch, you get a metallic pink band around the face. On the black option, the numbers are hot pink. And just so everybody knows this is a watch made for nurses, an electrocardiograph with a heart design shows on the bottom half of the watch face.
---
Pros
Silicone band
Military time markers
Large face
---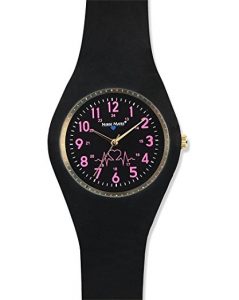 02
Dakota Leather Casual Women's Watch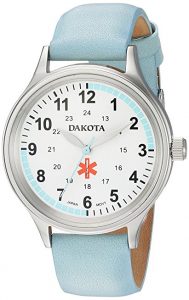 Here's our first leather watch on the list. It has a couple of unique features that are specifically intended to help out nurses.
Quadrant ring
Around the outer edge of the watch face, colored bands split the dial into four sections. Each section is 15 seconds, which for many will be helpful when measuring respiration and heart rates.
Military time and contrasting second hand
This is another watch with 24-hour time markers to help you convert to military time for charting and documentation. The second hand matches the watch band color, which on the pink and purple options are quite easy to see. On the blue and green options, however, the color doesn't stand out as much against the watch face.
Attractive leather
The watch comes in four different colors, which are all pretty stylish (just remember what we said about the second hands on the blue and green).
While a leather watch band may not be the easiest to keep clean and dry, the feel of leather is important to many people. If that's you, this watch is a good choice. You may just need to take a little extra care during hand washing.
---
Pros
Quadrant ring
Military time markers
Contrasting second hand on two colors
Cons
Leather band
Difficult to see second hand on blue and green options
---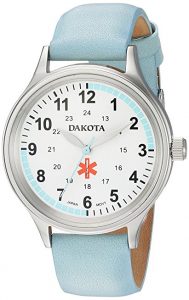 03
Prestige Medical Nurse Cyber Gel Watch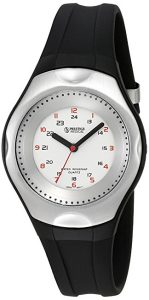 Cyber Gel? Are you asking yourself what that is? Turns out it's just a fancy way to say silicone. As we've learned, silicone is a great material when it comes to watch bands for nurses.
Value
At the time of publication, this was the least expensive watch on our list. While the color choices (black, pink, or purple) change the price a bit, it's still the most affordable.
Standard features
Like the previous watches we've gone over, this one offers water resistance and military time markers. It also features a prominent, red second hand — but only on the black version.
Lower readability score
One disadvantage of the Prestige Medical is a smaller clock face. A thick, decorative metal band surrounds the outer clock face so the watch looks like it's a good size, but the actual clock face is pretty small.
We also noticed the black option has good contrast between the numbers and the background, but the numbers on the pink, and purple options are much harder to see. Similarly, the second hand for the black watch is a bright red color, but on the other two colors, the second hand is harder to pick out.
---
Pros
Silicone band
Military time markers
Low price
Cons
Difficult to read on purple and pink options
Small watch face
---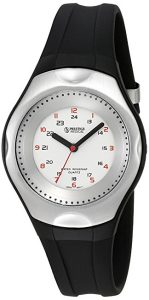 04
Speidel Scrub Watch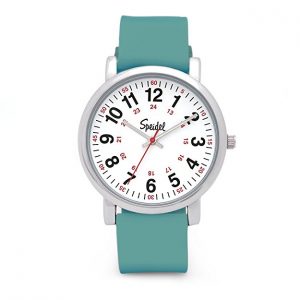 Why is this one called a "scrub watch"? Because it was designed to match your scrubs! While not every possible scrubs color could be represented, Speidel does a good job of covering a few common shades: blue, pink, teal, and white. If none of those work for you, it also comes in a metal band.
But that's not all this watch has going for it.
Great face design
Our favorite feature of this watch is how clear it is to read. The second hand is bright red. Since that's the hand you're looking for when taking vitals, it's a real plus that it's so easy to see.
The numbers on the face are large, black, and clear. In addition to the military hours (13 through 24), this watch also shows the numbers for minutes and seconds (five through 60 in increments of five).
Silicone Band
This is another watch that sports a silicone band. Wiping this down with alcohol at the end of your shift will keep it clean and won't damage the strap. The strap adjusts to fit a range of wrists from 6.7" to 8.3".
Expert Tip: A good and snug — but not tight — fit is important to keeping your watch comfortable and from snagging on equipment.
Overall the Speidel is a great choice. While it boasts the necessary water resistance, it is a little bit pricier than other watches on our list, but well worth the investment.
---
Pros
Silicone band
Military time markers
Scrubs matching colors
Cons
Slightly more expensive
---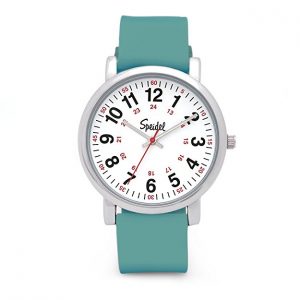 05
Caravelle By Bulova Nurse's Lapel Pin Watch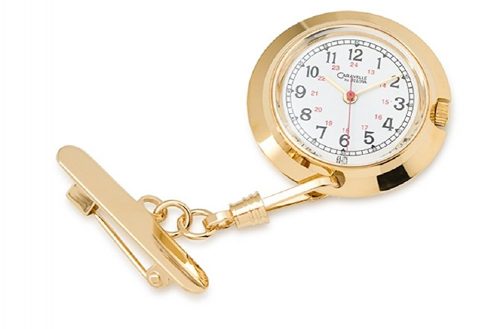 For some, wearing a watch just doesn't work out. Whether you're working in a setting that prohibits them or just don't feel comfortable with one on, you'll need an alternative to a wristwatch. That's where the fob watch comes in.
Pin it on your lapel
Fob watches are also known as lapel pin watches. You pin them to the chest of your shirt and when you need to check the time, it's just a matter of looking down. Conveniently, they hang upside down, so when you glance down at them, you see the time with the 12 at the top of your vision.
A classic look — with good extras
While there are many fob watches out there, this one has a timeless, almost vintage look to it. It's a gold toned stainless steel that looks classy. You also get military time markers and a distinctly visible red second hand.
Higher cost
While there are certainly less expensive lapel pin watches out there, none look quite as elegant as this one.
---
Pros
Lapel pin fob watch
Classic style
Red second hand
---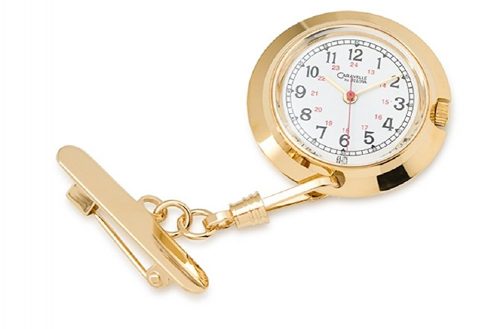 06
Fitbit Ionic Smartwatch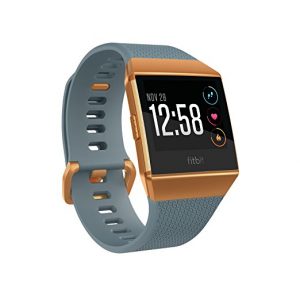 Most of the watches on our list are practical choices, intent on helping you do your job as a nurse. This is the indulgence/luxury choice. The Fitbit will do far more than just tell time--and has a price-point to prove it.
Songs, apps, fitness tracker
The Ionic can hold 300 songs and give you information such as how long and how well you're sleeping at night. The built-in GPS will show you in real-time how far you walked in a day (an interesting piece of information, especially for nurses). On your days off, you can use Fitbit fitness coaching at the gym, for jogging, and more.
Water resistant with a long battery
You may wonder how a smartwatch will hold up to a 12 hour shift. Fortunately, the Ionic has four days of battery life on a single charge. It can also handle being fully submerged up to 50 meters. So, yes, you can definitely wash your hands with this on.
A different way to monitor vitals
Here's where using the Ionic as a nurse will vary a little bit. When you lift your wrist, the clock face shows up, but it turns off after a short while. This is fine for checking the time, but a watch face that disappears won't work when you're taking your patient's vitals.
To do vitals, you'll have to use the stopwatch function. While it's something that will take a little getting used to, we're betting the many benefits of the Fitbit will make up for that adjustment.
Fun Fact
While you monitor vitals for your patients all shift long, the Fitbit is doing the same for you. The heart rate tracker will give you insight into your well being as you work.
---
Pros
Smartwatch capabilities
Highly water resistant
Customizable
Cons
Expensive
Must use stopwatch to track vitals
---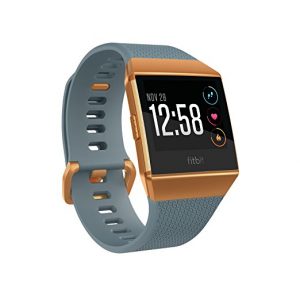 07
Nurse Mates Medical Symbols Watch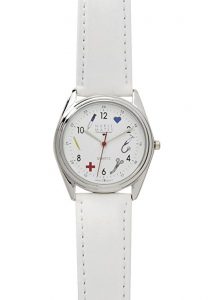 Another pick from Nurse Mates, this one combines function with a little bit of playfulness. Cute, nurse-themed symbols adorn the watch face, symbols like bandage scissors, a stethoscope, a red cross, and a blue heart.
Simple and stylish
The white leather-like band, along with the large white watch face gives the watch a clean look. That combined with the symbols makes it a good choice for a stylish addition to your uniform.
Functional
In addition to being attractive, you also get some important functionality. The second hand is red and there are military time markers around the outer edge of the watch face. We did notice, however that only even numbers on the 12-hour clock are printed. That could prove confusing on the eleventh hour of your shift.
---
Pros
Fun symbols
Attractive style
Red second hand
Cons
White leather-like band
Not all numbers are printed
---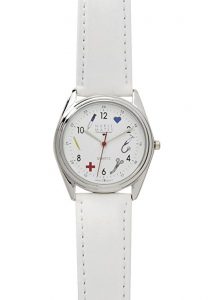 08
Forté Women's Leather Nurse's Watch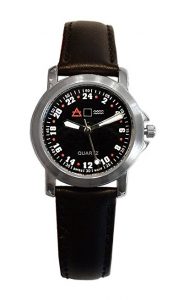 Forté makes the only watch on our list that offers true military time movement. A 360º movement of the hour hand around the watch is a complete 24 hour period. While all the other watches have the military time next to the 12-hour number, this one actually has 24 hours going around the dial.
While it's great for those who already tend to think in military time, it may be a bit of an adjustment for those who are used to clock hands being in the standard 12-hour set up.
Superior water resistance
Other than the Fitbit, this watch can handle the most water exposure, up to 165 feet. That's great if you find yourself administering baths or otherwise getting your hands and wrists wet.
Expert Tip:
The water resistance of this watch is listed as 5 ATM. In this case, ATM means "atmospheres." Five ATMs means the watch casing can keep water out until the water pressure reaches five times that of the atmospheric pressure (which is called 1 ATM). That translates to about 50 meters or 165 feet.
Quality details
The leather strap is padded and stitched, that along with the rugged look of the watch case make the watch an attractive timepiece. You also get luminous (glow in the dark) hands and hour markers. Perfect for low-light conditions.
Get what you pay for
Aside from the Fitbit (which is a smartwatch) this is the most expensive item on our list. It's got great features that make is as useful as it is good-looking, but expect to pay for those qualities.
---
Pros
Highly water resistant
True military time
Luminous numbers and hands
Cons
Expensive
Military time may be confusing
---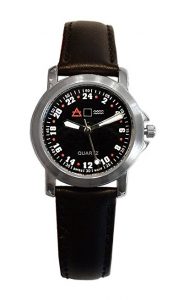 09
Whimsical Watches White Leather Watch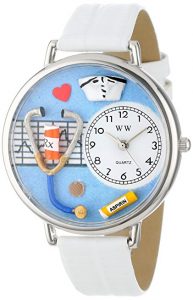 Fun is the name of the game with this watch. It looks like a tiny diorama filled with miniature medical equipment and supplies. A miniscule stethoscope, prescription bottle, and aspirin vial are affixed to the background inside a water resistant case.
Conversation starter
This is a way to wear a nurse-themed fashion statement on your wrist. It's the kind of watch that will probably bring a smile to anyone who notices it. Smiles, in any profession, but especially in nursing, are always a good thing.
No extras
A few things you won't get with this watch are: military time markers, contrasting second hand, and large clock face. You might go for this one if taking vitals manually doesn't factor into your daily routine quite as much. Wear it and get ready for the compliments.
---
Pros
Very unique design
Conversation starter
Cons
No extras
Small watch face
No military time
---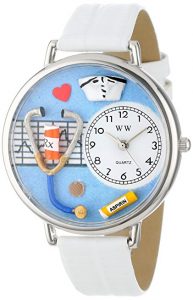 Conclusion
Many nurses feel lost without a watch on their arm.
Knowing the correct time is crucial for administering meds, charting assessments, and documenting treatment. Having a visible second hand makes it far easier to track vitals.
All of these functions need to be housed in a watch that can endure constant hand washing and sanitizing.
Now, with that fresh on your mind:
There's an option here for every nurse. After reading our buyer's guide, you should be able to find the best watch that to make your rounds much easier.