Archery is one of the oldest sports around, and it's also the way our ancestors fed their families. Whether you want to rapidly fire arrows like Lars Anderson or take out a 12-point buck, the best recurve bow can handle either task with ease.
Compound bows are nice, and everyone loves a cool crossbow, but you might be surprised by what a modern recurve bow can do.
If you're looking for something unique, we've got that covered as well. Check out our quick guide to help you find the perfect new bow.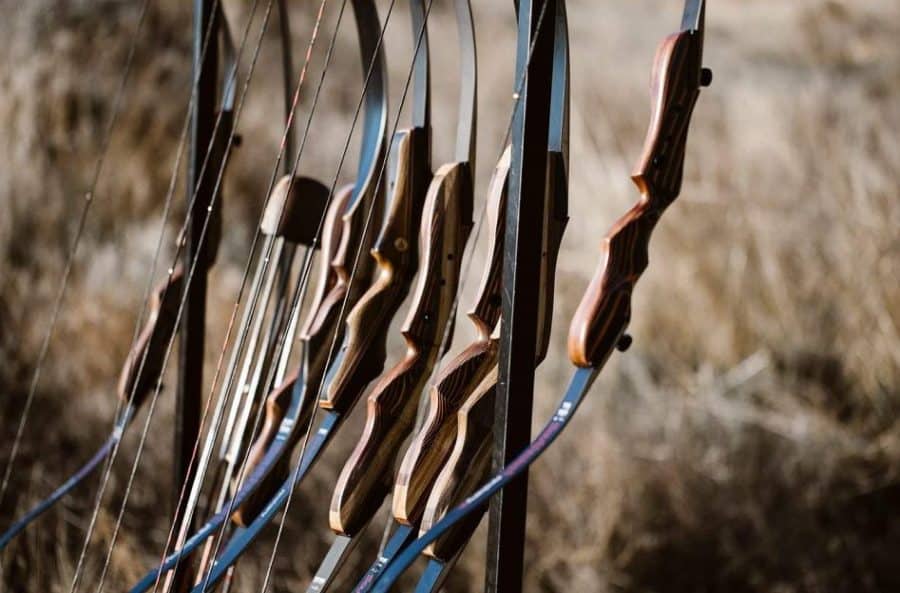 Research You Can Trust
When you're buying a new product for the first time online, it can be difficult to learn who to trust. Paid shills abound, so finding a solid review can be like pulling a needle from a haystack – especially with recurve bows.
In this case, several members of our staff are familiar with archery, including yours truly. ?
While I've never bagged an animal, I have unleashed thousands of arrows and broken hundreds more.
You're going to learn a few things from my mistakes, and our experts put the top models through a lengthy review process.
We considered everything from the number of bushings to the lack thereof. We looked the types of woods used to be sure we're being thorough.
We also included a few traditional models if you're feeling historical. We have price points and styles for archers both big and small.
Let's get started.
THE WINNERS
Choosing the Best Recurve Bow
The big difference between a recurve bow, and a traditional one are the limbs. When unstrung, you'll notice they bend forward, a design choice which helps generate extra energy. They work just like a longbow or reflex bow, however, and are easy to shoot whether you're a beginner or a seasoned pro.
While anyone can fire a straight shot with a bit of practice, choosing the right recurve bow is tricky business – especially if you're new to archery. Before we get into build quality and bow strings, we're going to start with something easy…
What's Your Skill Level?
Are you a beginner picking out your first bow or seasoned hunter with years of experience in the field?
Hunters capable of dropping a deer at 20 yards with ease may want to skip ahead to our top options.
If you're just getting started, you'll want to hang with us as we'll cover everything from draw weight to accessories you can't do without.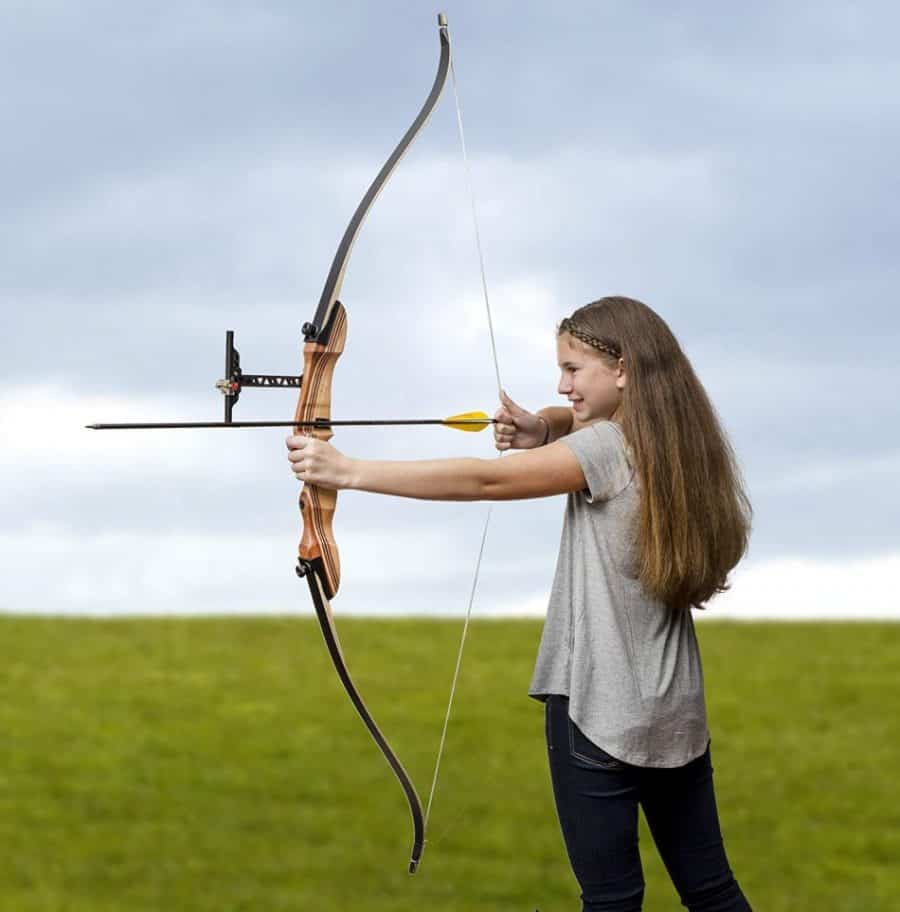 Are You Hunting Or Is It A Hobby?
The first step to choosing the right bow is thinking about how you'll use it. You can shoot at targets with any type of bow, but you can't take down a buck with a practice bow that has a low draw weight.
If you plan to try archery as a sport, you may want to consider a target bow or cheaper model.
These bows tend to be more affordable–something important for beginners as buying a bow is only half the battle. This fun hobby can quickly get expensive when you start snapping arrows and picking up accessories like carbon sights or reel kits.
Aside from price and the quality of the materials used, there aren't too many differences between these two types of bows. Practice bows can be a bit longer in some cases and may have a more colorful design, but the weight ranges typically stay the same.
You also need to consider the parts of your new weapon, but first, we have to go into the old takedown vs. traditional bow debate…
Take-Down vs. One-Piece Bows
In the world of recurve bows, you have two main choices with a one-piece or traditional bow or a take-down model. Both models look basically the same, but there is one key difference.
Any takedown bow will have bolts or "limb pockets" which let you remove the limbs. This is ideal if you want to change the draw weight or length on a whim. They are also easier to transport considering they break down, so you can stow them in a pack with ease.
Durability is a hot topic of debate between these two styles as some archers feel one-piece bows break more frequently than takedown bows. On the flipside, some believe the traditional design is sturdier when high-quality materials are used as there is no weak point where the limbs attach.
While you can find an excellent recurve bow in both forms, we feel takedown models provide more value. The ability to change a cracked limb or increase the power is hard to beat.
And…
They're cheaper than traditional models in most cases as well.
Understanding Recurve Bows
Compared to their compound cousins, recurve bows are relatively simple and only have a few parts you need to know about. While a "shelf" may be self-explanatory, you may not be aware of how important the limbs are or why you may want to swap out the string before firing your first arrow…
Riser – Think of the riser as the backbone of your bow. It's also where you'll place your hand and is usually made from wood if you're choosing a traditional recurve bow. If that's the case, pay close attention to the riser as you can't change it later – it's fixed to the limbs.With takedown bows, the world is your oyster. Wood is still a popular option and ideal when layered with other materials as it gives you strength and is warmer than something like aluminum.The riser is also where attachments come into play like sights, a stabilizer, or even a fishing reel.If you love accessories, look for pre-tapped risers with bushings. You can always add them with a drill and some ingenuity at a later date, but it's easier to let the manufacturer take care of that.
Bow Shelf – The shelf is usually built onto the riser and gives you a place to rest your arrow. It's a small edge that's generally plain wood on basic bows, but can be covered in various types of materials as well. Bear hair is a popular option, but the shape of the shelf is critical as it can affect the flight of your arrow.Bows in this class usually have a shelf with a radius or one that's completely flat. A radius keeps contact between the shelf and the arrow at a minimum, but not as much as a "ridged" edge which has a bit of a point. If the bow is flat and you want more clearance, you can always make adjustments using leather or felt without altering the bow itself.
Limbs – Limbs are interchangeable on takedown bows and are directly tied to the weight. While that number varies, key in on the materials, they're made from and just how well they are made.Construction and the types of materials used will affect the "feel" when you let your arrows fly, but the tips can to limit the kind of string you can use. If you want the ability to use almost any type of string, look for a bow with reinforced limb tips.Wood with fiberglass facing is the most common style these days, but carbon fiber and other exotics have slowly made their way into the mix as well. Some even have cores filled with bamboo or synthetics if you truly want the best or just something unique.
Limb Pocket – This is the part of the bow where the limbs attach or join the riser unless it's a one-piece bow. The style varies wildly and so do the widths although there are a few manufacturers that have interchangeable limbs – in this case, SAS and Samick Sage.How the limbs attach is important as well. Most use a hex screw and require a key or wrench when it's time to tighten things up or switch weights.If you're in the field, that can be a pain and tools are easy to lose (you could try one of these!). Alternatively, there are a handful of models which use a tool-less system with small knobs similar to what you'd see on a weight bench.
String – No matter how well built your bow is, you won't get far without a good bowstring. Unless you're buying a top-tier model, you'll probably have a Dacron string. They are popular, affordable, and get the job done, but aren't as "snappy" as other alternatives.
That's because they stretch a little more, so they're better suited for wooden one-piece than a high-draw takedown bow.
Kevlar-based strings are stronger and have less stretch. But put more strain on the limbs of your bow. The amount of strands used is directly tied to the weight, but there are other things to worry about like creep or why wax is good, be sure to check this out.
There are several other parts of the bow you'll need to familiarize yourself with; this diagram explains things far better than we ever could.

Draw Length
There are two types of "Draw" measurements you'll need to learn in the archery world, but one is far easier to figure out than the other. That would be draw length, which correlates to the length of the bow and how far back you can pull the string. It's critical if you want to perfect your form, fire arrows correctly or just keep the string from popping your jacket (or wrist) with every shot.
Unfortunately, many manufacturers leave this detail out although 28-inches is the standard for most of the recurve bows we examined. If you want to learn how to measure your draw length without a bow, this explains things nicely.
Draw Weight
Draw weight doesn't refer to the weight of the bow, but how much power it can deliver when you let that arrow fly. When looking for the top recurve bow, it's also the first number you should consider if you plan to hunt or are new to the sport.
If you've never used a bow and arrow before, you're not going to have a clue about draw weight.
While a 60-pound pull may sound manly, you may tire yourself out after a few shots or have to switch the limbs out sooner than you'd like. Unlike compound bows or crossbows, you're going to have to "hold" the weight once you pull it back.
While there is no perfect weight for beginners, you'll want to start low and work your way up.
For average sized men, we recommend a weight of between 35 to 45 pounds depending on your needs.  Obviously, if you have a larger frame or are built like a tank, feel free to choose a higher draw weight.
Most ladies will be comfortable in the 20 to 35-pound range while bows built for younger archers are usually between 15 to 25 pounds.
What About Hunting?
The draw weights we mentioned are general, and the rules change if you plan to use your bow for hunting. You need to ensure your bow has enough power for the game you want to hunt and isn't underpowered…
Bows aren't like firearms.
It's also where things can get extremely tricky as regulations can vary from state to state.
For example, in Ohio, you can drop a Coyote with anything from a recurve bow to a pistol or even an Airgun if you're the reincarnation of Jim Corbett.
On the flipside, in Oregon, you'll need to have a draw weight of 40 pounds for any type of game and 50 or more for Elk.
Live in South Carolina and like to bow hunt? There are virtually no restrictions there, but archers in Colorado will want to make sure they read everything carefully before heading off to take on big game in the wilds.
In a nutshell, if you plan to hunt with your bow, check out the rules and regulations for your state beforehand. Otherwise, you could end up with an underpowered recurve bow or an expensive accessory that's illegal in your locale.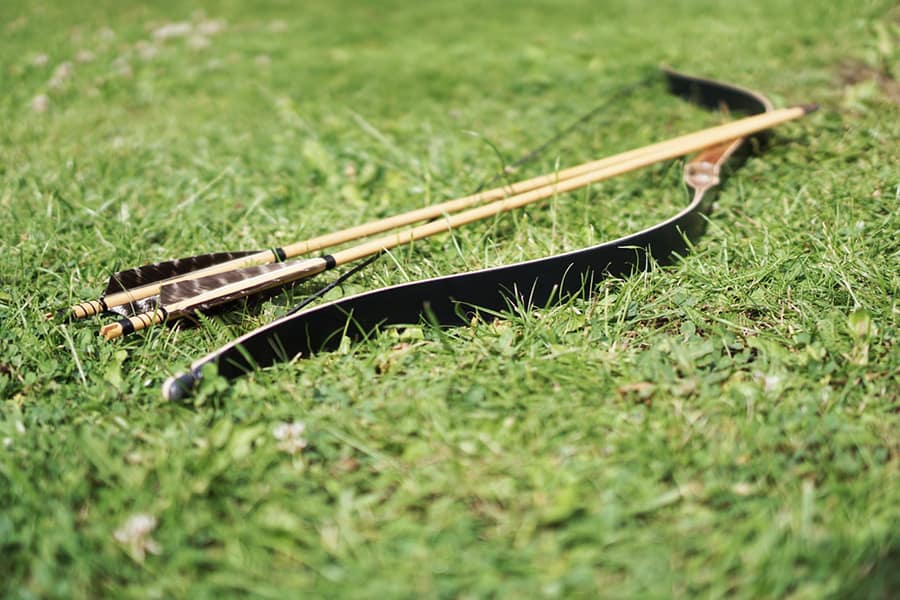 Do I Need A Right Or Left-handed Bow?
Choosing the right hand to hold a bow with may sound simple, but it's not if you've never nocked an arrow.
The first thing you need to do if you're unsure what type of bow you need is to decide on your dominant hand. That's the hand you write with, otherwise known as the "smart" hand for most of us.
If you're right handed, you want a right-handed bow.
You hold these bows in your left hand and draw back the string with your right.
Reverse that for left-handed archers, and you're good to go.
There are also ambidextrous recurve bows available which are great for archers who want to shoot with either hand, are unsure, or simply need to share a bow.
Our Top Recurve Bow Reviews
Do Recurve Bows Come Ready To Shoot Right Away?
You may be able to pull firearms out of the box and go to work, but you can't do that with a recurve bow. They don't ship with strings attached, so you'll need to string it before even thinking about tuning it in. While the process is fairly simple, you can bust your bow if you're not careful and don't read the directions.
Our team has tested enough products to know those handy instruction manuals can be a hindrance at times.
That means you might require a little more help to get your bow ready along with something called a stringer tool. They are simple, inexpensive tools but generally aren't included with recurve bows. We think the Selway Limbsaver is top-notch, and the video below shows you how to string a recurve using a similar tool…
Unfortunately, a stringer isn't the only thing manufacturers leave out of the box…
Before we talk about what you'll need to pick up, we'll briefly discuss what you can expect.
Any bow worth its salt will come with an instruction manual and a warranty card is usually a lock. The most common option outside of those slips of paper is an arrow rest, usually of the stick-on variety. You might get a rug rest, but that's about it unless you buy a "ready to shoot" package.
What Else Do I Need?
That depends on the type of bow you choose, but one accessory you can't live without is an arm guard. This protects your wrist from the bow string, something a lot of inexperienced archers will experience more than once.
As a child, I had a bruised forearm for weeks from an old Indian Spirit bow so believe me when I say, pick up an arm guard.
Arm guards are inexpensive and come with a vast array of styles from medieval wraps that go halfway up the arm to vented lightweight guards. Arrow rests are usually affordable as well and something we've discussed and a silencer can quite things down considerably for hunters.
String wax is highly recommended along with other optional accessories like arrow pullers, finger slings, and quivers.
If you're using it for hunting, we also recommend you check out your options for hunting GPS units. These badboys are capable of doing a lot more than you realize–including keeping you safe.
Maintaining Your New Bow And Staying Safe
Now that you've found the best recurve bow to suit your needs, you'll want to take good care of it. It doesn't matter if it's a budget-friendly model or high-end takedown bow, it will keep you happy for years to come if follow a few quick tips.
When storing your bow, never leave it standing in a corner… or standing at all for that matter. While it's convenient, you can damage the tips so it should be stored on a shelf flat or a set of hangers. Even if the wood is coated, wipe it down and make sure it's dry. If it's of the takedown variety, it's not a bad idea to put a light coating of oil on and steel parts every so often as well, just be careful of wooden finishes.
We're not going to go into arrow maintenance, but recommend you do something called a flex test with new or older arrows. After each shot or with any new arrow, simply take your fingers and run down the length of the arrow shaft. Check for splinters, splits, nicks or anything that "feels" off, and discard the arrow if it isn't up to snuff.
Never fire a damaged arrow, and always check out your equipment beforehand –even if you're just hitting the backyard for practice.  Just because you didn't dry fire your bow, doesn't mean someone else wasn't monkeying around with it. It's better to be safe than sorry, and you can pick up more safety tips here if you're just starting out.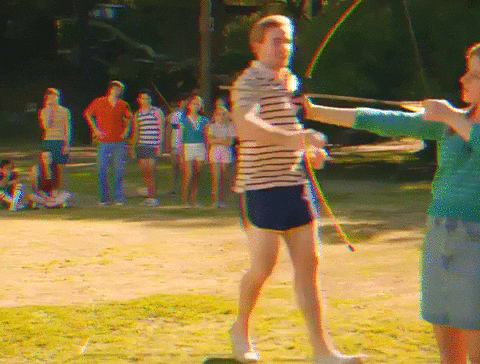 Our Verdict
If you're still with us, you can see we kept our list short and sweet as we felt these recurve bows provide the best bang for your buck. There are some other fine options available as well, but most we felt were too similar or lacking in terms of build quality or customer care.
No matter which bow you choose, always remember to stay safe whether you're in the woods or popping paper targets in your backyard.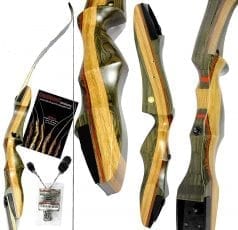 Best of the best
Southwest Archery Spyder Takedown Bow
The best recurve bow doesn't have to break the bank, and it should break your arm when you draw back the string. There are a lot of factors to consider, and we're going to cover them all and provide you with a short list of the top options around.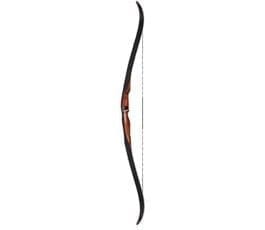 Most Buying
Bear Archery Grizzly Recurve Bow
The best recurve bow doesn't have to break the bank, and it should break your arm when you draw back the string. There are a lot of factors to consider, and we're going to cover them all and provide you with a short list of the top options around.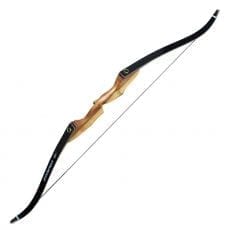 Best for the money
Courage SAS Takedown Archery Bow
The best recurve bow doesn't have to break the bank, and it should break your arm when you draw back the string. There are a lot of factors to consider, and we're going to cover them all and provide you with a short list of the top options around.