Everything You Need to Know
Buying a paddle might seem like a trivial part of the kayaking experience, however, there's actually a lot going on just beneath the surface.
At this point, Bestazy would ask that you pause for a moment and reflect on that sick ass pun. ?
Although choosing a paddle may seem easy, you'll need to keep several important details in mind if you want to end up with the best possible experience on the water.
Additionally, many of the products on this list are built to last and have outstanding warranties meaning you're likely to be using them for a long time. That means that how you conduct yourself throughout this purchasing process could stick with you for years–unless you are a supreme court nominee in which case consequences don't exist.
Lookin' at you, Brett. ?+?+?=⚖️?… ?
For the rest of us, getting the wrong paddle could mean a long time with sore backs, slow speeds, and short excursions. A bad paddle will quickly wear you down and slow you down.
So, make sure to give each paddle you consider a close look in each of the following categories of functionality.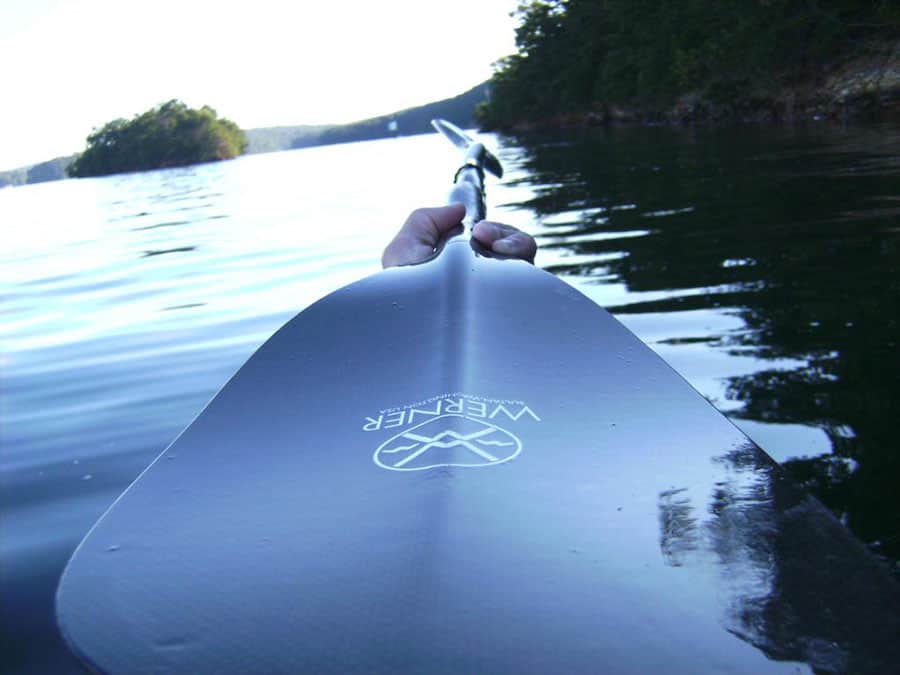 Shaft Material
In the old days, people used to make paddles from wood. This is a perfectly fine material for a paddle which excelled at water transportation for literally millennia.
(Just don't let any of those drunken frat bros near it.)
Nowadays, however, we have many more options for lightweight, durable materials that are suitable for paddling. You can find well-made kayaking paddles in aluminum, fiberglass, plastic, and even carbon.
Aluminum is the most common kayak paddle material. It's cheap and durable. Many people will start their kayaking career with an aluminum paddle, however, most eventually upgrade to something a bit lighter. Also, note that aluminum paddle shafts will become very hot or cold with the outside temperature.
That being said, aluminum paddles are still a staple in the kayaking paddle market since they're so durable. This durability and affordability make them great as spares or for guests since you don't have to worry much about how they get treated. Aluminum paddles hold up to abuse extremely well.
However, if you plan on taking more lengthy excursions, you'll probably want the lightest kayak paddle possible.
Like these:
Plastic is also relatively common when it comes to inexpensive kayak paddles. Plastic is lighter than aluminum but not as durable. Much like the aluminum paddle, plastic paddles are good for beginners.
When you are really ready to upgrade, you'll probably want to look into fiberglass paddles. These paddles are very lightweight and pretty durable. You'll want to be a bit more careful where you throw them than with aluminum paddles, but they do hold up pretty well.
You can find decent fiberglass paddles for relatively affordable prices.
If you want to ensure that you are getting the highest functioning paddle material on the market then you should look no further than carbon fiber. These are extremely low weight, which you will really start to notice around the thousandth stroke. On long trips, this can make a huge difference when it comes to stamina.
Pro-tip: Playing the Pirates of the Caribbean theme song can also increase rowing stamina by upwards of two billion percent. ?♪ Dun-dun da-da-dun-dun da-da-dun-dun da da da da. ♪?
The downside here is that if you do decide to go for carbon glass, you'll need to be prepared to shell out nearly twice the cost of paddles made of other materials.
Blade Material
Blade material is a huge component of managing paddling fatigue. Since the kayak paddle blades are at the ends and must be lifted above the kayak repeatedly, the weight of the blades is felt more than any other part of the paddle.
There are several prominent blade material that you will want to consider, which you may recognize from the previous section: plastic, fiberglass, and carbon fiber.
Let's take a look.
Plastic is common and affordable, but it has some serious drawbacks when compared to the other two materials. It's true that plastic paddles are less prone to chipping, however they're more likely to completely crack. They are also heavier. Most importantly, plastic is much less stiff than the other two options, meaning your paddles will be significantly less efficient and responsive.
It's true that fiberglass can chip more easily than plastic. However, fiberglass will never completely crack, meaning you'll always be able to make it back to shore. It's also much lighter than plastic and highly responsive due to the stiffness of the kayak paddle blades.
Keep in mind that there may be varying degrees of fiberglass used in the blades. Some might only be fiberglass coated or reinforced. Pure fiberglass construction is most ideal.
Carbon fiber takes all of those positive qualities to a greater extent. You should expect to pay more for this peak performance.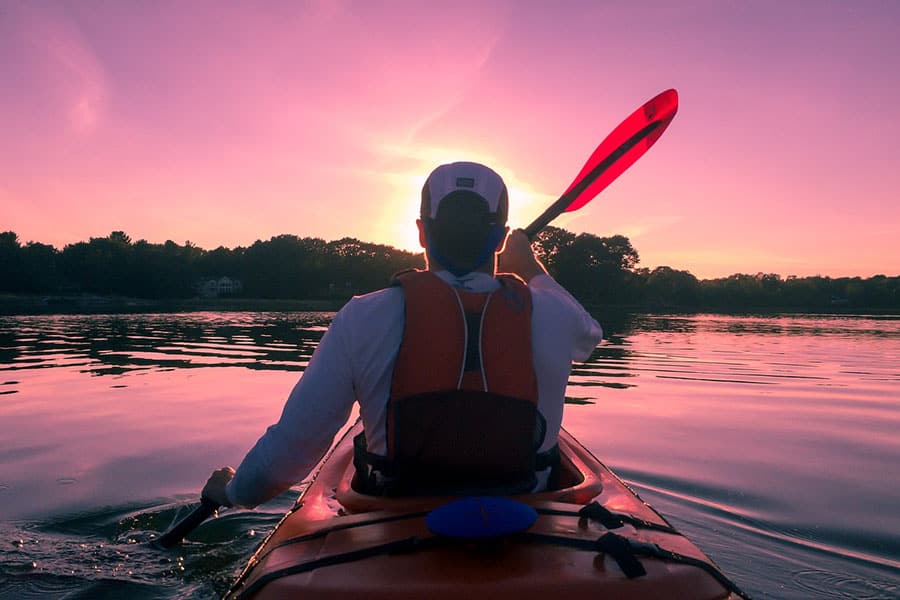 Length
Getting the right kayak paddle size depends primarily on two other measurements: boat width and kayaker height. The size of your paddle will also be different depending on how you plan to use it.
Depending on your plans you may be whitewater kayaking or flat water kayaking. You might also have shorter or longer than average proportions. Each of these options will matter when it comes to kayak paddle length.
The best plan is to make your kayak and paddle purchases at once, that way you can focus on getting the right size of both for your body type (since ideal kayak width depends a lot on height as well).
However, this is not always possible.
Sometimes you already have a kayak or are planning on renting. In this situation, you'll want to focus primarily on your own height as this will ensure that the paddle is at least highly functional, if not quite ideal.
For flat water, if you are under 5'10", then you'll want to use a 220 cm to 230 cm paddle, ideally with a 17 to 23-inch kayak. If you are between 5'11" and 6'2", you'll want to use a 230 cm to 240 cm paddle with a 23 to 25-inch kayak. Any giants out there over 6'3" will want to go for over 240 cm, ideally with over 25 inches of kayak width.
For whitewater, you'll want to shave about 40 cm off of each of those recommended lengths.
One final thing to keep in mind:
If you fall right between two recommended lengths, it's usually better to go with the shorter paddle. This will make your paddle lighter and thus increase stamina. The exception to this would be if you are a person with a proportionally shorter torso, you may need that extra length.
Blade and Shaft Shape
The shape of the paddle is also going to be a big factor. You'll need to analyze both the blade and the shaft, as well as how they connect, to understand exactly what paddle you are getting.
Blades
There are several terms you'll want to know for picking out your kayak paddle. The first is asymmetry. Most modern kayak paddle blades are asymmetrical. Because of the angle that paddles go into the water, it's better for one half of the blade to be shorter than the other.
You'll also want to know the meaning of dihedral. A dihedral blade will have a rib down the middle, which splits and guides the water allowing it to flow off of the blade more smoothly.  A paddle without this rib can sometimes flutter or vibrate in the water–greatly reducing efficiency and tracking responsiveness.
Also consider this…
Depending on how long you are on the water for, you'll want a wider or more narrow blade. A narrow blade will reduce fatigue since it'll be lighter. A wider blade would be better for shorter stretches since they handle better. The increased surface of a wider blade allows your kayak to go faster, as well.
Shafts
There are several variations of the traditional kayaking paddle shaft you may want to consider.
A bent shaft is always a good idea if it's an option. It may take a day or so to get used to, however you're muscles and joints will thank you in the long run. The two bent sections of these paddles allows your hands to more naturally grip the paddle, reducing fatigue and discomfort.
Paddle shafts will either be one-piece, two-piece, or four-piece. This won't have much bearing on quality, however, if portability or storeability is important to you than you may want to go for a two or four-piece.
Some paddle shafts may be ovaled in order to better fit into the palm. Most people find this to be a welcome addition to any paddle. Some people might not want to get used to the less traditional feel, however, so keep that in mind if that sounds like you.
One other shaft option:
Kayak paddle shafts don't really come in a variety of sizes for different hand measurements. However, if you find that a normal paddle it too big for your hands, you can go with a small-diameter shaft paddle. These are your only two options.
Feathering
Feathering can be a great addition to a paddle for experienced kayakers. In fact, it's such a good addition that most paddles allow you to adjust whether a paddle is feathered or matched (unfeathered). Some even let you adjust the degree to which the paddle is feathered.
But what is it?!
Feathering refers to the angle of the kayak paddle blades on the shaft in relation to one another. If the kayak paddle blades are on the same plane, they're matched. If one is on at a different level they're feathered.
Feathering the blades in this way allows the blade that's not in the water to produce less drag in the wind. This increases efficiency and will help with control your paddle on particularly windy days.
Paddling Styles
There are two paddling styles in kayaking: low-angle and high-angle. High-angle paddling is more advanced and difficult to perfect. Poor form with a high-angle style will kill your stamina faster than anything. High-angle paddling requires a shorter shaft and wider blades.
If you are a beginner or even intermediate kayaker, you'll probably want to go with a low-angle paddle. Low-angle paddling is what most people use with typical recreational kayak paddles.
For information on how to perform proper low and high-angle strokes, see the "A Few Things to Know" section a bit further down.
Kayak Paddle Reviews For You
Other Things To Know
There are a few other things you'll probably also want to keep in mind. You'll need to know about the different paddling styles available to you and how to properly execute each. If you are looking to get into high-angle paddling, now might be a good time. You'll also need to know about safety information and paddle maintenance.
Low-angle Paddling
Low-angle paddling is ideal for more relaxed paddling over long distance. Using this style puts less stress on smaller muscle groups, allowing bigger groups with more stamina to get the job done.
Since the high-angle paddling style can also cause joint and muscle stress, this is a great option for anyone looking out for that rotator cuff in their shoulder.
A downside to low angle paddling is that the boat tends to turn back and forth more as you paddle. This slows things down quite a bit in terms of getting from point A to point B.
Here is the correct form.
With all paddling styles, you should hold your paddle like this: make sure that your knuckles align with the blade. Now, hold the paddle on top of your head. In this position, your hands should be a distance apart such that your arms are at a 90 degree angle. Lower your hands without moving them and make a mental note where they're.
As you perform your stroke keep in mind that, for low-angle paddling, your hands should never go above your shoulder–this is what causes the paddle to stay at a relaxed, low angle. This put minimal pressure on easy-to-fatigue muscle groups.
With your hand that's in the air, loosen your grip. This allows the paddle to turn naturally in your hand in preparation for the next stroke and saves your forearm muscles in the long run.
High-Angle Paddling
Mastering proper high-angle paddling technique is difficult. Further, using a high-angle technique without absolutely perfect form will far more harm than good. If you are pretty green to kayaking, this really isn't the style for you.
If you do feel you are ready to move up to the more advanced paddling style make sure you give yourself a few days on the water to practice before any long excursion.
You'll also want to make sure that you have the proper paddle for a high-angle stroke. These paddle will be labeled as such and are characterized by a shorter length and wider blade. These paddles are shorter because high-angle paddling occurs closer to the boat and wider for added power.
Why use it at all, then?
When properly performed, the high-angle paddling technique does wonders for your speed, power, and tracking. It's ideal for more intense, shorter excursions such as whitewater kayaking or other situations with rocks or currents.
High-angle paddling can also be a good idea for ocean kayaking since you'll need that extra power to navigate waves.

Here is how it works.
For this technique, you'll want to raise your 'up' hand all the way to your cheek, causing the paddle to sit at a much steeper angle. This causes the blade that's going through the water to sit closer to the kayak.
When the blade moves closer to the kayak, it trajectory through with water is much more horizontal. This means that your blade will curve out less on a vertical access–it's this curve that causes the kayak to waddle left and right with every stroke, wasting power.
By eliminating this curve, you are eliminating much of the waddling as well, causing your paddle to travel in a much straighter and more controllable manner.
As you pull the water-end blade back with each stroke, loosen your grip on the air-blade side. You'll naturally want to grip it tighter, but this will cause a lot of undue fatigue in your arms.
Check yourself often.
If you notice that your arm is lowering back down to the shoulder or that your small muscle groups are fatiguing right away, you probably need to reevaluate your paddling form overall. Make sure that you are holding your paddle with your knuckles aligned with the blade and arms at 90 degrees.
Safety
Always wear the appropriate gear when kayaking. You'll need a life jacket regardless of your expertise or conditions. Anything can happen on the water.
If there are any rocks or protrusions at all where you are kayaking, you should also wear a helmet. If you are whitewatering, it's essential that you are completely familiar with rapid classes and safety codes.
Make sure to plan your trip ahead of time in order to avoid any unforeseen issues that may lead to unsafe conditions.  University of Idaho has some great resources that make planning a trip easy.
And don't forget:
You need to drink a ton of water while you kayak. You'll be using a lot of energy and bodily resources to move the kayak, often on hot days. These conditions will dehydrate you fast.
Take some time to familiarize yourself with the symptoms of dehydration.
Maintenance
Kayaking paddles can be quite expensive. So you'll want to protect your investment by keeping your paddle in tip-top shape.
Here is how to go about that.
Always store your kayak in a clean, cool, and dry location. This will prevent mold from collecting on you paddle.
The joint of two-piece or four-piece paddles is often where you start to see degradation. Sand and dirt will lodge itself in here on your excursions, so make sure to clean out your joints after every single use.
After cleaning it off, make sure to dry your paddle entirely before storing it. Storing your paddle wet is an awesome way to get mold and mildew on your paddle and surrounding equipment.