Since you're researching the best inflatable kayak, you've probably recently asked your significant other or housemate where you could possibly store a conventional kayak.
I get that feeling. I understand your longing.
I, too, dream at night.
Last month, I suggested to my girlfriend that a kayak could function both as a water vessel and wall art for our studio apartment.
"It'll be hip," you and I collectively tell our significant others.
You may also recognize:
We'll leave it on the Altima.
You know, we could really benefit from a storage unit.
Sit down, honey. I put together a little Powerpoint.
But, let's be clear:
They're never going for it.
It's simply too big a thing to own right now. You aren't going to find the perfect spot to store a 70-pound, nine-foot-long, wet piece of plastic.
So, you'll have to adapt. Since your living quarters aren't getting bigger right now, your kayak is just going to have to get smaller.
This is where the inflatable kayak comes in. In Bestazy's experience, they are all the fun of a traditional kayak with none of the storing and transportation hassles.
So we have collected a list of the ten best inflatable kayaks of 2018 and put together a buyers guide to aid you in your decision.
Research You Can Trust
Inflatable kayaks are a relatively new advent. So it's understandable that you might not be up-to-date on all the best brands and products.
That's why you need Bestazy!
Bestazy tested a ton of products in our search for the ultimate inflatable kayak. And in doing so we came to understand the difference between a good inflatable kayak and a great one.
Turns out it's all about the cup holders. ?
With the help of expert opinions and industry professionals, we narrowed down our picks to eleven kayaks based on a range of benchmarks.
And now, we bring these chosen eleven to you
THE WINNERS
Inflatable Kayaker's Buying Guide – Don't Miss The Boat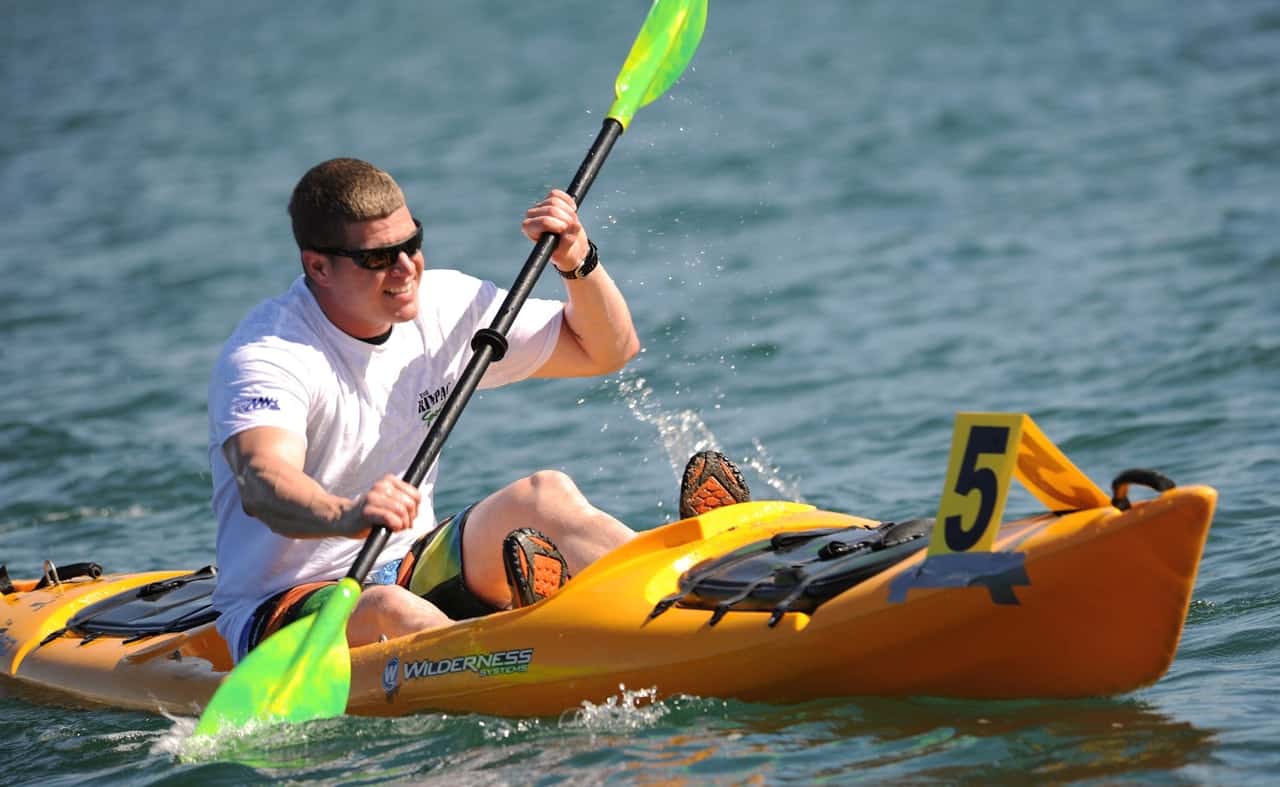 If you are still feeling some anxiety about getting the right kayak, you'll want to pay close attention to this section.
Here, I'll go over some of the key attributes of inflatable kayaks. That way you have access to all the information you'll need to select the right kayak for your situation.
Seating
The first thing you'll want to know is how many people you'll by kayaking with on an ordinary basis. This will generally split your choices between one and two-person kayaks.
From there you can decide based on the other attributes you'll find in this buyers guide.
If you are married and looking to save money, a two-person kayak could be a great option. You may also consider a two-person kayak if you are buying for a lake house or family get-away. That way everyone can get a turn.
On the other hand, if you don't want to rely on anyone else or prefer total control over the boat, a one-person kayak may be right for you.
There's a third option.
If you really feel like you know who you are going to be kayaking with (family of three, perhaps) you could also consider a three-person kayak. Functionally, you might see this option as more of an inflatable canoe.
But remember that number isn't all that matters.
Don't forget that a kayak seat is still a seat. It's easy to get caught up counting butts and forget about the comfort of those butts. You'll want to pay close attention to the seat's comfort level since you'll often be there for hours.
Some seats are adjustable and some offer additional blow-up compartments or cushions. A great feature in a seat is a high back, since it offers way more support to the middle back muscles, which do a lot of the work when paddling.
A higher seat back is almost a must for longer kayaking trips.
Materials
With anything you buy, materials are always an important factor. That goes double for products that literally keeps you afloat. So pay close attention to what's really between you and the depths below.
In this day and age, there are a million tough, canvas-type fabrics. So you'll probably see a huge amount of choice in materials.
An inflatable kayak will be made of some sort of fabric (nylon or polyester–mostly unimportant), which will be coated in a sealant that makes the fabric appropriate for a kayak (more important).
There are three prominent options you'll want to know about as a point of reference.
These three coatings are PVC, hypalon, and nitrylon. Each has it own strengths and weaknesses.
PVC is a strong, flexible coating. With proper care it will last a long time, and it can be easily patched. PVC is easy to mix with various colors to produce a high degree of selectability.
However, PVC can also be somewhat reactive which means it can have problems when exposed to chemicals. Even UV rays from the sun can damage PVC very quickly, so you'll need to apply a regular coat of UV protectant to any PVC coated kayaks.
Also, PVC has been proven to be absolutely terrible for the environment and the health of workers. So there's some social backlash against using PVC.
What's the alternative?
You have a couple other options, but nitrylon was specifically brought to the manufacturing process to phase out PVC in inflatables. It's much, much better for the environment and anyone who comes in contact with its non-consumer life cycle.
Conveniently, it also happens to be more puncture resistant, easier to patch, less reactive, and suitable for a wider range of temperatures.
The downside is that it's a bit heavier than other materials, which makes it less portable than its conventional counterpart. Many manufacturers mitigate this by only using it on the outer parts of the boat that are more at risk to pokes and abrasion.
This material also differs from others you'll see in that it does actually refer to a specific fabric covered in a specific coating, rather than just a specific coating. Nitrylon will always be a nitrile synthetic rubber coating over a 1,200 denier polyester.
There are a few extras that may come on your kayak, too.
Some kayaks have a multi-laminated bottom. Which essentially just means there will be a few more layers protecting the bottom of your kayak from puncture.
There is also a drag reducing treatment that is applied to a couple kayaks on this list that we really like. It does a good job in improving tracking and increasing speed.
Types of Kayaks and Specs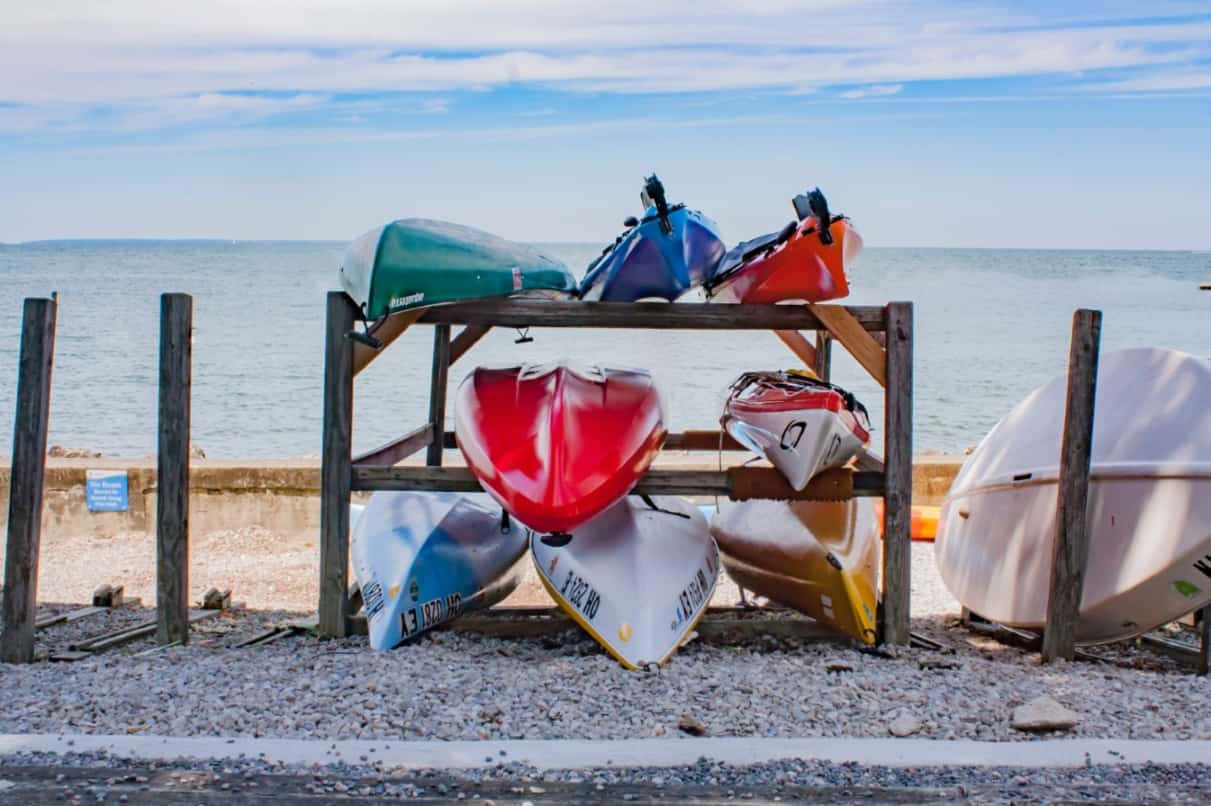 Make sure to check what type of kayak you are getting. Some kayaks are made for lakes, ponds, and slow-moving rivers.
Ocean kayaks on the other hand are meant to handle waves while maintaining balance.
You'll almost always see this distinction made in the product listing. However, sometimes it won't be, and you'll need to know a few things about kayak specs to know what you are getting.
And even when the listing does tell you what type of water a kayak is meant for, you still might see a lot of variations and strengths. A lake kayak might be good for either a leisurely stroll or for getting across the lake as fast as possible, depending on how it was made.
So let's look at Kayak specs for a second.
For an ocean kayak, a pointed entry or bow is extremely important. You can't cut through choppy waters if you don't have an edge for it. You'll also find that these types of front-ends point up and are a bit more firm.
So if you are looking at a kayak with a rounded, flat, or squishy tip know that it's made for lake and slow-moving-river use. If the front seems shaped upward and to a point, it's most likely good for ocean use.
Some kayaks will even be adjustable for different settings and scenes. These will usually have a sharp nose and a removable fin called a skeg.
Ocean kayaks are usually okay for lakes. However, you'll need to be careful in shallow waters. You may also find that you don't move quite as fast on flat water–a skeg or two can mitigate this factor.
Portability and Storability
If you are looking to buy an inflatable kayak then portability, storability, or both are probably important to you. Some kayaks on this list really go above and beyond with that regard.
For now, just keep a few things in mind.
You'll want to know how small your kayak can get when deflated. But also how it's stored and contained. For instance, one kayak on this list deflates into a backpack. This can be a real game-changer in many situations.
Weight is also a real difference maker in many situations. If you need or like to hike or backpack to your kayaking destination, you'll really start to feel any extra weight. And you should know that inflatable kayak weights can vary a lot.
At the lightest, you'll find inflatable kayaks at about 20 to 25 pounds. Others can get up to 40 or 50 pounds. If you are having a hard time picturing that difference, imagine leaving the gym with a weighted plate in your bag.
Cargo
You'll probably also want to pay attention to how much a kayak can hold in terms of equipment. A higher cargo limit is of course better for long trips. A lower one usually means a lighter kayak for increased portability and speed.
For your own comfort and accessibility also pay attention to where things are stored. Storage and cargo can also affect balance quite a lot.
Storage at your feet can be difficult to get to sometimes, however it's usually the best balanced. The same goes for storage and cargo at the back of the boat–this is harder to get to but weight at the back of a boat does not flip easily.
On the other hand…
Any type of storage on the sides of the kayak are easy to get to, however they can really mess with your balance. If you have a hard time getting into or out of a kayak, keep this in mind.
Lastly, some kayaks have specialized cargo stations. For instance, some inflatable kayaks have places to store and hold fishing poles. So keep an eye out for any extra compartments you might be interested in.
Reliability and Safety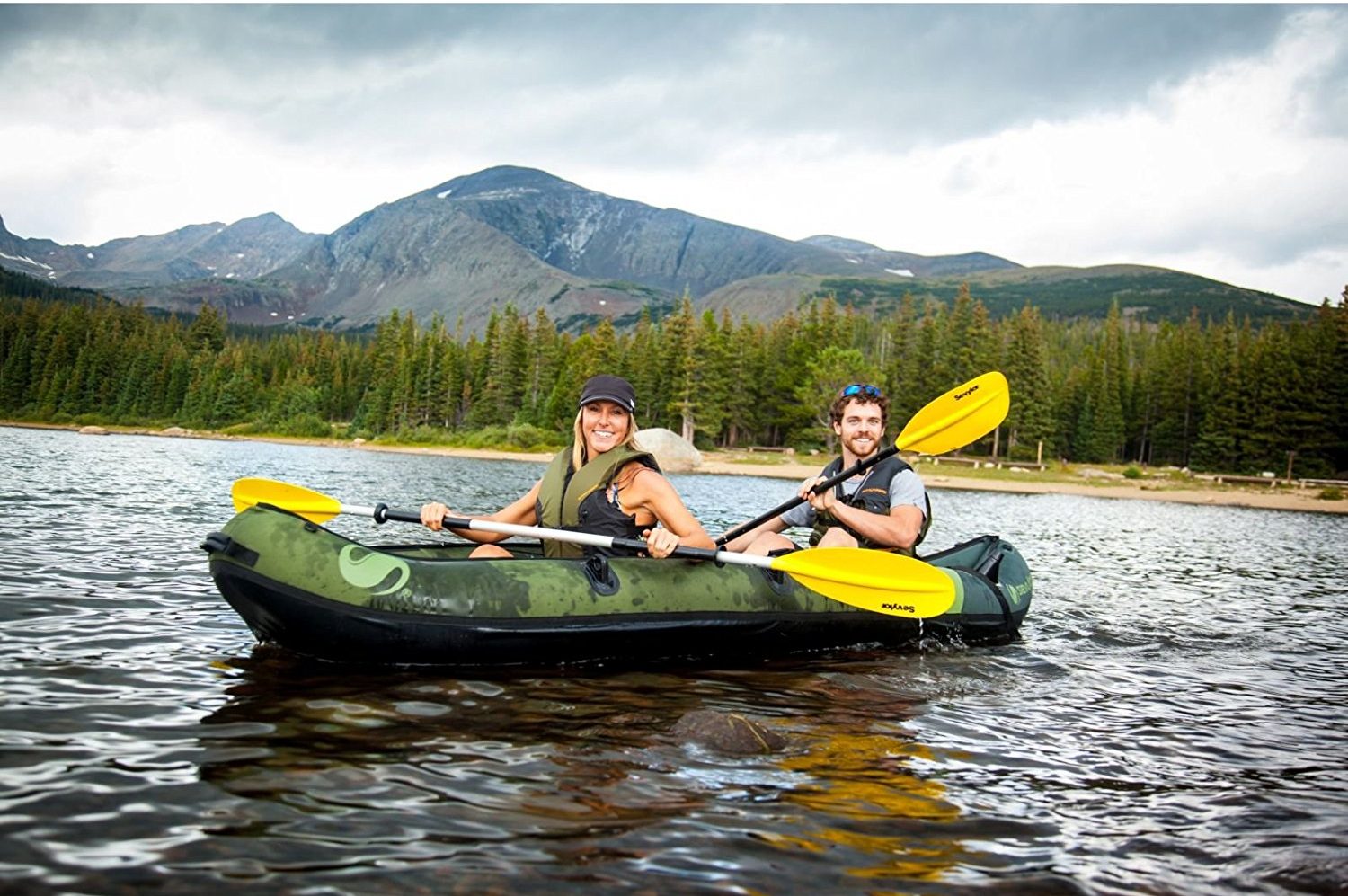 Don't forget that it isn't all about comfort. You want to be able to depend on your kayak.
Reliability is key when you are over water. Many of these kayaks have contingencies in place in case puncture and deflation do occur.
A common and effective method is to use multiple air compartments. That way if one deflates the others can support the boat well enough to get you safely back to shore.
If you have serious questions about safe kayaking practices, you should check out this great safety guide and the coast guards official recommendations and guides.
It is a good idea to pack some essentials regardless of how long you think your trip will last. Things can happen while you are out, and you never really know how the day is going to end up.
This lightweight shelter is an excellent addition to any kayaking emergency pack. So is this highly portable water filter.
Features and accessories
Lastly, keep an eye out for any extras you might be interested in. For instance, many of these kayaks are all-inclusive, meaning you don't need to order anything else like paddles or pumps.
Others have a dedicated space for attaching a trolling motor–something fisherman might be very interested in.
The Best Inflatable Kayaks: Reviewed
Other Things You Should Know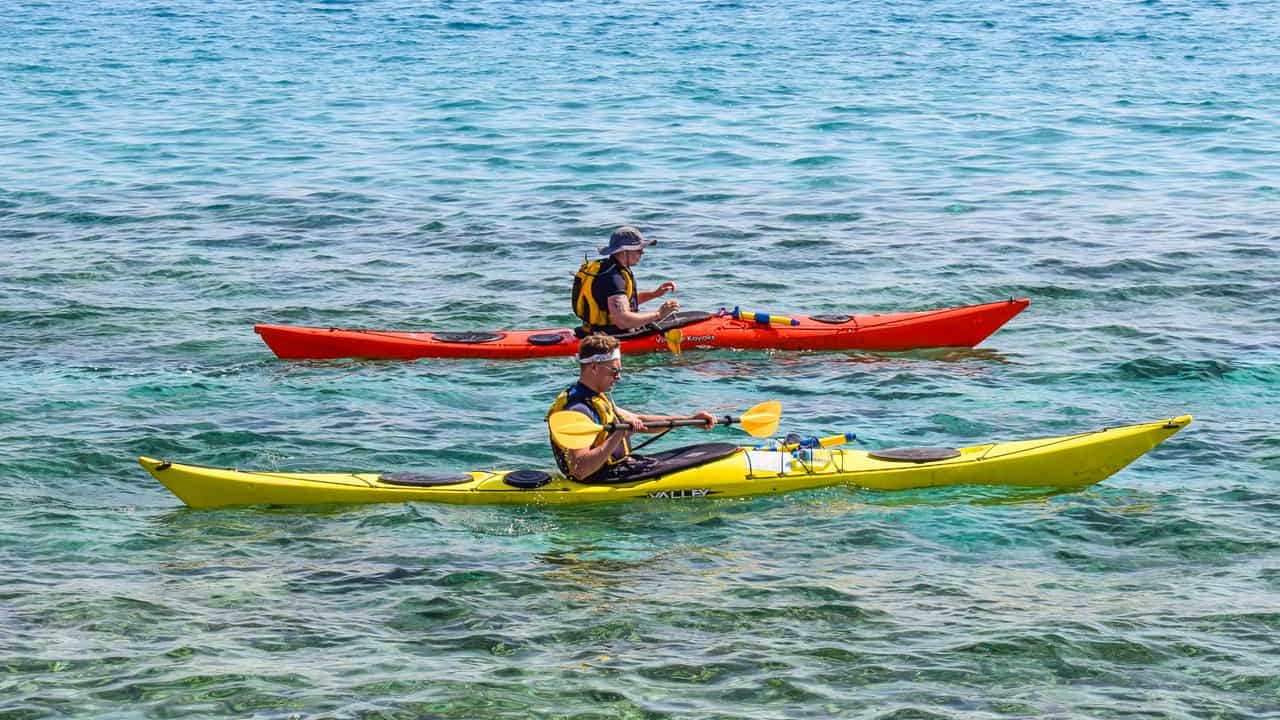 There are several other things you are probably going to want to keep in mind with regard to various aspects of kayaking and inflatable boats.
White Watering
You need to understand that white water kayaking is an inherently dangerous. You are flowing down a river that probably has several large rocks along the way.
So be careful.
Most inflatable kayaks won't be able to handle anything over class III rapids. Class III is a moderately dangerous rapid, although most people are capable of handling it.
You may even want to be wary of class IV, which have been deadly.
If you have any reservations at all about rapid classification, please read this guide closely so you know exactly what you are getting into. And remember that rivers change day-to-day, so a class IV might run like a class V some days and vice versa.
This depends a lot of annual precipitation and season. You should expect all white water rapids to be as much as an entire class higher the months following winter.
As snow melts and runs off of mountains it makes its way to the ocean and other large bodies of water via the rivers you'll be white watering on.
This creates a much faster and less predictable flow, while also hiding rocks that may lie just below the surface. These rocks become a very real danger in the event that you fall from your vessel.
For a complete rundown of all whitewater safety see this excellent guide. Always wear a helmet and don't white water alone.
And stay away from the really dangerous one.
With all this in mind, you really don't want to try anything like a class V or VI rapid in inflatables. Those require huge amounts of precision and control. Even hard shell kayaks have taken a beating on these rapids before and plenty of people die on them yearly.
In general, stick to class III or below unless your white water inflatable specifically says it can handle class IV.
Patching
Usually, patching doesn't take more than ten minutes of work and another thirty minutes before the kayak can be reinflated.
Several of the manuals I read for products on this list noted a disclaimer that if the patch didn't hold, PVC glue would sure up that patch.
In general, I don't wait to see if my patches are going to hold.
Do yourself a favor a buy some PVC glue when you make your inflatable kayak purchase. It doesn't take any extra time to apply and ensures that your patch will hold for the long hall.
Why take the risk of another air leak if you don't have to?
Storing Your Inflatable
I know, I know. The whole point of this article was that you didn't have to worry much about storage!
But there are a few things you'll want to watch out for.
Store your kayak in a cool and dry place. Make sure that it has completely dried before you fold it for storage. If your kayak isn't dry, it will almost certainly mildew.
Dirt or mud will also dry and can be abrasive against your kayaks fabric. If you repeatedly store your kayak dirty, this can even rub holes into your kayak. Not to mention all the bugs dirty equipment can attract!
Aside from making your kayaking experience smelly, it will also reduce the longevity of your kayak and may even void your warranty.
This part is important.
And if you sprung a leak on a particular outing, you'll need to take an additional step in clean up, as well.
If air got out of your kayak, it probably also means that water got into your air chambers. Overtime this will become a breeding ground for all kinds of nasty stuff.
So if you got a leak, or it seems like you may have water inside your kayak, leave your kayak partially inflated for a few days after use.
If you deflated it and fold it, the water will have no way to escape when it evaporates.
Final Reminders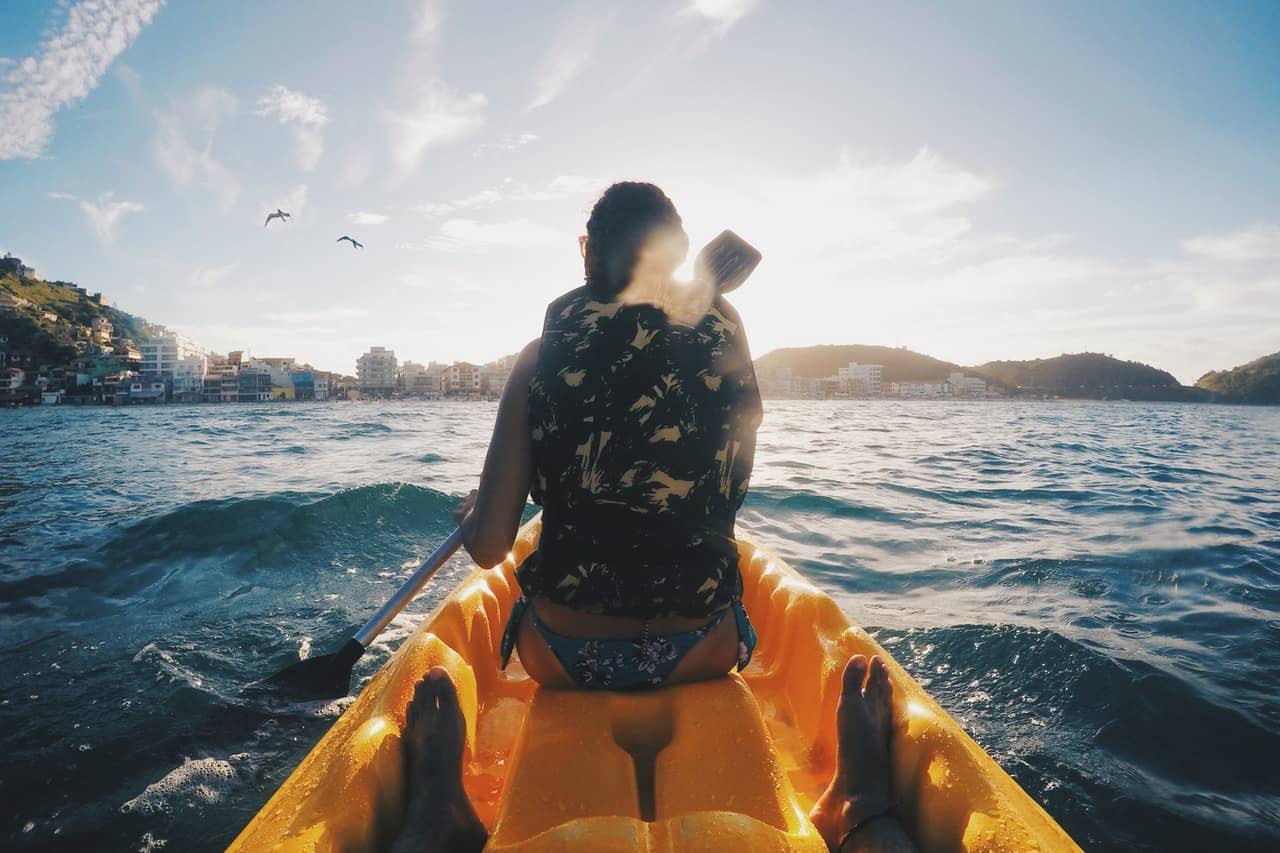 So, reader, consider a grower rather than a shower–inflatable kayaks are a great option for anyone who loves to paddle but just can't store a normal kayak.
They are also an great choice for hikers or anyone who wants a little extra or easier portability and transportation.
You can also find them for much cheaper than a traditional kayak.
Let's review.  
The first thing you'll want to consider is the amount of people you'll be kayaking with regularly. Or, alternatively, you should know how comfortable you are trying to match up schedules with other kayakers.
If you want to go kayaking every day and never have your plans ruined, maybe you are someone who should go for a one-person kayak.
Keep in mind that many of the tandem kayaks on this list can remove a seat and function just fine as a one-person. This is an especially good option if you are someone who will be needing a lot of extra cargo capacity for any reason.
Also, remember different kayaks are suitable for different situations. If you are someone who wants to own one kayak for multiple purposes, there are certainly kayaks on this list that are flexible in that way.
Be careful with storing your kayak. We at Bestazy know that the whole point of reading this article was to make storing a kayak easy. And it is easy to store an inflatable kayak! But you should still look out for the longevity of your kayak by maintaining proper care.
Parting Notes
Each of these kayaks has something different going for it. What is the best kayak imaginable for one-person might be entirely wrong for another. A fisherman and a white water enthusiast are obviously going to want different things.
All I'm saying is, don't be a slave to the ratings.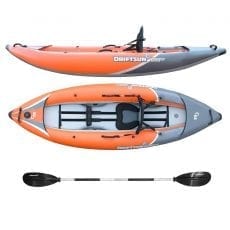 Best of the best
Driftsun Rover 120 Inflatable Whitewater Kayak
Find some of the best inflatable kayak on the market. Bestazy included a buyer's guide and some safety information to ensure you end up with the right kayak and know how to use it!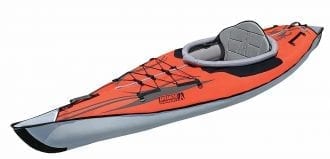 Most Buying
Advanced Elements AdvancedFrame Kayak
Find some of the best inflatable kayak on the market. Bestazy included a buyer's guide and some safety information to ensure you end up with the right kayak and know how to use it!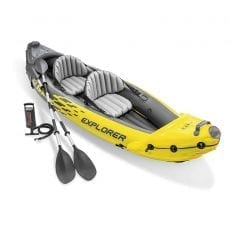 Best for the money
Intex Explorer K2 Kayak
Find some of the best inflatable kayak on the market. Bestazy included a buyer's guide and some safety information to ensure you end up with the right kayak and know how to use it!