The 30-Second Review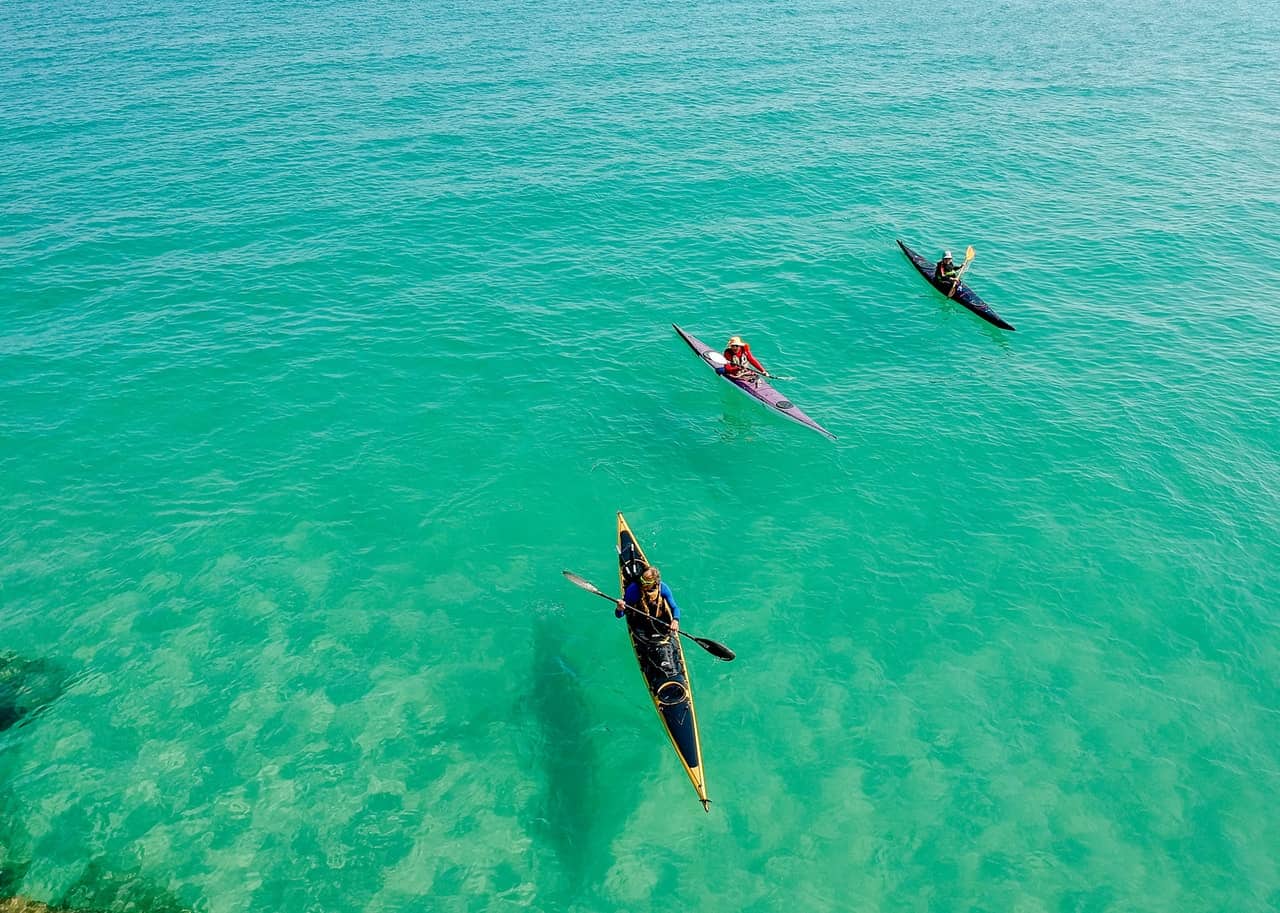 Before you go buying anything, stop and ask yourself what you are going to be using this kayak for. This is really going to be your best bet for making sure you get the right product for you.
Some kayaks are meant for ocean water and some for flat water like lakes and calm rivers. It should say in the listing which a kayak is intended for. But if not, keep in mind that a long, sharp bow will cut through waves much easier than more rounded or flat bows.
If you are a fisherman, there are kayaks that hold fishing poles in place for you while you paddle. If you like white water, there are super durable kayaks built with high-pressure rigid bottoms for precision tracking (responsiveness to paddling) and control.
You'll want to give close consideration to how many people you know that want to kayak regularly. Kayak carrying capacities vary, so make sure you'll have enough people to man your boat.
Most kayaks are built with PVC coatings, which is crucial for making fabrics seaworthy. Pay special attention to any other coatings used, because this usually implies careful and thoughtful construction.
You'll probably also want to give a good amount of thought to the portability and transportation of your kayak. Some of these kayaks are built with extreme portability in mind so give those a close look if that is something very important to you.
Inflatable Kayaker's Buying Guide – Don't Miss The Boat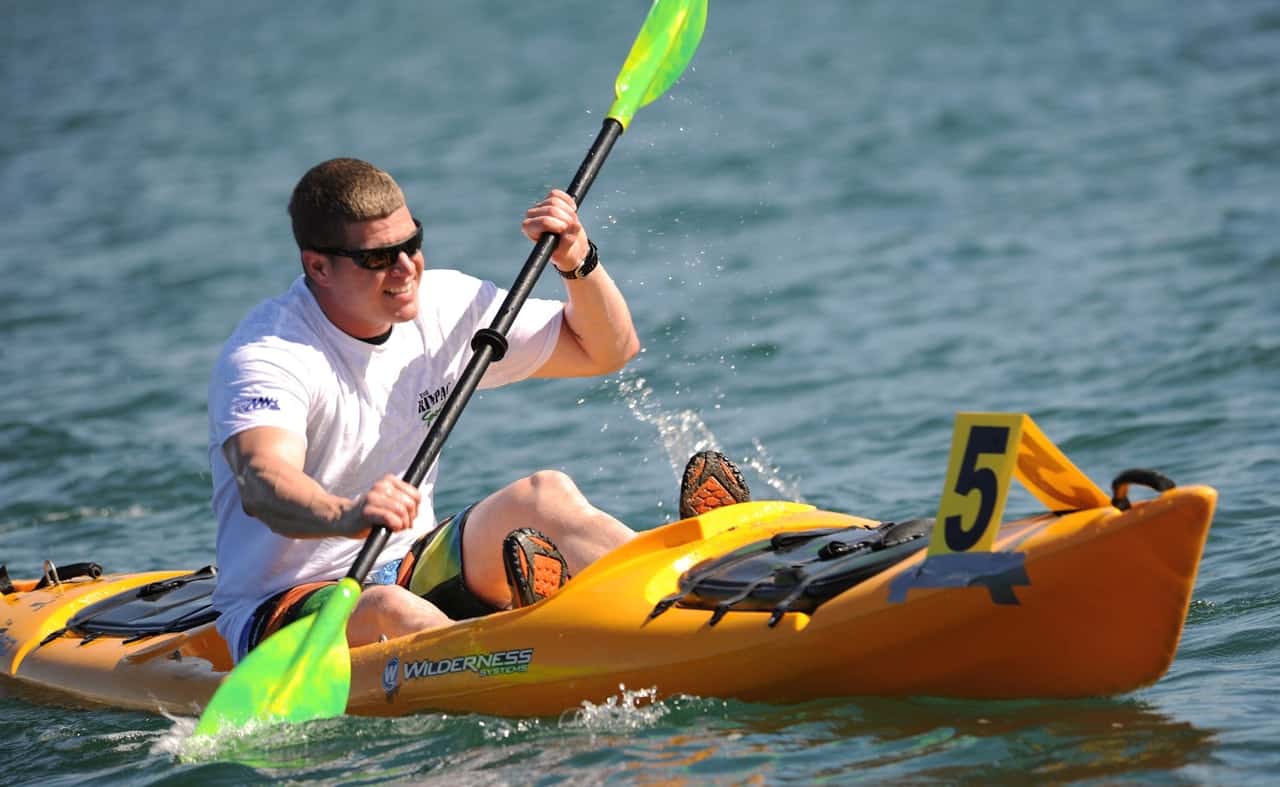 If you are still feeling some anxiety about getting the right kayak, you'll want to pay close attention to this section.
Here, I'll go over some of the key attributes of inflatable kayaks. That way you have access to all the information you'll need to select the right kayak for your situation.
Seating
The first thing you'll want to know is how many people you'll by kayaking with on an ordinary basis. This will generally split your choices between one and two-person kayaks.
From there you can decide based on the other attributes you'll find in this buyers guide.
If you are married and looking to save money, a two-person kayak could be a great option. You may also consider a two-person kayak if you are buying for a lake house or family get-away. That way everyone can get a turn.
On the other hand, if you don't want to rely on anyone else or prefer total control over the boat, a one-person kayak may be right for you.
There's a third option.
If you really feel like you know who you are going to be kayaking with (family of three, perhaps) you could also consider a three-person kayak. Functionally, you might see this option as more of an inflatable canoe.
But remember that number isn't all that matters.
Don't forget that a kayak seat is still a seat. It's easy to get caught up counting butts and forget about the comfort of those butts. You'll want to pay close attention to the seat's comfort level since you'll often be there for hours.
Some seats are adjustable and some offer additional blow-up compartments or cushions. A great feature in a seat is a high back, since it offers way more support to the middle back muscles, which do a lot of the work when paddling.
A higher seat back is almost a must for longer kayaking trips.
Materials
With anything you buy, materials are always an important factor. That goes double for products that literally keeps you afloat. So pay close attention to what's really between you and the depths below.
In this day and age, there are a million tough, canvas-type fabrics. So you'll probably see a huge amount of choice in materials.
An inflatable kayak will be made of some sort of fabric (nylon or polyester–mostly unimportant), which will be coated in a sealant that makes the fabric appropriate for a kayak (more important).
There are three prominent options you'll want to know about as a point of reference.
These three coatings are PVC, hypalon, and nitrylon. Each has it own strengths and weaknesses.
PVC is a strong, flexible coating. With proper care it will last a long time, and it can be easily patched. PVC is easy to mix with various colors to produce a high degree of selectability.
However, PVC can also be somewhat reactive which means it can have problems when exposed to chemicals. Even UV rays from the sun can damage PVC very quickly, so you'll need to apply a regular coat of UV protectant to any PVC coated kayaks.
Also, PVC has been proven to be absolutely terrible for the environment and the health of workers. So there's some social backlash against using PVC.
What's the alternative?
You have a couple other options, but nitrylon was specifically brought to the manufacturing process to phase out PVC in inflatables. It's much, much better for the environment and anyone who comes in contact with its non-consumer life cycle.
Conveniently, it also happens to be more puncture resistant, easier to patch, less reactive, and suitable for a wider range of temperatures.
The downside is that it's a bit heavier than other materials, which makes it less portable than its conventional counterpart. Many manufacturers mitigate this by only using it on the outer parts of the boat that are more at risk to pokes and abrasion.
This material also differs from others you'll see in that it does actually refer to a specific fabric covered in a specific coating, rather than just a specific coating. Nitrylon will always be a nitrile synthetic rubber coating over a 1,200 denier polyester.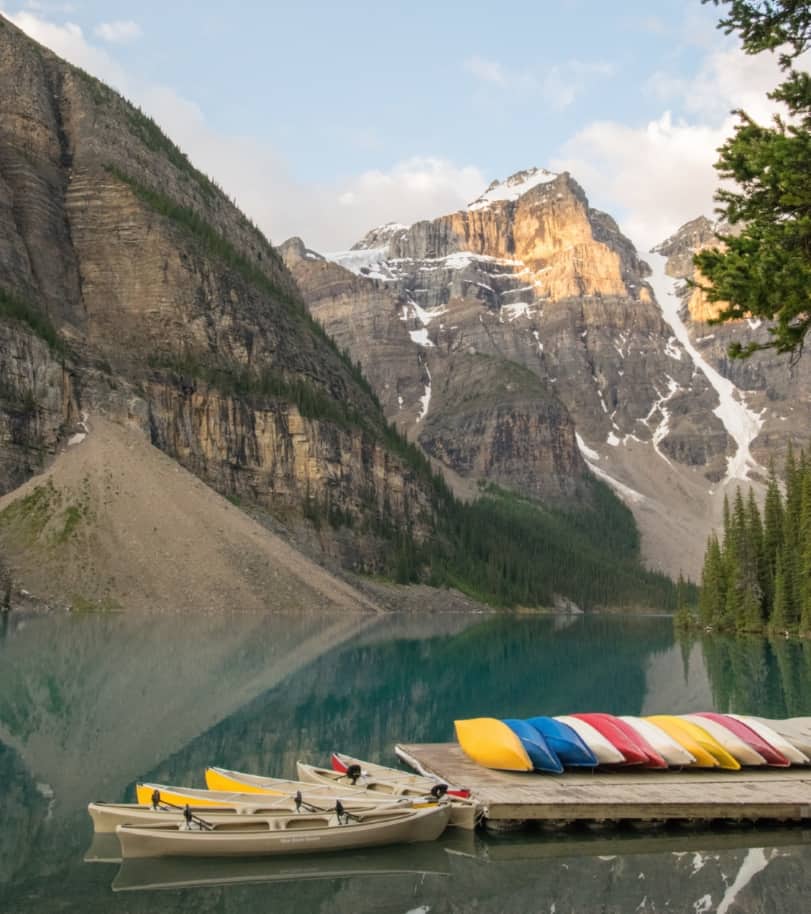 Don't like those options?
Neither does the US military. They use hypalon for their inflatable water crafts and so do many kayak manufacturers.
The major benefit of this material is in durability. Even in the face of serious abuse and neglect, these usually hold up pretty well.
Hypalon stands up to environmental factors extremely well. UV rays are not a problem, and it's highly resistant to mildew, mold, and fungus.
Thanks to this heightened durability, boats made of hypalon often carry excellent warranties.
Hypalon is usually a bit more expensive than alternatives, but it's also highly resistant to corrosive chemicals.
However, our best advice is to not kayak on a pond of corrosive chemicals, anyway… ?
The only other negative you may notice is that hypalon isn't welded at the seams like other materials. It's glued, which does leave a little more room for manufacturer defect and durability errors.
There are a few extras that may come on your kayak, too.
Some kayaks have a multi-laminated bottom. Which essentially just means there will be a few more layers protecting the bottom of your kayak from puncture.
There is also a drag reducing treatment that is applied to a couple kayaks on this list that we really like. It does a good job in improving tracking and increasing speed.
Types of Kayaks and Specs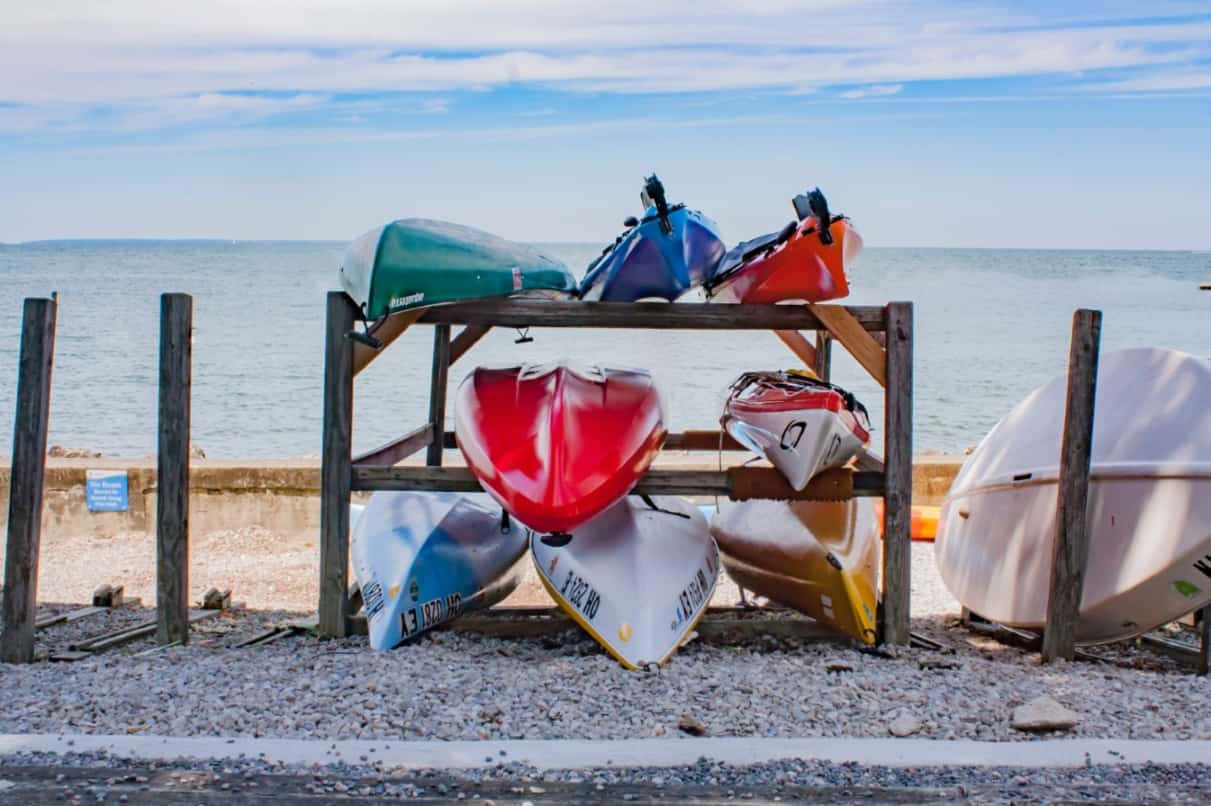 Make sure to check what type of kayak you are getting. Some kayaks are made for lakes, ponds, and slow-moving rivers.
Ocean kayaks on the other hand are meant to handle waves while maintaining balance.
You'll almost always see this distinction made in the product listing. However, sometimes it won't be, and you'll need to know a few things about kayak specs to know what you are getting.
And even when the listing does tell you what type of water a kayak is meant for, you still might see a lot of variations and strengths. A lake kayak might be good for either a leisurely stroll or for getting across the lake as fast as possible, depending on how it was made.
So let's look at Kayak specs for a second.
For an ocean kayak, a pointed entry or bow is extremely important. You can't cut through choppy waters if you don't have an edge for it. You'll also find that these types of front-ends point up and are a bit more firm.
So if you are looking at a kayak with a rounded, flat, or squishy tip know that it's made for lake and slow-moving-river use. If the front seems shaped upward and to a point, it's most likely good for ocean use.
Some kayaks will even be adjustable for different settings and scenes. These will usually have a sharp nose and a removable fin called a skeg.
Ocean kayaks are usually okay for lakes. However, you'll need to be careful in shallow waters. You may also find that you don't move quite as fast on flat water–a skeg or two can mitigate this factor.
Portability and Storability
If you are looking to buy an inflatable kayak then portability, storability, or both are probably important to you. Some kayaks on this list really go above and beyond with that regard.
For now, just keep a few things in mind.
You'll want to know how small your kayak can get when deflated. But also how it's stored and contained. For instance, one kayak on this list deflates into a backpack. This can be a real game-changer in many situations.
Weight is also a real difference maker in many situations. If you need or like to hike or backpack to your kayaking destination, you'll really start to feel any extra weight. And you should know that inflatable kayak weights can vary a lot.
At the lightest, you'll find inflatable kayaks at about 20 to 25 pounds. Others can get up to 40 or 50 pounds. If you are having a hard time picturing that difference, imagine leaving the gym with a weighted plate in your bag.
Cargo
You'll probably also want to pay attention to how much a kayak can hold in terms of equipment. A higher cargo limit is of course better for long trips. A lower one usually means a lighter kayak for increased portability and speed.
For your own comfort and accessibility also pay attention to where things are stored. Storage and cargo can also affect balance quite a lot.
Storage at your feet can be difficult to get to sometimes, however it's usually the best balanced. The same goes for storage and cargo at the back of the boat–this is harder to get to but weight at the back of a boat does not flip easily.
On the other hand…
Any type of storage on the sides of the kayak are easy to get to, however they can really mess with your balance. If you have a hard time getting into or out of a kayak, keep this in mind.
Lastly, some kayaks have specialized cargo stations. For instance, some inflatable kayaks have places to store and hold fishing poles. So keep an eye out for any extra compartments you might be interested in.
Reliability and Safety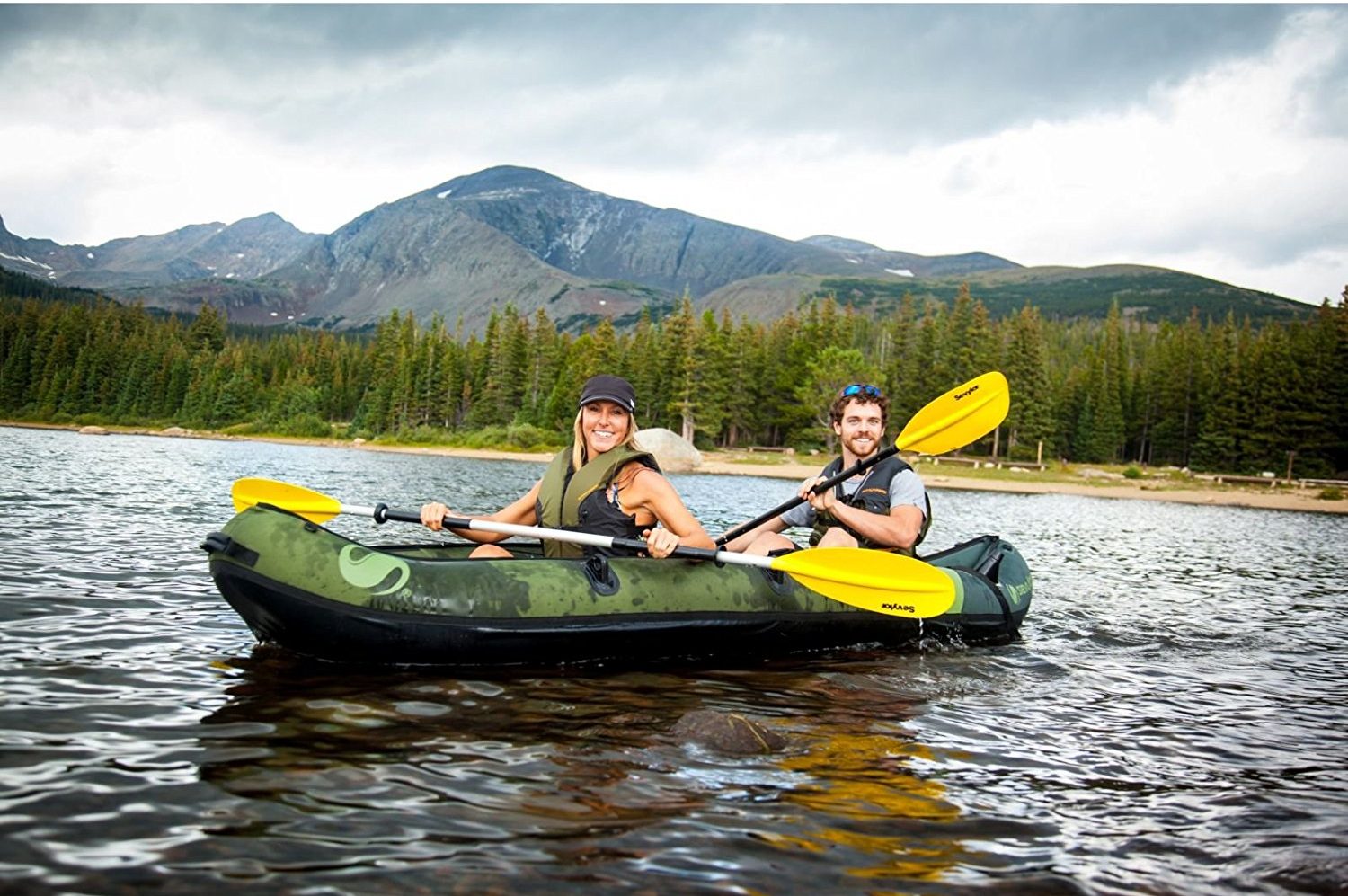 Don't forget that it isn't all about comfort. You want to be able to depend on your kayak.
Reliability is key when you are over water. Many of these kayaks have contingencies in place in case puncture and deflation do occur.
A common and effective method is to use multiple air compartments. That way if one deflates the others can support the boat well enough to get you safely back to shore.
If you have serious questions about safe kayaking practices, you should check out this great safety guide and the coast guards official recommendations and guides.
It is a good idea to pack some essentials regardless of how long you think your trip will last. Things can happen while you are out, and you never really know how the day is going to end up.
This lightweight shelter is an excellent addition to any kayaking emergency pack. So is this highly portable water filter.
Features and accessories
Lastly, keep an eye out for any extras you might be interested in. For instance, many of these kayaks are all-inclusive, meaning you don't need to order anything else like paddles or pumps.
Others have a dedicated space for attaching a trolling motor–something fisherman might be very interested in.
The Best Inflatable Kayaks: Reviewed
01
Driftsun Rover 120 Inflatable Whitewater Kayak with High-Pressure Floor, EVA Padded Seat, Action Cam Mount, Paddle, Pump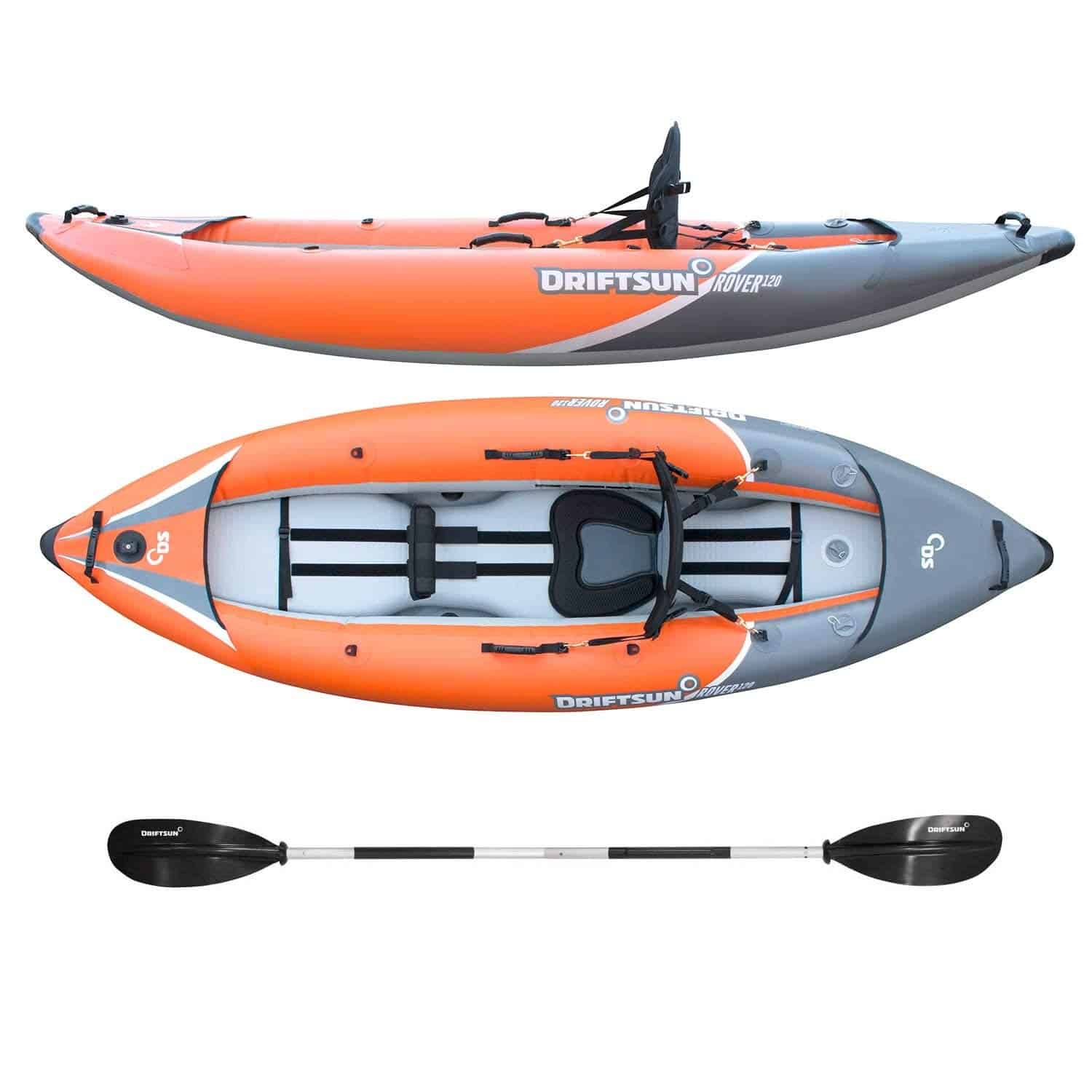 It takes a special quality of inflatable to stand up to rough white waters. Until recently, inflatable whitewater vessels where typically rafts manned by 4-12 people.
Nowadays, however, you can take on even class IV rapids with an inflatable kayak.
How is this possible?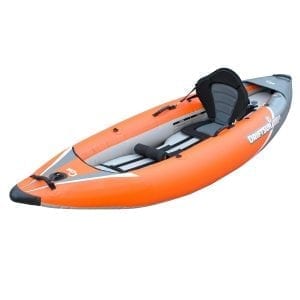 By making them really, really tough. Inflatable whitewater kayaks are much more durable than your typical inflatable.
This particular kayak's air compartments are protected by two separate layers of PVC coated fabrics. One under the kayak, as with most inflatable, and another that makes up the air compartment themselves.
They have to be able to bounce off of rocks--which can be quite sharp--very regularly. You should also know that because of this, inflatables don't handle quite the same as a hard shell kayak.
Traditional kayaks will usually hit and deflect off of any rocks. Whereas an inflatable kayak will have a lot more spring and bounce coming off the rock. It's actually quite fun, although a different experience.
You'll also notice an inflatable whitewater kayak just doesn't have the same level of tracking or control. You'll have to learn to be a little more comfortable with where the river wants to take you.
And with that out of the way…
Let's take a look at some of the things we love about this product.
Despite being super durable, this is just a lightweight as other kayaks on this list, which we were actually surprised to find out.
It sits a light at 22 pounds.
The floor of the kayak is built to provide much better tracking than a typical inflatable. The high-pressure inflation chamber below your feet keeps the bottom rigid. This allows the inflatable to cut through water with much more control.
You also won't have any trouble with flat water control. This kayak has a removable skeg fin that helps it respond better to directional paddling.
This one-seater can carry up to 300 pounds. Which means that most people can carry about 150 pounds of equipment with them.
We loved that this kayak had a designated action camera mount on the front.
There are a couple minor downsides.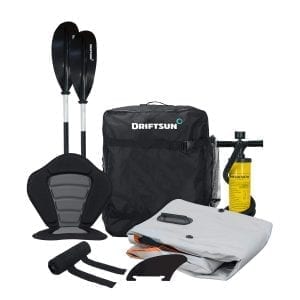 Although it can theoretically hold a lot of weight, this kayak doesn't actually have all that much storage space. There are a lot of tie down hooks and such, however these can throw you off balance a bit.
This kayak can also take a few extra minutes to inflate since the floor needs twice the pressure of most water vessel inflatables.
Some final notes on this one...
You'll save the time you lost on inflation during clean up since this kayak has seven bailing ports which testers were nuts about.
This kayak is 8.5 feet by 36 inches.
It includes a paddle, a deluxe air pump, and repair kit.
The seat is adjustable and cushioned. Driftsun has a one-year limited warranty.
Features
Rapid ready
Action camera mount
Detachable skeg
Rigid bottom
Paddle included
Carrying bag included
Pump included
Seven bailing ports
---
Pros
Super durable
Lightweight
Excellent tracking
Cons
Few storage options
Slower on flat water
---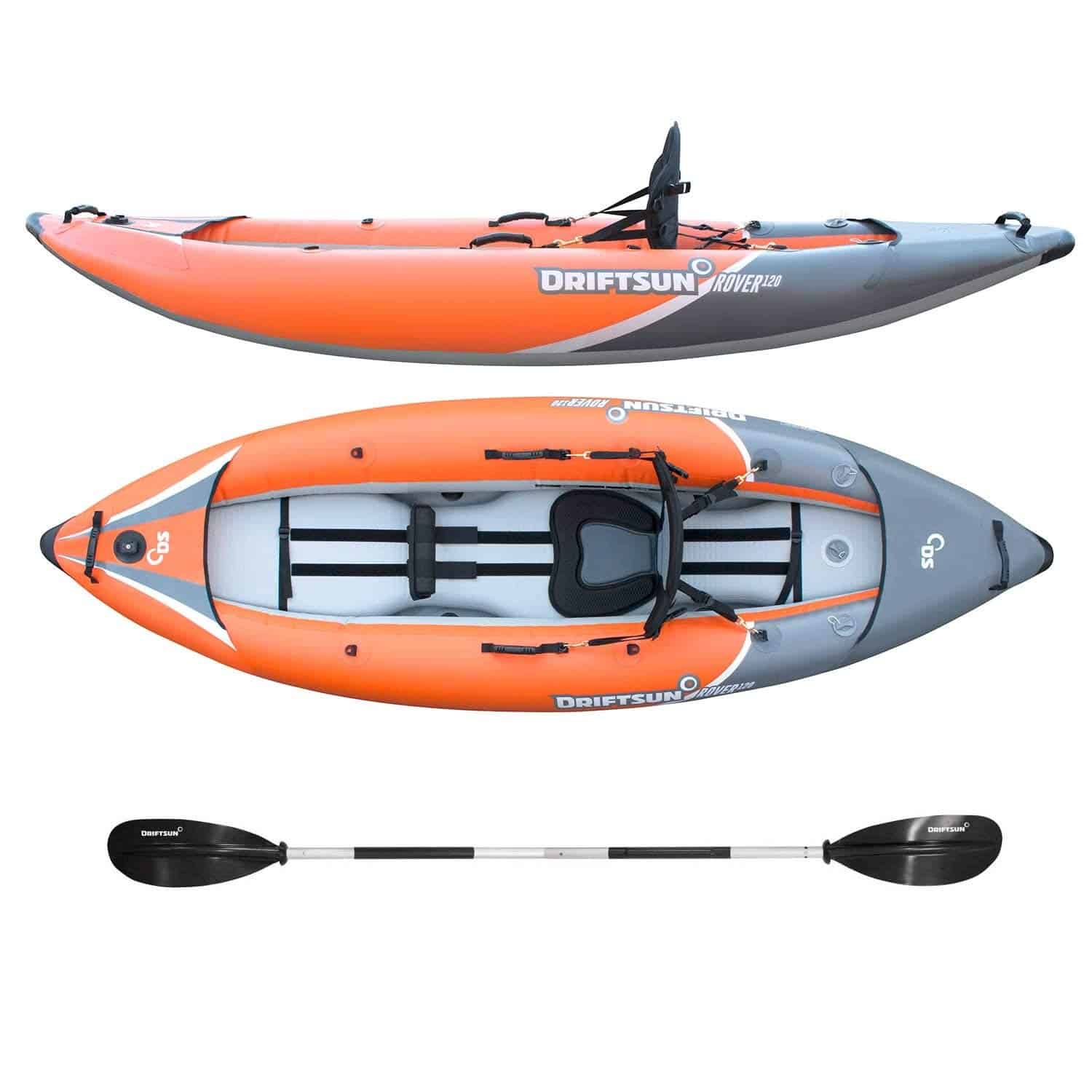 02
Advanced Elements AdvancedFrame Kayak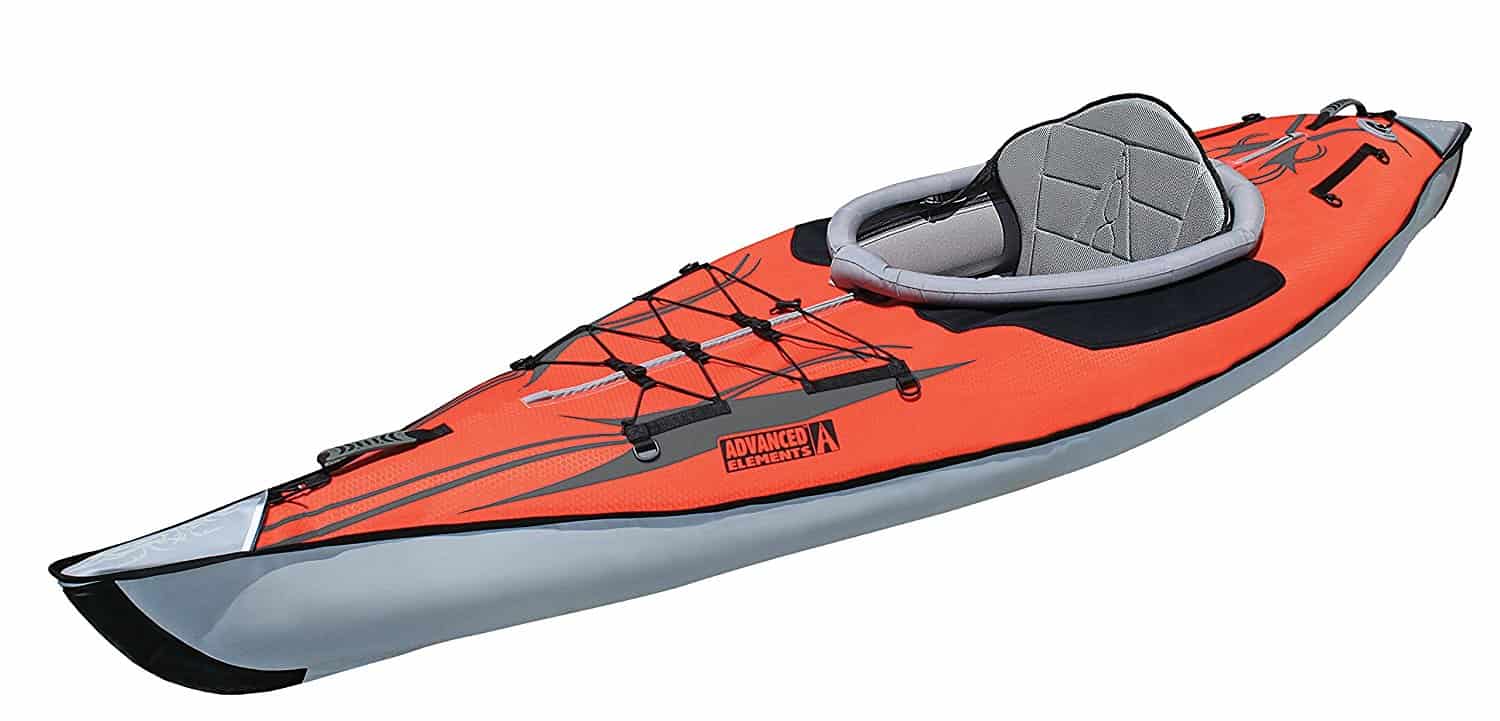 This is an awesome kayak that includes almost all the features of other kayaks on this list. It also includes some innovations that bring you much of the performance of conventional kayaks.
It's also remarkably tough for an inflatable.
Let's look at the basics first.
This one-seater is ten feet and five inches long and 32 inches wide. It weighs 36 pounds.
This is a PVC coated kayak, so you can expect a high degree of durability. However, you'll want to minimize any time on low-quality, high-toxicity bodies water since PVC can be reactive.
You might also consider buying an extra UV protectant in-which to coat your kayak.
This kayak can be set up very quickly.
The padded seat is adjustable and quite comfortable.
This kayak does have a large amount of storage space, however it can only hold 300 pounds. You may feel a bit sluggish with all your gear in this kayak, especially if you are overnighting with it.
Keep this kayak on lakes and rivers. It may also be able to hold up to calmer ocean waters.
Now let's check out the tech.
This kayak deploys several excellent innovations.
The aluminum framed design is totally unique and sets this kayak apart as our favorite inflatable.
This kayak is in many ways a combination of foldable and inflatable kayaks. The frame cuts through water like a foldable kayak, while air keeps the boat afloat.
The aluminum frame allows this kayak to track much better than other inflatable kayaks. In fact, without cargo this kayak can feel exactly like a conventional hard-shell kayak.
This kayak also uses multiple layer construction. This means that to really damage your kayak, something would have to puncture several layers of reinforcement.
Even though other products on this list use more durable materials, we found this product to be the most durable overall because of this frame and multi layered design.
But if something did puncture this kayak, you'd be safe because of the multiple air chambers. If one chamber somehow pops, the others can get you to shore.
And finally, the extras.

This kayak includes a carrying duffle, which the kayak fit inside of without too much of a squeeze.
A very useful repair kit is also included in case you need to do any patches. We at Bestazy thought this was an excellent inclusion.
You do need to know that this kayak does not come with paddles, so you'll need to purchase those separately.
Crucially, a pump isn't included with this inflatable kayak. Get one here.
This kayak has a one-year limited warranty against manufacturer defects. You should know that this warranty is void if the kayak is used for any commercial purposes including renting and tour guides.
Features
Aluminum frame
Multi-layered construction
Multiple air compartments
Repair kit included
---
Pros
Best in class tracking
Durable
Easy to patch
Cons
Paddles not included
Warranty void for tour guides
Low carrying capacity
---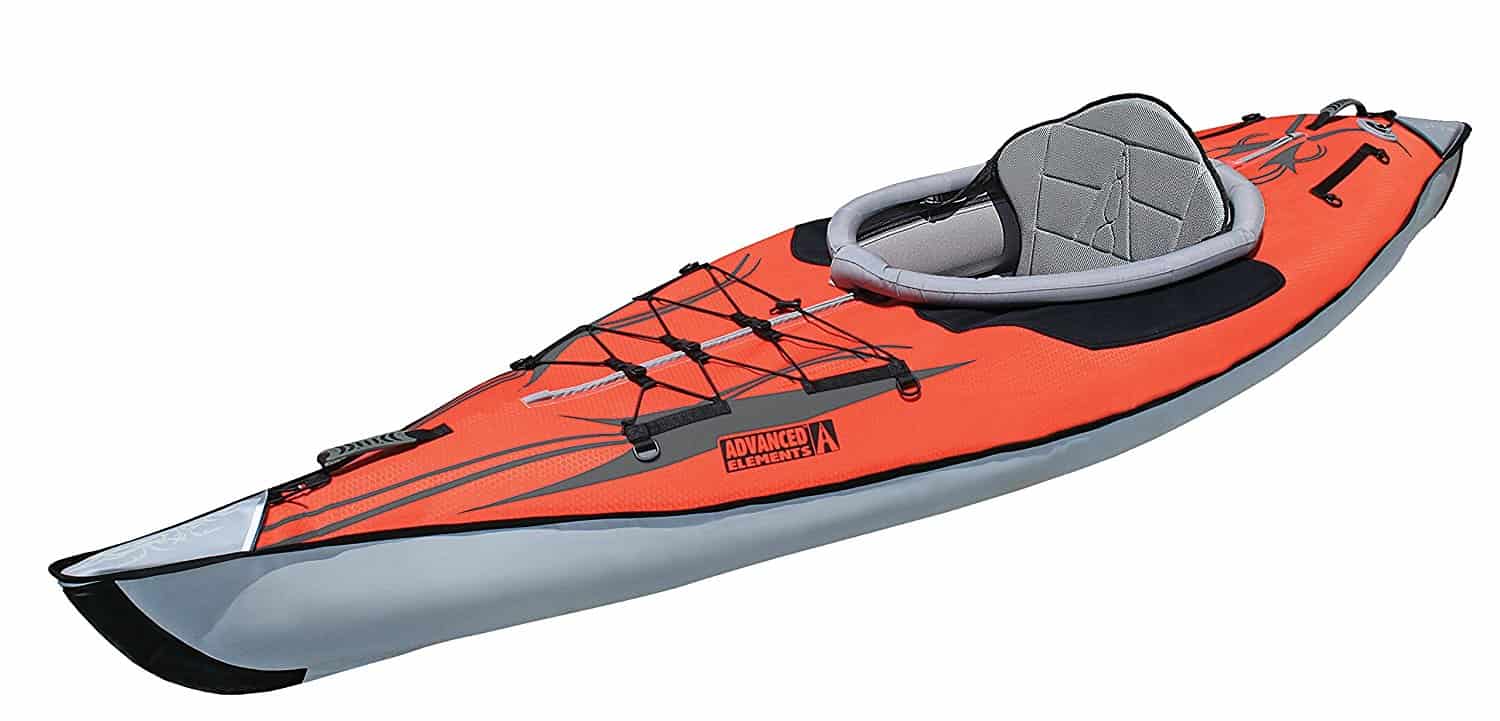 03
Intex Explorer K2 Kayak, 2-Person Inflatable Kayak Set with Aluminum Oars and High Output Air Pump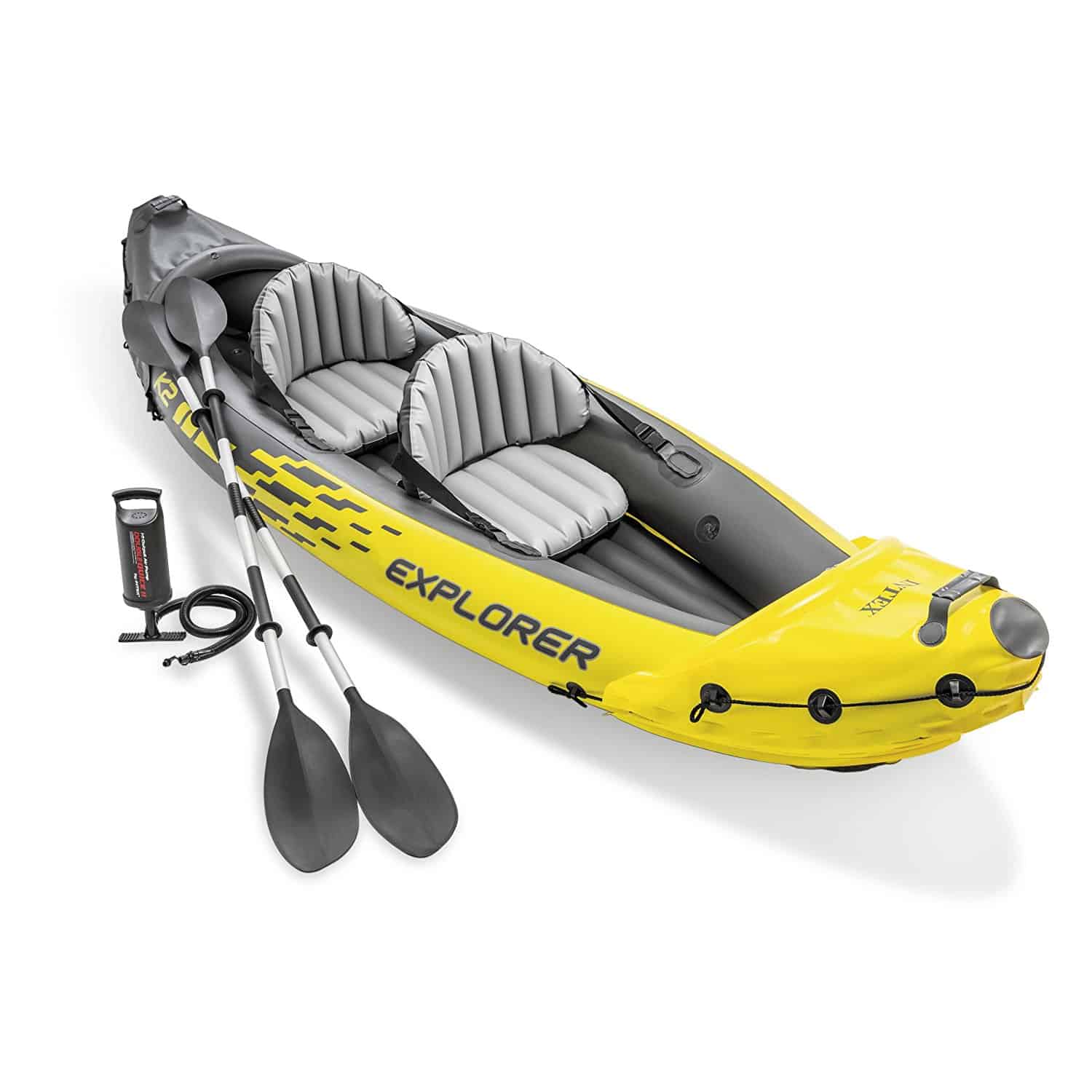 You'd be hard pressed to find a better deal than this inflatable kayak today.
Although this kayak may not sport some of the durability, tracking, and other attributes of more expensive models on this list, it does get the job done quite well.
Let's look a little closer.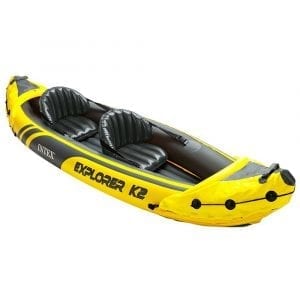 This two-person kayak is 10 feet 3 inches by 3 feet. It can support up to 400 pounds.
We thought that the removable skeg was a great decision in this flatwater kayak. It was a nice efficient way to improve the tracking of the kayak without adding much to the overall cost.
The same goes for the I-beam floor construction. The rigidity of this structure allows the kayak to track much better than it would otherwise.
However, you may be somewhat disappointed by the overall tracking of this kayak if you are used to hard shells or less affordable products. For this reason, this is an awesome starter kayak, however it might not be great for a highly advanced kayaker.
Either way, you'll probably be pretty surprised how well this kayak handles for the price.
There were a couple things that worried us.
We were not able to confirm what type of materials were used in this kayaks' construction with regard to the coating. It seems likely that it's PVC, however it could also be Nitrylon.
We also weren't particularly excited that the manual said to expect regular punctures.
Despite this, reports have been good with regard to the life of the product and durability.
The previously mentioned I-beam floors give the kayak more durability and firmness. They're great if you want to take your dog along for the ride, as they are strong enough to prevent punctures.
If you do end up with a puncture, you should be alright. Two chambers cause the boat to deflate more slowly in the event of something like that, so you'll be able to make it to shore.
Additionally, this kayak does include a repair kit, so you'll be able to get back out on the water within a few minutes. The kayak's manual has more information and instruction on patching.
Assembly is simple.
Don't worry too much about set up. Our testers found this to be a really easy kayak to inflate and get on the water quickly.
If you still have reservations about difficulty with set up, you can watch two little girls do it with ease, here. ?
This kayak includes two paddles and a pump. And don't forget to keep any passengers aboard the USS Intex Explorer K2 safe with a quality life jacket.
We weren't crazy about this kayaks short 90-day warranty.
Features
Removable skeg
I-beam construction
Rigid bottom
Paddles and pump included
---
Pros
Excellent value
Great for beginners
Easy set-up
Cons
Tracking could be better
Short warranty period
Unidentified materials and coating
---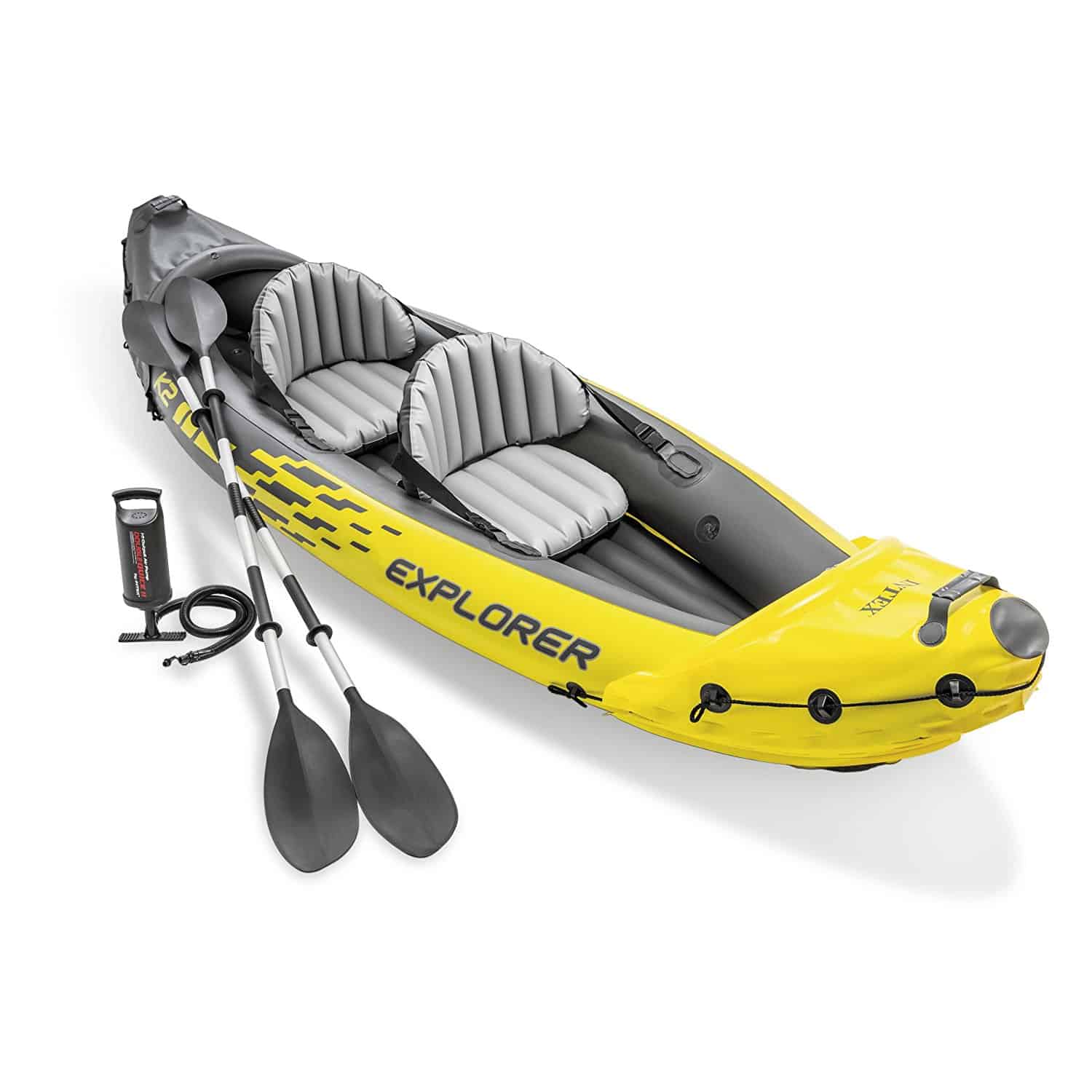 04
Driftsun Voyager 2 Person Inflatable Kayak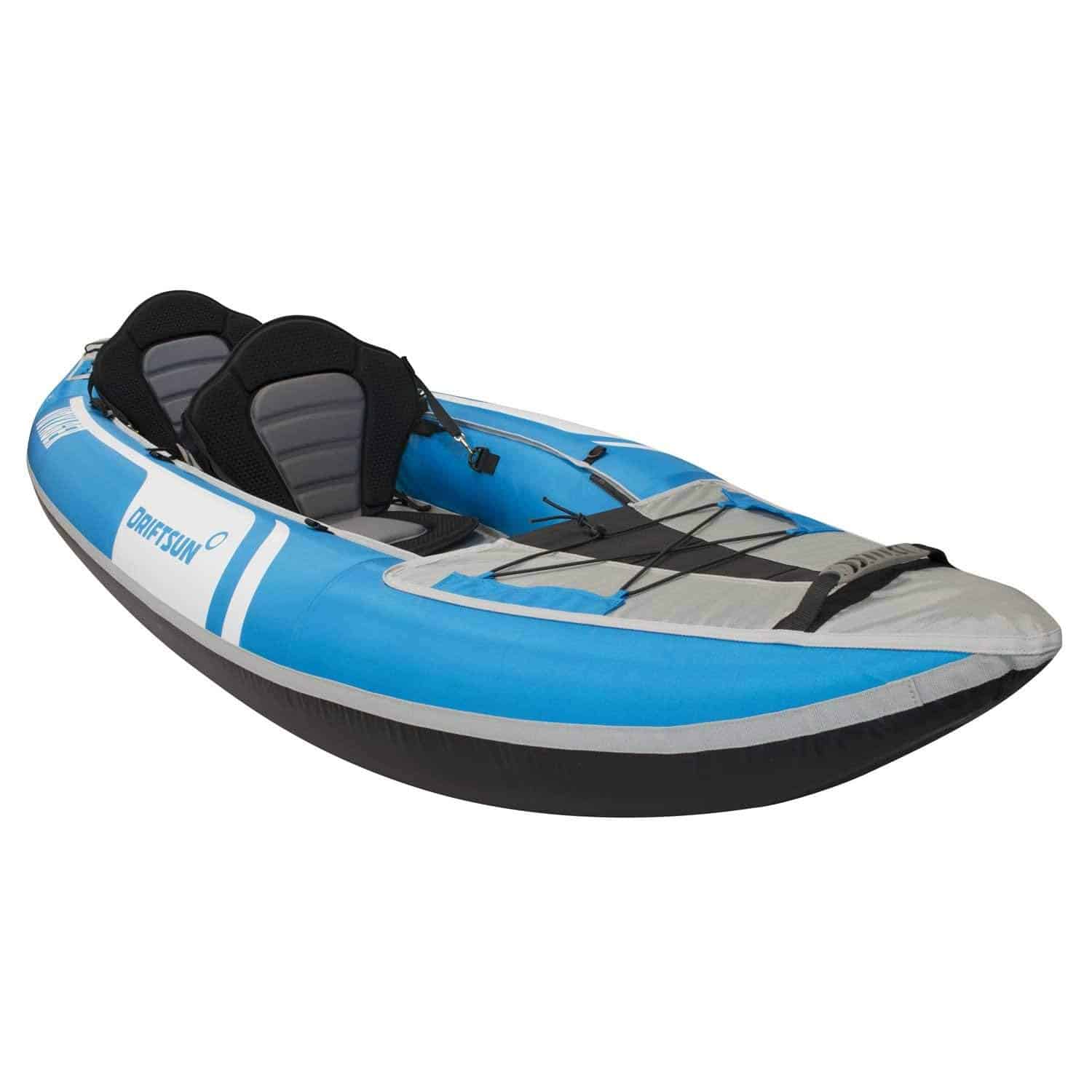 This is an awesome kayak that comes with everything you'll need to get out on the water. The Driftsun Voyager is intended for both calm fresh waters and choppy ocean water.
What's to love?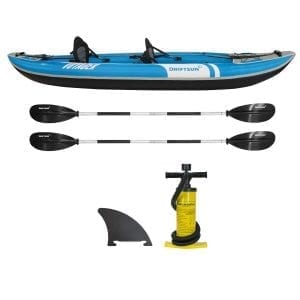 This is a great kayak for someone who needs flexibility. It's able to be used as a one-person or two-person kayak.
It also has a removable fin which allows this kayak to be used in multiple settings. It's convertible between flat and ocean waters.
The sharp nose helps the kayak pierce waves with ease while the oversized inflation tubes keep this kayak remarkably well balanced.
We actually found this kayak was harder to flip than many conventional kayaks.
The seats are also super comfortable and have a high back--an underrated feature in kayaks.There's a large amount of foot and back storage.
The carrying capacity is 450 pounds, which means you'll be able to take along about 150 to 200 pounds of equipment with two people. If you are by yourself, equipment capacity won't be an issue.
It comes with everything you need with two exceptions.
This kayak comes with two paddles, an air pump, and a travel bag. This is technically everything you'll need to kayak. The paddles are comfortable and of high quality.
The air pump is manual but dual action, which means you pump air on both the ups and downs.
You and your tandem kayaker should always wear life vests, which are not included.
A few other things you should know.
Set up takes around five minutes.
Fully inflated and assembled, this kayak is 10 feet long and 35 inches wide.
Deflated, it's an easily storable 26 by 16 by 8 inches.
It weighs 27 pounds.
This kayak has a one-year warranty against defects.
Features
Paddles included
Pump included
PVC bottom
Oversized air chambers
---
Pros
Extremely well balanced
Great storage
Comfortable
Very flexible
Cons
Poor tracking when used as one-person kayak
---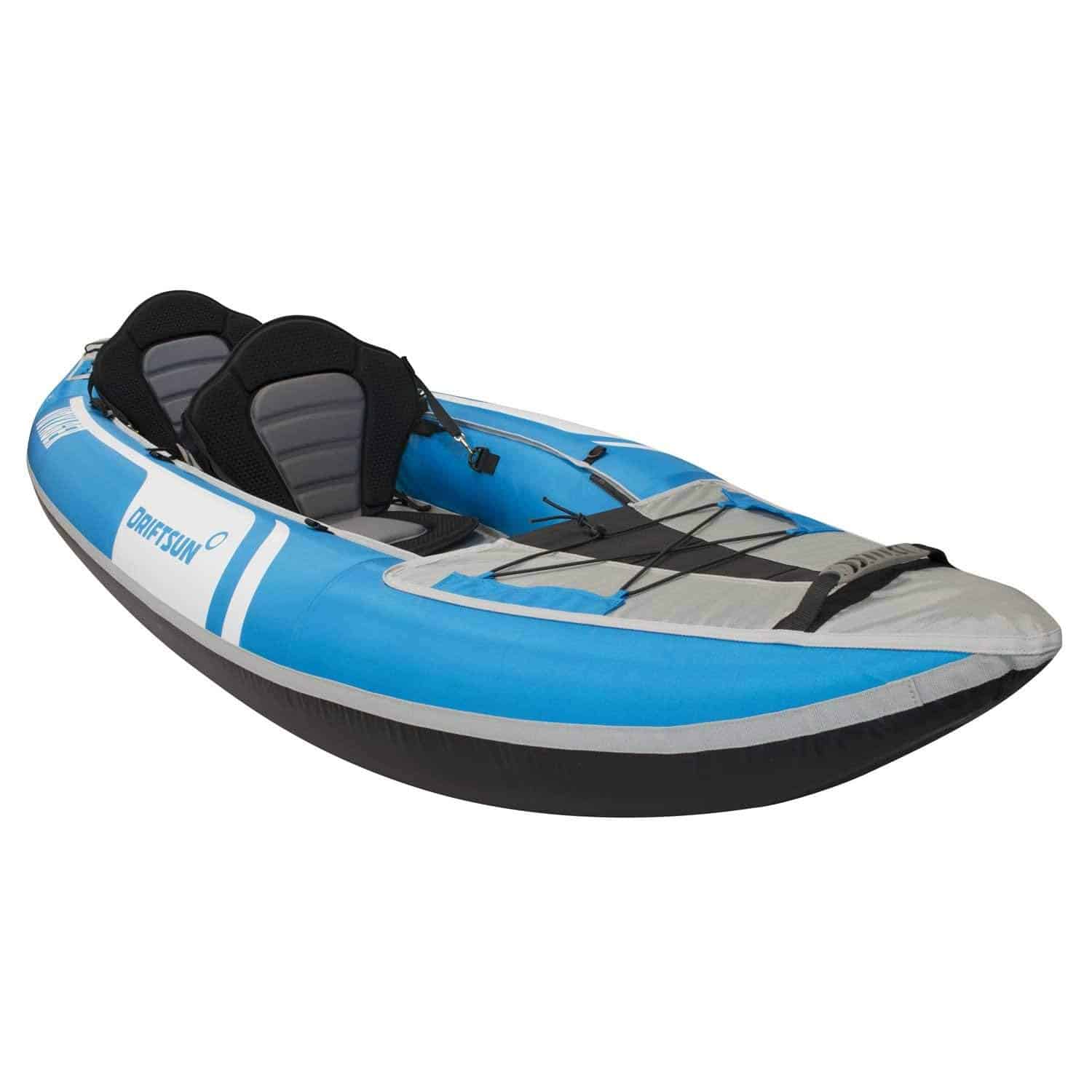 05
Sevylor Quikpak K5 1-Person Kayak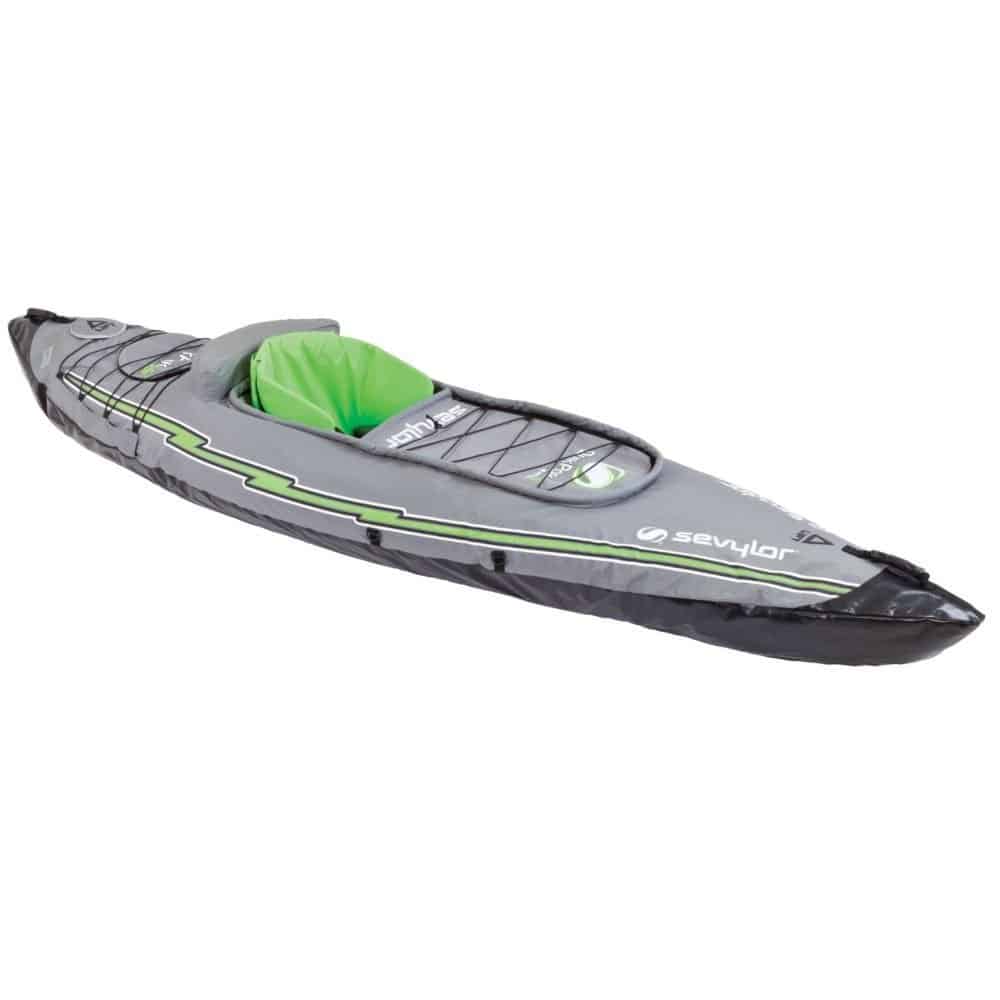 This is an awesome and innovatively designed inflatable kayak that is perfect for any hard to reach boating destinations. It has a PVC coating and weighs 25.5 pounds.
Hikers, rejoice. Because this is the most portable kayak Bestazy came across in our search. We love this one because folds into a backpack that holds the entire kayak including paddles, pump, and seat.
And the best part?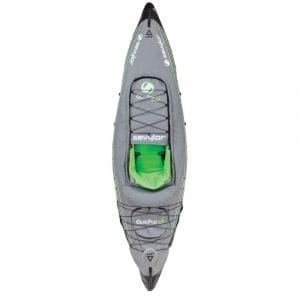 The whole thing unfolds and assembles in about five minutes.
And this kayak isn't just a gimmick or novelty, either.  There's plenty to love about its performance.
On still water, this kayak can cruise. The long slender dimension cut down on drag and maximize your paddling efficiency. This kayak is 120 by 33 by 20.5 inches.
Don't mistakenly take this kayaks long nose for a wave cutting edge. The elongated shape is actually meant for efficient flat-water paddling.
It works very well. In addition to being the most portable kayak on this list, it's also one of the faster ones.
If you are someone who is looking for legitimately efficient water travel, this is a great option. Especially if you don't want to leave your kayak tied up somewhere unsecure or unsafe.
What's not to love?
Well, a couple things.
First, we did find that the efficiency of this vessel wasn't fully capitalized on. The kayak's outer fabric is somewhat loose on the sides, which creates a lot of unnecessary drag.
It seems like this might be a necessary sin, however, in order for this kayak to fold into a backpack.
Second, there have been multiple reports that the included paddles aren't high quality. Some testers found that paddles came apart at the joint and needed to be adjusted far too often.
Keep this in mind, as well.
This kayak has a carrying capacity of just 250. For some people, that doesn't allow much room at all for equipment.
This kayak has a one-year limited manufacturer warranty for defects. You can find more information in this owner's manual.
Features
Converts into backpack
Paddles included
Pump included
---
Pros
Highly portable
Shaped for efficient paddling
Lightweight
Cons
Loose fabric causes drag
Paddle quality low
Low weight capacity
---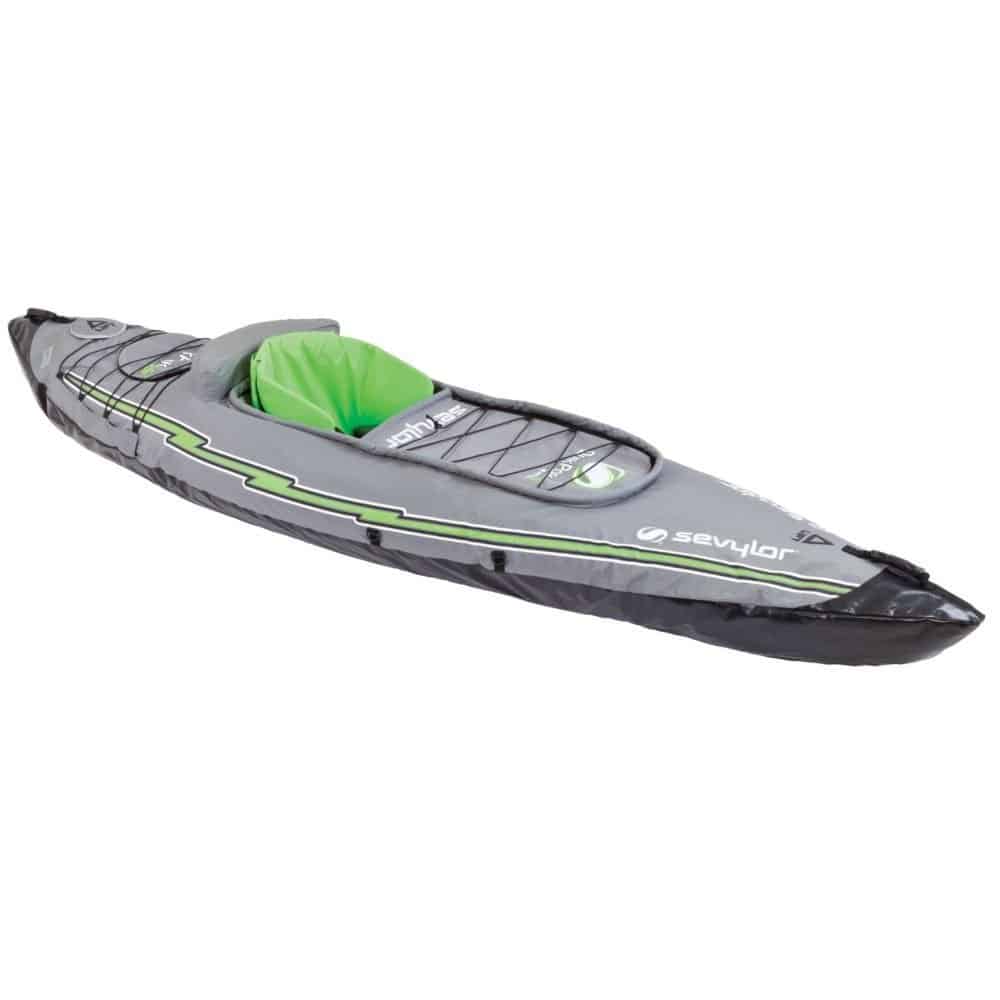 06
Sea Eagle SE370 Inflatable Sport Kayak Pro Package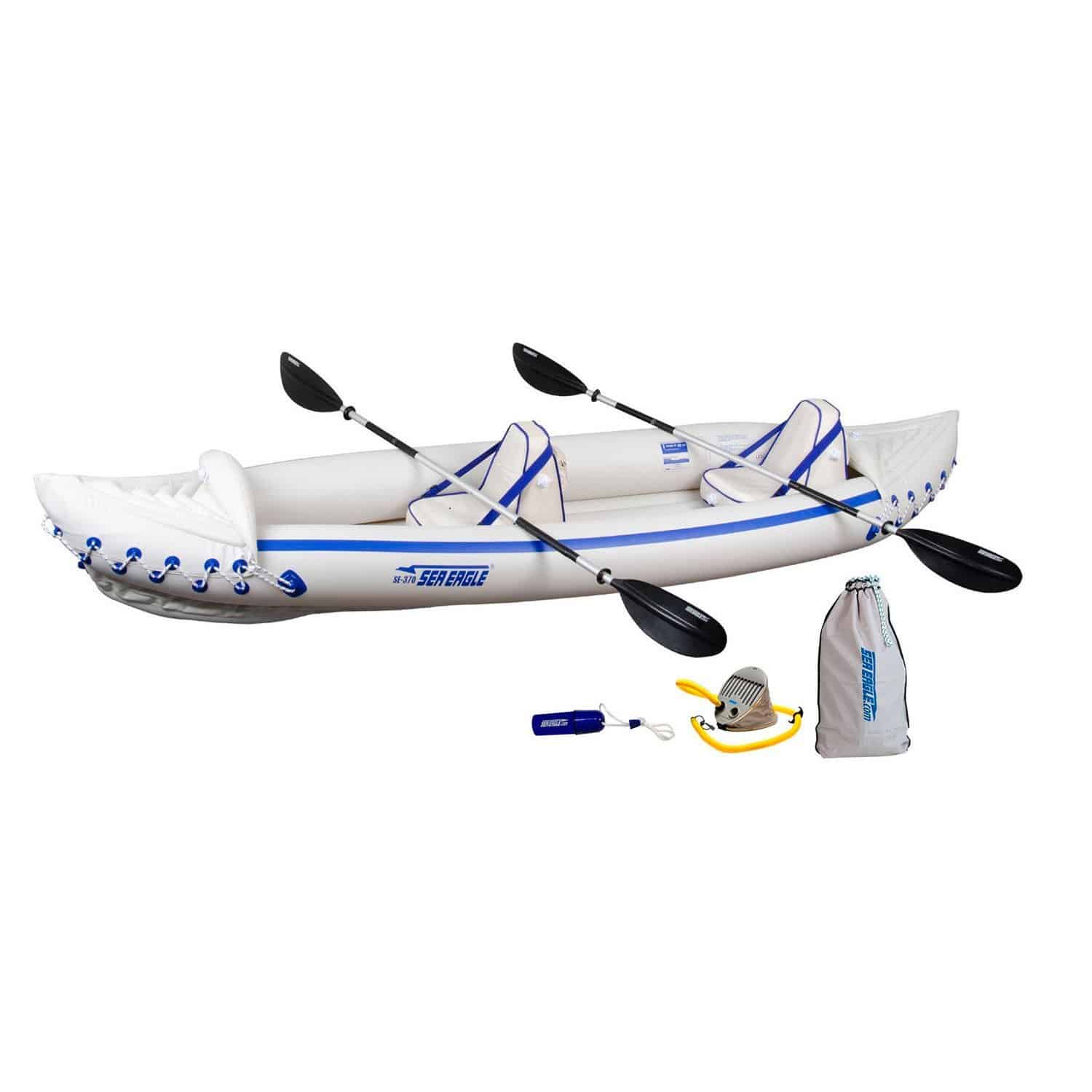 This is another awesome inflatable whitewater kayak. This is a more comfortable option that the previous white water kayak on this list, however it cannot handle class IV rapids.
If you prefer luxury over excitement, this is a great kayak for you.
What's it got going for it?
Versatility and flexibility. This two-person kayak can actually seat three people with a 650 pound weight limit.
As with all white water kayaks, this one is super durable. It's built to handle rapids up to class III, which means that you'd have a hard time damaging it in flat water (but still be aware of any edges around you).
With regard to lake kayaking, this boat also performs very well. It includes two removable skegs for improved tracking and increased speed on flatwater.
The upward pointing nose and sharp tip, along with a saltwater protected hull, means that this kayak is also usable in minimally choppy ocean water.
Being able to kayak on all types of water is a truly awesome feature of this product that really adds a lot of value.
The seats for this kayak were some of the most cushiony that we saw, which we loved. We would have preferred a slightly higher back, however this was still an extremely comfortable kayak.
There are many other bonuses, as well.
This kayak has three air chambers, which will come in handy in an emergency.
The splash guards on this product were some of the top functioning ones. The inflated lip on the front, in particular, kept testers legs dry.
And if you really hate wet feet, try this cool new product.
The foot pump that comes with this product
But there are a few other things to keep in mind.
This kayak can be hard to find in a single unit. You may only be able to purchase this one in groups of two to eight. That can certainly be a deal breaker for many people.
This is a slightly heavier kayak at 33 pounds.
As a final note, this product has a really great warranty. It covers the kayak for three years against manufacturer defects. This is also a great option for anyone who wants to use their kayak for commercial purposes including rental or tours because it still has a warranty--unlike most other inflatable kayaks. The commercial warranty lasts six months.
Features
Splash Guard
Foot pump included
Removable skegs
Great warranty
Splash guard
Paddles included
Travel bag included
Repair kit
---
Pros
High weight capacity
Can seat three
Functions on all types of water
Cons
Slightly heavier
Can't go on class IV rapids
Long inflation time
---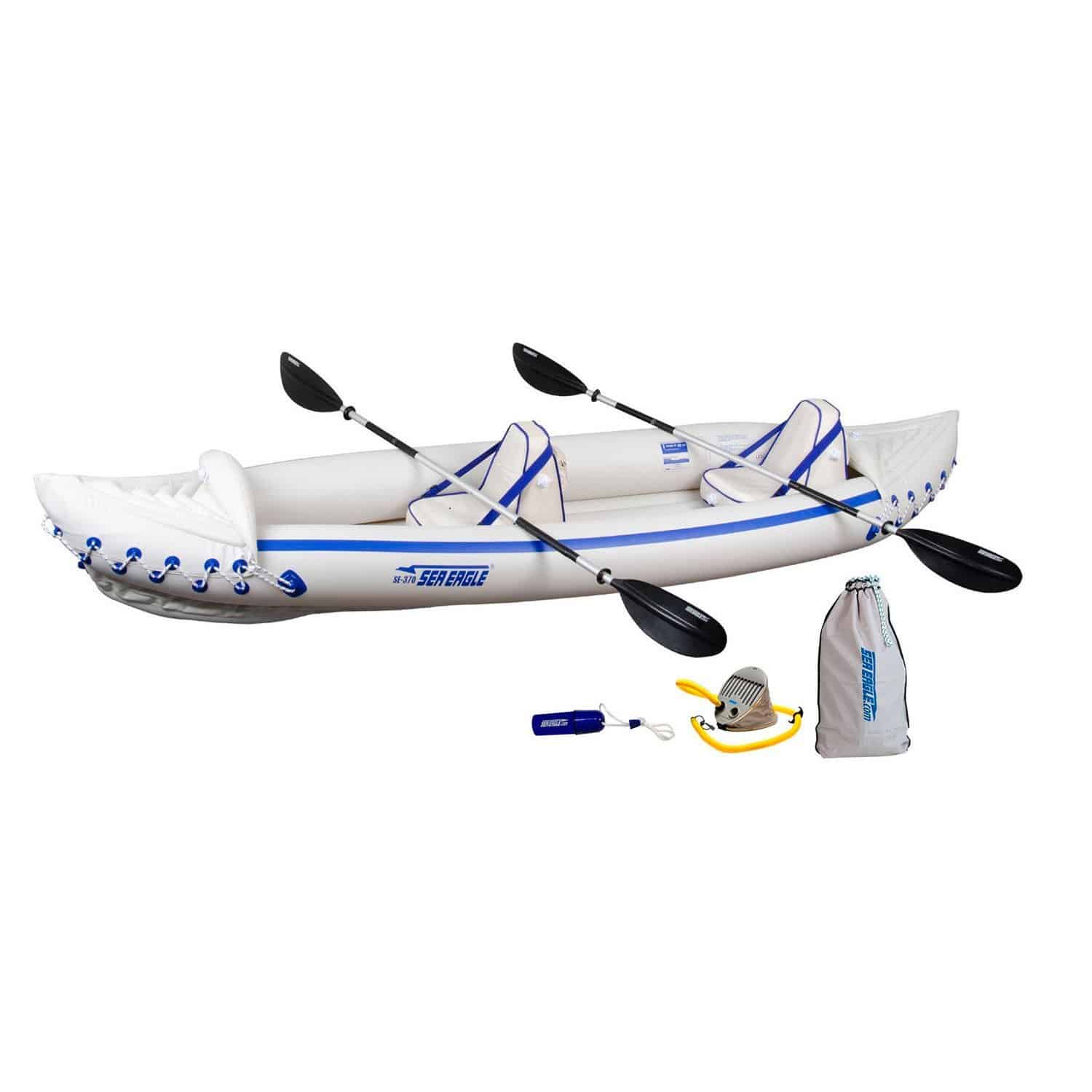 07
Sevylor Big Basin 3-Person Kayak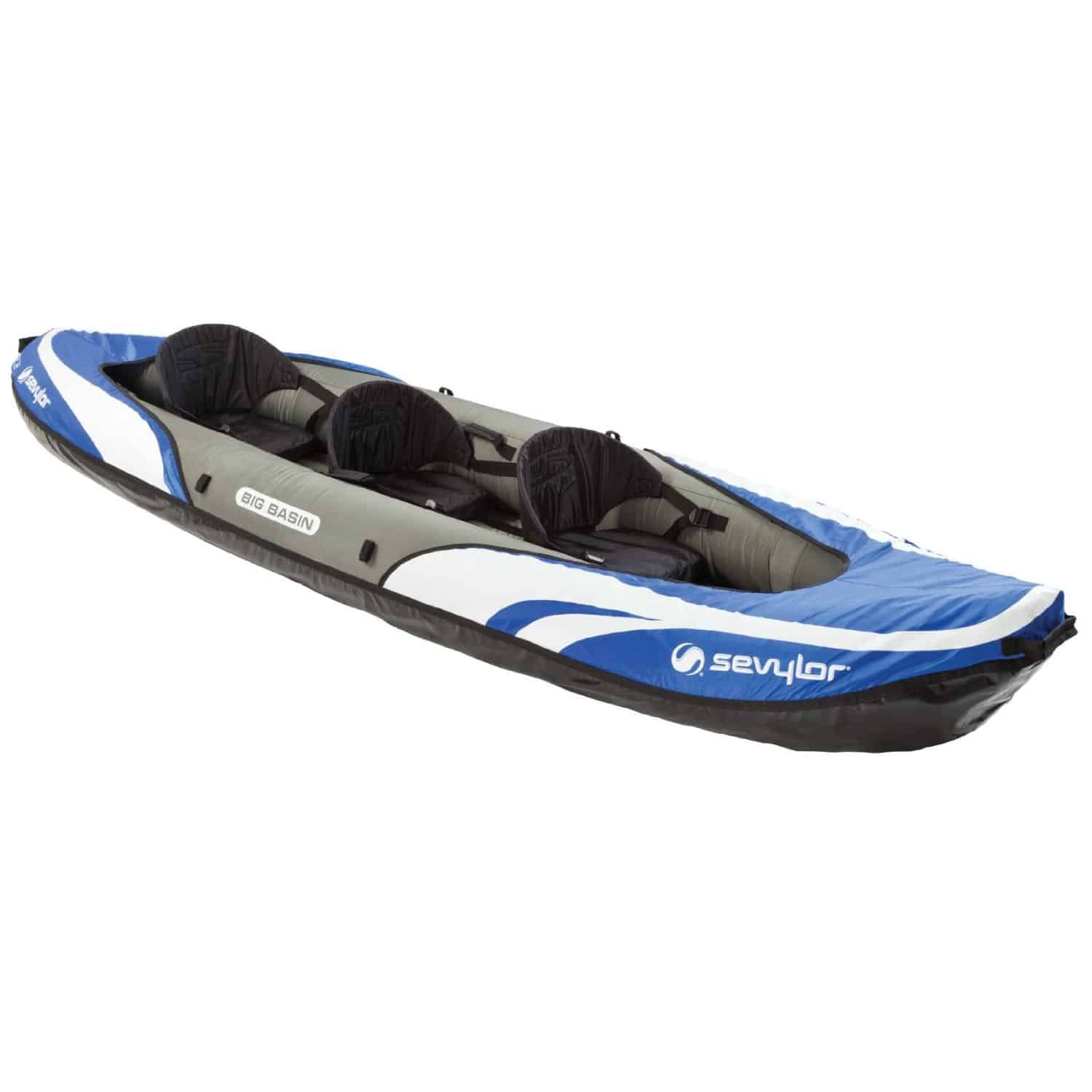 If you want a kayak that can comfortably sit three people, this will be a better option for you since it actually has three seats.
Don't plan on taking much equipment along with the three of you, however, since this kayak only has a capacity of 490. In fact, three large people could put this kayak over its carrying capacity. This may not be the right kayak for, say, a family of football players.
Who is it right for, then?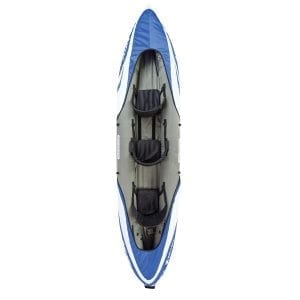 Almost anyone else who wants a three-person lake kayak.
This is a durable kayak built with a PVC coating.
Multiple air chambers keep your family and friends afloat in the event of a puncture emergency.
The adjustable seat allow anybody to sit comfortably and the splash guard does a reasonably good job of keeping you dry.
Many testers noted this kayak had excellent tracking, which may be due to the removable tracking skegs.
It's 12 feet and 3 inches by 3 feet one inch. Deflated it's 18 by 10 by 24 inches.
It weighs 34.8 pounds.
Keep in mind that his kayak doesn't include paddles, so you'll need to purchase some before you are able to get out on the water. You'll also need to buy a pump.
This product has a one-year limited warranty against defects.
Features
Seats three
Multiple air chambers
Tracking skegs
---
Pros
Durable
Good tracking
Very comfortable
Cons
Low carrying capacity
Paddle not included
Pump not included
---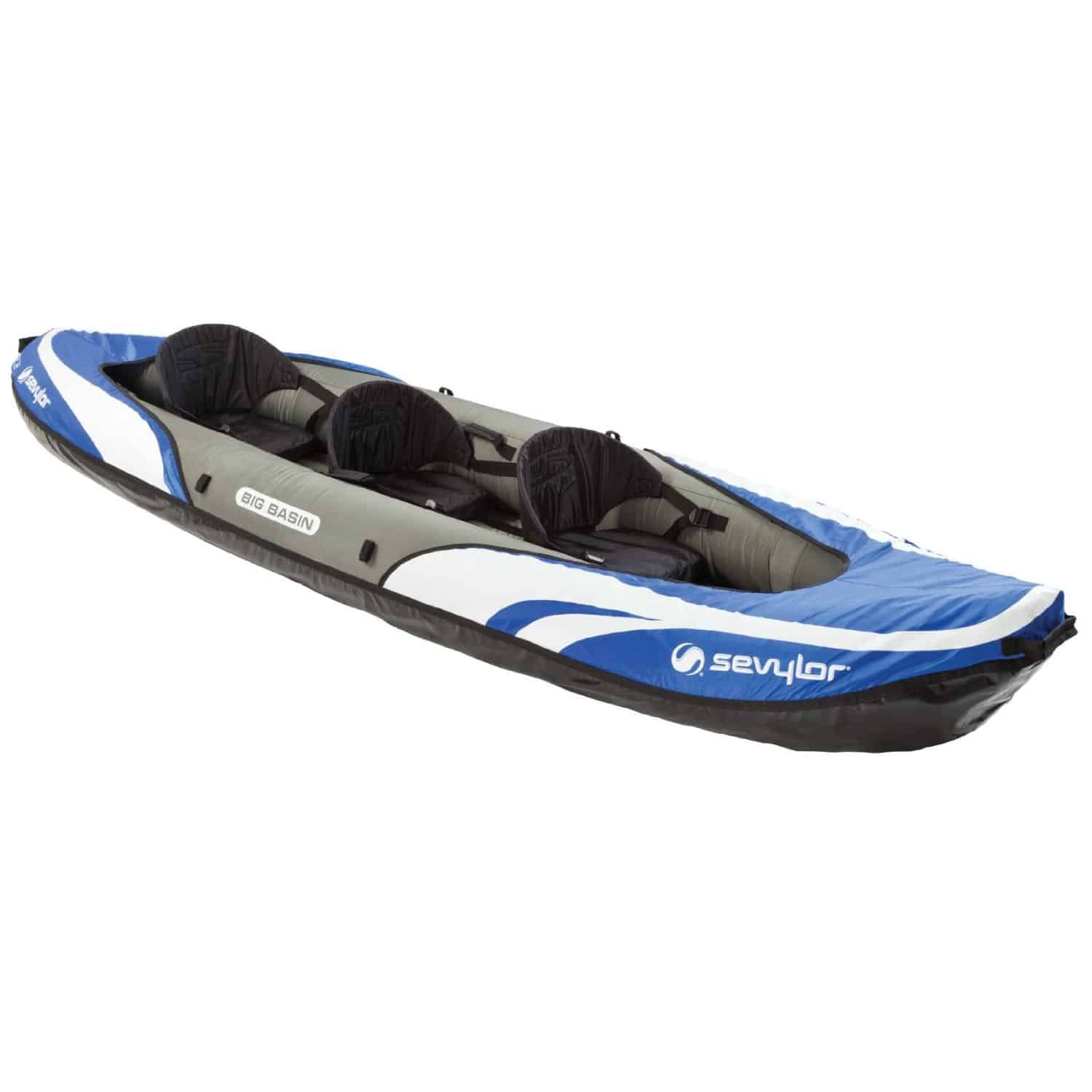 08
Sevylor Coleman Colorado 2-Person Fishing Kayak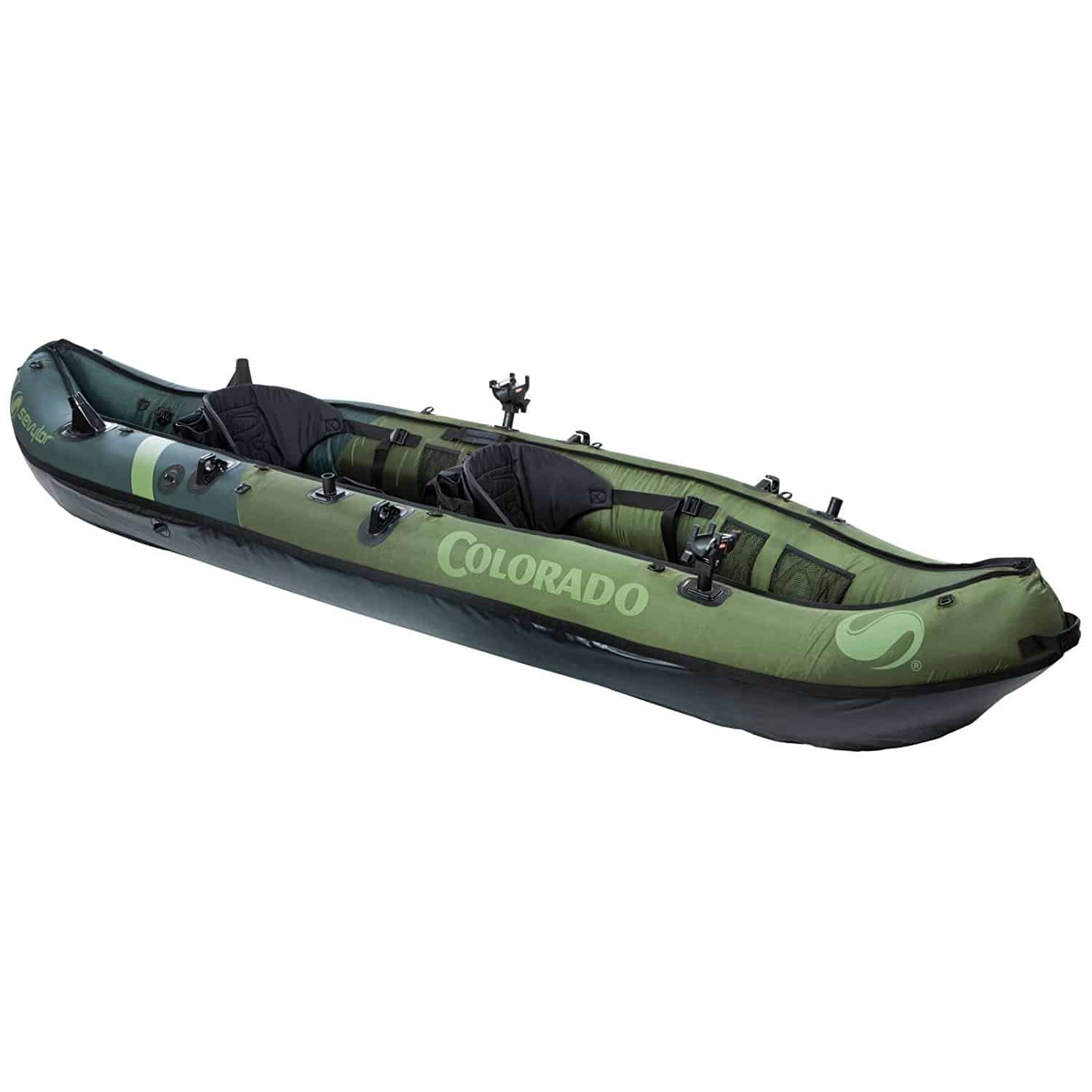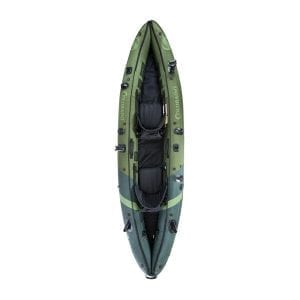 This is the best inflatable fishing kayak on the market. No wonder it's also one of the most popular since it has so much going for it.
Let's take a look.
We loved all of the storage and features on this kayak.
It has a 470-pound carrying capacity, which is plenty for two people and their fishing equipment.
There are five quick setting rod holders for easy hands free fishing.
Additionally, this kayak also has a designated mount for a trolling motor, which could definitely come in handy for some fisherman.
Paddle holders are also there to secure your paddles and keep them out of your casting path.
There's ample foot and backend cargo space on this kayak for all your fishing gear. This is also some side mesh pocket storage available for smaller items. There are D rings for lashing down anything else you may need to store on your fishing trip.
The PVC construction on this kayak is very tough and is known to hold up extremely well against potential punctures--which may be important with all those hooks flying around.
There are a couple downsides.
This isn't a particularly fast or well tracking kayak. If you are looking to get to your next fishing spot fast, you may want to spring for a trolling motor.
This kayak also does not come with paddles or a pump. You should probably also consider some of these outstanding baitcasters.
---
---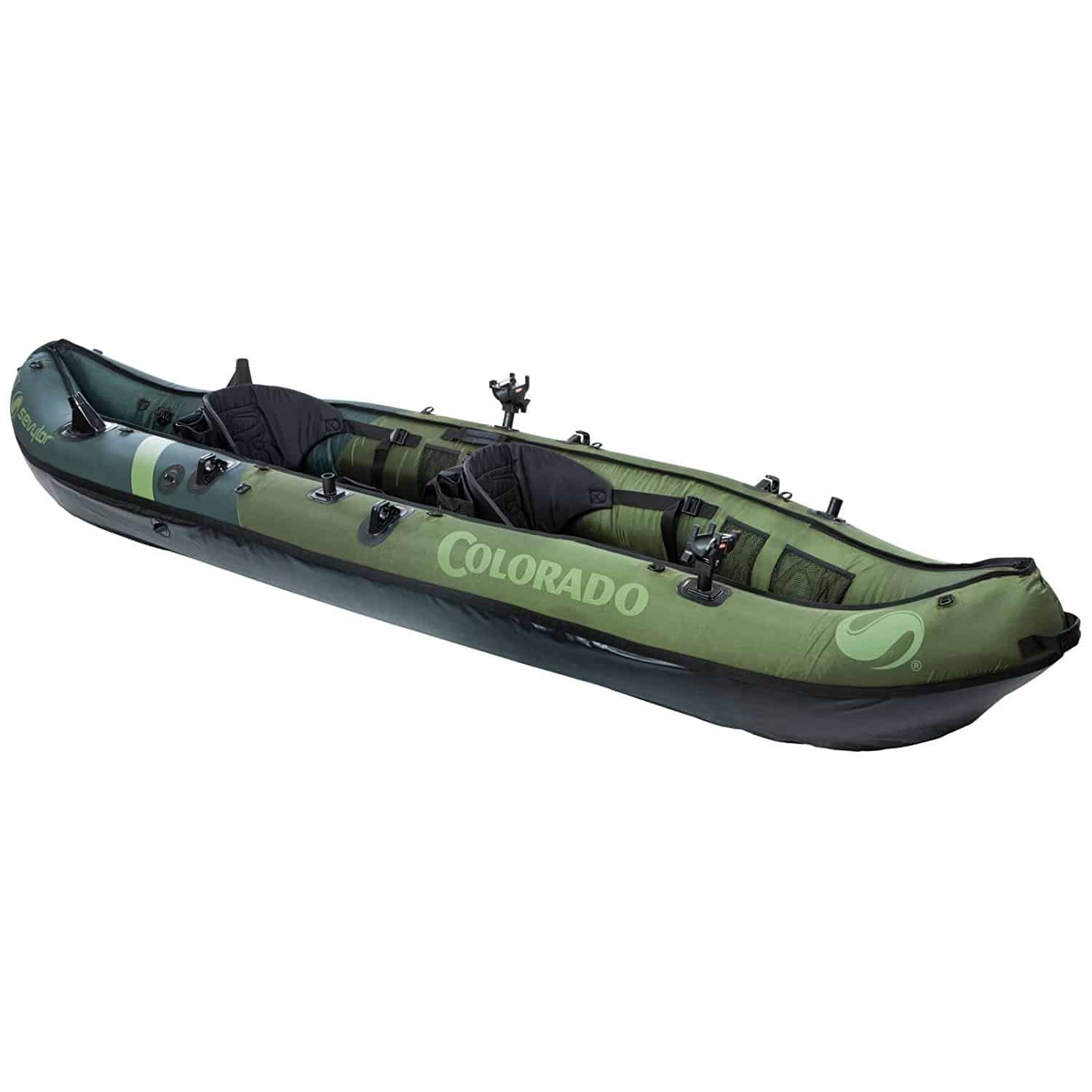 09
Sea Eagle SE330 Inflatable Sport Kayak Pro Package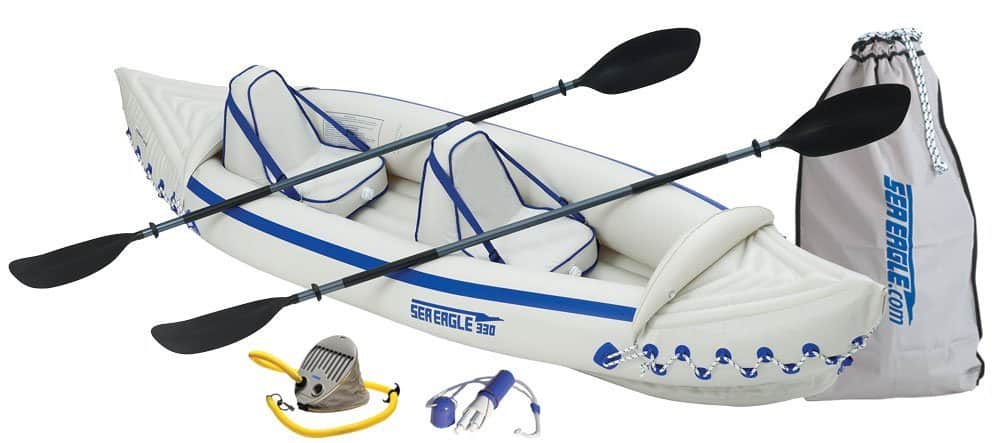 This is a more compact version of the other Sea Eagle inflatable kayak on this list. It shares many of the same qualities with just a couple of exceptions.
Let's compare.

This kayak is also excellent for its flexibility and variability, although this kayak cannot be used as a three-person.
It does still have the awesome ability to go on all three types of water including lake, ocean, and white water.
This model also includes the high functioning inflatable spray skirt.
And just like with the other model you'll receive two paddles, a pump, a travel bag, two skegs, and a repair kit along with your inflatable kayak. If you do go white watering remember that you'll need other equipment like a life jacket and helmet.
Now for the differences.
This kayak is slightly more maneuverable because of its shortened size. For this reason, we like it better for explicit white water use.
You'll also have a much lower carrying capacity in this model, so if you are planning to go on long or multi-day trips, you may want to consider the larger option.
This kayak is more lightweight and portable.
It can be much easier to find this version in single units.
You may want to also consider this option if you are a guide, since it carries the same six month-warranty for commercial use. The other normal warranty is again three years.
Features
Tracking skegs
Paddles
Carrying bag
Spray skirt
Foot pump
Repair kit
---
Pros
Better tracking and control
Great warranty
Durable
Cons
Lower carrying capacity
Can't fit a third kayaker
---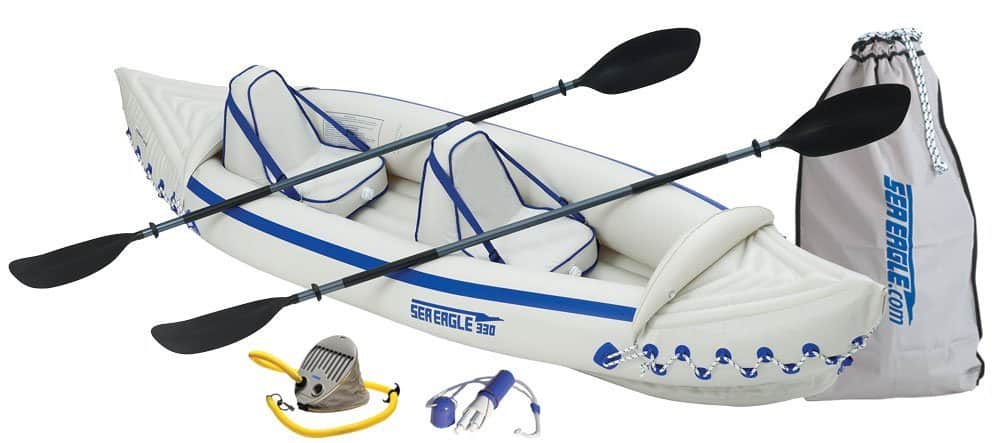 10
Airhead MONTANA Kayak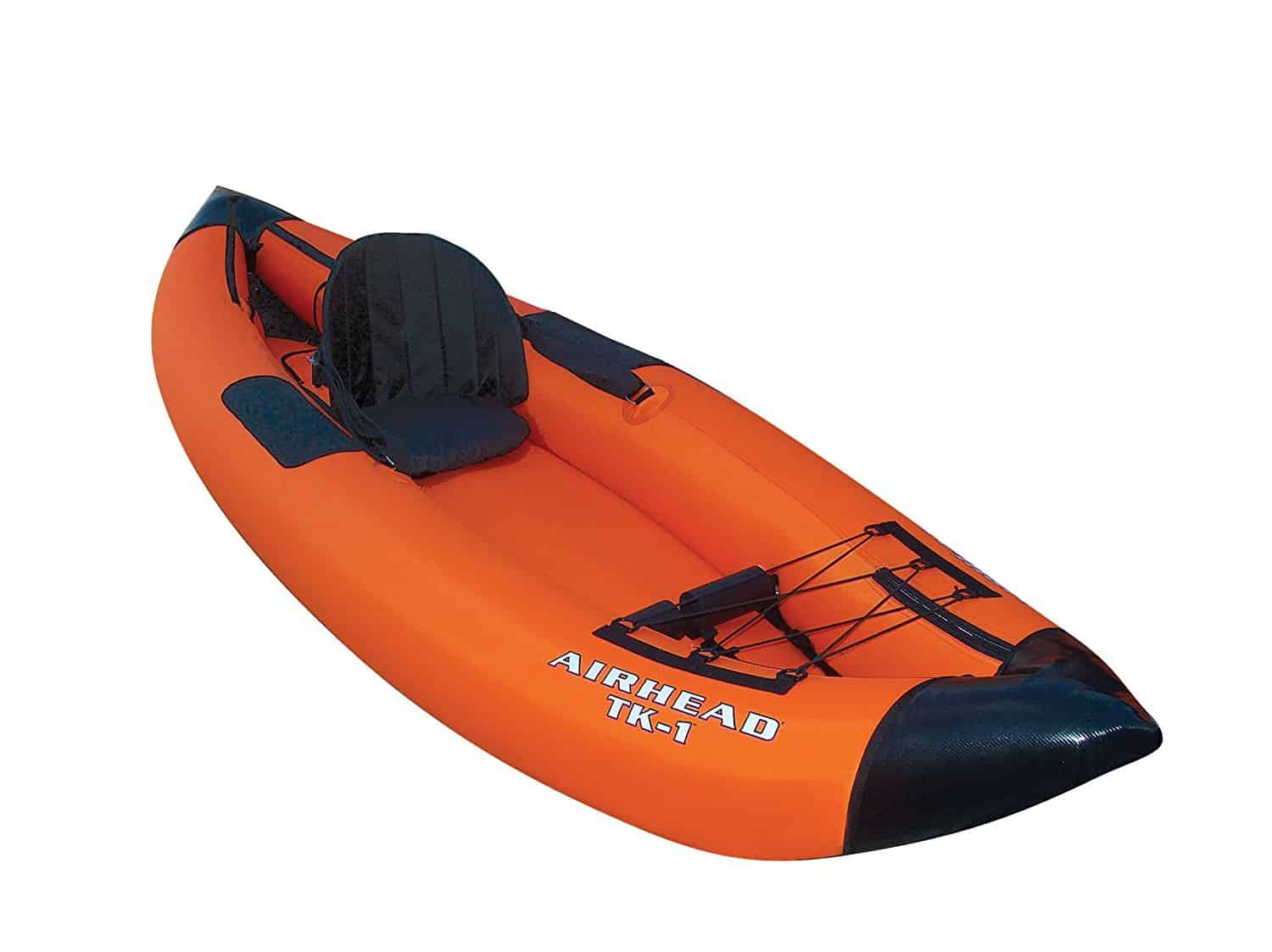 This is one of our favorite kayaks on the market with regard to responsiveness.
It has excellent speed and tracking, so it can be a great option for more experienced kayakers looking to take on some challenges.
There are several attributes adding to this heightened control and quickness.
First, this kayak uses a semi-rigid bottom, which is able to cut through water more efficiently. This semi-rigid bottom also uses an I-beam structure, which increase the effectiveness of the rigidity.
This kayak has a whopping four tracking skegs which allows paddles to direct the kayak with less effort while also increasing speed greatly.
The bottom also employs a coating that decreases drag and thus increases speed. This coating is also UV resistant.
And it's tough, too.
The bottom is also triple laminated in order to increase durability. The outer layer of this kayak is entirely separate from the three inner air chambers. This means that you'd have to get through a super tough outer layer before any puncturing would even be possible.
The seats are comfortable adjustable and comfortable. Two elbow pads keep the kayaks rough, abrasive fabric from rubbing on your skin.
The splash guards on this product were not very effective. They were simply too small to cover any body parts or equipment.
It does not include a paddle so you'll need to pick one up here.
This product carries a one-year limited warranty.
Features
Highly visible orange color for safety
Triple laminated bottom
Four tracking skegs
---
Pros
Fast
Responsive
Versatile
Cons
Seats one
No paddle included
No pump included
---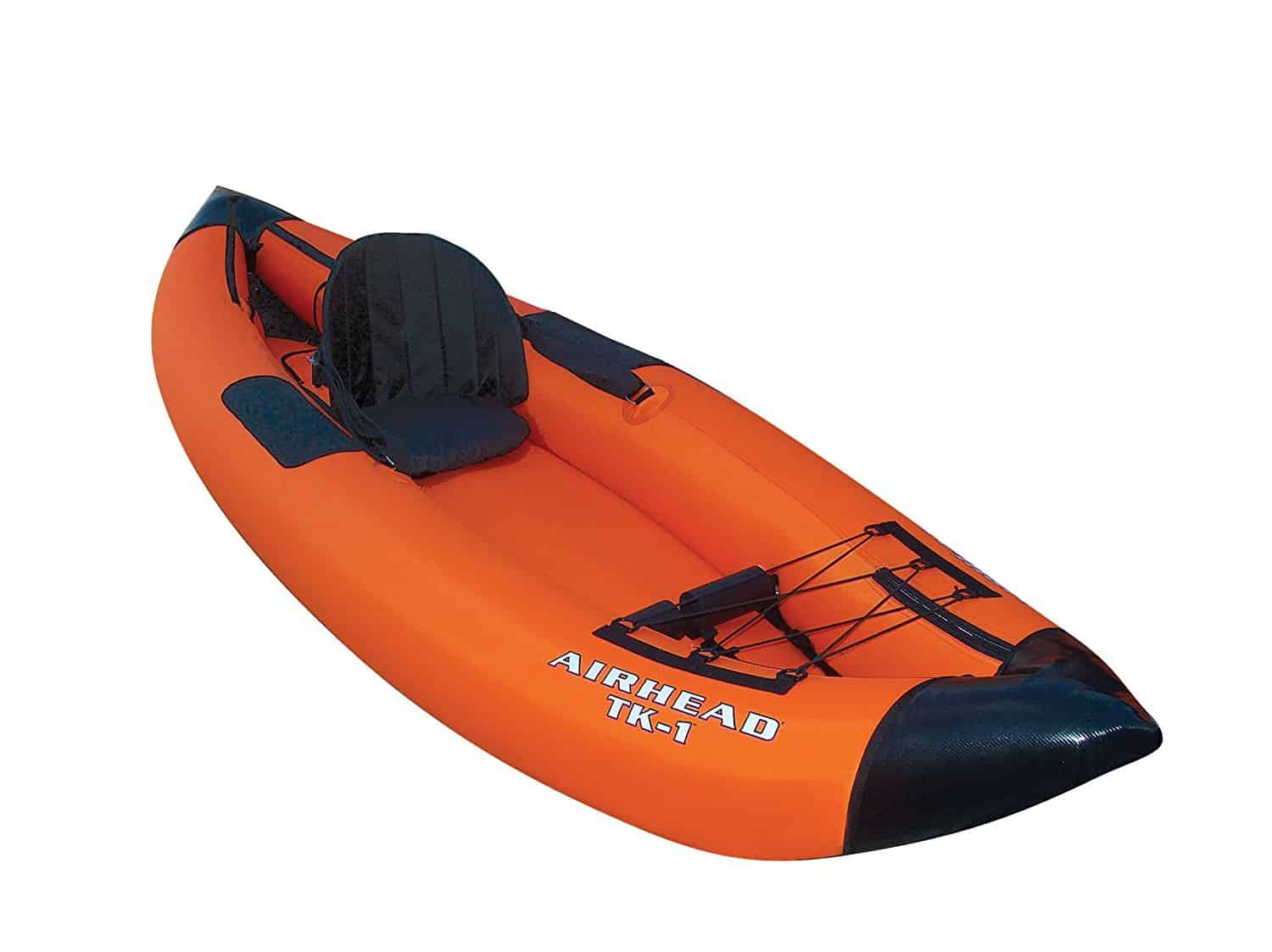 11
Intex Challenger K1 Kayak, 1-Person Inflatable Kayak Set Aluminum Oars High Output Air Pump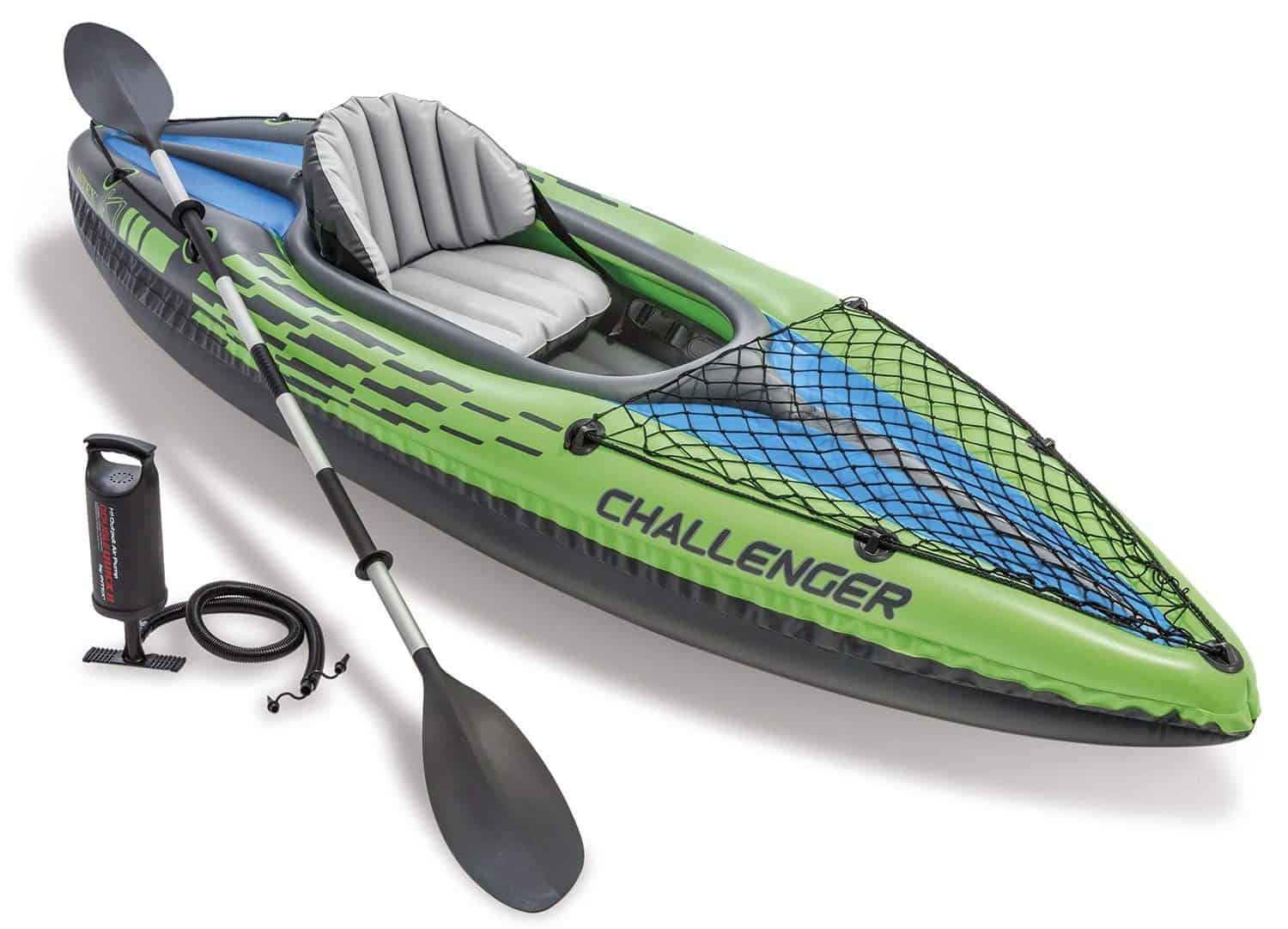 If you want something similar to the last option but meant for one, this is probably the kayak you are looking for.
It has many of the same specs, and the price and value of this kayak is great.
Still, the overall feel of the kayak is quite different, however.
Let's see why.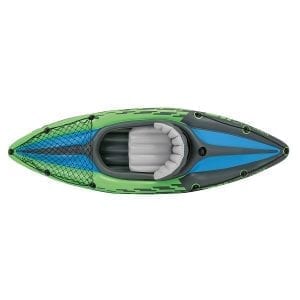 Several factors come together to make this a bit different kayak than that last one overall.
It's meant for one person, so it's shortened which adds a great layer of maneuverability to this product--which we loved. We preferred the tracking on this kayak.
The kayak is further aided in tracking by a skeg and I-beam floor.
But we also found this product to be a bit less well balanced than the last option. The air chambers are smaller, which causes the kayak to respond more to any type of movement.
The cargo net also didn't do this kayak's balance any favors. Storing equipment above the kayak causes it to be more top heavy which makes it more likely to flip.
The Challenger is also a very light kayak at 23.9 pounds. This is awesome for portability, however it can also cause the kayak to be even less balanced, especially on any choppiness.
This kayak also have two separate chambers in the event of an emergency.
We were again unable to identify what coating was used on this kayaks "puncture resistant vinyl."
What does it include?
This kayak comes with a paddle, hand pump, and repair kit.
It also comes with a 90 day warranty.
Features
Removable skeg
Paddle included
Pump included
I-beam floor construction
---
Pros
Great value
Lightweight
Good tracking
Cons
Poor balance
Flat water only
Short warrant period
---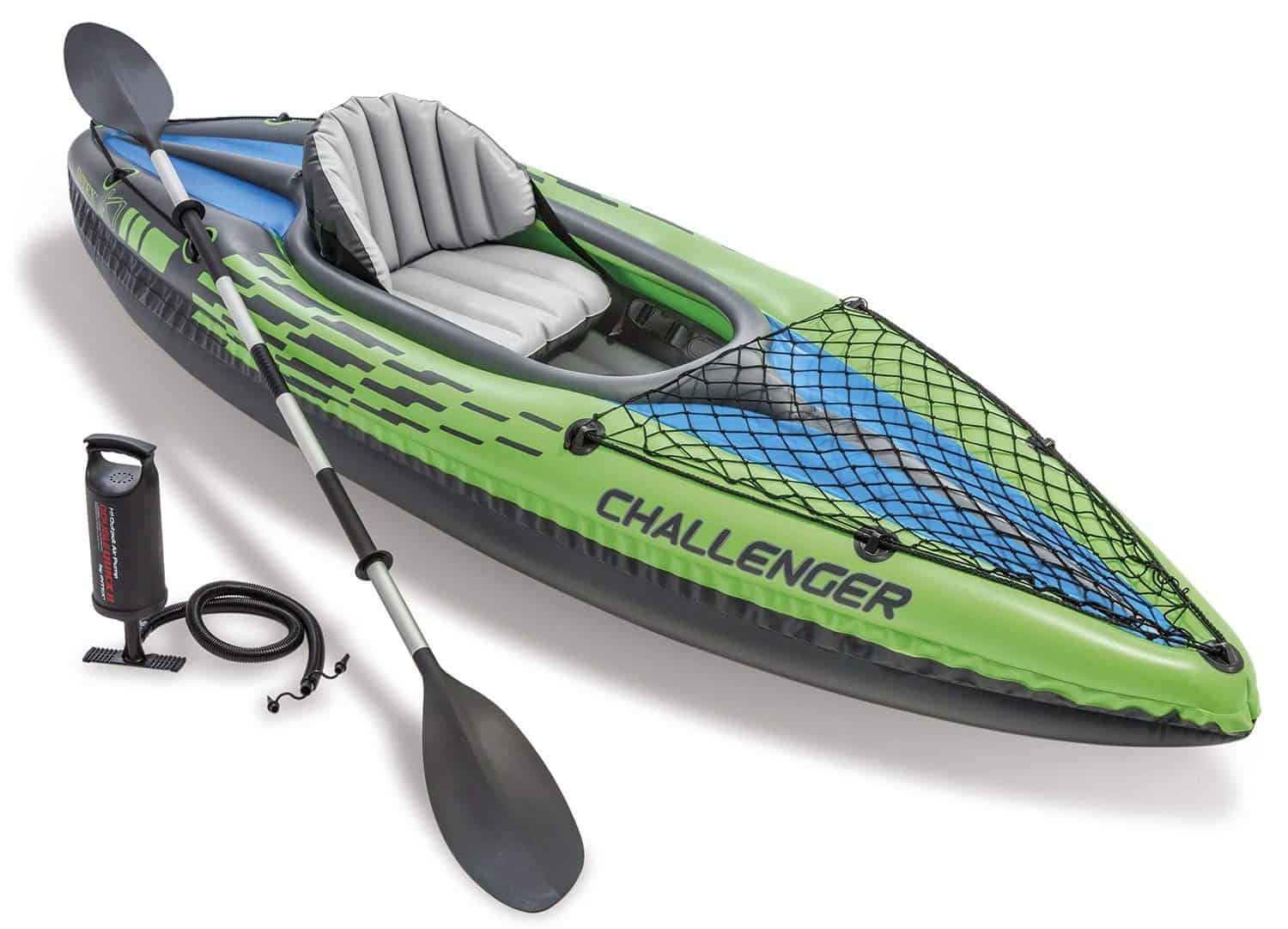 Other Things You Should Know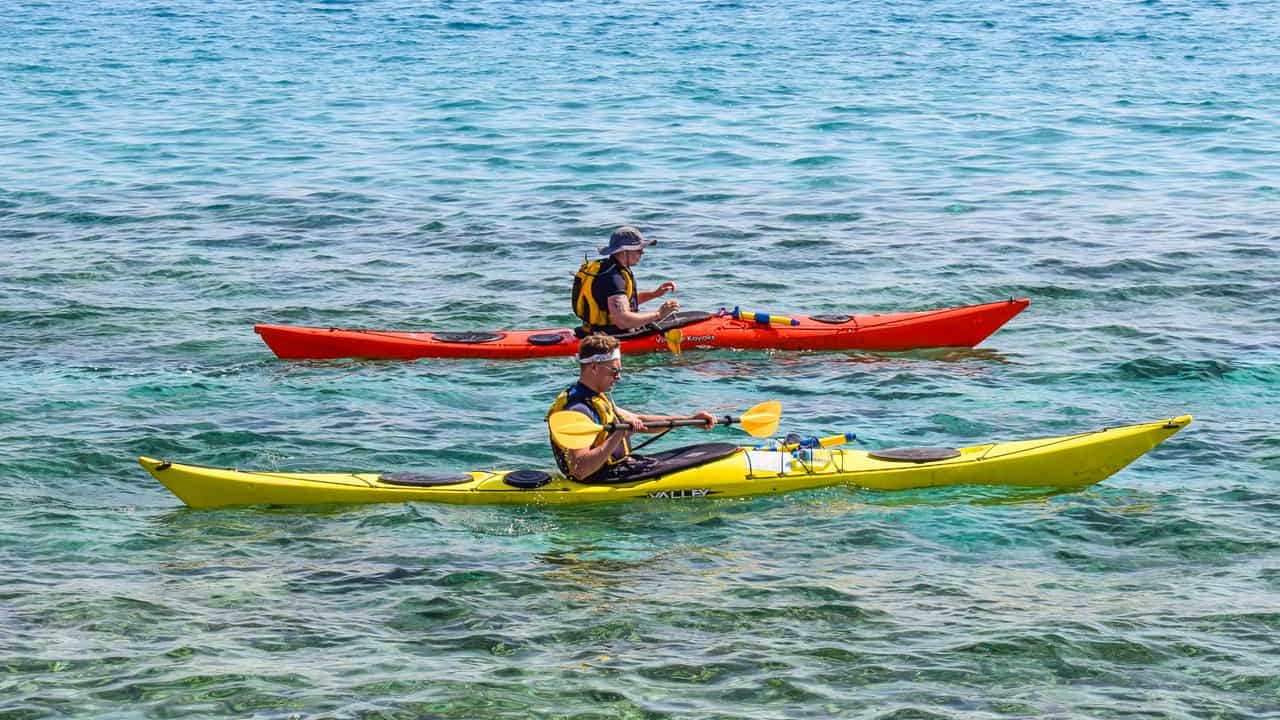 There are several other things you are probably going to want to keep in mind with regard to various aspects of kayaking and inflatable boats.
White Watering
You need to understand that white water kayaking is an inherently dangerous. You are flowing down a river that probably has several large rocks along the way.
So be careful.
Most inflatable kayaks won't be able to handle anything over class III rapids. Class III is a moderately dangerous rapid, although most people are capable of handling it.
You may even want to be wary of class IV, which have been deadly.
If you have any reservations at all about rapid classification, please read this guide closely so you know exactly what you are getting into. And remember that rivers change day-to-day, so a class IV might run like a class V some days and vice versa.
This depends a lot of annual precipitation and season. You should expect all white water rapids to be as much as an entire class higher the months following winter.
As snow melts and runs off of mountains it makes its way to the ocean and other large bodies of water via the rivers you'll be white watering on.
This creates a much faster and less predictable flow, while also hiding rocks that may lie just below the surface. These rocks become a very real danger in the event that you fall from your vessel.
For a complete rundown of all whitewater safety see this excellent guide. Always wear a helmet and don't white water alone.
And stay away from the really dangerous one.
With all this in mind, you really don't want to try anything like a class V or VI rapid in inflatables. Those require huge amounts of precision and control. Even hard shell kayaks have taken a beating on these rapids before and plenty of people die on them yearly.
In general, stick to class III or below unless your white water inflatable specifically says it can handle class IV.
Patching
Usually, patching doesn't take more than ten minutes of work and another thirty minutes before the kayak can be reinflated.
Several of the manuals I read for products on this list noted a disclaimer that if the patch didn't hold, PVC glue would sure up that patch.
In general, I don't wait to see if my patches are going to hold.
Do yourself a favor a buy some PVC glue when you make your inflatable kayak purchase. It doesn't take any extra time to apply and ensures that your patch will hold for the long hall.
Why take the risk of another air leak if you don't have to?
Storing Your Inflatable
I know, I know. The whole point of this article was that you didn't have to worry much about storage!
But there are a few things you'll want to watch out for.
Store your kayak in a cool and dry place. Make sure that it has completely dried before you fold it for storage. If your kayak isn't dry, it will almost certainly mildew.
Dirt or mud will also dry and can be abrasive against your kayaks fabric. If you repeatedly store your kayak dirty, this can even rub holes into your kayak. Not to mention all the bugs dirty equipment can attract!
Aside from making your kayaking experience smelly, it will also reduce the longevity of your kayak and may even void your warranty.
This part is important.
And if you sprung a leak on a particular outing, you'll need to take an additional step in clean up, as well.
If air got out of your kayak, it probably also means that water got into your air chambers. Overtime this will become a breeding ground for all kinds of nasty stuff.
So if you got a leak, or it seems like you may have water inside your kayak, leave your kayak partially inflated for a few days after use.
If you deflated it and fold it, the water will have no way to escape when it evaporates.
Final Reminders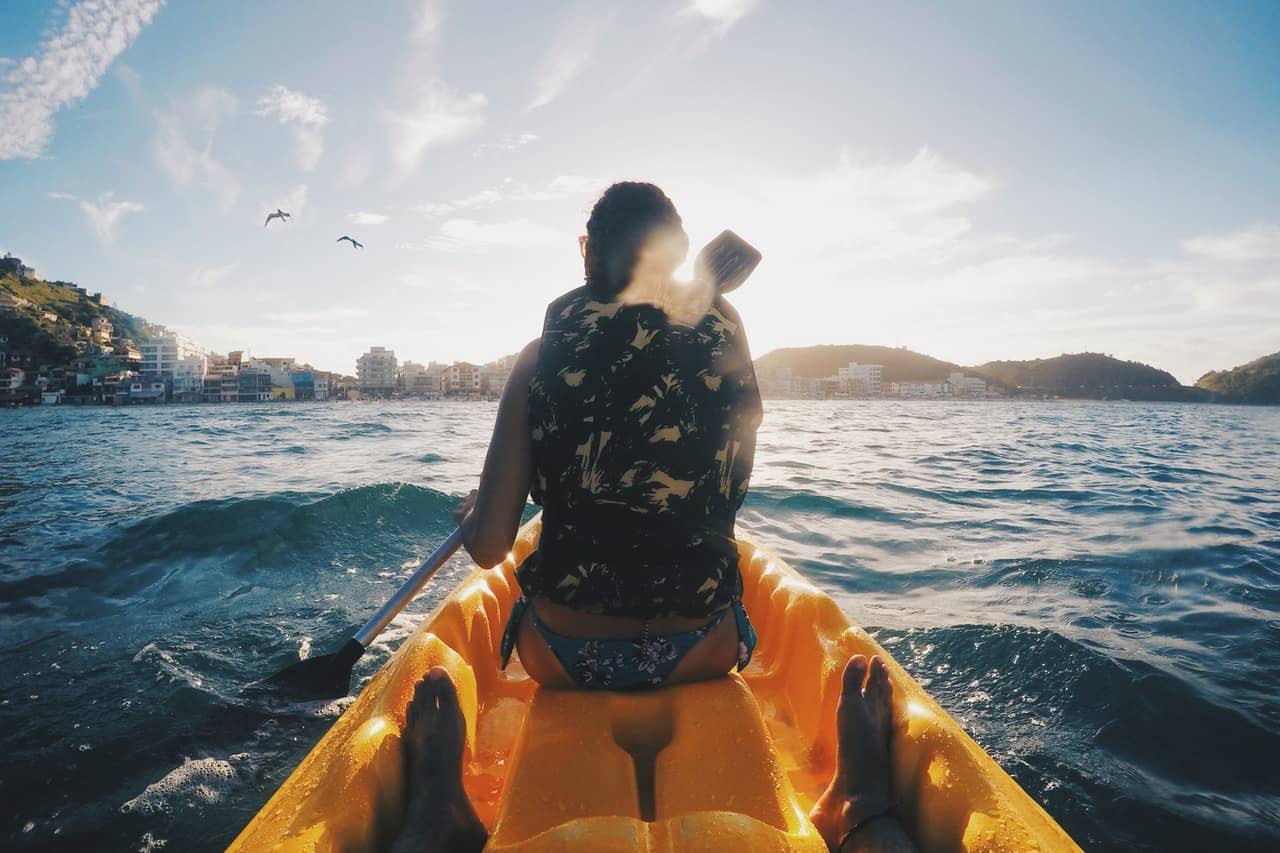 So, reader, consider a grower rather than a shower–inflatable kayaks are a great option for anyone who loves to paddle but just can't store a normal kayak.
They are also an great choice for hikers or anyone who wants a little extra or easier portability and transportation.
You can also find them for much cheaper than a traditional kayak.
Let's review.  
The first thing you'll want to consider is the amount of people you'll be kayaking with regularly. Or, alternatively, you should know how comfortable you are trying to match up schedules with other kayakers.
If you want to go kayaking every day and never have your plans ruined, maybe you are someone who should go for a one-person kayak.
Keep in mind that many of the tandem kayaks on this list can remove a seat and function just fine as a one-person. This is an especially good option if you are someone who will be needing a lot of extra cargo capacity for any reason.
Also, remember different kayaks are suitable for different situations. If you are someone who wants to own one kayak for multiple purposes, there are certainly kayaks on this list that are flexible in that way.
Be careful with storing your kayak. We at Bestazy know that the whole point of reading this article was to make storing a kayak easy. And it is easy to store an inflatable kayak! But you should still look out for the longevity of your kayak by maintaining proper care.
Parting Notes
Each of these kayaks has something different going for it. What is the best kayak imaginable for one-person might be entirely wrong for another. A fisherman and a white water enthusiast are obviously going to want different things.
All I'm saying is, don't be a slave to the ratings.