Buyer's Guide
Think all dart boards are the same?
Think again.
Depending on what you're using the dartboard for, there are several different things to consider. For kids, you may want to shy away from those dangerous and sharp edges on the darts. If you're playing competitively, or perhaps your friends may be overly competitive themselves, a competition standard dart board may be more your thing.
Types of Dart Boards
Regardless, it's important to know the different types to ensure you are buying the right board to meet your requirements.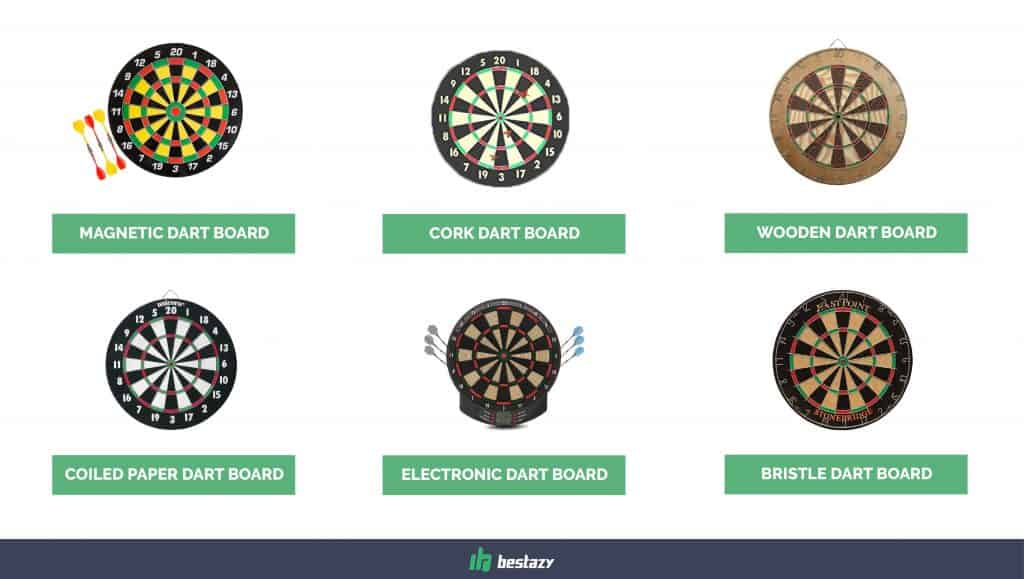 Magnetic Dart Board
Starting at the beginner or junior level, the magnetic dart board is often one you'd find mixed up with a range of other kids' toys. You may have had one yourself while growing up! These are pretty much classified as toys. The dart board itself is magnetic, and the darts have magnetic tips on them.
In theory, the darts will stick to the board, however, anyone who has played them will know how notorious for they are for not sticking!
Cork Dart Board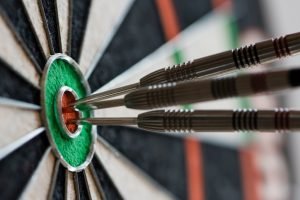 Once commonplace in pubs and homes everywhere, the cork dart board has slowly been phased out by more durable types. Cork does wear out quite easily, so if you play often you'll find yourself replacing them more often.
It's important to note the term 'cork dart board' is often incorrectly tagged. The more durable and common 'bristle' dart board shares a similar appearance at times to a cork dart board.
On an American style board, the bullseye is called the cork, sometimes misleading. Make sure to read carefully on the actual type of dart board and its construction.
Wooden Dart Board
One for the antiques collectors or old school players, a wooden dart board is more a homage to a bygone age. Once made of elm or poplar, boards made of wood tended to dry out and crack, requiring them to be soaked overnight to keep them in top condition.
Did You Know?
In fact, it's even believed the 'clock' layout of a modern dart board comes from the rings and cracks that developed on older boards. There's some nice history for you!
Wooden dart boards have continued to find a use even today in American style darts. While not made from one piece of wood, they are usually now made from pieces of tilia.[/wpsm_titlebox]
Coiled Paper Dart Board
Popular with those looking for basic recreational play, or for the kids, the coiled paper dart board is more for those looking for a professional looking board.
This style of board effectively uses layers of paper, which the dart enters when thrown. Ideally, when removing the dart, the paper effectively heals itself.
This type of board can damage easily, and careless removal of the dart can severely damage the paper causing it to not heal itself.
Electronic Dart Board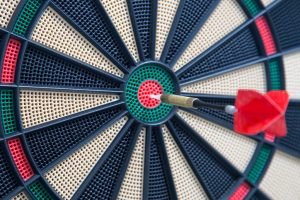 A much more recent invention, electronic dart boards are finding its way into more households, and bars. There are a few different types of electronic dart boards and it's important to know which one you're buying to ensure it meets your requirements.
The first type is the electronic dartboard, with soft-tip darts. Just as it sounds, the darts themselves have a soft tip, allowing for a soft impact against the board. The board is covered in heaps of tiny holes, and on impact, the score is automatically recorded.
It's important to remember with some of these types of dart boards, they're sometimes enlarged. However, this can be a positive thing, making it easier to play and thus better for kids or casual players to enjoy the game.
The second type uses steel tip darts. The appearance of this type will be similar to that of a bristle board but will have automatic scoring.
One benefit of electronic dart boards are some models allow connection to the same board type on the same network so you can play against others for league play.
Bristle Dart Board
We've probably already mentioned this type a few times, but this is the most common and popular variant of dart board in the marketplace.
This type is made of compressed sisal fibers glued to a backing board, held together with metal edges. When the darts are removed from the board, the fibers will close the hole behind them.
The metal edges also mark out the different scoring sections of the board. There are a variety of types of bristle dartboards with regards to quality, some with a lower density of fibers, some with a different type of fiber altogether. The better density and sisal fibers will last longer than other types.
Summary
The best dart board can really come down to personal preference and desired usage.
For kids consider the magnetic and soft tipped dart board variations. These are a great learning tool for the art of darts. The forgiving nature and easy to throw darts make it easier for your kids to improve and increase hand-eye coordination and motor skills.
If you're a budding pro, or just like having the best of the best, there's a big variety of bristle dartboards available, giving you the look and feel of the professionals.
Want the best of both worlds?
If you like the fancy high-tech stuff, the electronic boards give you the best of both worlds. Whether you want automatic electronic heckling or more dynamic scoring thanks to the provided apps in some versions.
Make sure to carefully consider the type.
As a beginner or young child, trying to score on a high-quality bristle dartboard is a sure fire way to disillusion them and end their enjoyment of the game.
What's Your Perfect Game Room Look Like?
If you're buying a dart board to hang in your game room, or just want to add some more variety to game nights and get-togethers, you might also want to check out our reviews on the best ping pong tables.
But don't stop there.
You can even get an edge on your game by using one of the best ping pong paddles we could find.
They'd pair well with either of these Best in class ping pong table choices…