The 30 Second Review
One does not simply purchase an air hockey table and has fun with it.
Well, maybe that's true sometimes…
But if you want to make sure you'll love your purchase, there are a few things to keep in mind.
First of all…
Settle on a type of air hockey table. You have the regular, freestanding tables, also used in world championships, which are pretty basic. Four legs, a smooth surface, two strikers, and a puck.
If you want a portable choice,
Go for a tabletop version, which only comes with a smooth surface and rubbers to stabilize it on any table you may have standing around.
Versatility your thing?
Try a multi-game table, which can be used for playing air hockey, pool, table tennis, and other things. Note these are usually less durable (a lot of moving parts), but very helpful in making your game room complete.
However,
If you miss the arcades, go for an arcade-style table.
You'll need a lot of room for these, but the nostalgia is guaranteed.
Since we talked about space, another thing to keep in mind is the size of your future table.
Most such fun-filled products are 90-inches long by 50-inches wide, but there's a lot of variety, so make sure you'll get a table that you'll feel comfortable using.
On top of that,
Make sure there's enough space for the table in the room you're planning to set it up in.
Another thing to think about…
Is the materials that were used while crafting your air hockey table. You'll want to look for sturdy, durable components, such as hardwoods and strong aluminum.
This is especially important when talking about the materials of structural components (legs, levelers, etc) because leaning over the table is common in air hockey,
Lastly,
Consider additional features, such as the scoring system, design, sound effects and the like. You want a durable table, but what's the use of a durable table if it's not fun?
These are the things you should generally consider when choosing an air hockey table. If you want to see them explored in depth, read on.
Buying an Air Hockey Table – The Definitive Guide
Before we delve into different things to consider when buying an air hockey table, let's first make sure you have a clear understanding of how the game and the product work.
In general (although there are exceptions), an air hockey table has an extremely smooth surface, rails on all sides, and two slots in opposing parts of the railing.
These serve as goals when the puck enters them, and the way players move the puck around the table is with a striker.
Basically,
It's, as the name suggests, the tabletop version of hockey. Timeless, fun, and suitable for all ages.
But there's a catch.
I was completely oblivious to this before I started working on the article you're reading, and it's so silly now that I think back.
If you've ever played the game, you'll know that the puck glides across the table as if it were on the ice. This is not just due to a cleverly designed surface material, it actually happens due to the air that's being pumped from underneath the table through tiny holes.
This blow keeps the puck slightly in the air, removing any possible friction with the table – and you get "artificial ice".
Now that we've covered the basics, let's get into it. What you need to know before throwing your money at an air hockey table.
Table Type
The old arcade behemoths are extremely close to extinction, and with their disappearance, human ingenuity took over.
As a result, the different features and build of air hockey tables separate them in a few distinct categories.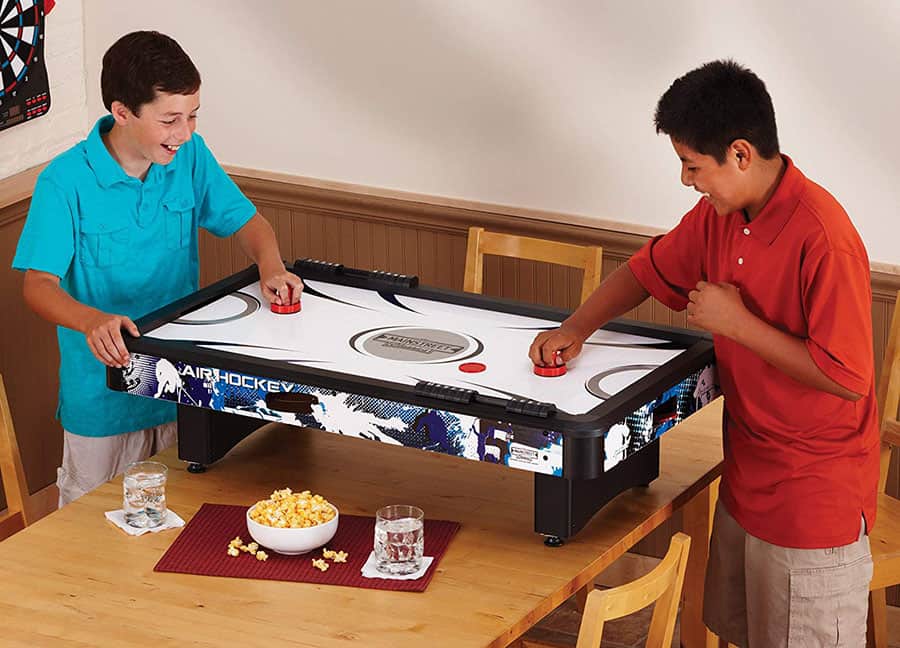 Tabletop
This type of table can be placed on any surface, which is usually done with small rubber feet stabilizing the structure on any other table you may have in a game room or a living room.
Generally, this type of table is smaller, and as a result, it's perfect for people that need to save on space.
Moreover,
We suggest buying this type of air hockey table if you want to make the little ones happy. Being very versatile and portable, you'll be able to set it up on a table at their height.
On top of that, you can just throw it in the trunk if you're going on vacation, so you'll get some well-deserved free time while the kids are busy gliding a puck across the table.
Freestanding
Being the most common on the market, this type of table has similar sizes to the tabletop counterpart (even if the range is much higher). The difference is that, as the name suggests, this one can stand on its own.
By far the largest range when it comes to size, features and build, there's a freestanding table for anyone. Small or big, crazy colors, electronic scoring, and music, or sleek, minimalist versions, you're bound to find one you like.
Multi-game
If you want to get the most bang for your bucks, this one is definitely the way to go. Multi-game tables are like any freestanding table, the difference is that you can flip the playing surface to reveal a different game.
Pool, air hockey and even ping pong, you can get al three in one (relatively cheap) table. If you're not a big fan of the gliding puck, and you just want to dabble in the fun once in a while, this is the table for you.
Arcade-Style
Did I say arcade air hockey tables were massively losing popularity?
They are if we're talking about their use in the arcade.
If we're talking about their general use, arcade-style tables are hands-down the nostalgic choice. The sounds of the puck hitting the railing, the electronic scoring above your head, the lights, everything – it's just a memory trip everytime you play.
You'll have to dig deeper in your pocket to get one of these, but if you love air hockey (and you got the room) – this is definitely the choice for you.
Size
Another thing you're going to want to keep in mind is the size of your table, and the size of the room you're going to place the table in.
The general size of an air hockey table is 90-inches long by 50-inches wide.
While this size can vary a lot,
It's estimated for any measurements, you need to have three to five additional feet of space at each end of the table for players to move around.
With a bit of simple math, if your future table clocks in at 90-inches long and 50-inches wide, you should have about 13 to 15-feet of length and 8 to 9-feet of width in available space, just so you can move around easily.
However,
That's one example and your situation may vary a lot. As a result, always measure the room you're going to place the table in, just to make sure you have enough space.
Materials
One important thing to take into account is the type of materials that were used to build your future table. That's important if you want a durable purchase, but also if you want the best experience possible – a poor surface material will lead to a poor game.
Structure
The easiest thing to get out of the way is what materials to look for in a table's structure (legs, bottom surface, tubing, etc)
If you want to get technical, the best aluminum alloy to have holding up a table is the 3003 – that's sturdiness for you.
If your future table's structure is wooden,
Look for hardwoods instead of softwoods (duh) if you want durability.
In terms of tubing…
I'm not even remotely close to deciphering the debate of what materials are better….
PVC, CPVC… It's a foreign world to me and I don't think I could provide a lot of value going into that.
As such,
If you want good quality tubing, and sturdy legs, just go for the more expensive choice.
That's not to say you should just throw money at the most expensive piece – it's just that from two contenders at your wallet, the more expensive one is likely to have better materials.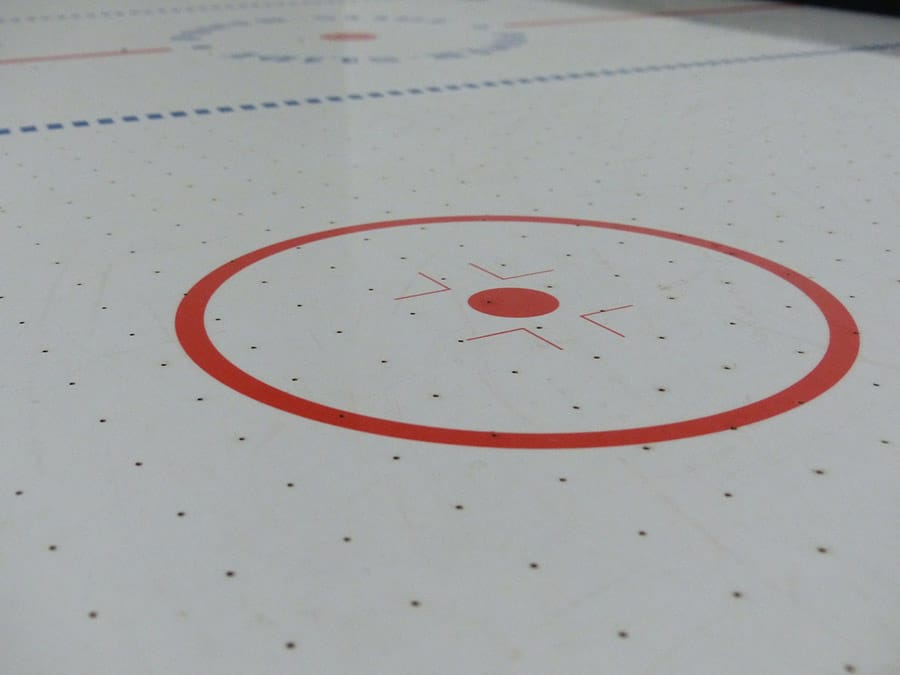 Playing Surface
While the structure is a thing to keep in mind if you want the perfect choice, the playing surface material is fundamental to a fun experience.
What's the best choice?
By far the market standard, and the best choice possible, is having a wooden surface – maybe a Medium Density Fibreboard (MDF) – topped by a laminate material.
If you're not willing to spend too much, plastic coating instead of a laminate material will do the trick, but steer clear of anything else.
Rink Walls
Ah, the sound of the puck hitting the railing! If you've ever played air hockey, you definitely got the specific "cling" in mind right about now.
Rink wall materials should be top-notch if you want to ensure that nostalgic sound, and a qualitative rebound.
For that,
Make sure the railing is made out of regular aluminum, or at worst, very strong nylon. Anything else just didn't cut it for us.
Extra Features
The last thing to keep in mind is what you should look for in extra features.
Scoring
Like with most table games, you can get either electronic scoring or manual scoring.
This is mostly a thing of personal preference and how much are you willing to pay for that nostalgic trip, but there's one thing most people overlook.
When playing with friends or family,
We're sometimes tempted to bend the rules a little bit. For example, when I play air hockey with my girlfriend we don't count the own goals – just so we keep everyone happy.
With manual scoring, you can truly bend these rules, while the electronic scoring is more rigid in that department.
Power Source of the Best Air Hockey Table
The choice is a bit easier here.
You can either get a plug-in table or a table that runs on batteries.
In all instances, we recommend the plug-in option.
Why?
The fan/blower is generally more powerful and short of a power outage, there's nothing that can prevent you from playing the game.
Extra Stuff
There's nothing we can objectively say about things like music, sound features, above the head scoring and such.
What we can do is a disclaimer – the variety of extra features that bring your experience closer to exactly what you want is great, and for some people, that matters more than durability.
As a result, always browse the product description carefully. You may stumble across something you didn't even knew you wanted, but appreciate greatly.
Detailed Reviews of Our Favorite Air Hockey Tables
Not Completely Sure Yet?
Before we let throw your money at one of the products, there are still a few things we'd like to mention.
Skill Level
Air Hockey is very hard to master.
Why is that?
A good strike that leads to a fine goal usually relies on proper understanding and use of angles – simply put, the puck generally hits the railing before entering the goal socket.
Nobody starts to actually calculate angles in air hockey.
Instead,
The more experienced you are at this game, the more your field of vision gets accustomed with all the possible angles, and you can more efficiently score goals.
As a result, the size and type of the table should be adjusted based on your level of experience.
Please note…
That this skill discussion is only for people that have at least a slight interest in the competitive side of this game. Only take this into account if you're a try-hard at everything you do, or if you're planning on participating in tournaments.
Otherwise,
Just take into account the rest of this piece.
Beginner
For people that have rarely played air hockey (or are even complete noobs), we recommend a smaller playing surface than the regular 90 x 50. This is because it's easier to understand the game and visualize possible angles with a smaller playing field.
If we talk about table type…
A tabletop or a smaller freestanding purchase should satisfy your needs, and get you going in this world.
Intermediate
At this point, you should consider the regular 90 x 50 table size, or even bigger. As you get accustomed to the game, a bigger playing field is not only suitable but recommended.
Why?
You just have more versatility in your game strategy and the way you approach a match.
Advanced
Feel pretty confident in your air hockey skills? At this point, any table type is suited to your needs.
To state again, we still recommend a bigger playing surface, because more possibilities mean more fun – but you do you!
What you may want to take into account when purchasing an air hockey table is the tournament scene. The Air Hockey Players Association (AHPA) and the United States Air Hockey Association (USAA) both have strict rules about table size, construction, as well as striker and puck build.
A good place to start…
…if you want to learn more about this is AHPA's forum, available here.
Warranties
Warranty information is (apparently) extremely hard to come by when it comes to air hockey tables.
If an Amazon listing mentions anything about the warranty, it's usually a link to send a message to the seller.
We tried gathering some information about this…
But we had a hard time reaching sellers.
Most warranties we found offer 90 days protection for materials and workmanship, but that's about it.
Certificates & Seals of Approval
The AHPA doesn't offer air hockey table certifications, but there are a few things you can look for if you want third party endorsement of a product.
Mainly,
You can find certificates on table components, such as the UL certificate for electric blowers. It's not a telltale of overall quality, but at least you'll know you're getting something that works right.
Design
Air hockey tables available on the market right now vary a lot in terms of design.
You can get a multi-colored, kitschy small tabletop product, just as well as you can opt for a slick, simplistic black freestanding table.
With so many product designs to choose from…
You're bound to find something you like, but you could also have a hard time setting your sights on the perfect choice.
Implicitly, a lot of people just ignore the design of a table, focusing instead on build and features.
What's wrong with that?
Off the top of my head, nothing seemed wrong either.
But the more you think about it, the more you realize that design is an important aspect of any product choice.
Why?
Well, let's put it this way: very few people go inside a room and think "Wow, that color palette and that proportion match this room's theme extraordinarily".
Rather, the effects of good interior design come unconsciously – we instantly like a room that is well designed, because our minds evolved to appreciate specific visual arrangements.
There are certain assortments that make our brains go click, and instantly love what we see.
In the same manner…
…you may be displeased with how a room looks without knowing exactly why – that's bad interior design, and we don't want that in a fun room.
How do you avoid this?
If you're keen on buying an air hockey table that fits your room aesthetically, the first thing you want to look at is proportion.
The easiest way to have a well-proportioned room is to:
Buy a table that's not too large or too small for your room. Just follow the instructions we provided in the Definitive Buyer's Guide and you should be good to go.
Buy a table that's similar in build to your room. More specifically, if your room is rounded, look for a table that's not strong on corners. Just as easily, if your room follows a normal layout, buy a table that's built with clear and pointy corners.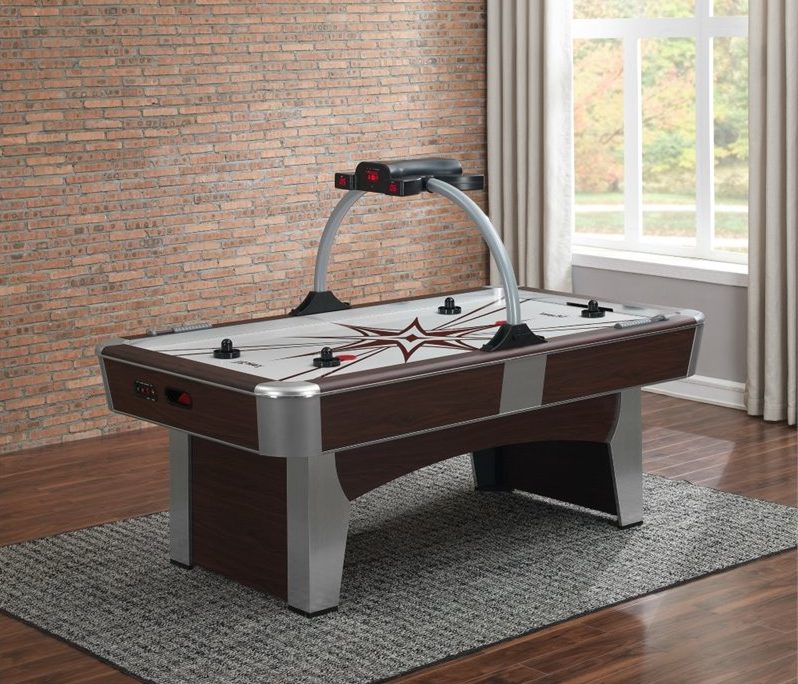 Another important aspect of design…
Is color, and finding the right combination can be a daunting task, even for professionals.
What you can do is follow the simple Rule of Threes.
What this entails is a limit on the number of colors you use in a room. As the name suggests, that limit is three colors per room. If you've already got beige, turquoise and navy blue in your room, look for a blue table.
Even more so,
You need to make sure the colors match. That's a harder task, but to get started you can consult the graph and guide available here.
Everything you just read about interior design is based on general principles applied in the industry.
These, however, are not exclusive…
… and the number one rule in interior design is what you love. Think back to when you just loved how a room looked, and strive for that aesthetic. It may even mean ignoring everything you just read.
Design is not a fundamental part of your table-search, but as we've explained – it's important for making you feel unconsciously good about a purchase.
Our top pick
Before we unveil the best air hockey table, let's recap what we talked about today.
What you should keep in mind when choosing a table…
…Is the type of table you want, before anything else. Freestanding, tabletop, multi-game or arcade style – whatever gets your mojo working.
Once you've got that out of the way, do consider the size of the table, the size of your room, your skill level and the overall construction of your future purchase.
Before you throw your money one way or the other,
Also think about extra features such as sound effects or scoring, and the design of your desired air hockey table.
If you're not bothered to struggle and find the best possible table, no worries.
We did the hard work for you, and here's the result.