Which Type Is The Best 6×9 Speaker For Your Needs?
Depending on your needs, you'll want to decide between full-range speakers and component speakers.
Full-range speakers come with a woofer for producing bass. They typically have a built-in tweeter for the high frequencies as well. Full range speakers make for the easiest replacement of an old car's audio system. This is because all you'll have to do is remove the old system and connect the new one to the head unit using a wiring harness. They come in different sizes, shapes, prices, and power ranges.
On the other hand, component speakers are a bit more complex since they include woofers, separate tweeters, and an external cross-over that all work together to form great quality sound. They normally sound more realistic and produce better quality sounds.
First Time Buying a 6×9 Speaker?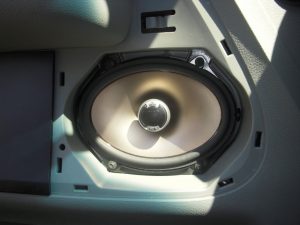 If this is your first time buying speakers, or have no clue what makes a great 6×9 speaker, don't be worried, you only need to get a few things straight and you'll make the decision like a pro. Most of us have their own definition of a good sound, so that is up to you, but when it comes to quality, durability, pricing, and other such stuff, we're the pros—that's why we've prepared this review just for you.
When you've made up your mind to get a new set of speakers for your car, avoid going for the first gadget you see–especially when shopping online. Rather, think of it as a game of hunting where you're looking for what meets all your needs and that of your car.
For you to pull this off, you'll need to invest some time in research. Also, there are a few things that you will have to know about if you're to end up with the best stereo for your car.
Buyer's Guide: How To Determine The Best 6×9 Speaker For Your Car
In a nutshell, 6×9 speakers are oval-shaped audio systems that measure 6-inches tall and 9-inches wide. Due to its design, it fits much more easily in small spaces, for example, inside cars, compared to square or round-shaped speakers.
Of course, 6×9 speakers are popular among audiophiles for many reasons. First, they're an easy option for improving a car's sound quality without having to buy a separate amplifier or subwoofer for the bass.
[wpsm_box type="info" float="none" text_align="left"]6×9 speakers' shape and size assure the deep punch needed for bass, while the mid-range and in-built or separate tweeter sets to ensure the audio output can go as high as possible. Combined, these speakers can play anything within the normal frequency range.[/wpsm_box]
Secondly, these speakers are very affordable, yet provide clear and crisp sound over a wide frequency range. As a result, a lot of people can access them without burning a hole in their wallet.
In addition, they make a great choice for anyone who wants to revamp their whole audio system since they are known to be an all-in-one solution for such kinds of projects. All you have to do is place them where your old speakers were sitting or mount them on your rear deck. However, the sound quality will vary, sometimes greatly, from one model to the next. Therefore, make sure to get a way of at least hearing the speakers boom before buying them for your car to avoid any unwanted surprises. You can check YouTube for audio samples.
Take A Look At These Crucial Tips
Measurements
There is nothing worse than buying an audio system that doesn't fit in your car. With that in mind, one of the most important aspects to consider is size. Be sure to take the measurements of the spot where you want to install your 6×9 speakers and compare this with the model of speakers you intend to buy. If they don't fit, it's time to pick something else.
Durability
If any 6×9 speaker has made our list, then you can trust its durability based on its price range. However, in case you ultimately end up with a system that isn't on this list, be on the look-out for the specific features that manufacturers have included to ensure durability. These include material used, types of mount, meshing around speakers, and tweeters.
Range Of Frequency
The frequency range is normally given in hertz (Hz) or kilohertz (kHz) and it determines how high the notes can go and how low the bass can be in your speakers. In essence, low frequencies range between 20-2,000 Hz while high frequencies lie between 8-22 kHz.
Power Handling
The power-handling of 6×9 speakers refers to the amount of power your speakers can take without under-powering or over-powering it. Depending on the system you get, be on the look-out for these two values:
RMS – this refers to the amount of power the speakers need to run continuously. It is what you should focus on in any speakers.
Peak – the peak is the highest amount of power your speakers can handle in short bursts which can get really high but not sustainable over a reasonable period.
An In-Depth Review Of The Best 6×9 Speakers In The Market Right Now
Still Undecided About Which Speakers Are Best For You?
As mentioned earlier, the best 6×9 speakers depend on a lot of factors, but the most important ones are individual preferences and needs. If you still have a problem narrowing down on one particular set of speakers, there are other things you can take into consideration.
Sound quality: 6×9 speakers are designed to create a full range of sounds. Therefore, the bass, midrange, and highs must all be great to ensure you don't need to spend any more money to get a woofer.
Sound clarity: The best 6×9 speakers should create audible sound throughout the spectrum. The midrange should not be overpowered by the bass bleed and the bass has to remain distortion free even when the volume is cranked up.
Sensitivity: For audio to rise above the normal environmental noise such as traffic, its sensitivity should be higher than 87dB.
Other features: Some speakers are also fitted with additional features that make it easy to use, assemble, and install such as the FlexFit basket that comes with adjustable screw holes or adjustable tweeters.
Of course, if you ask us. One product really stood out among the others both in features and price…