If you're looking to invest in the best night vision binoculars for your needs, you're at the right place. We've reviewed a bunch of binoculars in detail to help you make the perfect choice!
Being able to see in the dark is real and it's here, thanks to night vision technology.
Imagine observing nocturnal wildlife in its most natural state during complete darkness.
Or if you're a detective, being able to easily track a suspect in the dead of night.
Come to think of it, the uses of night vision are endless. People rely on night vision devices for various purposes, including surveillance, tracking, military uses, or just as a hobby.
And with night vision binoculars, you also get the ability to magnify the view in addition to low-light vision!
Research You Can Trust
We carefully studied tons of different products to finally bring you this in-depth review of our favorite, shortlisted binoculars to help you clearly at night without fault.
Bestazy believes in only publishing honest and straightforward reviews. That's why we've spent hours digging up product details, customer reviews, and expert opinions to paint you the most accurate picture of all the devices in our list.
Rest assured.
This is the most candid, comprehensive guide for buying your perfect pair of night vision binoculars.
The goods and the bad--we've got it all! ?
THE WINNERS
Buyer's Guide: How To Find The Best Night Vision Binoculars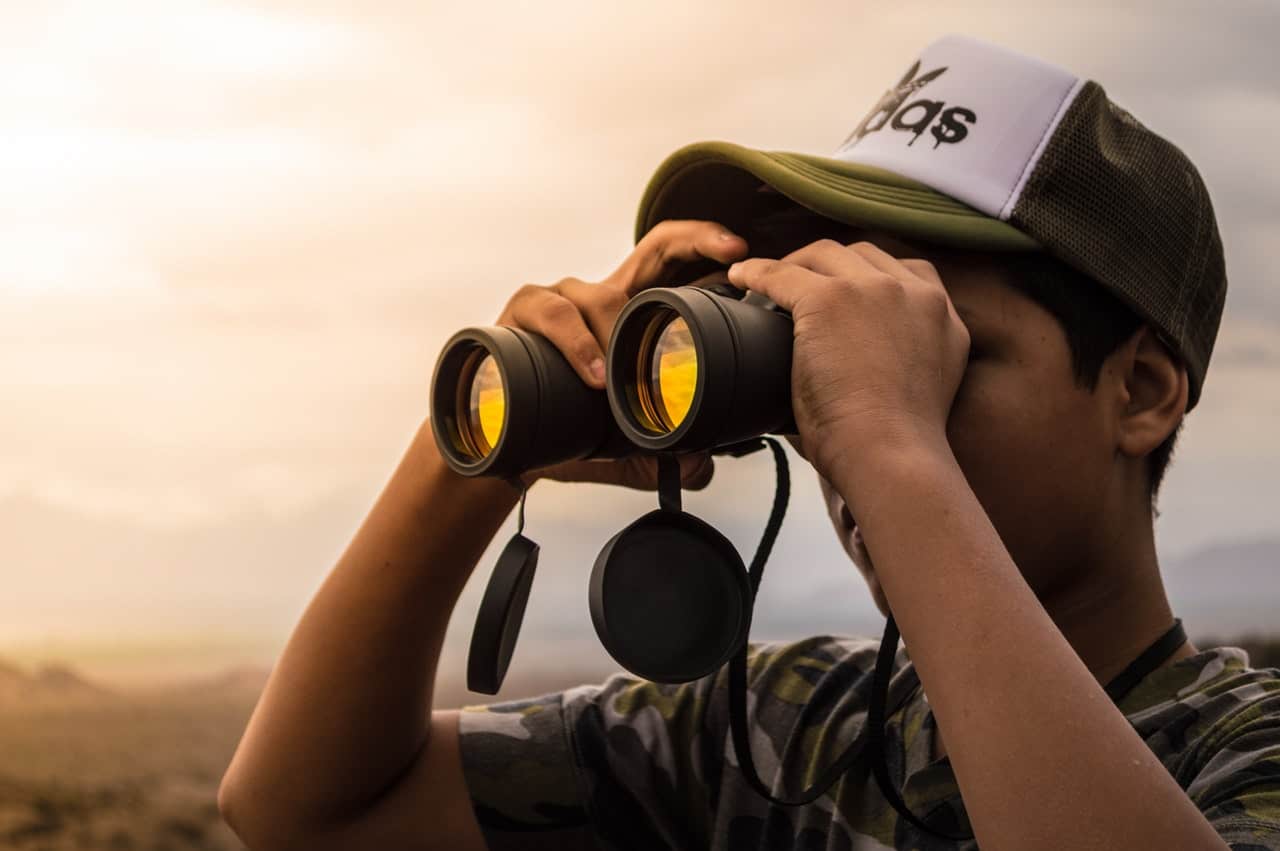 Night vision binoculars have been around for quite some time now, and they're extremely popular for a reason. No matter how dark it is, the perfect pair will help you see everything clearly without putting strain on your eyes.
But because these products are so popular, there are tons of companies selling their own different versions. With so many night vision brands and models out there, it's easy to get confused when it comes to picking the right one.
But don't worry.
That's exactly why we're here to help.
We have compiled seven of our favorite night vision binoculars out there this year to help narrow down your choices.
Before we get into that, you should know what you're supposed to look out for when searching for an ideal pair to suit your needs.
Everybody uses night vision differently, and if you don't know the factors you need to consider beforehand, you might never know what it is you really need.
Also, you need to be sure if you're spending your hard-earned money on the right gadget.
Here are some factors to keep in mind before you decide to buy your dream pair of night vision binoculars:
Purpose of Use
Ask yourself:
Why am I buying these binoculars?
You need to know the purpose of your night vision binoculars before you buy one. Are you going to use them for hunting and wildlife observation?
Or are you getting one for surveillance and security purposes?
Or, just for fun?
Whatever it is, you need to know. Every type of usage requires a different set of features.
Now, ask yourself this:
Do you need night vision binoculars for professional use? Or do you just want to play with them?
If you're serious about using them, you might want to invest a little more money and get a high-quality product equipped with some of the latest features.
If you want one just for fun, you really don't have to spend so much money on features you're probably never going to use. Consider getting a more basic model.
It's also important to know the environment you're going to use your binoculars in.
How dark is it going to be?
What's the weather like?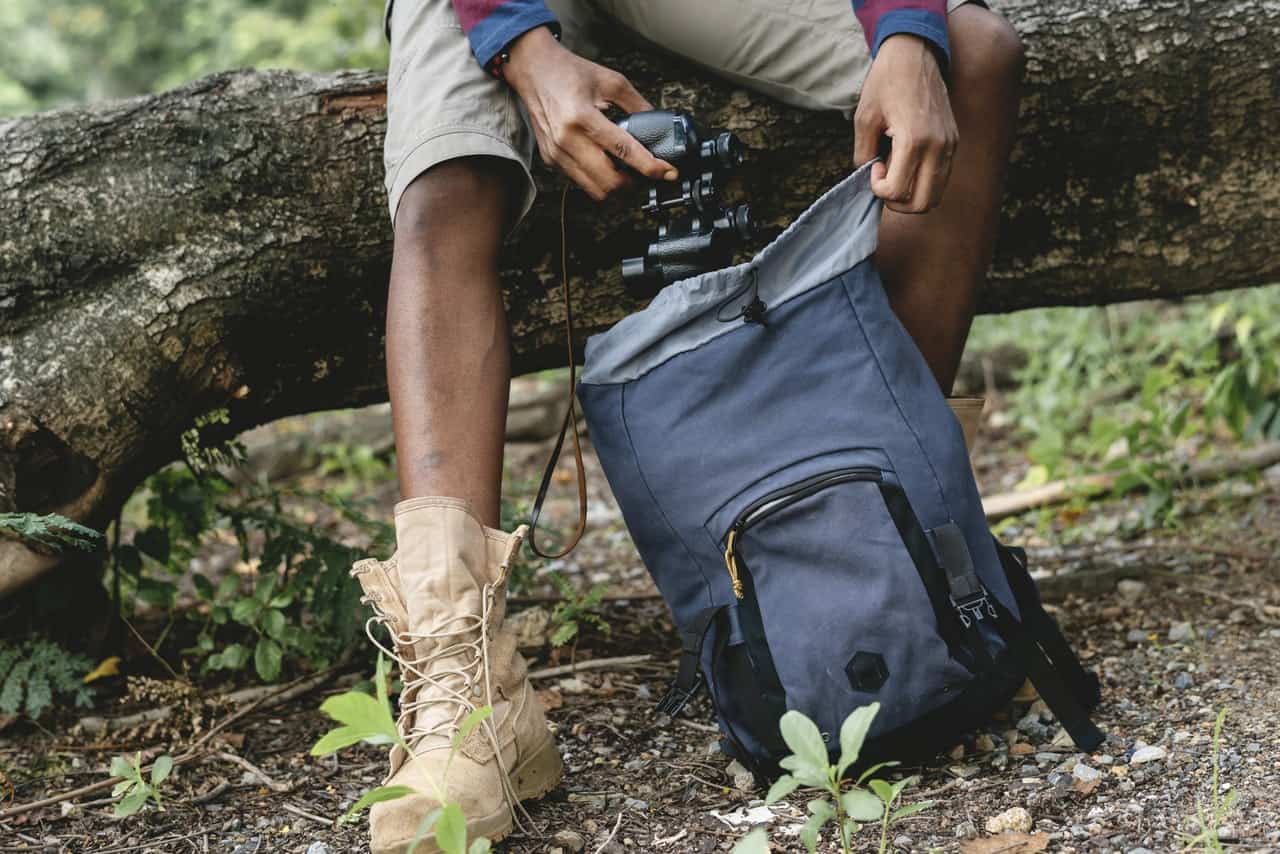 If you plan on using them outdoors a lot, consider getting a model that's weatherproof.
Most top-quality night vision binoculars are IPX-7 water-resistant, which is a wonderful feature to have. If it gets rainy, for example, you won't have to worry about spoiling your new gadget.
Some binoculars are also shock-proof, fog-proof, and skid-proof.
If you're going to use them for hunting or nature observation purposes, focus more on magnification power. That's because you'll probably be using your binoculars in a wide open environment, and chances are the animals won't be roaming anywhere too close to you.
Generation
Generally speaking, night vision binoculars are categorized into three generations:
Gen 1
Gen 2
and, you guessed it…Gen 3
Now, instead of getting all techy, let's keep it simple to help you understand the concept better.
The Generation of an night vision device basically shows the amount of power and strength that resides in it. Naturally, the higher the Gen, the higher the price tag.
Why?
Simply because each Generation is more advanced than the previous one. To break it down for you, here's a little insight into what you should expect from each Gen:
Generation 1:
Gen 1 is the oldest of all three generations, which ultimately also makes it the most affordable one.
Naturally, the technology used in Gen 1 devices is not as advanced as those belonging to later Gens. The reason is simple. It was the very first of its kind.
Gen 1 technology was developed as early as during the 1960s when the world was emerging as a technological sphere. This was a time when military technology was experiencing a number of advancements.
Night vision technology of Gen 1 isn't as thorough and specific as the more advanced versions, but it's still considered great for more casual and generic use.
After all, these binoculars are the least expensive. If you don't really care about new features and feel comfortable with a modest view at night, Gen 1 devices are probably more than good enough for you.
Here's a general idea of what to expect with a Gen 1 device in comparison with more advanced versions:
Low resolution and a grainy image
The shortest battery life out of all three Generations
Overall life expectancy is around 1500 hours of use
The median useful sight range is around 75 yards
Relies on always-on IR Illuminators to operate effectively
The most affordable Generation out of all
Generation 2:
It really goes without saying, but we'll say it anyway.
Gen 2 night vision binoculars are much more advanced than those belonging to the older Generation.
They offer more innovative features and are designed using better technology. Naturally, this means they're able to produce high-quality results, like sharper and clearer images.
It also means they're a lot more expensive than Gen 1 binoculars.
Gen 2 night vision binoculars are typically used by more professional users, like the military or law enforcement. But, they can also be used by serious hunters or wildlife observers who are willing to pay a bit more for better quality.
To sum it all up, here's what Gen 2 offers in comparison with the previous Generation:
Longer battery life than Gen 1 equipment
Better image result and resolution – crispier and brighter display
3x higher overall life expectancy due to stronger materials and more protective features
The median useful sight range is around 200 yards
Able to work "passively" without the need of IR Illuminators
More expensive than Gen 1
Generation 3:
Gen 3 is the most advanced of all the generations we've seen so far. It's equipped with the best technology to offer a top-notch viewing experience at night.
Now, the binoculars that belong to this generation are undoubtedly the most powerful in terms of built, design, and function.
But they're also the most expensive ones out of all.
In fact, Gen 3 equipment is so expensive that it's mostly only considered by professional users. Even the serious hunters, marksmen, or law enforcement officers only consider a pair of these binoculars if it agrees with their wallet.
Do you know what's even cooler?
Gen 3 is also the US Military's choice of night vision equipment. All of their binoculars and other night vision devices are infused with this advanced technology.
Now, we'd like to point out that Gen 3 gadgets aren't going to be a part of this review. That's because they cost thousands of dollars and cater to only a handful of professionals.
Anyway, here is a breakdown of how Gen 3 fares against its predecessors:
The best image quality and resolution – High clarity, brightness, and detail in extreme darkness
Longest viewing range – can go over 300 yards depending on model and light conditions
Longest battery life out of all the Generations
The longest overall life expectancy – expect 10,000+ hours of operation!
Advanced features and versatility in usage
Greater ability to work "passively" – without the use of IR Illuminators
Standard VS. Digital Binoculars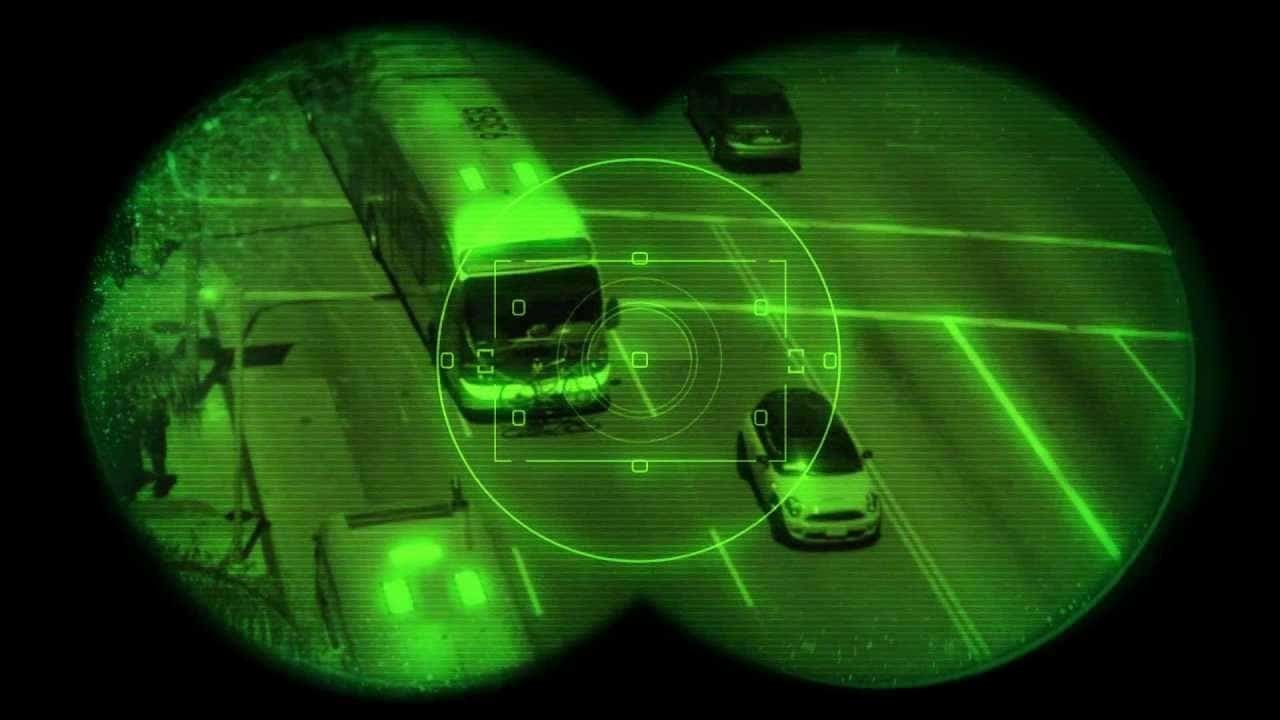 There are two different types of night vision binoculars.
Unlike standard units, digital binoculars usually come equipped with the feature to capture/save photos and videos of special moments.
You can also connect digital units to your computer or TV to view or transfer your files.
Versatility and Ease of Use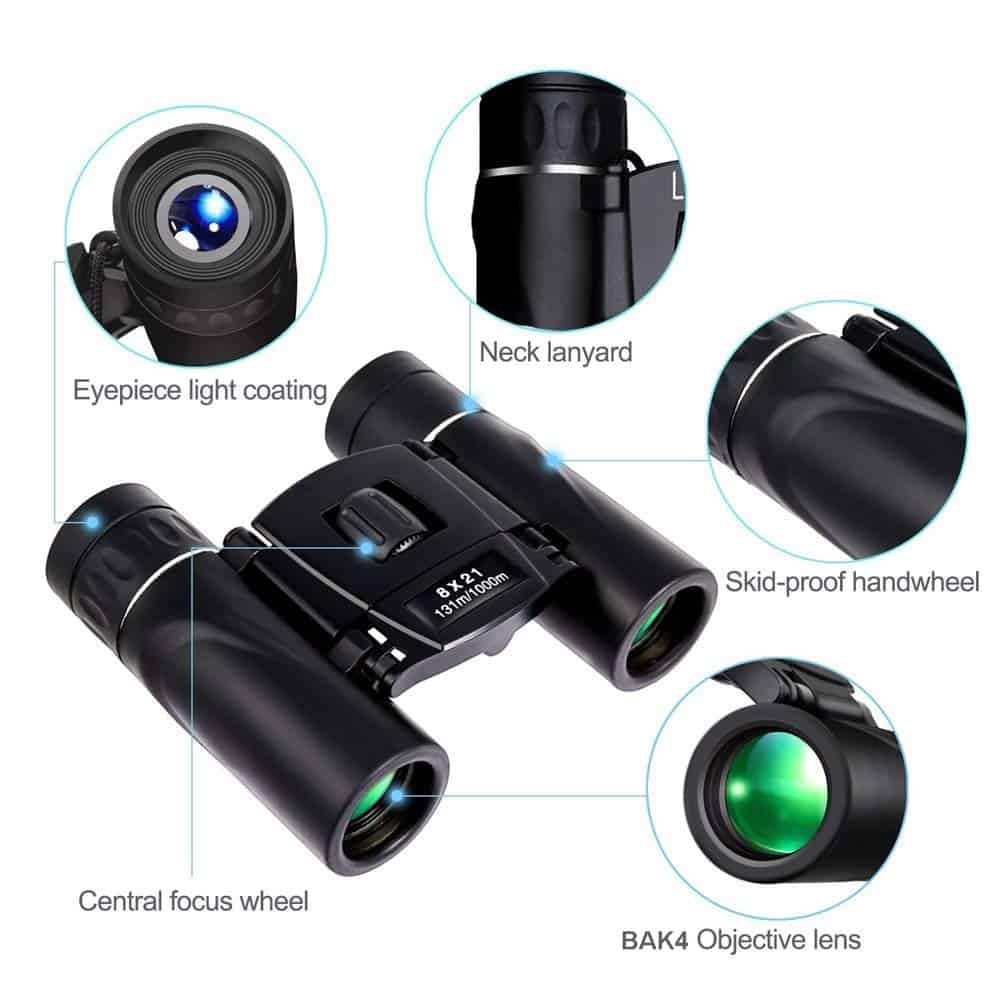 If you plan on using your binoculars in more than just one application or situation, pick one that's versatile enough to adapt to your needs.
For example, if you want to use your device during both daytime and nighttime, choose a model that performs great in both light conditions.
Also, it's equally important to buy a product you feel comfortable using and operating on your own. Generally, it's a good idea to look for a model that comes with a user-friendly interface and a manual in case you get confused about something.
The best product for you should also be the one that requires the least hard work to get acquainted with.
Size and Weight
The ideal size and weight of your new binoculars largely depend on how you're going to be using them. And of course, what you're comfortable with.
A smaller device, such as one that measures around 2×24 mm, is typically lightweight and compact enough to carry around easily.
Plus, it works absolutely great for activities during the day, like bird watching or just observing nature in general.
But binoculars this small usually aren't as effective when it comes to night vision.
For brighter results and clearer imagery at night, larger binoculars are better suited. A good size to consider is around 8×50 mm.
Larger binoculars are a great choice for hunters because they help you get a better view of your target.
But carrying around a heavyweight unit can get annoying and uncomfortable. So, find a size you're comfortable with, but also keep in mind the quality of the output.
Generally, though, if you don't plan on heavy use of the binoculars, we'll recommend going with a compact, lightweight model.
However, in some cases, you might want a gadget for static usage. Some binoculars come with a tripod or a tripod mount so you don't have to worry too much about the weight and size.
For example, if you plan on recording certain events, you might want to look for a sturdier option available with more suitable features.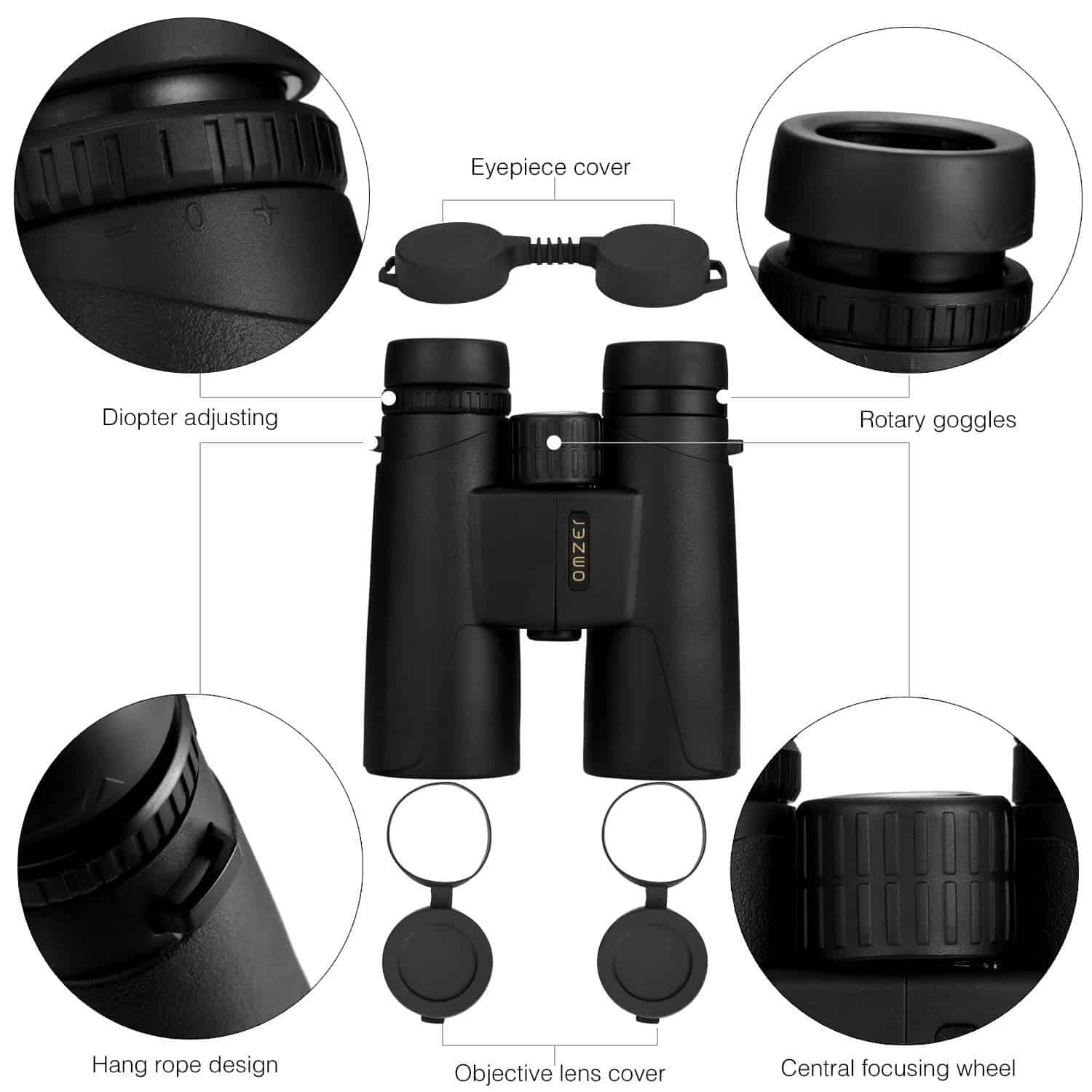 Image Quality and Resolution
Not every device offers great quality output. You have to find the image quality that you're going to be satisfied with. To determine that factor, you need to look at the resolution.
Now, a higher resolution means that the product will show you greater quality images.
Similarly, the lower the resolution, the lower the image quality. A low-resolution output is typically grainy and unclear as opposed to results with higher resolutions.
Remember, as the image quality increases, so does the cost of the night vision binoculars. Keep that in mind, and try to find a model that offers the best quality within your budget.
Now, here's some food for thought…
In night vision imagery, the resolution tends to deteriorate towards the edges. The image is usually clearer and sharper around the center.
Magnification power
The magnification power of your night vision binoculars basically determines their ability to make far-off objects appear closer and bigger to your eyes.
Naturally, higher magnification strength will make it easier to see objects far away in greater detail.
There are multiple options available in the market, ranging anywhere from 1.0X to 30.0X. Or more.
However, you need to remember that higher magnification will also increase the cost of the device. Moreover, don't forget that night vision is all about seeing in the dark. Not about seeing things closely.
Keep this in mind as well:
Binoculars with more than 10.0X magnification will intensify your hand movements, making it difficult to have a steady viewing experience.
Reviews: Our Favorite Night Vision Binoculars
Additional Considerations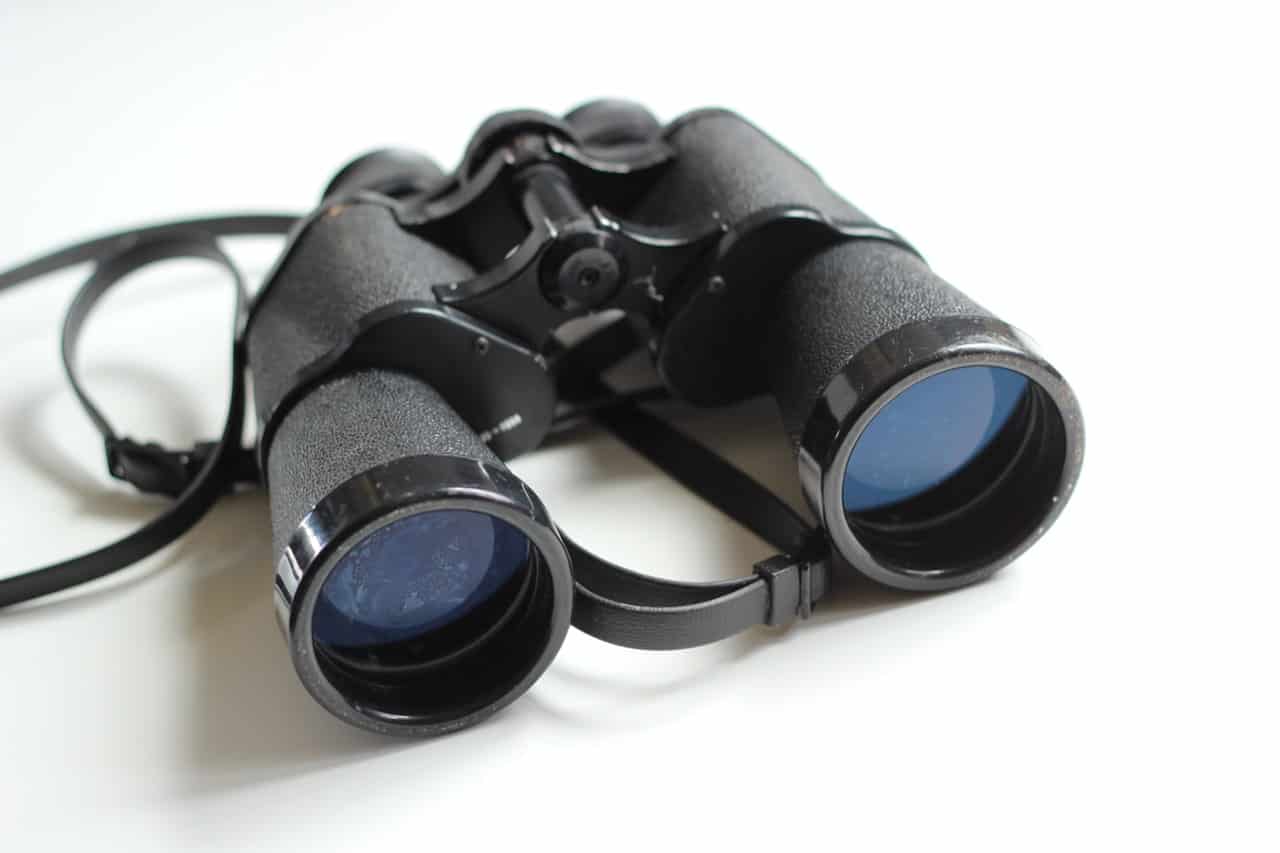 Infrared (IR) Illuminators
Did you know? The human eye can only see a small portion of visible light that lies on the electromagnetic spectrum.
Night vision binoculars help you see better in low-lit situations by enhancing the non-visible source of electromagnetic radiation.
So, what are Infrared Illuminators? And why should you care?
IR Illuminators essentially work by shining a beam of infrared light. This light is detected by the binoculars and amplified to bring you a visible image.
Because they offer supplemental light, IR Illuminators are a must-have feature if you're going to use your night vision device in extremely low ambient light conditions or in total darkness.
Capturing Images and Recording Videos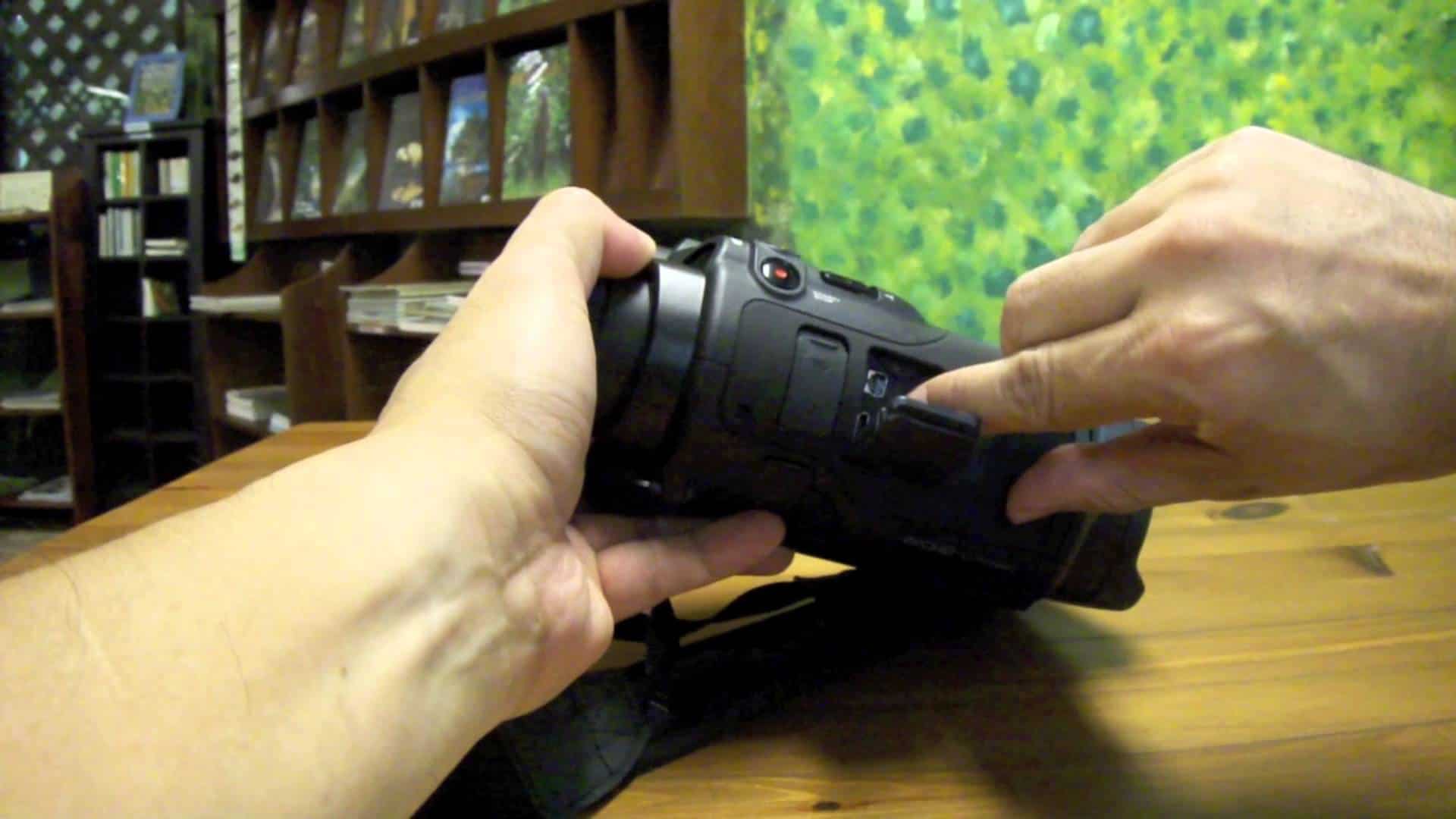 Some night vision binoculars, like the digital models, let you record videos and capture photos of the view in front of you. This is a great feature to have, especially if you want to keep track of your night vision experiences.
If you're a wildlife observer, for example, you might come across some rare sights. Being able to capture and store moments like this to show your friends or family, or just for later viewing, would be a priceless perk to have!
Storage Considerations
If your device supports the feature of capturing images and recording videos, you'll naturally need to consider the storage specifications too.
Most models with this functionality come with a removable microSD card and a USB cable. The card stores the images on the image, and you can always transfer them to a TV or your computer using the cable.
Remember, it's always nice to have a bigger storage capacity. Especially if your binoculars record full HD videos and create/store larger file sizes.
Even if they don't come with a spacey microSD card upon purchase, most devices support expandable storage and you can always buy a better one later.
Power Supply
Another important feature to consider before buying your binoculars is their source of power.
Night vision devices are typically powered by batteries. Now, these might come in either lithium or alkaline.
Alkaline batteries are easily available and don't cost a lot either. You can also find Lithium batteries at your local camera shop, but they're slightly more expensive. That's because they also have a longer lifespan than alkaline batteries.
Some night vision binoculars also come with an onboard rechargeable battery. This is great because it saves you the trouble (and money!) of buying additional batteries over and over again.
However, do keep in mind that devices with a rechargeable battery tend to be more expensive than others.
Focus
Most night vision binoculars let you adjust the focus to see the object in front of you clearly.
Most products in the market, including the ones we've reviewed here, come with a central focusing wheel that's used to focus the image clearly by adjusting both barrels at the same time.
Some binoculars, however, also feature a diopter adjustment ring that's used to focus each barrel independently.
The diopter setting is slightly difficult to use, but it's also a pretty useful feature for professionals. It allows the user to manually set the focus of the image being viewed and compensates any differences that may occur between the eyes.
Comfort and Adjustment
You should also consider if your night vision binoculars come with adjustment features to offer you maximum physical comfort.
The eye relief, for example, is the distance between your eye and the eyepiece for the entire field of view to be visible. If you wear glasses, longer eye relief would be more comfortable for you because it will allow you to hold the device away from your face when you're using it.
You can also adjust the distance between both the eyepieces to suit your face in most binoculars. Simply hold the device with both hands and adjust in an upwards or downwards motion.
Lens Coating
Sometimes, the light passing through the lens of your binoculars gets reflected away. This could be light in any form, like moonlight or even a street light.
Because it reduces the amount of light that passes through the lens, the reflection might make your image seem darker.
Some night vision binoculars come with lenses that have anti-reflection coatings to ensure brighter and clearer results.
They also help you stay low-profile as light reflections might sometimes give you away at night.
Accessories
Lastly, consider the entire package you're going to get when you buy your choice of night vision binoculars.
You're going to pay a certain price, and it's always great to get some extra accessories and products to enhance your experience.
Most binoculars come with a storage bag for safekeeping and traveling purposes. Some models also come with a tripod, a microSD card, a USB cable, and even batteries to operate your device.
Image Enhancement VS. Thermal Imaging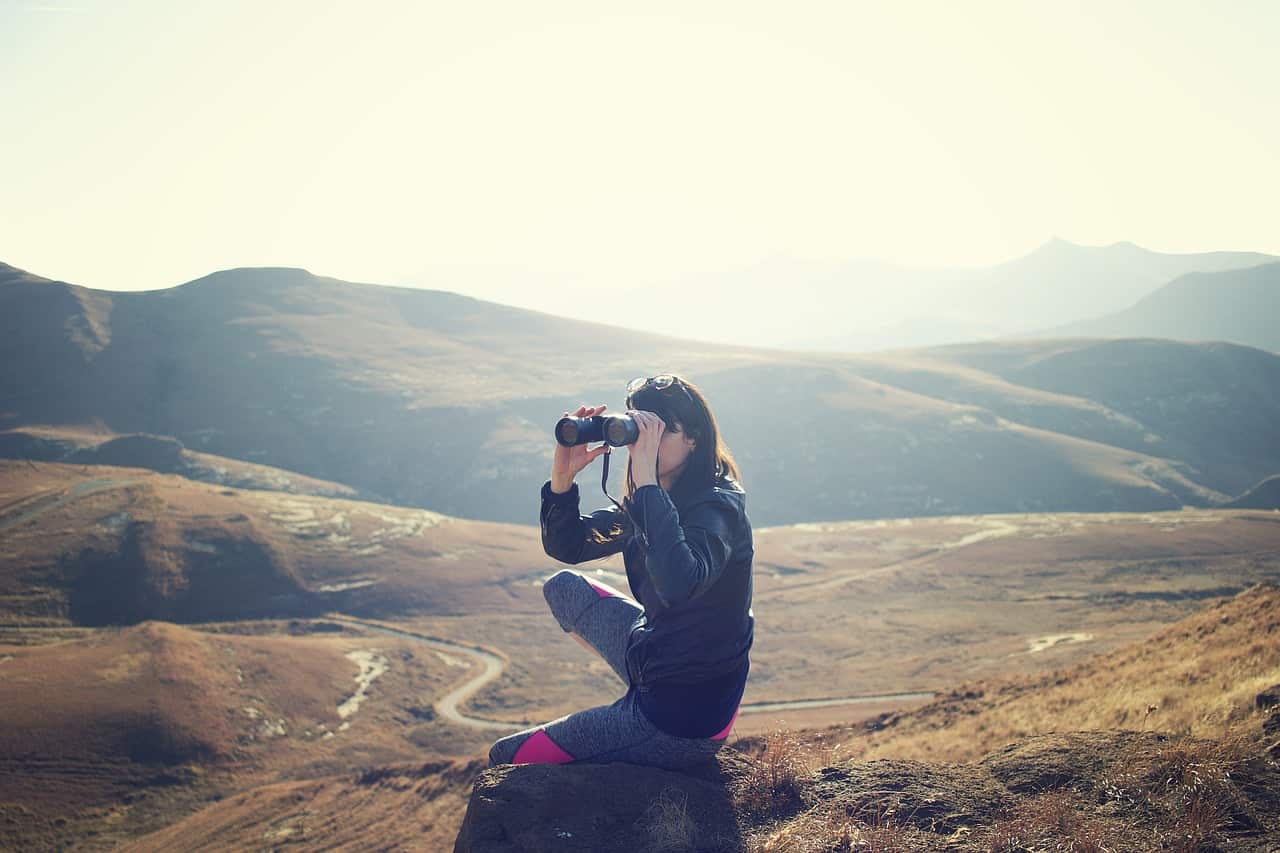 People often confuse night vision technology with these two terms.
Night vision technology actually comes in two different forms. Image enhancement and thermal imaging.
However, these are not the same. Their purpose might be, but they work in totally different ways.
Image enhancement relies on existing light on the electromagnetic spectrum that might not be visible to the human eye and amplifies to form a visible image.
Thermal imaging makes use of heat to produce images. Living things, like humans and animals, emit more heat than non-living objects, which is detected by night vision devices using thermal imaging.
Here's a short video to help explain the concept better:
How to Care for Your Night Vision Binoculars
Let's face it. Good quality night vision binoculars do cost a certain amount of money.
If you're going to spend so much effort and money into buying your perfect pair, you should also know how to care for it properly.
Without proper care, your night vision binoculars can end up with a much lower lifespan than promised. They might even deteriorate in terms of quality and performance over time, and you won't get as much as what you paid for out of them.
Here's how to properly take care of your night vision binoculars:
Exposure to Bright Light
One of the major reasons night vision binoculars get damaged is exposure to bright light.
Some night vision binoculars come with an auto-shutoff feature that turns off the device when it's exposed to extreme light conditions. However, most don't. Make sure you check if yours has light resistant features.
In any case, it's always advisable to use your binoculars the way they're meant to be used. Prolonged exposure to bright light can cause damage, even to devices that do come with light resistant features.
Humidity & Fog
Just like any other piece of electronic equipment, your night vision binoculars risk getting damaged due to prolonged exposure to fog and humidity.
However, most binoculars these days are waterproof or fog-proof. They might be a little on the expensive side, but they're totally worth it.
Consider investing in an IPX-7 or similar model if you want a sturdier product that can last through different weather conditions.
Battery Removal
If you don't plan on using your binoculars for more than a week, consider removing the batteries and storing them in a cool, dry place.
This prevents the batteries from leaking inside the device and damaging the internal systems. In places with high humidity levels, this precautionary step is more important than ever.
Cleaning the Lens
Make sure you properly clean the lenses of your night vision binoculars to prevent scratchy, unclear results.
Always use a soft cloth, similar to the one you typically use to clean your glasses. Using a tough, abrasive material can cause scratches on the lens and ruin the image quality in the long run.
Safety & Storage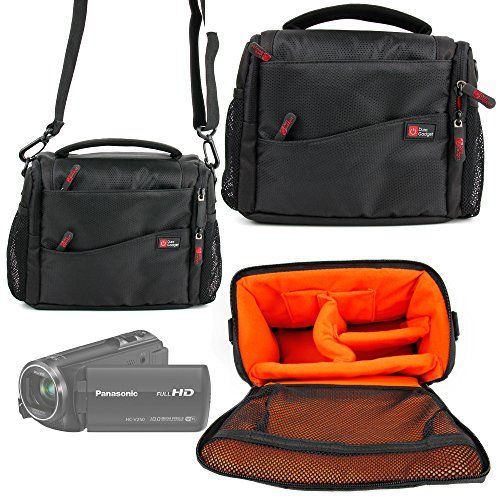 Most night vision binoculars come with a carrying/storage bag for a reason.
Always store your device securely inside the bag if you plan on traveling, transporting it from one place to another, or even when you're just not using it.
This helps to keep the binoculars from dropping, breaking, or general damage caused by your surroundings.
Are You Ready to See in the Dark?
With our detailed, honest reviews, you'll find the best night vision binoculars for you in no time.
Just remember to keep in mind some important factors before you make your purchase. Always weigh the price against the features you're actually going to use, instead of those that just sound cool.
You should also remember to consider the comfort level, size, weight, and durability of your device, and always care for it properly to prevent early damage.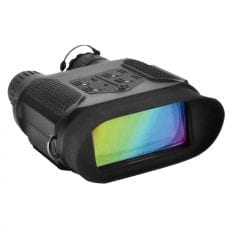 Best of the best
SOLOMARK Night Vision Binoculars
Feel blind as a bat in the dark? Brighten things up with the best night vision binoculars for your needs. Find them in our reviews after reading the buyer's guide.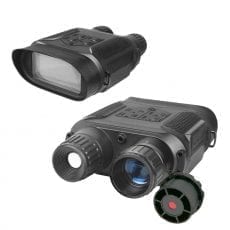 Most Buying
Bestguarder Night Vision Hunting Binocular
Feel blind as a bat in the dark? Brighten things up with the best night vision binoculars for your needs. Find them in our reviews after reading the buyer's guide.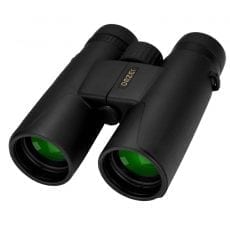 Best for the money
OMZER 10×42 High-powered Compact HD Binoculars
Feel blind as a bat in the dark? Brighten things up with the best night vision binoculars for your needs. Find them in our reviews after reading the buyer's guide.