The 30-Second Review
The main difference you'll find between mandolins at different price points is what kind of wood was used in the construction. The cheapest starter instruments will use pressed wood or laminate for the back, sides, and top of the instrument. However, you don't have to go very far up the price ladder to reach instruments that use solid wood.
If you can afford it, you'll be well-served by ponying up the extra money to get a solid wood mandolin. They'll not only sound noticeably better but will also be more durable overall. A solid wood instrument is also a sign of a higher quality standard in the overall construction, which makes the instrument more likely to serve you well in the long term.
The shape of the mandolin's body will also be a factor in the price. An F-style mandolin like The Loar LM-520 is more labor-intensive in terms of the carving and assembly, and this will come with a corresponding hike in price, as well. Like with the difference between laminate and solid wood, you're not simply paying for the different shape when you buy an F-style mandolin. The more intricate shape generally means these instruments will be hand-carved and hand-assembled, which increases the overall construction quality.
Choosing The Best Mandolins Takes Some Experience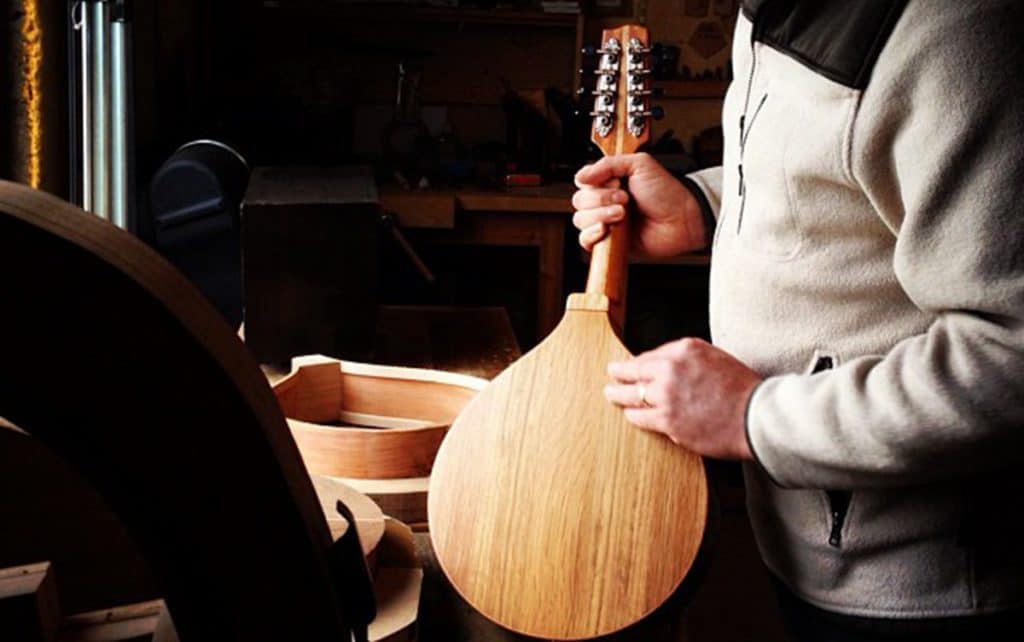 Luckily, our experts have your back. We're happy to share our knowledge with you to help you make an informed purchase.
Here's everything you might want to know about shopping for your perfect mandolin.
To get us started, let's circle back to what we were talking about above: the difference between the woods used in the construction of these various instruments. I already mentioned you want to choose a solid wood instrument, rather than one made of pressed wood or laminate, if you have the budget for it—what you might not completely understand yet is why.
Think about this:
The sound of a mandolin is produced not just by the vibration of the strings, but also by how that vibration resonates through the body. If you want a more visceral demonstration of this, try stuffing cloth inside the body of a mandolin and then plucking the strings. You'll notice it sounds dull and muffled.
That is, if the note sounds at all.
The pitch of the note is determined by the string, but most of its tonal characteristics are developed not in the initial pluck, but as it resonates.
If you consider it from this angle, it makes sense the material used to build the instrument will have a huge impact on how the instrument sounds. Laminate is formed by layering thin strips of wood together into one thicker piece. The glue binding these wood layers together doesn't vibrate as well as the wood itself.
And there you have it.
The main reason laminate instruments have a duller sound than solid wood ones.
You'll hear the most obvious contrast between laminate and solid wood, but there will also be a difference—albeit a subtler one—depending on the exact kind of wood that's used.
Of course, this is only one factor in how the instrument sounds.
The shape of the instrument, the way it was carved, the hardware—all of these will impact the tone. Different woods do have different typical sonic characteristics, though, and considering these different characteristics can help you make a more informed decision about which mandolin best suits your tastes.

Mahogany: This is one you may see on the back and sides, although it's not particularly common for the tops of mandolins. It will produce more volume overall than other tonewoods. Fans of mahogany love its warmth, although to others it can sound a bit bassy or muddy.
Maple: This is a very dense tonewood, and that density gives maple a crisp, tight tone, similar in many respects to spruce. It's also a very versatile wood, and functions equally well for the top as it does for the back and sides.
Rosewood: Traditionally use for the back and sides, it's now more common to find only on the fingerboard and bridge because it's fairly rare and expensive. It's a very rich and responsive tonewood with a great sustain and a full yet controlled bass end.
Spruce: A popular choice for the top (or "soundboard") on a variety of instruments, including the mandolin. It has a clear, bright tone with distinct articulation.
Important Features
The body of the mandolin is the first thing most people look into, but it's not the only important feature to consider. The hardware and bridge will also affect the feel and sound of the instrument. We've highlighted some key features below that you'll want to also pay attention to as you're shopping for a new instrument.
The Bridge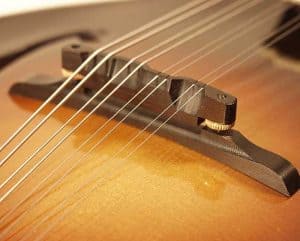 The bridge on a mandolin serves the same function as the bridge on a guitar: determining the height of the strings, controlling both the action and the intonation. Rather than being fixed (or attached to the instrument) the bridge on a mandolin is held to the instrument only by the pressure of the strings.
This makes the bridge the easiest and most affordable thing on a mandolin to upgrade. Most bridges will set you back around $10-$20, although you can certainly pay more or less if you look.
Bridges can be made of a variety of materials, although wood is the most common, specifically rosewood. The kind of wood used will have the biggest impact on the sound. If the bridge is compensated, this makes it easier to fine-tune the intonation of the instrument. Other extra features, like adjustment thumbwheels, will likely cost a bit more.
The tuning pegs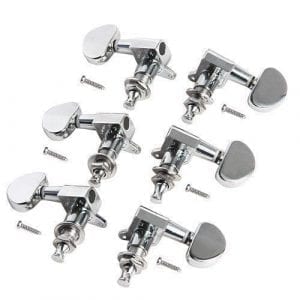 Also called "tuners" or "tuning machines," these are the metal pieces on the headstock of the instrument the strings wrap around.
And they're exactly what they sound like.
Turning the tuning peg tightens or loosens the string, altering the intonation. There are two important aspects of the tuners you want to check out: whether they turn smoothly when you make adjustments, and whether they hold tight and keep the string in tune while you're playing.
The tailpiece
The tailpiece will have very little effect on the sound of the mandolin, but it does have an impact on the playability. This is what anchors the strings to the instrument, and if it's not well-made or sturdily attached you'll definitely notice an effect on your intonation.
It's typically made of metal, usually with engraving or other decoration, especially on pricier models.
The nut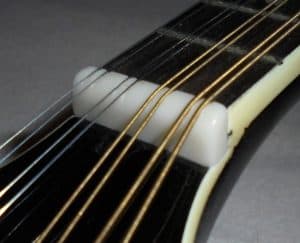 This little piece is located where the headstock and the neck meet, and also helps control the height and intonation of the strings. On high-end instruments it's made of bone, although synthetic is more common in affordable instruments.
Like the tailpiece, it will have more impact on the feel than the sound of the instrument.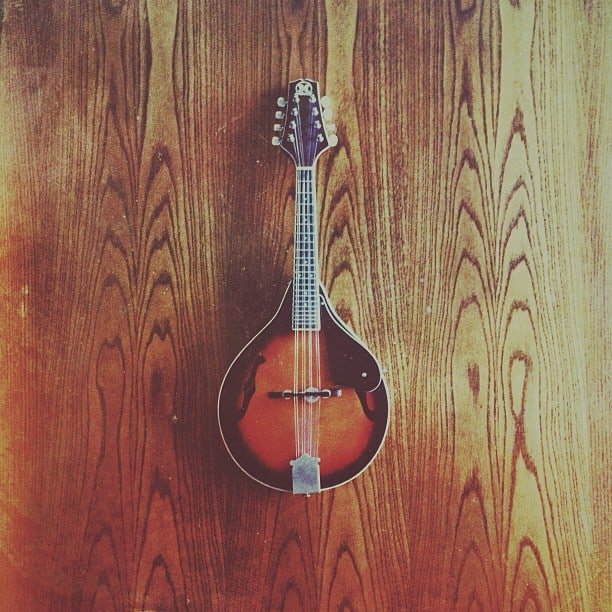 More Tips
There is more of a difference between laminate and solid wood than just the sound. Solid wood instruments react more to environmental conditions like temperature and humidity than ones made of laminate. While this means solid wood instruments are more likely to split or crack from sudden changes in the environment, it also allows the wood to be "seasoned," or improve over time, something that won't happen with a laminate instrument.
There are two predominant body shapes for mandolins: A-style and F-style. There's not much difference in sound between the two, but they do tend to be utilized in different genres. A-style mandolins are commonly played by folk musicians, while the more elaborate aesthetic design of F-style mandolins is popular with bluegrass players.
The mandolins on this list are all acoustic by default. If you want to amplify your sound, consider buying a bridge with a built-in pickup, like the SH920 from Shadow Electronics. You can also find other piezo pickups (similar to what you'd use on a violin) which can turn any acoustic mandolin into an electro-acoustic in no time.
01
Kentucky KM-256 Artist A-Model Mandolin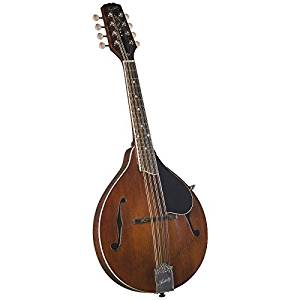 Kentucky as a brand is generally considered to be synonymous with value in the mandolin world. They're especially popular among bluegrass players, giving them exactly the sound quality and features they're looking for without having to pay an arm and a leg to get it—the ideal compromise for an advanced student or budding professional on a budget.
The KM-256 occupies the same basic space in the market as the LM-520 from The Loar below. Both are a step above entry-level instruments but not quite at the professional level, both in terms of the features and the price. The KM-256 is a bit cheaper, in large part because it utilizes a more standard A-style body—an easier shape to produce overall, especially when you're talking about a hand-carved instrument.
In my experience you'll get a higher quality level for the money from an A-style mandolin than an F-style.
That rule definitely holds true in this case.
The extra money you'll pay for the LM-520 is pretty much because of the different shape. If that's not an important factor for you, you'll get more bang for your buck with the Kentucky—both are solid instruments with a great sound.
This is a relatively new model from Kentucky, and though it seems to live up to previous models in terms of quality, it hasn't been field tested as extensively as some of the other options on this list.
Having said that, though, Kentucky has a reputation for build quality and durability, and there's no reason to believe this mandolin would be an exception.
Our experts loved it.
It's built in the same facility that produces the company's top-tier instruments and utilizes the same hand carving techniques—one hallmark of a quality instrument.
In terms of the tonewoods, it uses a traditional pairing of a spruce top with maple back and sides. The overall tone is very pleasing to the ear. It's crisp and bright on the articulations with good projection and an underlying warmth. They use a good combination of materials for the neck and fingerboard, as well, and the action is smooth and consistent throughout the range.
This Kentucky mandolin also offers more finish and accessory options than other mandolins. You'll get your choice of three attractive finishes, and can add a case for a bit more money—a nice option for the beginner who doesn't have a case already.
Are you a complete beginner?
This mandolin might cost more than you're looking to spend—but for the level of quality you get, it's an incredible value. You'd have to spend twice as much or more to get an instrument that's noticeably better. If you want an instrument that both looks and sounds stage-worthy without breaking the bank, this mandolin from Kentucky is a winner.
Features:
Body: Carved maple
Top: Carved Sitka spruce
Neck: Slim maple with East Indian rosewood fingerboard
Frets: 20, nickel silver
Bridge: Rosewood, vintage-style
Hardware: Nickel-plated tailpiece, nickel-plated Gotoh tuners with removable buttons
Finish options: Transparent amber, transparent brown, sunburst
---
Pros
Hand-carved Sitka spruce top gives notes a crisp, clear front end
Slim neck and rosewood fingerboard make it easy to play
Consistent tone and feel from top to bottom
Offers more finish choices than other options
Professional-quality bone nut and nickel-plated hardware
Cons
Some buyers reported surface flaws in the finish
Have to pay extra to get a case included
---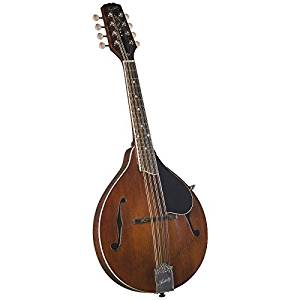 02
Donner A Style Mandolin Instrument Sunburst Mahogany DML-1 With Tuner String Big Bag and Guitar Picks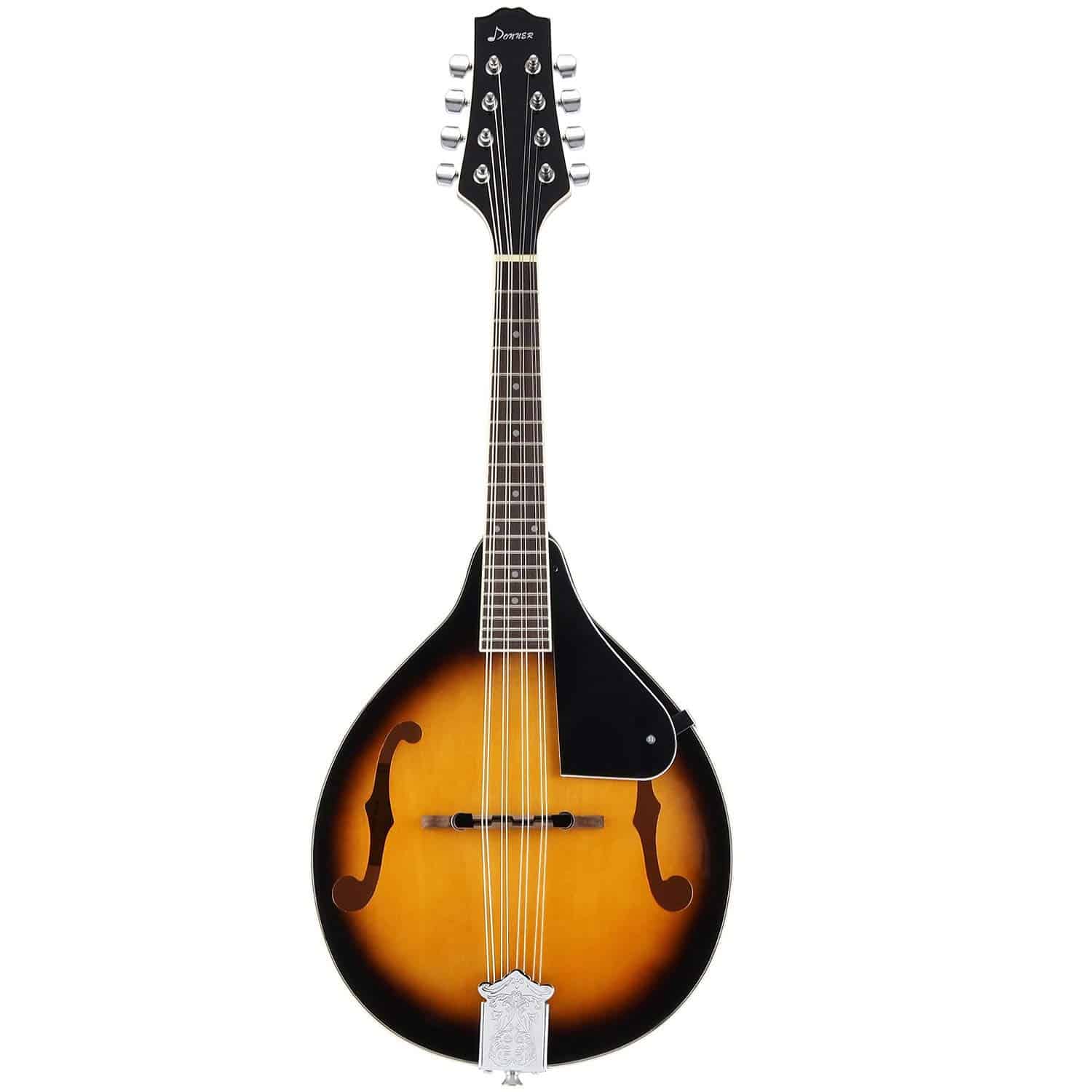 Donner is a relatively new company, as instrument makers go. They were founded in 2012 with an aim to provide new, innovative designs of familiar instruments and music equipment. They've become best known for their line of mini effects pedals, but this isn't the only offering in their catalog. Their array of string instruments includes guitars, violins, ukuleles, and mandolins, all of which are made to the same high standards and with the same eye toward innovation as their electric guitar accessories.
The DML-1 mandolin that's the centerpiece of this package is still what you'd consider to be a beginner mandolin.
However…
The quality of the materials and construction is certainly higher than what you might expect from most entry level mandolins. Most notably, it uses solid African mahogany for the construction of both the body and the neck, as opposed to the laminate you're more likely to find on many cheap mandolins.
You can both hear and feel the difference when you compare this model to other mandolins in the price range. It has a richer, deeper tone than many beginner instruments, though it doesn't lose the bright edge you want from a mandolin that helps it cut through an ensemble.
This is also a smooth-playing instrument. Here's why:
This is partially thanks to the design of the neck, which uses a "C" shape that's designed to fit better into the player's hand than other styles. It also uses an adjustable truss rod on the inside of the neck, which combines with the bridge for an incredibly smooth and fast-playing action across the instrument's range.
The only complaint we've heard about the action on this instrument is that it's a bit high out of the box for a beginner's fingers, but this is a quick adjustment you can have made in minutes at any music shop.
The intonation on this model is pretty solid, too. It uses open-gear tuners, with chrome plating on both the tuners and the tailpiece. These work in tandem with the truss rod and frets to make it not only smooth playing but also solidly in tune, even after an extended practice session.
It gets better…
As good as the mandolin itself is, the accessory package that comes with this instrument is equally impressive. This includes basics like extra strings and a polishing cloth, and gives you a clip-on tuner, some guitar picks for playing, and a padded gig bag perfect for transportation or storage.
While it does cost a bit more than some of the other beginner mandolins on this list, these extras and the level of craftsmanship still make it an excellent value for a player at any level of experience.
Features:
Body: AAA African Mahogany
Neck: C shape, AAA African Mahogany
Tuners: Open-gear chrome-plated
Finish: Sunburst
---
Pros
Comes with a comprehensive accessory package
Solid mahogany body give it a well-balanced tone
Fantastic value at less than $100
Easy to play at all experience levels
Open-gear tuners stay in tune well and are easy to adjust
Cons
Action likely to need adjustment out of the box
---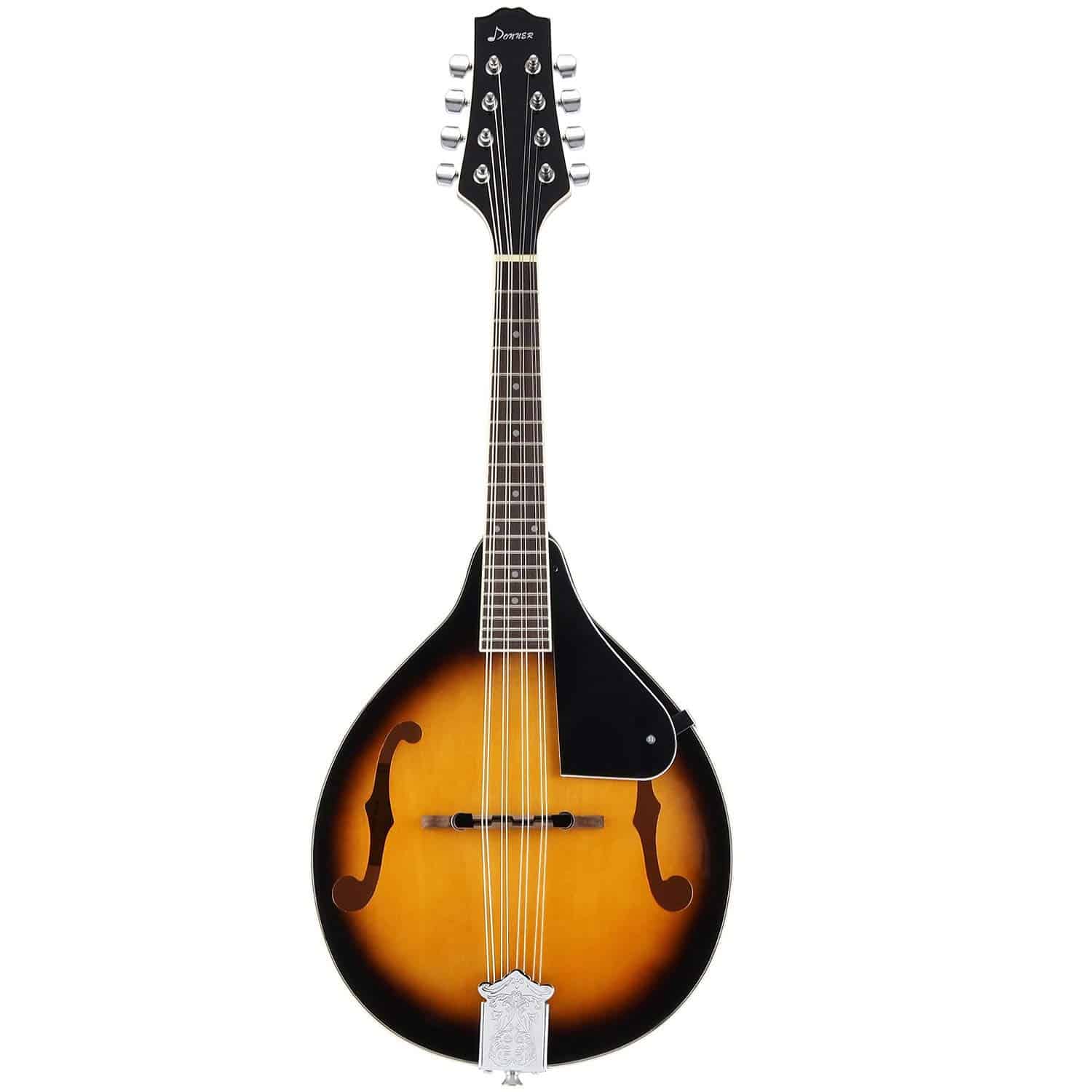 03
The Loar LM-520-VS Performer F-Style Mandolin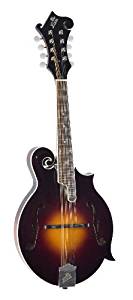 If you're a professional musician, or even an advanced student, you're probably looking for something a bit more sophisticated in its design than the entry-level models prevalent on sites like Amazon.
But are you ready to spend thousands of dollars on a top of the line instrument?
This model from The Loar is a great middle ground, offering professional details at a more widely affordable price point.
The Loar makes this instrument in the same workshop that produces their top of the line LM-700, and applies the same hand-carving techniques to the pieces of the LM-520. It uses a classic tonewood combination of maple for the back and sides and spruce for the top. The maple gives the sound a rich presence and tonal complexity, while the spruce used on the top adds brightness and punch to your notes, helping the sound project and keeping it from getting lost in the mix.
You can tell just from looking at the LM-520 that it's a step up from entry-level mandolins. The finish is both gorgeous and impeccable, and the small aesthetic details make it a stunning instrument.
It uses the distinctive scrolled The Loar headstock, with a mother of pearl inlay for the logo that nicely complements the pearlized tuners.
It's beautiful to say the least.
You'll also see right away this model uses an asymmetrical F-style body shape, as opposed to the A-style instruments you might be used to seeing. While even small changes to the body of a mandolin can impact the sound, in this case it's really more an aesthetic change than anything.
Still, this body style is a sign of a high-end instrument, largely because of the level of craftsmanship involved in the construction.
As if that's not enough…
The difference in feel between this model and entry-level instrument is just as pronounced. The rounded "V" shape of the neck is designed to fit well into the player's hand, and the bound, padauk fretboard is more comfortable on your fingertips, letting you really fly over the frets.
In terms of the hardware, it uses a combination of vintage Grover tuning machines with a full-adjustable, compensated ebony bridge. You'll be able to tune more quickly and stay in tune longer thanks to these accoutrements.
There's often a pretty big gap between the beginner's version of an instrument and what the professionals use.
Both in terms of the price and how well the mandolin plays.
This can be frustrating for advanced students or experienced hobbyists, groups who want a higher quality level but aren't ready to spend thousands of dollars. The Loar LM-520 fits nicely into this gap. It doesn't have the full bells and whistles you'd find on a fully professional mandolin, but the quality is there in the sound and feel where it matters.
Features:
Top: Hand-carved spruce
Back and sides: Hand-carved maple
Neck: Maple, rounded "V" profile
Fretboard: Bound rosewood, 29 frets (13 29/32" scale)
Bridge: Ebony, fully adjustable
Finish: Sunburst
---
Pros
All solid-wood construction gives it a full, rich tone
Hand-carved throughout with excellent attention to detail
Beautiful aesthetic details from the headstock to the tailpiece
Vintage-style Grover tuners hold their intonation better than other options
Comfortable and quick-playing
Professional finish includes built-in strap peg
Cons
Higher cost
Some buyers have reported minor flaws with the finish and gloss
---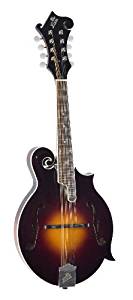 04
Rogue RM-100A A-Style Mandolin Sunburst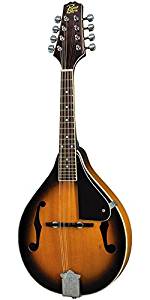 Here's a traditional mandolin that's well-built using quality materials—and all for a very affordable price, making this one of our favorite mandolins on the list for a beginning player.
It's ideal for bluegrass-style players, though it's certainly not limited to that genre. With its smooth action and bold sound, the RM-100A is a great choice for aspiring mandolin players of all stripes.
Let's start with the sound.
The tone out of this little guy has some bite to it. One of the challenges with a mandolin is to balance it against typically louder instruments, like guitar and banjo, in a bluegrass ensemble. The Rogue RM-100A has a bright edge that helps it cut through other instruments, with enough projection and power behind it to make sure it's heard in the mix.
While the sound is certainly important, it's the playability of this instrument that really makes it ideal for beginners (and enjoyable to play for experienced musicians, too).
The neck is set at the perfect angle for easy, comfortable play. Even if you've never played a string instrument before, just pick yourself up a lesson book and you'll be able to teach yourself on this instrument no problem.
The bridge is adjustable so you have a lot of control over the action. Some players do feel the action is set a bit high when you first get the instrument.
Especially beginners.
Most likely because they haven't yet built up much finger strength. This is an easy adjustment, though, and they'll do it at any music shop for pretty cheap if you don't have the know-how to do it at home.
Once the action's where you want it, it's an easy instrument to play. We have the build on the neck and the nickel-plated frets to thank for that. They're tall enough to prevent buzzing but not sharp or otherwise hard on your fingers.
Here's the deal:
Any instrument this cheap is going to make compromises somewhere.
The main one you'll notice on the Rogue RM-100A is the body is made of a somewhat thin plywood, instead of the thicker hardwoods used on pricier instruments. The soundboard is noticeably thinner than those on more expensive instruments. The finish is also less precise and doesn't have quite the same deep colors as the sunburst finishes on other mandolins.
In our estimation, though, these are largely aesthetic concerns, and are minor concessions to make for the price.
The build quality is solid where it matters.
The tuners are chrome-plated and solid for maintaining the intonation, though they can be a bit stiff when you first take the instrument out of its box. Top to bottom, you'll get way more than you paid for when you buy the RM-100A from Rogue.
Features:
Body: Plywood/laminate
Neck: Maple
Fretboard: Rosewood fingerboard with nickel-plated frets
Bridge: Simulated rosewood, adjustable
Hardware: Chrome tuners
Finish: Sunburst
---
Pros
Super-low price
Bright sound with good projection
Adjustable bridge for more control of the action
Spot-on intonation that stays in tune well
Perfect instrument for a beginner
Cons
Action a bit high out of the box for some players
Laminate construction
---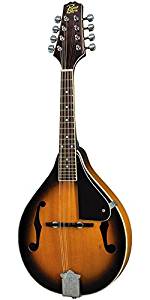 05
Hola! Music A Style Mandolin Instrument with Adjustable Truss-Rod Model HM-3TS, Glossy Sunburst Finish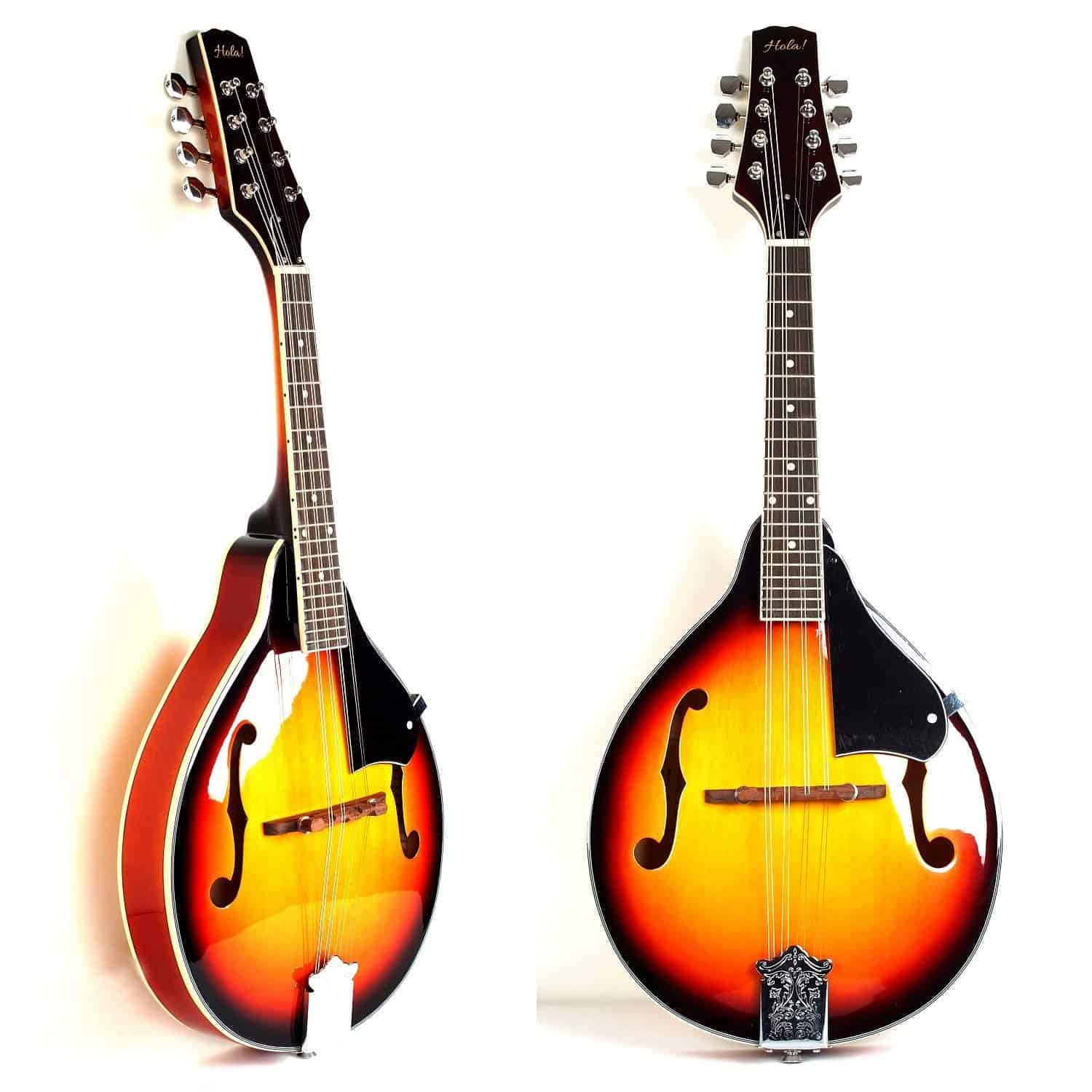 Another option if you're in the market for an affordable beginner mandolin that doesn't feel cheap is the HM-3TS from Hola! Music.
It uses a classic A-style body shape with a sunburst finish and the standard 20-fret scale length, but with some extra appointments you might be surprised to find in the price point.
Let's start with the basics.
This mandolin uses maple for the neck, top, and body of the instrument—one of the most affordable options you'll find with an all-solid build. Maple is an attractive and tuneful wood that gives you the bright tone you want from a mandolin. It won't project quite as much as an instrument that uses a spruce top, but the overall sound is rich and balanced, perfect for bluegrass ensembles.
It's also one of the only beginner mandolins that makes it easy to customize the feel on your own.
Without the help of a repair technician.
The bridge is adjustable, first of all, but it also uses an adjustable truss rod. It comes with a hex key you can use on the screw above the nut to tweak the action, no extra tools or expertise required.
One thing a beginner might find frustrating about the HM-3TS is that it doesn't come with much besides the instrument itself. The wrench for adjusting the action is the only included accessory. If you're just starting out on the instrument, you'll at the very least need to buy a gig bag to protect it during travel and storage.
But you will probably also need to invest in extras like a tuner and spare strings. Don't forget to factor these extras in when you're deciding on your budget.
The important thing is the instrument itself, though, and in that regard the HM-3TS from Hola! Music doesn't disappoint.
It's a very impressive mandolin considering the price. The tailpiece and tuners are chrome plated for durability and better functionality. And it has a bound fretboard, so you don't need to worry about the frets slicing up your fingers on the sides. Players who use a pick will appreciate the addition of an ABS pickguard, as well, which protects the finish on the mandolin from being damaged while you play.
This instrument does occupy a bit of an in-between zone. It's not the most affordable option, but it's still comfortably priced. And while it's still a beginner instrument, it has a few key details you'd expect on a more expensive mandolin.
Ultimately, it's a great choice for the new player who's looking for a bit more than what the typical entry-level instrument offers.
Features:
Body: Maple
Neck: Maple with walnut fingerboard
Bridge: Rosewood, fully-adjustable and compensated
Frets: 20, silver nickel
Tuners: Chrome-plated, open gear
Finish: Sunburst
---
Pros
All-maple build
Adjustable bridge and truss rod let you tweak the action at home
Built-in strap pin
Excellent value for the level of craftsmanship
Built-in pick guard prevents damage to the finish
Cons
No included accessories
Doesn't project as well as higher-end instruments
---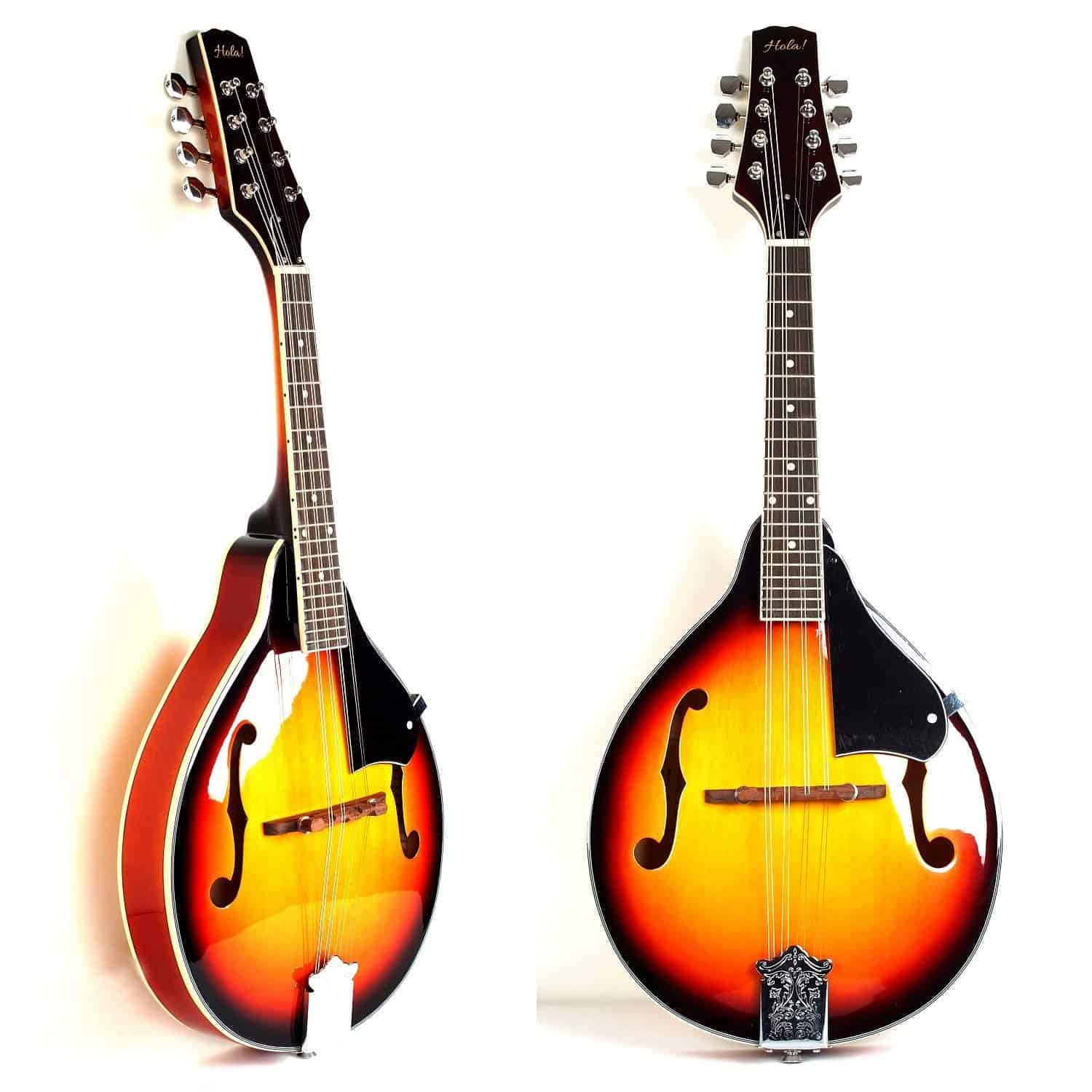 Setting Up Your New Mandolin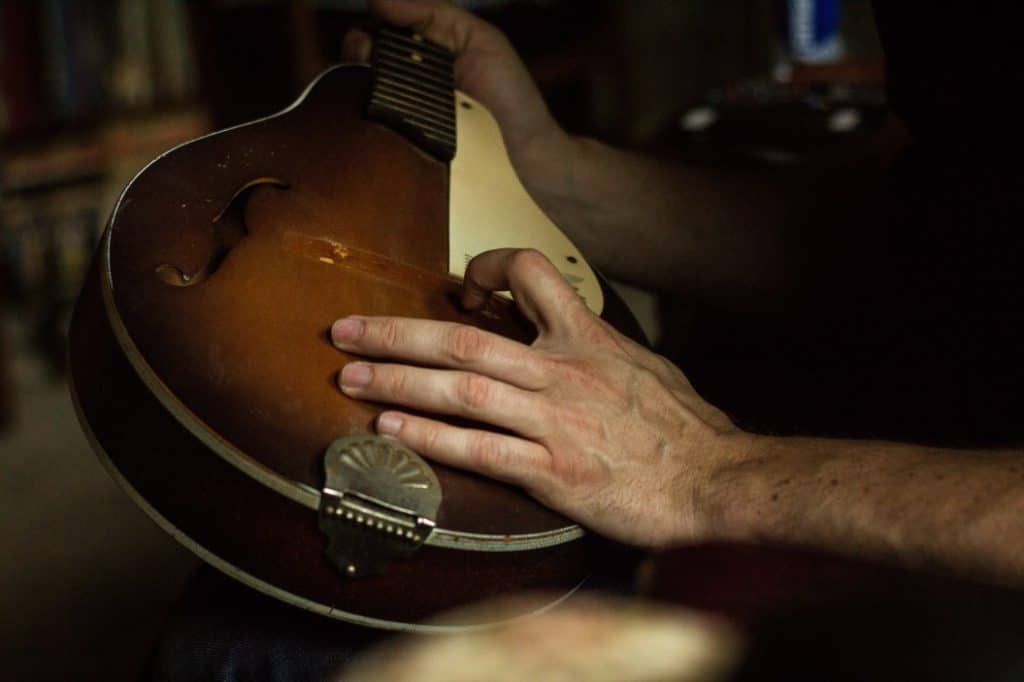 Like I said above, the bridge on a mandolin isn't fixed. Instead of being secured to the body of the instrument, it's held in place by the downward pressure of the strings. This makes it easier to customize the feel of the strings, but it also can present a challenge when you're trying to set it up—especially for a new player who's not completely comfortable with the instrument.
When a mandolin leaves the factory, it will typically be un-strung. This isn't because the instrument's manufacturer doesn't want to do the extra work. The longer a string is stretched out, the weaker it will be and the more likely it will be to break. Even worse, too much tension over time can damage the neck. Since the manufacturer doesn't know how long the instrument will be sitting before it's sold to the final consumer, they leave the strings off.
Whether or not the instrument arrives fully set-up, then, depends on the individual seller you get it from and what their policy is. Many sellers won't bother installing the strings before shipping the instrument to its final destination. This saves labor costs and ultimately helps to keep the price of the mandolin lower, but this is little consolation if you're a beginner and can't play your new instrument because you're not sure where to put the bridge, or which strings go where.
The good news is that stringing a mandolin is fairly easy. Especially if you have experience with stringing other instruments, like a guitar or a fiddle, you should have no problem getting your mandolin in playing shape. You can find easy to follow instructional videos online that walk you through the process, if you're fuzzy on the details or want to try and teach yourself how to do it.
If your mandolin arrives without having been set up and you don't feel comfortable doing it yourself, you're not out of options. They'll be able to set it up quickly (and typically pretty cheaply) at any music repair shop. You might even be able to watch them do it so that you can take care of any future adjustments or re-stringings yourself.
How your instrument is set up will have a huge impact on both how it sounds and how it feels when you play it. If you have experience with string instruments you know this already. Because the mandolin is smaller than a guitar, for example, the adjustments will be finer, but it will otherwise follow the same basic principles. If you're a beginning player, though, you may not be as familiar with these nuances of the set-up and tuning process. Watching your repair technician set up the instrument can be one way to learn them, but you can also ask your lessons teacher to evaluate your set-up and give you some pointers.
Maybe the trickiest thing about setting up a mandolin for the first time won't be stringing it, but will rather be figuring out where you should position the bridge. For the inexperienced string player, this is the part of the set-up process that you'll most want to watch someone else do before you attempt it yourself.
Where the bridge is positioned will affect two main aspects of your playing: the intonation and the action. The intonation is the main thing that you want to check first after you've set up your strings. You can do this by playing the string open, then playing that same string at the 12th fret. If you've set it up correctly, this will be an in-tune octave. If these two notes aren't in tune, you'll need to tweak the placement of the bridge—slightly toward the neck if the 12th fret is flat, or slightly toward the tailpiece if the 12th fret is sharp.
The action is a term used by string players to generally describe how high the strings are set off of the fretboard. There is a certain Goldilocks sensibility involved in this. Too high and you'll have to strain your finger muscles to make the strings reach the frets and play the correct notes; too low and they'll make contact with the fretboard while you're playing, leading to extraneous buzzing and other noise. Generally you want to set the string height in between these two extremes, although everyone's particular sweet spot will be different.
But that's just part of the story…
Even if your mandolin arrives with the strings on it, you'll still need to thoroughly tune it before you play it for the first time, and to tweak the intonation before every playing session after.
The Donner DML-1 reviewed here comes with a clip-on tuner, which is a convenient way to set the intonation on your instrument. If you buy one of the other models, though, don't fret. You can use any tuner made for guitars or other string instruments, and you can find some great options for relatively cheap.
Alternatively, if you'd rather not have to pay for a tuner (or don't want to have to run out and buy one before you start playing), you can find free online tuners specifically designed for the mandolin. These will obviously lack some of the extra features you'll find on more sophisticated, physical tuners, but they're perfectly functional for basic tuning—and the best part is they'll tell you exactly what notes your strings are supposed to be tuned to, in case this is something you're not completely comfortable with yet.