Whatever size you decide to go with, make sure it's solidly built. The neck should be flush with the body and firmly attached. If it wiggles, the instrument is defective and you should exchange it for another. You should also check that the headstock is aligned properly with the bridge. If they're connected at the wrong angle, the strings won't be the right length and the intonation of the instrument will suffer.
Anatomy of a Ukulele
A lot of these reviews will mention specific areas of the ukulele. If you're a complete beginner, you might find it helpful to have a basic roadmap of how a uke is laid out before you dive in.
Every ukulele has three basic areas: the body, the neck, and the headstock. The body is hollow and constructed of three pieces: the top, the back, and the sides. The top (also called a soundboard) has a round hole in the center, called a soundhole, that should be centered underneath the strings.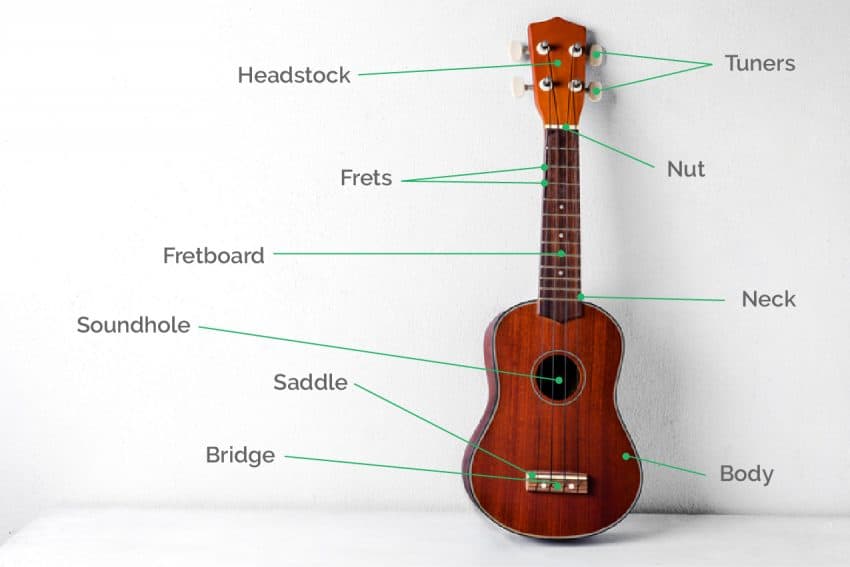 Most of the sound of a ukulele is produced by the vibrations from the strings resonating through the body. The vibrations move through the top first then into the back and sides. This means the wood on the top has the most impact on the instrument's sound.
The wood used on the rest of the body is important, too, but it won't be as audible in the final tone. This is why you'll sometimes see instruments using solid wood for the soundboard and laminate for the back and sides, letting you take advantage of the solid wood's resonance while saving some money over fully solid wood instruments.
The bridge is mounted below the soundhole on the top and anchors one end of the strings, which are kept in the right position by the saddle. Traditionally the bridge is made of wood and the saddle is made of bone. Saddles on beginner instruments are more often made of plastic or some other synthetic material since it's cheaper to produce. Because the vibrations from the strings move through the saddle and bridge on their way to the body, the material used here can also affect the sound, though their smaller relative size means they have less impact than the body's tonewoods.
The headstock is attached to the body by the neck and is where the other end of the strings are anchored. Each string is wound around a tuning peg (or tuning machines) that can be turned to make the string tighter or looser, controlling its pitch. You may also see this referred to as the ukulele's hardware.
Running down the top of the neck is the fretboard. Pressing a string against one of the raised frets shortens its vibrating length, which in turn raises the pitch. Where the headstock and neck connect is a piece of wood called the nut that holds the strings up off the fretboard.
The saddle and nut together determine the instrument's action. This term basically tells you how much distance there is between the strings and fretboard, and how hard you'll have to press them to make them reach the frets. If the action is too high, you'll have to apply more pressure to play, putting more strain on both your hands and the strings. If the action is too low, the strings can touch the fretboard in places you don't mean them to, making your sound muffled or buzzy.
Every piece of the ukulele plays a role in generating the sound, but when you're shopping for an instrument the main areas you want to pay attention to are the body and the neck. If there's a flaw in the bridge, nut, or saddle you can get them replaced easily. Even upgrading your tuning pegs isn't much of a hassle, even if it's often more trouble than it's worth on a beginner instrument. Structural problems, though, are often either impossible to repair or so expensive to fix that you might as well just buy a new instrument.
Tonewoods 

Each kind of wood has its own unique character when it's used in the construction of wooden instruments. Understanding what each tonewood brings to the table can help you choose the one to match your ideal tone.
The tonewoods you'll see used for ukuleles are a little different than what you'd expect to find used on stringed instruments like guitars and mandolins. This is largely because of the instrument's Hawaiian origins. Tonewoods are chosen for how well they replicate the sound of those original instruments, which were made entirely with native wood.
There are four different tonewoods involved in the construction of ukuleles on this list:
Koa: This is a kind of flowering Acacia tree native to Hawaii. It's the traditional tonewood for ukuleles and is prized for its resonance and balance. Because it's grown in such a limited area, koa is rarer and more expensive than other tonewoods. This makes it a less common choice for beginner and intermediate instruments.
Mahogany: A lot of ukuleles use mahogany for the body because it brings a natural warmth to the tone. This mellows the uke's brightness, especially important for soprano models. It's also known for its resonance and lingering sustain. Since it grows in a lot of different places in the world, you'll find a lot of variation, some of which will have a darker tone than others. The fact that it can grow in a lot of places also makes it relatively inexpensive, another reason for its popularity in entry-level instruments.
Rosewood: Rosewood is a popular choice for fretboards, for guitars and mandolins as well as ukuleles. You'll often also see it used for necks, headstocks, and pieces like the bridge, nut, and saddle. All-rosewood construction is rare, though, and even more rare for ukuleles than for other instruments. This is because rosewood is harder than koa or mahogany and it can make the tone too bright to the point of being abrasive when it's used too much. As an accent wood, though, it adds clarity to your tone.
Spruce: This is a popular choice for guitar soundboards that has recently started popping up on ukuleles, as well. It's a dense, hardwood known for its bright tone and quick sustain. Fingerpickers are likely to find it more appealing than strummers since it's great for note definition and sharp attacks.
Recommended Accessories
Most of the options above come with quite a few helpful accessories included, but even if you get one of the more comprehensive starter kits you'll still likely need to pick up a few extra things along the way. Depending on your instrument (and how you plan to use it), you might not need everything listed below, but these can be some helpful tools to improve your sound and technique and keep your instrument in top working order.
Strings
Every ukulele on this list comes with a set of strings already on it, and many of the options above come with an extra set of strings for when they wear out or break. Most of them come with either Aquila Nylgut strings or a version made by the same company that manufactured the ukulele. While these strings are functional, they're certainly not your only (or best) options.
Even high-end strings cost less than twenty dollars a set, and they can last for months, depending on how often you play. Changing your strings is the least expensive way to improve the tone and playability of your ukulele. Especially if the strings are old or worn out, a new set of strings can make it sound like a new instrument.
Most ukulele strings are made of nylon. Different brands use different varieties of nylon, which accounts for the differences in sound and durability. Professional strings are ground after they're formed. This gives them more texture and makes them more consistent.
Ground strings cost more than unground strings, but the price difference is usually a matter of five or ten bucks—something even players on a tight budget can afford. It's well worth the money, especially for a beginner, to upgrade to ground strings as early as you can.
There is more than one way to tune a ukulele. The soprano has two standard tunings, the concert three, and the tenor four. How you tune your instrument (and how often you change the tuning) will change the amount of strain each string takes, and some strings are designed for use with a specific tuning. You won't necessarily have to think about this when you're just starting out, but it's something to keep in mind as you move forward.
Storage and Transportation
Since most beginner ukuleles are laminate instead of solid wood, the soft-sided gig bag most of them come with is perfectly effective at protecting your instrument when you're not using it. This will prevent your uke from scratches, dings, and dust, though it won't prevent more catastrophic damage from falls (or things falling on it).
Hard-sided cases cost a bit more but they protect your instrument a lot better. It's probably not necessary if you'll be mostly using your uke around the house, but if you plan to travel with it a lot it might be worth looking into.
An instrument stand can also be a helpful thing to get for temporary storage during and between practice sessions. You can get a basic model on Amazon for around ten bucks and it's a much safer place for your uke than a chair or table.
Practice Aids
For a beginner ukulele player, a tuner is a necessary accessory. The longer you play, the more attuned your ears will be to pitch and the more you'll be able to tune your instrument by ear. Until you reach that point, you should adjust the intonation of your strings at the start of every playing session.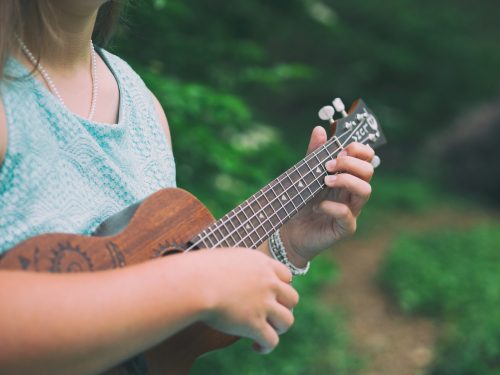 If your uke didn't come with a tuner (or you want to upgrade) you should buy one. While you can get a decent inexpensive tuner for around ten bucks, you should consider getting one that also has a metronome. Using a metronome while you practice can greatly improve your rhythm and timing, very important qualities for strumming instruments like the ukulele. They don't cost much more than a stand-alone tuner. The Korg KM50 is a good tuner/metronome for beginners and costs about $20.
Now that you have an instrument, you'll need something to play. The tutorials included with many of the ukuleles above will walk you through learning your first couple songs. Beyond that, you have a few different ways to move forward. Essential Elements has an excellent beginner's method book. This is the same series you'll find in use in a lot of elementary school music programs, meaning you can count on it to be easy to understand and follow.
If you read music or chord tab notation, you can find a lot of ukulele music online for free. If you're looking for books with easy sheet music to get you started, check out Hal Leonard's catalogue. They have both ukulele-specific beginner's books and more general collections of sheet music aimed at beginners you can use to expand your repertoire.
Instrument Maintenance
Even if you don't have any solid wood on your instrument, giving it an occasional wipe with a cleaning cloth will remove any dust or grime and keep it looking beautiful. This is an especially good idea on the fretboard, where the oils from your fingers can build up over time. A lot of players do this every time they change their strings as part of their instrument's routine maintenance.
You can clean the body of a laminate ukulele with a slightly damp cloth, but keep the cloth dry when cleaning the headstock and fretboard. Any lint-free cloth will do; you can find one for a couple bucks at any music store. If the wood of the fretboard seems dry or looks like it's lost its luster, you can buy Lemon Oil or a similar non-chemical wood polish, but this isn't something you'll need to worry about right off the bat.?
How To Tell If You Picked The Best Ukulele
Frequent practice is the key to learning any musical instrument.
The more you play, the better you'll be.
When it comes right down to it, the right ukulele is the one you're excited to play.
If the instrument makes you want to pick it up and strum it when you see it, then that's the ukulele you want in your home.
And we happen to think our Best of the Best pick is the one that'll do that for you…