Buyer's Guide
Drums can be especially mystifying for people who don't play them. There are so many components and their arrangement so intricate, yet a good drummer can make them all sound like one cohesive instrument—an impressive feat that's hard to make sense of from in front of the kit. You don't necessarily need to be an expert on percussion to buy a gift for a drummer, but understanding a little bit about the drums might be helpful if you're having trouble making a decision.
Let's break it down: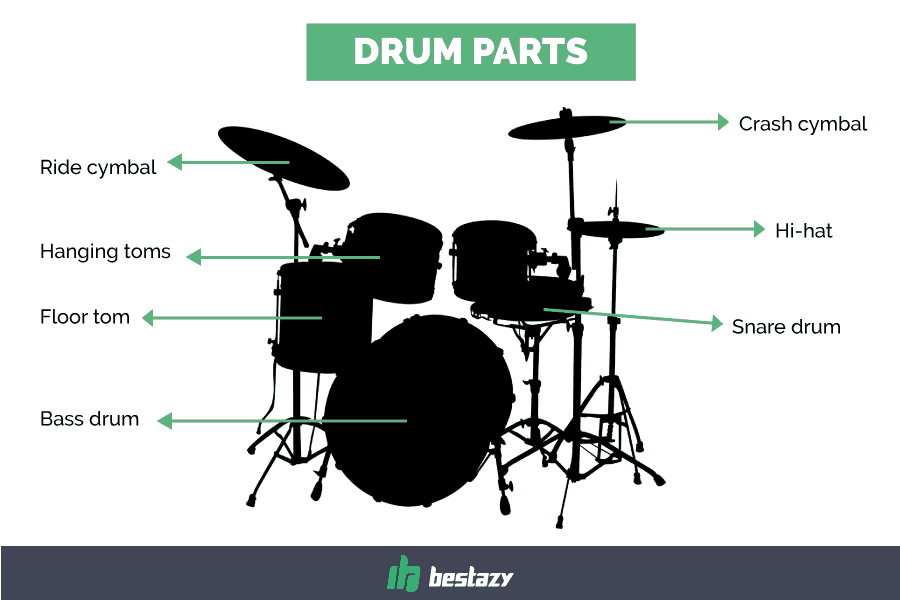 There are two groups of percussion instruments on the typical drum set: drums and cymbals. There are a few common configurations, and while the customization options are almost endless, they'll all usually have a few core things in common.
There are three types of drums that you'll find in pretty much every drum kit: a snare, a kick drum or bass drum, and one or more toms. Of these, the snare is the most standardized in terms of size. The vast majority of snare drums are 14" in diameter, and while there's some variation in the height, the stands and other accessories for a snare are fairly standardized.
Bass drums, on the other hand, come in a variety of sizes, typically ranging from around 18"-24". The smaller the drum, the tighter and higher the sound will be. While the diameters of toms are more standardized, different players will choose to use different sizes, and in a very streamlined kit may not use any at all.
There are two parts of a drum: the shell and the head. The shell is permanent but the heads wear out over time and need to be replaced from time to time. Drum heads come in a lot of different styles and materials, too, and a lot of drummers will experiment with different drum heads as they're trying to perfect their sound.
Around the perimeter of the drum set are the cymbals. At minimum, there will be a hi-hat and a ride cymbal. The hi-hat is actually two cymbals on top of each other on a hydraulic stand. Pressing on the foot pedal at the base of the stand moves the two cymbals away from each other, and it's usually played by using a combination of stick hits and the foot pedal.
The cymbals that hang above the kit are where you'll find the most variation between different players. Some people use one cymbal as both the crash and the ride, while others will have an array of cymbals in different sizes hanging around their kits—it's all about what gets them to their ideal sound. Like drum heads, cymbals do eventually wear out and crack, and need to be periodically replaced (though they last longer overall).
But that's just part of the story. Along with the instruments themselves, there are a few other things that a drummer needs to make a full kit:
Sticks: Drummers who play a lot can go through drumsticks pretty quickly, especially if they play in harder, louder styles. They can range from just a few dollars a pair for basic sticks to $50 or more for more innovative designs. Different kinds of wood will be favored by different players for their sound and feel. There are a lot of factors to consider when choosing a stick, including its durability, its flex, and the shape and density of the tip.
Mallets and brushes: Just like changing the material in the drum head can change the sound that's produced, drummers can use different kinds of implements to hit the drums and add new tones or effects to their palette. Metal brushes give a softer, rasping sound when used on the snare or cymbals, and is a popular effect for jazz. Mallets are more often used to get deeper tones out of the toms.
Hardware: Most starter drum kits will come with a basic stand for the cymbals and snare, but many drummers will want to upgrade these as they continue playing on the instrument. The hi-hat stand especially can have a big impact on how easy the kit is to play. Along with the drum stands, the category of hardware includes the foot pedals used for the hi-hat and kick drum. This is another piece of equipment that often comes included with starter kits, but is frequently updated as players evolve.
Extensions and Other Instruments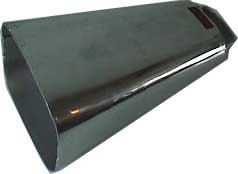 Classic rock just wouldn't be the same without the cowbell. From bongos to windchimes, there are tons of different ways drummers can add more variety and options to their drum kit. These peripheral instruments are collectively known as auxiliary percussion. Most professional drummers will already have all of the auxiliary percussion instruments they need, but if you're buying for an advanced student an auxiliary percussion instrument could be just what they're looking for.
One thing about auxiliary percussion instruments is that they tend to be specific to a style. While there aren't any hard and fast rules on what instruments you can use in what musical genres, you're more likely to hear things like claves and bongos in Latin inspired music, to give an example. This can make them less versatile gifts, and a trickier thing to give if you're not sure exactly what kind of music the drummer plays.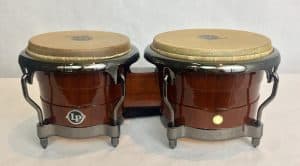 Auxiliary percussion can make a great gift for a younger drummer, too. Hand drums like bongos and congas are fun for kids to play around with, and since they're simpler than full drum kits they can be easier to get started on. From a parent's perspective, they also have a similar advantage to the practice pads on the gift list above: they're not quite as loud and jarring, making home practice less intrusive.
If the drummer you're shopping for is already an avid user of extras like cowbells and woodblocks, you might do them a world of good with a gift like the Everything Rack from Latin Percussion. It has six different mounting locations so you can put all your auxiliary drums in one place.
The extras a player adds onto their drum kit are one way for them to make it truly their own, and buying them an auxiliary percussion instrument can help them find their ideal sound. If the perfect instrument isn't springing to mind, though—or you don't at least have a way of conducting some covert research—one of the more all-purpose gifts on the list above may be a better choice.?tag=bestazy-20
Tip
Most music programs have an array of auxiliary percussion instruments available for students to use. The only unfortunate thing about this is that students get used to playing certain instruments then lose access to them when they graduate—and won't exactly be flush with cash to buy a collection of their own. That makes these instruments great gift ideas for recent grads.
Age Level and Experience
This has come up a couple times in passing, but the skill level of the drummer and what their goals are as a player will be big considerations when it comes to picking the right gift. Think about this: a grade school student who just got his first drum set isn't going to need the same things as a touring drummer who plays shows every night. Some of the gifts above are more all-purpose, but some of them are definitely geared toward one age group or another.
Kids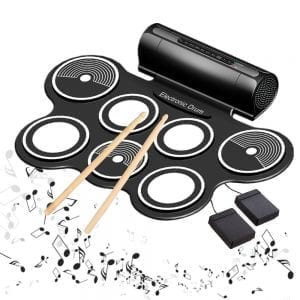 When you're buying a present for a child, you want to get something that plays into their excitement about being a drummer. At the same time, you want to get them a gift that will help them develop their budding talents.
Keep in mind, too, that a lot of younger players don't start out on a full-sized drum kit. They just don't have the reach to hit the cymbals or use the pedals on a drum set that's made for an adult. Companies instead make smaller, kid-friendly drum sets so they can play comfortably. If you're thinking about buying a gift that attaches to the drum set, double-check to make sure it will fit.
Best picks for kids: RockStix, Electric Drums for Kids Roll Up Drum Set
Adult beginners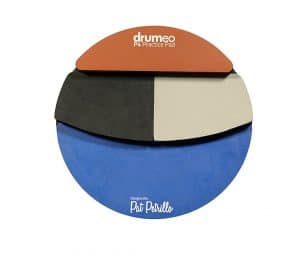 The drums might seem simple to play, but learning to play the kit can be a challenge, with so many different drums to keep track of at once. Any beginner is going to need tools that help them work on their rhythm.
Since an adult will be playing on a full kit, even just starting out, getting them upgraded versions of the equipment they started on can also be a great way to go. Again, drums can be a very personal choice, but the hardware that's used to play it can be a great gift option.
Best picks for adult beginners: Drumeo P4 Practice Pad, Pearl P930 Demonator Single Chain Interchangeable Cam Powershifter.
Advanced students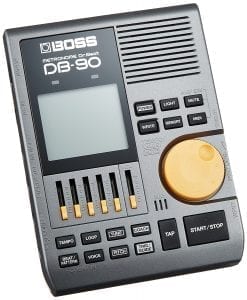 As students progress and become more advanced, they'll probably need something a bit more sophisticated than the fun gifts you'd give a kid—but might not yet make use of things that are designed for on-stage performance. This middle ground can be tricky to shop for, but the best option is often to get them a gift that can help push them to the next level, whether that's helping them prepare for their first gigs or giving them gifts that make their practice sessions more productive.
Depending on the age of the student, you may still have to think about the size of the kit and how it works with the gear you're buying, although it's more common for a more experienced student to still play on a full-sized version of the drum set.
Best picks for advanced students: BOSS DB-90 Metronome, Drumeo P4 Practice Pad, Gearlux 5-Piece Drum Bag Set 
Hobbyists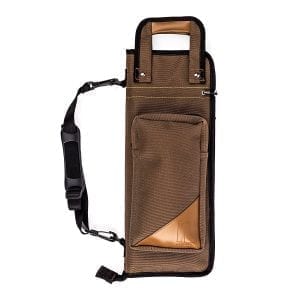 The skill level of the recipient isn't the only thing that matters when you're buying them a gift. You should also think about how seriously they take their craft, and what their ultimate goals for it are. If the drummer just enjoys playing occasionally, and mostly around their own home or for their friends and family, they won't necessarily make use of more sophisticated equipment that's designed for professionals—but neither will they get much out of things designed for kids or complete beginners.
For the hobbyist, the best gifts are one with a bit of extra style or novelty—things they might not necessarily need, but that will streamline their playing sessions. The SoundOff drum mutes from Evans on the list above can be a great choice, since many hobbyists play at home and they make home practice less intrusive.
Best picks for hobbyists: Promark Transport Deluxe Drumstick Bag, SoundOff by Evans Full Box Set, Fusion
Professionals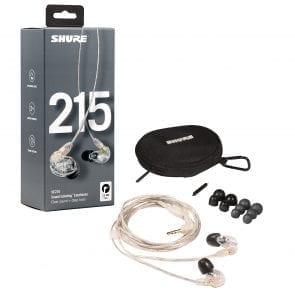 A professional drummer has been at this a long time. She knows her gear and style, and has a well-established practice routine. They probably won't need things that help them practice; if they've reached this point, they've got plenty. Similarly, they likely already have necessary things like pedals and gear bags, so those don't tend to be good choices (unless the drummer has specifically mentioned they're looking for an upgrade).
It can be great to get professionals the nice toys they can't justify buying for themselves. Many professional musicians will opt for cheaper, more practical versions, of basic, peripheral gear, putting their extra cash toward more important expenses. Anything that helps their gigs go more smoothly will be a welcomed gift for a professional drummer.
Top picks for professionals: Promark Transport Deluxe Drumstick Bag, Shure SE215-CL Sound Isolating Earphones with Single Dynamic MicroDriver, ChargerCity tablet holder
Best Gift for Drummer Full Reviews
?tag=bestazy-20
01
BOSS DB-90 Metronome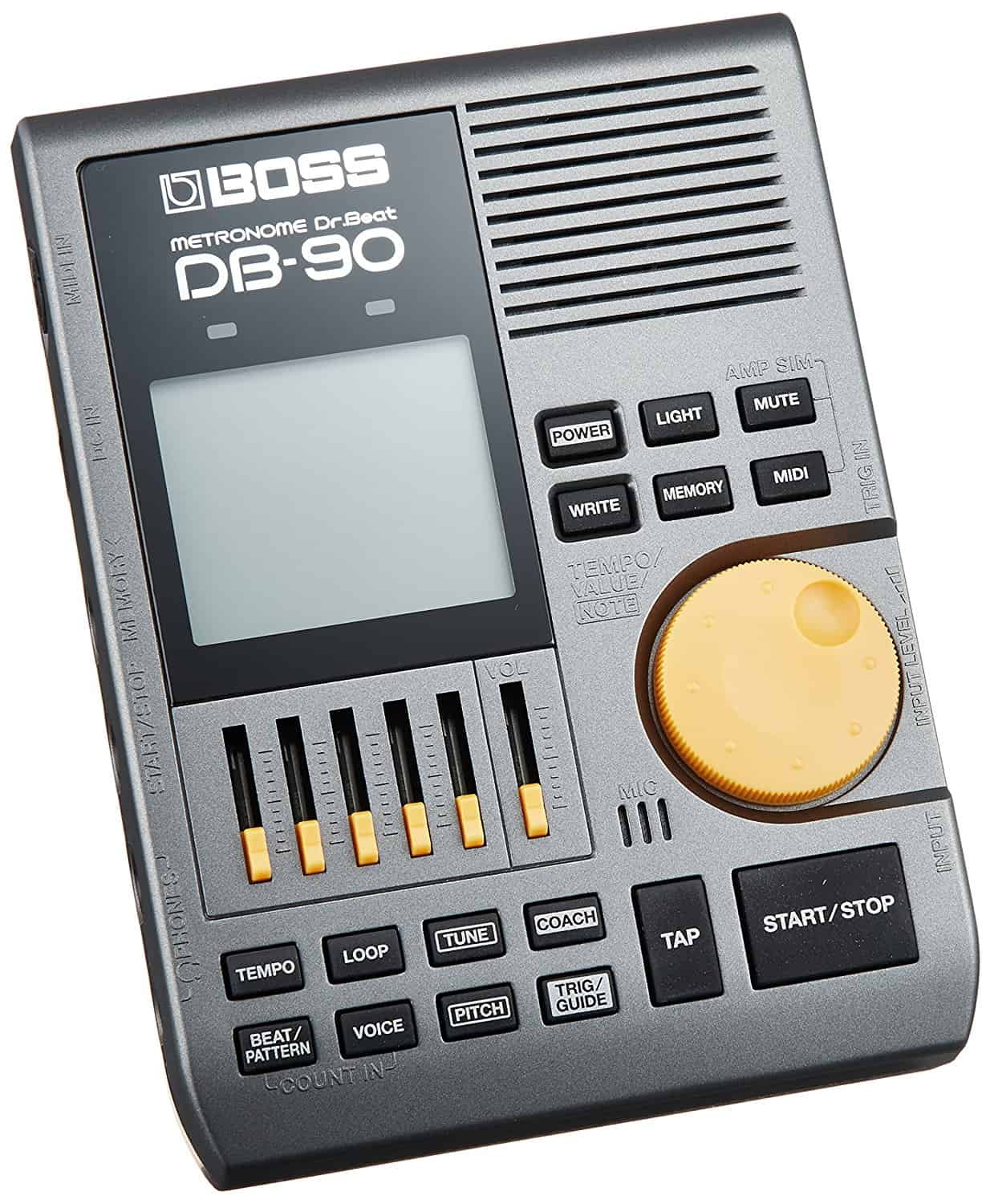 A metronome might not sound like the most exciting gift, but if you think that you've never used a Dr. Beat from Boss. This is by far the most advanced metronome you can get, and its programmability and range of beat options makes it perfect for drummers. It's also one of the loudest metronomes that you can get, loud enough to use on a marching band field and certainly loud enough to hear over a drum kit kit.
The DB-90 is advanced even compared to other Dr. Beat models, with features that musicians of all experience levels will find incredibly helpful. It has four different sounds for the metronome, including a human voice count-off. You can program it to produce pretty much any time signature and subdivision combination, which is great if the drummer is working on music with time or tempo changes.

Maybe its most impressive feature, though, is the Rhythm Coach. It has four different modes for working on specific areas of technique, like accuracy, endurance, and speed. Drummers can either use the on-board microphone for acoustic drums, or plug a V-drum set straight into the trigger input and track their progress that way.
It's true: the Dr. Beat does cost a lot more than other metronomes. It's also significantly larger, has a more complex interface, and requires more power than the simple pocket metronomes you might be used to. In all honesty, though, this is an acceptable tradeoff for most players, since it comes with features that simply don't exist on other metronome styles. No matter how complex the player's rhythms, the Dr. Beat can handle them, making it a great gift for pros as well as beginners.
Features:
Dimensions: 5" X 6.5" X 1.5"
Inputs: MIDI in, 2 stereo jacks (for headphones), ¼" direct in for guitars and drum machines
Power: 9V battery or AC adapter
Tempo: 30-250 BPM
---
Pros
Huge range of tempos, subdivisions, and metronome sounds
Loud beat that's easy to hear even while drumming
Cons
High cost for a metronome
Too large to fit into most stick bags
---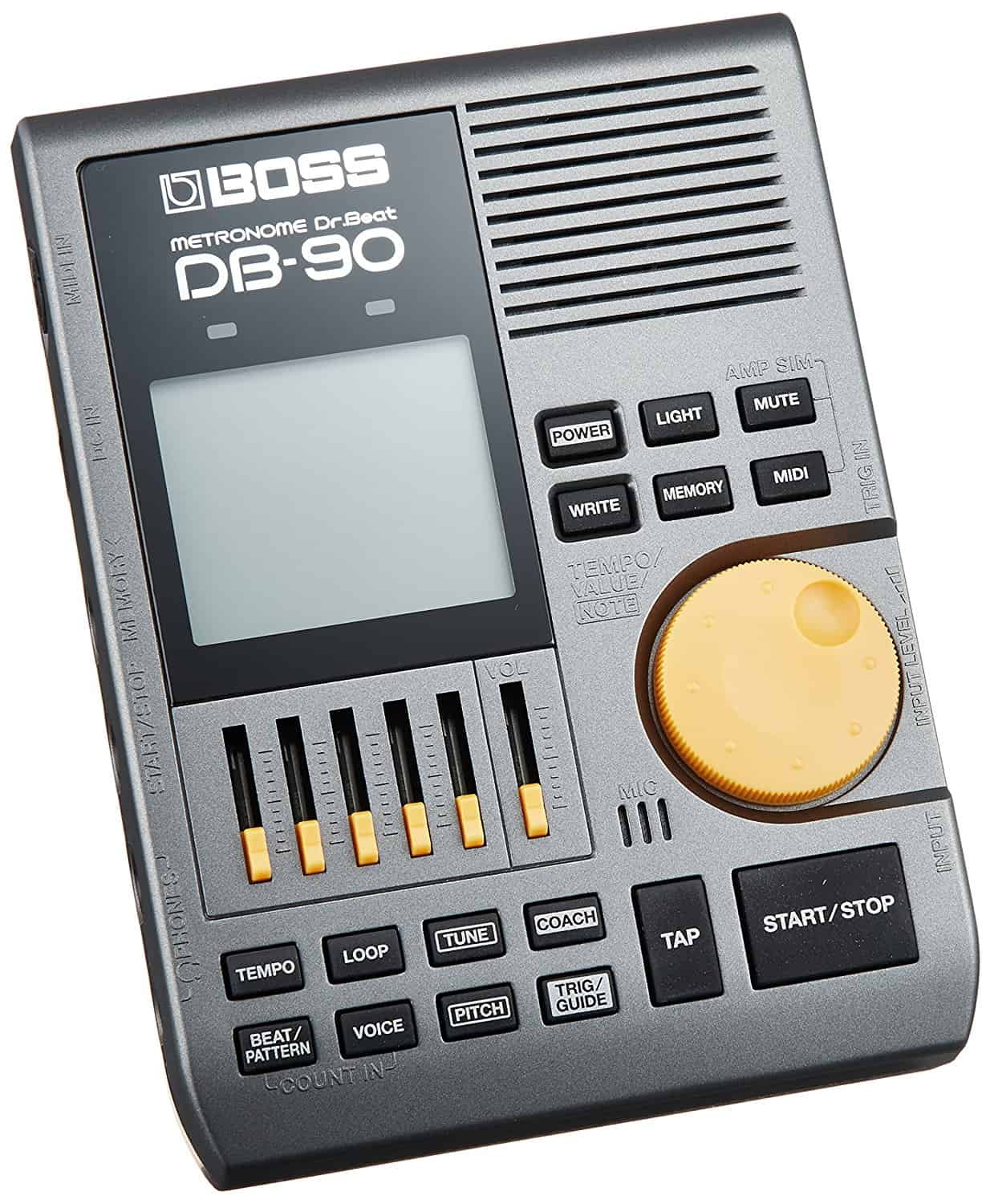 02
Shure SE215-CL Sound Isolating Earphones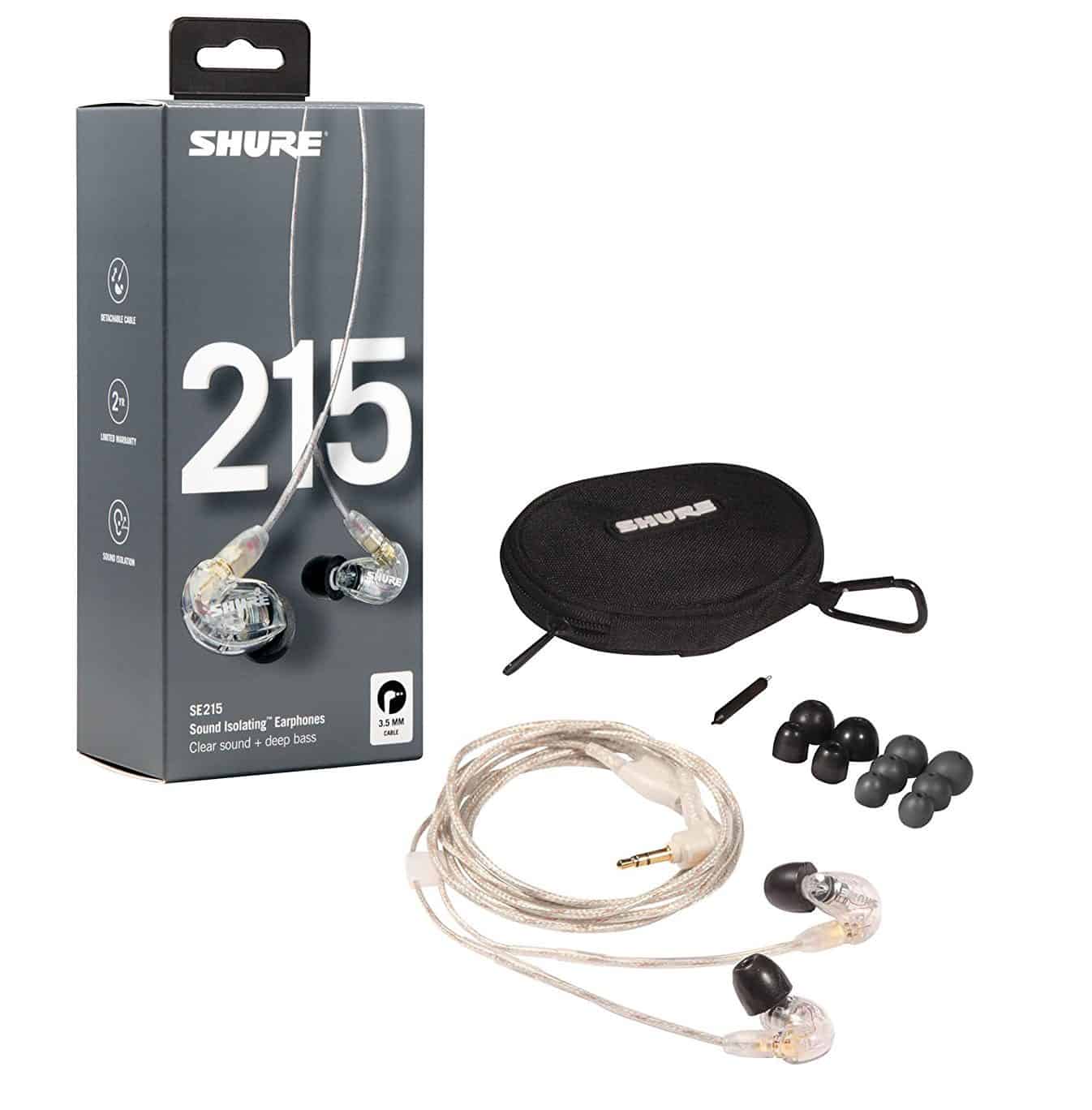 If you're shopping for a professional drummer, you're probably thinking they already have things like stick bags and drum pedals that they like to use. In that case, you might want to get them something that's a bit higher-end and designed more for on-stage use, like these sound isolating earbuds from Shure.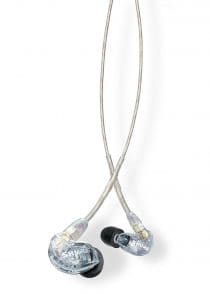 Most headphones with technology this advanced are over-ear models. These are functional, but they can also be frustrating to use during playing, making the player feel constricted and muffling sounds they actually want to be able to hear. With the SE215, drummers get a compact in-ear headphone that still uses advanced sonic technology—far more advanced than any other earbuds that you'll find. They're wireless, too, so a drummer who moves around a lot doesn't have to worry about the cord getting in their way.
These earphones will protect the drummer's hearing, too, along with letting them hear anything that comes through on your monitor. They provide up to 37 decibels of noise isolation, an impressive amount considering the size of the earbuds. In terms of the sound, it's as good as you'd expect from any other set of high-end headphones, with an impressively deep bass for the size.
Really, the most impressive thing about these headphones is how comfortable they are. Rather than take the "one size fits all" approach you'll see in most earbuds, every pair comes with a Fit Kit that has three different sizes of sleeves to choose from. The nozzle angle has also been re-designed over previous Shure models so that it fits more comfortably inside the ear canal.
These aren't your standard cheap, disposable earbuds—both in terms of price and performance. You can get a great deal on them by buying from Amazon, but they still don't come cheap. They do, thankfully, come with a zippered carrying case so they don't end up getting lost and are designed to last for a good long while. These earphones are an investment, but any pro drummer you buy them for will definitely appreciate the purchase.
Features:
Electronics: Single dynamic MicroDriver
Noise isolation: up to 37 dB
Connection: Gold-plated MMCX connector with 360° rotation and lock-snap mechanism
Color options: Clear, white, blue, black
---
Pros
Compact, wireless design stays out of the way while the drummer is playing
Customizable fit lets it work for any player
Cons
On the pricey side for a pair of earbuds
---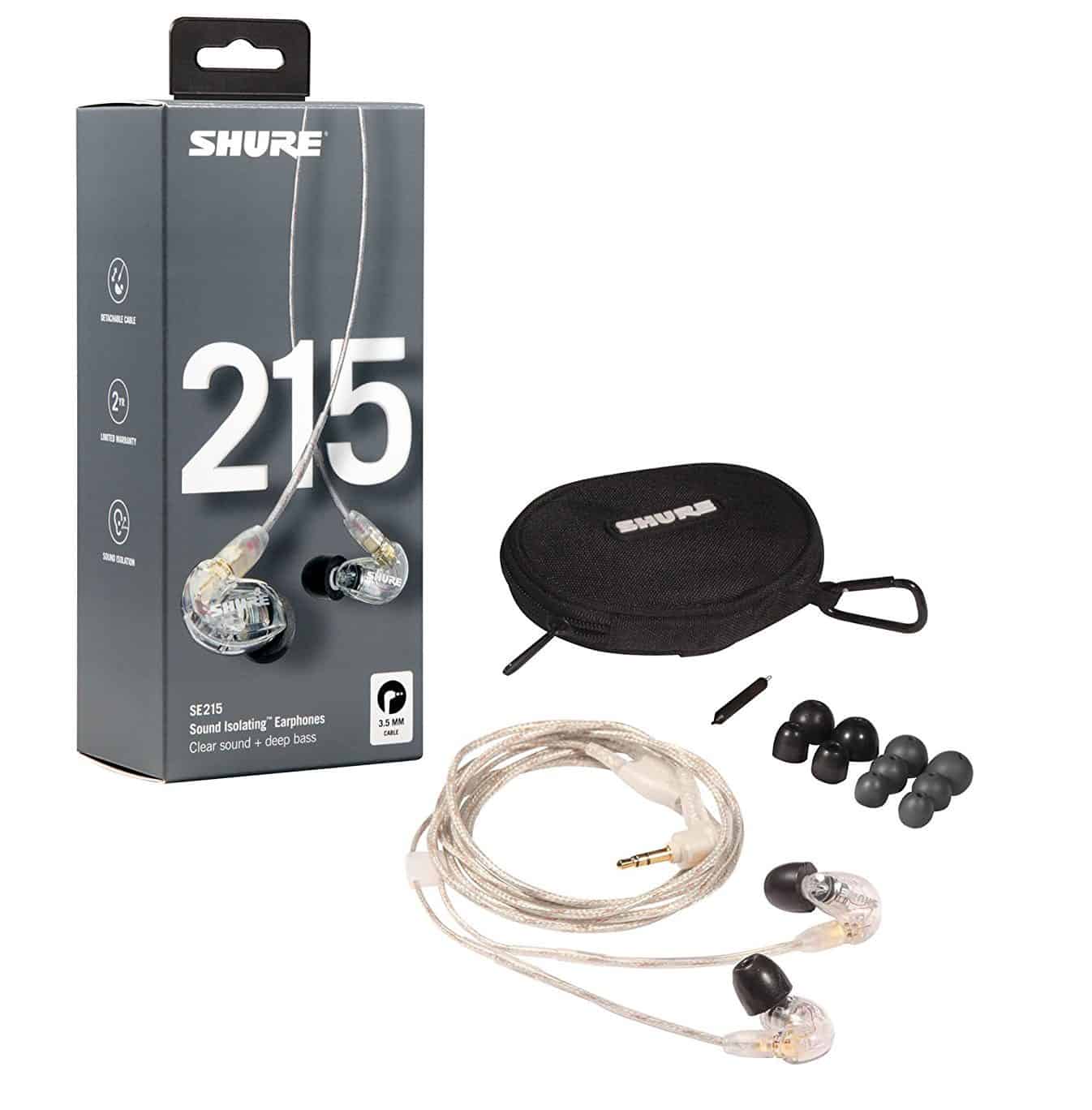 with Single Dynamic MicroDriver
03
Promark Transport Deluxe Drumstick Bag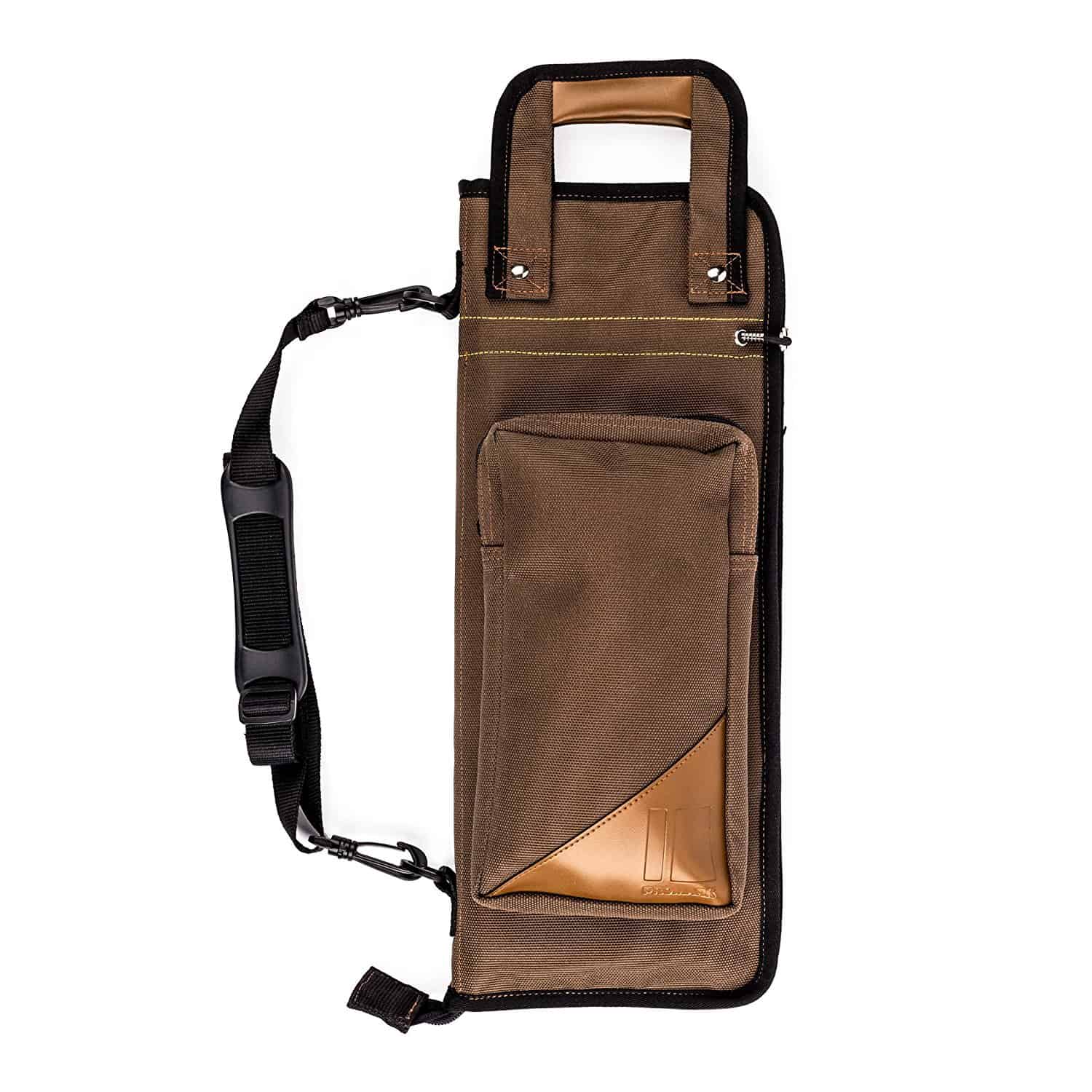 Every drummer uses an assortment of sticks and mallets, regardless of what style or specific instruments they play. A high-quality stick bag can make a great gift for a drummer, not only making it easier to transport sticks to gigs safely but also helping to keep all those sticks better organized both on the road and at home.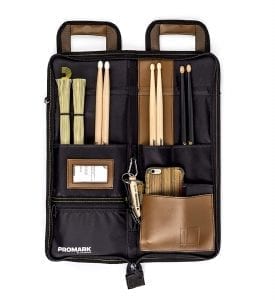 This deluxe stick bag from Promark is made from a waterproof nylon material guaranteed to protect drum sticks from the elements. It's designed to withstand all kinds of rigors without wear, rips, or damage. It's certainly far more road-worthy than a basic stick bag, and with more aesthetic appeal to boot. Rounding out the design are the attractive synthetic leather accents, metal tom mounts, and two carrying options (a handle on the top and a strap on the side).
Along with the main stick area, this bag also has all the pockets the drummer will need for their gear. The main pocket on the front has a zipper closure and is plenty large enough for tools, metronomes, and other necessary supplies. There is also an interior pocket with a zip closure, along with a smaller leather pocket that's great for holding a wallet or phone during gigs.
Having all of these pockets doesn't just help a drummer stay organized during their gigs. It also keeps metal tools like drum keys separated from the sticks during transportation. This is especially important for extending the life of sticks with a classic wood tip, which are more likely to be affected by nicks and dings.
This is one of those great gift options that's both stylish and practical. The sleek design will be appealing to drummers of all stripes, while the combination of storage options for the sticks and gear give it far more versatility than the standard stick bag. The little extra features add up to make a big difference. You'll be guaranteed to make any drummer happy when they open up the Promark Transport Deluxe.
Features:
Length: 18"
Width: 7.5"
Material: Ballistic nylon and synthetic leather
Pockets: 4
---
Pros
Easily holds 10-12 pairs of sticks
Designed to hang on the toms for easy stick changes
Cons
Zippers can sometimes fail and require repairs
On the pricier side for a stick bag
---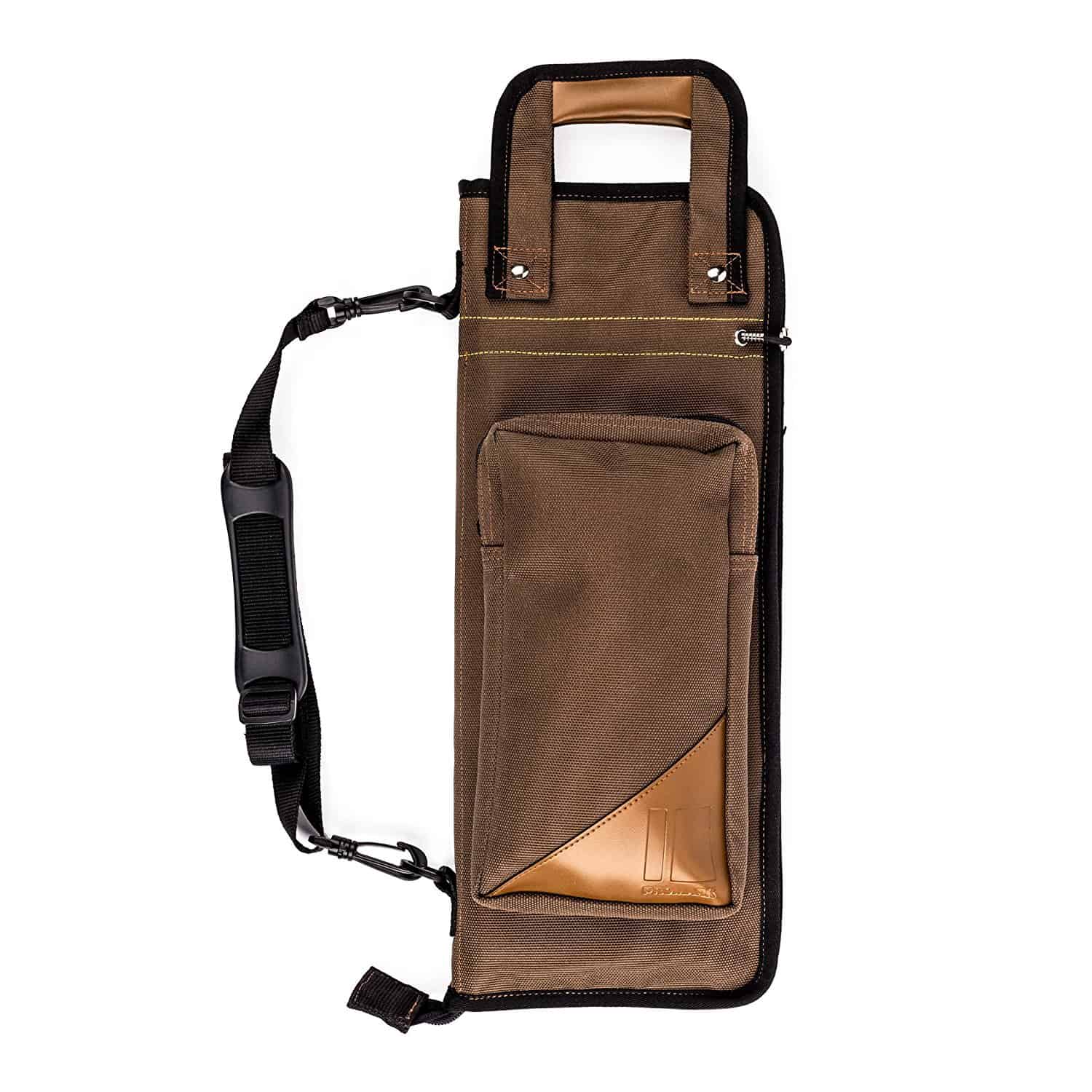 04
Drumeo P4 Practice Pad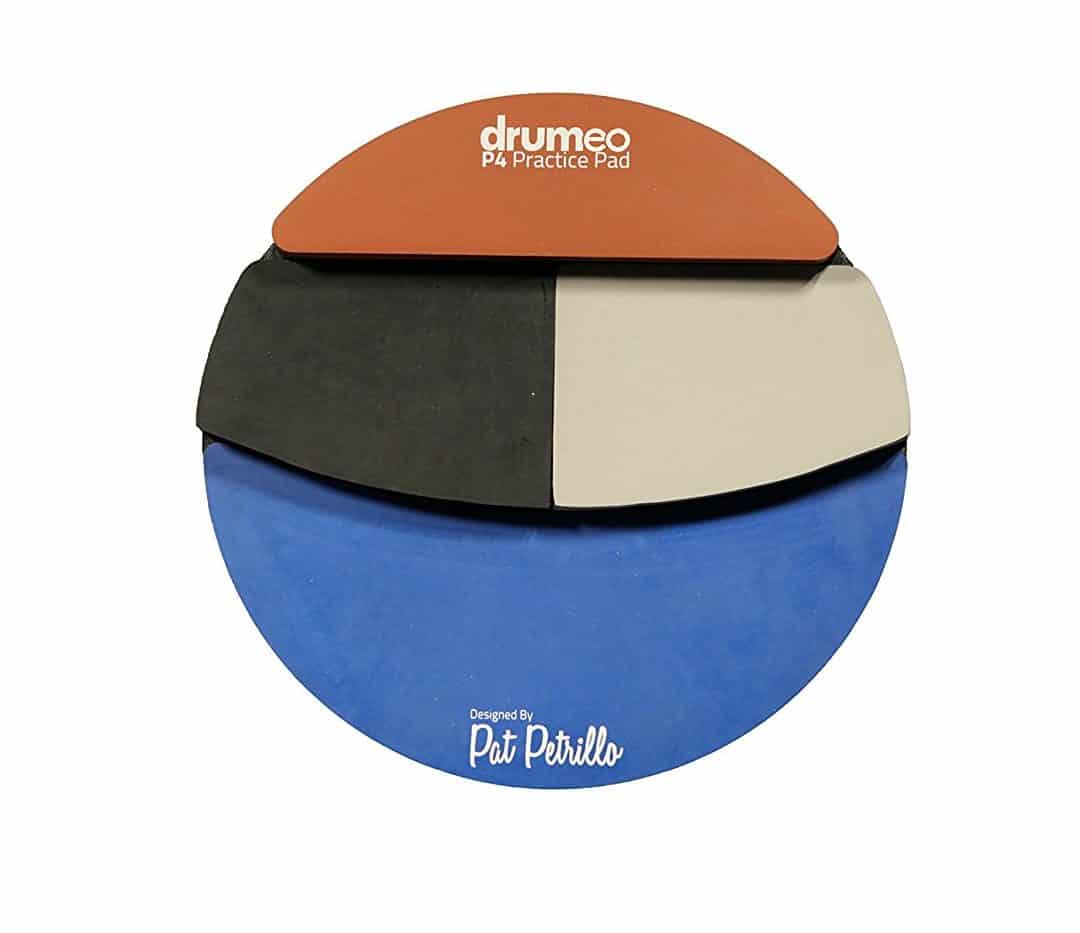 If you're buying the gift for a beginning drummer, a practice pad can be a great choice—and if it's a kid, their parents will probably be as grateful as the player. Most players will already have a basic one-surface practice pad, but you can help them take their technique to the next level with the Drumeo P4.
Most practice pads only use one surface, or at most use a different surface on each side of the pad. This is fine for working on the basics, but it doesn't give players the chance to hone their techniques on different kinds of drums, something that's especially key for drum set players.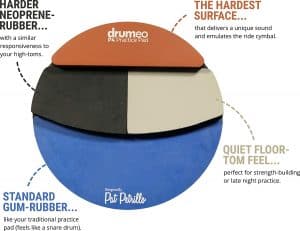 The P4, on the other hand, uses four tiered, color-coded surfaces, ranging from a softer, quieter rubber that simulates a floor tom to a hard, Kevlar-like surface that feels more like a ride cymbal. These different surfaces don't only act like different drums, they can also be used to hone specific areas of a player's technique. The softer floor tom surface, for example, is great for building hand and wrist strength, while the ride cymbal pad can help work on speed. This can give a new dimension to even practicing basic rudiments, letting players get more out of their practice sessions.
The only downside of this pad that we can see is that it's not especially portable. The multiple surface heights make it a bit bulkier than simpler models—it's not the kind of practice pad a student can toss into their backpack on the way to school. It's an ideal pad for at home practice, though, especially since it has the super-quiet floor tom section.
One last great thing about practice pads: they're built to take hard hits without showing too much wear. You can have the Drumeo P4 shipped straight to the recipient and don't have to worry it'll show up damaged. This is a gift that a drummer can use for years, no matter what changes in their gear or playing style.
Features:
Diameter: 12"
Weight: 3.85 pounds
Snare pad: Gum rubber
Hi-tom pad: Neoprene
Floor tom pad: Soft, quiet rubber
Ride cymbal pad: Kevlar-like hard rubber
---
Pros
White floor tom surface one of the quietest practice pads available
Ability to practice different grip strengths makes it great for beginners
Cons
A bit bulkier than most practice pads
Don't get as much room to work with on each surface
---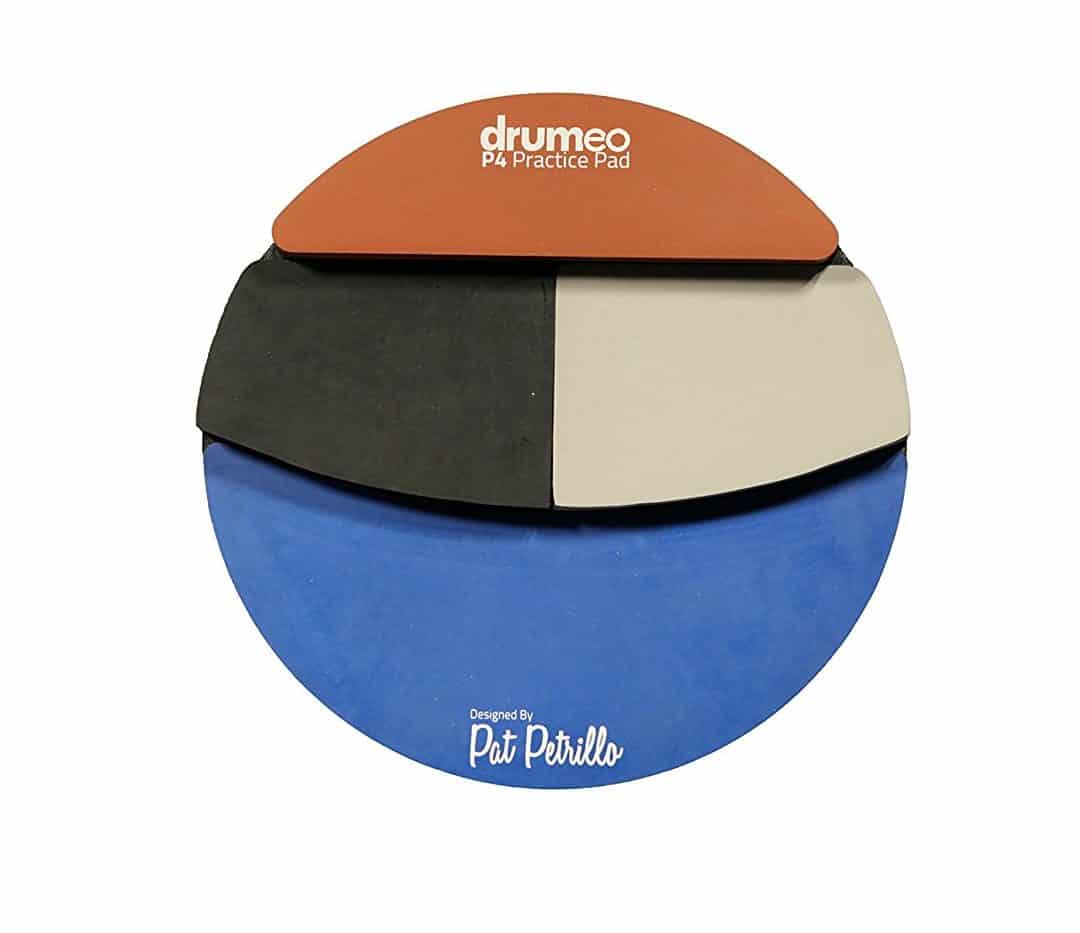 The Best Drum Practice Pad On The Planet
05
Pearl P930 Demonator Single Chain Interchangeable Cam Powershifter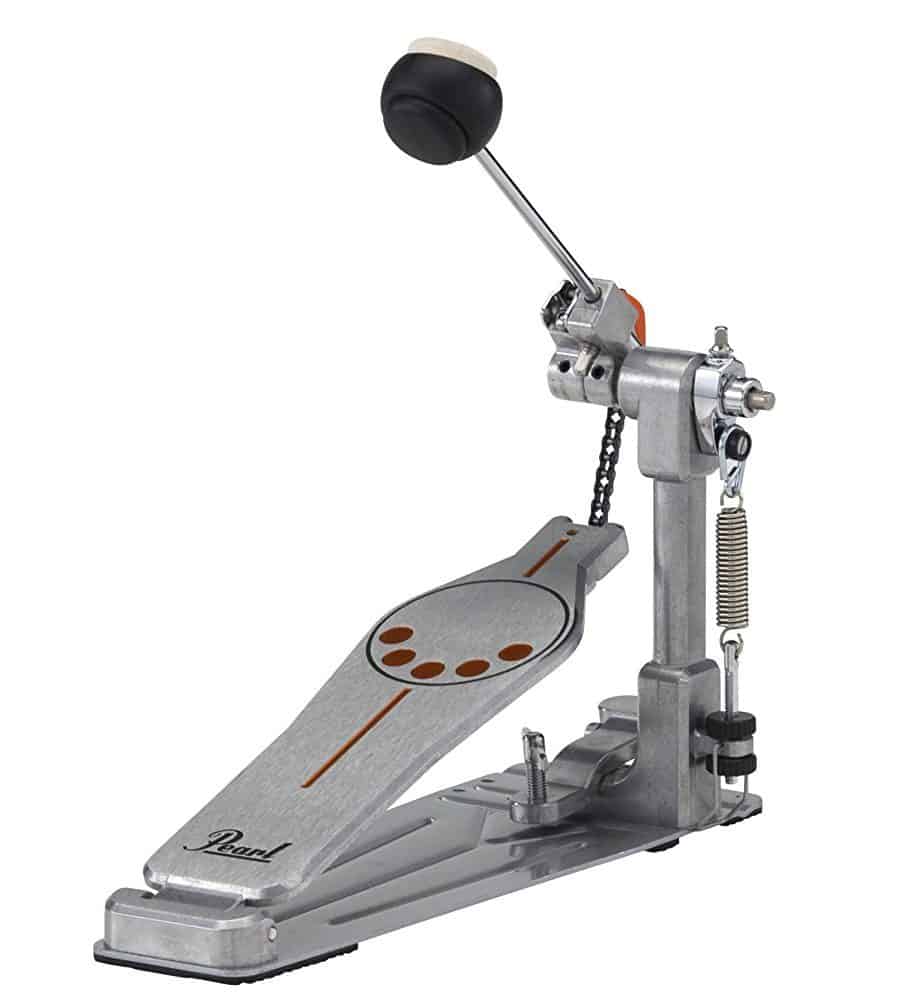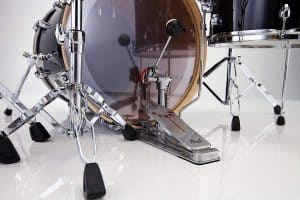 Buying actual gear as a gift for a drummer can be tricky. The style, size, and material of the drums and cymbals is often a very personal choice, and most players will want to try them out before they buy to make sure they complement the other pieces of their kit. Hardware can be a better way to go. The choice for these pieces is usually more practically-motivated than sonically-motivated, and they also tend to be more versatile, working with a variety of different equipment brands, types, and sizes, so you don't need to know exactly what kind of gear the recipient has for them to be able to use it.
A drum pedal, like the Pearl Demonator linked to here, can make an excellent gift for a drummer who's moving up to the intermediate level and wants to upgrade their bass drum capabilities. It's a single-chain driven pedal with a Demon-style powershifter and an interchangeable cam—terms that will probably make a lot more sense to the drummer you're giving it to than they do to you. All you need to know is that it has smooth, quick action that makes it easy to keep up with even fast-paced beats.
The tension on this pedal is adjustable, as is the angle of the beater. This is great if you're giving it as a gift since it means the player can tweak the pedal to suit their style, making it a more versatile choice—especially if you're not a drummer yourself and not sure of the technical terminology. The beater is also double-sided, which gives the pedal more tonal options for different playing styles and approaches.
Maybe the best part about this pedal is how easy it is to use—both when you're talking about setting it up with the kit, and in terms of its smooth motion. This makes it a great gift for drummers of all experience levels, letting them quickly step up their bass drum game.
Features:
Drive system: single chain
Cam: Perfect Circle, with removable Eliminator Eccentric cam
Beater: Dual surface with core control
---
Pros
Fully adjustable beater angle
Click-lock spring tension makes the beater snap back quickly
Cons
Some users get rattling noises from the pedal on certain settings
---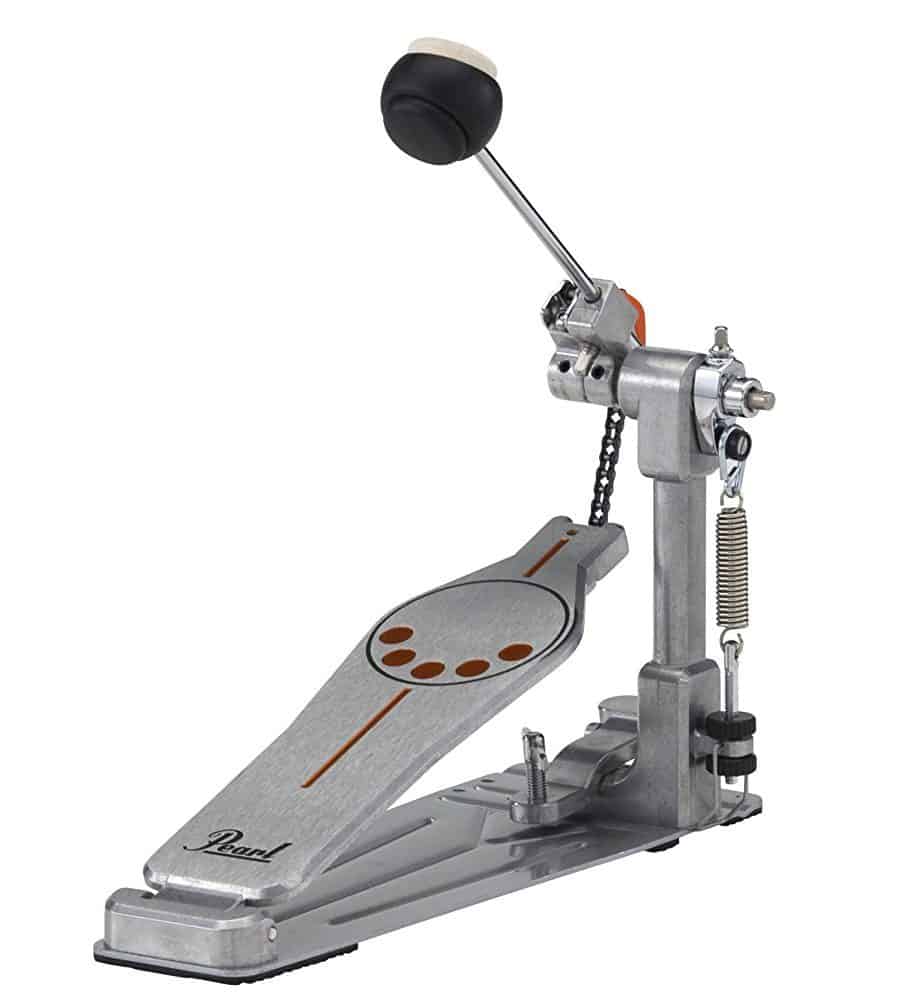 06
Gearlux 5-Piece Drum Bag Set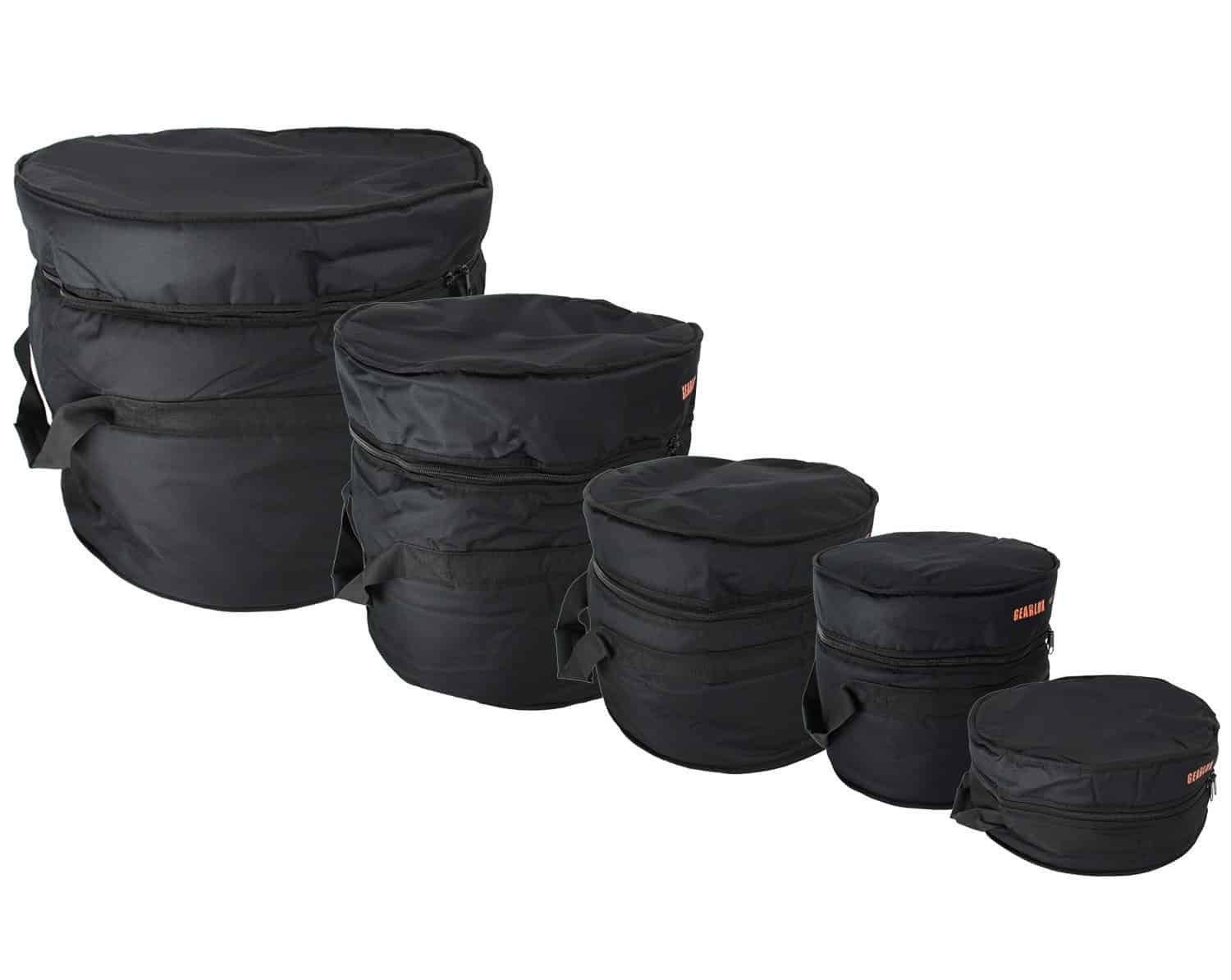 A full drum kit is a pretty big investment, especially when you start getting into more professional-level equipment. While many drums come with basic carrying cases, others don't—and even the ones that do are rarely the best design for protecting the drums against damage.
That's where a set of quality drum cases can come into play, like this set from Gearlux. It's a five bag set, with a size for every drum in a typical kit. All of these bags are made with the same basic design, with a secure and high-quality zipper closure and thick foam padding all around that keeps the drums safe during transport. The bags are also labeled on the outside so it's easy to see at a glance which one is which.
The only warning we'd give about this set is that they're pretty snug and won't be able to accommodate drums larger than the sizes listed. If you don't know exactly what sizes the drums in the player's kit are, you'll need to find out this information before you buy the cases to make sure they'll be able to use them. On the other hand, this keeps the drums from sliding around inside the case, which can help keep them from getting damaged. As long as the size is right, the snug fit is a good thing.
The quality level is high on these drum bags. The stitching is secure throughout and they're not likely to rip, tear, or break, even after heavy use. The sewn-in handles are a nice touch, and are equally secure in terms of the stitching, making it a lot easier to load and unload your equipment. While $100 might seem a bit steep for a carrying case, it's a fantastic value when you consider how many different cases you get all at once.
Features:
Total bags: 5
Bag sizes: 12" (tom), 13" (tom), 14" (snare), 16" (floor tom), 22" (bass drum)
Materials: Heavy-duty nylon with 10mm foam
---
Pros
Heavy-duty nylon protects drums from water and weather damage
Individually labeled for easy identification
Cons
On the pricier side for a gift at around $100
Won't fit all sizes of drum shells
---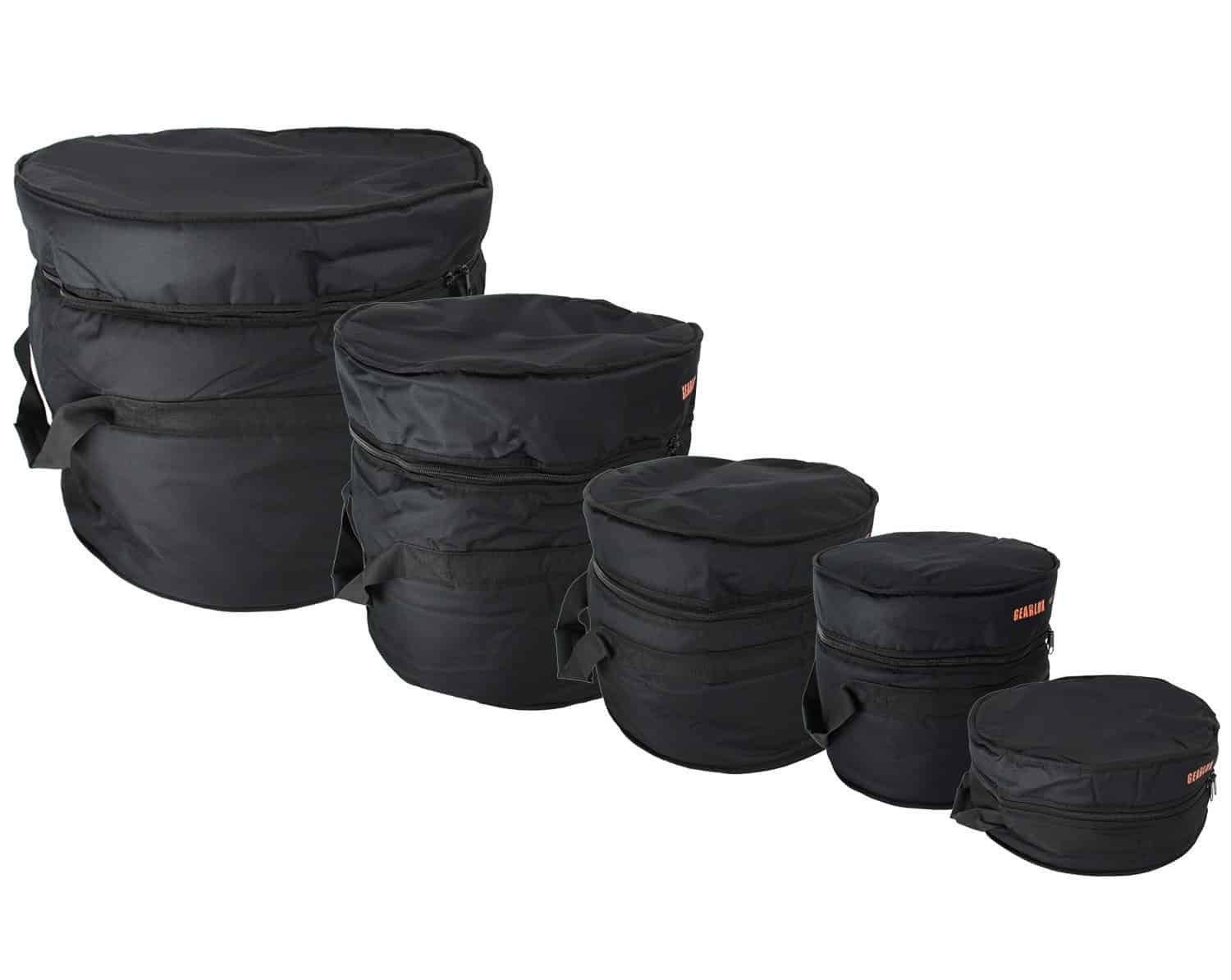 for 12" Tom, 13" Tom, 14" Snare, 16" Floor Tom, 22" Bass Drum
07
ChargerCity Heavy Duty 4-WAY Adjust Aluminum Alloy Pole/Bar Cymbal Mic Microphone Stand Podium Tablet Holder Clamp Mount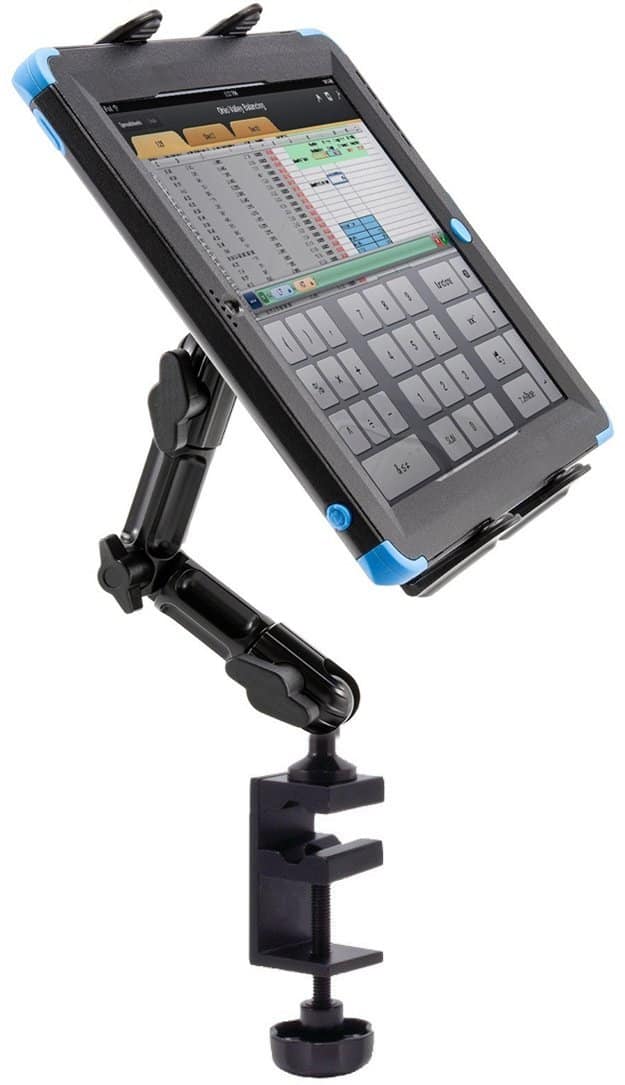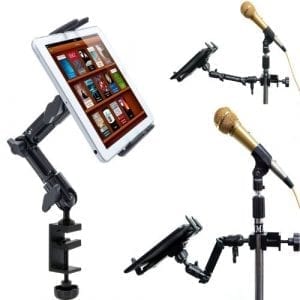 All of the gear drummers have to deal with makes a lot of things harder for them than it is for other musicians. Figuring out where to put music when they need it is one of these unexpectedly tricky things, especially for drum kit players, who have to position the music stand around multiple stands and cymbals.
Now that digital sheet music is an option, pole-mounted stand like this one from ChargerCity can be an excellent solution to this problem. It attaches directly to a cymbal or microphone stand and is fully-adjustable, bending and tilting to the perfect angle to both play and read in comfort. It'll hold any device with a screen between 7 and 12 inches, including pretty much any tablet and many phones, as well. Both the stand itself and the clamps on both ends are sturdy and stay in place once they're adjusted. It will work on tablets that are in cases, too, although it can be trickier to negotiate it into the holder if the case is especially thick.
As if that's not enough, having a tablet directly on the drum kit is useful for more than just reading music. It's an easy way to use tuner and metronome apps, and perfect for home recording sessions, putting mic and level controls in a digital mixer right at the player's fingertips. It can be made even more convenient by getting a pedal for hands-free tablet control, so the player can turn pages in the music without losing their groove.
This would make a great gift for players in all genres and at all experience levels, but it's especially ideal for gigging musicians. Jazz players who do a lot of jam sessions will appreciate it, too, since it's easy to find digital fake books to load up on the tablet. Another versatile and affordable choice that a drummer will really appreciate and get tons of use out of.
Features:
Build material: Aluminum alloy
Arm length: 6"-10"
Mount: C-Clamp (fits flat and curved surfaces)
---
Pros
Aluminum construction is both durable and lightweight
Sturdy enough to hold tablets upright even during heavy play
Cons
A bit tight on larger tablets, especially with cases
Can be tricky to insert and remove tablets
---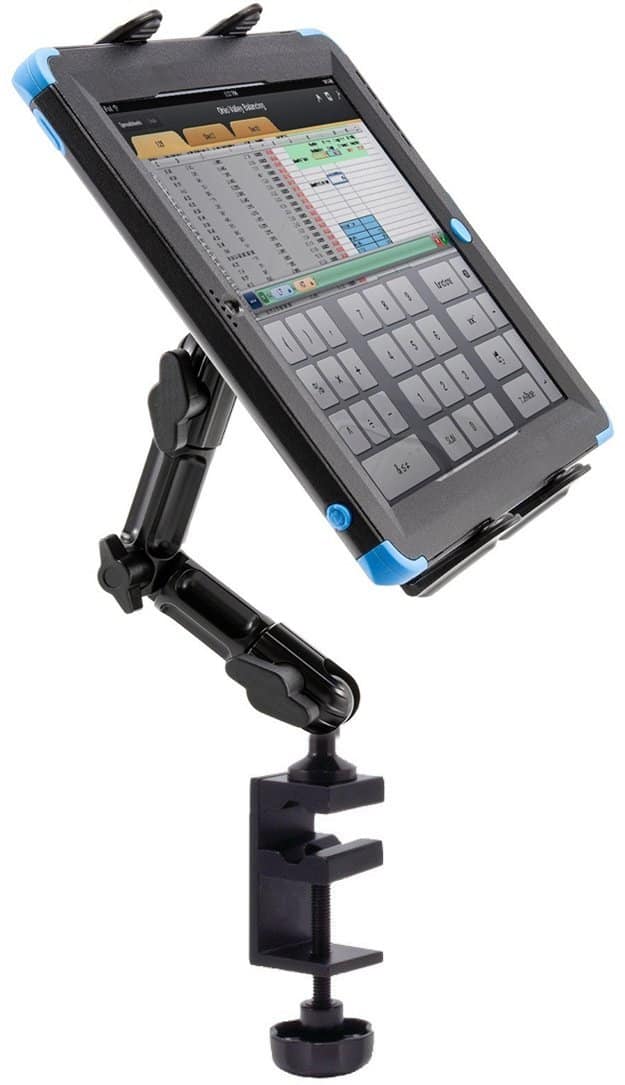 for Apple iPad Pro Air Mini Samsung Galaxy Tab Surface Book Pro Google
08
SoundOff by Evans Full Box Set, Fusion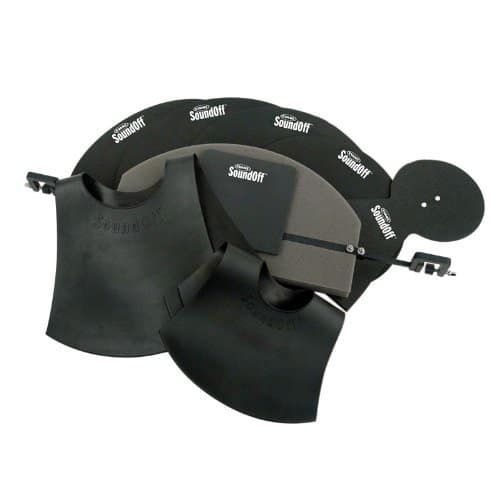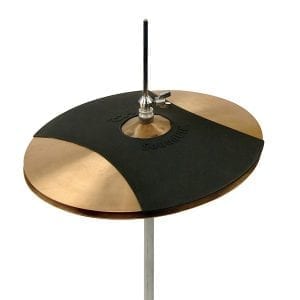 Here's another gift that's just as much for the people who live with the drummer as it is for the person who actually plays. It's a revolutionary drum mute system for any fusion-sized kit that lets the player use their actual drums for at-home practice without making all the noise you'd expect from a drum kit.
There are several components in this mute kit, sized to fit the various drums on your kit. This includes options for toms between 10" and 14", a 14" snare mute, three different cymbal mutes, and a bass drum mute that can be adjusted to fit any size head from 18" to 26". This array of different pieces should be plenty for at least basic practice on any kit configuration.
Figuring out how to put these mutes onto a drum kit can be tricky at first. They're probably a better choice for a drummer who's at least an older teen, with some experience on the instrument, than they are for a beginner, who'll have just as much luck honing their technique on a practice pad. They'd be easier to use if they were one size fits all, but even as-is an experienced player shouldn't have any difficulty fitting them onto the drums.
Putting these mutes on a drum will change the output, and not simply in regards to the volume level; drums with these mutes on them will also have a muffled sound. What won't change, though, is the feel of the drum. It will still have a realistic strike and rebound so the drummer can work on all elements of their technique and have it feel completely natural.
This kit is convenient if the player is muting an entire drum set, since it gives you all the pieces you're likely to need, but Evans also sells individual mutes individually. No one's likely to need more drum head mutes than come with this kit, but if the player has odd-sized drums or a plethora of cymbals, being able to expand the set piece by piece will be helpful.
Features:
Drum head mutes: 10", 12", 14"X2 (snare and tom)
Cymbal mutes: SO-CYM mute, 14" hi-hat mute, 20" ride mute
Kick drum mute size: adjustable (18"-26")
Material: durable synthetic
---
Pros
Maintains realistic rebound and stick feel at a lower volume
Bass drum mute is adjustable for any standard size
Cons
On the bulkier side where shipping and storage are concerned
Can be complicated to use at first
---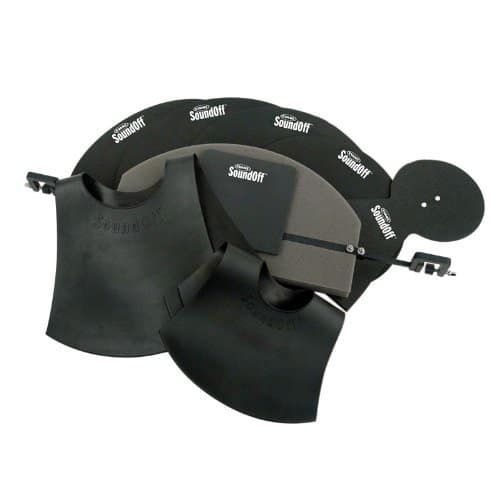 09
ROCKSTIX 2 HD BLUE, BRIGHT LED LIGHT UP DRUMSTICKS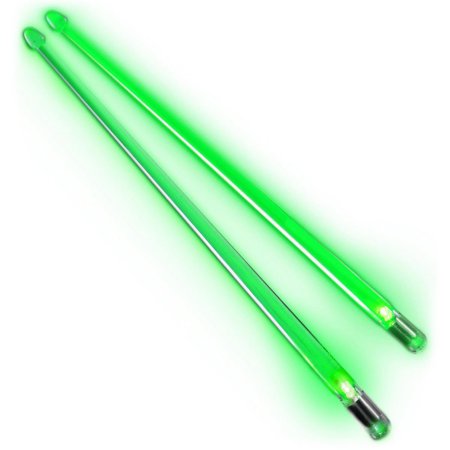 A lot of the gift suggestions listed here are very practical in nature. If you're looking for something that's more fun and frivolous, these light-up sticks from RockStix are a delight to both use and watch, especially for younger players. They're durable, exciting, and not too expensive—the perfect combination when you're buying a gift for a drummer.
These sticks do exactly what you'd expect looking at the name: a motion-activated sensor inside the stick makes them light up whenever they strike a drum. The option linked to here has two pairs of sticks: one that lights up blue, and one that changes between 13 different colors with each strike of the drum, putting an entire rainbow at the drummer's fingertips.
You could say that these sticks are the perfect gift for a young drummer, not just because of how fun they are to use but also because of their build. They're made out of plastic instead of wood—and not just any plastic, either. The Lexan used in their construction is the same material that's utilized in riot shields, so you know they're not going to break just from hitting a drum.
The colors themselves are produced by LED bulbs. While this does mean the sticks need batteries to light up, LED bulbs use up so little power that players may never even need to swap out the battery. If they do, it's very easy to do so.
Sonically, this material is not the ideal choice. For many professionals, the flashy appearance doesn't make up for the sound of a true wooden stick against their drum-heads. It really depends on the type of drum and style of performance. For marching bands and V-drum players, for example, where the stick will have less of an impact on the sound quality, the plastic sticks might even be preferable to wood sticks because of their durability.
What's the bottom line? If you're looking for a gift for a drummer friend that's more on the fanciful side of things, you'll definitely get a reaction when you give them these RockStix—whether they're a 10 year-old beginner or a 40 year-old professional.
Features:
Stick material: Lexan plastic
Tip material: Polycarbonate
Power: LR44 batteries
---
Pros
Long-lasting LED bulbs run on very little power
Cons
Not the best-sounding sticks you'll find
---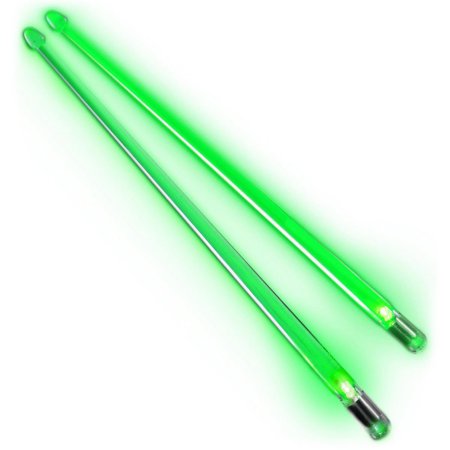 with fade effect, Set your gig on fire! (BLUE and COLOR CHANGE TWINK PACK)
10
Electric Drums for Kids Roll Up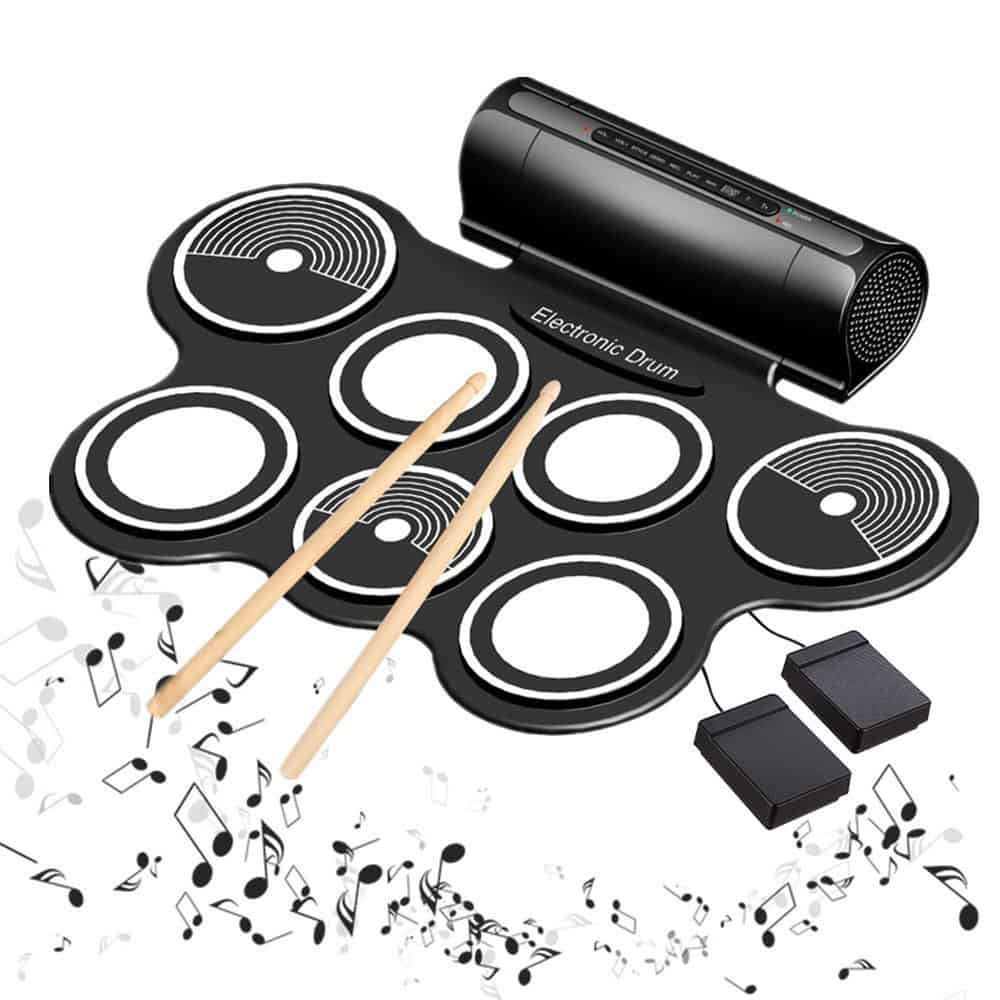 If you have an aspiring drummer on your hands—but aren't quite ready to invest in a full kit for them—this roll-up electronic drum pad makes an excellent gift. It can also be useful for older drummers as a more sophisticated practice pad, letting players work on their around the kit movement at home as well as their striking technique.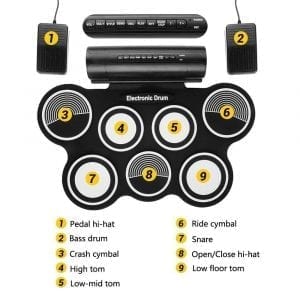 There are seven different drum areas on this pad, simulating the basic drums and cymbals that are in a standard kit. They don't just produce one sound option for each pad, either. There are an array of different sound simulations, including some that sound very close to an analog drum kit. The pad can be plugged into a speaker for out-loud play, or plugged directly into a pair of headphones for completely silent practice.
The MIDI jack makes this a versatile pad, as well. It can connect to a computer for use with MIDI recording and mixing programs, and can even be hooked into a game system if drummers want to use it with Rock Band or other music-themed games. It's a great tool for DJs, composers, and recording techs, too, since it lets players plug it into any DAW and record straight from the pad.
Along with the pad itself, two foot pedals are also included, which can be used to simulate the kick drum or hi-hat pedal. It can be powered by any micro-USB adapter, though it doesn't come with one—one of the only shortfallings we could find with this particular gift option.
If the player were looking for an electronic drum set that's equipped for on-stage, professional performance, this isn't necessarily it. If what they want is something that's fun to play around with at family functions, or just something to use for at home practice, this roll-up drum pad is a convenient and affordable way to get it.
---
Pros
Compatible with speakers, computers, and gaming systems
Cons
Doesn't include the power adapter
---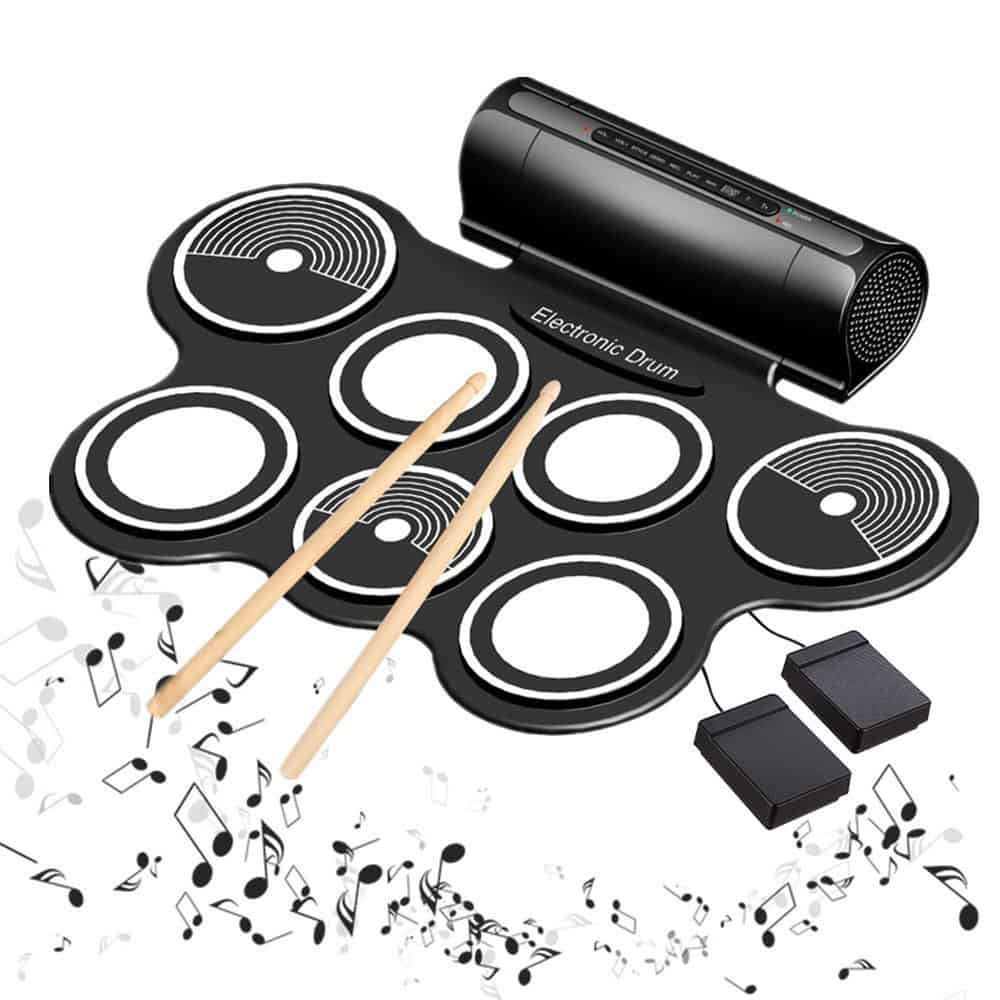 Beginner Drum Set Practice Drum Pad USB MIDI Built in Speaker Drum Pedals Musical Instrument Little Drummer Gifts
The Nitty Gritty Details
As you can see from the buyer's guide above, drummers already have a lot of little things to buy so they can play their instrument—and those little things can add up quickly. That's one reason they'll probably appreciate getting some nice accessories like the ones reviewed here as gifts. If they've got extra money, they're more likely to put it toward buying a new cymbal than they will to buy themselves a new stick bag, and that's where you step in to make their life easier.
Of course, even if you buy the perfect gift, there are always some logistical things to think about. Even though all of the companies on this list are generally reliable when it comes to their products, there's always a chance that something can happen during shipping and the product arrives damaged. You can never account for every twist of fate. If the recipient happens to get a similar gift from someone else, for example, you don't want them to be stuck with both.
The sections below are the extra little things you may want to think about as you're picking out the perfect gift. They won't all be applicable to all the products or situations, but often taking a second to think through these details will prevent later stress.
Warranties
A good warranty can take all of these concerns and thoughts out of your head completely. It's one way to ensure that, no matter what, the recipient will get a gift that's intact and usable—and to make sure it will be replaced easily, for free, if it arrives in any other state.
Warranties can get a bit complicated, especially when you buy through an online marketplace, like Amazon. You not only have to consider what kind of warranty is offered by the manufacturer itself, and what aspects of the product that covered, as opposed to what is offered by the seller of the product.

Typically, the warranty from the company is going to cover internal problems that originated during the manufacturing of the product. If something arrives broken or non-functional and it was that way even before the item reached the distributor, that is where the manufacturer's warranty comes in.

If the product was damaged during shipping, on the other hand, this is something that you may find isn't covered by the manufacturer's warranty, since they weren't responsible for the problems with the gift. For those issues, you'll typically be better served reaching out to the seller, who will often be able to refund or replace the product after you've shipped it back.
The majority of manufacturers and sellers will offer you the level of protection and replace products that are damaged before they reach you. If you're looking for a more in-depth level of protection, however, that's something you'll have to look into item by item. Some manufacturers will offer to take care of user-caused damage but many will not. The length of time that the item is covered after purchase will also typically vary, so that's something you'll want to look into if this is important to you.
Generally, the pricier the item the more concerned you'll be with whether or not it has a good warranty. It's something that's likely to be more on your mind if the gift is going to a child, too—kids do have a tendency to be rougher on things than adults, especially when it comes to something like the drums that they're going to be pretty rough with.
In terms of the products on this list, Boss has a fairly good service program for their products. If something is wrong with your Dr. Beat metronome, you can take it (or ship it) to one of their service centers and they'll repair it for you. The only catch is that these repairs aren't always free. All the parts are covered under warranty for the first year, but you'll still have to pay for the labor after 90 days. Basically they will cover any faults with the product that can't reasonably be considered user error. After that, they'll still fix the problem even if you have to pay—still typically a more affordable option than buying another metronome.
All Shure products also come with a limited warranty, including their SE-215 earphones. Similar to the coverage program from Boss, it typically will cover any defects in the parts or the initial construction of the product, but won't cover any damage caused by the user more than a few months after the product's arrival.
The specifics of what is covered and for how long for each individual product will usually arrive on a card in the box with the product itself. If it doesn't, just check the manufacturer's website, and you should be able to find their coverage information.
Note: many warranties are limited and don't cover products for long, even if the defect was there from the beginning. If you're buying this a few months in advance of when you plan to give it—a common practice with Christmas presents, especially—make sure you check it out as soon as it arrives. If you wait until you actually give the gift, the warranty may have expired already and you might not be able get any defects fixed, even if they were the fault of the manufacturer.
Shipping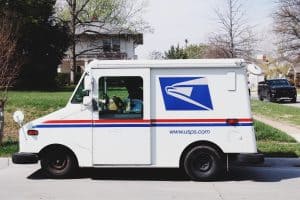 There are two ways you can go when you order items online to give as a gift. You can have them shipped to you and then wrap them and give them in person, or you can have them shipped straight to the recipient—a great option to have if they live far away or you're not likely to see them around the time you'll be giving the gift.
All of the gifts listed here should ship pretty well—there aren't a lot of things with moving or delicate components that could be damaged on their way from one place to another. That's one of the things that makes them all such great gifts.
In terms of shipping costs, that will vary depending on the weight and size of the item. Many of the products are eligible for the free shipping program through Amazon Prime, so if you're a member of that service you won't need to think about shipping costs. If you're not, this is something to account for in your budget when you're shopping for the gift.
Even non-Amazon Prime members will get free shipping on certain items. Usually this will mean a longer delivery time, so you may still have to pay for shipping on these items if you've procrastinated your gift buying and need to get the item right away. Amazon makes it easy to see exactly what you'll have to pay for different estimated delivery times when you get to check-out, so this is something you may want to compare and contrast as you're making your final decision.
Returns
Even if you've thoughtfully selected your gift and it works perfectly, there may be a reason the recipient needs or wants to return it. This can be a bit more complicated with online shopping than it was when you bought the items in person.
Amazon.com's return policy is generally that you can send any unopened items back within 30 days of purchase (they do have some special allowances around Christmas, and will allow the return of gifts until January 31 if they were purchased during the holiday season).
Individual sellers and manufacturers will also have their own return policies, so you should also look into that if you think the item may need to be returned. Like warranties, returns tend to be time sensitive. If you want to make sure there won't be any problems if the person you're giving the gift to decides to return it, you should wait to buy the gift until closer to the date you'll be giving it. This will make sure it's not outside of any time constraints.?tag=bestazy-20
Wrapping It Up
As you can see, you've got a lot of great choices when it comes to buying a gift for a drummer. When we consider all the factors together, we've ultimately got to pick the Boss DB-90 Dr. Beat as the best drummer's gift. It's something that a musician of any age will get use out of, and it's the kind of practice aid that could really do great things for the drummer's playing. There's nothing quite like getting somebody a gift and then watching it enrich their life.
A lot of musicians get accustomed to getting kitschy gifts from friends and family—the stereotypical keyboard tie or witty music-related T-shirt. Maybe the best thing about all of the gifts above as a group is that they don't fall into this category. You're not giving them something they'll chuckle at once and then toss into a drawer. Any one of the options reviewed here is something a drummer will put to great use.
There are a lot of great ways you can go, and a lot of them are very affordable. What's your favorite gift to give a drummer?tag=bestazy-20