The 30-Second Review
When you have high arches, it's crucial for your shoes to give you support. That's why they should have midsoles made from the best materials and utilizing the latest technologies. Good shock absorption is just as important, which is why the outsoles should be capable of minimizing impact whenever your foot hits the ground. But these shoes shouldn't lack cushioning either, because your ideal footwear should be comfortable enough for you to be able to go through your day without really feeling it on your feet.
Buyer's Guide To The Best Shoes For High Arches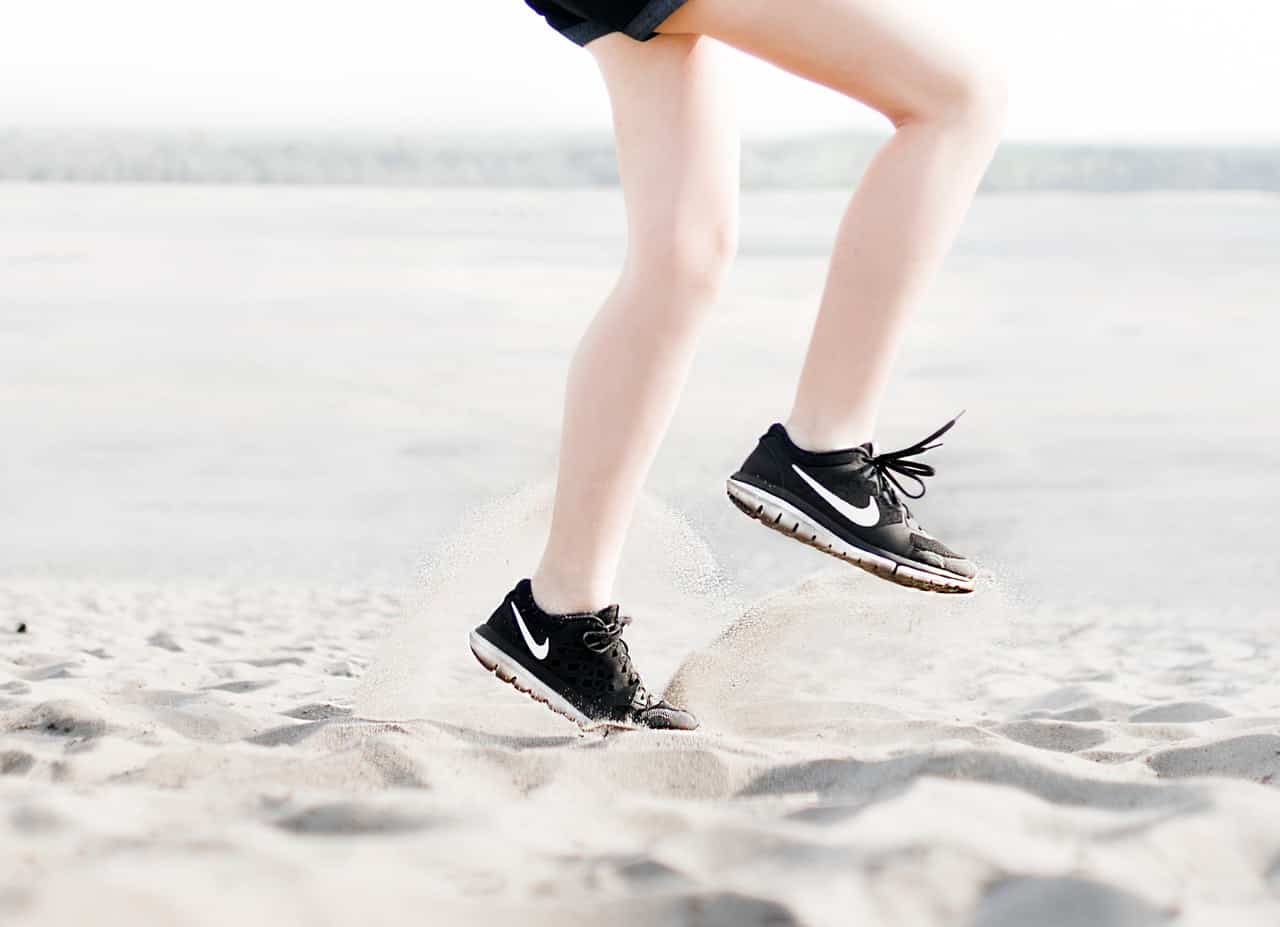 Having a good pair of shoes is something we all want, but the process usually takes time and doesn't guarantee results. This is especially true if you have foot issues, such as high arches that require a lot of support, as well as just the right amount of cushioning. But don't worry, this guide is here to help you get familiar with what exactly you should be looking for in a shoe.
How can you be sure you have high arches?

According to Foot.com, you can have low, medium, or high arches. Approximately 20% of the population suffers from high arches, which cause discomfort and even pain in everyday life. This is a condition that should be dealt with, especially since it can get worse with time. Maybe you don't know it, but high arches can be the cause of arch strain, heel pain, claw toes, metatarsalgia, and plantar fasciitis.
Now:
Maybe you know for sure you suffer from high arches and that's why you've decided to find the right shoes for yourself. But it's also possible that you suspect you have them but aren't quite sure. If it's the latter, you'll be glad to hear there's a pretty straightforward test you can do from the comfort of your home.
What do you need to do?
You need to do the wet paint test. For this, you'll only need a large container, a piece of paper and some paint, any color other than white. Squeeze or pour a larger amount of paint into the container and dip your entire sole in it, making sure there's paint all along your foot. Then press your foot onto the paper and step back.
What do you see?
If your footprint makes it look like your arch and your heel are about the same width, chances are you have low arches.
If your heel is almost twice as wide as your arch – you have nothing to worry about. Yours are medium arches and they probably won't cause you any trouble.
But if you can only see an empty space where your arch should've left its trace, you probably suffer from high arches. You should take measures to protect your feet from any further damage. The best way to start would, of course, be to find the right kind of shoes. Here's what they should be able to do for you.
What should your shoes be able to do about your high arches?
Let's put it this way – what will you get from buying shoes for high arches as opposed to sticking to regular footwear? The most important things a shoe can give you are support and comfort. The balance between these two is hard to get right, even when talking about shoes with no special purposes.
When it comes to shoes appropriate for those with high arches, it can be even harder to achieve this balance. The end result, however, is a shoe in which your foot actually feels supported. This doesn't just add to your comfort while wearing it, but also makes it less likely for you to develop more serious foot issues.
To be even more specific:
It's important for both the uppers and the footbed of your new shoes to serve their purposes. The uppers of your ideal shoe will be flexible, yet firm enough to remain comfortable and retain stability regardless of what you do while wearing them. Of course, it would be even better if they were breathable as well. You can make sure your shoes do all that by picking the right materials, which is a topic which we'll come back to later.
However:
It could be said that the most important part of the shoe is the footbed.  This consists of outsoles, midsoles, and insoles. It can be made from all sorts of materials, but its purpose is always the same – providing your feet with support without making the shoes uncomfortable to wear. Too much support makes the shoes too rigid, while too much cushioning makes them incapable of providing support.
So how can you know which shoes would be good for you if you have high arches? Let's start answering this question by telling you more about the pros and cons of types of shoes we've included in our list.
Types of shoes
Of all the shoes you can buy, both in physical stores and online, not a lot of them are appropriate for high arches. This is because this type of arch requires quite a bit of support, which is something shoe manufacturers don't take into account very often. But our research has shown that there are certain types of shoes that are a lot better than others at providing this kind of support – running shoes, work shoes, and podiatrist-designed shoes.
Let's take a closer look at them:
Running shoes
According to Orthopedics & Sports Medicine, running can cause foot injuries, which is why running shoes need to be designed with special care. The type of injuries a person is prone to depend, at least in part, on the type of arch they have. While those with medium arches can run without getting injured, people with low and high arches tend to suffer from pronation.
What's that about?
Pronation is the rolling inward of the foot when it hits the ground. If you have low arches, chances are you're suffering from overpronation, that is, that your foot rolls inward more than it should. With high arches, on the other hand, comes underpronation – when your foot doesn't roll inward as much as it should. This is something running shoes are supposed to prevent by offering the right amount of support and cushioning.
Work shoes
The primary goal of work shoes is to get you through wearing them all day without feeling discomfort and fatigue. Since a lot of people spend at least eight hours, if not more, standing or walking around while they're at work, this is a tough job. You need to find a very good balance between support and cushioning to achieve something like that. But figuring that out is the main problem when you're designing work shoes.
And guess what:
That's why some of them are perfectly suitable for people with high arches. Work shoes often have quality midsoles and very comfortable insoles. Their outsoles are usually made to provide some kind of shock absorption, which is very important for reducing foot fatigue. As a result, your feet are supported and you feel comfortable even after a whole day's work.
Podiatrist-designed shoes
These are the types of shoes you'll find in specialized stores. Although they often look a bit weird, they're always of a very high quality. As the name itself suggests, podiatrist-designed shoes are made by professionals who know all about types of arches and gait abnormalities. They design shoes to provide the maximum amount of support and use some of the best materials out there. The result is a highly supportive, yet very comfortable shoe.
Materials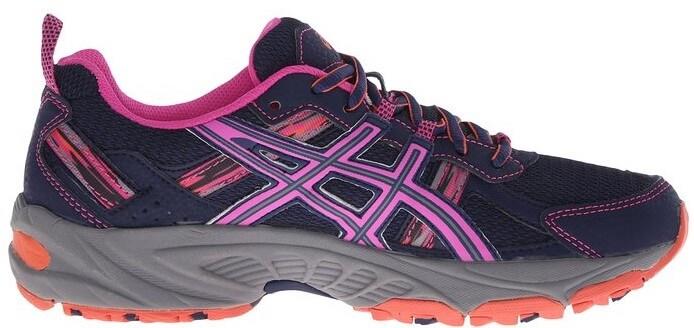 One of the best things you can do when looking for quality shoes is to make sure they're made from the right materials. Of course, different kinds of materials are used to make uppers and footbeds. That's why we'll start by talking about the best materials for the upper parts of the shoe.
Here's the deal:
Most products on our list are made from mesh and leather, and with good reason. Mesh is a stretchy, highly breathable material that allows your feet to move freely without affecting the stability of the shoe. On the other hand, leather is incredibly durable and can be very comfortable as well. Both are very good choices for shoes for high arches.
But:
You also need to pick the right materials for the footbed. While most shoes on our list have outsoles made from rubber, midsoles are a whole other thing. Here we have a variety of both materials and technologies, with the same thing often going by two or more names. But don't worry about it – we've decided to keep it simple and talk about the four basic types of midsoles.
Foam midsoles are excellent when it comes to providing cushioning. That's mostly because they're soft and they easily adjust to the shape of your foot. But of course, everything comes with downsides. In this case, it's the fact that foam wears down after a while, so it's not the most durable material out there.
Gel midsoles are among the best when support is what you're looking for. Since gel comes in liquid form, it first needs to be enclosed in foam. This adds to comfort, but unfortunately, to weight as well. As a result, gel isn't the most lightweight material out there, which might become a problem down the line.
Air midsoles provide both support and cushioning. Of course, in order to do that, the bubbles first need to be trapped in foam. Once they're safely placed in your shoes, air bubbles do a very good job of achieving a balance between support and comfort. However, air escapes the midsoles as soon as foam gets worn out.
EVA midsoles are terrific when it comes to providing support and cushioning. They're also very good at retaining heat and resisting water, which makes them a great choice for those working in bad weather conditions. But one of their best features is certainly shock absorption, that is, their capability to reduce impact on the soles of your feet. That's why they're ideal for working on concrete floors.
Special features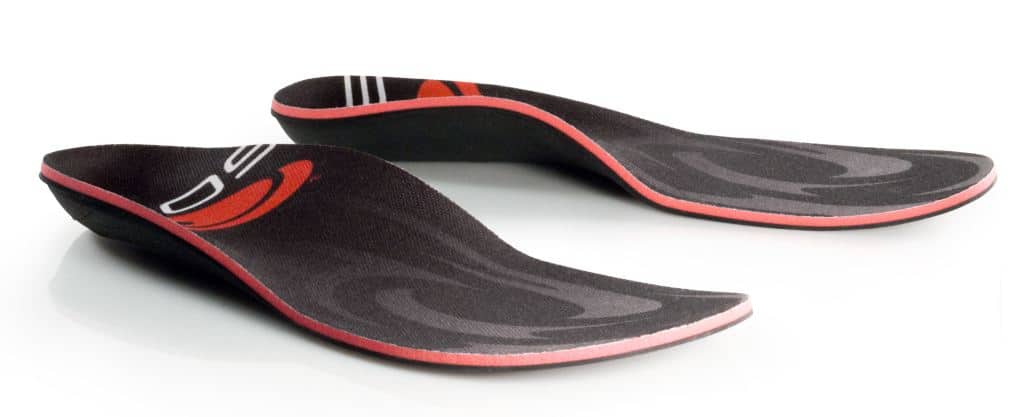 Some of the shoes we've reviewed have removable footbeds. This is an excellent feature for those who like to make cleaning as simple as possible. Instead of trying to wash and disinfect the insoles while they're still in the shoe, make your life easier by taking them out and dealing with them separately.
If odor is what you're worried about, you'll love having antibacterial materials in your shoes. Covering the midsoles and killing odor-producing bacteria, these materials are a godsend for anyone who has trouble controlling the smell of their feet.
Especially when they're made from quality materials, sock liners can make a world of difference when it comes to comfort. They help the shoe adjust to your feet and provide warmth when you need it most.
If you have sensitive skin, you don't want the seams of your shoes rubbing against it. That's why there's such a thing as one-piece uppers. These are made from a single piece of material, which means they won't irritate your skin in the least.
For those who are more worried about safety, there's always the option of getting EH- or ASTM-approved footwear. Being able to protect their wearers from electrical hazards and slipping on wet surfaces, these shoes come in handy to those working in more dangerous conditions.
Make your shoes easier to pull on and kick off by investing in a pair with rear loops. These additions can be found on the back of the shoes and are there to make sure you never get stuck in them again.
And if you need a pair of shoes for special purposes, don't be afraid to search outside this list. People who love traveling, for instance, like to keep an extra pair for when they're on the go. For those purposes, consider investing in the so-called Ultimate Travel Shoe.
Detailed Reviews Of Comfortable Shoes For High Arches
01
ASICS Men's Gel-Kayano 23 Running Shoe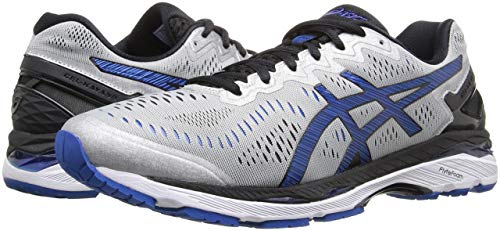 When it comes to running shoes, ASICS delivers both quality and functionality. And we've learned that a lot of really good shoes for high arches fall into the category of running footwear. That's why we've tested GEL-Kayano 23, shoes that have been receiving almost exclusively positive reviews. Let's see what we have to say about them.
Made from multi-directional mesh material, the uppers on these shoes are highly flexible. The FluidFit technology allows them to easily adjust to the shape of your foot. When it comes to support, they depend on the so-called FluidRide midsoles. These do a very good job of providing support without feeling too firm against the soles.
Here's the deal:

FlyteFoam technology is the reason why the support in these shoes is so good. It refers to a new kind of reinforcement fibers that reduce the weight of the midsoles without affecting their functionality. As a result, you get a lighter shoe that's supportive and even gives that bounce that feeds energy back into your movements. And it makes the cushioning last a lot longer than it would have otherwise.
But there's more:
The GEL Cushioning System that's used in the making of these shoes equips them with extra cushioning in the rear and forefoot areas. The purpose of this is to reduce impact on the soles of your feet while you're walking or running. And the rubber outsoles are perfectly capable of preventing mishaps, especially on slippery terrains.
However:
There are a couple of downsides to choosing these particular shoes. First of all, the toe box is a little tight, especially if you don't get the right size, which is something that happens more often than you'd think. Some customers even say that the heel area has too much space, which then affects stability. We didn't notice that, but we also can't say for sure that it's not true.
Also, these shoes aren't as good for running as some of ASICS' previous models. This might not interest you personally, but it's still good to know, especially considering the fact we are talking about running shoes.
Features
Multidirectional mesh
FluidFit uppers
GEL Cushioning System
FlyteFoam Technology
Impact Guidance System
FluidRide midsoles
Rubber outsoles
---
Pros
Adjust to shape of foot
Flexible
Reduce impact on soles
Feed energy back into movement
Provide support with bounce
Provide good traction
Cons
Too little space in toe box
Not that good for running
Some report heels are too spacious
---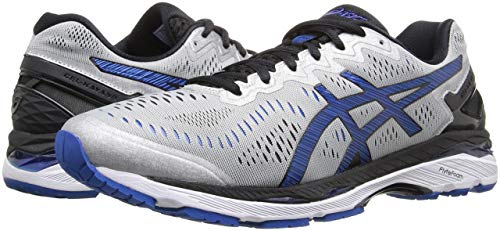 02
Vionic with Orthaheel Walker Women's Walking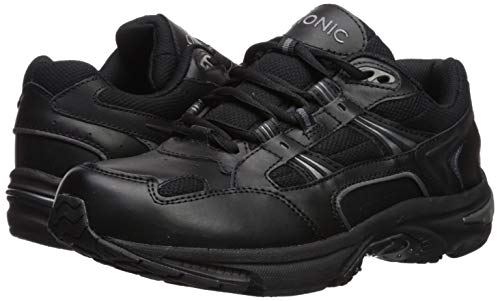 Although they're not among the widely known footwear brands, Vionic products come with really high ratings. They're praised for their professionally made orthotics and the amount of arch support these give. We've found them to be an excellent choice for people with high arches, and what follows is everything we liked and didn't like about them.
Made from full grain leather, the uppers of these shoes are durable and completely water-resistant. Inside we found podiatrist-designed orthotics, just as advertised. These are very well-made, providing both cushioning and all the support your feet might need. But to make things even better, the shoes also come with molded EVA midsoles, which absorb the shock every time the foot hits the ground.
Now get this: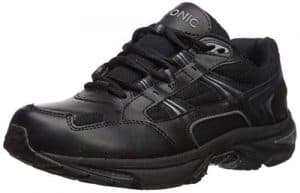 If you're worried about stability, there's really no need, at least not with these heel counters. Made from thermoplastic, they're at the same time firm and flexible – perfectly capable of keeping your heel in place. But there are two things we still have to mention about the orthotics of these shoes. They're removable and come with antibacterial tops, which minimizes foot odor and makes cleaning a lot easier.
But wait:
There are also the polyester mesh liners, which add to comfort and help wick moisture away from feet. And when you need to tie them, the Action Lacing System makes your job easier, at least in our experience. Last but not least, the rubber outsoles are sturdy and capable of providing enough grip to keep you from slipping.
Of course, there are some downsides that come with choosing these shoes. We've found that not all customers are satisfied with sizing, as the shoes are a bit too narrow for those with wide feet. They're also not the best choice if you place a lot of importance on weight. All in all, however, we were really impressed with this model and everything it has to offer.
Features
Full grain leather uppers
Removable orthotics with antibacterial top
Molded EVA midsoles
Rubber outsoles
Active Motion System
Action Lacing System
Polyester mesh liner
Thermoplastic heel counter
---
Pros
Water-resistant
Breathable
Podiatrist-designed
Minimize foot odor
Provide excellent arch support
Reduce impact on soles
Wick moisture away from feet
Improved stability
Durable
Cons
Not all customers find them true to size
Toe box too tight for some
Could be a bit lighter
---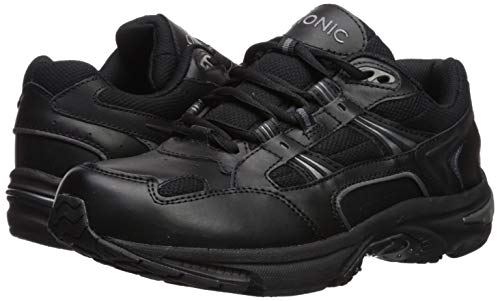 03
Adidas Men's Supernova Sequence Boost 8 Running Shoes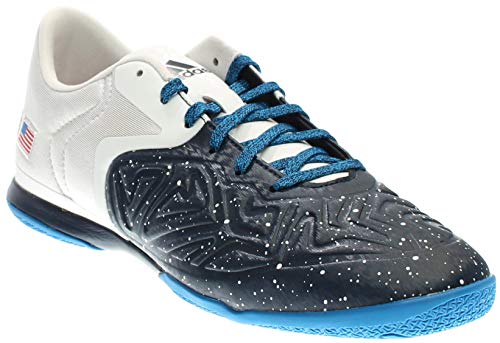 Adidas is among the best-known footwear brands out there, and with good reason. Their shoes are typically very sturdy, comfortable, and supportive. Their Supernova Sequence series was designed to meet the needs of runners, but we believe the Boost 8 model is a great choice for high-arched feet as well. Here's why.
The uppers of these shoes are made from molded synthetic and mesh. While molded synthetic adds to stability, mesh is used to reduce weight. Now, when it comes to support and comfort, EVA stable frame takes care of both. Running along the entire length of the shoe, this frame provides cushioning, but at the same time makes its structure a lot more stable.
It gets better: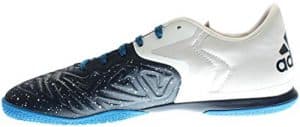 These shoes make use of the brand's BOOST technology, which we'd like to tell you more about. This really refers to cushioning and how it's been made more responsive to an individual's movement and foot shape. Made from BOOST foam, the midsoles have energy-returning properties, which means they give energy back while being used. This type of foam is also very resistant to temperature change, making it a lot more suitable for activities such as running.
Now:
Let's get to the rest of the features that make this shoe a great choice for runners and people with high arches alike. They're designed to provide a snug fit, while their mesh lining and mesh parts on the uppers improve breathability. Their outsoles feature shallow lugs, which were made like that to prevent rocks from getting stuck in them. And as far as we could tell, they deliver when it comes to this particular feature.
However:
You definitely won't find these shoes to be perfect. When we first tried them on, we were a bit surprised at how heavy they are, at least when compared to today's ultra-lightweight models. They also need to be broken in, which might be a deal-breaker to some. And last but not least, they're not as supportive as some other shoes on this list.
Features
Molded synthetic and mesh uppers
Glove fit
BOOST technology
EVA stable frame
Mesh lining
Shallow lugs
---
Pros
Breathable
Adjust to shape of foot
Give energy back to feed movement
Provide arch support
Highly durable
Nothing ever gets stuck in soles
Cons
Provide less support than some of the other models
A bit on the heavy side
Need to be broken in
---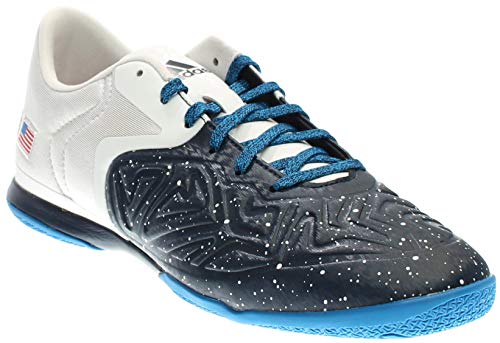 04
New Balance Men's M890v4 Neutral Light Running Shoe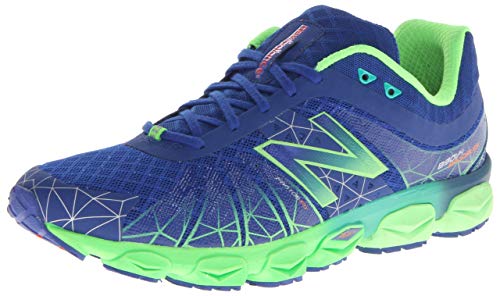 Unlike many of the models on this list, New Balance is a brand that caters to athletes, which is why we had high expectations. Their shoes are supposed to provide plenty of support and just enough cushioning to keep you comfortable. Is this true? We've tried them on and here's what we've found.
These shoes have some great features, but their synthetic uppers are also worth mentioning. They're one of the reasons why the end product is so lightweight--you can barely feel it on your feet. But the real stars here are REVlite foam and ABZORB technology. REVlite foam is the material used to make midsoles for these shoes, and we've found that it provides very stable support that, again, adds to the comfort.
Now: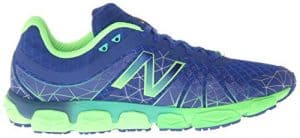 ABZORB cushioning doesn't provide support itself, but it's crucial for comfort. Its purpose is to absorb the shock from every contact with the ground your feet would otherwise absorb.
Their uppers are made from materials that make proper ventilation a reality – your feet simply don't sweat in these shoes.
We also have to mention the huge benefit of having almost no seams. As a result, these shoes are so comfortable against the skin, we came to the conclusion that they could be worn without socks. In addition, the toe box is roomier and the outsoles provide more than enough traction.
What's the bottom line?
These make for an excellent pair of shoes, especially if you put weight and comfort above all else. But we've found them faulty in two respects. Number one, choosing the right size might be difficult for those with wide feet, as with most other shoes on this list. And number two, if your plan includes running in your new shoes, keep in mind these aren't the best running shoes we've tried.
Features
One-piece synthetic uppers
REVlite foam midsoles
ABZORB cushioning
Rubber outsoles
Wider toe box
---
Pros
Lightweight and breathable
Doesn't irritate skin
Comfortable to wear
Firm support with bounce
Reduced impact on soles
Provide excellent traction
Roomier than other models
Cons
Running doesn't feel natural
Those with wide feet should order a size up
Circles on the bottom soon fall off
---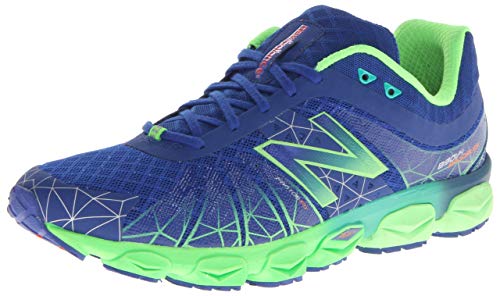 05
Nike Men's Free 5.0 Running Shoe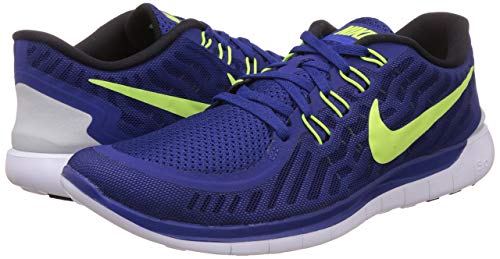 One of many winning series from Nike, Free promises flexible design and lightweight support ideal for runners. Their Free 5.0 is marketed as a minimalist shoe, which doesn't sound all that promising if you have high arches. But we still believe this model gives plenty of support for those who need it.
Made from a combination of synthetic and mesh materials, the uppers boast great ventilation, which adds to dryness and comfort. Flywire Technology is used to improve the level of support given by these shoes. This is done by installing cables that hold the shoe in place without adding too much weight. Nike's Phylite midsoles are made from Phylon EVA foam, which we've found to be even more comfortable than Cushlon.
Guess what: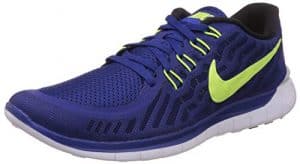 There is more to these shoes than what we've discussed so far. For instance, we haven't mentioned how breathable their mesh uppers seemed to us after trying them out. They also have no-sew overlays, which are supposed to add to both stability and durability without making the shoes themselves heavier. And as far as we can tell, they're doing exactly that.
Also, Free 5.0 comes with rubber outsoles that give a nice enough grip, at least if you're not a professional athlete. But their best feature is definitely the hexagonal flex grooves you can see on the outsoles. The purpose of these is to allow for multidirectional movement, providing increased flexibility and improved comfort. To top it all off, the shoes themselves are quite durable.
Here's the deal:
There are two downsides to opting for these shoes. If you have wide feet, you might find them a bit too narrow. Also, we've found that although they provide plenty of support to the rest of the foot, the heel area doesn't boast such a great design. As a result, these might be a bit uncomfortable to those used to having their heel firmly fixed in place.
Features
Synthetic and mesh uppers
Flywire Technology
Phylite midsoles
Rubber outsoles
Hexagonal flex grooves
No-sew overlays
---
Pros
Breathable
Improved support for arches
Provide enough traction
Allow for multidirectional movement
Lightweight and durable
Very comfortable
Cons
Not enough support for the heel area
A bit too narrow for people with wide feet
Design too pointy for some
---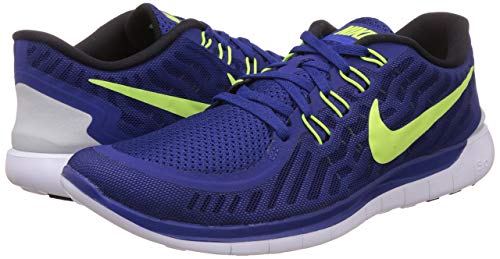 06
Brooks Mens Glycerin 15 Neutral Maximum Cushion Running Shoe
The Glycerin series from Brooks has received a lot of really positive reviews from users from all over the world. Although they're made to be used as running shoes, they have plenty of upsides for those with high arches. Let's see how their Glycerin 15 model fairs when it comes to support and comfort.
The uppers of these shoes are made from a lightweight mesh material. We've found that this makes them very comfy since they weigh next to nothing. What the brand has called 3D Stretch Print technology really refers to how this material reacts when worn, moving and expanding along with your feet to give you all the flexibility you might need.
It gets better: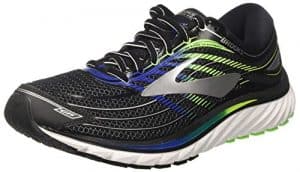 The soles are what makes these shoes so great for people with high arches. Their so-called Super DNA midsoles boast improved cushioning. Being highly adaptable, they make for an excellent choice for those who don't feel comfortable enough in regular shoes. In addition, the soles have transition zones that have been redesigned to reduce impact on the heels.
There's more to what these shoes can offer, especially in terms of stability and comfort. Their rubber outsoles feature lugs that make it very hard for the wearer to lose their footing. Also, the mesh uppers aren't just lightweight, but very breathable as well. From our experience, we can say that they keep feet dry, adding to comfort.
But wait:
You shouldn't really make any final decisions before learning about the downsides of wearing these shoes. We've done our research and believe that the two main cons have to do with the sizing chart and the feel of the shoes themselves. When talking about sizing, customers with wider feet report they have trouble finding a pair of Glycerin 15 shoes that fit comfortably. Also, some have complained that the shoes look a bit cheap, at least when compared with the pictures.
Also:
The shoes aren't that suitable for runners, despite being advertised as running shoes. We've found that they lack the support that's key when it comes to sports footwear, especially around the ankle area. But we don't believe that's so important in this particular case.
Features
Mesh uppers
3D Stretch Print Technology
Rubber outsoles
Super DNA midsoles
Improved transition zones
---
Pros
Lightweight and breathable
Adjust to your feet's movements
Provide good traction
Feature adaptable cushioning for improved comfort
Reduce impact on heels
Cons
Don't provide enough support for running
Feel somewhat cheap
Sizing not that intuitive when you have wide feet
---
07
ASICS Women's Gel-Kinsei 6 Running Shoe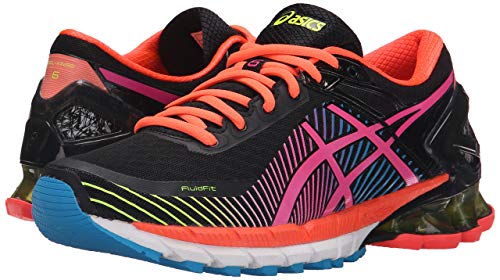 If what you're looking for are lightweight, supportive shoes with a fun design, you should at least consider ASICS. They're a brand that's gaining popularity among runners from all over the world. However, some of their products give enough support even for feet with high arches. GEL-Kinsei 6 are among those.
These shoes have synthetic uppers, which adds to them being lightweight. But the biggest factor here is definitely the Trusstic System technology, thanks to which the soles are a lot lighter than usual. When it comes to support and comfort, the shoes have gel cushioning in both the toe area and the heel area. This makes it easier for the foot to go through the gait cycle without too much strain.
Want to know the best part?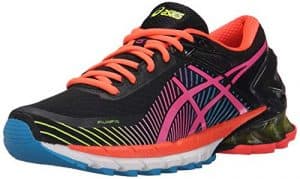 The gel in these shoes is made to provide cushioning, but it's flexible enough to give that bounce as well. Pair that with the Impact Guidance System, which absorbs the shock that's usually experienced while walking or running, and you get a pair of comfy shoes. In addition, the rubber outsoles have lugs that make them capable of protecting against slippage.
But wait:
There are more benefits to wearing shoes with this kind of uppers. Since they're made from quality synthetic, they allow the air to circulate and your feet to remain dry. But what's more important is the fact that the synthetic is completely seamless, as well as multidirectional. As a result, the shoes themselves are a lot more flexible and less likely to irritate the skin.
What's the bottom line?
These are obviously great shoes, but they come with downsides as well. The biggest we could find is the fact that they can cause friction, making feet sweat and feelings of discomfort appear. Because of this, they're not that good of a choice for those who'd actually go running in them. On the flip side, this problem doesn't seem to appear when you wear them for walking.
Also:
We've found that GEL-Kinsei 6 isn't spacious enough for those with wider feet. The middle part is especially tight, so don't make any final decisions before carefully studying the sizing chart. And last but not least, the design makes some people see the shoes as cheaper looking.
Features
Seamless synthetic uppers
Gel Cushioning System
Trusstic System Technology
FluidRide Technology
Impact Guidance System
Rubber outsoles
---
Pros
Lightweight and breathable
Reduced chance of irritation
Provide support with added bounce
Reduced weight of soles
Improved flexibility
Reduced impact on soles
Provide good traction
Cons
Not suitable for wide feet
Fabric causes friction
Look a bit plastic
---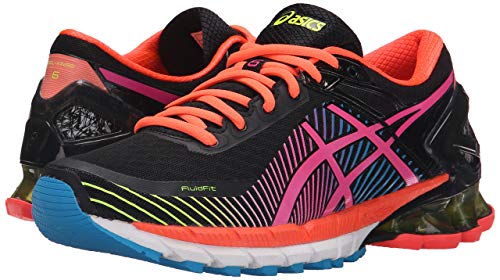 08
Mizuno Men's Wave Prophecy 5 Running Shoe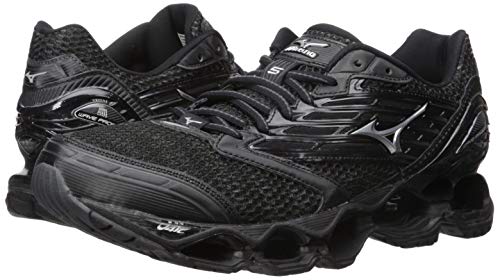 With over a century of experience in making footwear, Mizuno is a strong competitor to some of the better-known brands on this list. To make their products even better, they've patented their own technologies, which we've had the chance to test while trying out their Prophecy 5 Running Shoes.
For us, the best part of these shoes were the uppers. Made from high-quality AIRmesh material, they're so breathable, you can almost feel sweat leaving the shoes while still wearing them. To make it even better, the material is reinforced so that the end product is among the more durable on this list.
And guess what: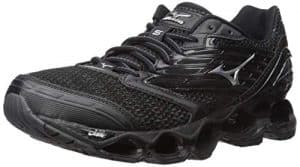 Thanks to Dynamotion technology, these uppers are capable of adjusting to your foot's shape. This makes them very comfortable to wear, even for longer periods of time. The interior features a sock liner that adds to comfort, wrapping the feet snugly and keeping them warm.
Now:
What about support and comfort? Mizuno have their own technology that takes care of this, which they call SmoothRide midsoles. While the midsole itself is made from the company's own compound, it also features Flex Controllers and Flex Grooves in both the heel and forefoot areas. The result is a rocking-chair motion that provides a much smoother ride.
Another one of Mizuno's technologies – Infinity Wave – actually refers to soles with plates in them, the purpose of which is to achieve a balance between stability and cushioning. The plate's job is to absorb and then dissipate impact forces while you're on the move. We have to say it definitely made it fun to run in these shoes – it produces an odd, yet pleasant sensation of walking over dry twigs.
However:
Since it's sandwiched between cushioning pillars, this plate is supposed to provide both support and comfort. We have to say we were a bit disappointed in it. The shoes weren't as comfortable to walk in as we'd hoped and we had a feeling that they could give more support than they were already giving.
We've also found the shoes a bit too heavy, especially for running and all-day wear. Also, if you have wide feet, be careful when checking measurements. There have been complaints from people saying Mizuno's models are smaller than they used to be.
Features
High-quality AIRmesh uppers
Dynamotion fit
Infinity Wave Technology
SmoothRide midsoles
Rubber outsoles
Sockliner
---
Pros
Breathable
Adjust to shape of foot
Reduce impact on soles
Provide support and cushioning
Fun to run in
Durable
Cons
A bit on the heavy side
Too narrow for some feet
Not that comfortable
---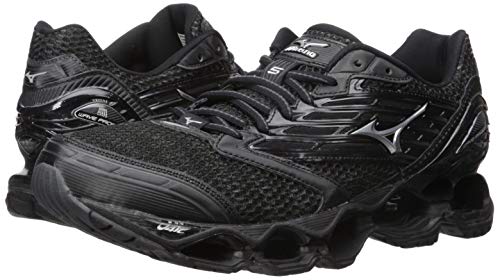 09
Skechers for Work Women's Shape Ups Slip Resistant Sneaker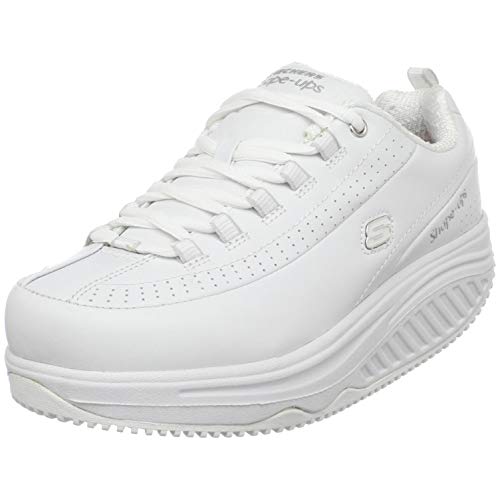 For a time, Skechers were more popular among teenagers than they were among adults. With their Work series, however, they've started changing their customer base to accommodate pretty much everyone. Shape Ups are a model that promises high levels of support and comfort, as well as protection from mishaps. Let's see if it delivers.
Made from quality leather, the uppers on these shoes are durable, but they don't provide as much ventilation as some other models on this list. They are perforated, though, so it's not like your feet are incapable of breathing while wearing them. The midsoles are made from EVA foam, which is a material known for being tough, yet comfortable. This is also the part of these shoes that provides almost all the support, which is enough for most.
But that's not all: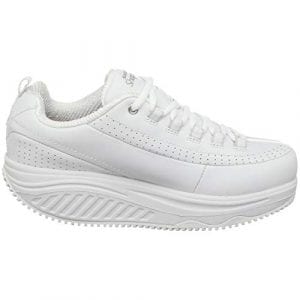 The interior of the shoe is lined with fabric to make them more comfortable for all-day wear. But what we liked a lot more than that were the padded tongue and collar, which really add to the comfort. Also, the heel is equipped with a nylon loop that can be used to put the shoes on and kick them off with ease. Doesn't sound all that important, but it actually saves both time and effort.
It gets better:
These shoes are both EH- and ASTM-approved. Standing for Electrical Hazard, EH ratings tell us how our footwear would behave in the event of, let's say, a short circuit. The fact that it's EH-approved means that this shoe keeps its wearer safe from injuries. It's also less likely for their wearer to slip while wearing these shoes, which is what ASTM ratings stand for.
Now:
Let's talk about what we believe are the cons to owning these shoes. During our research, we've found that people with wide feet have trouble finding the right size. This is a very common issue with shoes, but it's still important to mention. Also, the outsoles aren't glued as well as you'd hope them to be, so there are numerous complaints about them separating from the base of the shoe.
Features
Leather uppers
EVA midsoles
Fabric lining
Rubber outsoles
Padded tongue and collar
Rear nylon loop
EH-approved design
ASTM-approved design
---
Pros
Comfortable to wear
Provide lots of support
Keep safe from electrical hazards
Protect from slippages
Easy to put on and kick off
Cons
Too narrow for some
Too little space in toe box for some
Outsole quickly starts separating
---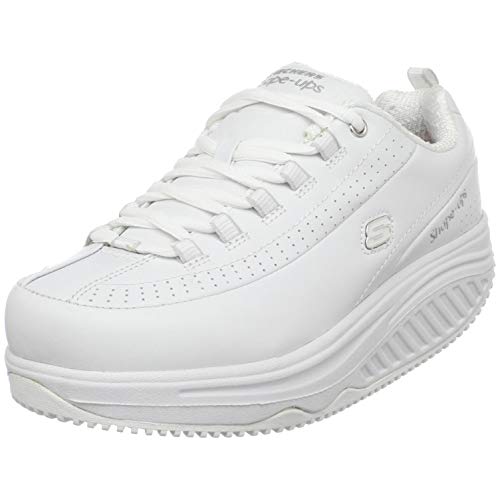 10
NIKE Men's Air Zoom Pegasus 34 Running Shoe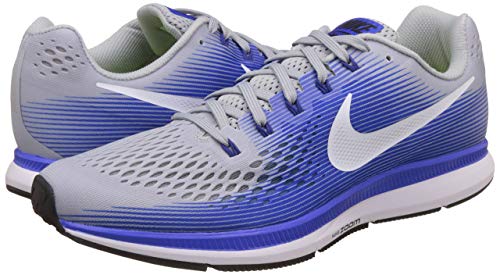 Nike has been creating top-quality shoes for quite some time, with models being constantly improved to give an even better user experience. Their Pegasus 34 has been ranked among the best footwear for running, but they're great for people with high arches, too. Let's see why exactly that is.
Engineered from synthetic and mesh materials, the uppers of these shoes make them lightweight, which is a big factor whenever we talk about comfort. Their Cushlon foam midsoles are at the same time soft and springy, making it easier to wear them without getting tired. But they also have something called Zoom Air units, which are tightly stretched fibers placed inside pressurized units. What they do is provide you with cushioning that's highly responsive to your foot shape and movements.
This is where it gets good: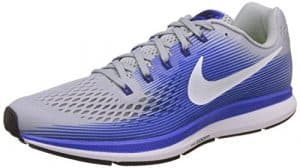 Pegasus 34 also boast Dynamic Fit technology, which is probably the most important feature for people with high arches. This technology uses cables to provide support wherever it's needed, much like the cables you can see on suspension bridges. As a result, you get a shoe that reacts to the needs of your foot, which is something our research has managed to confirm.
But that's not all:
These shoes have mesh sock liners that adjust to the shape of your foot, which makes wearing them all the more comfortable. The uppers are also made from mesh, allowing the air to circulate and in turn helps in keeping the feet dry. The rubber outsoles feature crash rails that act as cushioning devices for a much smoother walk. They also have waffle pistons, waffle-shaped lugs that help reduce impact and provide traction.
However:
These shoes aren't perfect. A lot of people find them too narrow, especially when their feet are wide. We've been told by people who are usually on their feet all day that this particular model doesn't provide enough support for such purposes. It's also not that durable when compared with some other models.
Features
Engineered mesh uppers
Dynamic Fit Technology
Zoom Air units
Cushlon foam midsoles
Rubber outsoles
Mesh sock liner
Rubber crash rails
Waffle pistons
---
Pros
Lightweight and breathable
Easily adjust to your feet
Provide adaptable cushioning
Reduce impact on your soles
Provide excellent traction
Don't need to be broken in
Cons
Too narrow for a lot of people
Don't provide enough support for all-day wear
Not that durable
---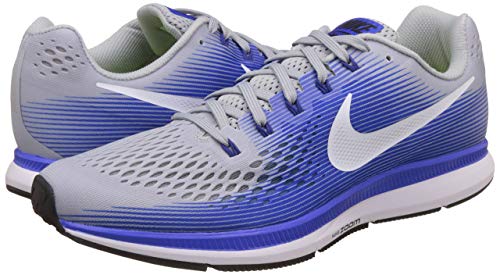 Best Choice If: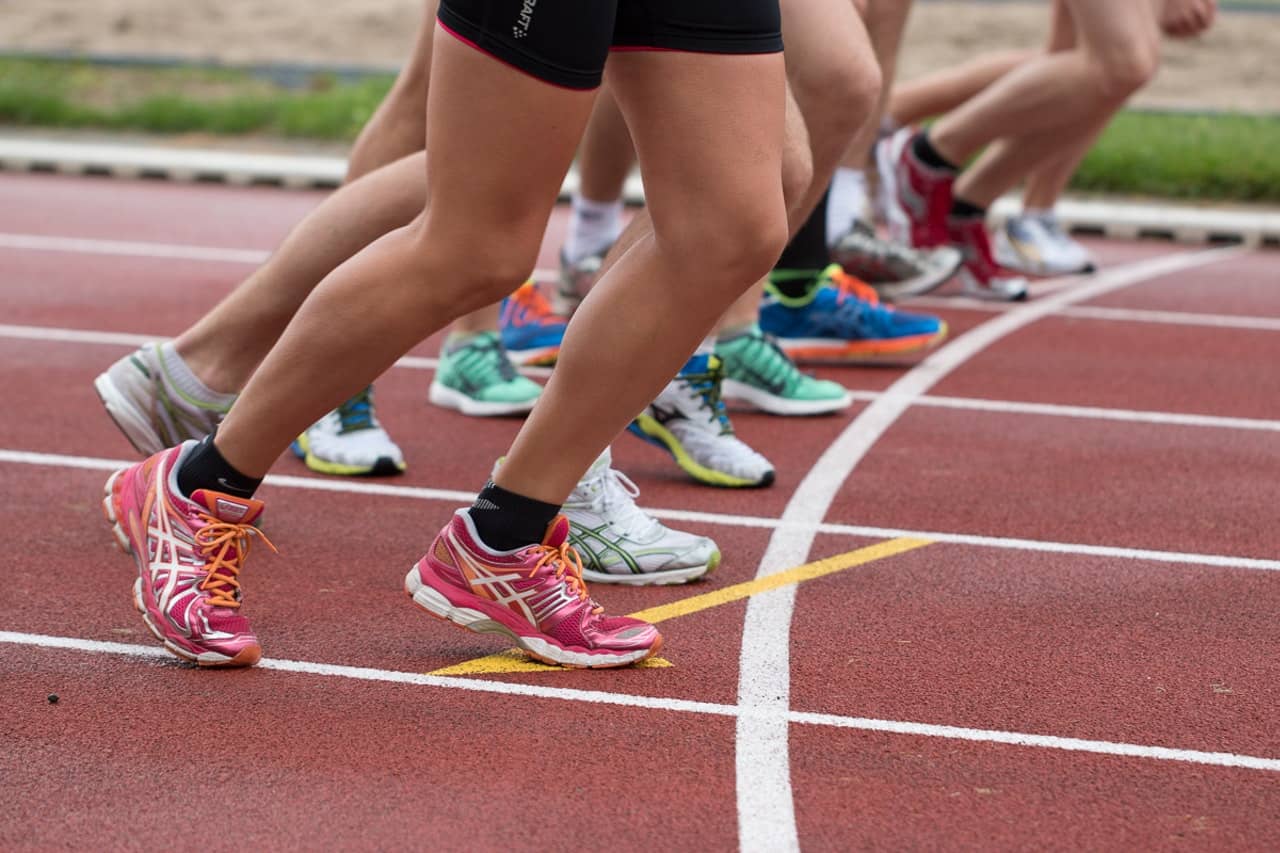 You Want The Best Possible Support
When it comes to support, ASICS Men's Gel-Kayano 23 Running Shoe are among the best. Featuring FlyteFoam reinforcement fibers, they boast a high level of stability without it adding to the weight of the shoe itself. Their FluidRide midsoles give you support, but they don't feel rigid as a result. Instead, you get that bounce that feeds energy back into your movements.
To top it all off:
There's extra cushioning in the toe and heel areas, which makes the shoes even more comfortable. However, this also serves as a way to absorb shock, making it easier on your feet to stay fresh and on you to keep moving.
You Want Something Durable
Durability is a great quality in a shoe, which is why we loved Nike Men's Free 5.0 Running Shoe so much. These shoes boast no-sew overlays, which means they're more stable than your regular pair of shoes. But what's so clever about this is the fact that it doesn't affect their weight at all. In addition, Flywire Technology adds even more stability with the help of lightweight cables, the purpose of which is to hold the shoes in place.
Of course:
These shoes have plenty of other benefits, such as the hexagonal flex grooves that are supposed to allow for increased flexibility. As far as we can tell, they've succeeded in doing so.
You Want Something Waterproof
There aren't a lot of truly waterproof shoes, which is why we were so excited when we came across Vionic with Orthaheel Walker Women's Walking. Their uppers are made from full grain leather, which is one of the best materials for keeping water away from your feet. They even have polyester mesh liners, which are great at wicking moisture away from your skin. So you don't have to worry about sweating either.
It gets better:
Since they have podiatrist-designed orthotics, these shoes are excellent at providing support as well. Thanks to their EVA midsoles, they're even capable of absorbing shock to make each step easier.

You Want Protection From Possible Injuries
Safety is crucial when you work in dangerous conditions. That's why Skechers for Work Women's Shape Ups Slip Resistant Sneaker are so practical, giving you protection from electrical hazards and making sure you don't lose your footing on wet surfaces. They're EH- and ASTMA-approved, so you can rest assured they're the real deal and not just another pair of regular shoes.
But wait:
We should tell you that these shoes also come with quality EVA midsoles. As a result, they're perfectly capable of providing support and making you comfortable, especially since they have a padded tongue and collar.
You Want The Best Bang For Your Buck
There's no need to spend a lot of money to get a decent amount of support for your high arches. Although they're not the best, adidas Men's Supernova Sequence Boost 8 Running Shoes serve their purpose. Their specially made BOOST foam provides support, all the while giving energy back to you. The shoes are made to be even more stable with the help of an EVA frame that runs along the length of the entire shoe.
But:
Our favorite thing about these shoes is definitely the fact that their BOOST foam resists temperature change, making the shoes a lot more comfortable to wear.
Choosing Sizes And Caring For Your Shoes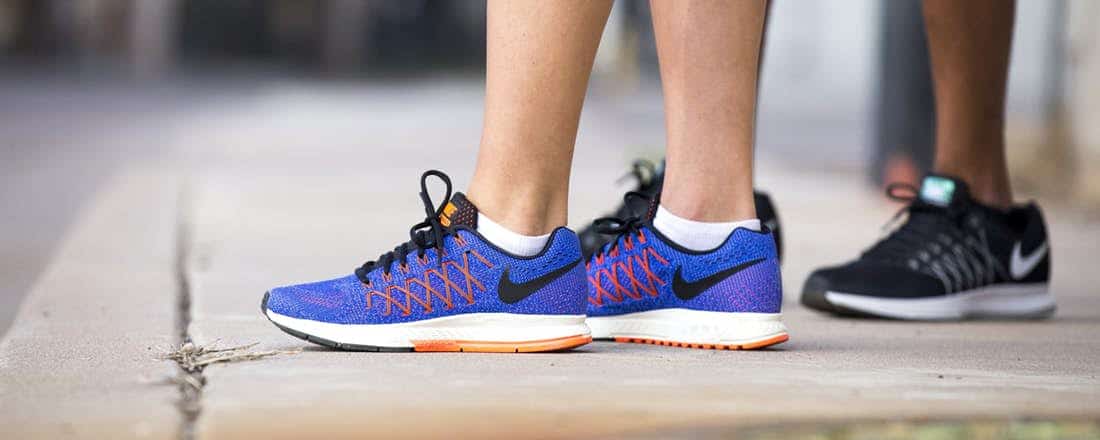 You might've noticed that sizing tends to be a problem when buying footwear online, and shoes for high arches are no exception. Nowadays there are so many brands and models out there, it's too much to ask for all of them to be in perfect sync, especially since there are no actual standards for sizing. It can also be hard to know how to care for your shoes once you've bought them, which is mostly due to an enormous number of different materials. Browse through this quick guide for tips on how to avoid problems.
How To Pick The Right Size When Buying Shoes Online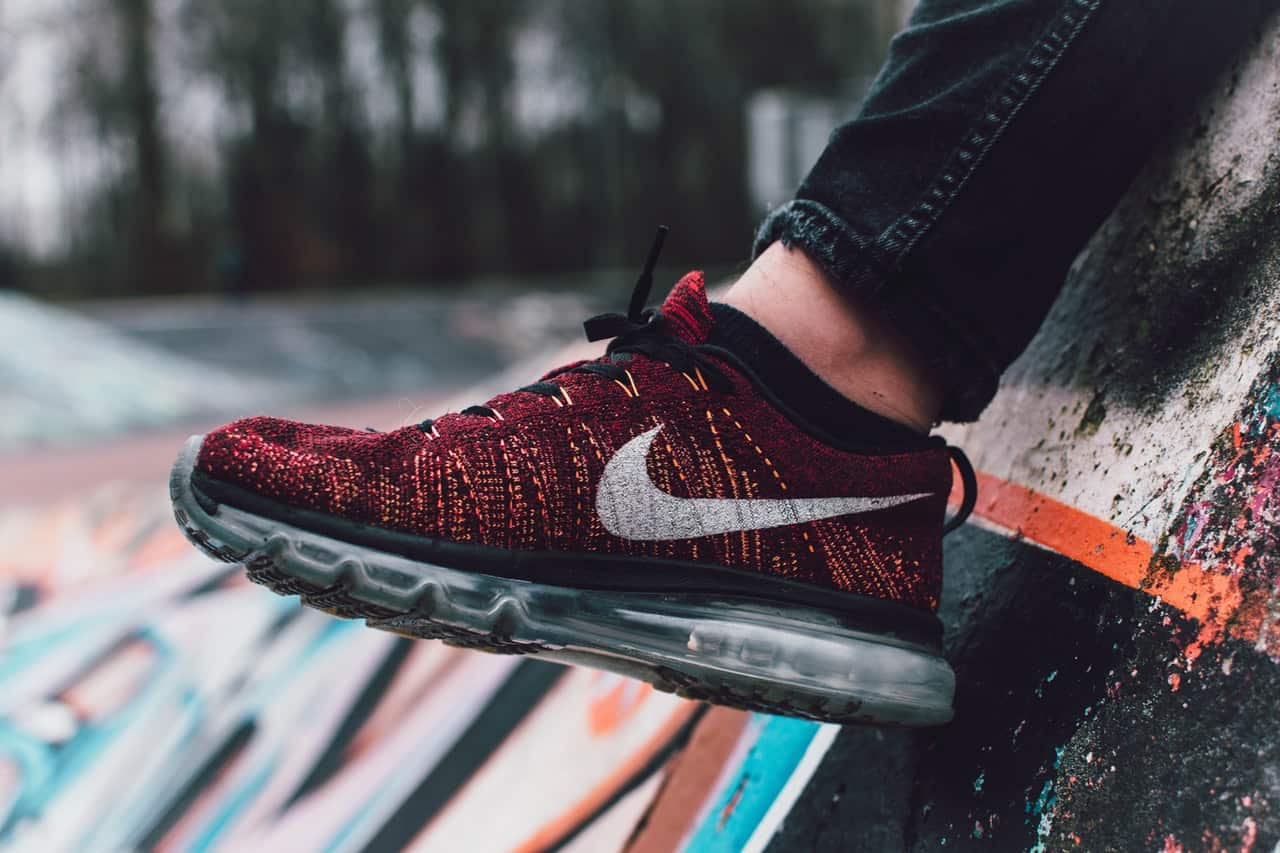 Never buy anything without checking measurements.
And by measurements, we don't mean sizes, but length and width in inches. Many brands have their own sizing charts, which means the same size doesn't guarantee the same fit. This is especially true for width, since we've found that many people with wide feet end up with shoes that are too narrow. That's why you should always check the measurements before placing your order.
Make sure to read some of the customer reviews.
Sometimes sizing charts don't contain all the information necessary to make the right decision. This happens very rarely, but there are also cases when the measurements aren't correct. This is where customer reviews come in handy, helping you find the right size despite the information in the listing being wrong. To avoid ordering ill-fitting shoes, check the reviews for mentions of sizing issues.
Measure your feet at the end of the day.
Before you make your purchase, take the time to measure your feet, especially the length and the width. But according to OnHealth, there's a specific time of day when you should do this – in the evening or at the end of your day. The reason behind this is the fact that your feet get swollen during the day, which in turn affects the measurements. And you'll want to make sure your new shoes fit perfectly throughout the day.
Allow some extra room between the tip of your longest toe and the front of the shoe.
If you want your shoe to fit perfectly, you'll have to make sure there's some room left between your toes and the front of the shoe. Otherwise, you'll end up feeling an unpleasant tightness in the toe box, which can't be fixed. According to Mayo Clinic, the best thing to do is to add the width of your thumb to the length of your foot. That should be enough to ensure a good fit.
Keep in mind your feet aren't the same size.
Most people's feet aren't the same size, with one foot being slightly larger than the other. In order to prevent your new shoes being a good fit to only one foot, measure them both. Of course, use the measurements of the larger foot to look for the right shoe size.
How To Properly Care For Your Shoes
Before you do anything, check which materials have been used to make your shoes. Most products on this list are either leather or mesh shoes. What follows is a quick guide on how to take care of both types.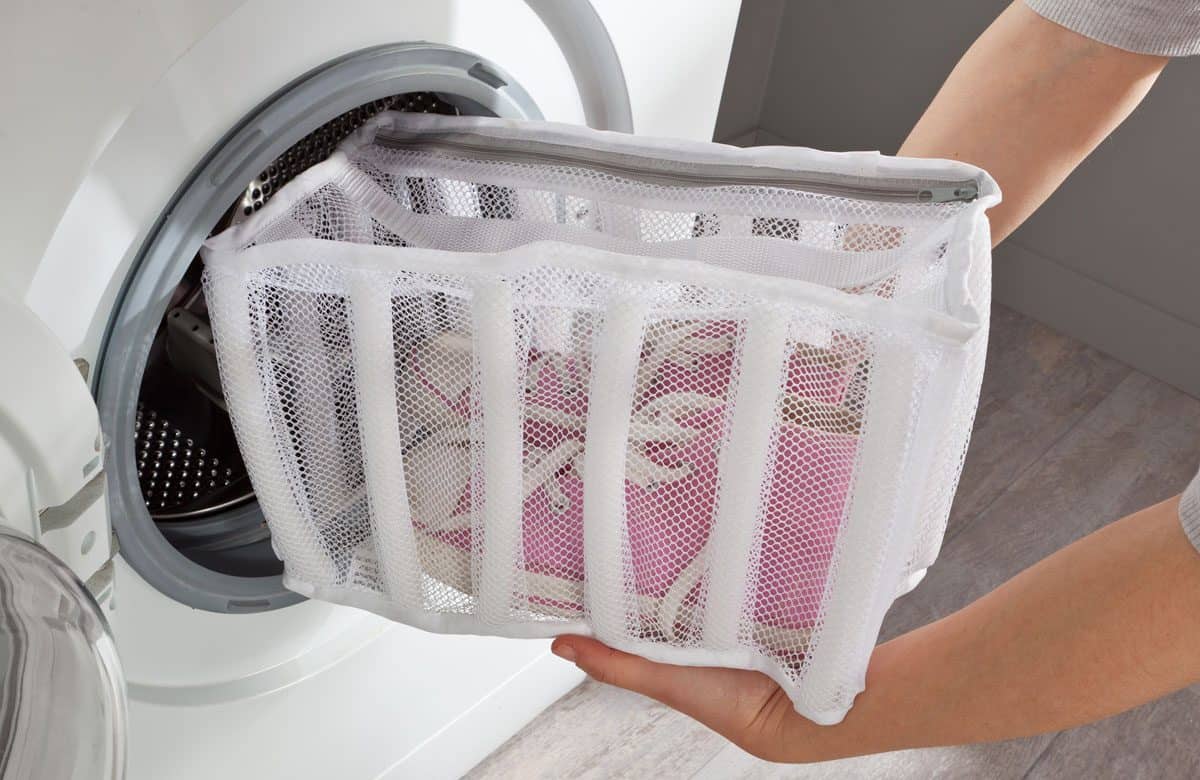 Mesh shoes
There's no need to get your shoes wet when you only want to get rid of the dirt. Instead, leave them to dry and use an old toothbrush to get the dirt off. Work it in slow, gentle circles to avoid pushing anything deeper inside the material. This should make your shoes look clean again, at least when they're not in need of thorough cleaning.
If there are stains on your shoes you'd like to remove, your old toothbrush certainly won't do the trick. You'll need to make a solution using detergent and hot water. Once you've done that, submerge your shoes in it, but make sure you don't get foam materials into contact with water. Leave the shoes to soak for a couple of hours and then rinse them with warm water.
But wait:
If you fear what water might do to the color or the feel of the materials, use specialized products instead. There are foams designed for cleaning without water, most of which are suitable for use with mesh shoes. To clean with this kind of product, you only need to put a small amount of it on a brush and rub the surface of your shoes until there are no more stains. But make sure to use gentle motions to avoid damaging the materials.
Leather Shoes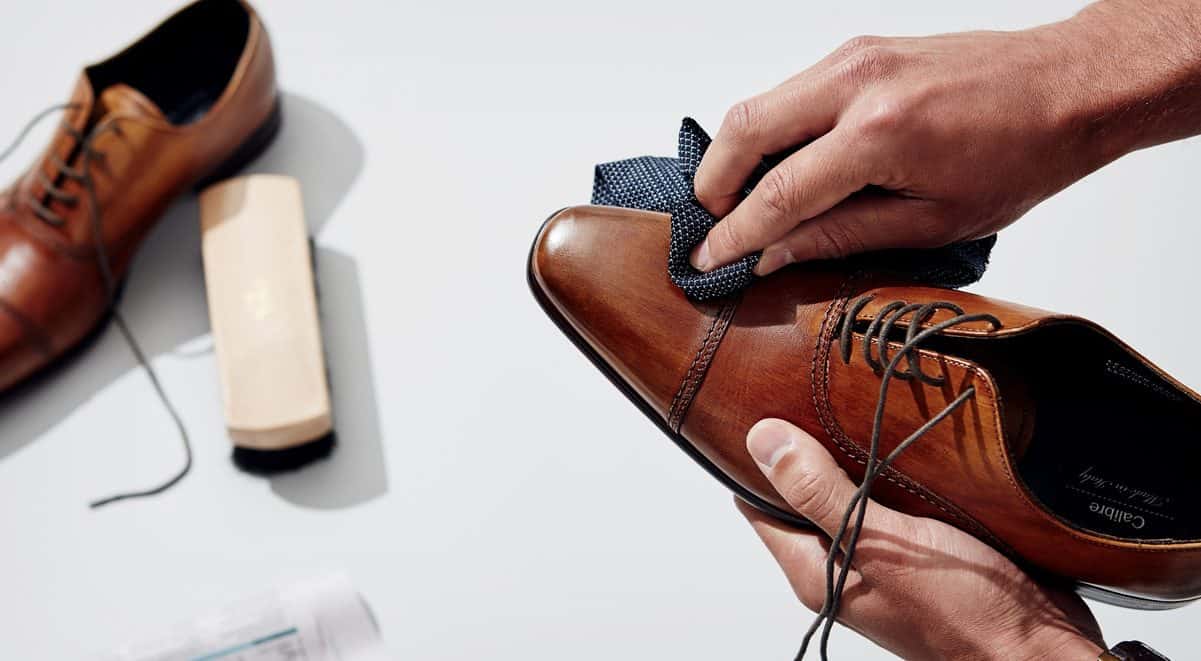 Leather is a very durable material, but if you don't want it to lose its good looks, you should maintain it regularly. But it's just as important to do this properly since leather can easily be damaged by being submerged in water and treated with aggressive cleaning products.
Try a product made especially for cleaning your shoes. Some we are like are:
If your shoes don't have any visible stains, you can focus on getting rid of the dirt. First, you need to leave them to dry in order to make this job easier for yourself. Then take a soft-bristled brush, which can be your old toothbrush as well, and try to brush away the dirt. If you use gentle, circular motions, you'll avoid pushing it deeper into the material.
For stains that won't come off just like that, try using a solution of water and white vinegar. Dip a clean cloth in it and wipe down the uppers. Leave the shoes to dry before rubbing them with another clean cloth. This should get rid of even the most stubborn stains, leaving your shoes looking clean.
However:
With leather shoes, cleaning is only a part of the process – you should also treat scuffs and protect the leather from cracks. For scuffs, use baking soda and a wet cloth. Dip the cloth in some baking soda and rub it over the problematic areas. You might need to repeat the process, but it should leave your shoes scuff-free.
To prevent the leather from becoming rigid and even getting cracks, invest in one of the many products designed specifically to nourish and protect this type of material. You'll be able to choose between creams, oils, and even foams. But whatever you pick, make sure to use it at least once in three months. Your shoes will last you a lot longer if you take the time to do this.
For alternative ways to clean your leather shoes, check out this video.