The Ultimate Buyer's Guide: Find The Best Scrubs For Ladies
You've found the best watch for your calling as a nurse or healthcare provider.
Now let's dive into your actual clothes for the job.
No longer the stereotypical white dress and hat of nurses until the 1950's, today's uniform typically consists of a scrub top and scrub pants.
Now…
From a quick glance, scrubs look simple.
You might think, a scrub is a scrub is a scrub.
Well, not really.
Many scrubs are unisex, so any healthcare professional–male or female–can wear them for work. Unisex scrubs, however, often are big, boxy, and shapeless.
What can be done?
As we mentioned earlier, the majority of healthcare professionals are female.
Scrubs need to fit women well.
Plain and simple.
Right, ladies?
?‍⚕️?‍
Guess what?
We have good news.
Scrub manufacturers are listening. They're now designing styles specifically geared for women.
Scrubs that are comfortable yet practical…
Roomy but not boxy…
Functional yet fashionable….
You know, basically what we've been wanting for ages now. Because, gosh darn it, we deserve it.
So, how do you pick the right fit in scrubs for you?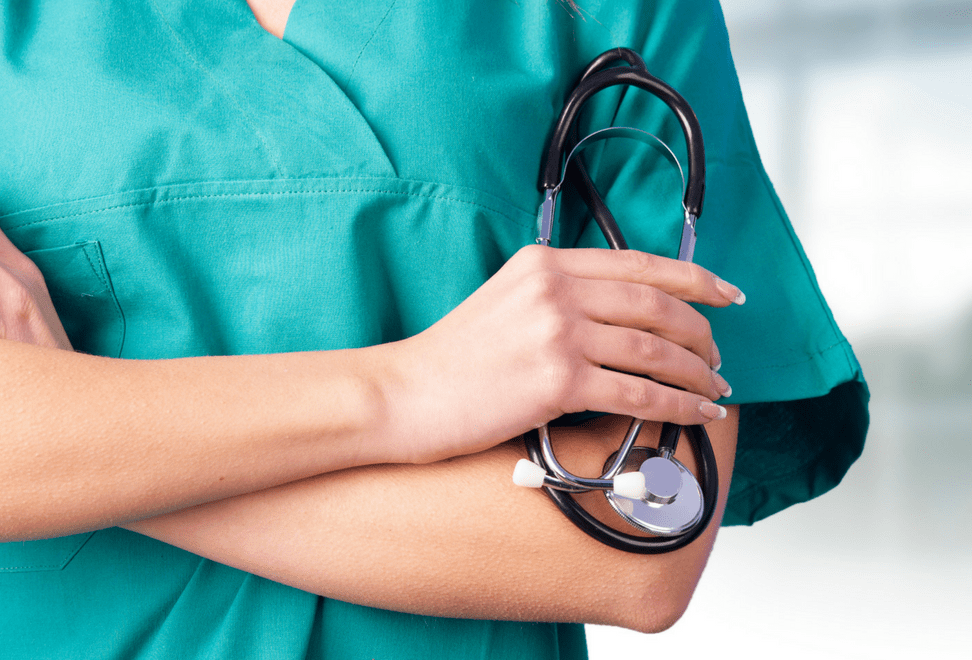 Let's start here:
When researching different scrub manufacturers, pay close attention to the following factors:
Fabric Content
Many scrubs are made of a blend of cotton and polyester. Some styles contain only cotton, only polyester, or a blend of one or both with other fabrics like rayon, spandex, etc.
Most important for you is how the fabric feels.
Is it soft and comfortable?
Or is it rough and/or stiff?
Is it breathable?
Do you want only 100% natural fabrics?
Stretch
The fabric content determines the clothing's ability to stretch. Since you'll be running around, reaching, bending, maneuvering patients and equipment, and doing much more, you need scrubs that allow freedom of movement.
Of course scrubs aren't spandex leotards for performing acrobatics in the medical arena.
Nonetheless, a little spandex or another fabric blend that allows for a bit of stretch is welcome.
Durability
A scrub fabric's content and its construction affect the clothing's durability.
How tough is the garment and is it still comfortable?
For hygiene purposes as well as professional appearance, nurses and other healthcare providers need to wash their scrubs constantly.
How well and how long do the scrubs hold up to frequent washes? How many cycles in the washing machine and dryer can they last and still look presentable?
Easy Of Care
Speaking of washing, after working a long shift, can you simply toss dirty scrubs into the washing machine and the dryer?
After the dryer buzzes, presto–are your scrubs ready to go for the next shift? Or do the scrubs come out of the dryer wrinkled and need ironing?
Moisture Wicking Ability
Nurses and other healthcare workers often have liquids spilled on them.
Can you relate to that? If so, you'll know…
Waiting until the end of a 12-hour shift is a long time to run around in wet clothes.
Look for scrubs made with moisture-wicking material. Something that pulls external liquids as well as sweat away from your skin.
Style
Is the scrub's cut very basic and unisex? Or are the scrub pieces–top and pants–designed for women?
Ladies' scrubs tend to be narrower yet more accommodating of curves than unisex scrubs are.
Pockets
Caregivers love and need lots of pockets! The number and placement of pockets on both on the scrub top and pants are important for practicality and convenience.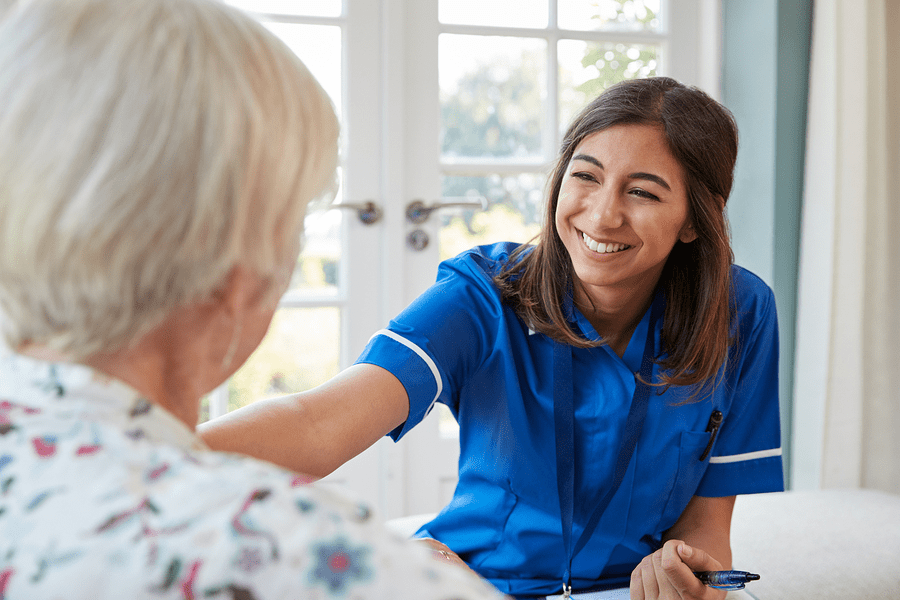 Colors
Hospitals and medical offices differ in their policies as to what colors nurses and other healthcare providers can wear.
Some offer plenty of freedom while others have strict uniform rules.
We read vocal feedback on colors–which ones fade, which ones don't, which ones are cheerful and flattering, which ones are see-through or just plain ugly, and more.
We'll talk more in-depth about colors in just a bit. But, first, there's a few more things we want to mention.
Price
How much can or are you willing to pay for a scrub outfit or a single piece?
Also, if you like a particular brand and/or style, do you want and are you able to buy more (either in the same or different colors)?
From Florence Nightingale To Today: The Evolution Of Nursing Uniforms Into Scrubs
It all began with Florence Nightingale, a "pioneer of nursing and a reformer of hospital sanitation methods" who helped the practice of nursing gain professional respect.
In the mid-nineteenth century, she created the first nursing uniform which consisted of full-length, long-sleeved dark dresses, and white apron.
But…no masks or gloves that "were meant to protect nurses from illness."
And then…
During World War II, nursing dresses and sleeves became shorter, perhaps as a result of war rationing and the recognition of the need for greater mobility.
The stereotype of a nurse's all-white uniform consisted of a dress, a starched apron, stockings, a cap and rubber shoes.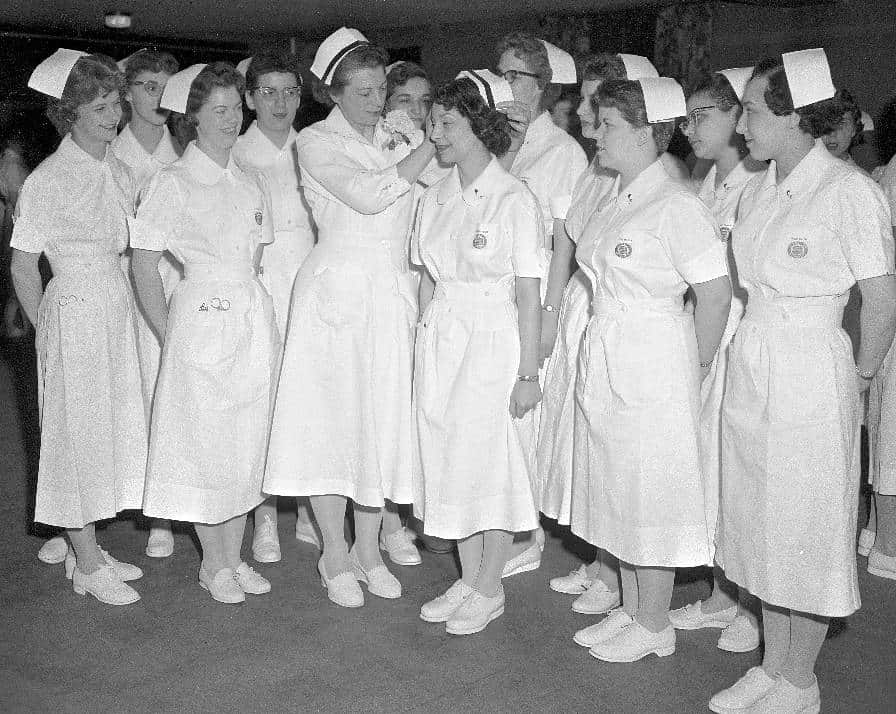 The 1960s, however, saw a trend of more unisex clothing styles.
In fact, the "nurse pantsuit made an all-too-brief appearance in the 1970s!" Also, more men entered the nursing profession in the 1970s.
Around the same time…
For surgeons, surgical greens became the standard uniform.
The color green reflects less glare from bright lights than white does–making it easier on surgeons' eyes.
Also, green is complementary to red (i.e., on the opposite side of the color wheel), easily distinguishing it from blood and preventing the eyes from becoming desensitized to the color red.
Surgical greens formed the prototype for today's non surgical scrubs.
Now, here's something else that's interesting…
The original green scrub uniform, however, didn't differentiate among "staff positions or departments, so nonsurgical scrubs became the accepted uniform for other healthcare staff.
Available in a variety of colors and patterns, they provide a way to distinguish between patient care departments (emergency, labor and delivery, pediatrics, etc.), patient care personnel (nurses, respiratory and physical therapists, etc.), and assistive personnel and support staff (dietary, unit clerks, transportation, etc.)."
Later…
In the 1980s and 1990s, scrubs became the standard uniform for nurses and other medical personnel.
People liked the advantages and convenience that scrubs offered over traditional white dresses: they're comfortable, easier to work and move in, have many pockets for carrying tools and equipment, and "can be washed frequently in the harsh cleaners necessary to make them sanitary enough for continuous hospital use."
Also, both female and male nurses could wear scrubs.
Can you believe this?
We found an interesting article in the online magazine Scrubs: The Nurse's Guide to Good Living on the importance of these garments in such a demand profession.
The August 2017 piece entitled "Report: Ability To Wear Scrubs To Work Is Only Thing Keeping Health Care Professionals From Quitting" states "According to a recent poll of nearly 20,000 health care professionals jointly conducted by the American Academy of Physician Assistants (AAPA), American Medical Association (AMA) and the American Nurses Association (ANA), 99.8% of health care professionals say their ability to wear scrubs, also known as work pajamas, is the one thing keeping them from quitting their professions entirely."
That's understandable
Caring for sicker patients, covering more patients with smaller staffs, dealing with electronic health records and insurance companies, and encountering endless challenges lead to increasing burnout.
At the very least, healthcare professionals should be able to wear comfortable clothes when performing their often tough, thankless jobs.

What About Colors?
Some hospitals require medical personnel to wear certain colors (or, if allowed, patterns) according to department.
Other hospitals don't.
Doctors and veterinary offices also may specify which colors its staff can wear–or give them free rein.
In any case, the scrubs you chose to purchase obviously depend on if your workplace has color restrictions.
Pros include:
Cons include:
Feeling stifled?
If your employer requires you to wear a specific color, how can you distinguish yourself from others and inject a bit of personality?
If allowed, maybe wear an undershirt that peeks from under the V-neck and contrasts the scrub's color. If you really want to push the boundaries (but not lose your job!), wear bright or uniquely printed nursing clogs.
In the end, though, be sure you still look professional and can complete your tasks successfully.
Color Me Beautiful
Okay, let's take a minute to emphasize appearances, or in this case, scrub colors. No one wants to wear an unflattering color when donning just the right hue can make you feel good.
When organizations assign uniform colors or when healthcare workers are permitted to choose their scrub colors, which tones do organizations and individuals pick and why?
Want to hear something interesting?
In 2016, the newspaper Philly Voice researched scrubs sales data and interviewed local hospitals about their color choices for departments.
The Philly Voice then compiled this eye-opening list that ranks scrub shades from least liked to most favored.
Aesthetics, practicality, and just plain (but important!) human nature came into play.
Drumroll…
Starting with the least favored at the top and most revered at the bottom of the list, the colors for scrubs include:

A Bit Of Parting Advice
A pet peeve among nurses and other healthcare workers are people (especially non-medical professionals) wearing scrubs out on the street.
Sure, often you have no choice since you need to get to work and return home (sometimes stopping for errands on the way). You also may need to go out and grab lunch during the workday.
But still,
Try not to run around in scrubs excessively and randomly.
Theoretically, they should be kept clean before you enter a medical setting as well as be sanitized of dirt, spilled liquids, and bodily fluids after you leave.
So why get them dirty or spread germs on the street?
If you're not actually a medical professional (but just trying to look like one or pass yourself off as one), be careful what you wish for!
Here's a funny story…
Years ago, an actor who portrayed a surgeon on the long-running medical series ER shared a humorous anecdote.
Before the show grew wildly popular and the stars became household names, the actor and a fellow cast member wore their costumes (e.g., scrubs) while commuting home.
As they waited on a train platform, they witnessed a medical emergency and both frantically looked around for a doctor…only to realize that they themselves looked like doctors, and incompetent or lazy ones at that trying to avoid treating a sick person!
How to Repurpose Old Scrubs
When the day comes that you finally have to retire a set of scrubs, what should you do?
Many people like to wear old clean scrubs at home or for pajamas. If the scrubs have become unwearable (e.g., torn, stained, etc.), turn them into rags.
Give it a go.
But what are some other ways to repurpose scrubs?
Of course, first clean and dry them well. Then consider one of these ideas:
Donate them to Global Links, an organization that supports healthcare providers in resource-poor communities. Global Links gives gently used scrubs to areas short scrub supplies. Click here for more information.
Bath your dog (or other pets that need cleaning and are okay with water).
Clean out pet cages and areas.
Garden, pull weeds, mow the lawn–overall yard work. If you need to clear leaves, try one of these cordless leaf blowers.
Combine several pieces to make a quilt.
Refashion them into different sewing projects, like wine bottles, aprons, tote bags, novelty shirts or shorts, and wherever your imagination takes you.
Take a look/listen and enjoy!
If you've just finished a long shift and need to put your feet up or if you just want to take a break from researching scrubs, watch these funny videos: